Granola is one of my favorite snacks because it's sweet, crunchy, and there are so many flavor options. Store-bought granola is usually full of sugar and other ingredients you don't really want so I like to make my own! Homemade granola is actually really easy to make! You need as few or as many ingredients as you like, I like to add different nuts and seeds each time I make a batch—always a different combo of what I have on hand.
Since it's Christmas and because I've been in a festive mood for a few weeks now (Christmas is my favorite holiday, I can't help it! Plus I'm gonna be gone for most of December so I wanna make the most of it while I'm still home), I decided to make my granola gingerbread flavored! It's so so so DELICIOUS. I think regular English or American gingerbread cookies have only ginger and cinnamon in them(I could be wrong, though), however, I decided to make my own "Czech" version. Czech gingerbread cookies don't actually have ground ginger in the ingredients, as weird as it sounds. I did add a teaspoon of ginger, though! But apart from ginger, there's nutmeg, allspice, and cloves. All mixed together it literally tastes like Christmas and I'm sure you'll enjoy it! For this recipe I added pecans because they're probably my most favorite nut, they have a slightly caramel-like flavor which goes really well with the tasty spices. YUM.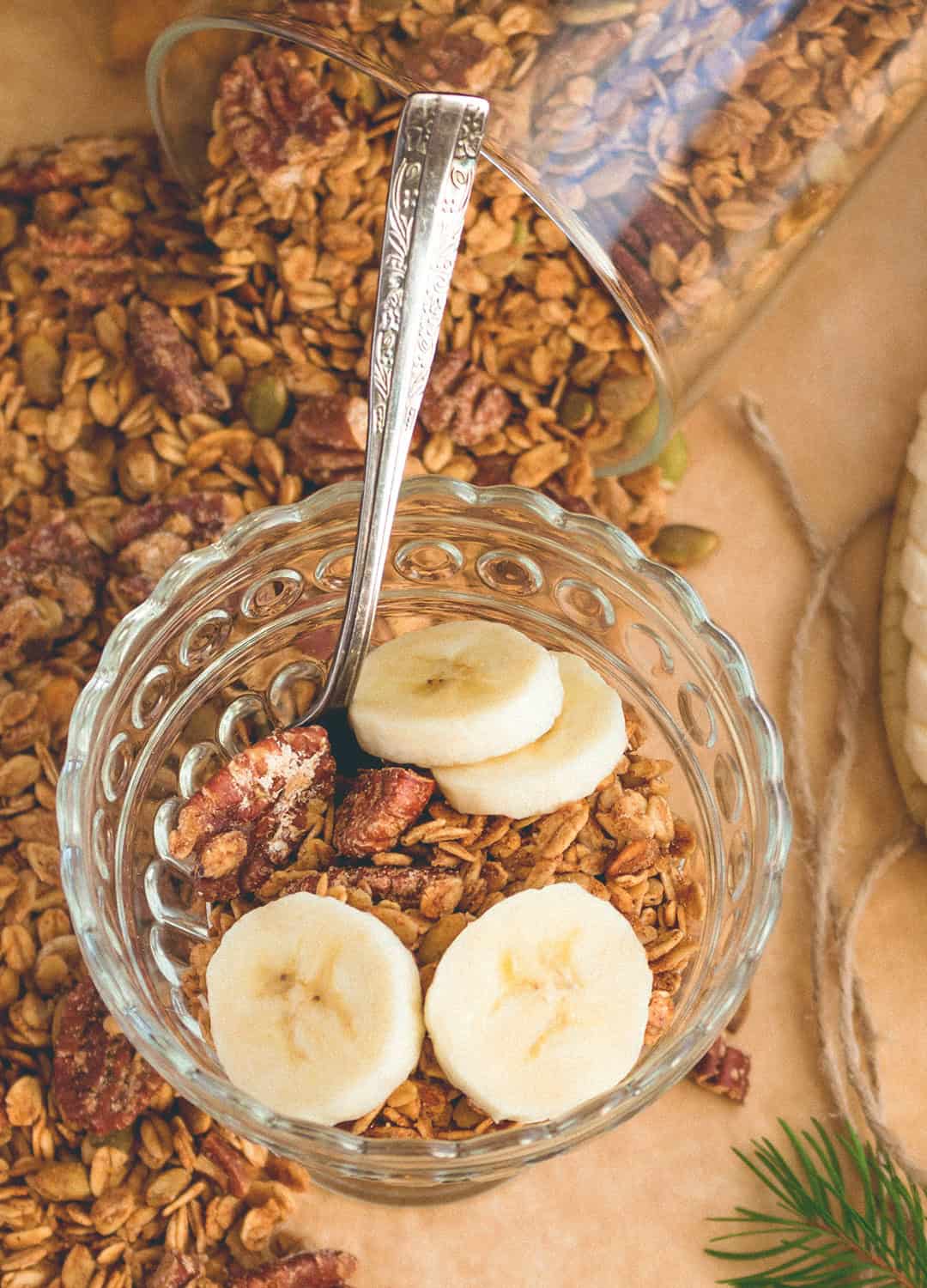 Snacking on plain granola with sliced banana and vegan hot chocolate is my favorite thing to do. It's comforting and it's the perfect combo for a cozy Christmas afternoon or evening!
I started making this around October and I still can't get enough. As I said I wanted to make most of Christmas this year, so I've been baking cookies, listening to Christmas songs, and decorating my room with fairy lights since the middle of November. Why? Well, first, because I love Christmas. And second, I'm going to New York tomorrow for two weeks!! I'm super excited and if you've read my last two posts you already know this. I've never been in New York during Christmas so I'm really excited to experience all the things New York has to offer. I just wish there was snow, that'd be magical! It's supposed to be quite warm for December (12C) so it'll be nice not to be freezing while walking down the street haha. I can't wait to take pictures and see the shop windows, the big tree, all the holiday markets. I'm also pretty excited about all the food, obviously. I can't wait to have breakfast at juice press or le pain quotidien, lunch at sweet green or other salad/vegan place I wrote down. Oh and last but not least, I'm excited to visit Wholefoods again! The selection of organic food they have doesn't come close to what we have here. And the salad bar??? All the take away food is heavenly, I love having lunch at Wholefoods, I wish there was something like this in my country.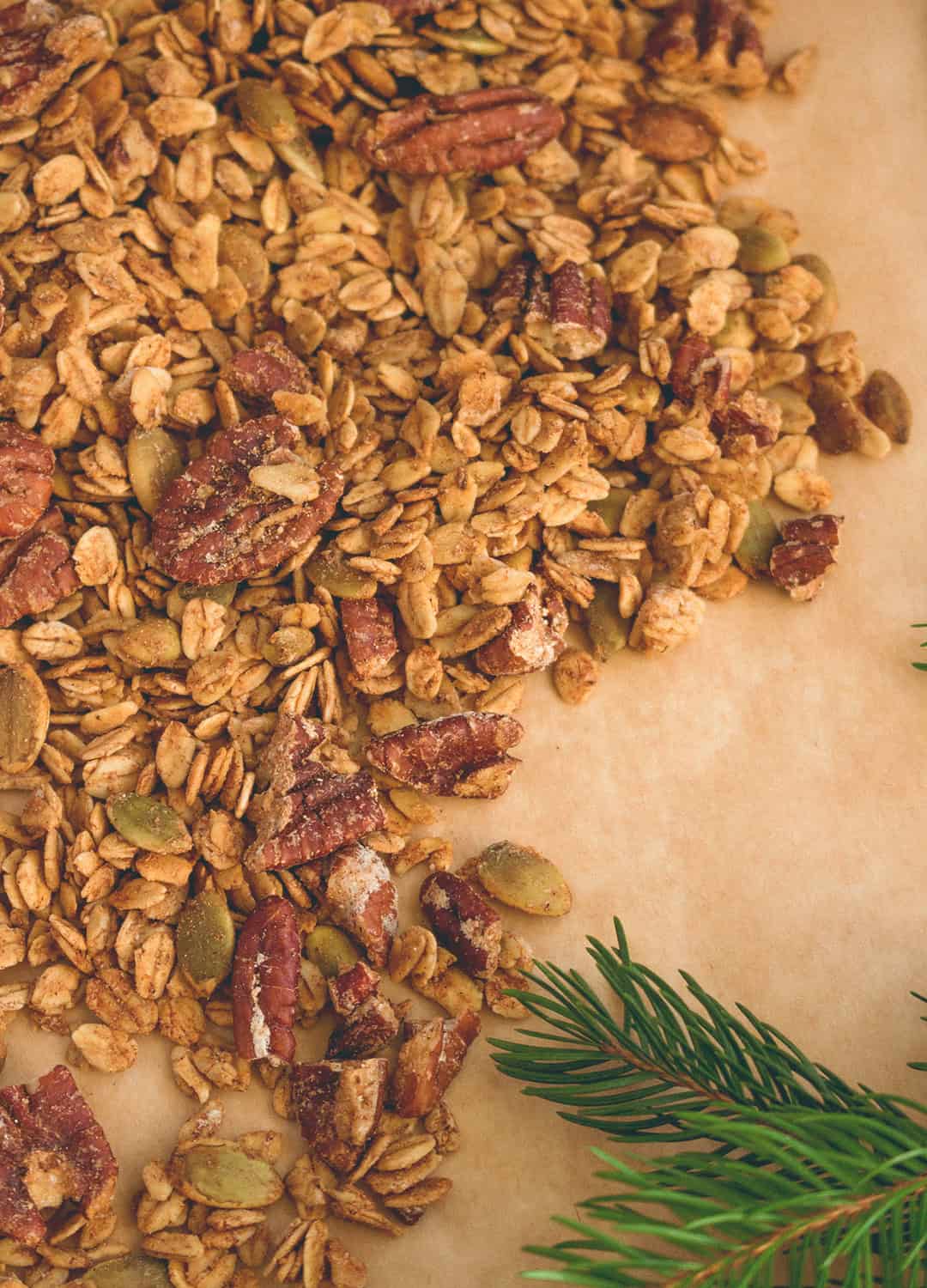 I'll definitely write a post about my favorite places to eat when I get back. I made one on my previous blog (link here) but I want to take better pictures this time and add more salad places and less bakeries (meaning healthy, mostly vegan and organic places). I also wanted to make a 'Christmas in New York' post to show you my photos but since there isn't going to be any snow, I'll probably skip it. We'll see, I'll update you later on. I'll write a few posts while in New York so I'll be updating you throughout my trip!
If you want to see more New York and see what I'm up to, follow me on snapchat at 'healthfulideas'!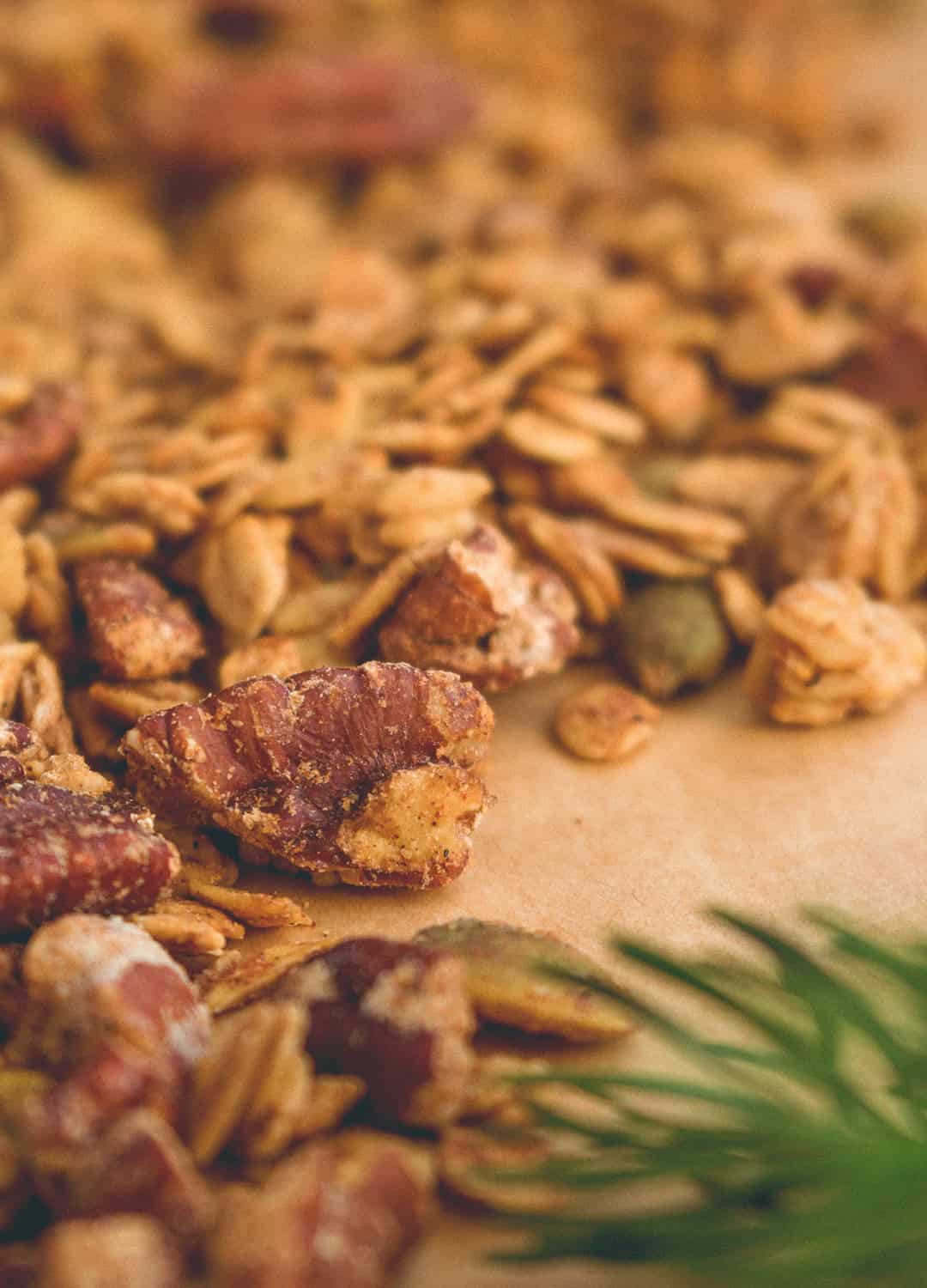 I love close-ups, especially close-ups of delicious sweet snacks. I can't wait to buy a macro lense in New York so I can make these look better! :)
Remember that you can add any other nuts or seeds you like to this granola! The base of the recipe are old fashioned oats but the rest you add is up to you. If you don't have pecans, add walnuts, or other nuts of choice. If you don't have pumpkin seeds, add sunflower seeds. Or add both pecans & pumpkin seeds and add even more nuts or seeds. You'll have to add more maple syrup, I'd say 1tbsp for every ½ cup of anything.
If you make it, I really hope you enjoy it! I swear by this granola so I do think you're gonna love it. Don't forget to let me know on any social media how it went! :)
Print
📖 Recipe Gingerbread Granola
Author:

The Healthful Ideas

Prep Time:

10 mins

Cook Time:

40 mins

Total Time:

50 mins

Yield:

6 cups

1

x

Category:

Snack
---
4 cups

old fashioned oats

1 cup

pecans, roughly chopped

½ cup

pumpkin seeds

3 tsp

cinnamon

1 tsp

ginger powder

½ tsp

allspice

½ tsp

ground cloves

¼ tsp

ground nutmeg

½ tsp

sea salt

3 tbsp

coconut oil, melted

½ cup

maple syrup

2 tbsp

nut butter (optional, I used hazelnut)
---
Instructions
Preheat your oven to 160C.
In a big bowl mi together the oats, pecans, and pumpkin seeds.
Mix together the spices and salt and add to the dry ingredients. Mix until well incorporated.
Add the maple syrup, coconut oil, and nut butter to the dry ingredients and combine.
Line a baking sheet with a piece of parchment paper and spread the granola evenly onto it.
Bake for 30-40 minutes or until golden brown, but make sure it doesn't burn. Stir every 5 minutes or so to prevent big clumps.
Let cool completely before storing. Store at room temperature in an airtight container for a few weeks.
---