Happy New Year you guys!!
It still may be December 31st for some of you but I know there are places where it's already 2016. That's crazy, right?! I mean, 2016???? I know I'm being repetitive because everyone says this every year but I feel like the older I get the faster time flies! How come it's almost two years since I graduated high school? Wasn't it yesterday when we were patiently (or maybe impatiently waiting for 2012 to come so we could find out whether or not it would be the end of the world? Oh wow. Remember that? I was actually considering it at one point haha. It feels just like yesterday but it also seems ages ago, right? Sooo much has happened since. Am I making sense?
Either way, what I'm getting at is I'm wishing you the best and I hope 2016 is your best year yet! May all your wishes come true, and I hope that you achieve all your goals!
And the best way to start this great year is how you ask? With PANCAKES, obviously!!
I'm gonna stop going on about New Year and time running too fast (every time I try to type 'New Year', I end up with 'New York'.. Coincidence? I think not.) and I'm gonna talk about these delicious pancakes instead! I know you're probably thinking 'What are you doing posting Christmas pancake recipe in January? Shouldn't you be posting it in the beginning of December??'. Well, first off, I did want to post it before Christmas but since I was in New York for the better part of December and I was too busy walking around almost 24/7, I didn't. And I'm sorry I didn't post this earlier but I don't think it matters since, for me at least, Christmas isn't over until the end of January. We always have our tree up until February, if not longer. I love Christmas and I want to enjoy it for as long as I can so if I want to  have Christmas pancakes in the middle of January while watching Home Alone, who's to blame me?
So no, I don't think it's weird that I'm posting this so ''late''. It's actually freezing outside (finally! well, not really since I wanted snow in December, but still.) so it's quite fitting.
These are great for a lazy Sunday and preferably eaten in bed. With a generous helping of chocolate cream(vegan), I might add. AND a drizzle of nut butter.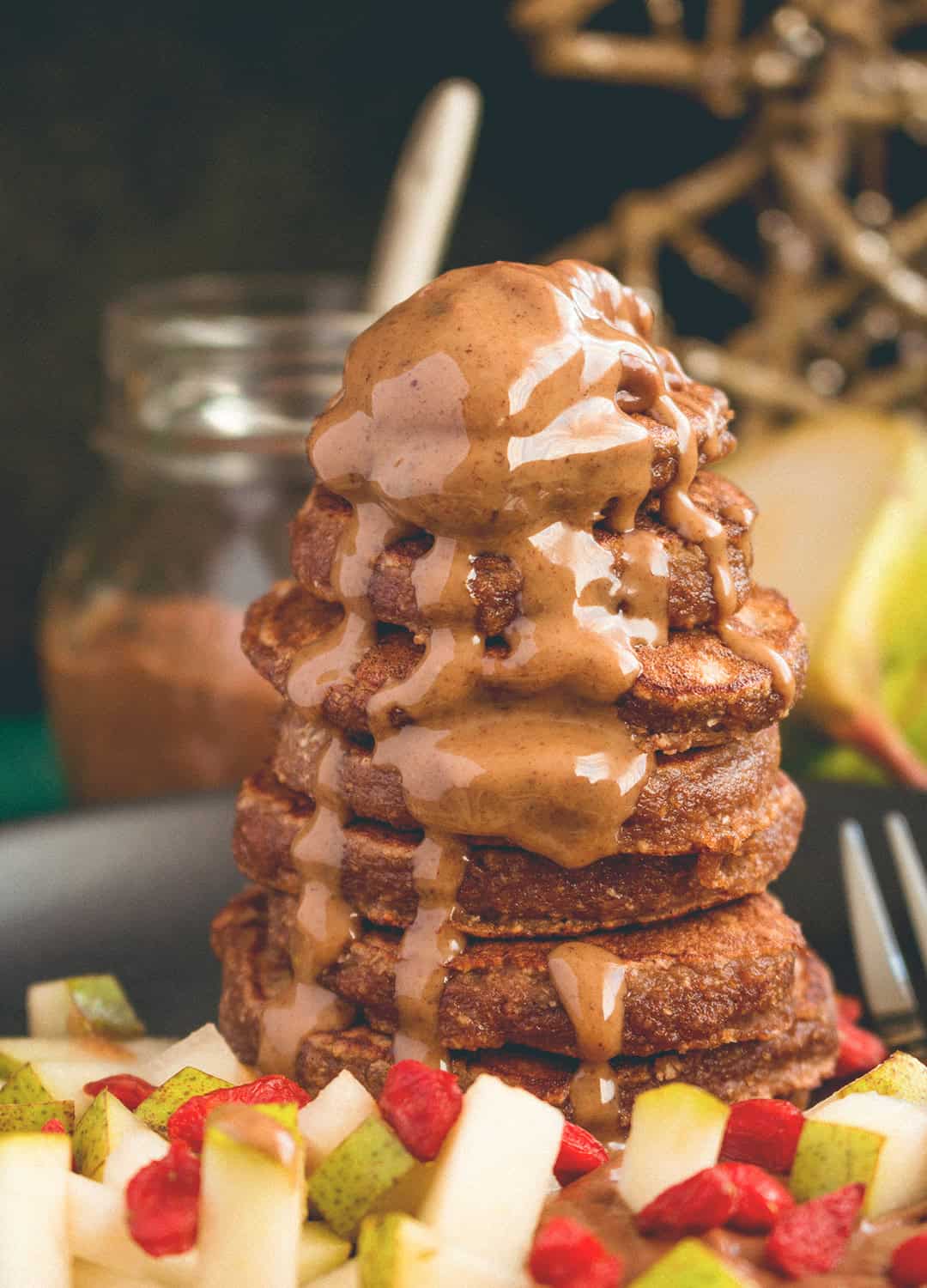 I'm one of those people who go crazy for breakfast recipes. And in case you are too, you're definitely at the right place! Breakfast recipes are my favorite to make and create. But when I find one I really like, I'm guilty of cooking it over and over again every single day. I guess that makes finding a great flavor combination that much more precious and delicious when you eat almost the same thing for breakfast every day.
I LOVE these gingerbread pancakes. I love the combination of the spices. For me, this is what Christmas smells like. The warm deep smell of cinnamon, cloves, and a touch of ginger is to die for. In the Czech Republic, our gingerbread cookies don't actually include ginger in the recipe. Weird, right? But the Czech version doesn't have the word 'ginger' in the name, they're called gingerbread in English because the taste is almost the same, however, ours have slightly different spices. Cinnamon, cloves, allspice, but also star anise, fennel seeds, and vanilla (I didn't include those extras in this recipe since I wanted to stick to the American/English version of gingerbread).
And since I like the gingerbread flavor so much, I already posted other recipes including the spices. You can check them out below:
I eat cinnamon all year round, but during Christmas, I add it to anything and everything I can because it just enhances the Christmas 'feel'. You can't deny it. I actually tried to boil some water with these spices for the first time yesterday. I've heard about it from a lot of different people and I finally tried it and loved it. Your house smells like Christmas afterward without burning any candles. Just pour some water into a saucepan, add whole spices such as cinnamon, cloves, cardamom, star anise, allspice, and other fragrant stuff like orange peel or apples (dried or fresh). Bring it to boil, then lower the heat and let it simmer or just steam to make your house smell wonderful!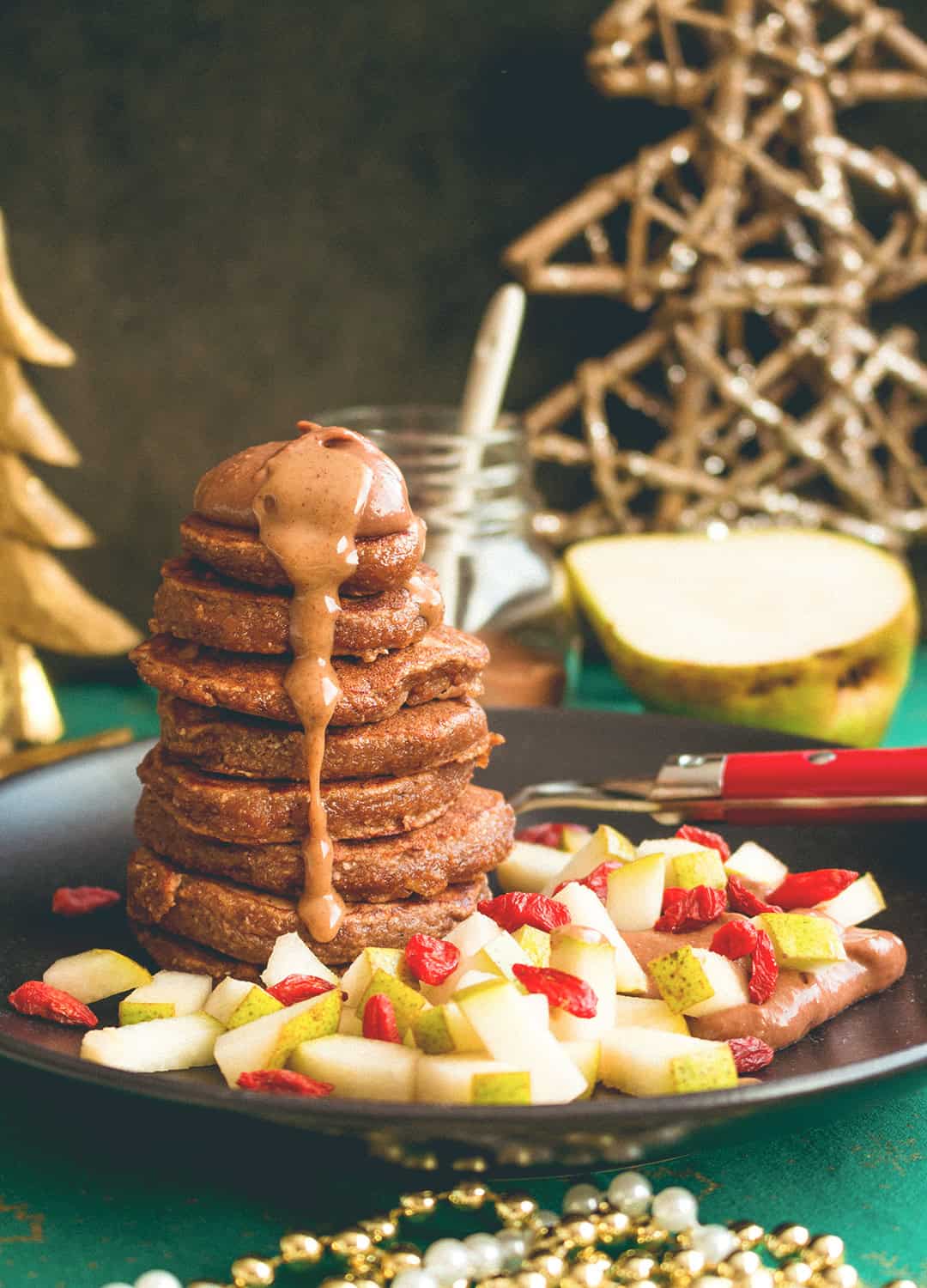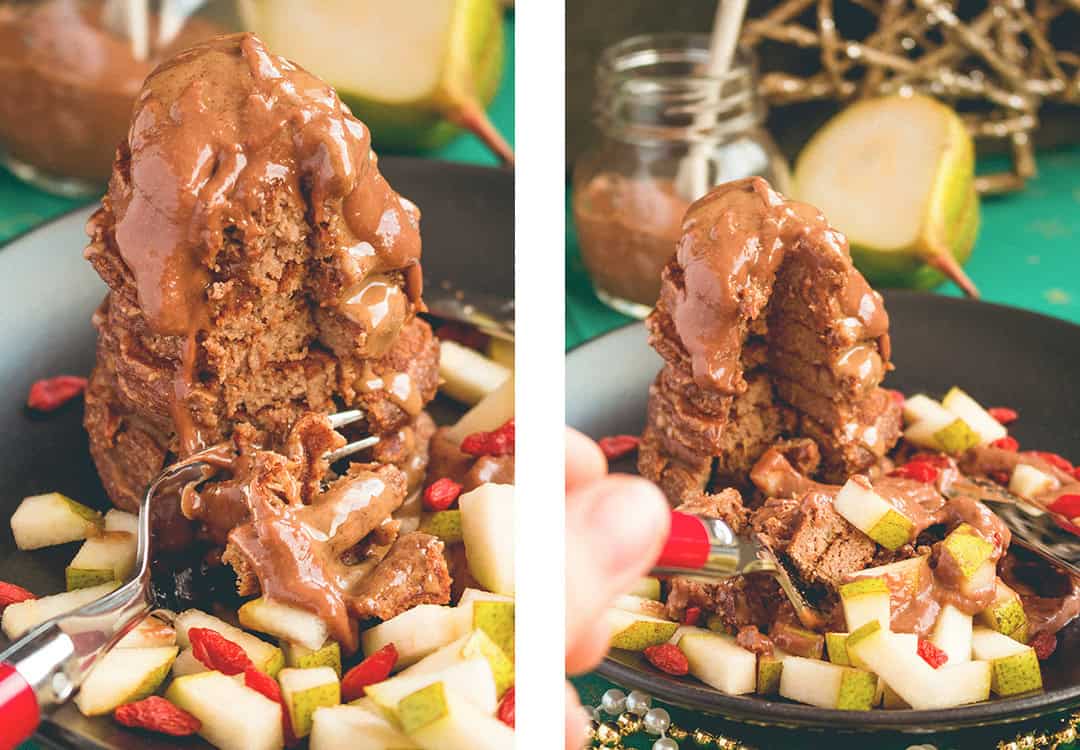 I wanted to top these with something fancier than just plain maple syrup so I thought I'd do my regular Chocolate Sauce recipe (you can check out the recipe, it's really easy to make!), but then I realized I had leftover coconut meat from a coconut I cracked open earlier so I added it to make it creamy and oh my was I happy about the results! I knew canned coconut milk wouldn't work and I didn't have time to refrigerate it to separate the cream from the water. The coconut meat I had was pretty thick so when I added a few tablespoons of maple syrup, the texture was just right. It was sweet, creamy, and overall a great topping  for these pancakes.
Oh and to make it extra special, I added hazelnut butter which made the whole thing taste like Nutella and you can't say no to Nutella, right?
Whenever I make a new flavor of pancakes I say they're the best I've ever made so here goes. Guys, these are THE BEST pancakes I've ever made!! No, but seriously, they're insanely delicious. They're like gingerbread cookies and cake combined. Drowned in chocolate cream and hazelnut butter. DO I NEED TO SAY MORE?
Just make them. And if not tomorrow, then the day after that or the following week, but make them. You'll be happy you did. ;)
And if you'd like to try my other pancake recipes, below are the links:
Happy New Year!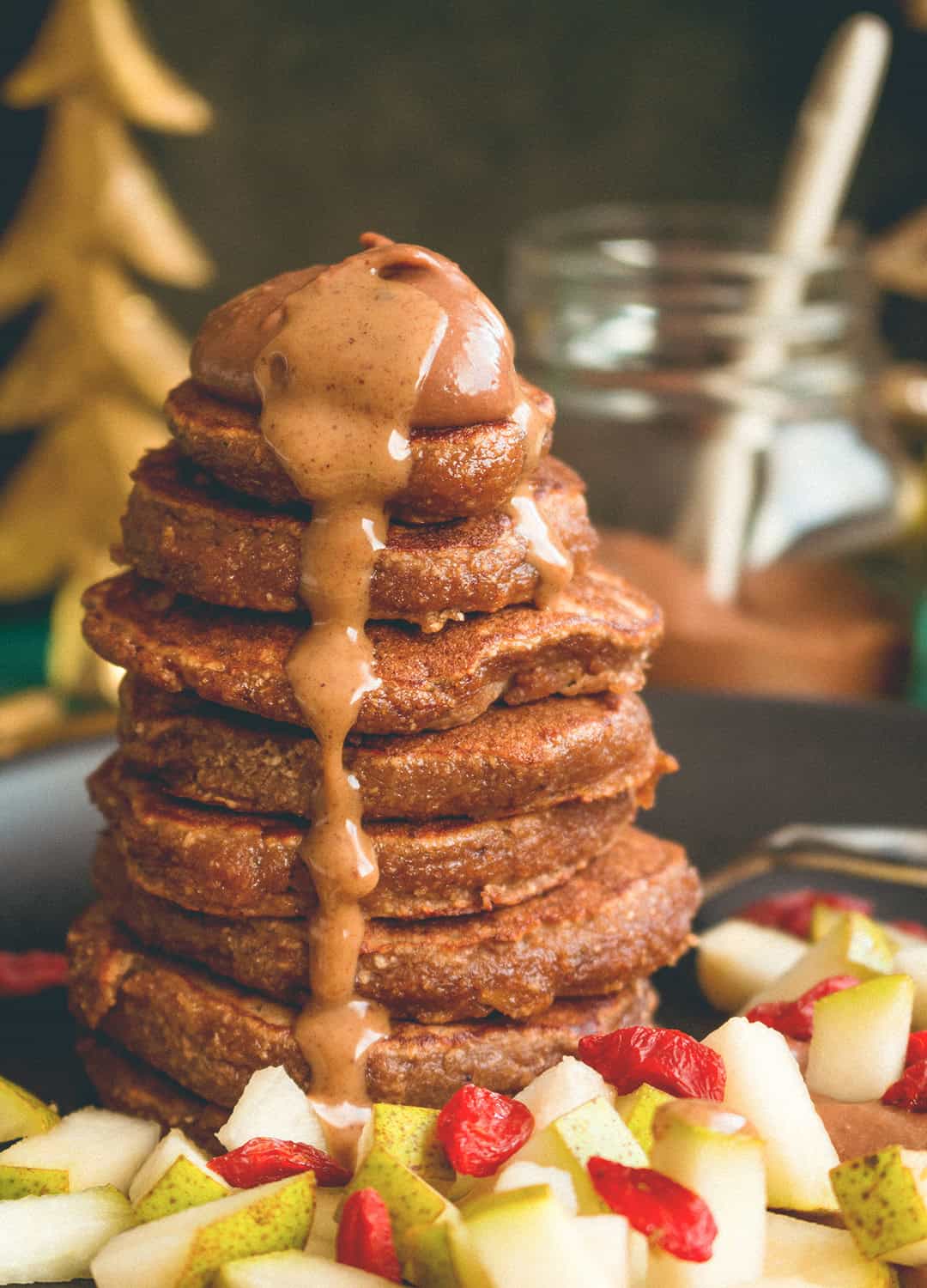 Print
📖 Recipe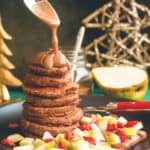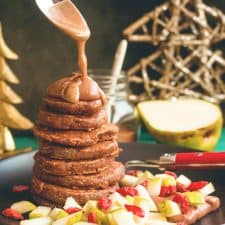 Gingerbread Pancakes with Chocolate Cream
Author:

The Healthful Ideas

Prep Time:

10 mins

Cook Time:

30 mins

Total Time:

40 mins

Yield:

20

pancakes

1

x

Category:

Breakfast
---
CHOCOLATE CREAM:
the meat of 1 young Thai coconut*

2 tbsp

maple syrup

3

-

4

tablespoon coconut water

3 tsp

cacao powder

1 tsp

mesquite powder (optional)
pinch of sea salt

¼ tsp

cinnamon
PANCAKES:
3

eggs

2

bananas

1 tbsp

milk

¼ cup

coconut flour

1 tsp

cacao (optional)

1 tsp

heaping cinnamon

⅙ tsp

ground cloves

⅙ tsp

ground nutmeg

⅙ tsp

ground ginger
coconut oil for cooking
nut butter of choice (for topping, optional)
---
Instructions
CHOCOLATE CREAM:
Add all the ingredients into a blender and blend until smooth.
Put it in the fridge while you make the pancakes.
PANCAKES:
Preheat the oven to 70-100C (158-212F).**
Beat the eggs in a big bowl and set aside.
On a plate, mash the bananas with a fork and add them to the eggs along with the milk.
In a small bowl mix the coconut flour, cacao (if using), cinnamon, cloves, nutmeg, and ginger.
Add the dry ingredients into the egg and banana mixture and mix whisk until well combined.
Let it sit for 5 minutes so the coconut flour soaks up the moisture and then mix again.
Heat a pan over medium-high heat with ½ a teaspoon of coconut oil.
When hot, add about a tablespoon of the batter at a time and move it around with the spoon a little to make a better circle.
Lower the heat and cook for a few minutes on one side until the sides are starting to cook through and the pancake is easy to flip. Cook for a few minutes on the other side until golden.
Repeat with the rest of the batter.
You can put the pancakes into the oven to keep them warm while you make the rest.
Serve with chocolate sauce on top, nut butter of choice if you like and berries or other fruits.
---
Notes
* The meat should be thick, not thin and translucent or it won't work. If it's really thick, start with 2tbsp of coconut water and add more in necessary.
**you don't have to do this, it's only so the pancakes you make stay warm while you cook the rest of the batter.