Orange zest and chocolate is a match made in heaven, I swear. I mean, it's only a matter of time before I made another recipe featuring these two flavors. A smoothie maybe? A cake? Brownies? Cookies? I already made a chocolate orange zest flavored oatmeal (oh look! just when you thought I wouldn't talk about oatmeal in this post. lol ops) and it's one of my absolute favorites! If you're not a fan of the bitter flavor or dark chocolate or orange zest, this granola probably isn't for you but if you're anything like me and love dark chocolate, you'll love this recipe! The orange zest and chocolate go so well together ity§s crazy. I actually used cacao paste instead of melted bar of chocolate which makes this even better. Cacao paste are cacao beans ground into paste at low temperatures to preserve all the nutrients and then cooled which makes the chocolate harden up into chunks. I chopped the chocolate, sprinkled over the hot granola and let it melt. You could also gently melt the chocolate yourself and pour it over the granola. Then just wait until it hardens and it's done, ready for snacking!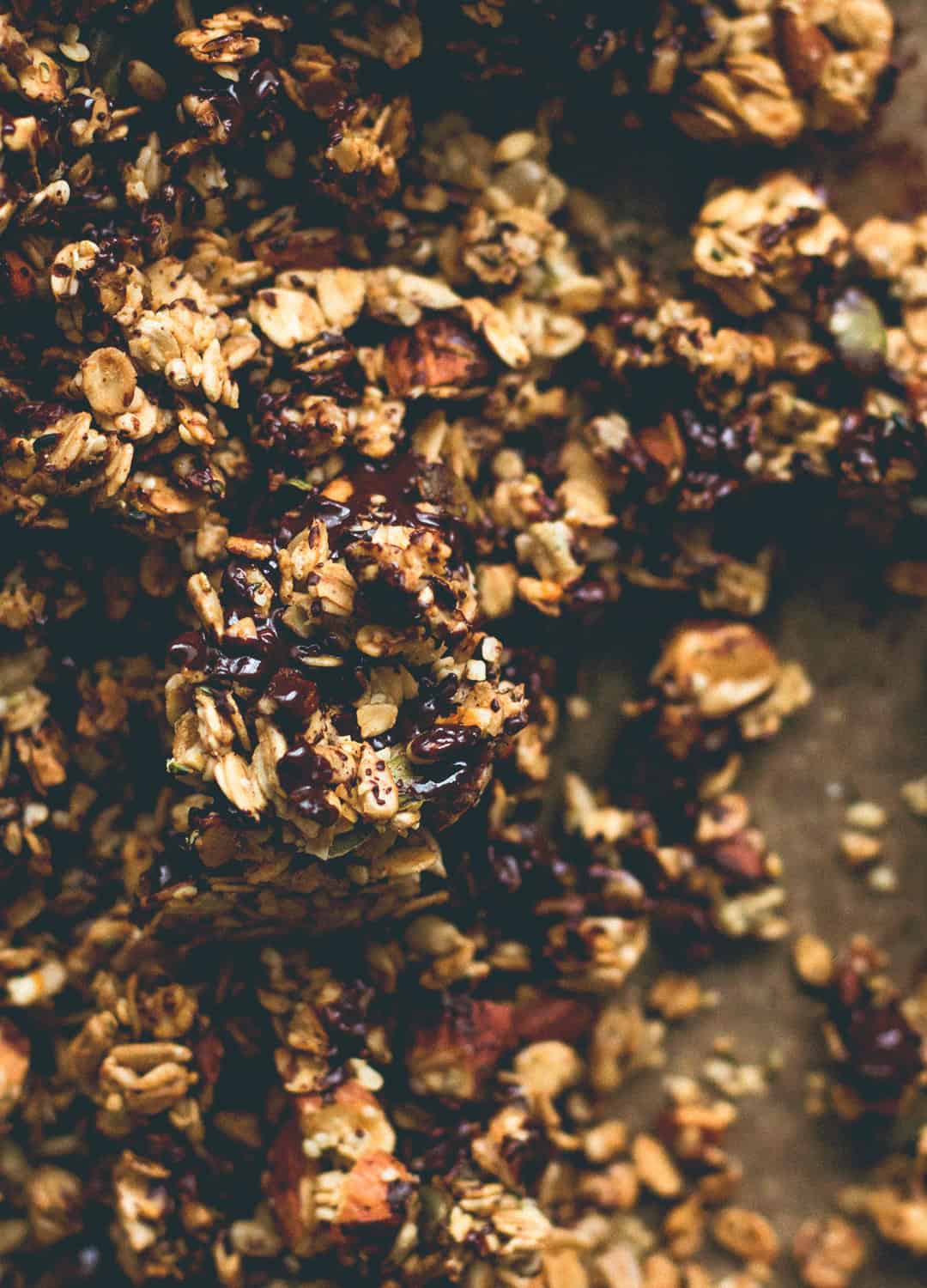 I can't only talk about granola today, I'm too excited about other stuff not to let you know. You know how I'm moving to Canada in May? Well I finally booked an Airbnb for the first month I'm there and I may even have an apartment for the following months. Booking a place makes it all much more real all of sudden. Like, I'm actually moving!!? From Europe. Across the freaking ocean. It's going to be so much fun and I can't wait to take you along and tell you all about it!
I literally just stopped writing for solid two hours to look at vlogging cameras! Should I start vlogging and vlog the move?? Would you care and want to watch that? I don't know how and when I'd be able to shoot actual blog posts so vlogging my days and what I eat/cook might just be easier (I say that now but I've never edited a video in my life so don't take my word for it lol). I have this ancient point & shoot that probably doesn't even shoot in 1080p (which says a lot about how old it is wow) so I'd have to buy a new one.. Should I do it? I've wanted to start making videos for SO LONG but I wanted them to be sort of bigger production with overhead DSLR filming cooking videos with really good editing but why not just jump into it and not make such a big deal out of it? To be honest, I wanted to save up for the move rather than buy new camera gear but I get so excited about this stuff and now I can't stop thinking about it. You know what? I'll just stop talking about it and go out to check out the cameras available! I'm really into the Sony Alpha A5100 so I'll go check it out right now to see if it's the right one for me and who knows, maybe next time I talk to you, I'll have already bought it!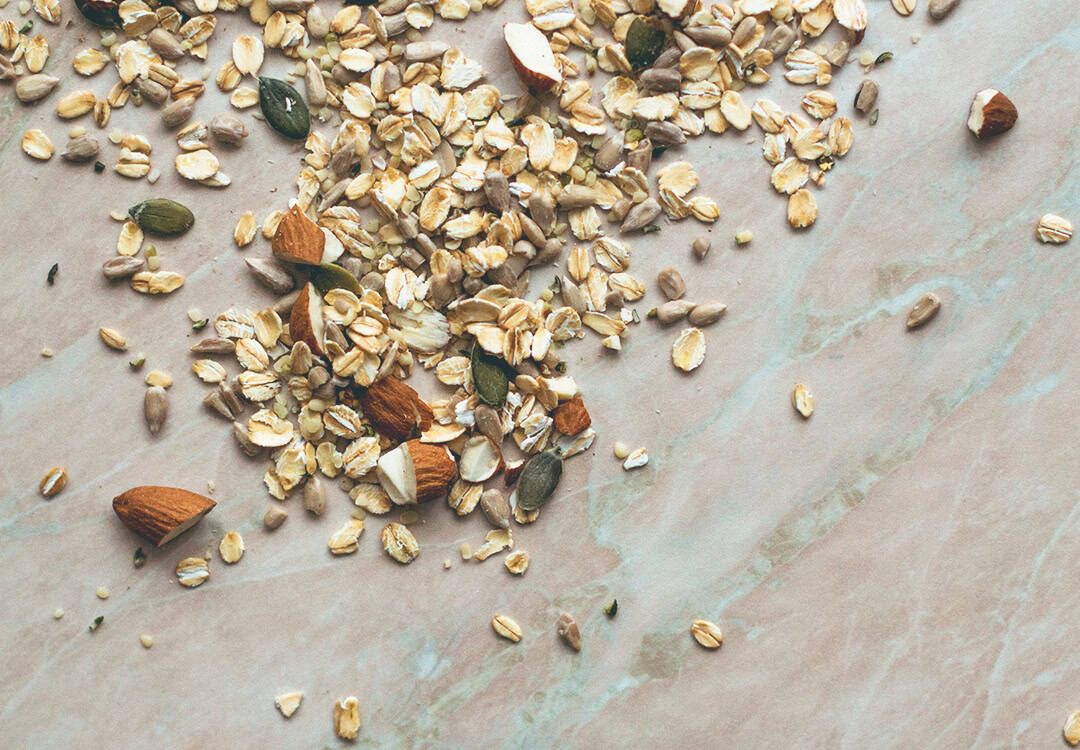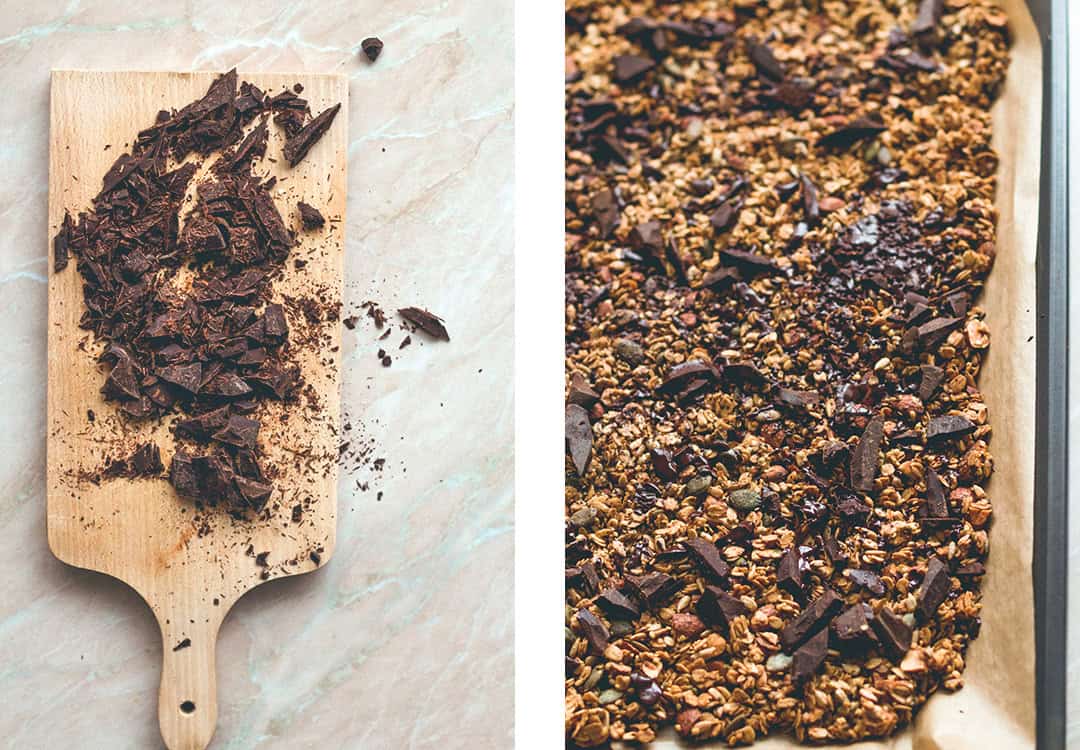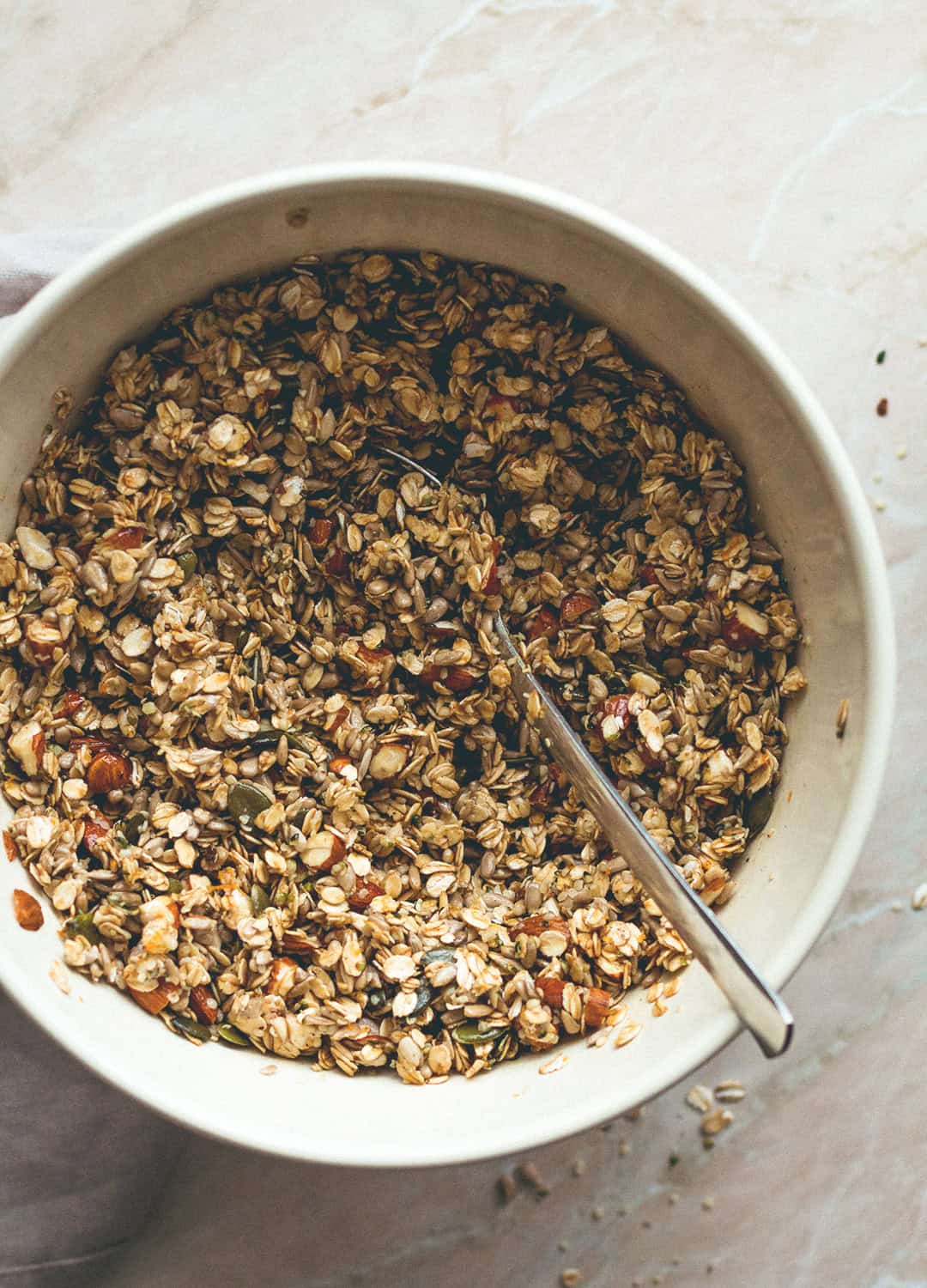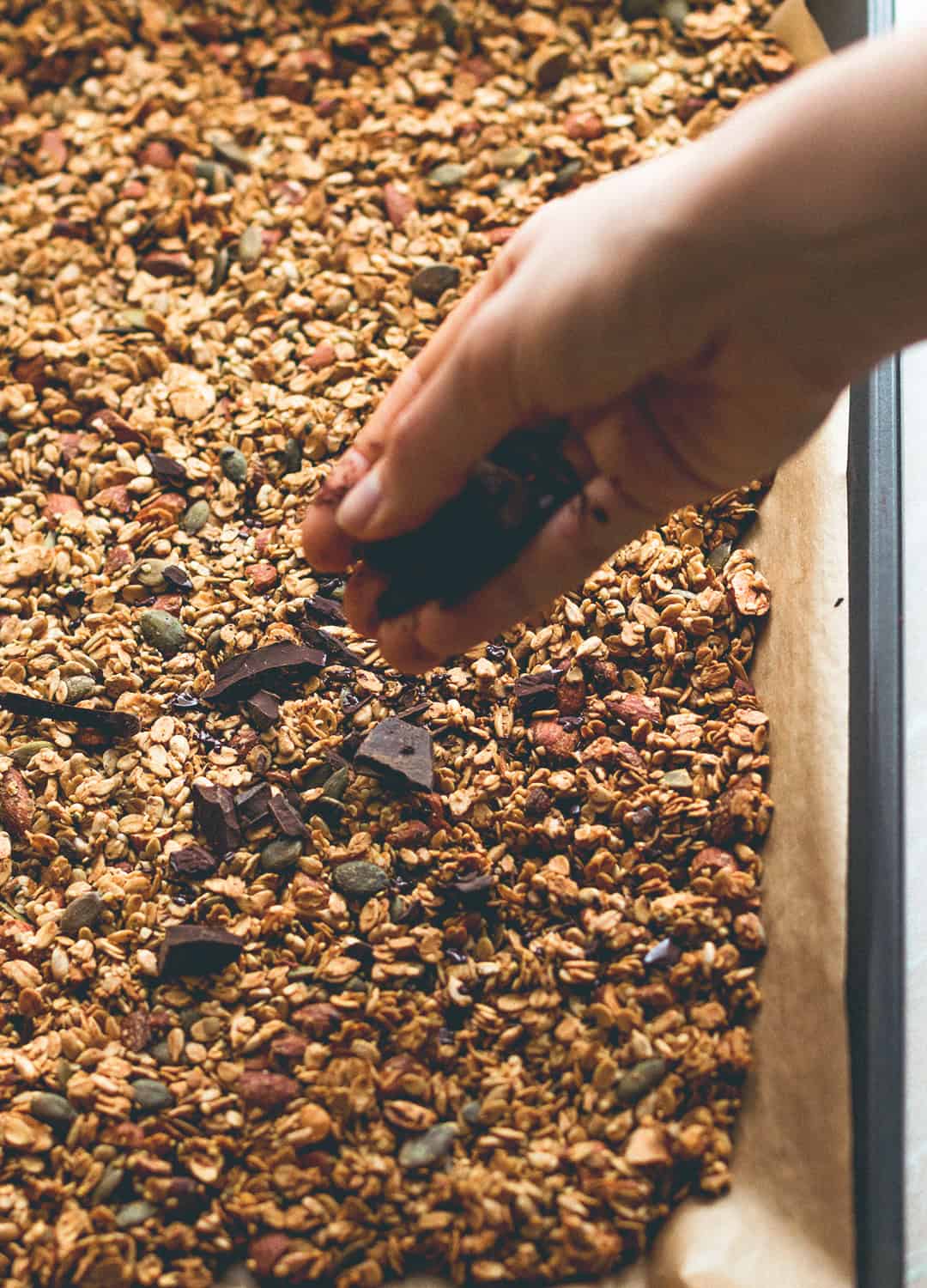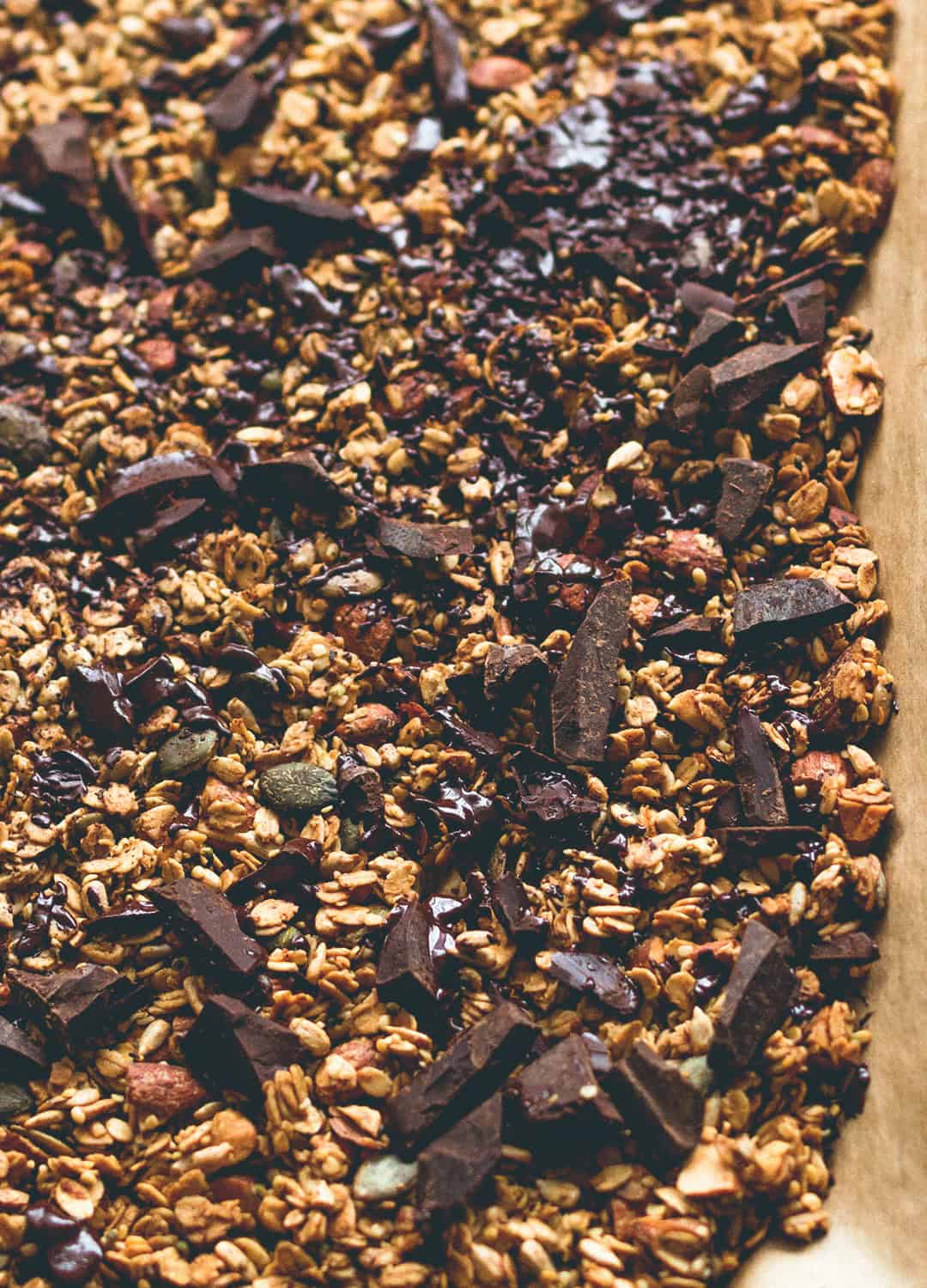 Print
📖 Recipe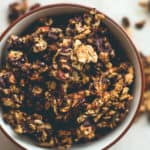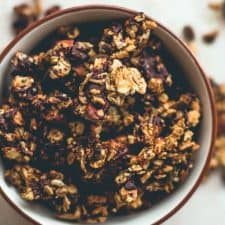 Dark Chocolate Orange Zest Granola
Author:

The Healthful Ideas

Prep Time:

10 mins

Cook Time:

20 mins

Total Time:

30 mins

Yield:

5 cups

1

x

Category:

Breakfast
---
2 cups

rolled oats

1 cup

almonds, chopped

1 cup

sunflower seeds

½ cup

hemp seeds

1 ½ tsp

orange zest (

1

orange)

¼ cup

maple syrup

1 tbsp

hazelnut butter(or other nut or seed butter)

2 tbsp

melted coconut oil

½ tsp

vanilla powder (optional)

¼ tsp

sea salt

1 cup

chopped cacao paste (see notes)
---
Instructions
Preheat your oven to 170C (325F) and line a baking sheet with parchment paper.
In a big bowl, mix the oats, almonds, sunflower seeds, hemp seeds.
In a cup or a small bowl mix the orange zest, maple syrup, nut butter, coconut oil, vanilla if using, and sea salt. (Make sure the maple syrup isn't too cold or if it is, try to mix in the coconut oil quickly so it doesn't form a crust on the top. You can always reheat it on the stove, though)
Pour the wet ingredients into the dry and mix to combine.
Spread the granola on the prepared baking sheet and press it down with a spatula so it sticks together. This will help make clusters.
Bake for around 17 minutes or until it's slightly golden on the edges.
Sprinkle the chopped chocolate on the granola and let it melt. You can start gently breaking it apart with a wooden spoon and stirring to help the melting process and to coat everything. Be careful not to break up the clusters.
Cool completely before removing from the pan to ensure the chocolate hardens up again.
Store at room temperature in an airtight container for up to 2 weeks.
---
Notes
Cacao paste is made of raw cacao nibs which are ground into paste at low temperatures and then cooled and dried forming chocolate chunks. It's essentially 100% chocolate. Use normal dark chocolate if you can't find cacao paste.