These Gluten-Free Czech Gingerbread Cookies are honestly my all-time favorite cookies. They're very different from your usual American gingerbread and a fun cookie to make if you want to try something new. They're sweetened with honey and full of a lot of warming winter spices. They're dairy-free, gluten-free, and can be made refined sugar-free too!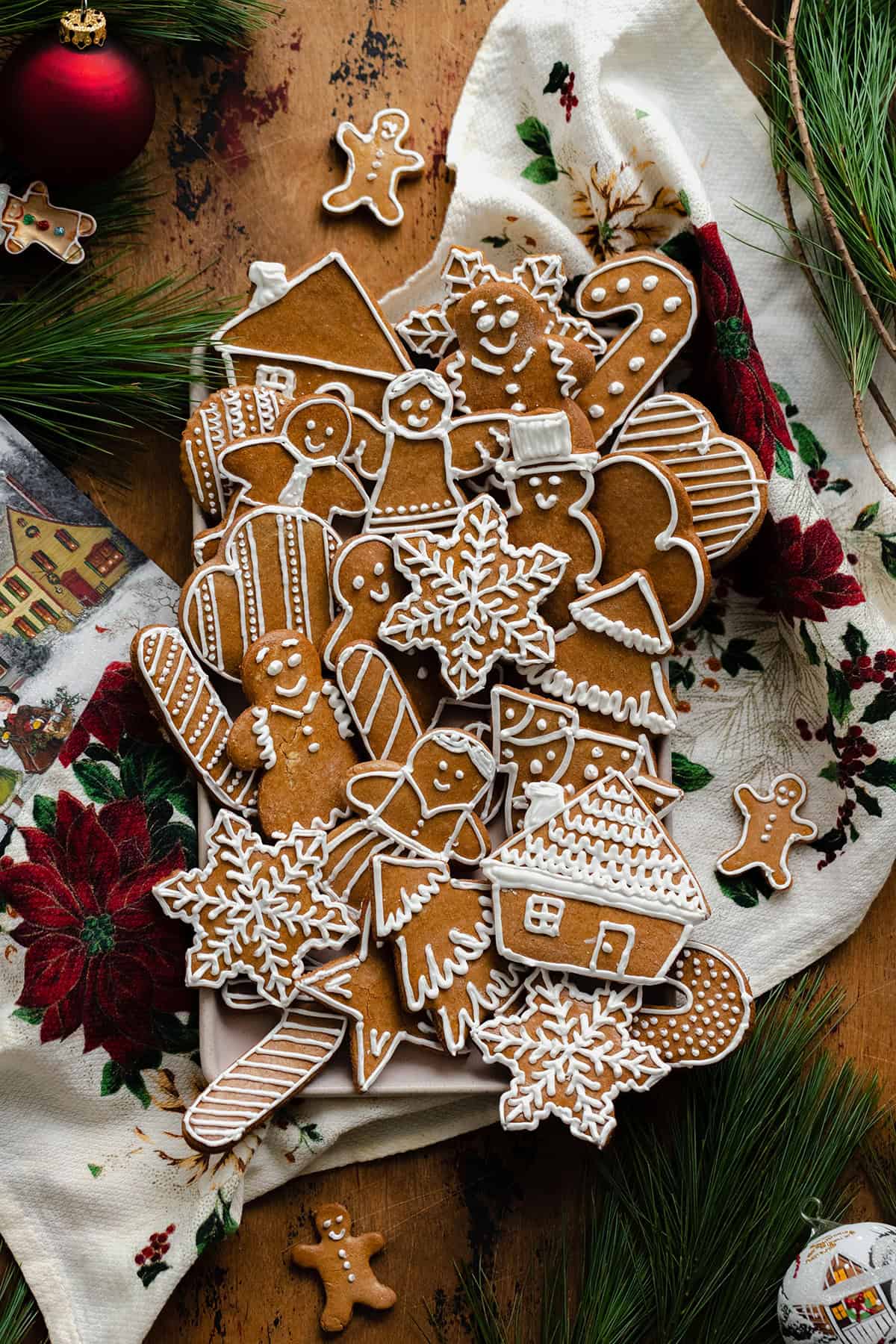 How are Czech Gingerbread cookies different from American ones?
Czech gingerbread cookies are very different from your usual American version. They don't contain any molasses or ginger. They're sweetened with honey and a little bit of powdered sugar. You can totally use powdered erythritol if you want to avoid the sugar.
The spices used in these cookies make for a unique flavor. A couple of weeks ago I shared this Christmas Spice Blend which is homemade Czech gingerbread spice and it's what I use in these cookies. It's a mix of cinnamon, allspice, cloves, star anise, anise seeds, coriander seeds, cardamon, fennel seeds, and nutmeg. You can also add ginger but it's not traditional. I know that sounds like a lot and yeah, it is but it's so good you need to try it! It's all the warming spices combined into one amazing spice blend and I can't wait to start using it every Christmas.
Try my Christmas Spiced Hot Chocolate. It's the perfect drink for a cozy winter evening and goes really well with these gingerbread cookies!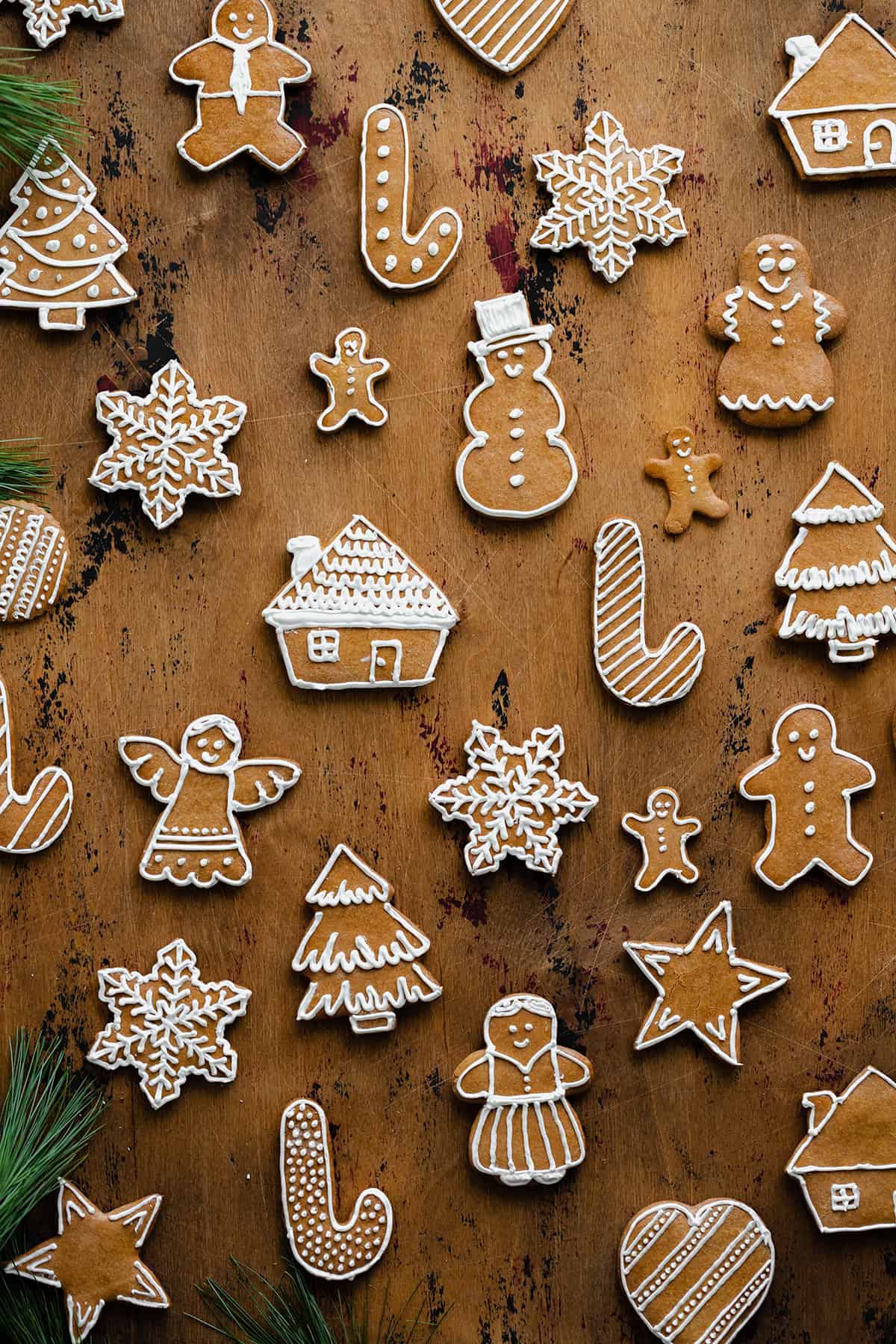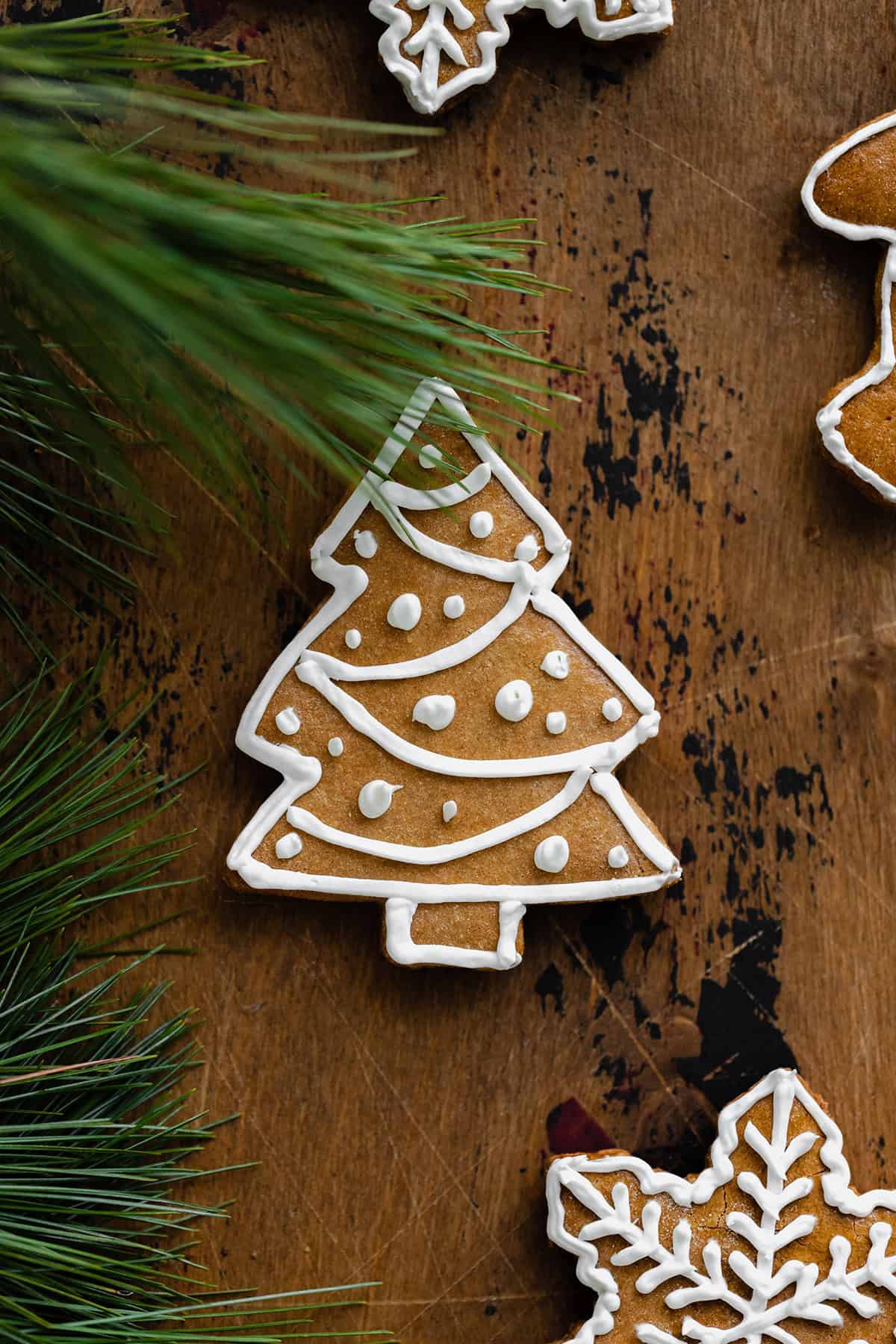 Gluten-free and refined sugar-free options
It's also important to mention these are gluten-free! I'm SO excited about that. I used Bob's Red Mill 1-to-1 Baking Flour in this recipe and they came out perfect. It's my go-to gluten-free flour for baking. This is an old family recipe and we've always used regular all-purpose flour so I was really hoping it would work with gluten-free flour and it does! It's perfect! It's so easy to roll out and work with. You'd never guess these are gluten-free! It doesn't change the flavor much either. They're so delicious!
As I mentioned earlier, you can use powdered erythritol to make these cookies both gluten-free and refined-sugar free. I opted for regular powdered sugar because I don't like the taste of erythritol much and I have trouble digesting it. If you like using it though, go ahead! It works just as well.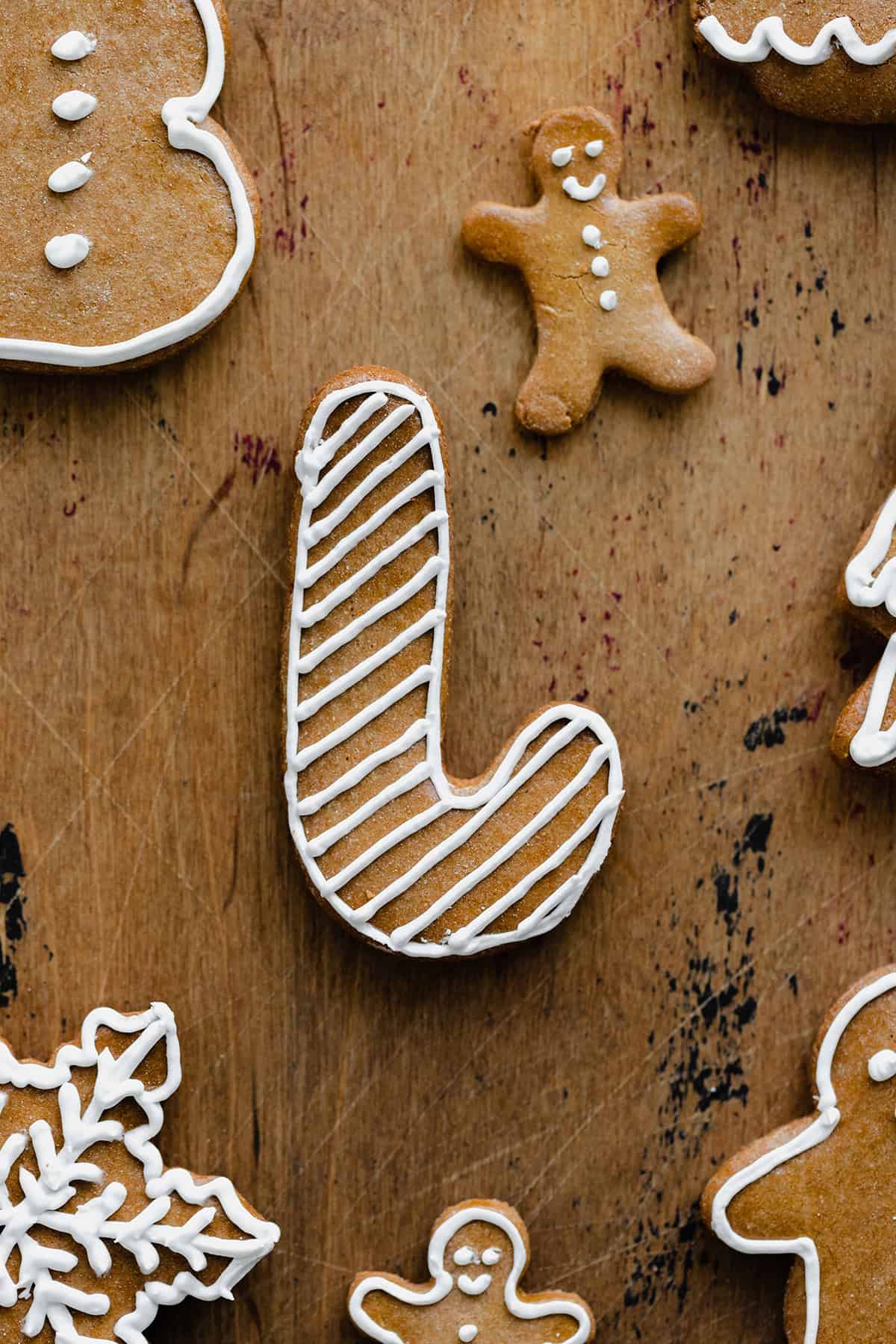 How to store these cookies
Another big difference with these is the texture. They are very hard and crunchy straight out of the oven. Try to not eat them and judge them right away, they will not be very good. They'll be tasty, but the texture will be more like crackers than chewy cookies.
They're supposed to be left in a container for at least a week to soften. They will become chewier over time but they do need their 1-2 weeks to rest. A lot of Czech people start baking their gingerbread cookies in mid-November so that the cookies have time to get soft. They do last a long time so they'll be great till the end of December even if you make them in November.
There is a hack, though, for those times when you don't really have time to wait. It's simple. Apples. Yes, all you need is an apple. Cut it into quarters and put one or two quarters in your box of cookies for 2-3 days and they'll get soft like magic! Make sure the apple isn't touching the cookies at all thought or they will become too soft and mushy. It's an old trick that has been used for generations and it works perfectly.
Because I used gluten-free flour, they might have harder time softening based on what flour you use so please use the apple method for the best cookies! :)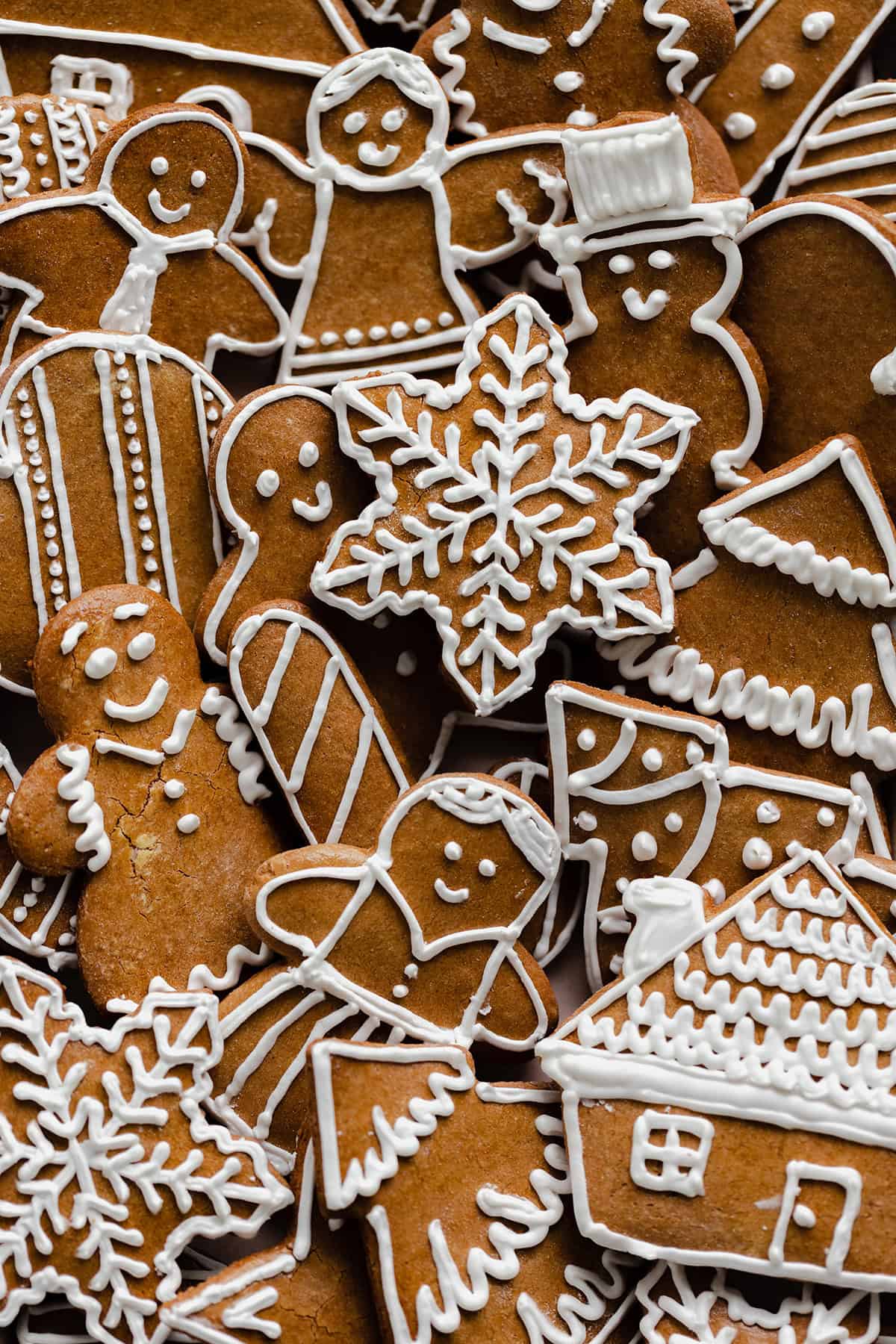 Print
📖 Recipe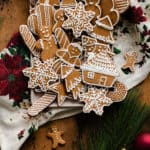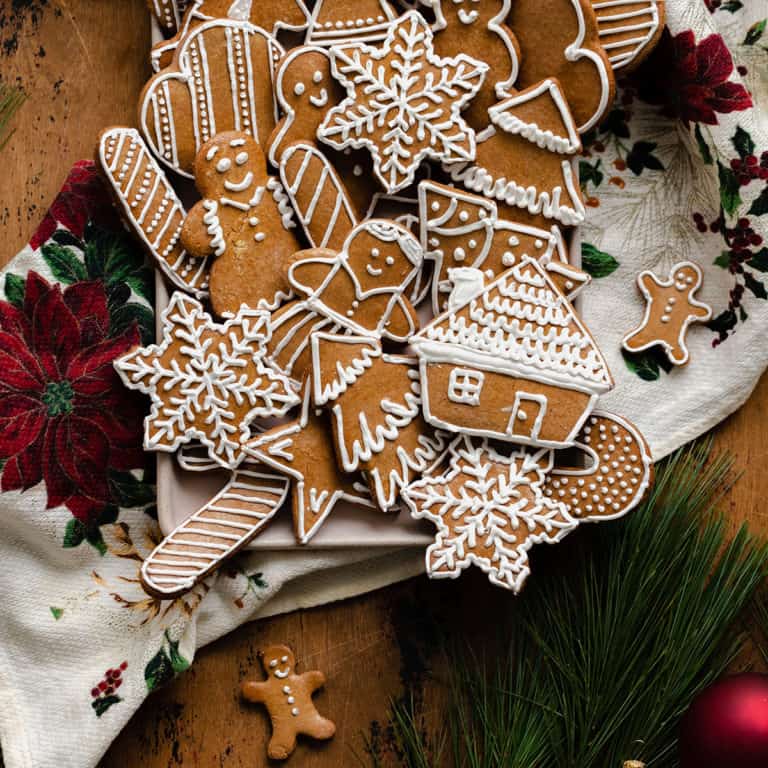 Gluten-Free Czech Gingerbread Cookies
Author:

Veronika | thehealthfulideas

Prep Time:

20 mins + chilling time

Cook Time:

15 mins

Total Time:

44 minute

Yield:

30

-

40

cookies

1

x

Category:

Cookies

Method:

Baking

Cuisine:

Czech

Diet:

Gluten Free
---
Description
Delicious traditional Czech Gingerbread Cookies. Gluten-free and the perfect edible gift!
---
Gingerbread cookies:
500 g

gluten-free flour 

200 g

powdered sugar (scant

2 cups

)

2 tbsp

cacao powder (

13

ml)

2 tsp

Christmas Spice Blend or gingerbread spice (

5 g

)

1 tsp

baking soda

180 g

honey (

½ cup

+

2 ½ tsp

)

2

large eggs (approx.

100 g

)

1 tbsp

dark rum (

1 tbsp

)

1

egg, whisked (for brushing cookies after baking)
Royal Icing:
200 g

powdered sugar

1 tsp

tapioca starch

1

egg white from a large egg

1 tsp

lemon juice
---
Instructions
Gingerbread Cookies:
Into a big bowl, sift the gluten-free flour, powdered sugar, cacao powder, Christmas Spice Blend, and baking soda.
Pour in the honey, add the eggs, and dark rum.
Stir with a spoon combining everything together. When it starts coming together knead it with your hands until dough forms. If needed, you can knead the dough on a clean flat surface in stead. The dough will be sticky because of the honey but it shouldn't be overly wet and still look like cookie dough. If needed add a teaspoon of flour.
Wrap the dough in plastic wrap and place into the fridge to chill overnight or for at least a few hours. It keeps in the fridge for 1-3 days before baking. 
When ready to bake, preheat your oven to 350°F (175°C) and line a baking sheet with baking paper. The dough stays soft in the fridge so you can roll it out right away.
Dust a clean flat surface with some of the gluten-free flour. Take half of the dough, place it on the floured surface and flip so both sides are covered. Rub all sides lightly with the flour to make sure it doesn't stick. Place the rest of the dough back into the fridge.
Roll the dough out to about 4-5 mm thick carefully flipping and dusting with flour while rolling out until you get desired thickness.
Cut out your desired shapes and transfer them to the prepared baking sheet using an offset spatula.
Bake the cookies for about 15 minutes or until golden. The time will depend on the size of your cookies. Keep an eye on them so they don't burn.
Immediately after taking them out of the oven, using a pastry brush, lightly brush them with the egg and let cool and dry on the hot baking sheet. When cool, transfer to a flat surface to cool completely. Repeat until you use up all the dough.
Store the cookies in a closed container at room temperature until ready to decorate.
Royal icing:
Sift the powdered sugar into a big bowl, add the tapioca starch, the egg white, and the lemon juice.
Mix with a spoon until it's all well combined and smooth. If the mixture is too thin, add more powdered sugar. If it's too thick, add a tiny squeeze of lemon juice. You always need less liquid than you think.
If not ready to use immediately, cover the bowl with a wet towel so it doesn't dry out.
When ready to decorate, add the icing into a plastic bag (½ - ¾ of the icing is enough, leave the rest in the bowl covered if needed later). Twist the bag to secure and cut off a tiny piece of the tip. Decorate your cookies as desired and let dry for a few hours before storing them. 
These cookies keep well in a cool dark place (not the fridge) or room temperature for up to a month.
---
Notes
For best results, use a scale to measure the ingredients. I added measurements in cups but the amount may vary based on what flour you use, how humid your kitchen is, etc. I always use a scale to get the same results every time.
Because you're brushing the cookies with the egg after baking, it helps to have more baking sheets ready so you don't have to wait for them to chill to bake more cookies. 
These cookies need to rest for 1-2 weeks to soften. They are very hard and crunchy straight from the oven because they have no butter. Place them in a container with a quarter of an apple for 2-3 days to soften them quickly. Make sure not to forget about the apple so it doesn't rot. Don't let the cookies touch the apple so they don't become mushy.
Keywords: czech, christmas, gingerbread, cookies, gluten-free