This Smoked Salmon Egg Sandwich is incredibly easy to make and so delicious! Restaurant-worthy soft scrambled eggs with lots of smoked salmon and cream cheese on a crispy bagel. The perfect sandwich for breakfast or brunch!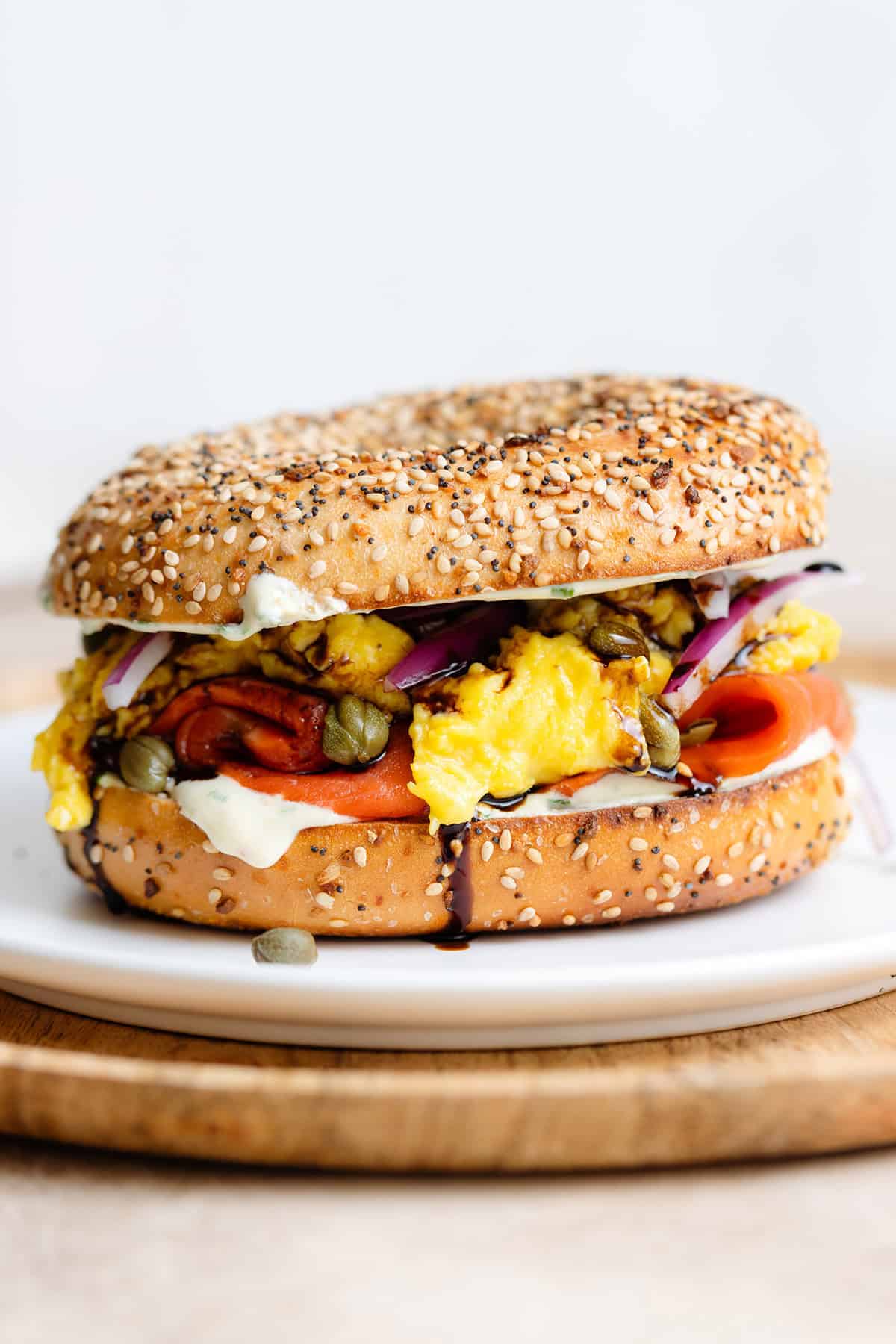 Jump to:
Why This Recipe Works
The best scrambled eggs - If you've never tried soft-scrambled eggs, you've got to try them! Not overcooking your scrambled eggs is so important and changes the taste and texture so much. They're light, airy, and so creamy! No rubbery dry eggs will be found here!
Restaurant-worthy - Smoked salmon sandwiches or eggs with smoked salmon is my favorite savory breakfast to order when I'm out for brunch but it can get expensive. Making the same thing at home is actually really easy, just as delicious, and cheaper! The smoked salmon makes it feel fancy and soft scrambled eggs make it into a truly restaurant-worthy breakfast!
Versatile - You can serve the eggs and salmon in a bagel as I do here, between two slices of toasted sourdough, in a croissant, or as an open-face sandwich (which is actually how I serve this most often). If you don't have cream cheese or want to avoid the dairy, you can add mashed avocado instead!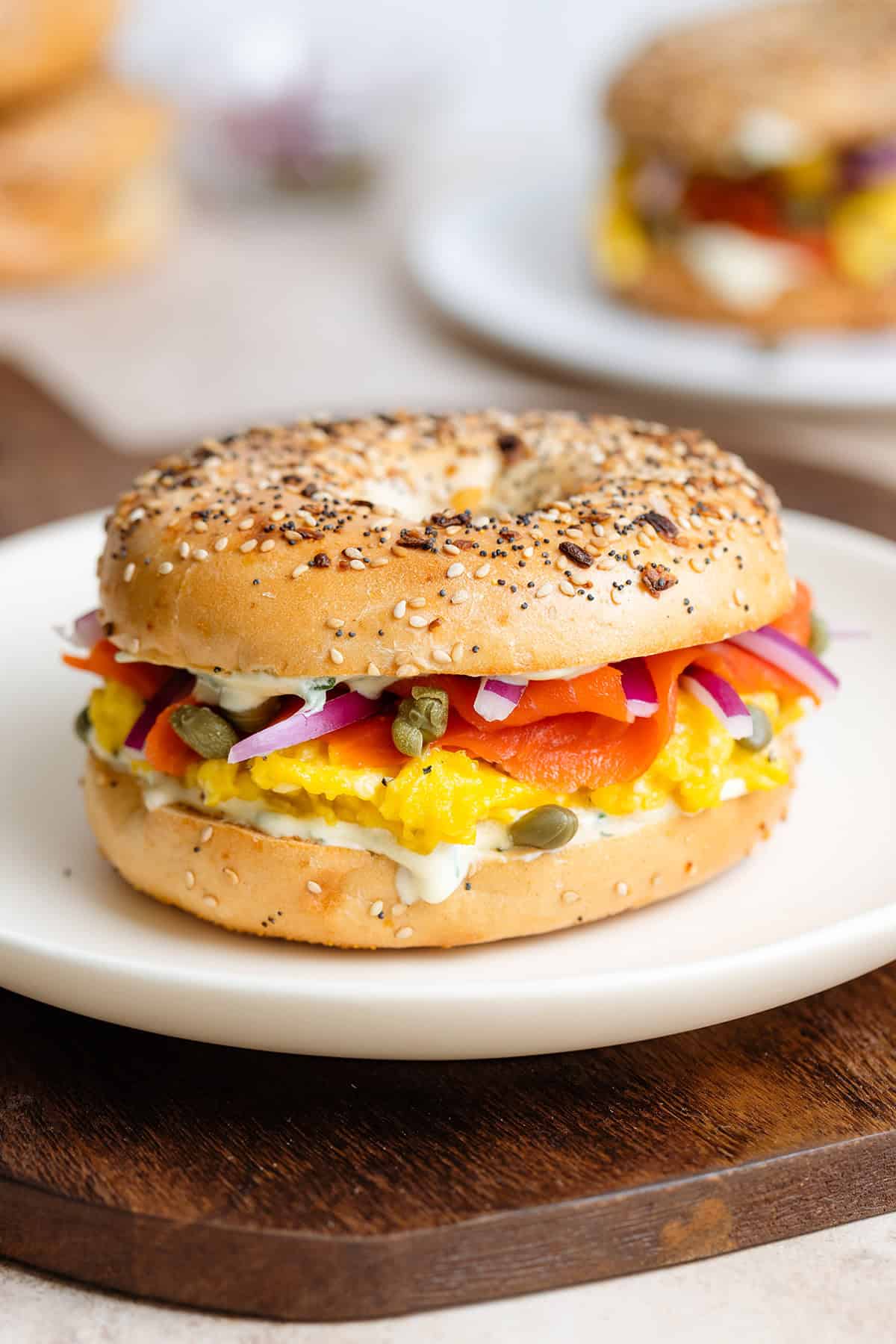 Ingredients
Bagels - I like making these sandwiches with bagels but you can use sourdough or any other bread you like. Croissants would also be really tasty!
Eggs - Soft scrambled eggs are a must in this sandwich! They're made with butter, sea salt, pepper, and garlic powder, and they're absolutely to die for. Soft scrambled eggs win over regular scramble any day!
Smoked salmon - The recipe calls for cold smoked salmon which is what's most whenever we talk about smoked salmon. You can also use lox or gravlax if you prefer. Read more about the differences between the three below.
Cream cheese - I like making my own by adding soft goat cheese and fresh chives into a food processor and blending until creamy. Regular cream cheese works just as well!
Red onion - You can use either fresh red onion for added crunch or Quick Pickled Red Onions for extra tang and flavor. I went with fresh because that's what I had and because I also get that pickled flavor from the added capers.
Capers - I always go for the pickled capers but they're also available cured in salt if you prefer those. Capers are actually unripened flower buds that are picked and dried, usually in the sun. They're then either cured in salt or pickled in brine. I like the pickled ones because the vinegar adds more flavor to them. They're very salty either way.
Balsamic glaze - balsamic and smoked salmon are the perfect match and it also works really well here with the eggs. Balsamic glaze is balsamic vinegar cooked down into a thicker, sweeter, and more concentrated "glaze". You can find it next to balsamic vinegar and oils in the grocery store. Look for ones with no added sugar if possible.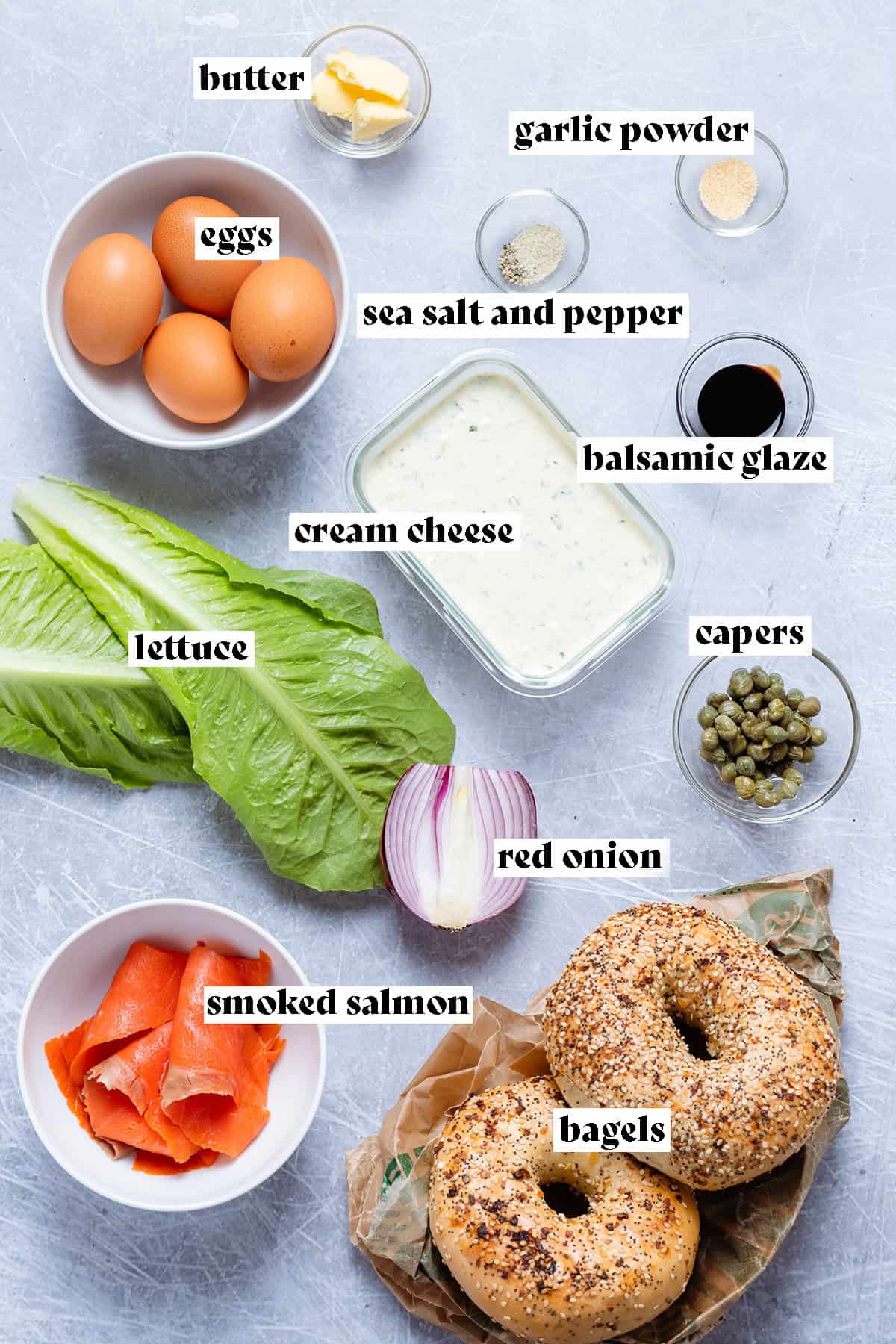 What's the difference between smoked salmon, lox, and gravlax?
Smoked salmon can be either hot smoked or cold smoked. They both get brined in salty water or brine usually overnight and are then smoked. Hot smoked salmon is smoked at around 120 degrees Fahrenheit and cold smoked salmon at around 90 degrees Fahrenheit.
Both lox and gravlax are cured in salt but gravlax usually has less salt and added sugar, fresh dill, and alcohol like vodka or gin. Lox can be simple just with salt or it can also have various spices added to it.
So which one is the best? There's no right or wrong answer. Try them and see which one you prefer. I most often use cold smoked salmon, especially for sandwiches like these. Lox and gravlax are more for savoring and smaller bites because they can be saltier than smoked salmon. They also tend to taste more "raw" than smoked salmon. I've never tried hot smoked salmon.
Step-by-Step Instructions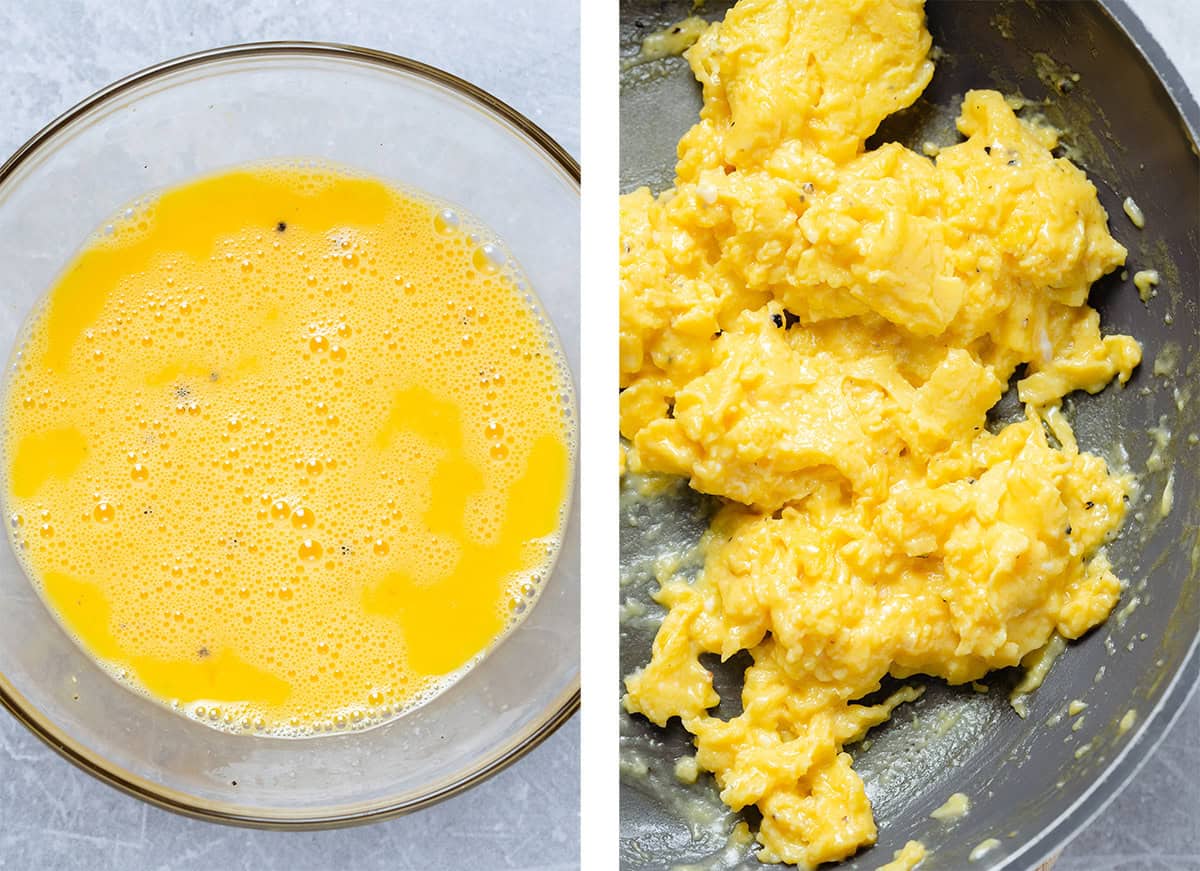 The only cooking you're doing with this recipe is the eggs and it's really easy and only takes a few minutes. They cook very quickly so make sure you have everything ready to serve the sandwiches before you start cooking the eggs.
First, whisk the eggs with sea salt and pepper in a medium bowl. I like using a whisk, not a fork because I find it whisks the eggs together better and makes them airier. Adding the salt before cooking prevents the eggs from overcooking.
Heat a large pan over medium heat. Add butter and when it's almost completely melted, slowly pour in the eggs.
Toast your bagels while the eggs are cooking.
Let the eggs cook for a minute to allow them to set on the bottom. Lower the heat to medium-low to make sure they don't burn and stick to the pan. Start gently pushing them around the pan going from the edges towards the middle. This process should take 3-5 minutes.
The eggs are done before you think they are. Eggs cook very quickly and can go from soft to spongy really fast. When they're almost done, take them off the heat, add fresh herbs, and let them finish cooking in the pan from the residual heat.
Spread cream cheese on the toasted bagels, and add the smoked salmon, scrambled eggs, red onion, and capers. Drizzle everything with balsamic glaze if desired and top with the other half of the bagel. Enjoy!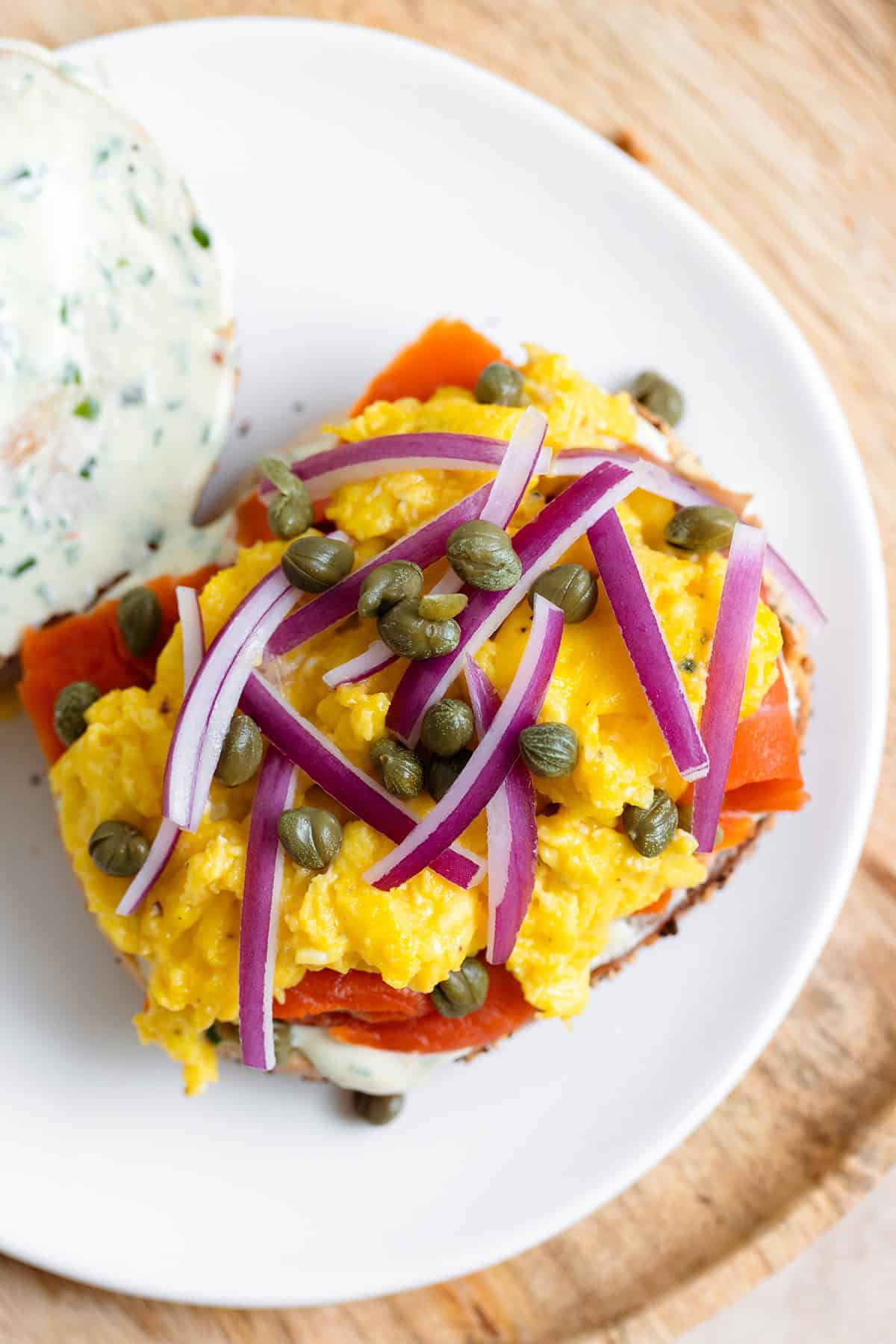 Serving and Storing
Once you make the sandwich, it's best served right away. Because of the scrambled eggs and the smoked salmon, this sandwich doesn't keep very well.
If you're making your own cream cheese with soft goat cheese, you can keep that in the fridge in an airtight container for 3-4 days.
I don't recommend making the eggs ahead of time, they're just not the same that way.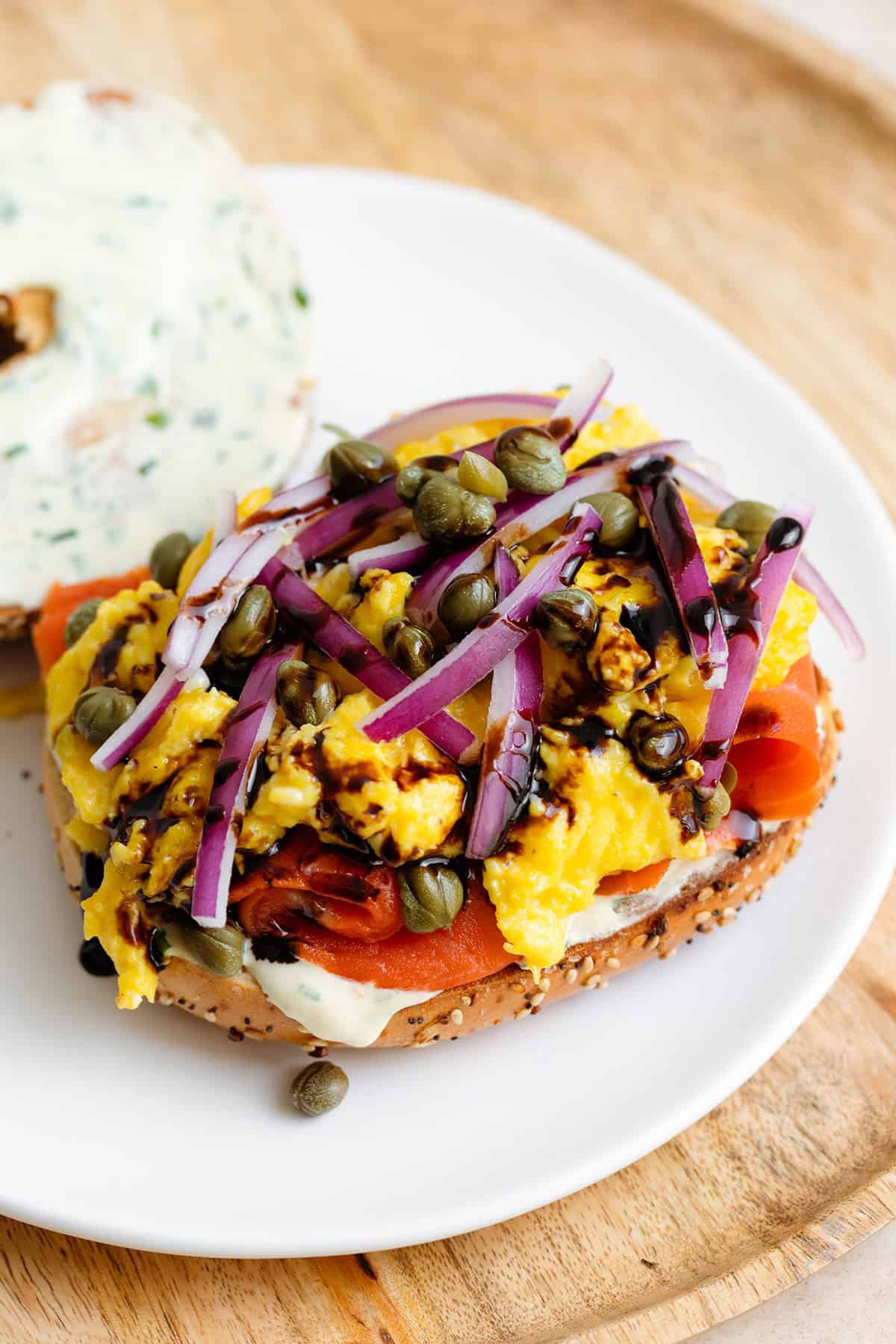 FAQs
Are soft scrambled eggs fully cooked?
No, they are slightly undercooked which is what makes them shiny and so creamy. Fully cooked scrambled eggs will be duller and tougher in texture.
How long does it take for eggs to scramble?
This depends on the type of your stove and your pan but in general, it shouldn't take any more than 5 minutes. You should always cook them over medium-low heat. Eggs take patience and tend to stick when you turn the heat up too much. Turn the heat off earlier than you'd think, they'll finish cooking from the residual heat.
Should I add milk to scrambled eggs?
Some recipes call for milk to make the eggs creamier but I don't find it necessary. As long as you don't overcook the eggs, they'll be just as creamy without any milk.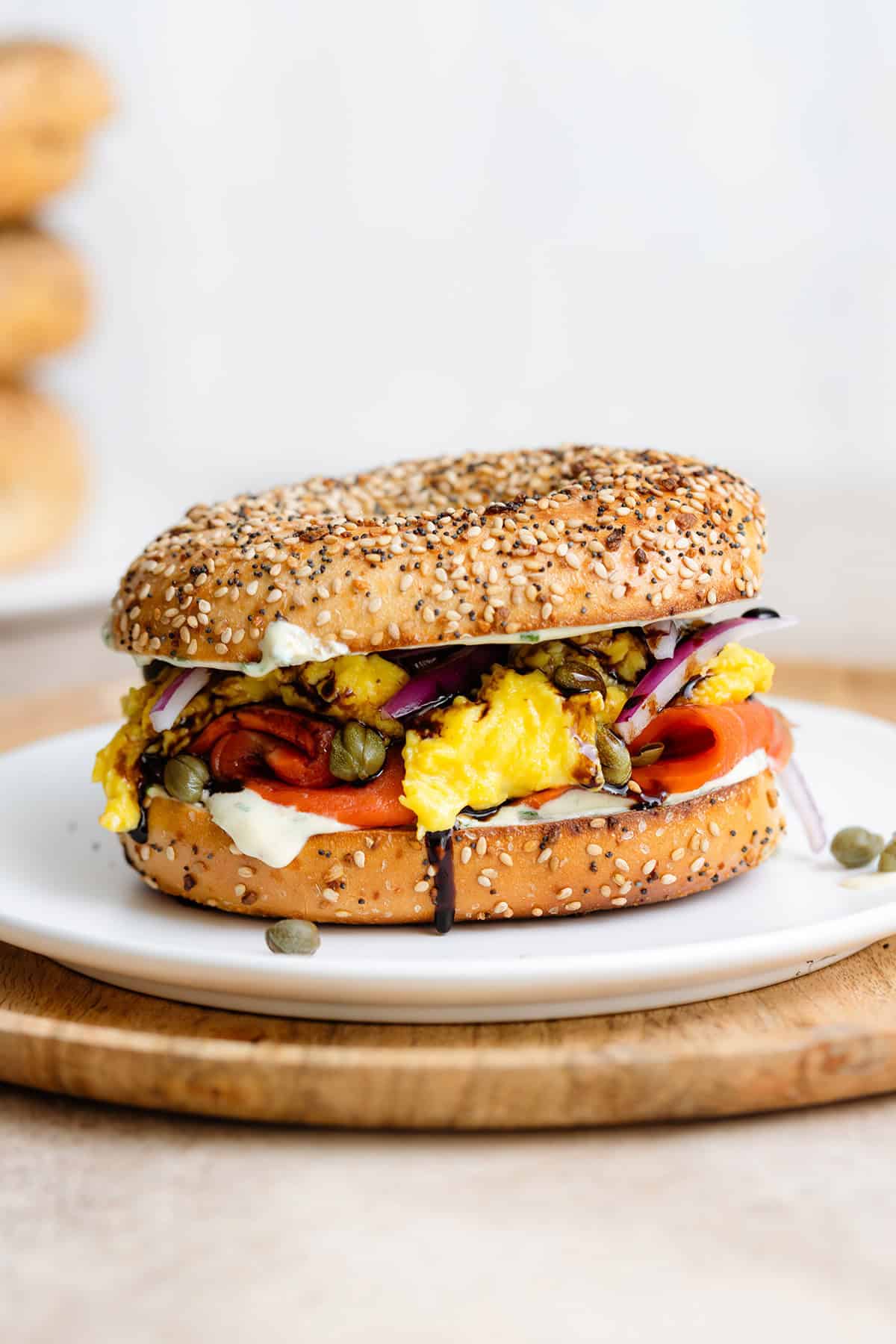 More Savory Breakfast Recipes with Eggs
If you like having eggs for breakfast, definitely check out these 5 recipes linked below! Especially the first two featuring soft scrambled eggs (so good!!). The chickpea salad is more of a lunch recipe but it's my current favorite and I couldn't help but include it. To see all the latest savory breakfast recipes, head to the Savory Breakfast Recipes category page.
Print
📖 Recipe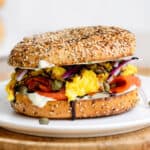 Smoked Salmon Egg Sandwich
Author:

Veronika | thehealthfulideas

Prep Time:

10 mins

Cook Time:

5 mins

Total Time:

15 minutes

Yield:

2

1

x

Category:

Breakfast

Method:

Cooking

Cuisine:

American

Diet:

Low Lactose
---
Description
This sandwich comes together in less than 15 minutes and makes the best savory breakfast! Creamy eggs, smoked salmon, and cream cheese on a toasted bagel.
---
2

bagels, sliced in half

4

large eggs

¼ tsp

sea salt

¼ tsp

freshly ground black pepper

½ tsp

garlic powder

1 tbsp

butter

2 tbsp

chopped fresh chives

100g

cream cheese or soft goat cheese

100g

cold smoked salmon

½

red onion, thinly sliced

1 tbsp

capers
Balsamic glaze for serving
---
Instructions
This sandwich comes together really quickly so it's best to have everything prepped ahead.
Add your bagels to a toaster and toast while you make the eggs.
Whisk the eggs together with salt, pepper, and garlic powder.
Melt butter in a large hot pan over medium heat and slowly pour in the whisked eggs.
Let them sit for a minute to allow them to start to set and use a rubber spatula to gently move them around to scramble them.
Keep tilting the pan whenever you move them to allow the eggs to spread around and cook. This should take 3-5 minutes. Lower the heat to low-medium if necessary. Soft scrambled eggs need low heat and patience.
Take the eggs off the heat when they're still very soft and glossy. They will finish cooking from the residual heat. Sprinkle in fresh chives if desired.
To assemble, spread cream cheese on both sides of the bagels, add smoked salmon, scrambled eggs, sliced onion, capers, and a drizzle of balsamic glaze if desired. Close with the other half and slice in half - this is best done with a very sharp knife because the eggs like to slide out. Enjoy right away.
---
Notes
Best soft-scrambled eggs: Add the  salt to the eggs before cooking, it helps to prevent them from overcooking. Cook the eggs for 3-5 at most. They're done before you think they are and will finish cooking from the residual heat in the pan. They cook very quickly and need low heat. Make sure you have everything for the sandwiches ready before you start cooking the eggs.
Keywords: smoked salmon and egg, breakfast sandwich