These Egg and Sausage Breakfast Burritos are the perfect grab-and-go meal that's packed with protein, lots of flavors, and is freezer-friendly! Make them with regular tortilla wraps and sausages or fully vegan and gluten-free!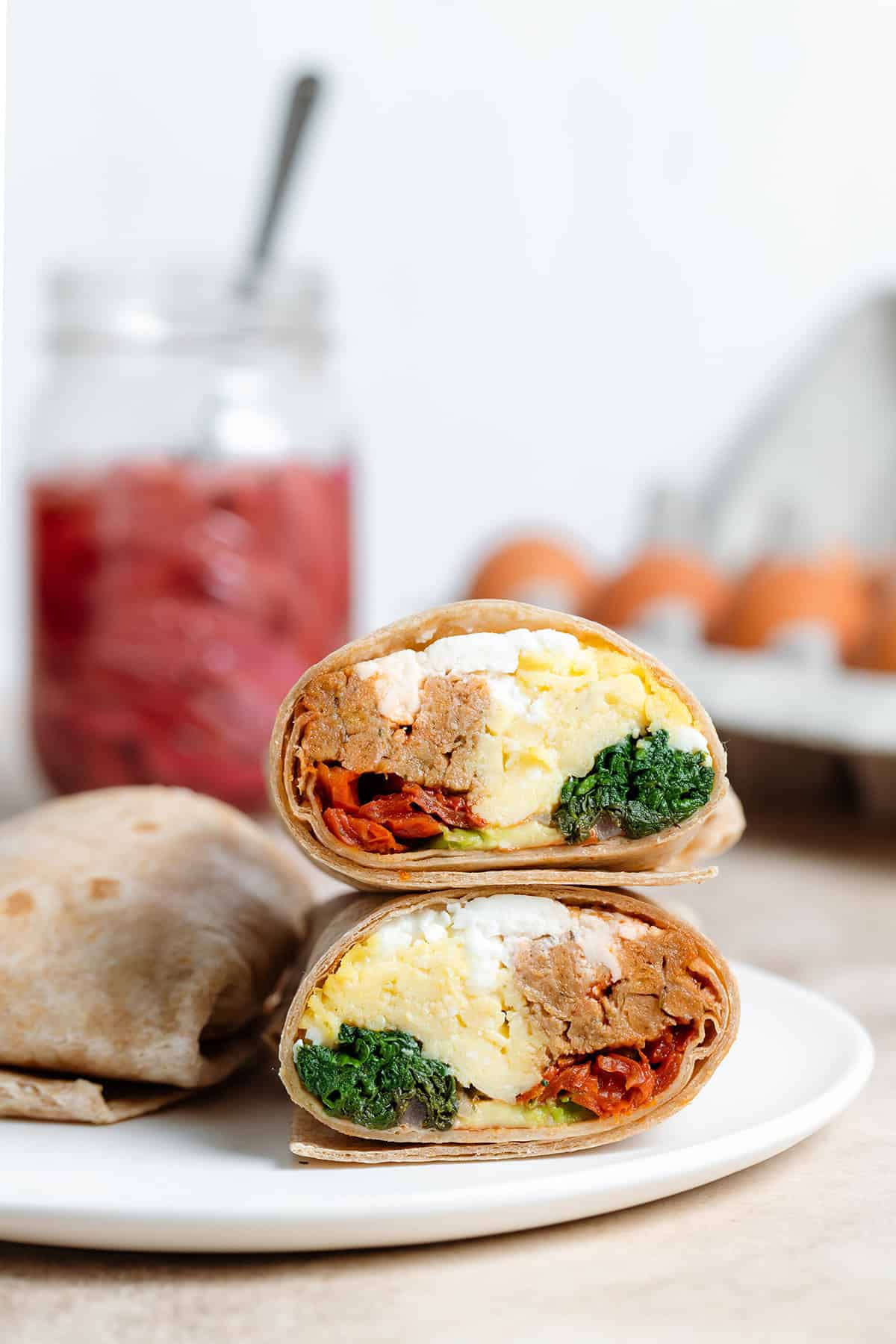 Jump to:
What Makes This Recipe Great
They're honestly the best! - At first, I wanted to make the Starbucks sundried tomato and spinach egg wraps but I'm glad I decided to go all-in on these and add ALL THE TOPPINGS because why not?! They're so much better this way and won't leave you feeling hungry or craving other things. Egg wraps are great but burritos with sausage is really where it's at! Trust me, you need these in your life!
Easy to make ahead - There are a lot of components to these burritos for lots of flavor but everything is cooked in one pan so you don't have to worry about having a ton of dishes to clean - yay!!
Packed with protein - One burrito comes to around 35g of protein! This depends on the sausages you use but the vegan ones I like using have lots of protein! There's also a lot of protein in the eggs, feta, and avocado! You can sprinkle in some hemp seeds for extra protein boost.
The burritos are freezer friendly - I recommend taking out the spinach if you plan to freeze the wraps because it tends to release water after defrosting but otherwise these wraps are totally freezer friendly and perfect for meal prep.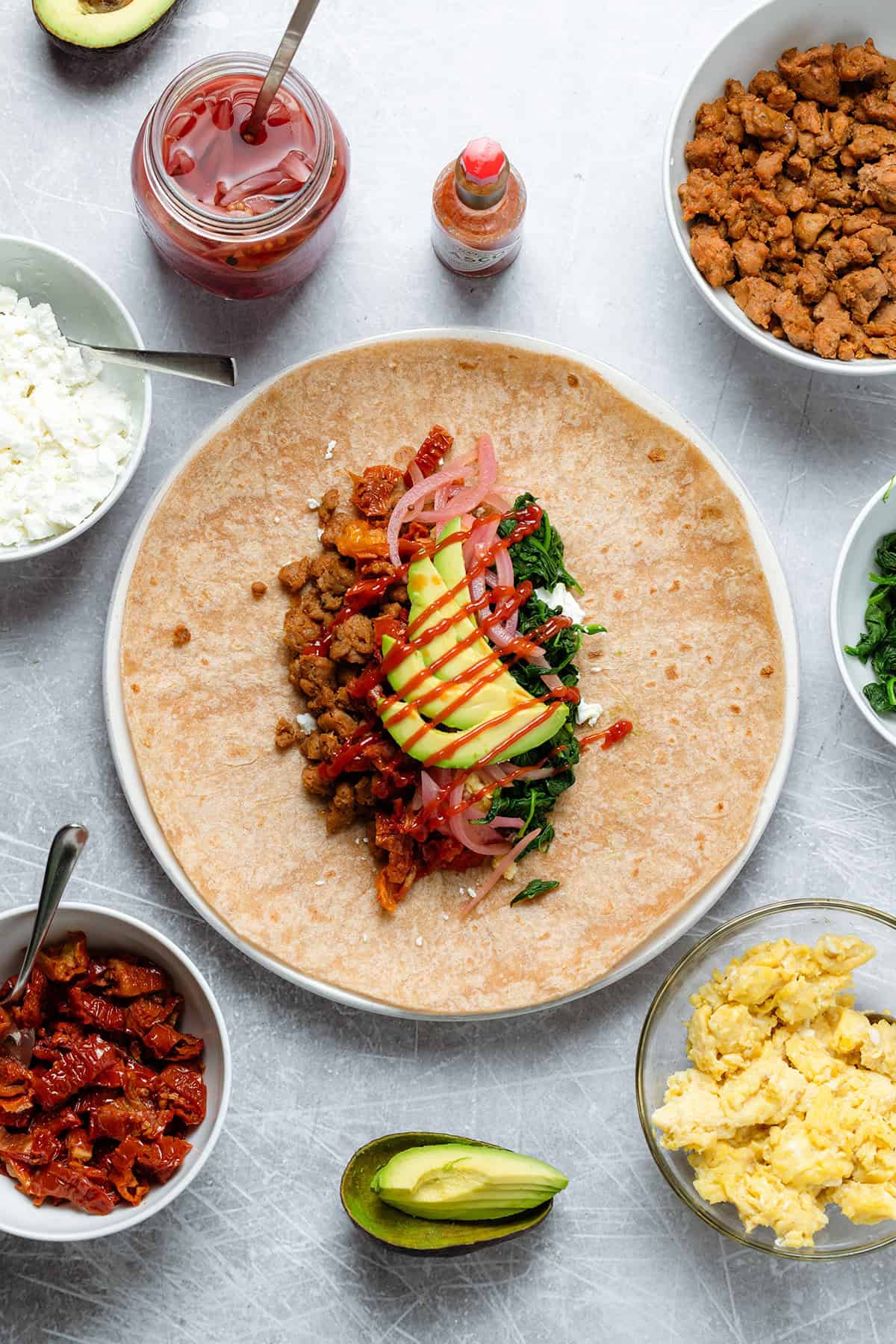 Ingredients Notes
Tortilla wraps - I usually go with large while wheat tortillas. Basic wheat tortillas are usually more managable and easier to wrap. Any gluten-free, keto, or other special ingredient tortillas are usually more stiff and prone to cracking.
Eggs - I use large eggs and use 1 ½ - 2 per wrap. I recommend making more than you think you'll need. It's better to have leftovers than not enough!
Sausages - I use Beyon Meat or Impossible sausages but you can use any regular or vegan sausages you like. Ones you can easily crumble up are the best here because you crumble them into the pan and saute.
Spinach - I use fresh baby spinach but frozen is also a good option. Just make sure to squeeze out the water after cooking so it doesn't make the burritos soggy.
Sun-dried tomatoes - I used the ones packed in oil and rinse and drain them before chopping. You can use the dry ones and soak them in hot water for 30 minutes to soften them but I find the ones in oil to have more flavor so I prefer those.
Feta - You can use any cheese you like but I most often go with feta. It adds a nice saltiness and goes really well with the sun-dried tomatoes. Cheddar cheese is also a great option.
Pickled onion - I use my Quick Pickled Red Onions recipe which only takes about 30 minutes but you could also use fresh onions but they won't have the same tangy flavor. Regular pickles slided up are also an option to get the same pickle flavor.
Condinments - I like adding hot sauce and/or ketchup for a little more flavor. You can add any sauces you like that you'd normally eat with eggs.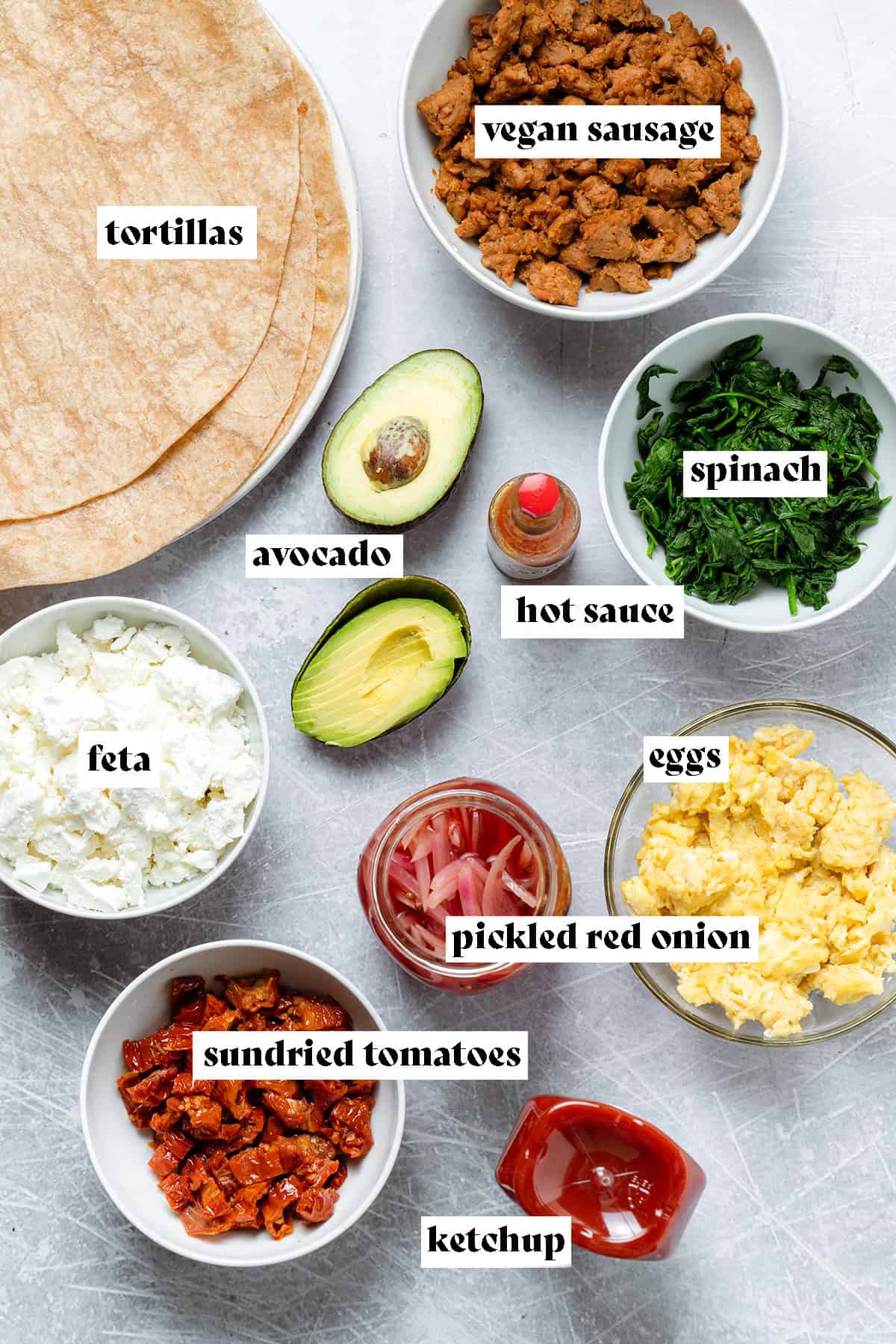 Variations and Substitutions
Eggs - There are a lot of vegan egg substitutes on the market these days so if you have one you like, you can substitute it 1:1. You can also make a tofu scramble instead of the eggs.
Cheese - You can easily skip the cheese to make the burritos dairy-free ro add a vegan alternative.
Add roasted vegetables - You can skip the sausage or egg and add some roasted veggies instead. Bell peppers, eggplant, onions, or sweet potato would be great options!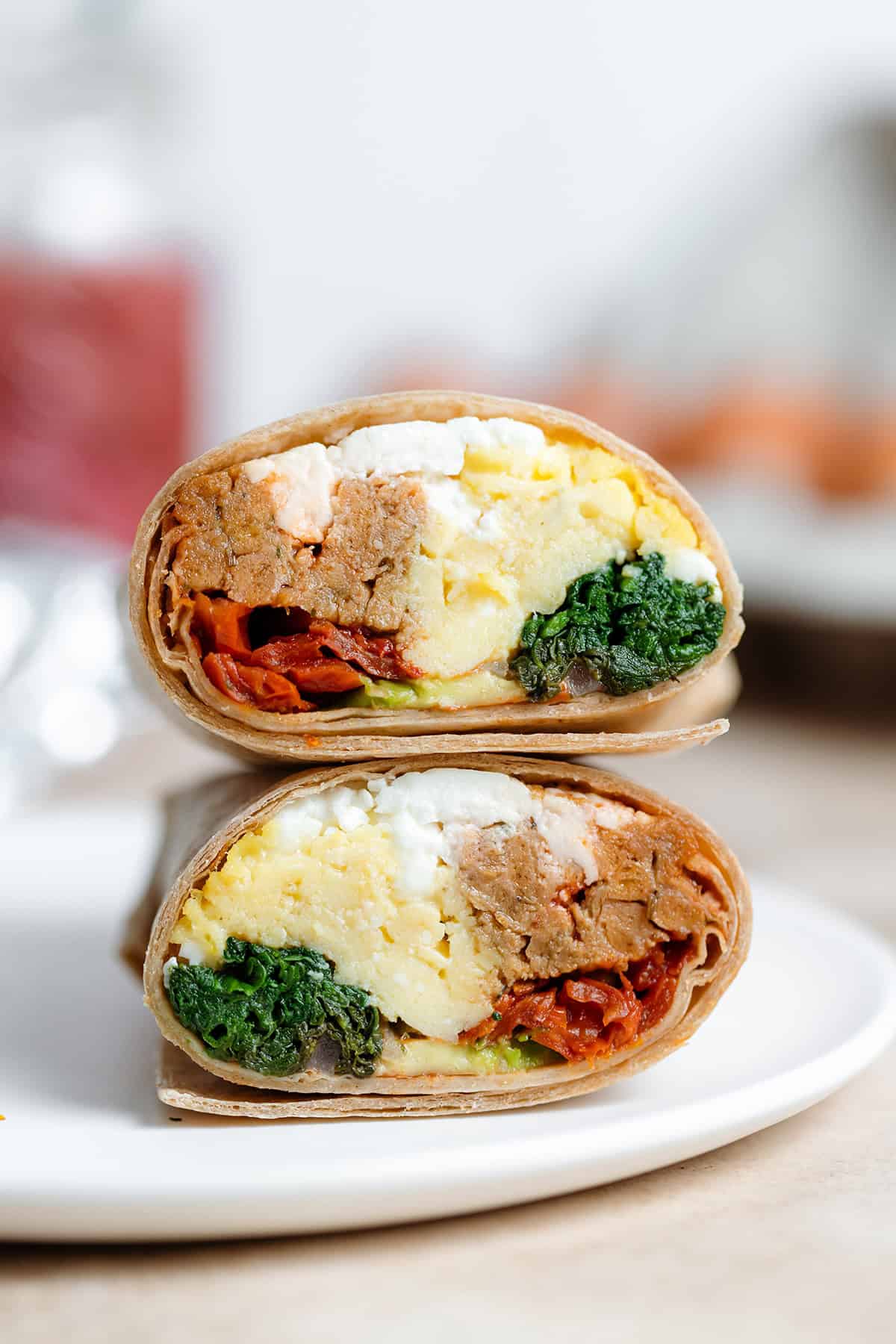 How to Make the Burrito
Making the burritos is really super simple. All you're cooking are the sausages, the eggs, and spinach.
Add the spinach to a large pan with a good splash or water over medium high heat. Let the water simmer gently and keep tossing the spinach around until it's completely wilted. Remove it from the pan and set aside. Once it's cool, squeeze out excess liquid.
Crumble the sausages and cook them in the same pan with oil for about 10 minutes (this will vary based on the sausages you use). Set aside while you finish the eggs.
Scramble your eggs in a bowl, season with salt and garlic powder and cook them in your large pan over medium heat for a few minutes with butter and oil. Mix them and move them around with a silicone spatula until they're almost done, you don't want to overcook them, they will keep cooking from the residual heat.
Prepare all your other toppings - the pickled onions, crumble the feta, chop up sun-dried tomatoes, and get your hot sauce, and ketchup.
Add all your toppings to the middle of your tortilla and wrap by folding one side over and the sides towards the center, and then rolling into a burrito. The ingredients should be enough for 5 burritos.
Warm up your burrito in the oven before serving - more about that in the next paragraph.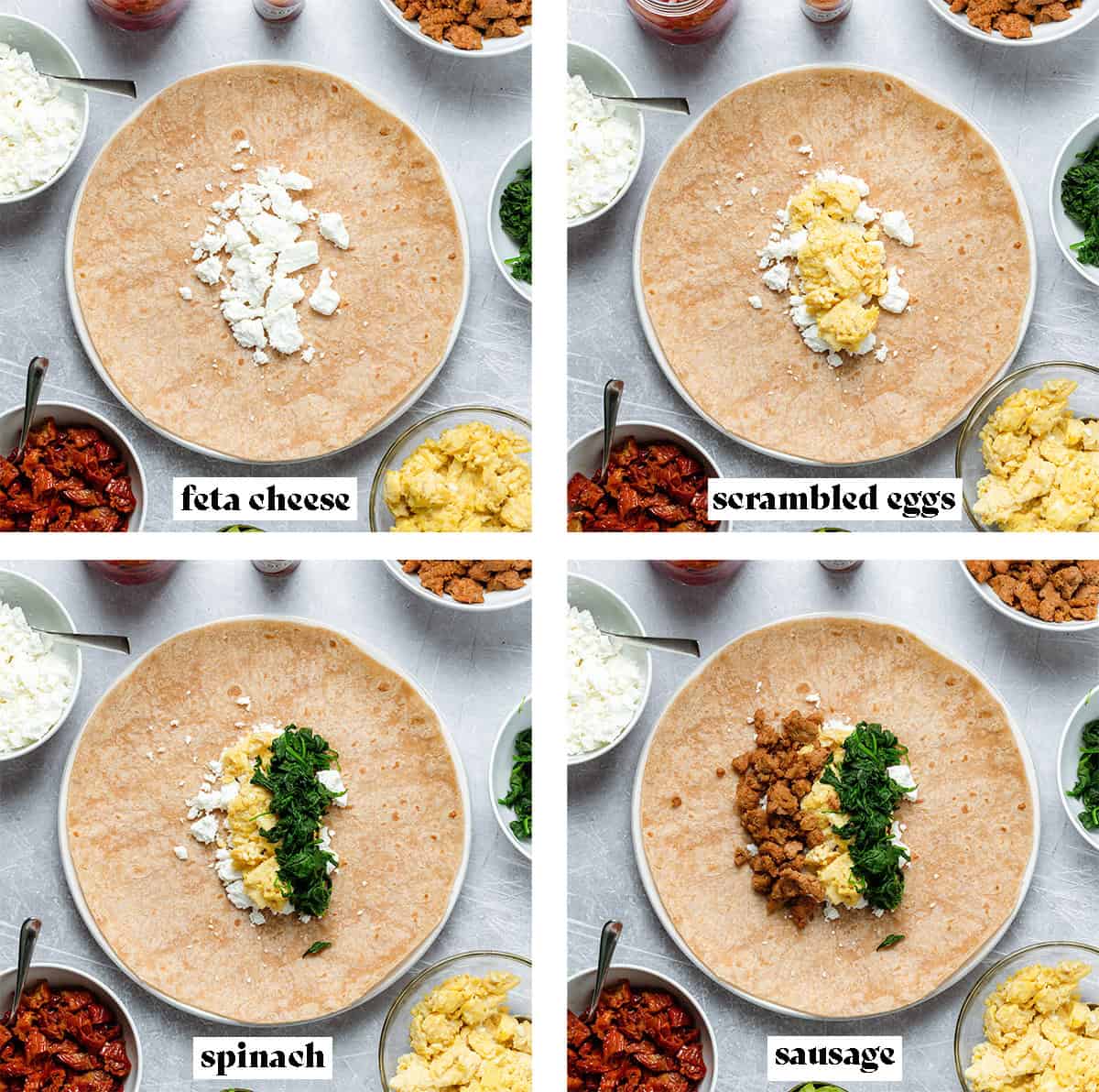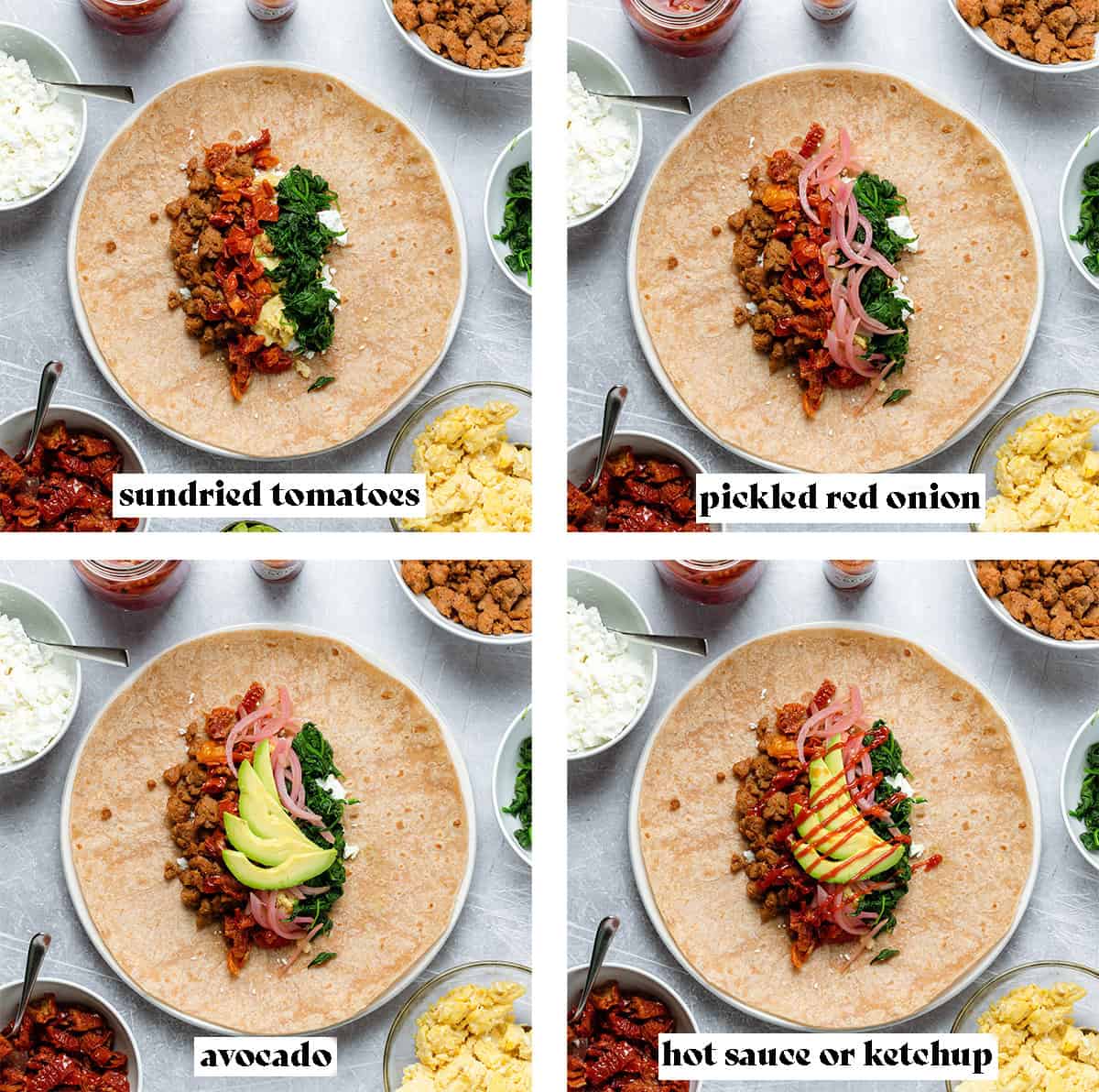 Quick tip: choose a big soft tortilla to make wrapping it easier. Gluten-free tortillas are usually harder to wrap without tearing.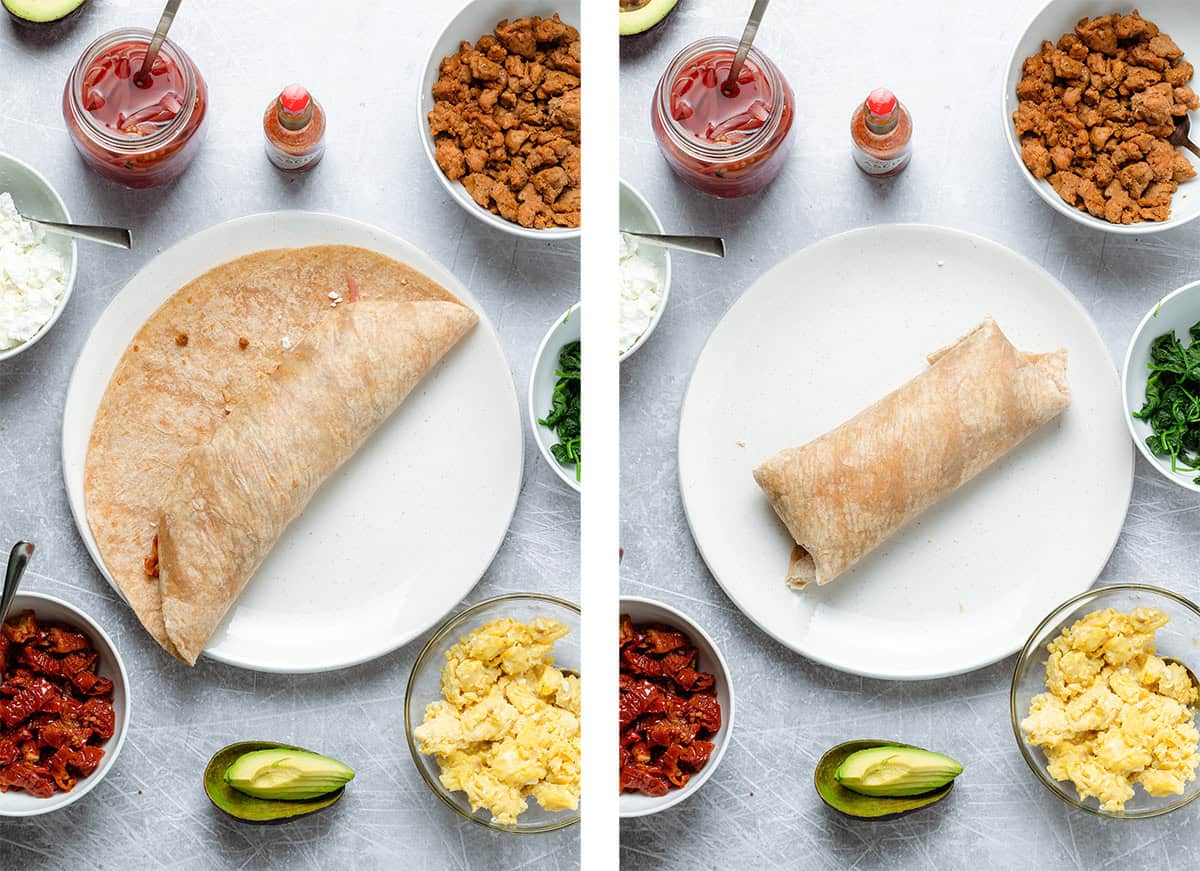 Storing and Reheating
Fridge
Storing: Wrap the burritos in foil or cling wrap and keep them in the fridge for 2-3 days. If you're using meat, I wouldn't keep them longer than 2 days. Vegan meat should generally last longer.
Warm it up: Unwrap it and place it on a baking sheet. Bake in the oven at 300F (150C) for about 15 minutes. Cut in half and serve.
Freezer
Storing: Wrap the burritos in foil or cling wrap and place them in a freezer-safe container. You can also store them just in foil but the extra container prevents freezer burn when stored for longer.
Warm it up: Remove the burrito from the container and foil, place them on a baking sheet, and bake in the oven set to 300F (150C). Because they're frozen, they take 30-45 minutes to warm through. I like to take them out of the fridge in the evening so that they take less time to bake.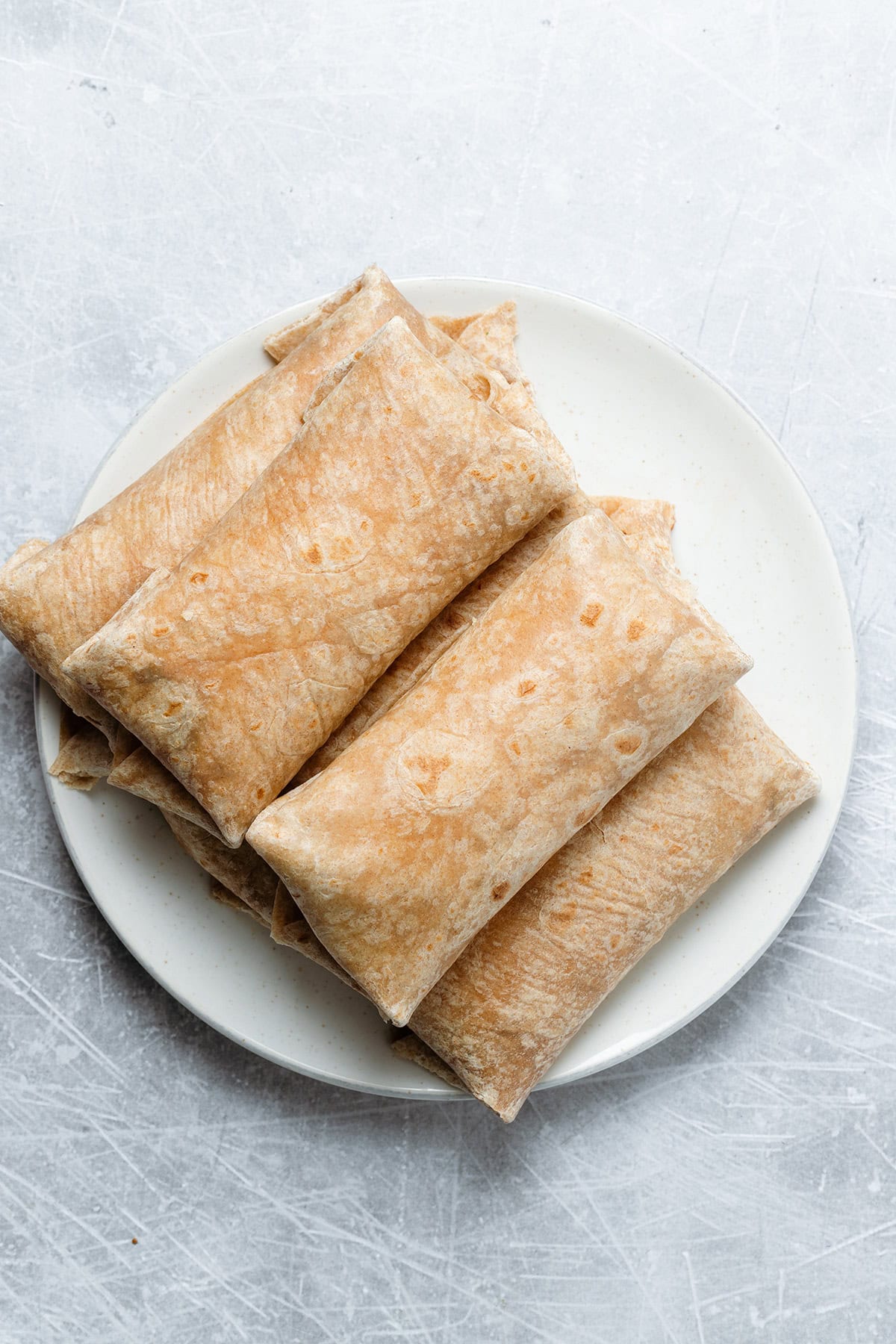 FAQs
Can I make the burritos with regular sausages?
Yes, totally! You can use any sausages you like. The cooking time will vary based on that.
Can I make the burritos fully vegan?
Yes, you can! Swap the egg for a vegan alternative, there are lots on the market these days. Or you can make tofu scramble. Use vegan feta or other vegan cheese in place of the regular feta.
Are they freezer friendly?
Yes, the burritos are freezer-friendly. The spinach does tend to release water after defrosting so I recommend skipping it if you plan on freezing the wraps.
More Savory Breakfast Recipes
You can head to the Savory Breakfast Recipes category to check out the latest savory breakfast or brunch recipes or check out four of my favorites below! I'm obsessed with the halloumi sandwiches!
Print
📖 Recipe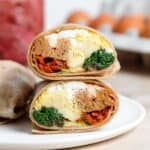 Egg and Sausage Breakfast Burritos
Author:

Veronika | thehealthfulideas

Prep Time:

15 mins

Cook Time:

20 mins

Total Time:

35 minutes

Yield:

5

1

x

Category:

Breakfast

Method:

Sauteeing

Cuisine:

American

Diet:

Vegetarian
---
Description
These classic breakfast burritos with sausage and egg are a great everyday breakfast. They can be made with meat or completely vegan. They're also freezer-friendly!
---
150g

baby spinach (approx. I used

one

box)

5

vegan or regular sausages, thawed if frozen (I like beyond meat sausages)

2 tbsp

avocado oil (or other cooking oil)

8

large eggs +

¼ tsp

sea salt, ½ teaspoon garlic powder

1 tbsp

avocado oil

2 tbsp

butter

200g

feta cheese, rinsed and crumbled

1 cup

packed sun-dried tomatoes in oil, drained, and rinsed

½ cup

quick pickled red onions

1

-

2

avocados, sliced

5

burrito wraps
Optional add-ons: sprouts, olives, hot sauce, ketchup, fresh herbs (chives or parsley)
---
Instructions
Everything will be cooked in the same pan.
Spinach:
Add the spinach to a large pan with a splash of water. Set it over medium-high heat and let the spinach wilt down, stirring often. Add more water or lower the heat if it looks like it's sticking. 
Transfer to a bowl and let cool down. Once cool, squeeze out and discard excess water, and set aside. Wipe the pan with a paper towel before cooking the sausages.
Vegan sausages:
Using a knife, score the sausages and remove the skin.
Heat two tablespoons of oil in the large pan and crumble in the sausages. Use a wooden or metal spatula to break them up even more.
Cook the sausages over medium-high heat, stirring and tossing often for 10 minutes. This will vary based on the sausages, adjust cooking time accordingly. Transfer the cooked sausages to a bowl and set aside.
Eggs:
No need to clean the pan for this, the eggs will pick up the little bits sticking to the pan if you use enough butter or oil. This is desired, it will flavor the eggs!
Crack the eggs into a medium bowl, add the sea salt and garlic powder, and whisk until well mixed.
Set your pan over medium heat and add the butter and oil. As soon as the butter melts, slowly pour in the eggs.
Lower the heat to low-medium and let them cook for about 30 seconds. Using a silicone spatula, move the eggs around the pan very frequently. You can tilt the pan in different directions to help the eggs cook. This should only take a few minutes. As soon as the eggs look almost done, take them off the heat, they will keep cooking from the residual heat and the hot pan. 
Transfer the eggs to a bowl and set them aside.
Make the burritos:
Get all your other ingredients ready - feta, sun-dried tomatoes, pickled red onions, avocado, or other toppings you're adding.
Place a tortilla wrap on a large plate. To the middle add the feta, sausage, eggs, spinach, sun dried tomatoes, pickled red onions, and avocado. Drizzle with hot sauce and ketchup if desired.
To wrap, fold one side of the tortilla over the filling and push it gently underneath if possible. Fold the sides over towards the middle and roll to make a wrap.
Store wrapped in tinfoil in the fridge for 2-3 days or freezer for 1-2 months. You can wrap them in plastic wrap before wrapping in foil or using a freezer-safe container to prevent freezer burn. Warm your burritos in the oven when ready to eat.
Warm up right away or from the fridge: Preheat the oven to 350F and cook for 15 minutes.
From the freezer: Defrost in the fridge overnight or cook from frozen at 325F (160C) for 30-45 minutes.
---
Notes
Spinach: You can blanch the spinach in boiling water but I prefer doing it in a pan to have less clean up. I find the results to be the same. If you plan on freezing the wraps, I recommend skipping the spinach or adding herbs instead. It tends to release water after defrosting.
Eggs: Adding salt to the eggs before cooking helps the eggs to stay soft and fluffy instead of drying out. It's important to grease your pan properly when making scrambled eggs because they like to stick. I find a mixture of both butter and oil works best but you can use either or less if desired. They both give different results but butter is usually preferred. I recommend using a silicone spatula instead of a wooden one because it picks the eggs up better. My eggs stick much less to the pan ever since I switched from wooden to silicone spatula!
Feta cheese: I recommend rinsing it because the liquid it's sold intends to be very salty. I prefer buying whole feta instead of crumbled because it's less dry and doesn't have additives. If you don't have feta, you can use any other cheese you like. Grated cheddar works great!
The nutritional information is just an estimate. The accuracy of the nutritional information is not guaranteed. It will vary based on the sausages you use.
Keywords: breakfast, egg and sausage, burritos