These Quick Pickled Red Onions are the easiest pickle you can make in as little as 30 minutes, no canning required! This simple condiment will take your dish from good to amazing!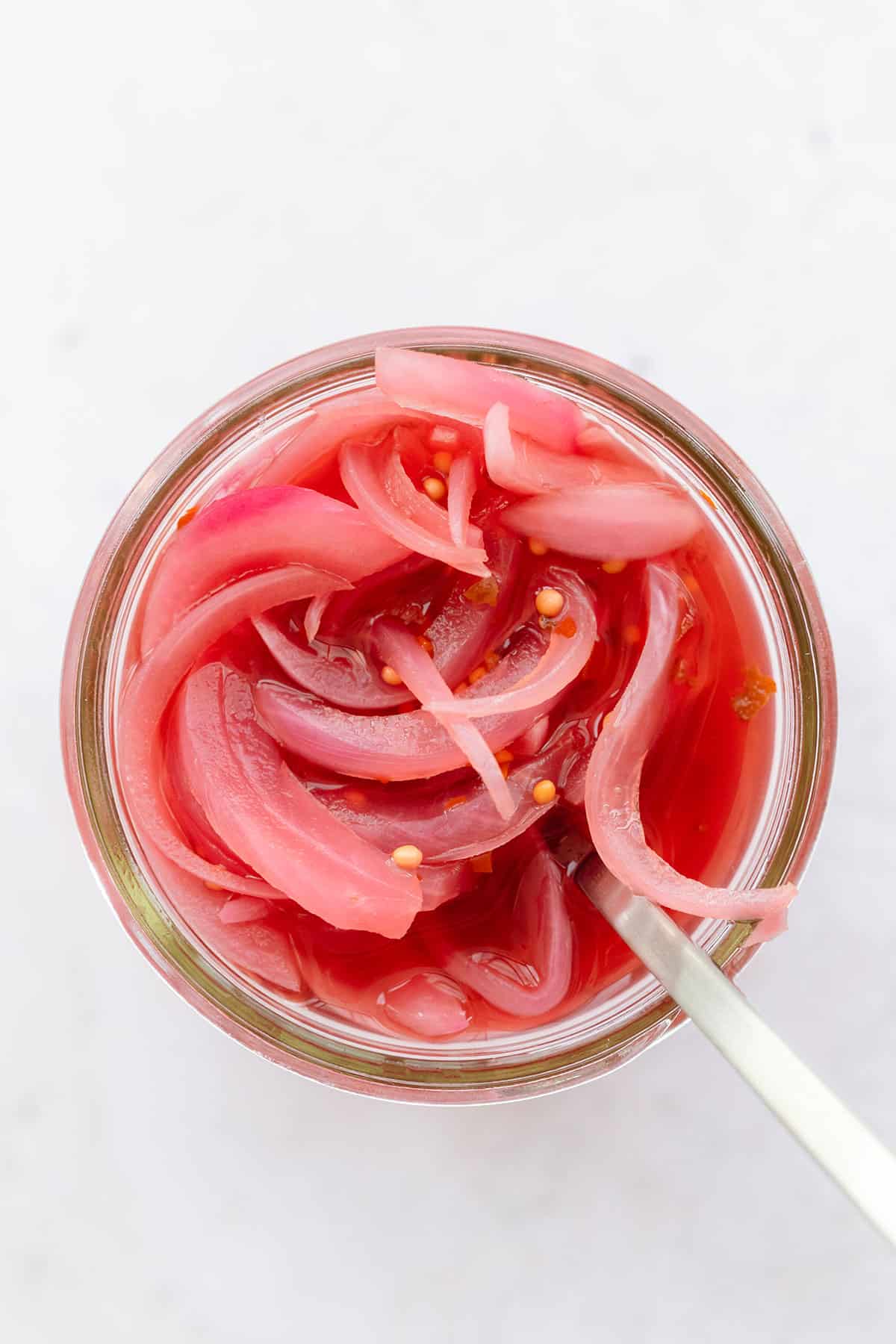 Jump to:
What Are Quick Pickles?
Quick pickles are an easy way to add pickled vegetables to your meals without having to properly pickle anything the old classic way. All you need are extra 30 minutes, vinegar, and an onion and you can make yourself some pickles!
What kinds of vegetables can you quick-pickle?
You can quick-pickle basically any vegetable. Besides onions, the most common are pickled carrots, beets, radishes, or asparagus. Any hard vegetables are usually great pickled. There are even pickled cherry tomatoes! I've never tried them, though, I usually stick to onions.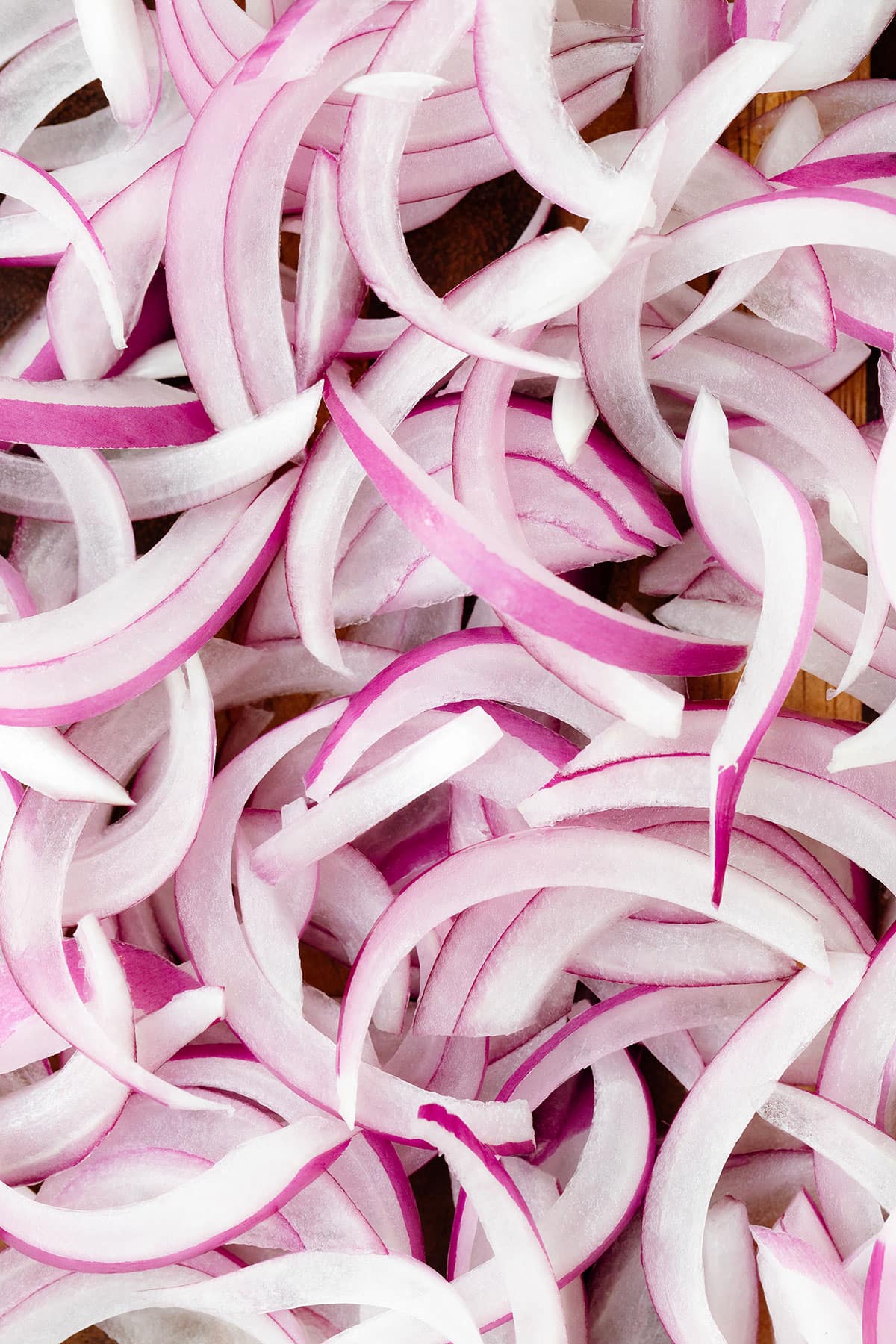 What You Need
You only need a few basic ingredients to make your own quick pickles. The base is made of only four simple ingredients:
Onions (red, yellow, shallots, scallions)
Vinegar (distilled, white wine, red wine, apple cider, sherry, champagne, rice, etc.)
Water
Sea salt or Himalayan pink salt (I don't use table salt because it's stripped of important minerals)
The kind of vinegar you use will
The rest is added for flavor and to improve the taste.
Sweetener
I highly recommend adding some sort of sweetener to cut the acidity a little bit. I use maple syrup but you can use any sweetener you have on hand. Here are some examples:
Agave
Honey
Coconut sugar
Maple sugar
Cane sugar
Some of them might alter the taste a little bit and change the color. I don't recommend using stevia, erythritol, or monk fruit, it will ruin the flavor. If you want to make this sugar-free, don't add any sugar.
Whole Spices
You can add spices and special vinegar to make your pickles more flavorful. I like the combination of mustard seeds and crushed red pepper flakes. It's better for the flavors to always add whole spices.
Other spices you can add are coriander seeds, black peppercorns, cumin seeds, or caraway seeds.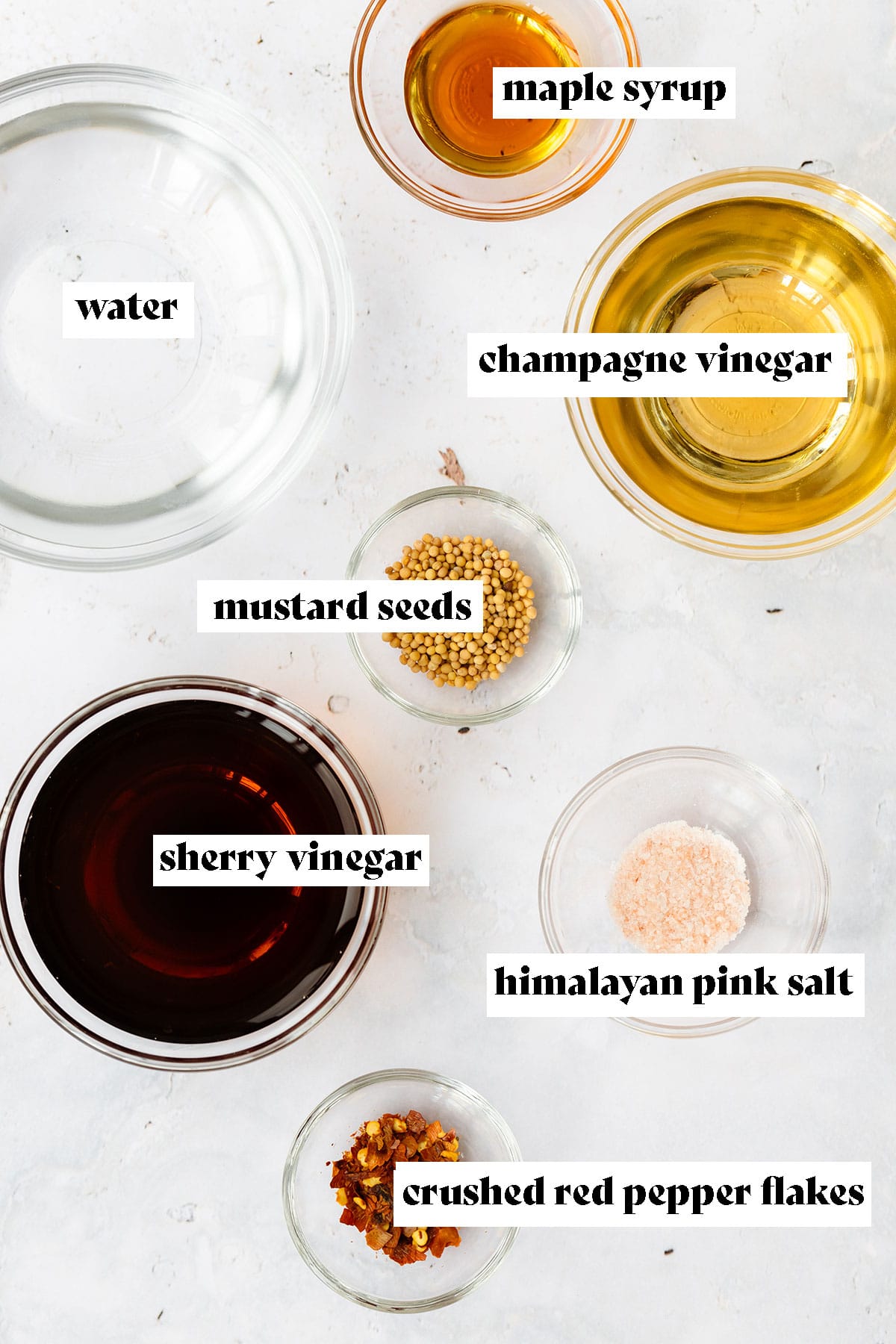 How to make it
There are only four simple steps to pickling onions the quick way.
Thinly slicing some onions (the thinner the slices, the quicker they pickle) and stuff them in a heatproof jar.
Mix the water, vinegar, and spices and bring to a boil to blend all the flavors together.
Pour the hot liquid over the sliced onions.
Wait for your pickles to pickle. Just leave them on the counter to do their thing.
It usually doesn't take longer than 30 minutes for the onions to wilt down a little and soak up all the flavor. At this point, they will still be warm but they'll be ready to eat.
I usually make a batch ahead of time and keep it in the fridge to use on food throughout the week. To get the most flavor out of these pickles, it's best to make them the night before.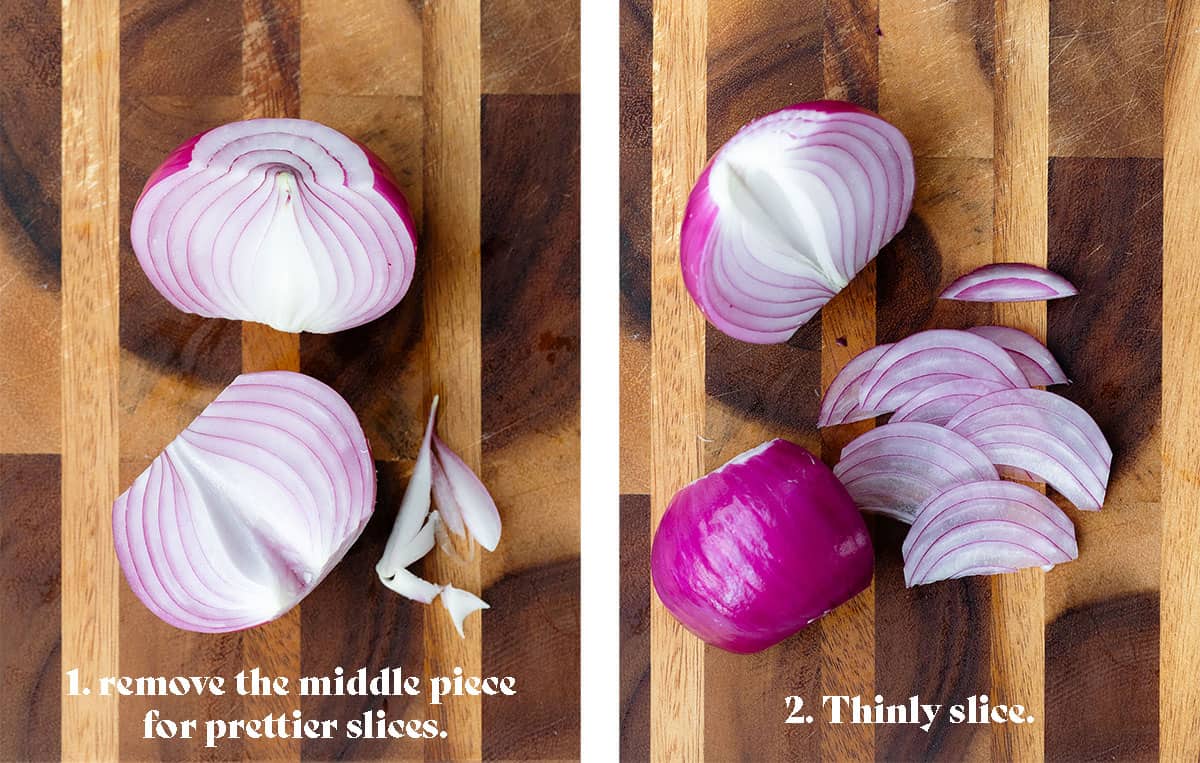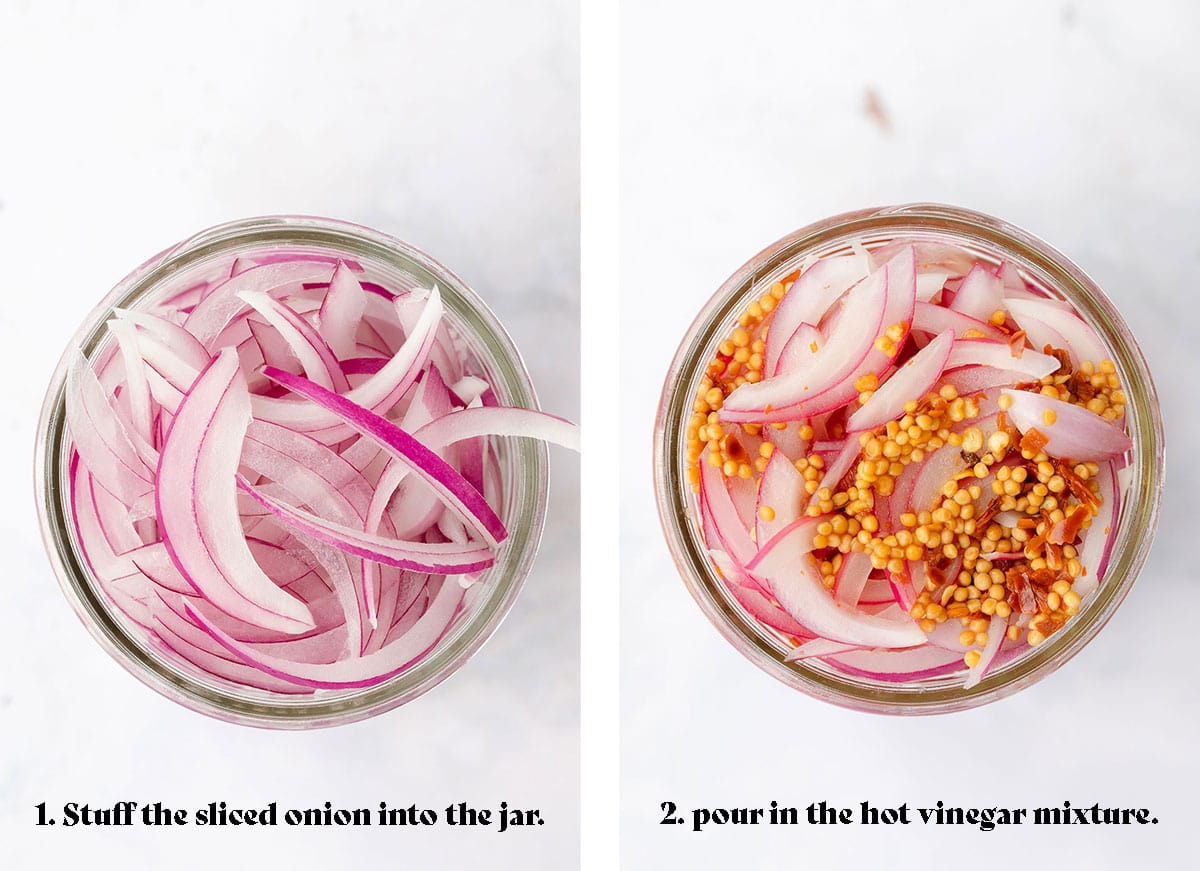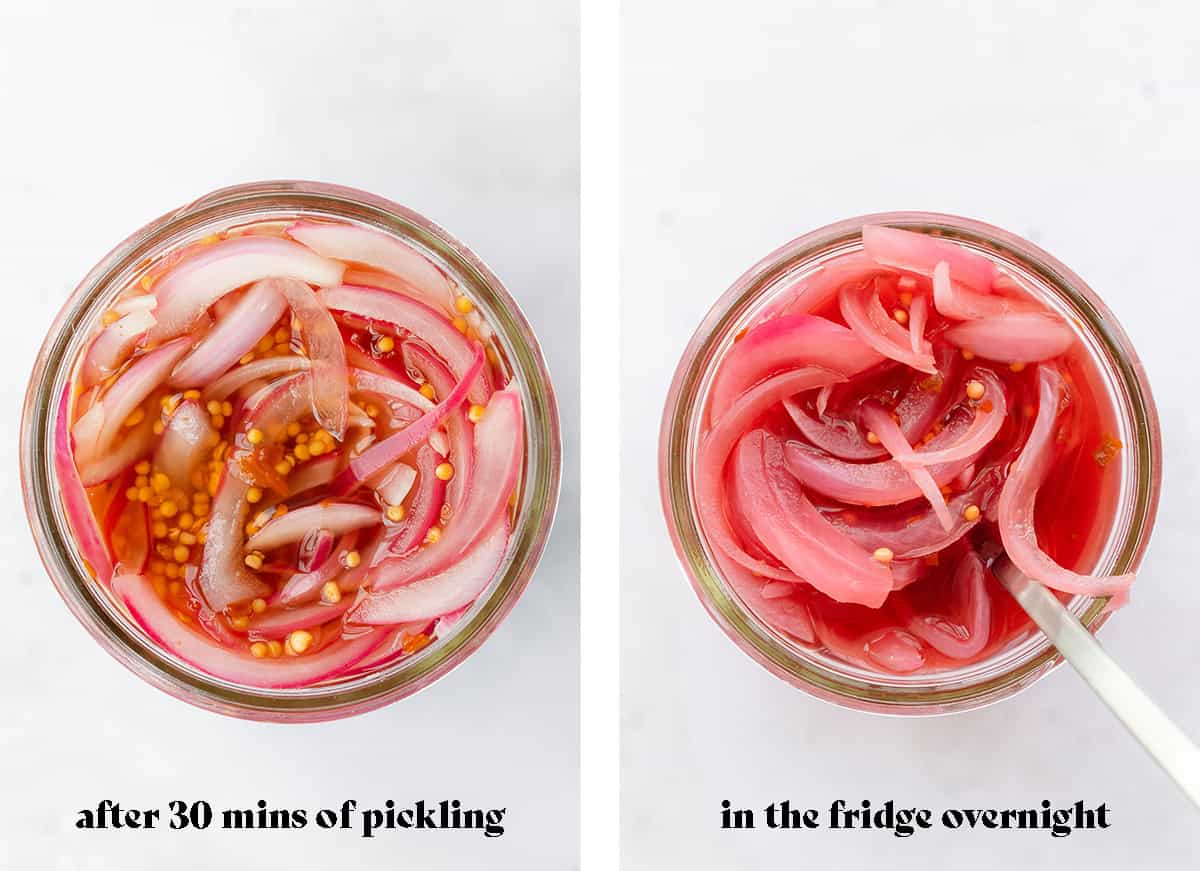 How to Eat Them
You can add them to anything you'd normally eat pickles with! Think sandwiches, tacos, toast, eggs, salad, potatoes, you name it! I always have a jar in the fridge and put them on everything! Here are five recipes these pickles go really well with.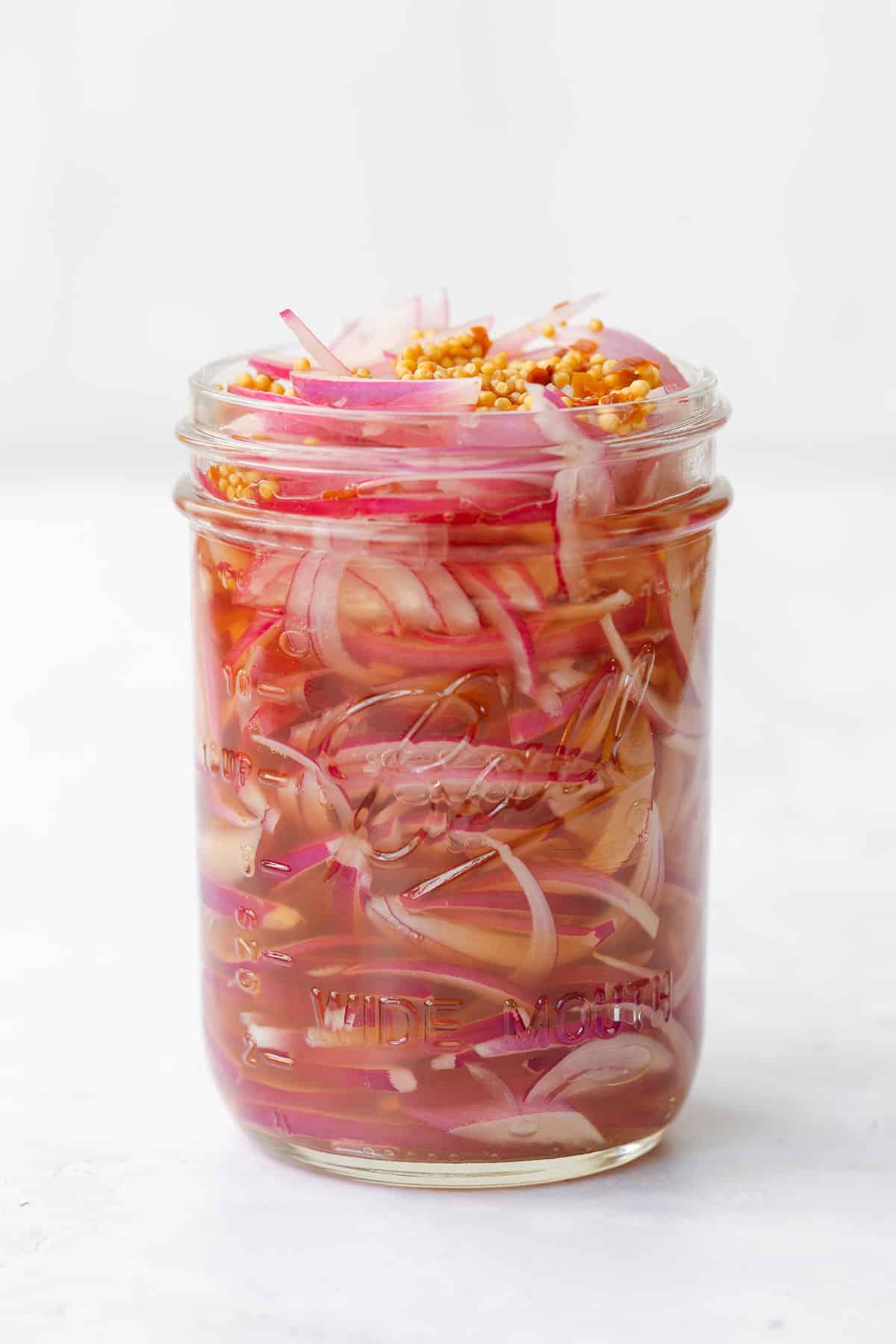 Storing
In general, quick pickles can last for up to two months in the fridge. However, quick pickled onions don't last as long. They're best eaten within a week but they keep in the fridge for up to two weeks. The same goes for any type of onion (yellow, red, shallot, scallions).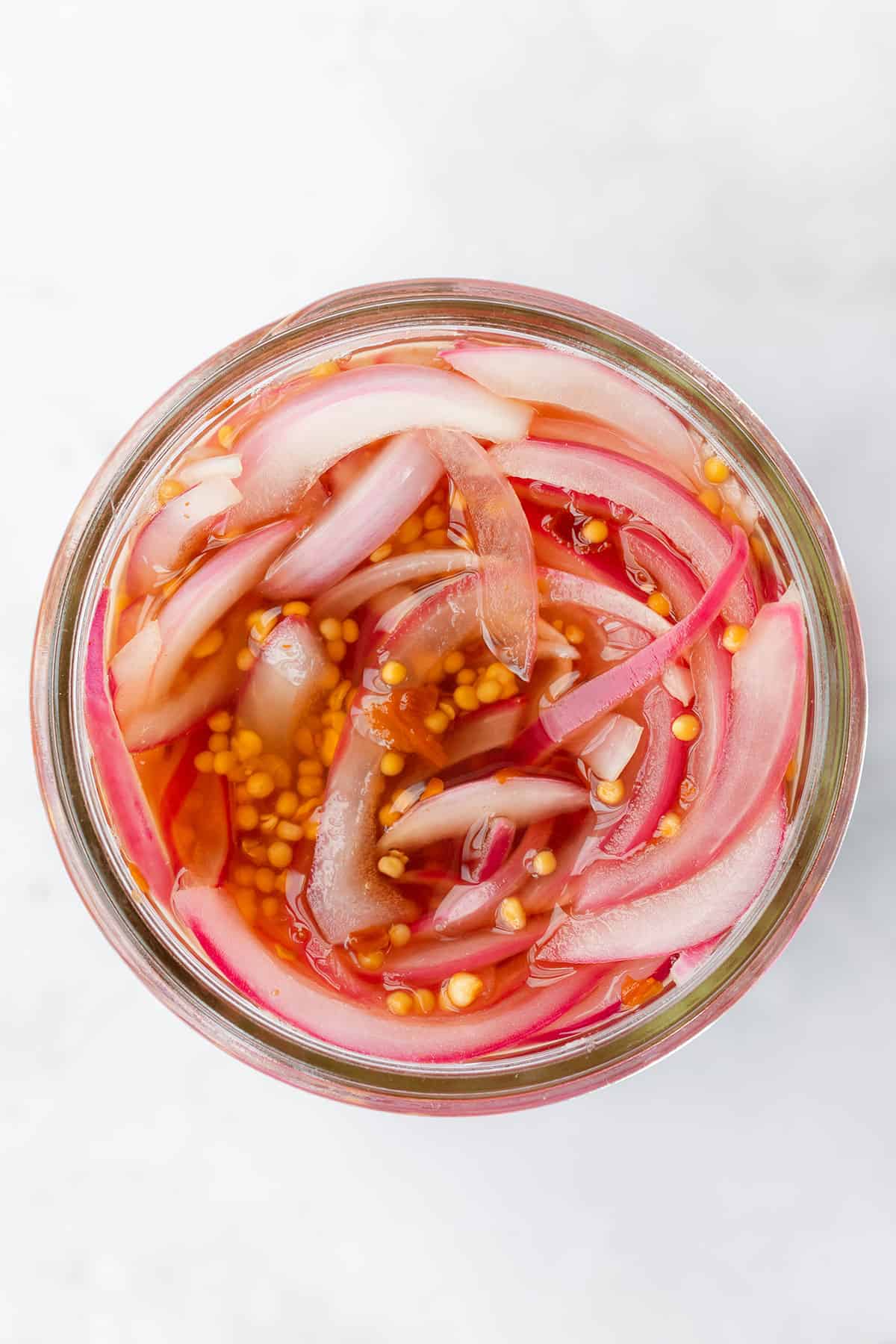 FAQ
Do quick pickles require canning?
No. All you do is pour hot vinegar with spices over the vegetable you're pickling and let it sit for at least 30 minutes. No canning is required.
What kind of vinegar do you use for quick pickling?
Distilled white vinegar is the best and cheapest option. It doesn't alter the taste or color of the pickles. However, I like to add different kinds of vinegar to give my pickles more flavor. My favorite is a combination of champagne vinegar and sherry vinegar.
Do I have to add a sweetener in quick pickles?
No. It doesn't help the pickling process in any way, it's there only for flavor, to cut the acidity a little bit.
How long do pickled onions last?
Quick pickles don't last as long as regular pickles would. Quick pickled onions are best eaten within one week but can last for up to two weeks in the fridge. Other quick pickles usually last up to two months but onions only two weeks.
How do you know they've gone bad?
The onions should still have a slight bite to them, they shouldn't be too mushy. They shouldn't be slimy.
Print
📖 Recipe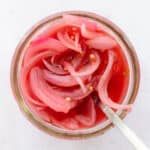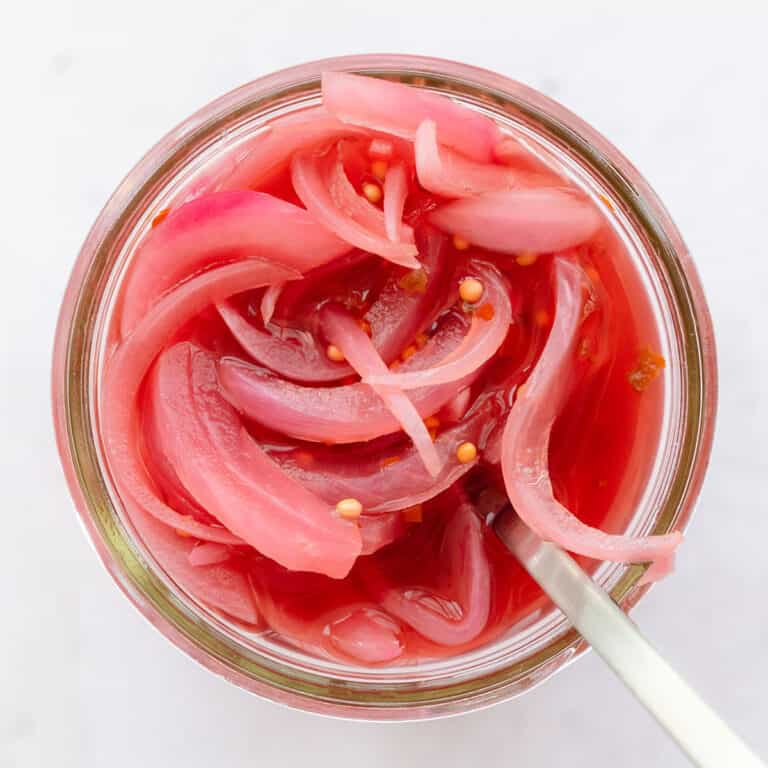 Quick Pickled Red Onions
Author:

Veronika | thehealthfulideas

Prep Time:

10 mins

Pickling:

30 mins +

Total Time:

40 mins +

Yield:

1 ½ cup

1

x

Category:

Side

Method:

Pickling

Cuisine:

American

Diet:

Vegan
---
Description
These pickled onions are a delicious addition to so many different dishes. No canning involved, ready in as little as 30 mins.
---
2

medium red onions, peeled and thinly sliced

½ cup

water

¼ cup

champagne vinegar*

¼ cup

sherry vinegar*

1 tsp

maple syrup (optional)**

½ tsp

sea salt or Himalayan pink salt

½ tsp

crushed red pepper flakes (optional)***

½ tsp

mustard seeds (optional)***
---
Instructions
Start by peeling and slicing your onions. I like to slice them very thin but it's up to you, if you have thicker slices, they will have a nice crunch.
Slice your onion in half and thinly slice them vertically not horizontally, this will give you shorter pieces. I like to cut out the middle part to avoid having big chunks of pickle but this is optional. See post for photos.
Tightly pack the sliced onions into a 2 cup heat proof mason jar and set aside.
Add the water, champagne vinegar, sherry vinegar, maple syrup, sea salt, crushed red pepper flakes, and mustard seeds into a small pot. Stir and bring to a boil. Once it's boiling, take it off the heat and pour it over the onion to the top.
Some of the onions might stick out, use a spoon to gently push them down to get them into the liquid, careful not to spill over, it's very hot. The onions will shrink and wilt down a little as they sit so don't stress it if some are sticking out too much. 
Let the onions sit in the liquid on the counter until they've cooled down or for at least 30 mins.
Once completely cool, cover with a tight lid and store in the fridge for up to 2 weeks.
---
Notes
* You can use any vinegar you have on hand. I'm using champagne and sherry to give the pickles more flavor but you can use apple, white wine, red wine, rice vinegar, or white vinegar. 
** The sweetener is optional in this recipe, it won't affect how the onion pickles. You can use any liquid or granulated sweetener you like. I'd stay away from stevia, monk fruit, and erythritol as those will change the flavor.
*** You can add less or more, or skip the added flavors all together. Coriander seeds are also a great addition. 
Keywords: pickled onion, red onion