This Croissant Breakfast Sandwich is the perfect savory breakfast or brunch! Soft scrambled eggs, turkey bacon, and creamy avocado on a toasted cheesy croissant.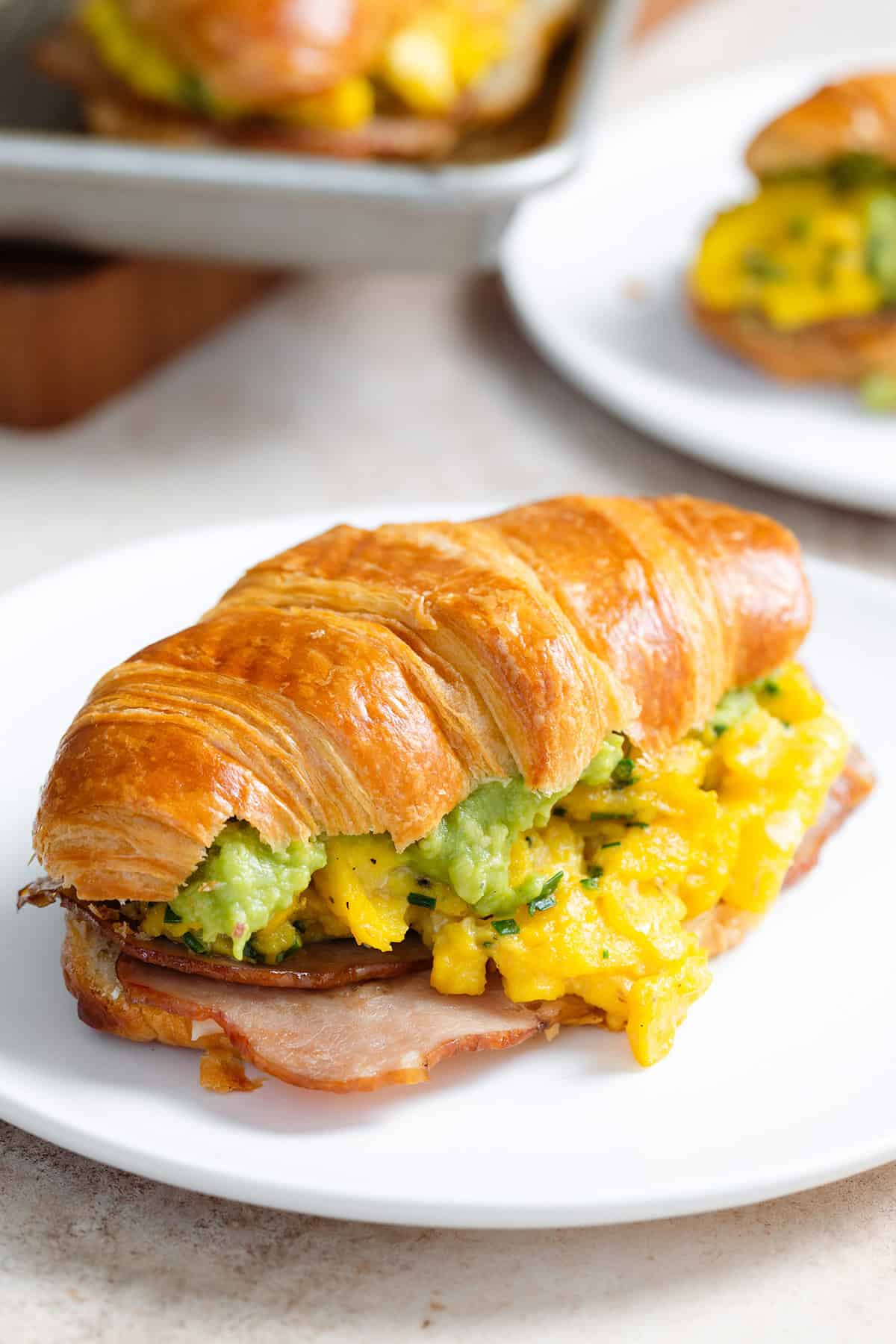 Jump to:
Why This Recipe Works
The best savory breakfast foods combined - Eggs, bacon, bread (croissants in this case), cheese, and creamy avocado are the best and most popular savory breakfast foods and this sandwich combines them all! Add some Crispy Breakfast Potatoes on the side for the perfect breakfast combo!
Soft-scrambled eggs - The difference between these and regular scrambled eggs is that these stay soft and glossy and so much more delicious. The idea is to not overcook the eggs and take them off the heat just a little earlier than you think you should. If you've never tried a soft scramble, trust me, you'll love it!
Simple and easy - The whole recipe comes together in less than 30 minutes and requires only simple, easy-to-find ingredients. Think eggs, bacon, butter, avocado, and cheese. I highly recommend using butter croissants in this recipe, they turn it into the absolute best breakfast sandwich ever!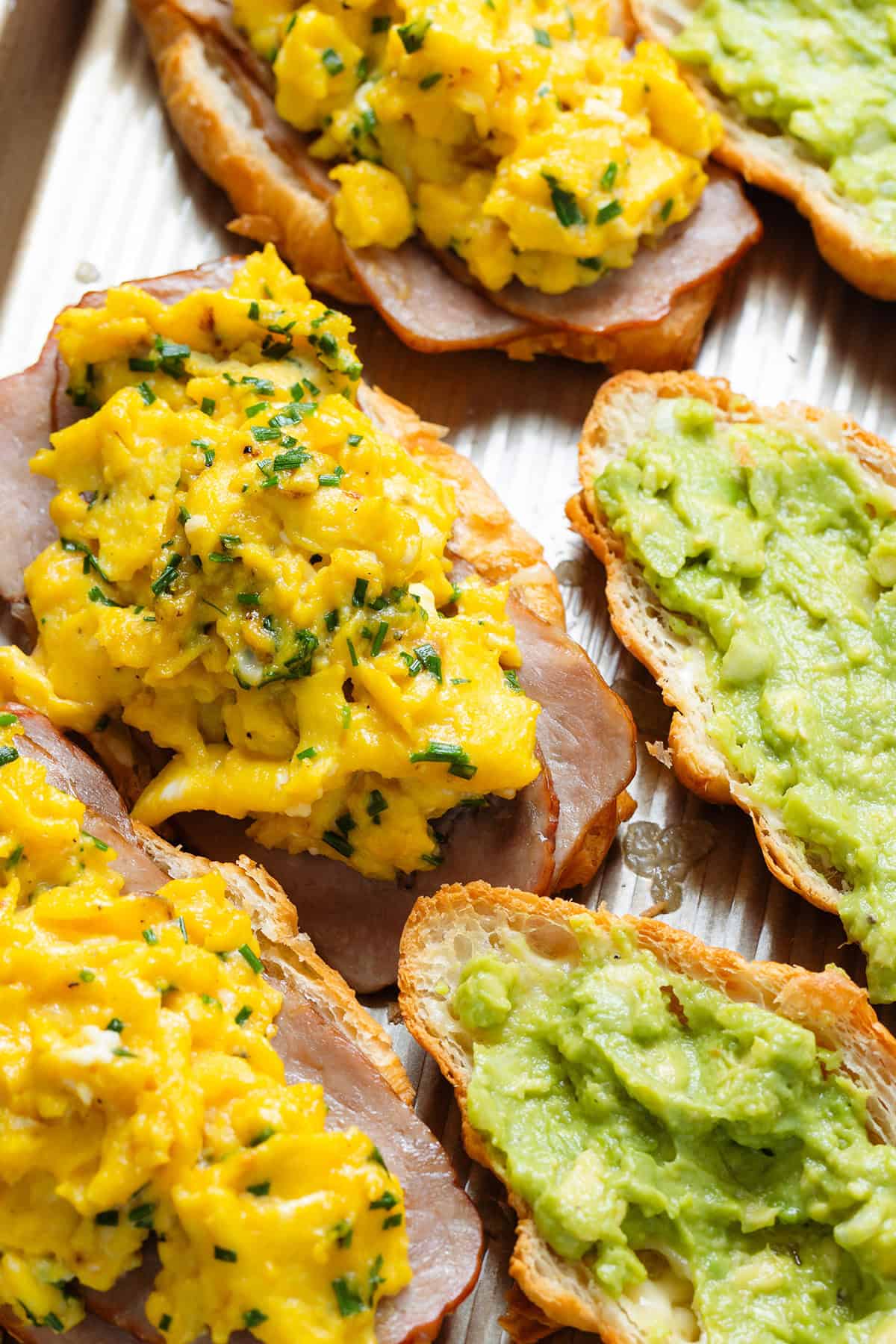 Ingredients
Croissants - You can do croissants, sourdough, buns, or any kind of bread you like for these sandwiches but I really like croissants. They're soft, buttery, and get beautifully toasted in the oven while still staying soft.
Eggs - The soft scrambled eggs are the star of this recipe. They're light, creamy, and so delicious. The trick is to cook them just until they're soft scrambled but still very shiny because they'll then finish cooking in the oven. I like cooking them with butter and add fresh chives at the end for freshness and extra flavor.
Turkey bacon - You can use regular bacon, turkey bacon, or even vegan bacon. It adds saltiness, protein, and just so much flavor. It's cooked in the same pan as the eggs which means fewer pans to clean and the eggs pick up all that flavor that's leftover in the pan!
Cheddar - You can use any melty cheese you like here (or vegan cheese) but cheddar is a classic. You'll grate it on the croissants and it will beautifully melt into them in the oven.
Guacamole - You can use guacamole or simply mash some avocado if you don't have guac or don't have time to make it. It's added right before the sandwiches are served and adds a ton of creaminess, flavor, protein, and healthy fats!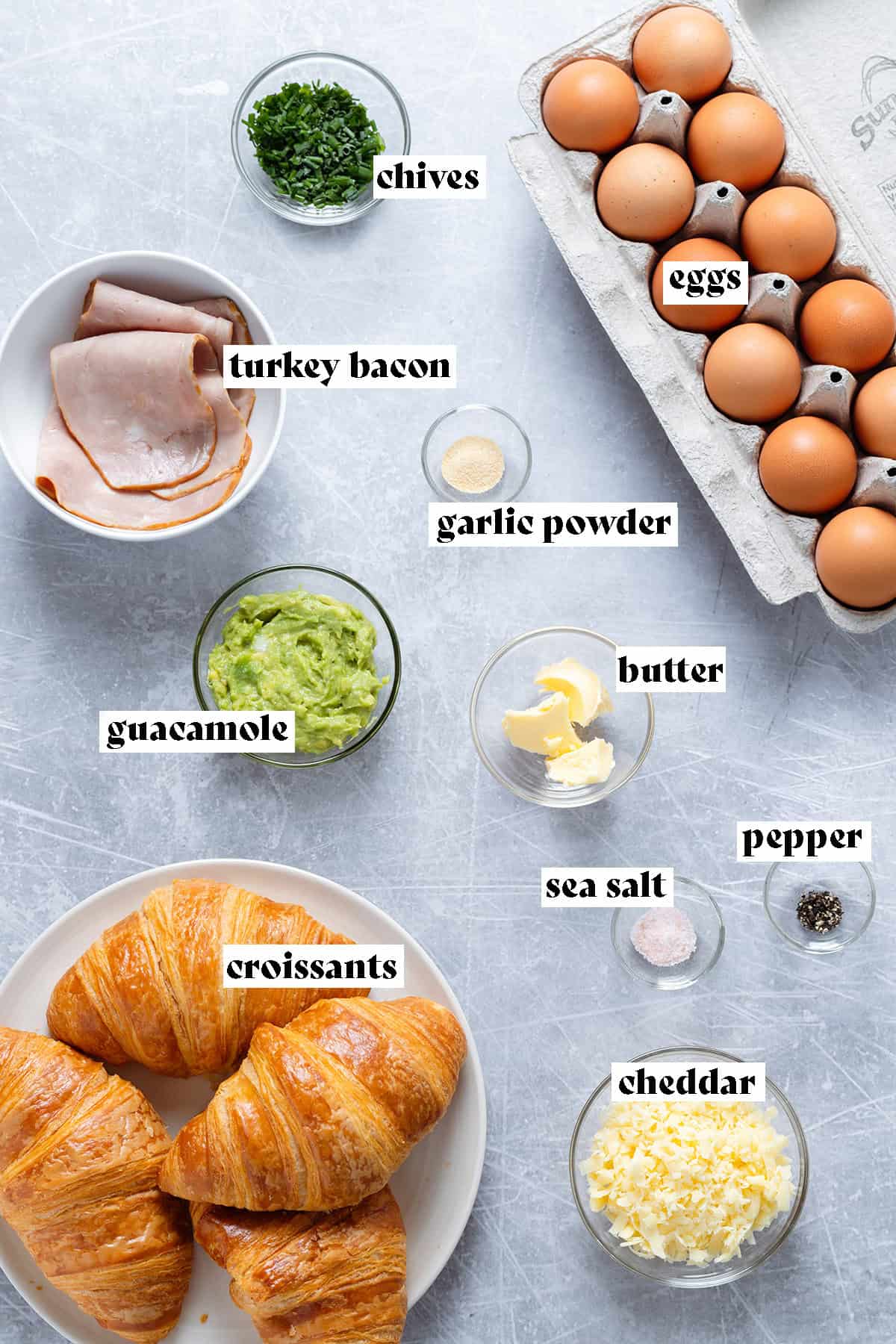 Step-by-Step Instructions
Start by preheating your oven to 350F (175C) and preparing a large baking sheet. The recipe comes together really quickly so it's best to have everything ready to go.
Whisk eggs with sea salt, pepper, and garlic powder, and set aside. Grate your cheddar cheese and set it aside. Slice your croissants horizontally in half and lay them on a baking sheet cut side up.
Heat up a large skillet over medium-high heat. Add cooking oil and the turkey bacon. If you're using regular bacon, you don't need to add any oil.
Cook the bacon for a couple of minutes on each side until slightly golden and crispy. Lower the heat to medium if necessary.
Transfer the bacon to a plate and pat dry with paper towels if desired.
Add butter to the same pan and lower the heat to medium-low.
Slowly pour in the whisked eggs. Let them set on the bottom slightly before you start moving them around with a rubber spatula.
Scramble for up to 5 minutes by moving the eggs from the outside in, using a spatula, and tilting the pan to move the eggs around to help them cook. They're ready when they're scrambled but still very soft and shiny. Sprinkle in fresh chives if desired. Take the eggs off the heat.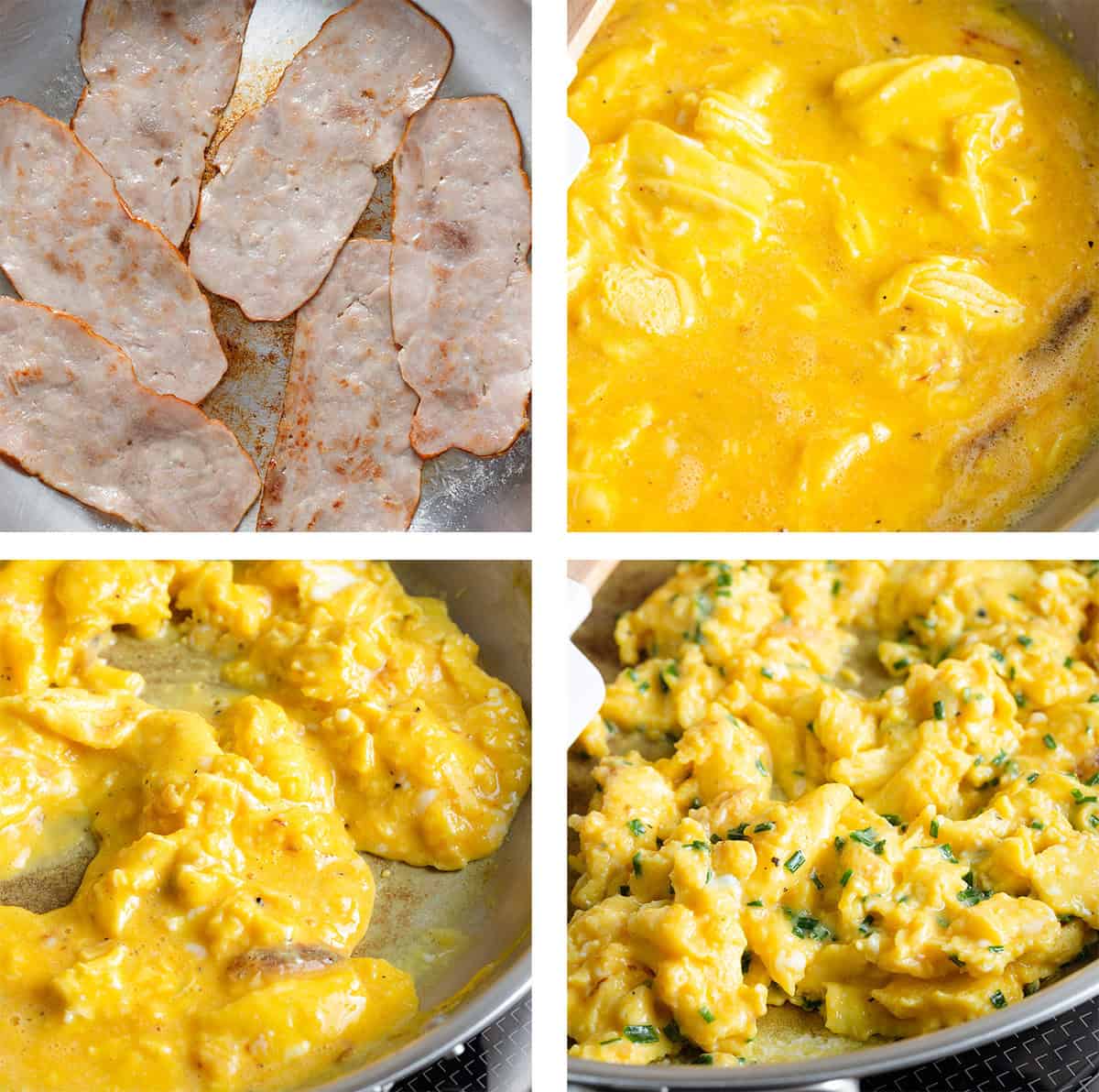 To make the croissant sandwiches, sprinkle grated cheddar on the croissants, add the cooked bacon (I do two slices per croissant), and divide the scrambled eggs between the two croissants (or however many you're making).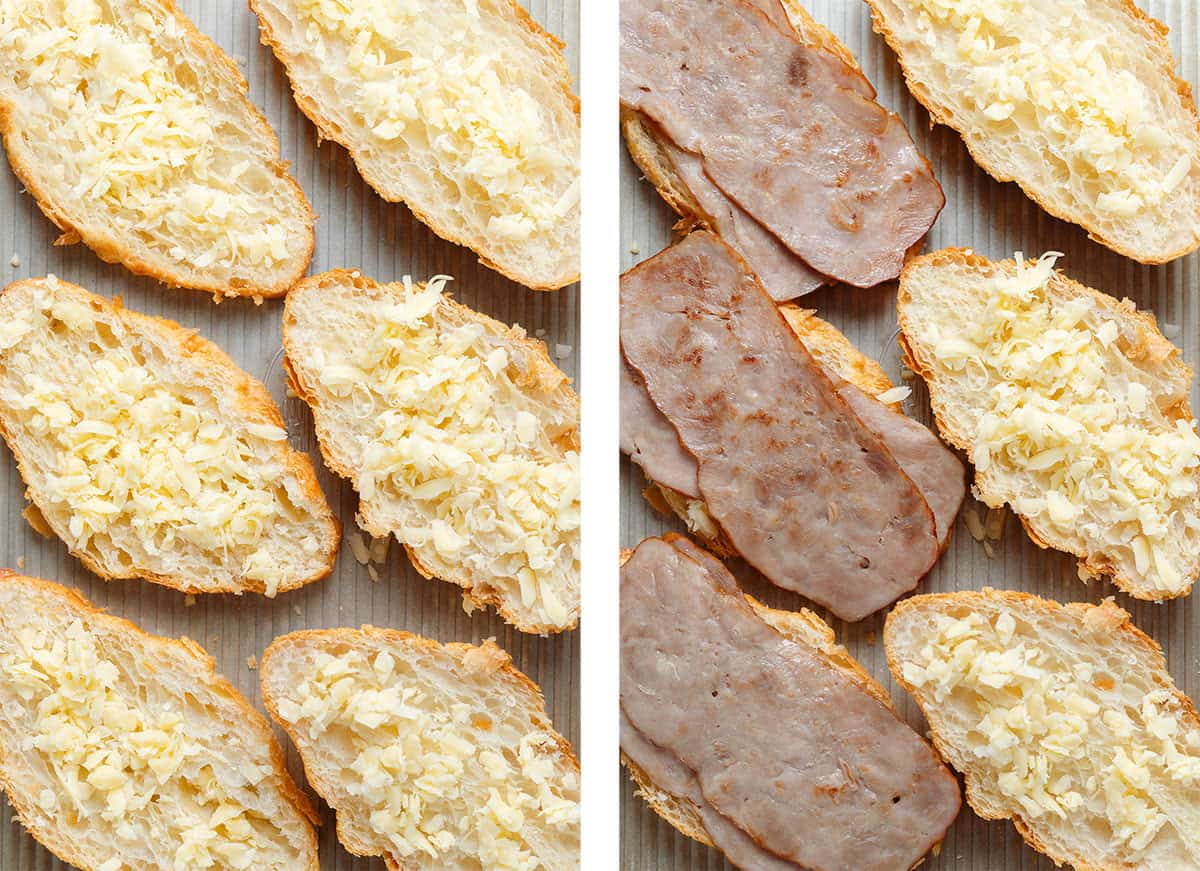 Transfer the croissants to the preheated oven and bake at 350F for about 5 minutes. The croissants will get nicely toasted, the cheese will melt, and the bacon will warm up. The eggs will also finish cooking which is why you want them to be really soft scrambled before you add them to the croissants.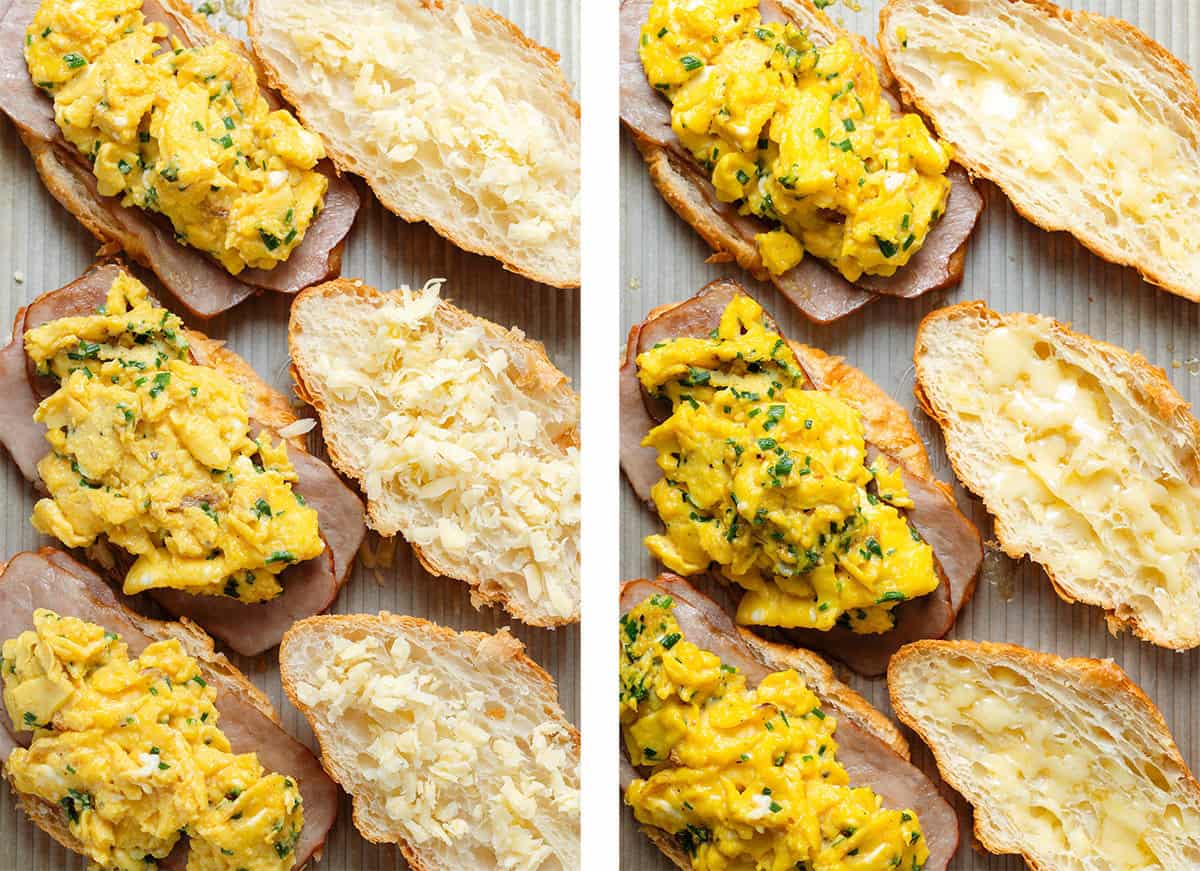 To finish the sandwiches, spread a generous amount of guacamole or mashed avocado on the top half of the croissants and close the sandwich. Serve them immediately while they're still warm!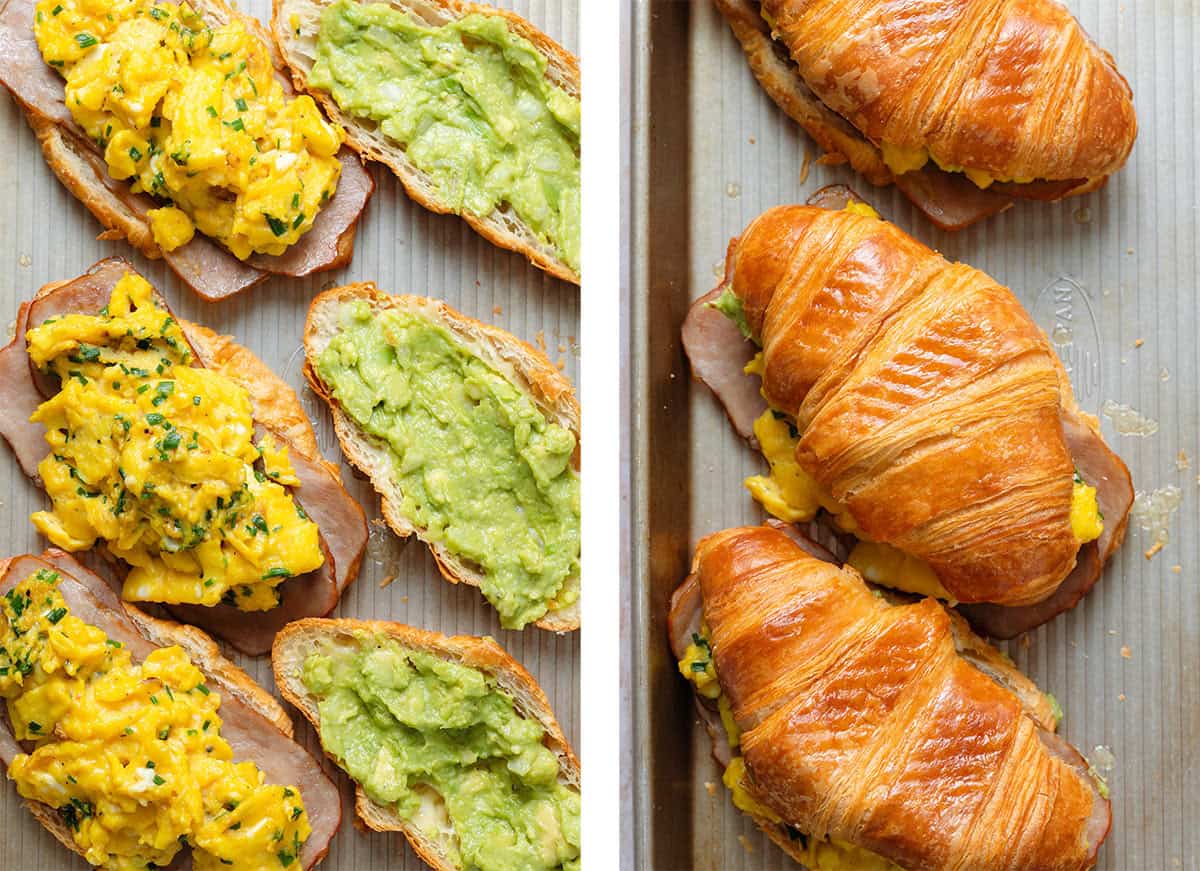 Storing and Reheating
These croissants are best made right to serving if you want the best flavor (especially with those creamy soft scrambled eggs) but they can be frozen and reheated for the mornings when you just don't have time to make breakfast.
If you're planning to freeze them, you'll follow the instructions as you normally would but skip the part where you bake the croissants and add the avocado. Simply cook the bacon, the eggs, and add them to the croissants with cheddar, and freeze wrapped in foil and in a freezer-safe bag to further prevent freezer burn.
You can reheat the frozen sandwiches from frozen at the same temperature as you normally would (350F), only they'll have to bake for longer to properly defrost and toast.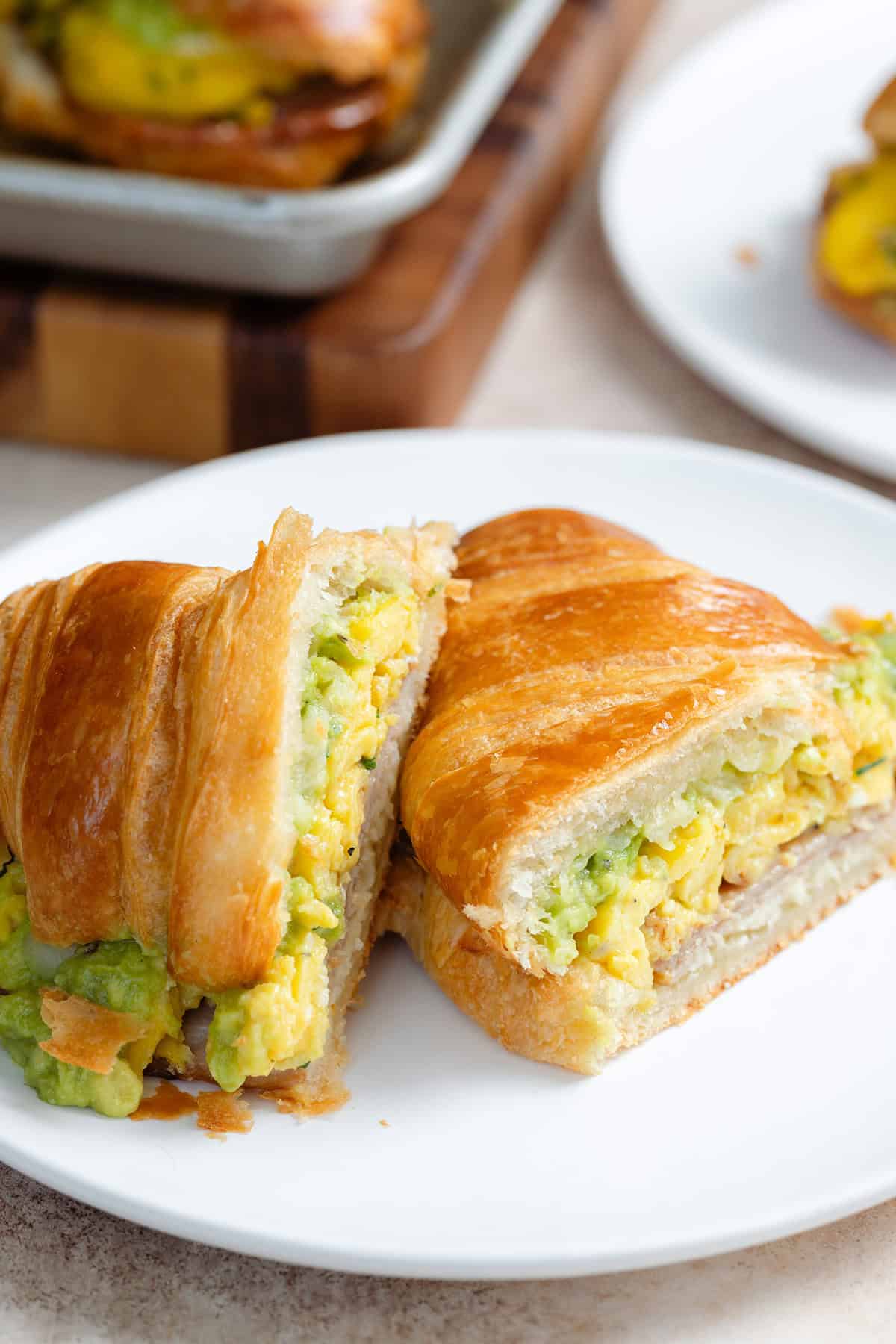 FAQs
Can I make these sandwiches vegan?
There are a ton of vegan egg, bacon, cheese, butter, and even croissant alternatives on the market today that you can totally make it work! Use your favorites to make the best vegan breakfast sandwich!
Are the sandwiches freezer-friendly?
Yes, you'll add the cheddar, cooked bacon, and scrambled eggs to a croissant and freeze it. When ready to eat, defrost and toast it in the oven, and top with guacamole. The recipe card has more detailed instructions. That being said, the sandwich tastes the best when made right before serving. The eggs won't be as soft and light after defrosting.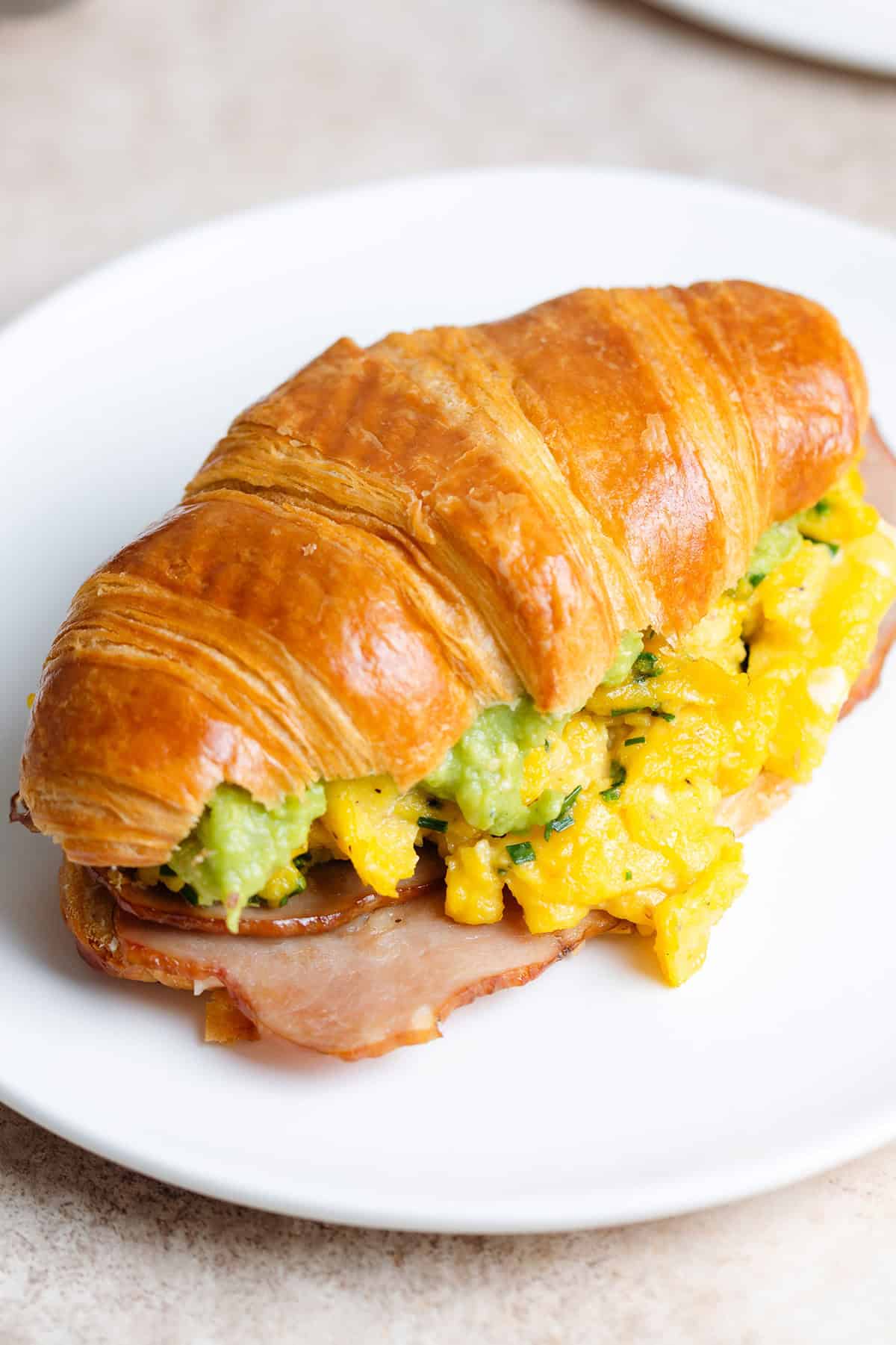 More Savory Breakfast Recipes with Eggs
If you're looking to try more savory breakfast recipes, definitely give the four recipes below a try! They're tried and true and my personal favorites! Especially the breakfast burritos! Head over to the Savory Breakfast Recipes category to see all the latest ones.
Print
📖 Recipe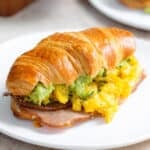 Croissant Breakfast Sandwich
Author:

Veronika | thehealthfulideas

Prep Time:

10 mins

Cook Time:

15 mins

Total Time:

25 minutes

Yield:

2

1

x

Category:

Breakfast

Method:

Stovetop

Cuisine:

American

Diet:

Vegetarian
---
Description
This Croissant Breakfast Sandwich is the perfect savory breakfast or brunch! Soft scrambled eggs, turkey bacon, and avocado on a toasted croissant with melted cheddar.
---
4

large eggs

½ tsp

sea salt

¼ tsp

black pepper

½ tsp

garlic powder

1 tsp

avocado or other cooking oil

4

slices of turkey bacon (or regular or vegan bacon)

2 tbsp

butter

2 tbsp

fresh chives (optional, sub spring onion)

2

croissants, sliced in half

½ cup

grated cheddar cheese

1

avocado, mashed (or

½ cup

guacamole, for serving)
---
Instructions
Preheat your oven to 350F (175C). This recipe comes together very quickly so make sure you have everything ready before you start cooking.
Add the egs, sea salt, black pepper, and garlic powder to a medium mixing bowl, and whisk well. Set aside.
To cook the tukey bacon, heat a large pan over medium-high heat and add the cooking oil. (When using regular bacon, there's no need for cooking oil)
Add the turkey bacon to the pan in a single layer and cook for about 2 minutes on each side or until lightly browned. Transfer to a large plate with paper towels to soak excess oil, and set aside.
Add the butter to the same pan and lower the heat to low-medium. Slowly pour in the whisked eggs. Let them set for about a minute. Start moving them around the pan from the outside in using a rubber spatula. Scramble for about 5 minutes. Add the fresh chives towards the end of cooking if using. They should still be very soft scrambled and shiny. They will finish cooking in the oven.
Add your croissants sliced in half to a baking sheet cut side up. Sprinkle grated cheddar on each slice.
Add two slices of turkey bacon, and divide the scrambled eggs between the two croissants.
Transfer the baking sheet to the preheated oven and bake for 4-5 minutes.
Divide the mashed avocado or guacamole between the two sandwiches and top with the other half of the croissant. Enjoy while hot.
---
Notes
Guacamole: I usually use premade guacamole to save time and add more flavor. To make guacamole, mash 1 avocado together with finely chopped ½ small red onion, 1 finely chopped Roma tomatoes (seeds removed), the juice of ½ lime, sea salt, and pepper to taste.
Storing: These sandwiches are best made right before serving but if you have leftover sandwiches, you can store them in the fridge wrapped in foil or cling wrap for 24 hours.
Keywords: breakfast, croissant sandwich