This Breakfast Scramble Bowl has everything you want in a savory breakfast meal in one bowl. Soft scrambled eggs served with roasted potatoes, charred tomatoes, and sauteed spinach. It's really easy to make and so delicious!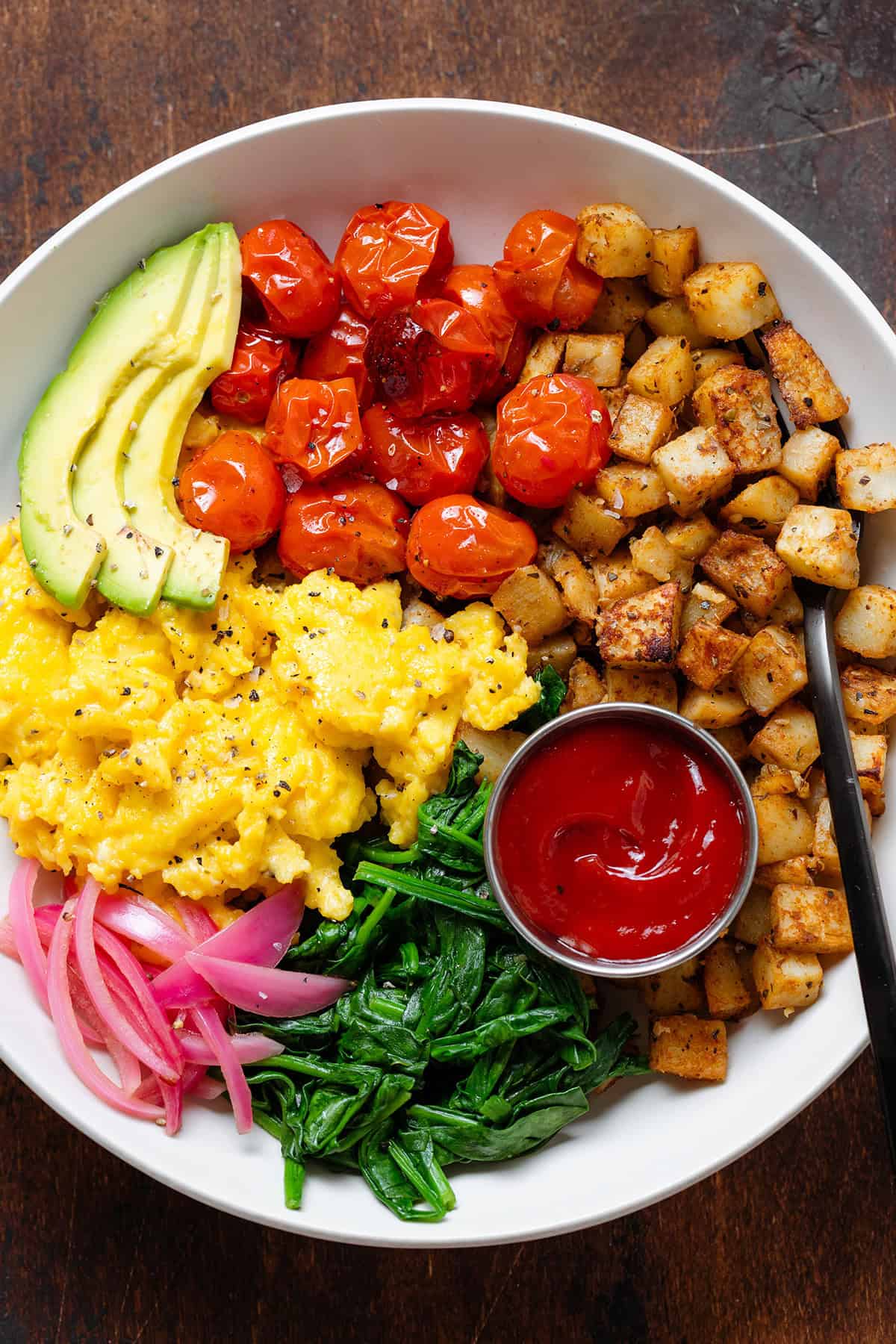 Jump to:
What Makes This Recipe Great
Restaurant-worthy but still easy to make - This recipe combines lots of amazing flavors in one simple recipe which makes it perfect for days when you want to make a restaurant-worthy breakfast at home that's still easy to put together! There aren't any weird ingredients, only the basics, and you probably already have everything in your fridge!
Versatile - You can easily make this meal vegan-friendly if needed or add more to it depending on what you have in the fridge. Smoked salmon, breakfast sausage, more veggies, baked beans, or a sprinkle of feta cheese would all be delicious additions!
Soft-scramble - The soft scrambled eggs are truly the star of the show here. Don't get me wrong, the crispy potatoes are amazing too but it just wouldn't be the same without the eggs. They're light, soft, and cooked just enough where they still stay soft and glossy.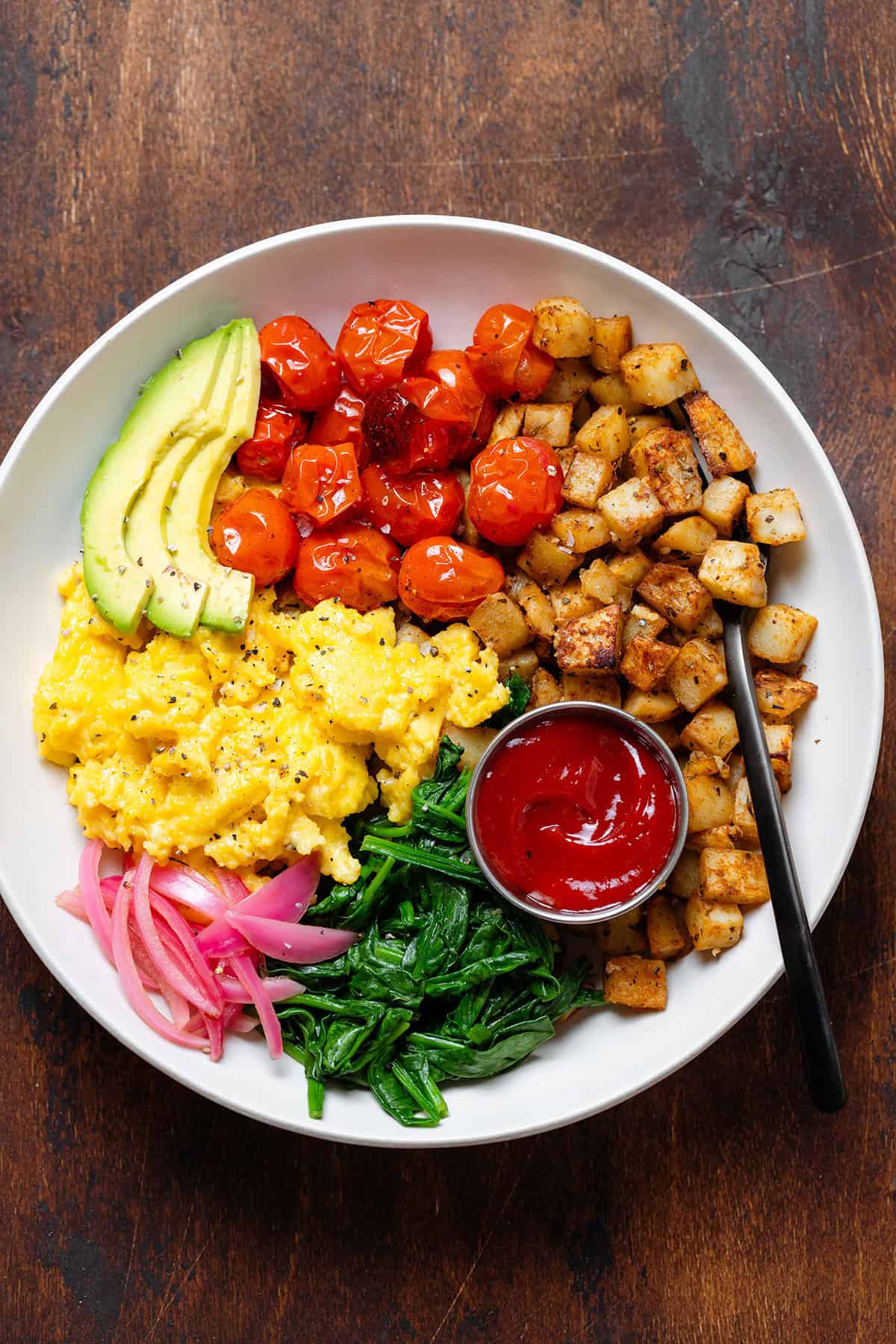 Ingredients Notes
Roasted potatoes - Russet potatoes are the best for these because the outside gets crispy but they stay soft and fluffy on the inside. The potatoes get seasoned with dried herbs, garlic, onion, smoked paprika, sea salt, and pepper. Head to the Crispy Breakfast Potatoes post for a more detailed recipe. You could also make hash brown if you prefer.
Roasted tomatoes - These are a great flavor addition to the bowl. You can use fresh cherry tomatoes or roast them in the oven that was already preheated for the potatoes. They're roasted with sea salt, pepper, and a drizzle of olive oil.
Sauteed spinach - I like adding some greens to my bowl and to avoid turning it into a salad, I recommend sauteeing some spinach. All you need is baby spinach, a splash of water, and sea salt and pepper.
Scrambled eggs - You'll need eggs, sea salt, pepper, chili flakes or chili garlic sauce, and lots of butter. I like mixing butter and oil but either works well. I find the eggs stick more sometimes with just oil so I usually use butter. Don't be afraid to add a good amount, you need more than you think for those perfect restaurant-worthy soft scrambled eggs!
Add-ons: I like adding sliced avocado to the bowl as well ketchup for the potatoes, and some Quick Pickled Red Onions to add some acidity and balance out the flavors. You can serve the scramble bowl as is or with some toasted bread on the side.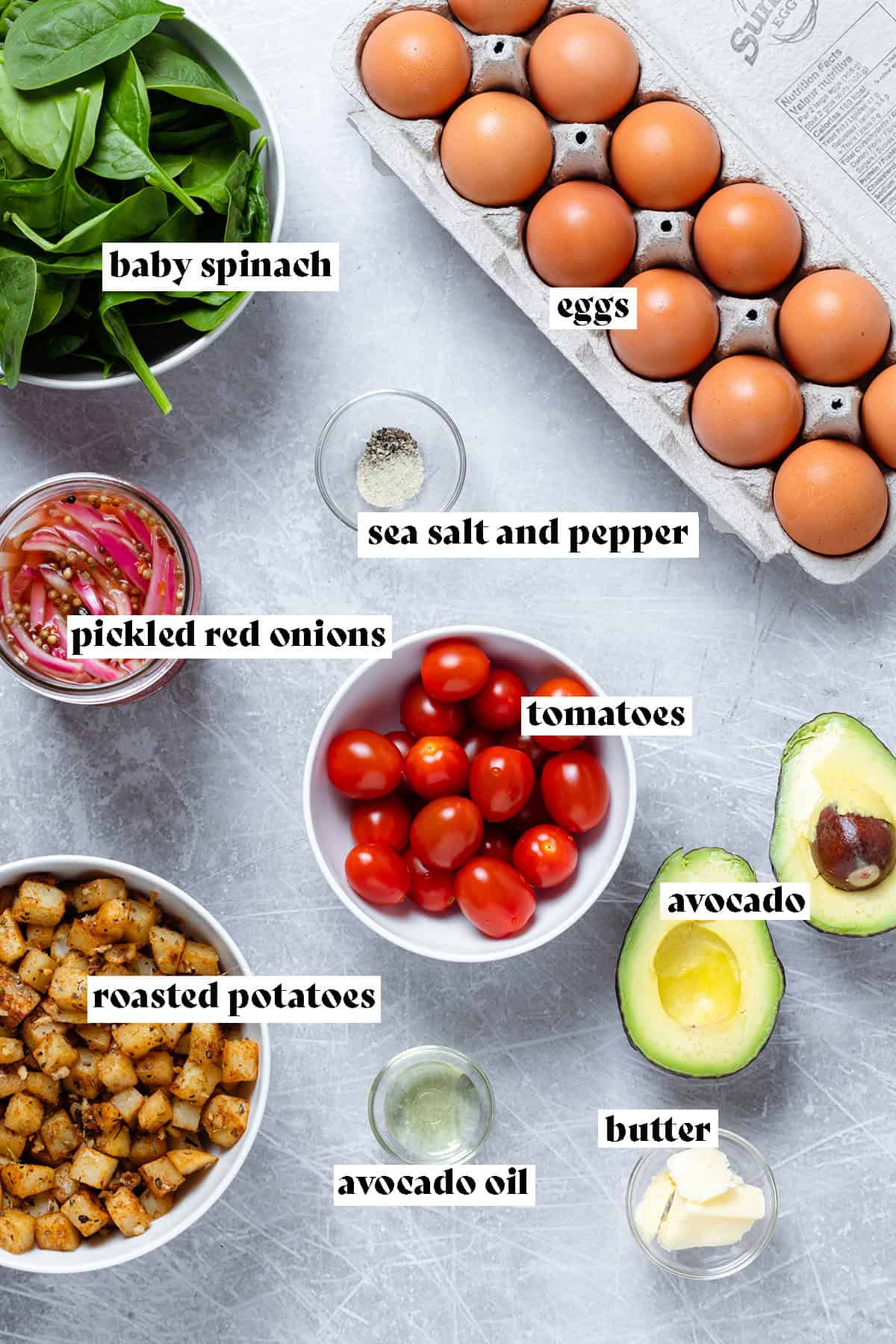 Step-by-Step Instructions
Start by making the potatoes. You can cook the spinach while the potatoes are roasting, take them out of the oven, add tomatoes, and cook the eggs while the tomatoes are roasting.
Preheat your oven to 450F (230C). Mix all your spices in a small bowl.
Add diced potatoes to a baking sheet. Pat dry with a paper towel to get rid off excess starch to help the potatoes crisp up. Drizzle with avocado oil and toss to coat. Sprinkle with spices and toss again.
Roast in the oven for 15 minutes. Toss, turn the broiler on (or keep it at 450F if you don't have a broiler option), and roast for 10 more minutes until crispy. Keep an eye on the potatoes, broilers get strong and could burn the potatoes quickly. Set aside until ready to serve.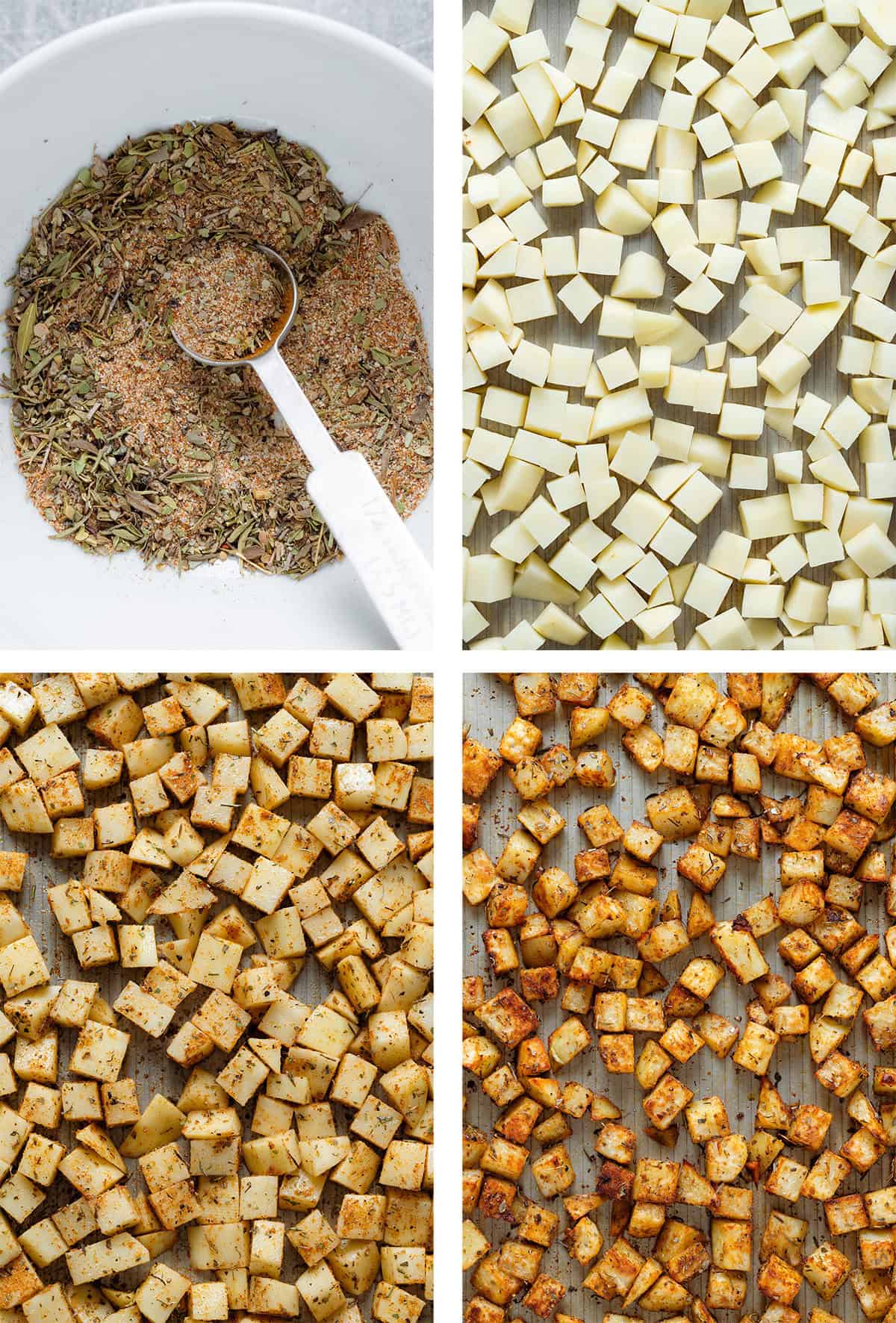 Roast the cherry tomatoes in the preheated oven with a drizzle of olive or avocado oil and a sprinkle of sea salt and pepper.
They're ready in 10 minutes when they're slightly charred.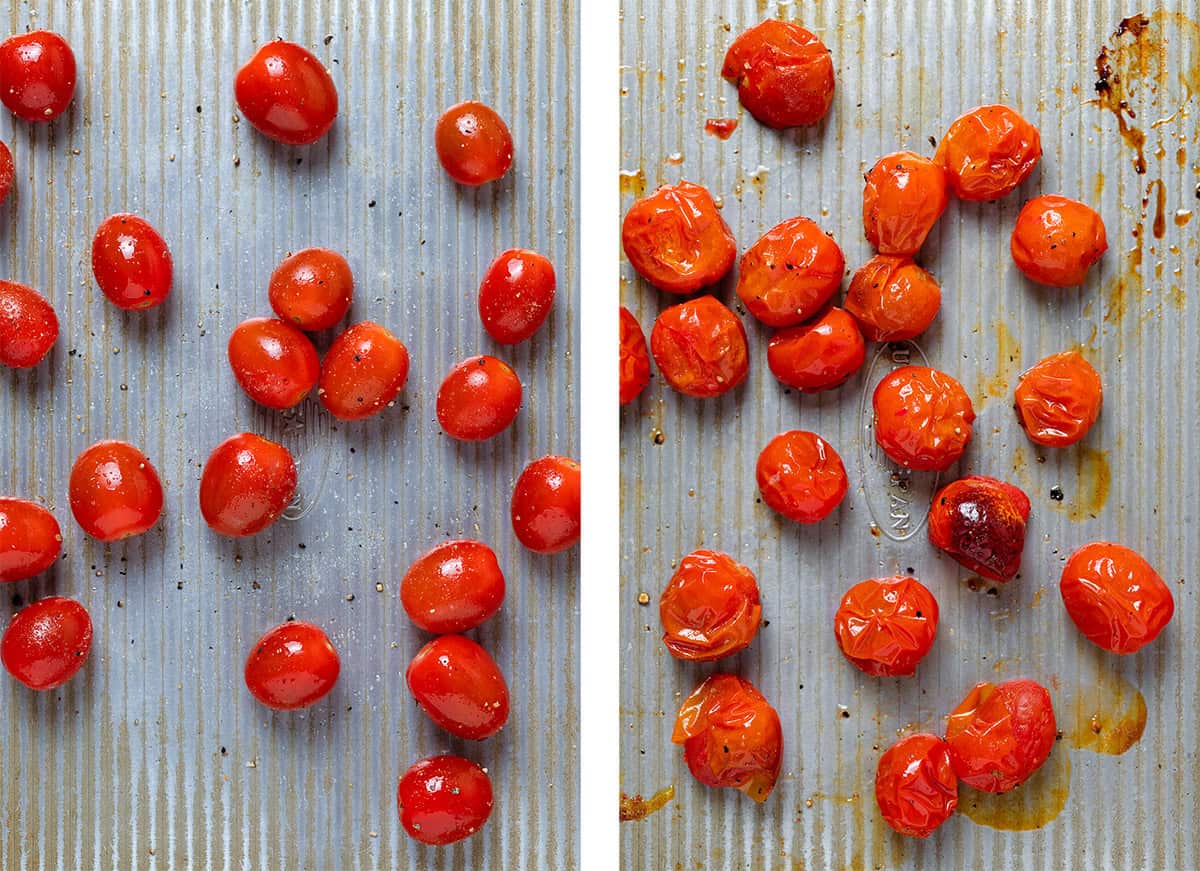 To cook the spinach, add a splash of water to a non-stick pan and cook it on medium heat stirring often until wilted and dark green. This should take less than 5 minutes.
Season with salt and pepper and set aside.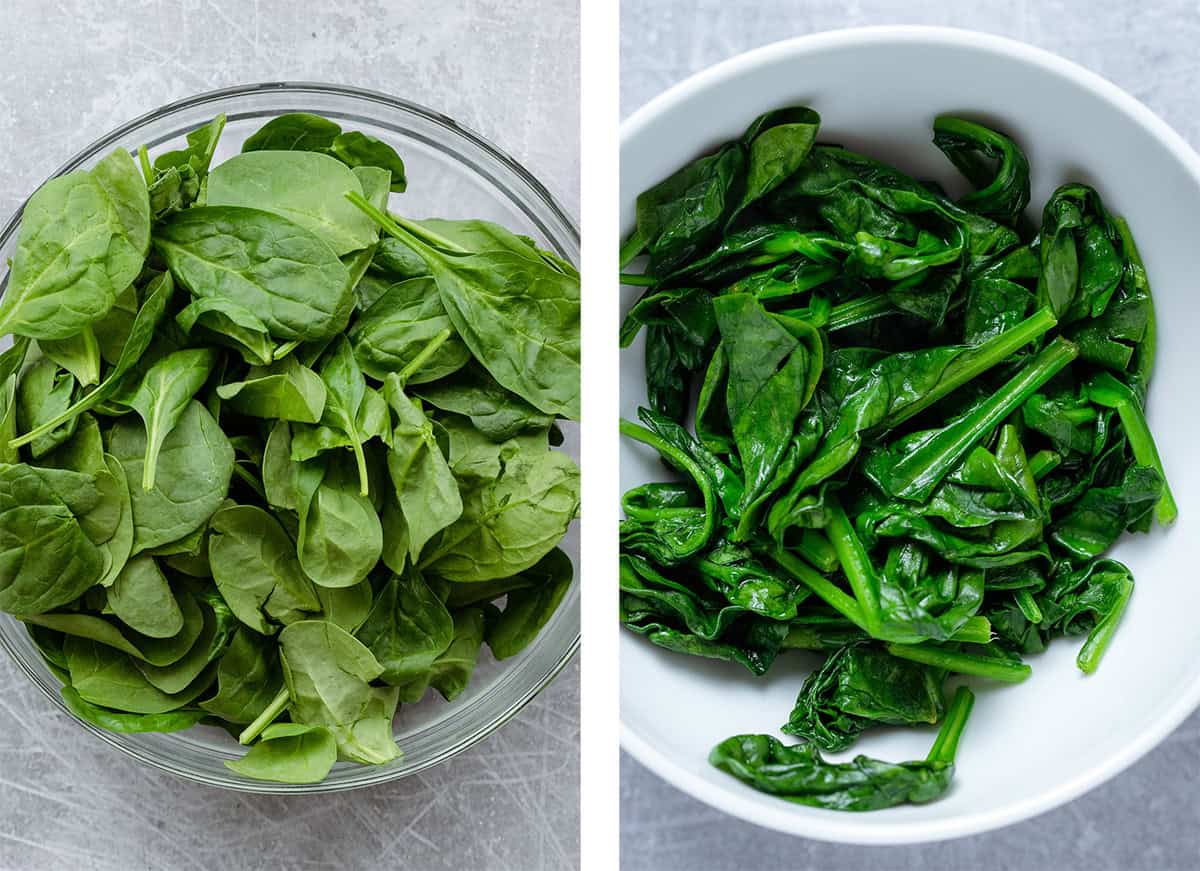 To make the soft scrambled eggs, I usually use the same pan I used for the spinach and just wipe it with a wet paper towel and dry it carefully because it's still hot.
Whisk the eggs in a medium bowl with sea salt, pepper, and chili flakes. Add butter and oil, if using, to your hot pan and melt over medium-low heat.
Slowly pour the eggs into the pan and let cook for a minute. Start scrambling them slowly by moving them around with a rubber spatula making sure they're not burning.
You can turn the heat up or down making sure they're cooking but not too quickly because eggs like to stick to the bottom if the pan is too hot. Add more butter as needed and keep moving them around with the spatula. This should only take 3-5 minutes.
Take them off the heat when they still look very wet and soft. They will finish cooking in the pan from the residual heat. You can add some chopped fresh chives here if desired.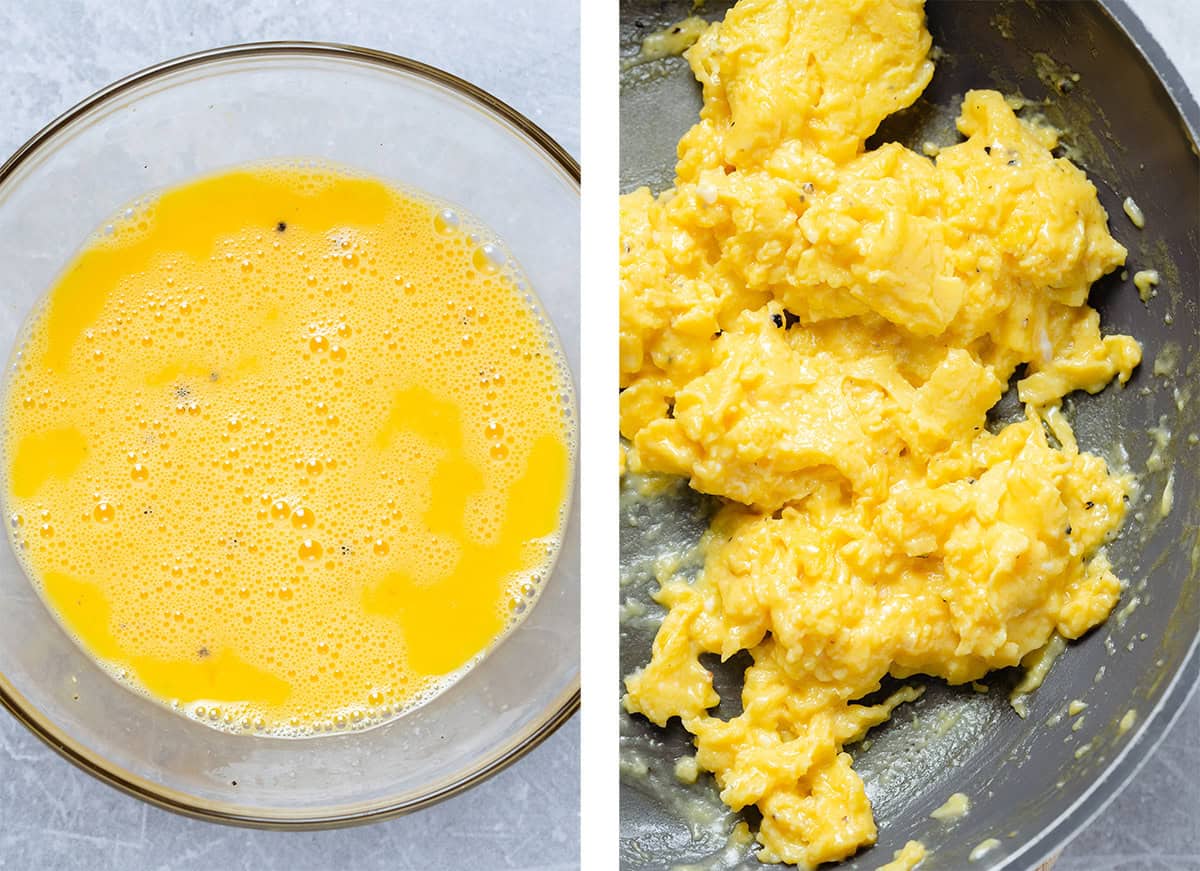 Variations and Substitutions
Vegan option - You can make this dish vegan by using vegan eggs. There are a lot on the market nowadays so use one you like most (I haven't tried any so I can't recommend a specific brand). You could also make a tofu scramble instead of the eggs.
More veggies - Roasted zucchini, bell peppers, and red onions would be a great addition to this bowl. Those are always my go-to because they go with a lot of different dishes and spices.
Breakfast sausages - You can cook some breakfast sausage, regular or vegan, to serve on the side and add even more protein to the dish. This way, you can stretch it out and get more servings from this recipe.
Smoked salmon - Smoked salmon would be amazing in this bowl and I add it whenever I have it on hand. You don't have to cook it so it makes the perfect simple addition.
Baked beans - This is a breakfast classic to serve with scrambled eggs, roasted tomatoes, and hash browns (or roasted potatoes) and it would definitely go well with this recipe.
Feta cheese - You can sprinkle on some feta cheese to add extra saltiness and flavor to the dish.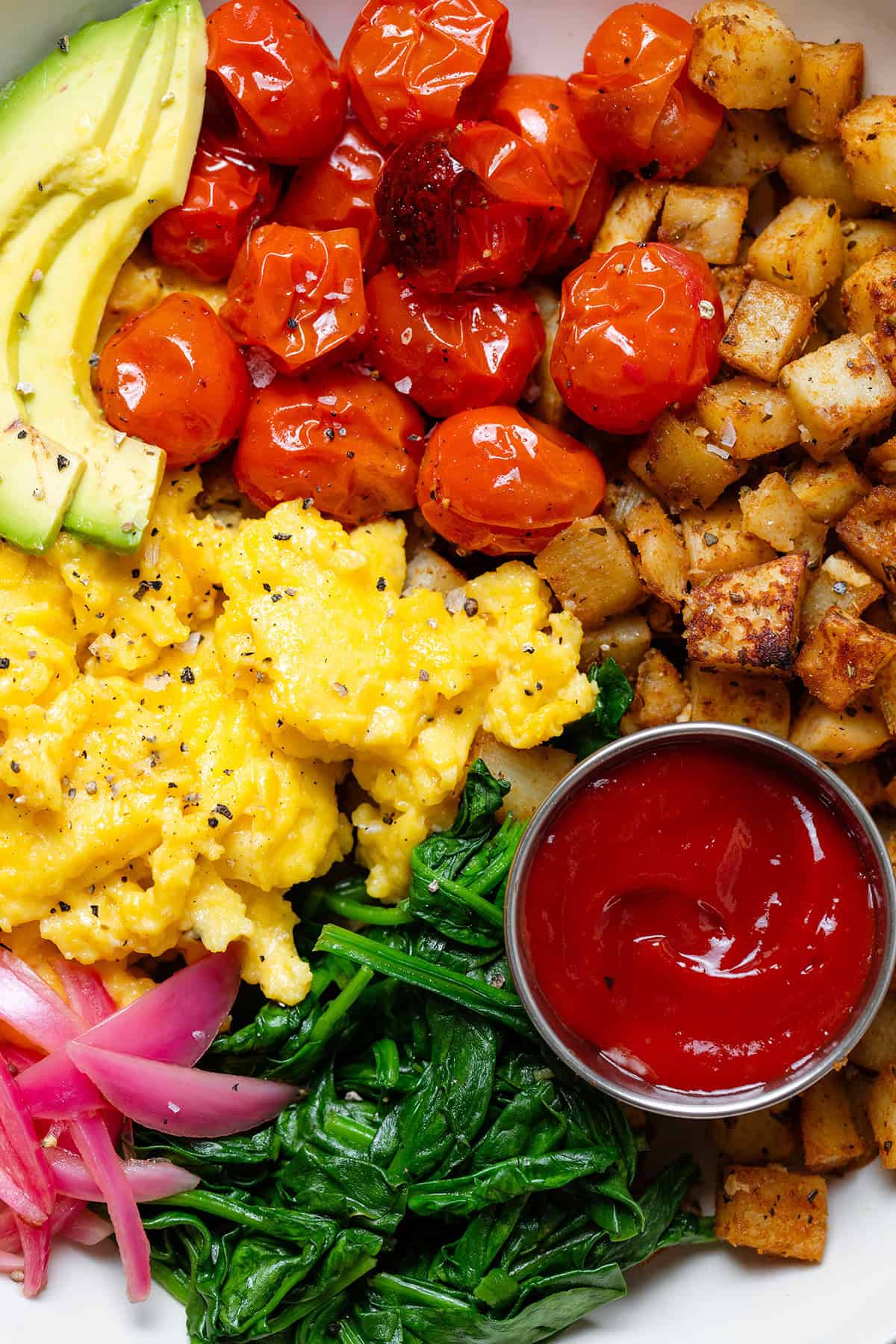 Storing
The finished dish doesn't keep very well so I recommend always making it right before serving.
The roasted tomatoes won't taste very good reheated because they will release a lot of their juices when you start warming them back up. The scrambled eggs taste the best right away and I don't recommend storing them. You can when in a pinch but they won't be soft and glossy anymore.
You can make the roasted potatoes ahead, those keep well in the fridge for 2-3 days and can be reheated. The sauteed spinach can also be stored in the fridge for 1-2 days but it tastes the best made to serving.
The quick-pickled onion can be made ahead and lasts in the fridge for up to two weeks.
FAQs
Why do my scrambled eggs don't taste like the ones from a restaurant?
Restaurants add A LOT of butter, more than you'd think. That's what makes them move around the pan beautifully without sticking, adds a ton of flavor, and it makes them nice and glossy. Eggs just need all the butter.
Do you season scrambled eggs before or after cooking?
I always season my eggs when I'm whisking them before cooking. Adding salt to eggs before cooking keeps them soft and doesn't let them cook fully (no one likes rubbery eggs!). This is helpful when making soft scrambled eggs. This is why it's recommended to salt sunny side up eggs after cooking because it makes it easier to fully cook the egg whites.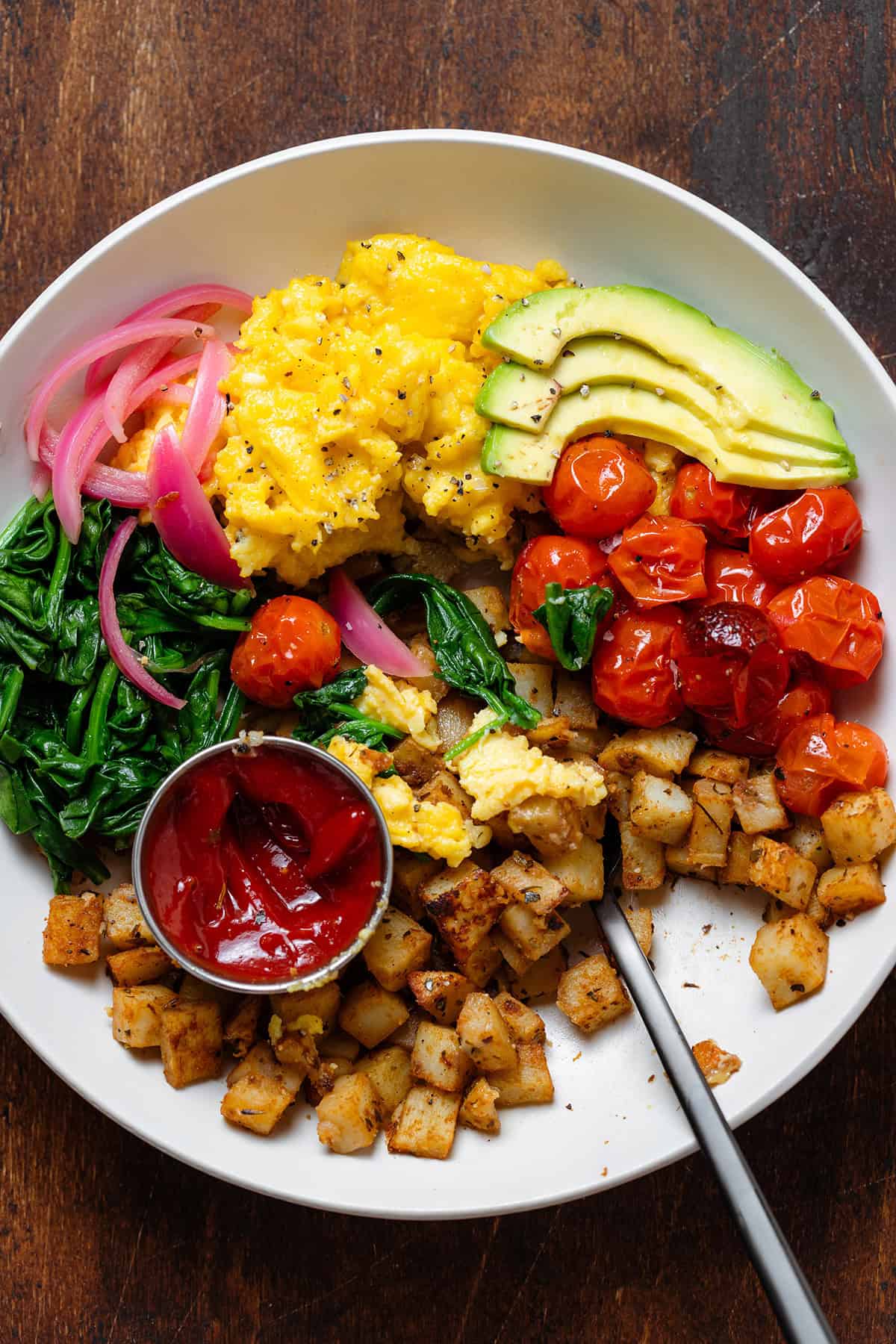 More Savory Breakfast Ideas
If you're looking for more savory breakfast dishes with eggs, check out the ones below, or head straight to the Savory Breakfast Recipes category where you'll find the latest ones. I highly recommend the burritos! They can be made ahead and they're freezer-friendly.
Print
📖 Recipe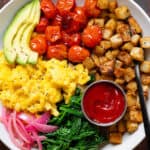 Breakfast Scramble Bowl
Author:

Veronika | thehealthfulideas

Prep Time:

10 minutes

Cook Time:

35 mins

Total Time:

45 minutes

Yield:

2

1

x

Category:

Breakfast

Method:

Roasting

Cuisine:

American

Diet:

Vegetarian
---
Description
This Breakfast Scramble Bowl is the perfect savory breakfast. It's served with crispy breakfast potatoes, roasted cherry tomatoes, and sauteed spinach. Really easy and delicious!
---
800g

russet potatoes

2 tbsp

avocado oil

1 tsp

each garlic and onion powder

½ tsp

each paprika and smoked paprika powder

½ tsp

each dried thyme and oregano

1 tsp

sea salt

½ tsp

freshly ground black pepper
Roasted tomatoes:
1 cup

cherry tomatoes

½ tsp

avocado oil

¼ tsp

each sea salt and freshly ground black pepper
Sauteed spinach:
2

big handfuls baby spinach

¼ tsp

avocado oil or butter

¼ tsp

sea salt
Scrambled eggs:
4

-

6

eggs, whisked

½ tsp

sea salt

¼

ts freshly cracked black pepper

1 tsp

avocado oil (optional, helps the butter to not burn)

2 tbsp

butter (or more oil)
Optional add-ons for serving: quick pickled red onion, avocado, ketchup, breakfast sausages, smoked salmon, feta, roasted vegetables, baked beans, or anything else you like!
---
Instructions
Roasted Potatoes:
Preheat the oven to 450F (230C). Peel the potatoes and cut into cubes. Spread on a baking sheet and use a paper towel to absorb the water the potatoes release.
Mix the spices in a small bowl and sprinkle them on the potatoes.
Roast the potatoes in the oven for 15 minutes, toss and roast for another 10 minutes. Set aside until ready to serve.
Roasted tomatoes:
Add cherry tomatoes to a baking sheet and lightly drizzle with oil and season with salt and pepper. Roast in the preheated oven for 10 minutes. Set aside until ready to serve.
Sauteed Spinach:
Add spinach and avocado oil to a large pan over medium heat and let wilt down, stirring often. Add a splash of water if needed. Set aside until ready to serve.
Scrambled eggs:
Whisk eggs with salt and pepper in a bowl. Melt butter and oil in a pan over medium heat and slowly pour in the eggs. Use a rubber spatula to move the eggs around and slowly scramble them. Turn the heat down to low-medium if the eggs start to burn, scrambled eggs need lower heat and patience otherwise they stick to the pan. This should take about 5 minutes.
Serve everything in a bowl with pickled red onions, sliced avocado, and ketchup if desired and enjoy!
---
Notes
800g of potatoes is enough for 2-4 people so you can half the recipe if desired but they're great as leftovers so I highly recommend just saving the leftovers for later. The nutritional information is counted for 2 servings with the whole 800g of potatoes so if you have leftovers it will be less.
Keywords: breakfast bowl, scrambled eggs