This Iced Peppermint Mocha is the perfect morning drink for the holiday season! Inspired by the popular Starbucks classic but made healthier and vegan! It's easy to make, super creamy, and so delicious!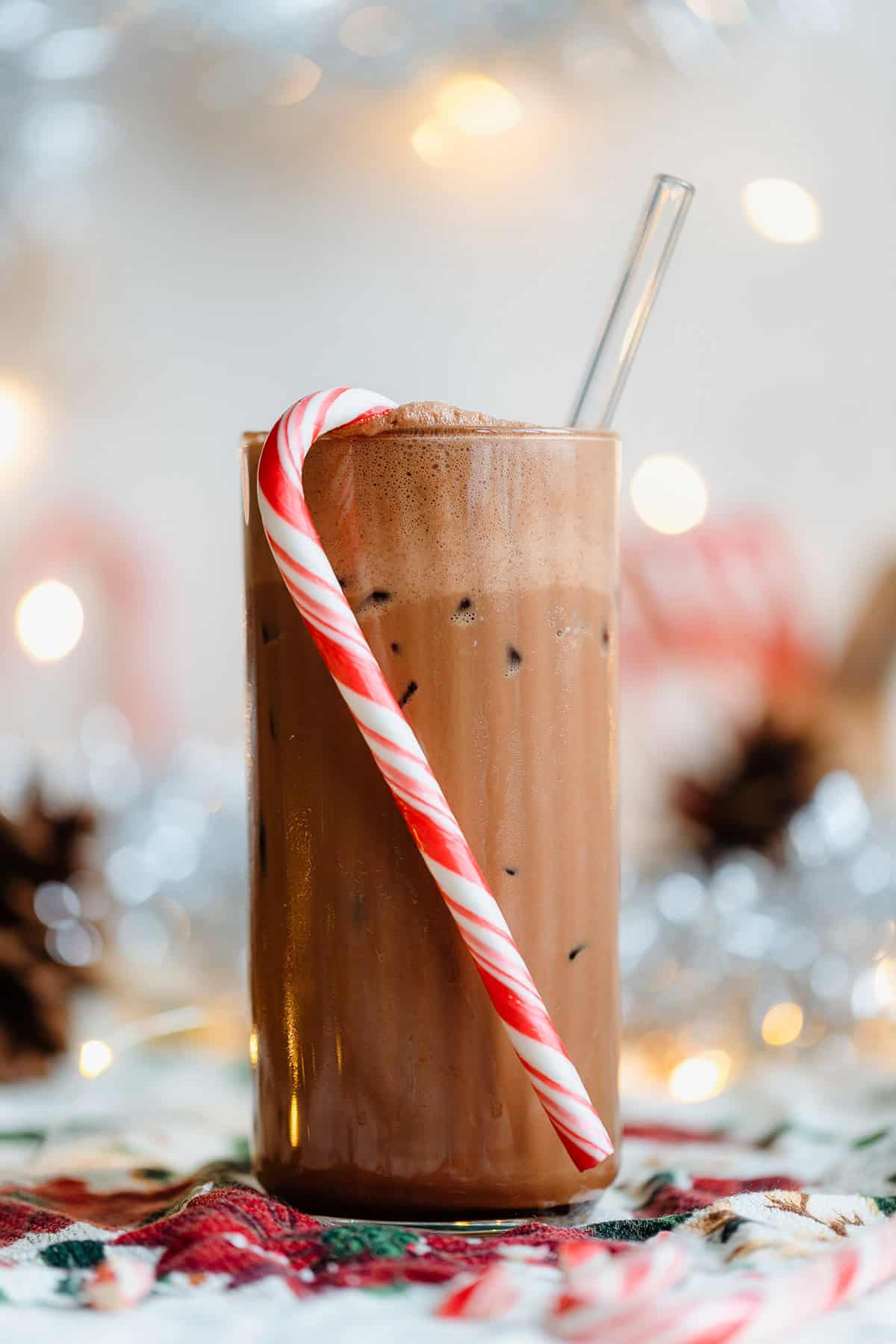 Jump to:
What Makes This Drink Special
Cheaper and healthier than Starbucks - I say this about all my Starbucks copycat drinks but it's true! If you tend to go often, you can save a lot of money by making your own drinks at home. I still go sometimes for specific drinks but making them at home is fun and you can control exactly how much of anything goes in. I find you don't need nearly as much sweetener as they put in.
It uses cacao powder and maple syrup instead of mocha sauce. This way you can control just how sweet and how chocolately you want this drink to be.
It's perfect for the holidays - The combination of chocolate, peppermint, and vanilla will always remind me of Christmas. Try out my Vegan Peppermint Hot Chocolate if you're craving something warmer with no coffee. This Vegan Eggnog Mocha is also a must for the holidays.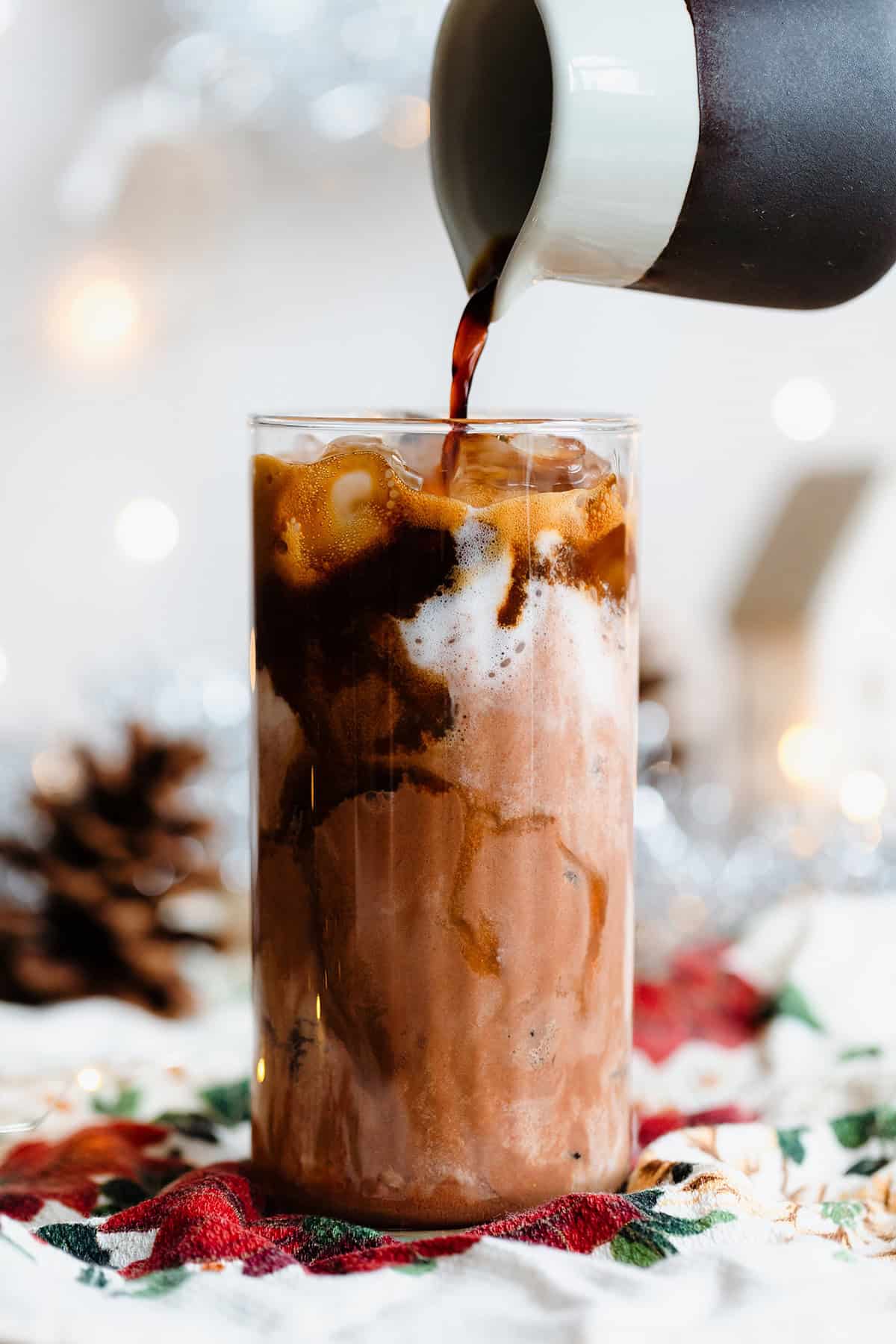 Ingredients Notes
Milk - I like using almond milk or cashew milk here (mine is by Elmhurst) because I find they froth the best. Any milk you like works. If you want to use canned coconut milk, you might have to add a splash of water so it's not so thick.
Chocolate - I only use cacao powder in this recipe to keep it simple and easy. You can also add chocolate sauce if you have any or melt some chocolate for extra chocolatey flavors.
Coffee - In the recipe, I use two shots of espresso because I'm trying to mimic the Starbucks peppermint mocha and that's what they add. You can use any coffee you have and like. Cold-brew is a great option but you might have to add a slightly bigger amount to get the same kick because espresso is more concentrated.
Sweetener - Maple syrup is what works best in this recipe, I usually like getting the darkest grade I can find for the most flavor. You can use any other liquid sweetener you like or skip it and add stevia for a skinny mocha.
Peppermint extract - The amount will depend on how strong your peppermint extract is. The one I use is from Simply Organics but any brand works. This goes for any extracts but especially peppermint - less is more. You can always add more but you can't take any out.
Bonus fancy toppings - To make the drink extra special, serve it with whipped cream and crushed-up candy canes, or chocolate syrup. I totally forgot about this when taking the photos but that's what I like to do. If you want to make it extra special, add chocolate shavings.
Step-by-Step Instructions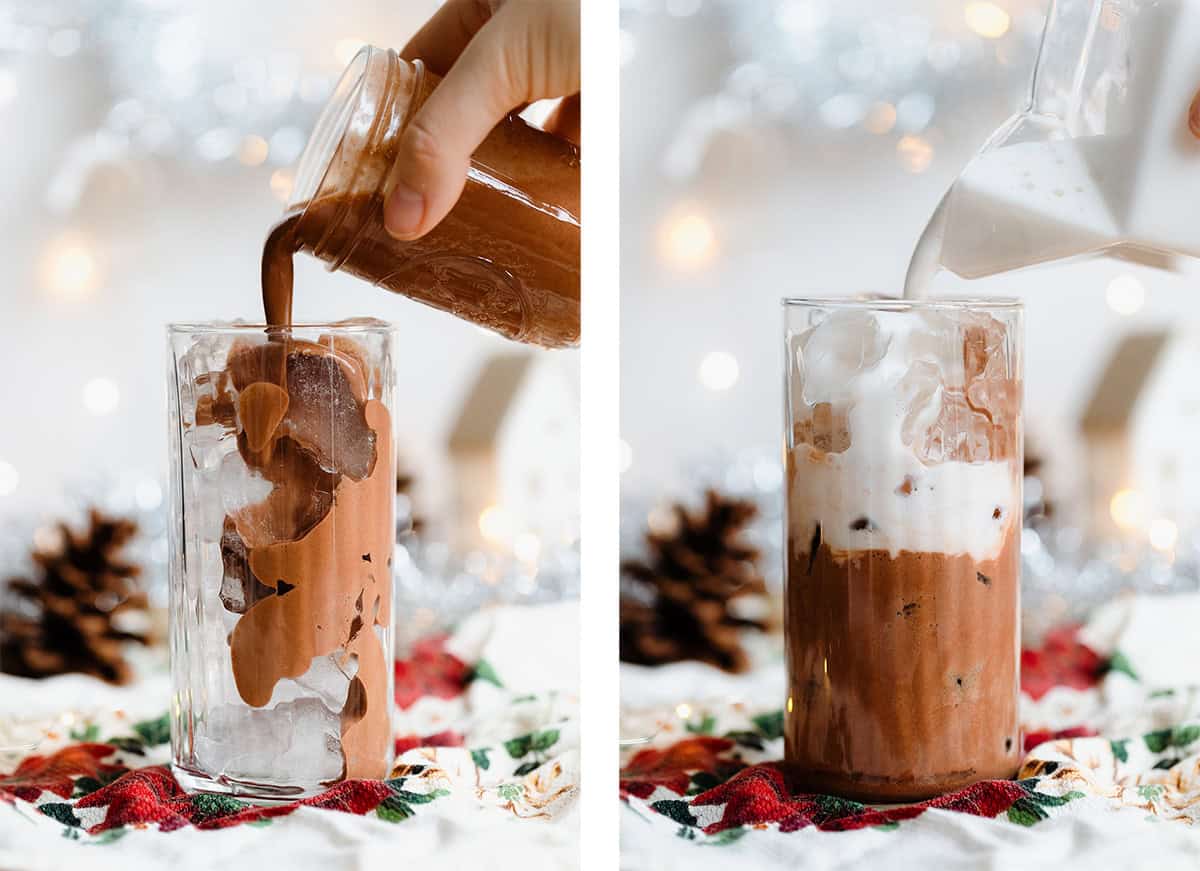 Mix together almond milk, cacao powder, maple syrup, vanilla extract, and peppermint extract in a glass and froth using a handheld milk frother. If you don't have one, you can do this in a blender.
Add ice or pour the chocolate peppermint milk over ice.
(Optional) Pour in more frothy milk to create more layers - this stricly for presentation and optional.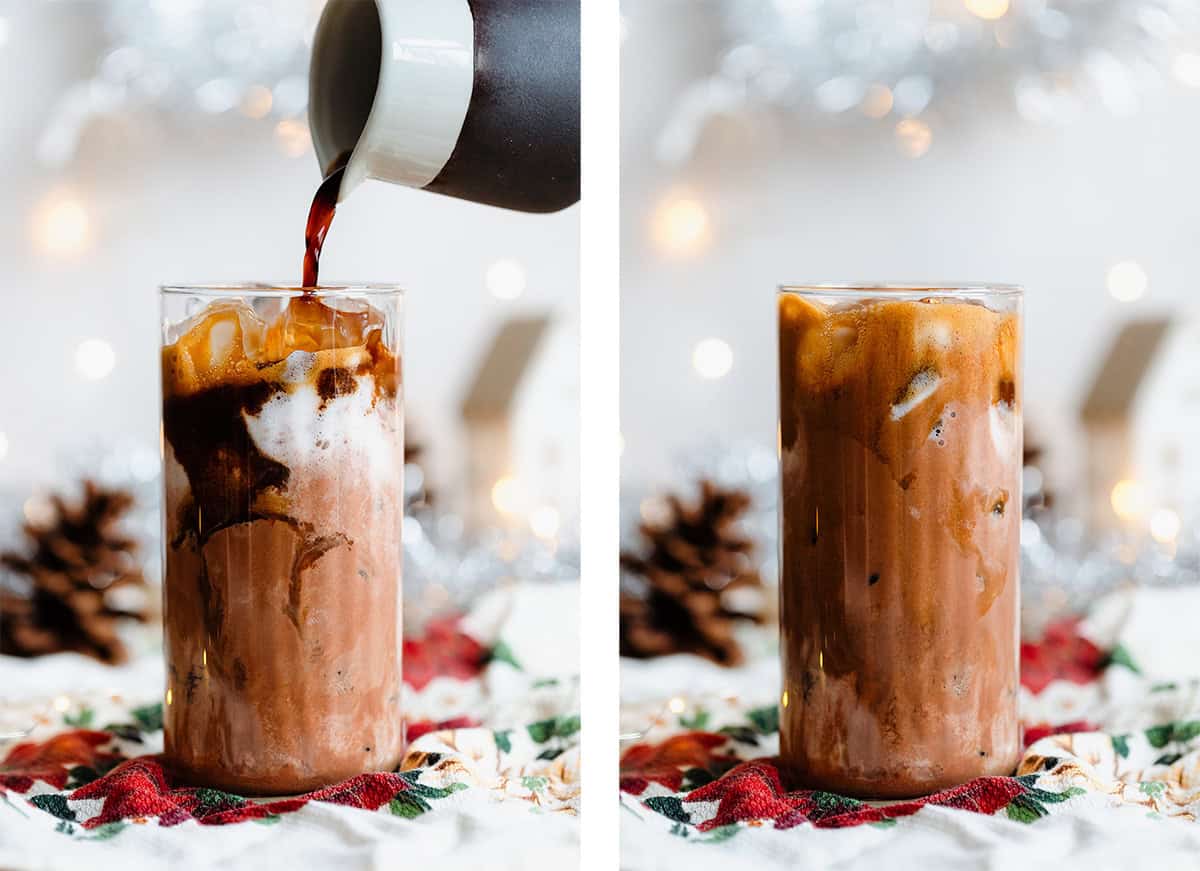 4. Pour the espresso over the chocolate milk and ice. Serve with a glass straw, stir, and enjoy!
5. Bonus: Garnish with whipped cream and chocolate shavings to make it just like the Starbucks version of the drink. Other great toppings are mini marshmallows, cinnamon, or more cacao powder.
FAQs
Do I have to use espresso?
No, you can totally use any coffee you have and like - cold-brew or regular brewed coffee, instant, or even decaf. The amount will be different because espresso is much more concentrated with caffeine.
How much caffeine is there in one espresso?
Based on the USDA data, a single (1 fl oz/30g) of espresso has 63.6mg of caffeine. A double shot of espresso contains 127mg of caffeine.
What's the difference between cacao and cocoa powder? Can I use either
Cacao powder is raw unroasted and cocoa powder is roasted cacao powder. Cocoa is what most people are familiar with and what's used the most. Cacao has a bigger nutritional value because it hasn't been heated. The flavors are slightly different and you can use whichever you have and like.
Can I make a hot version of this mocha?
Yes, definitely! Warm-up your milk with cacao, maple syrup, vanilla, and peppermint, and froth. Pour into your mug, then pour in your hot espresso, and top with whipped cream and crushed candy cane.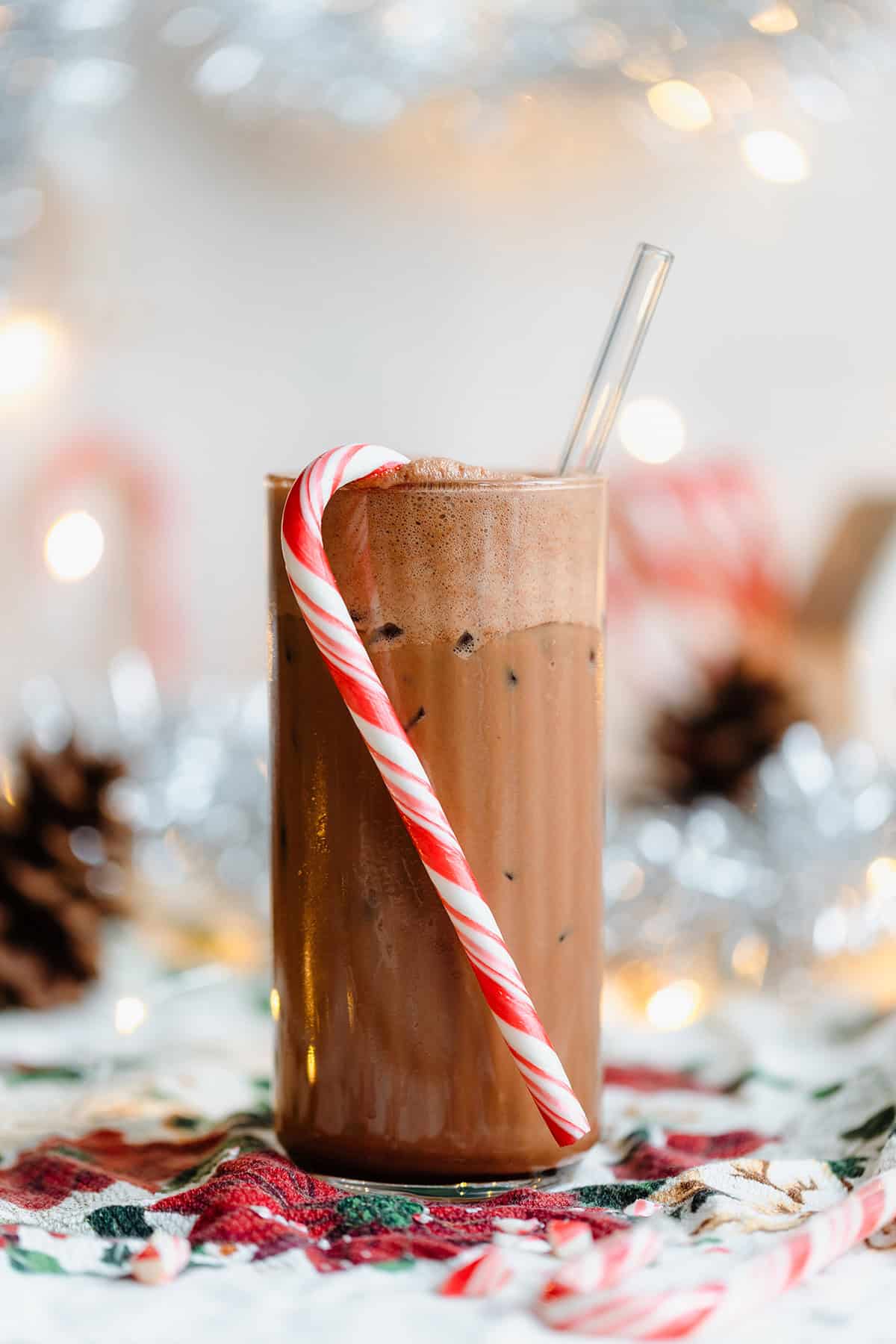 More Iced Starbucks Copycat Drinks
Making my own healthier homemade versions of popular Starbucks drinks is something I really enjoy doing and I'm always adding more to the collection. Below are 6 of my favorite caffeinated iced drinks.
Print
📖 Recipe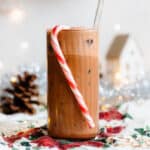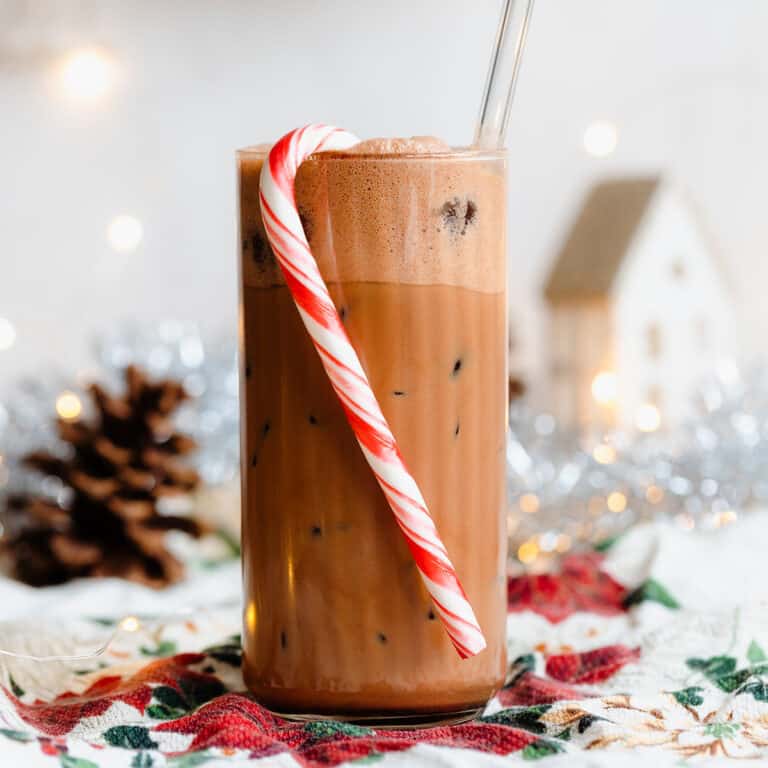 Iced Peppermint Mocha
Author:

Veronika | thehealthfulideas

Prep Time:

10 mins

Total Time:

10 minutes

Yield:

1

1

x

Category:

Drink

Method:

Mixing

Cuisine:

American

Diet:

Vegan
---
Description
Delicious Iced Peppermint Mocha made with real cacao powder, peppermint extract, and creamy almond milk. Serve it with whipped cream and chocolate shavings to mimic the Starbucks version!
---
Optional toppings: whipped cream, chocolate shavings, crushed candy cane, mini marshmallows, a dusting of cacao powder or cinnamon
---
Instructions
Add milk, cacao powder, maple syrup, vanilla extract, and peppermint extract into a tall glass and use a handheld milk frother to froth the milk and mix everything together.
Add a handful of ice to the glass and pour the espresso over it. 
Serve immediately as is or with whipped cream and chocolate shavings.
---
Notes
Be careful with the peppermint extract. Less is always more with this one. You can always add more but if you add too much, the peppermint flavor will be very overwhelming.
No milk frother: If you don't have a milk frother, add everything to a blender including the espresso, blend until frothy, and pour over ice.
You can also make this drink hot if you're not feeling the iced coffee. Simply heat up your milk before frothing and don't add any ice.
Keywords: starbucks, iced peppermint mocha