This Starbucks Copycat Iced Peach Green Tea Lemonade is so refreshing and just as delicious as your favorite Starbucks order! You only need 4 ingredients and 20 minutes to make it!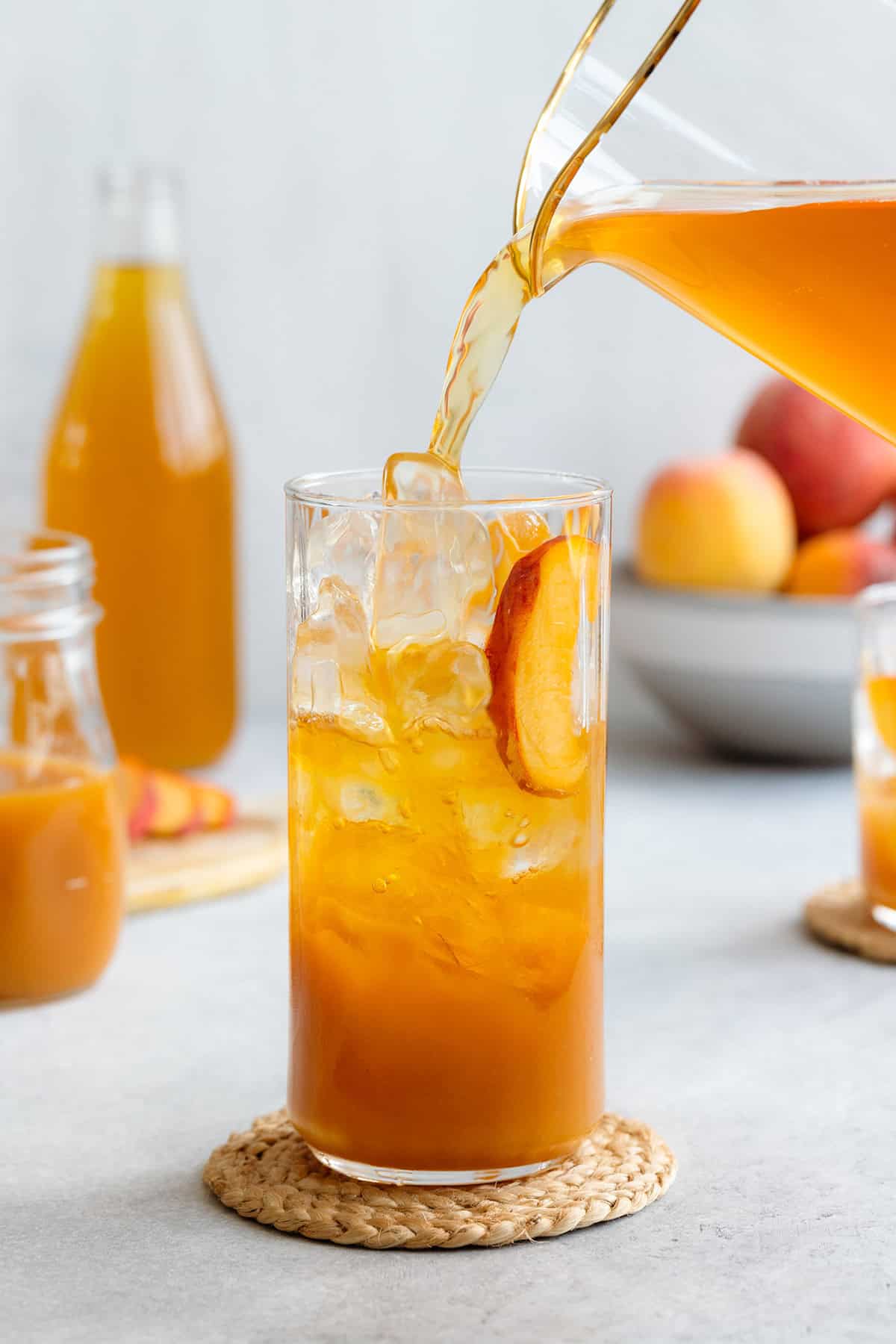 Why You'll Love This Drink
It has 4 easy to find ingredients and takes less than 20 minutes.
It's healthier - the Starbucks version doesn't actually contain any peaches! Their "peach" syrup is made with white grape juice concentrate and flavors and natural colors.
No need to make lemonade - You don't need to spend extra time making any lemonade. I add lemon juice to the tea which adds all the fresh lemon flavor you need!
It costs less - buying your drinks at Starbucks can get expensive over time so making them at home can save you a ton of money! Use a reusable cup to drink it on the go.
It has less sugar than the original Starbucks Shaken Iced Tea - The recipe uses maple syrup instead of cane sugar and because you're making everything yourself, you can decide exactly how much sugar you add. I find the peaches make it sweet on their own so I only add ¼ cup of male syrup.
It's a fun summer drink to make when you want to cool down with something flavorful. You can make this drink all year round, just use frozen peaches instead of fresh!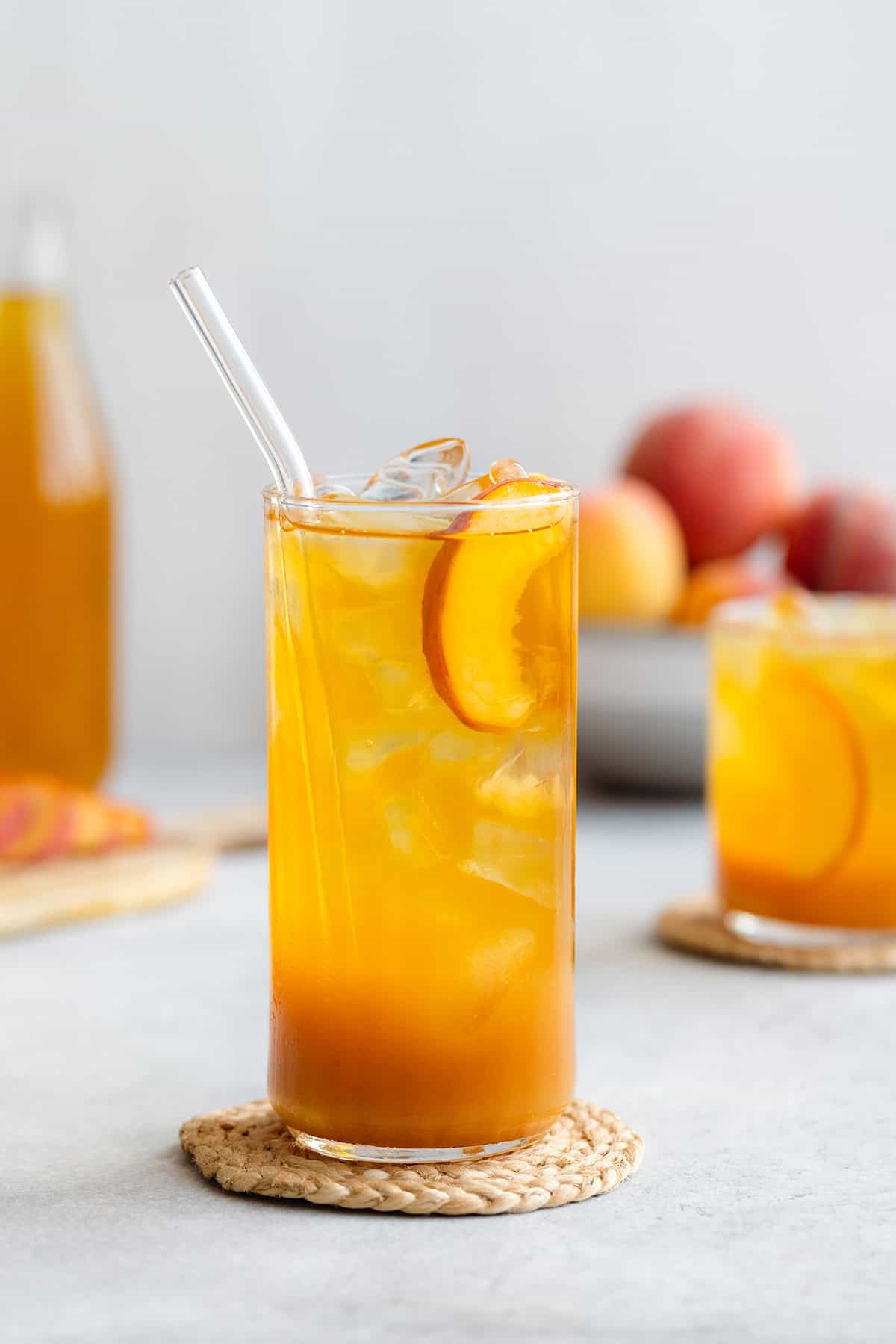 Ingredients and Substitutions
There are four ingredients in this drink, five if you're including the water:
Fresh peaches - This is the base for the drink and makes the peach syrup you add to the green tea. Use frozen peaches if you don't have fresh.
Maple syrup - You can use any sweetener you have on hand, I use maple syrup because I believe it's slightly better for you than white or brown sugar. Some substitutes I recommned are agave, coconut nectar, coconut sugar, or maple sugar. I don't like using stevia, erythritol, or monkfruit sweeteners here because I find them to overpower the other flavors. If you add less sweetener, add more water to make up for the loss of liquid.
Lemon juice - I strongly recommned you use freshly squeezed lemon juice and not the bottled stuff. Fresh always has a better flavor.
Green tea - I used jasmine green tea bags but you can use any green tea you like. Starbucks uses a a blend that has green tea, spearmint, lemon verbena, and lemongrass. I find the jasmine adds similar flavor. Use decaffenaited green tea if necessary.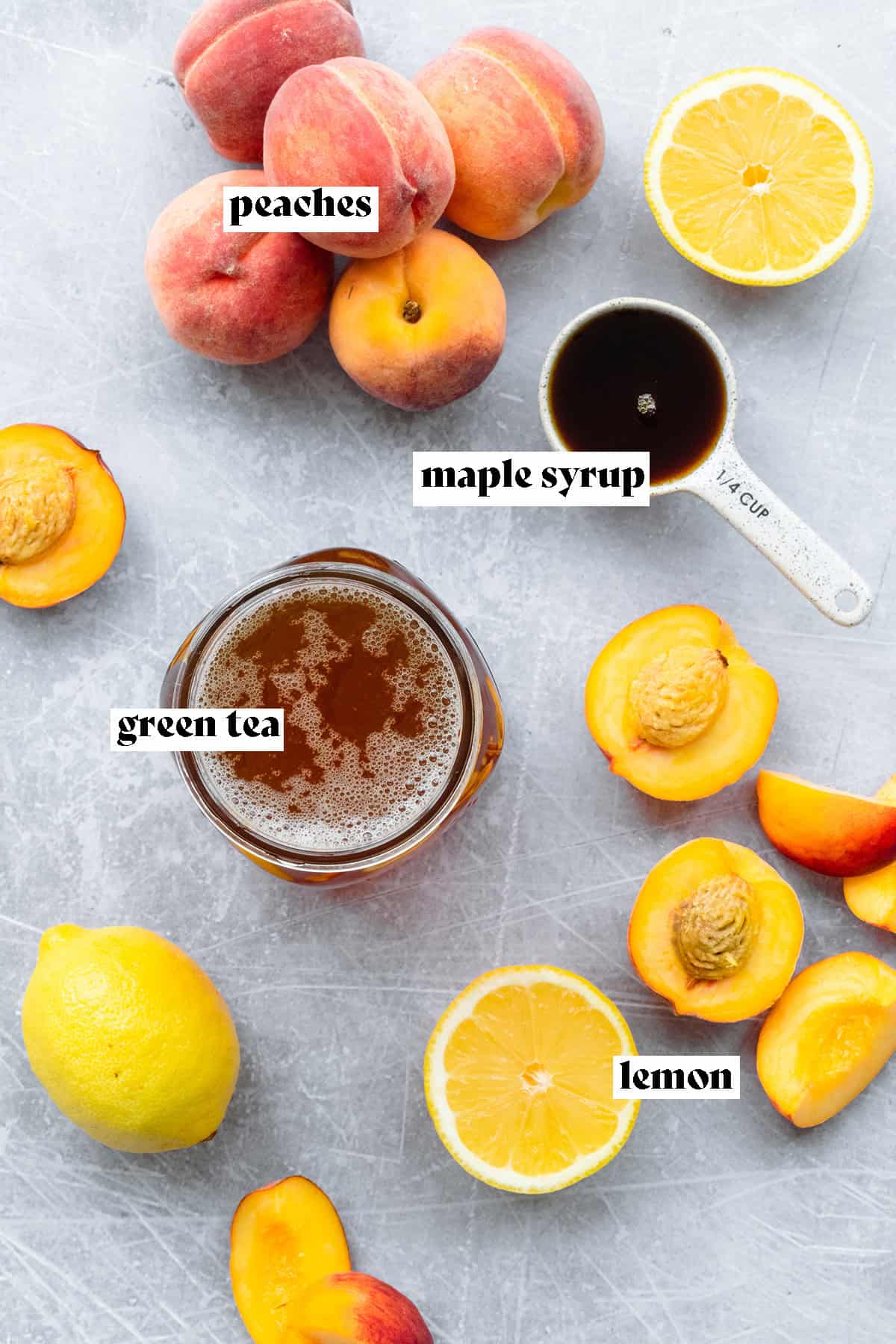 How to Make It
First, you'll make the peach syrup, then steep the green tea, and after it's all cooled down, combine the two for a refreshing iced tea!
Puree the peaches in a food processor.
Add the puree to a small pot with maple syrup, and water.
Cook for 10 minutes - this step is optional but highly recommended. It helps to really bring out the flavor and sweetness of the peaches. It will reduce slightly and thicken. Add the lemon juice.
Strain the syrup through a fine-mesh strainer - This step is also optional, it helps to get rid of the fiber from the peaches and makes the syrup smoother. This extra step takes the iced tea from good to amazing! Trasfer the syrup to a jar and let it cool down.
Bring water to a boil in a large pot and steep the green tea for 3-5 minutes. Add the lemon juice and let cool before making the iced tea.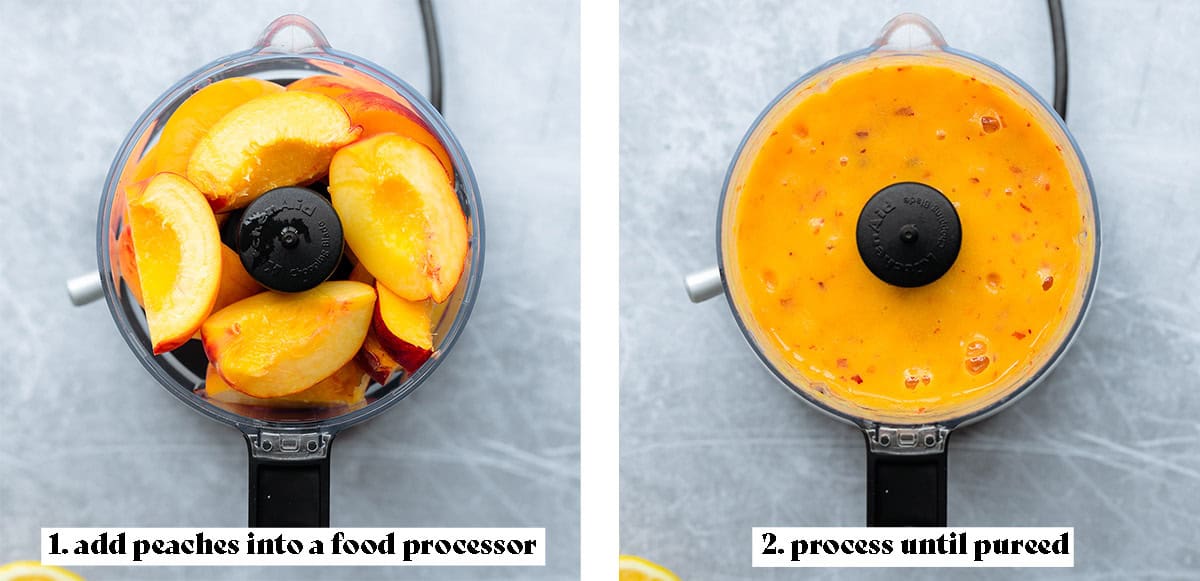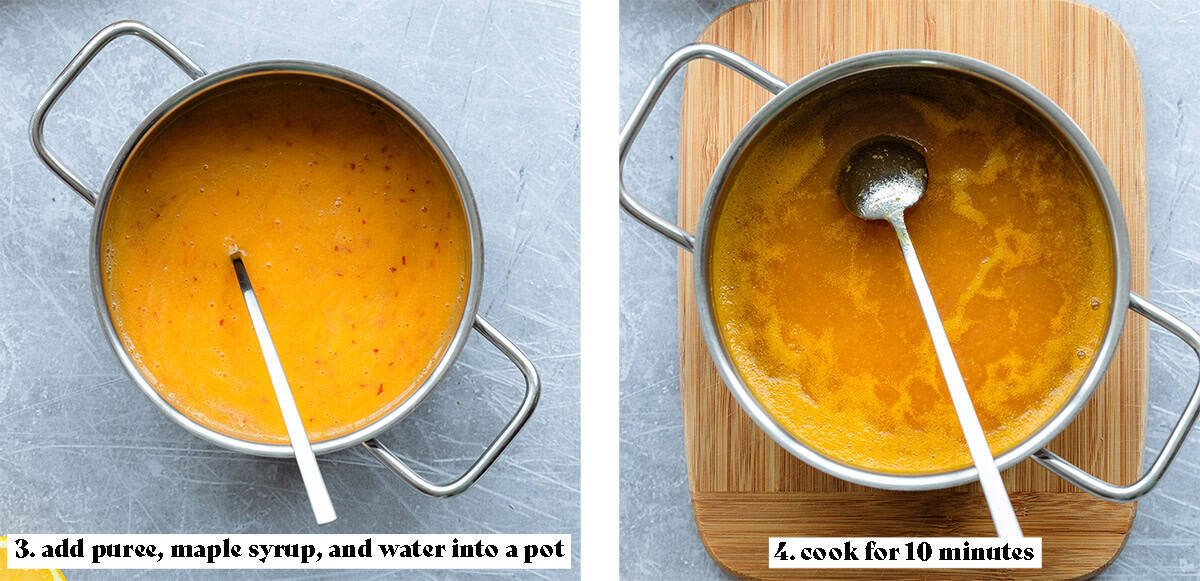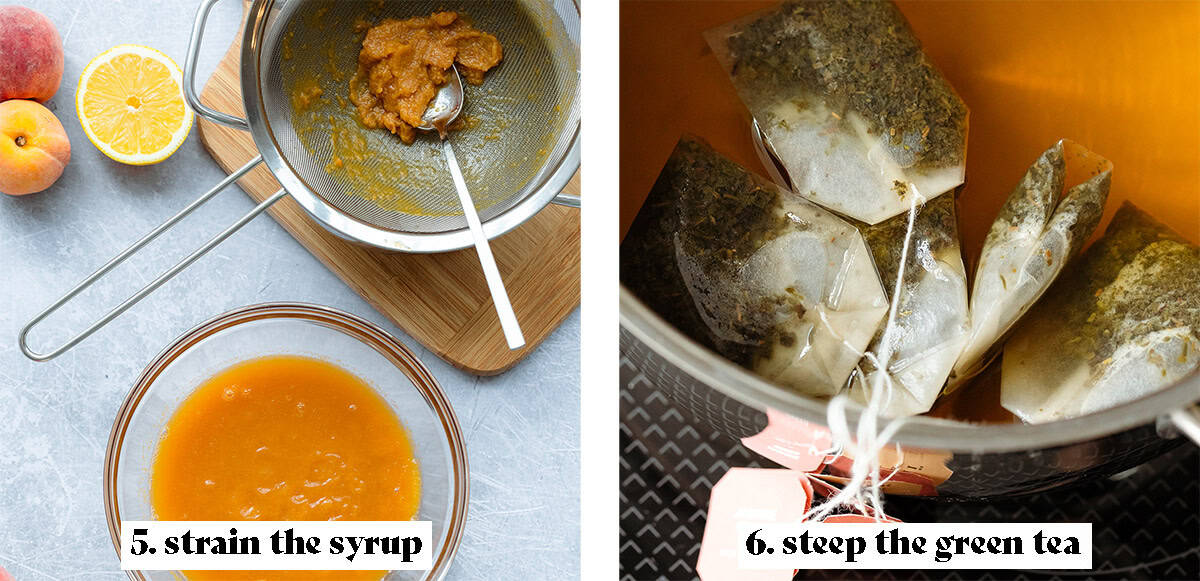 Serving and Storing
Stirred Single serving - Add 3-4 tablespoon of the syrup to a tall glass, fill the glass up with ice and some peach slices, and top with about 1 cup of green tea.
Shaken Iced Tea- Make it just like they do at Starbucks and shake it like you would a cocktail. Add 1 cup of green tea, 3 tablespoon peach syrup, and a few ice cubes to a Mason jar. Close with a lid, shake, and pour through a cocktail strainer into a tall glass filled with more ice cubes.
Pitcher Iced Tea - This is the easiest way to serve it. Combine the green tea and the peach syrup in a large pitcher, add ice, and stir well.
Storing - Both the syrup and the green tea will keep in an airtight jar in the fridge for 3 days.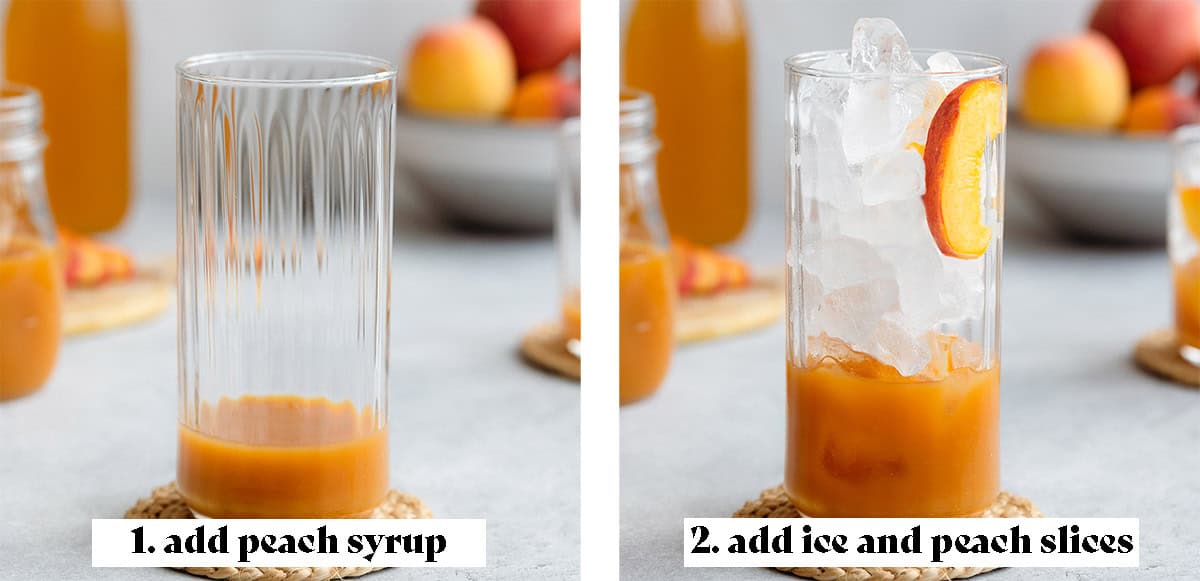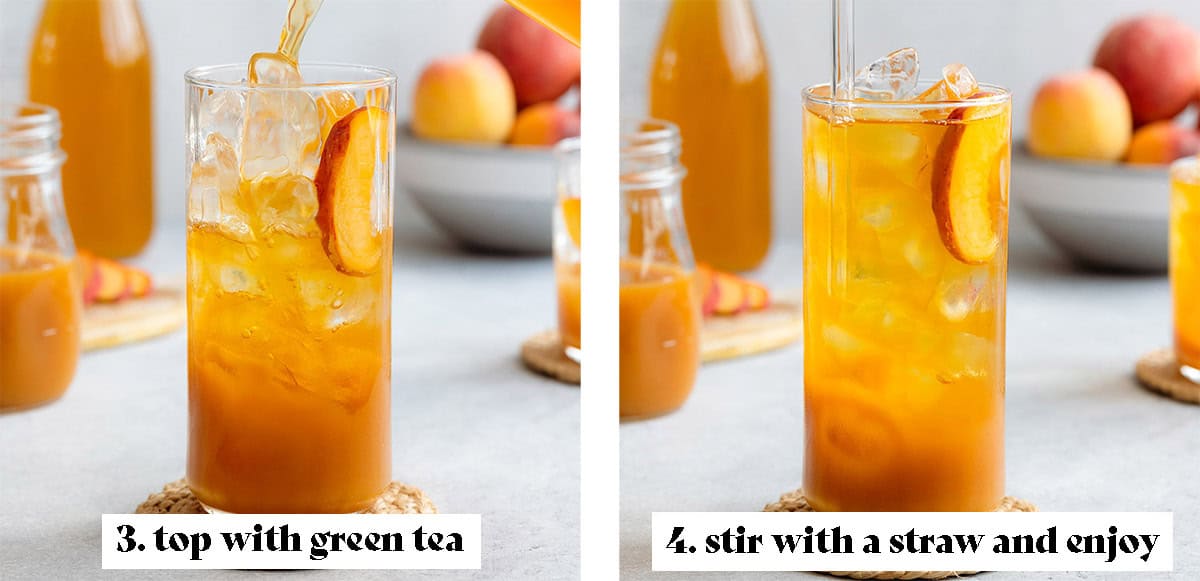 Expert Tip
I like to make both the peach syrup and the green tea the night before and store them in the fridge. This way it's already cold and you don't have to wait for it to cool down.
Adding the lemon juice to the peach syrup helps it to stay fresh a little longer so you can keep it in the fridge for up to three days.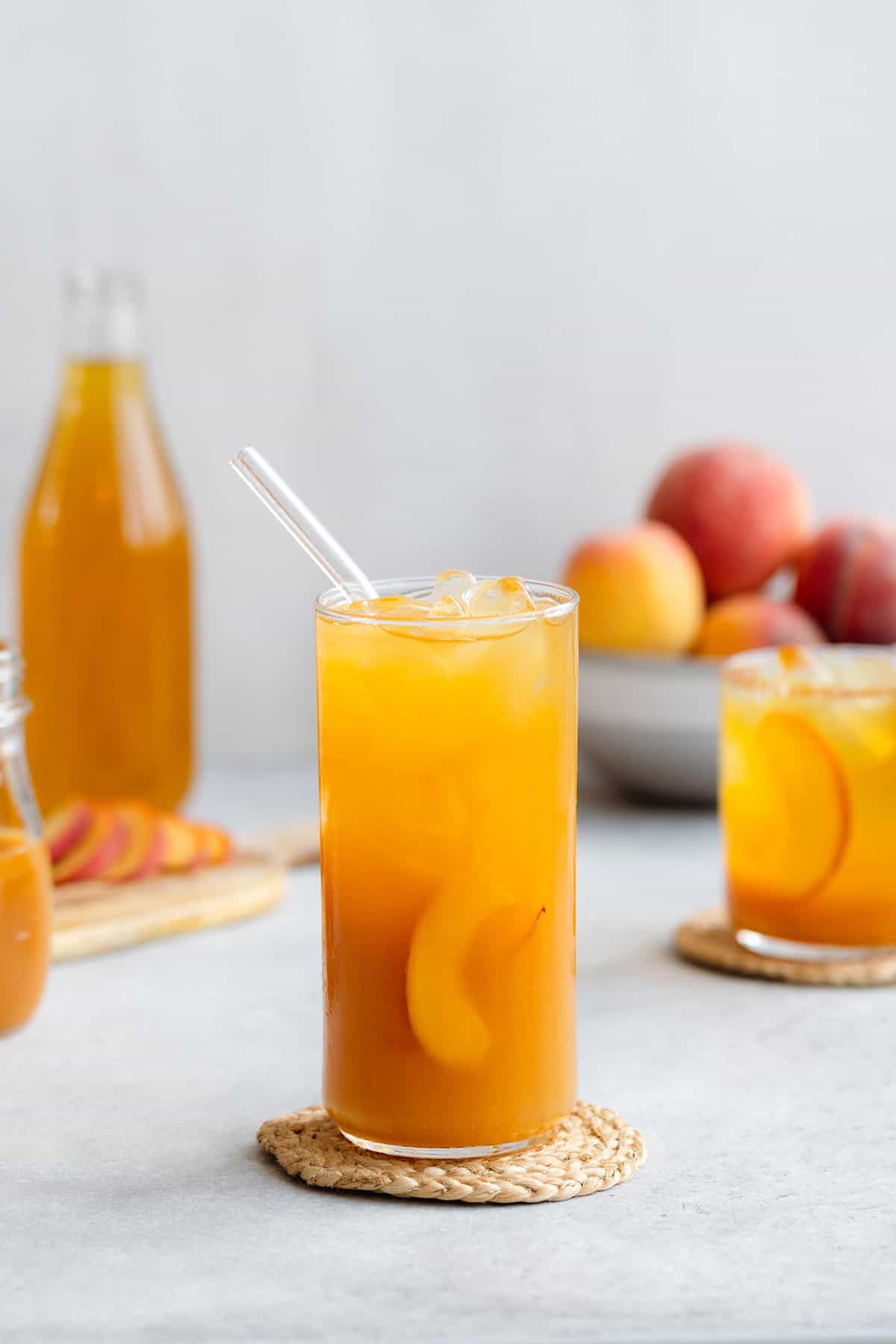 More Starbucks Copycat Drinks
Making drinks inspired by my orders from Starbucks is honestly my favorite activity! There are many more to come but here are two I've shared in the past.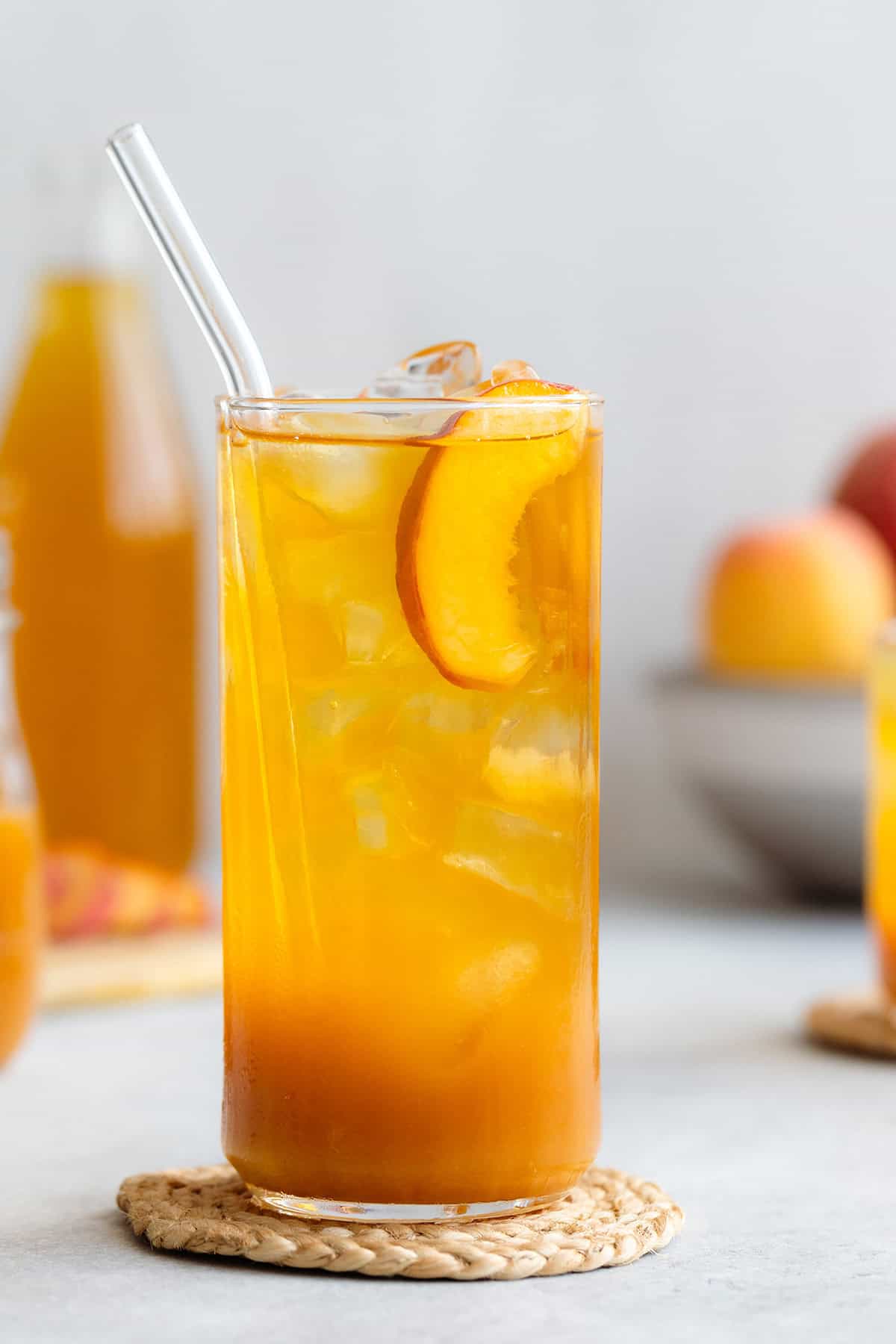 FAQs
What does Starbucks use in their Iced Peach Green Tea?
It's made with peach syrup, lemonade, sweetener, and green tea blend that's made with green tea, spearmint, lemongrass, and lemon verbena.
Does this drink have a lot of sugar?
This iced tea doesn't have as much sugar as the Starbucks version. It only has ¼ cup of maple syrup in 5-6 servings because the peaches add enough sweetness on their own.
Does it contain caffeine?
Yes, green tea naturally contains caffeine. You can find decaffeinated green tea in most grocery stores.
Can it be made ahead?
Yes, I like to make it a day in advance to give the tea and the syrup time to cool down. I store both in glass jars in the fridge until ready to serve (up to three days).
Print
📖 Recipe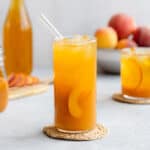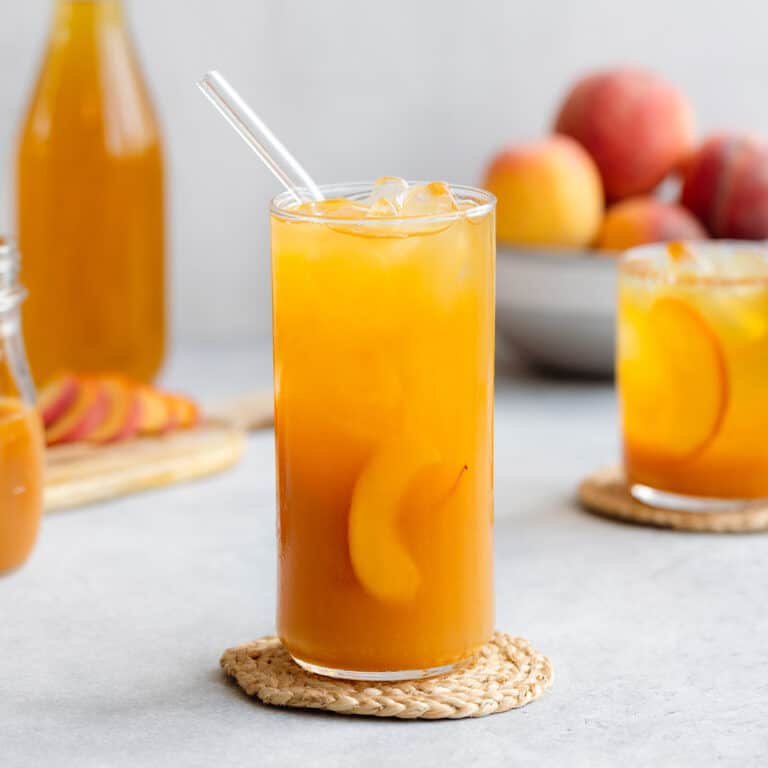 Iced Peach Green Tea Lemonade
Author:

Veronika | thehealthfulideas

Prep Time:

10 mins

Cool Time:

1 hour

Cook Time:

10

Total Time:

1 hour 20 minutes

Yield:

5

-6

1

x

Category:

Drink

Method:

Mixing

Cuisine:

American

Diet:

Vegan
---
Description
This Starbucks copycat iced tea is super refreshing, sweetened with maple syrup, and only requires four ingredients.
---
Peach syrup: 
5

peaches, roughly chopped, stones removed

¼ cup

maple syrup

¼ cup

water

1 tbsp

lemon juice
Green Tea Lemonade:
6

-

7

cups water (1.7L - the max line on most electric kettles)

5

green tea bags (I used jasmine green tea)
Juice of

½

lemon (

1

-

2

tbsp)
Single serving:
2

-

4

tablespoon peach syrup
Ice cubes
Peach slices (as a garnish, optional)

1 cup

chilled green tea
---
Instructions
Peach syrup:
Add the chopped peaches to a food processor or a blender and blend until smooth. This should take just a minute or two.
Pour the puree into a small saucepan and add the maple syrup and water. 
Stir and bring the mixture to a boil. Lower the heat to medium and simmer for 10 minutes stirring every couple of minutes.
Take it off the heat and stir in the lemon juice. 
Strain the mixture through a fine-mesh strainer into a large bowl. This step is optional but recommended. See notes.
Pour the mixture into a heat-proof jar and let cool completely before storing or serving. This will keep in an airtight container in the fridge for up to 3 days.
Green Tea Lemonade:
Bring the water to a boil in a kettle or a large pot. Take it off the heat and add the tea bags.
Steep the tea for 3-5 minutes. Remove the tea bags and add the lemon juice. Stir and let cool down.
Ladle into a large mason jar until ready to use. The tea can be kept in the fridge in an airtight container for up to 3 days.
Single serving:
Single serving: Add 2-4 tbs of the chilled peach syrup to a tall glass, fill the glass with ice and a couple of peach slices if desired and pour in about a cup of the chilled green tea.
Shaken: Make it just like they do at Starbucks. Add the tea, syrup, and ice into a mason jar. Shake until chilled and pour over ice.
Pitcher: Alternatively, you can mix everything together in a large pitcher. Make sure to stir the lemonade every time you pour it into a glass as the peach syrup tends to settle on the bottom.
---
Notes
I recommend straining the peach syrup to improve the texture of the iced tea. It will still be good without straining it but you might get peach bits floating around the drink. Use a spoon to push the puree through the fine-mesh strainer and be patient with it, though it should only take about two minutes. The recipe should yield about 1 ⅓ cup of syrup after straining.
I found the peach syrup sweet enough from the peaches and ¼ cup maple syrup but you can add more sweetener if you'd like, just add the same amount of water.
This recipe can easily be doubled or tripled. Just press the 2x or 3x button above the ingredients.
Keywords: Starbucks, peach green tea lemonade