This Roasted Chili Corn Salsa is just like the one at Chipotle, only homemade which makes it 10 times better! It's great on salads, in burritos, on tacos, or on its own with tortilla chips served as an appetizer.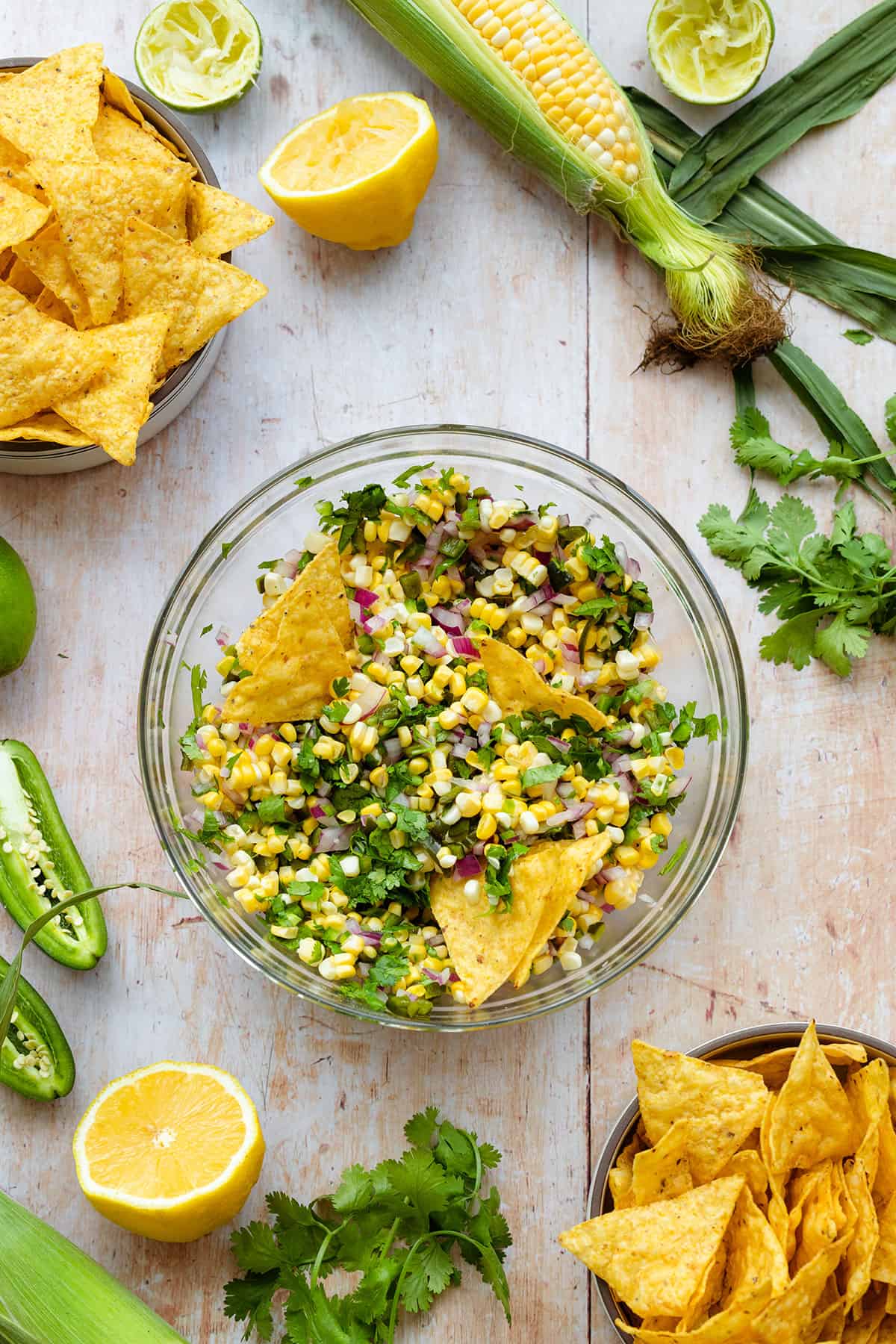 Jump to:
Why This Recipe Works
I'm so excited to share this Chipotle copycat corn salsa with you! All the flavors go really well together and it's always in my burrito bowl order.
I'm a fan of your classic tomato salsa but it's fun to switch things up and make a salsa with completely different flavors! The juicy corn, crunchy red onion, spicy jalapenos, charred poblano peppers, and fragrant cilantro make an awesome addition to any Mexican inspired dishes. Think burritos, tacos, salads, burrito bowls, and more!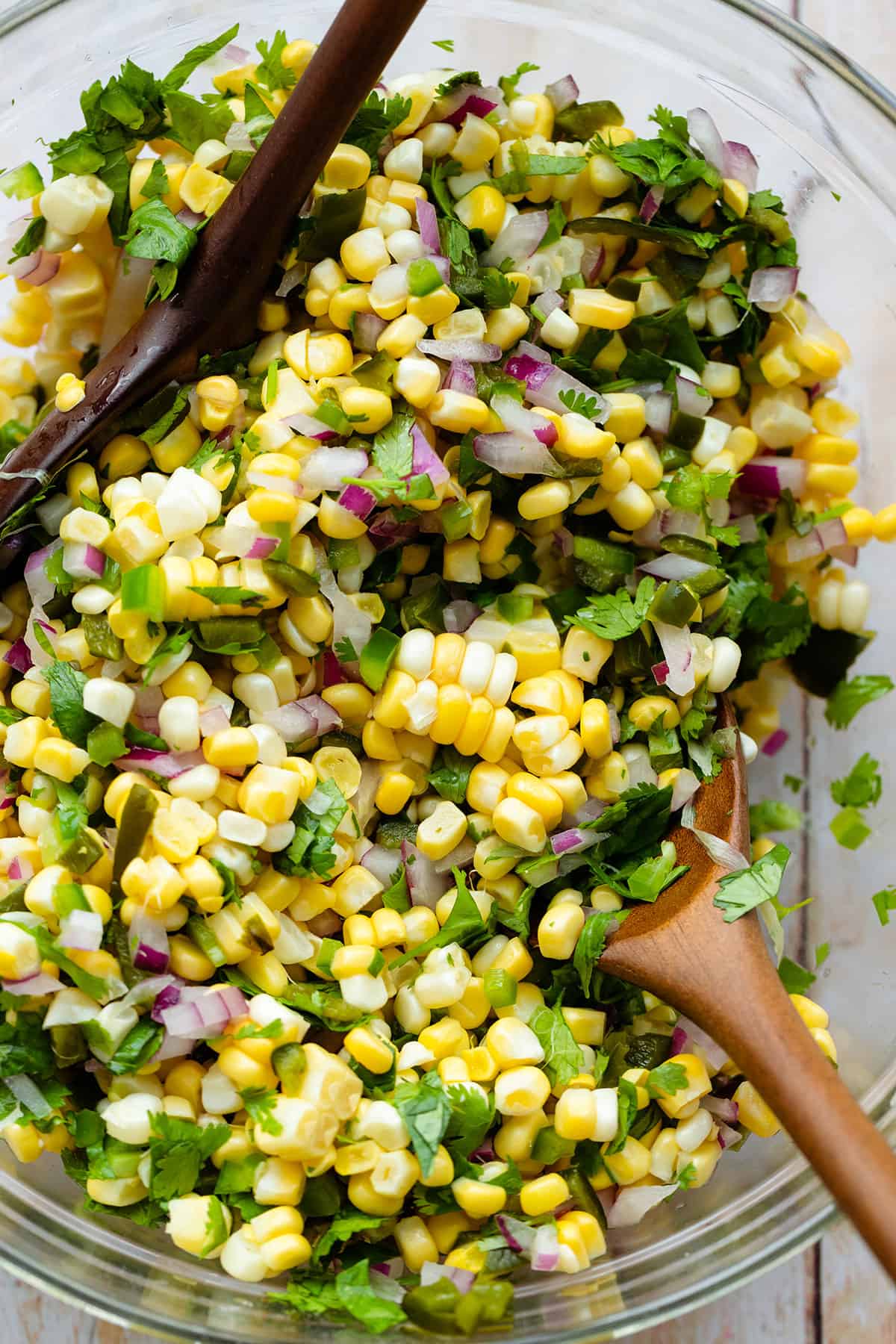 Ingredients
The ingredients list is super simple and really makes the most of fresh seasonal produce, though these days you can find these things in most grocery stores all year round.
Fresh corn - The star of the show. You don't need to cook the corn for this recipe, just cut it off the cob and mix with the rest of the ingredients! If using frozen corn, just defrost it before mixing it with the rest.
Poblano peppers - Roasting the poblano peppers really brings out their flavor and adds this salsa the grilled flavor it needs. They're not very hot, I find them less hot than Jalapeños so don't be afraid of this salsa being overly spicy. If you're very sensitive to heat, use roasted green bell peppers instead.
Jalapeños - This is where the heat comes from in this salsa. Always remove the seeds and white parts or it's going to be extra hot. Again, if you want to avoid the heat, use fresh bell peppers.
Fresh cilantro - Cilantro adds a lot of flavor to this recipe but if you're one of the cilantro haters, add fresh parsley or chives instead. Dried cilantro works well too, it just won't be as strong and flavorful.
Lime and lemon - I used a mix of fresh lime and lemon juice because that's what I heard they do at Chipotle and because I just really like the combination. Using only one of them will work just as well!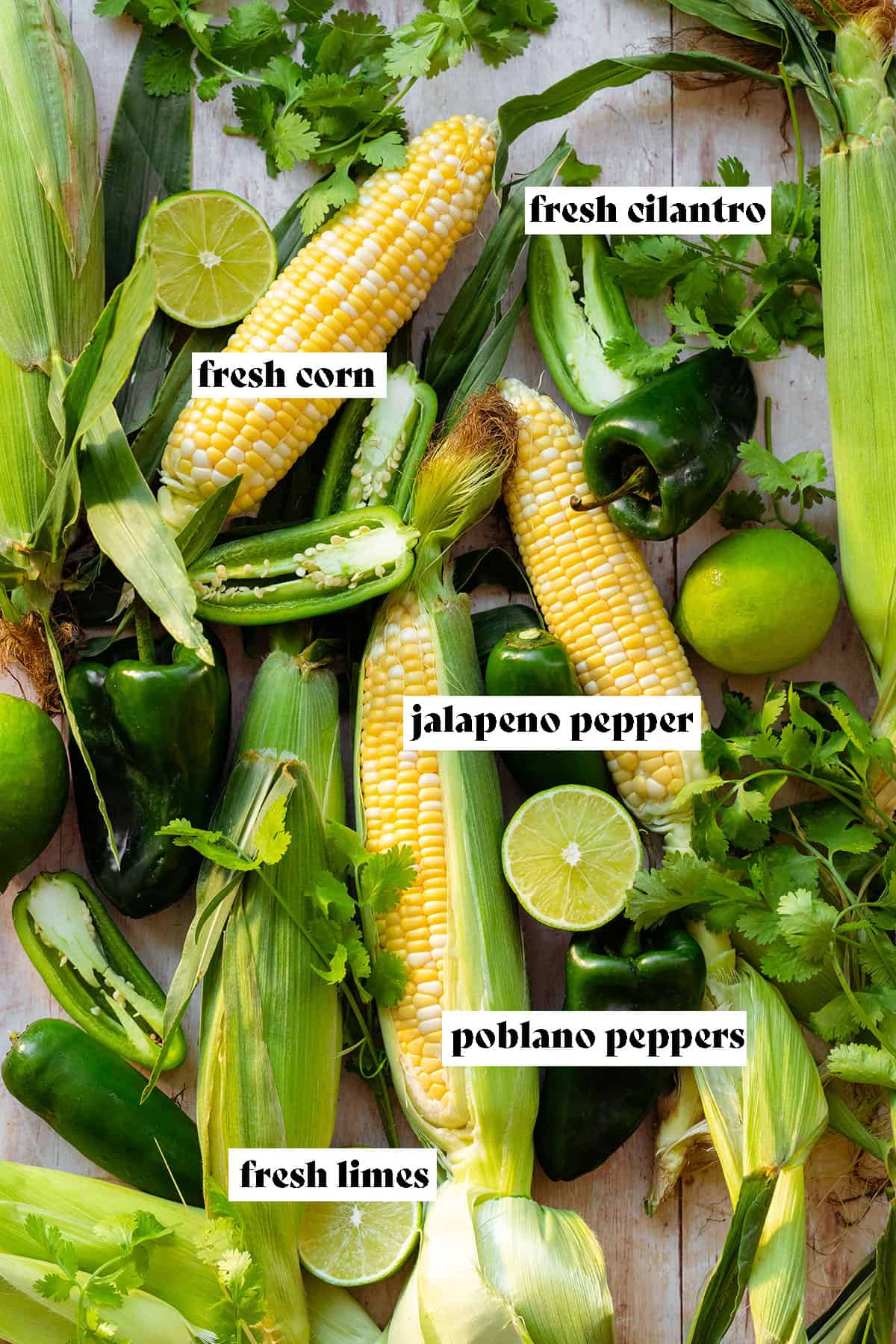 How to Make It
Below are four step-by-step photos on how to make this roasted chili corn salsa. It's easier to make than you'd think!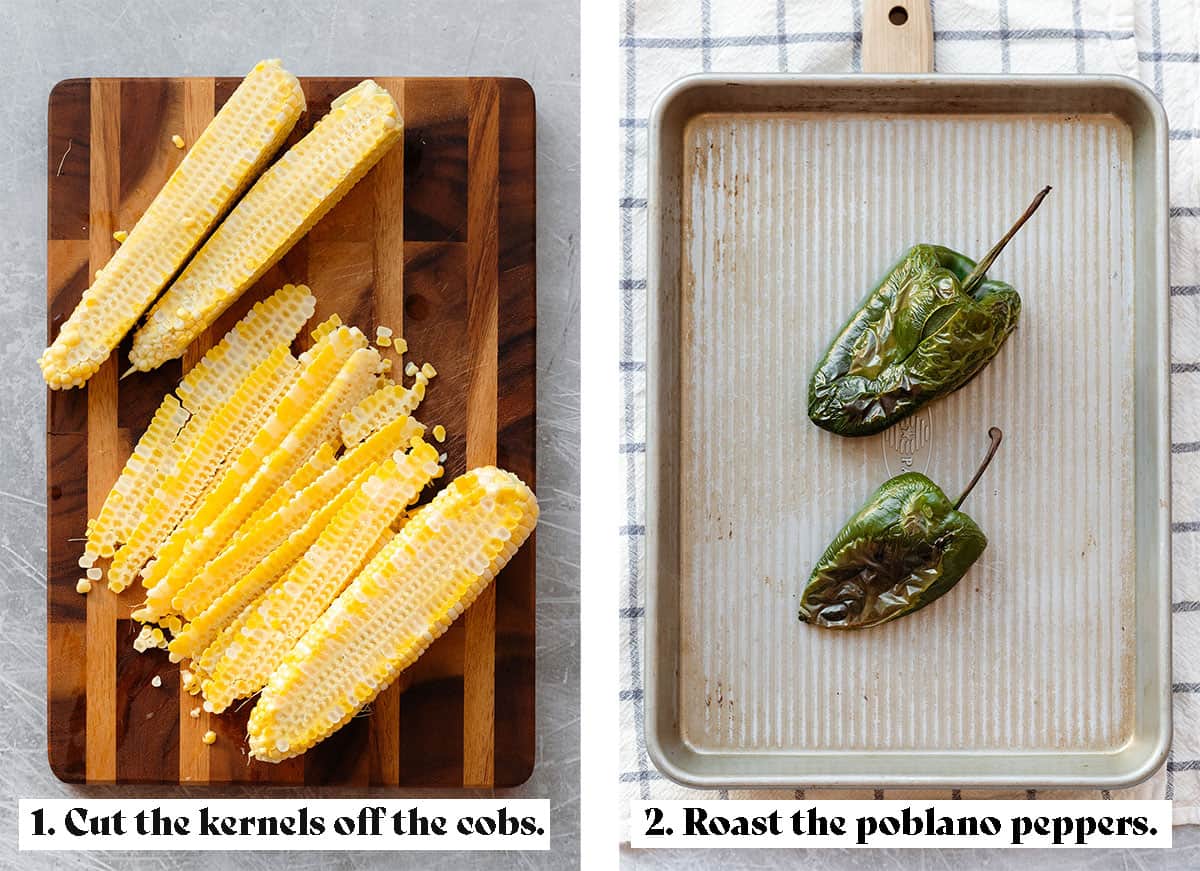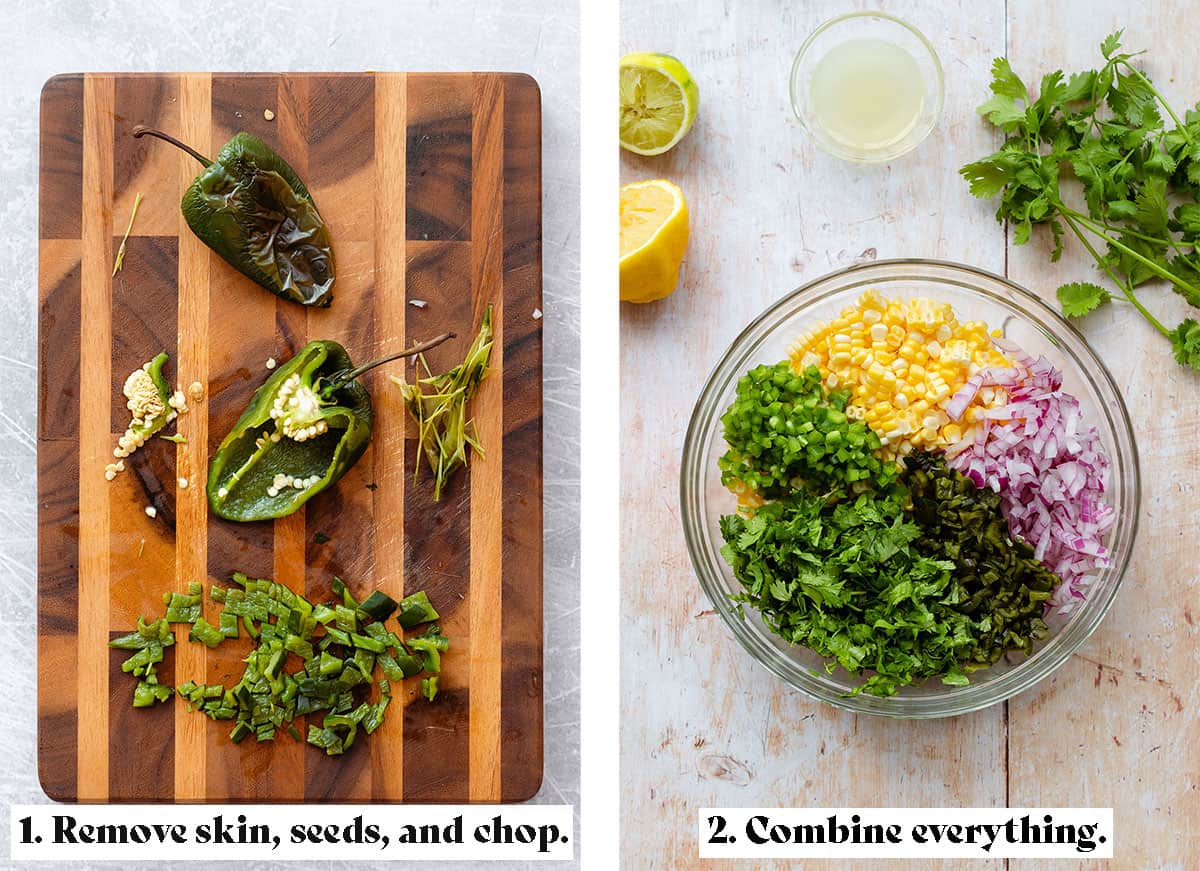 Cut the corn kernels off the cob - peel the corn and cut the kernels off one side at a time and add them to a large bowl and set aside. If using frozen corn, transfer it to a plate and defrost at room temperature.
Roast the poblano peppers - Score the skin before roasting or pierce the pepper in one spot to prevent the skin ripping in the oven. The first time I made this, I got so scared when it popped when I opened the oven! It's no big deal but when the whole pepper roasts, the hot air inside builds up and makes the skin pop and it's very loud when you open the oven.
Dice the peppers - When the peppers cools down, peel them, slice them open, remove the seeds, and finely dice.
Make the salsa - Add the poblano peppers, finely diced jalapeños, red onion, and cilantro to a bowl and mix to combine.
Add the dressing - Add the lemon juice, lime juice, sea salt, toss again, and enjoy!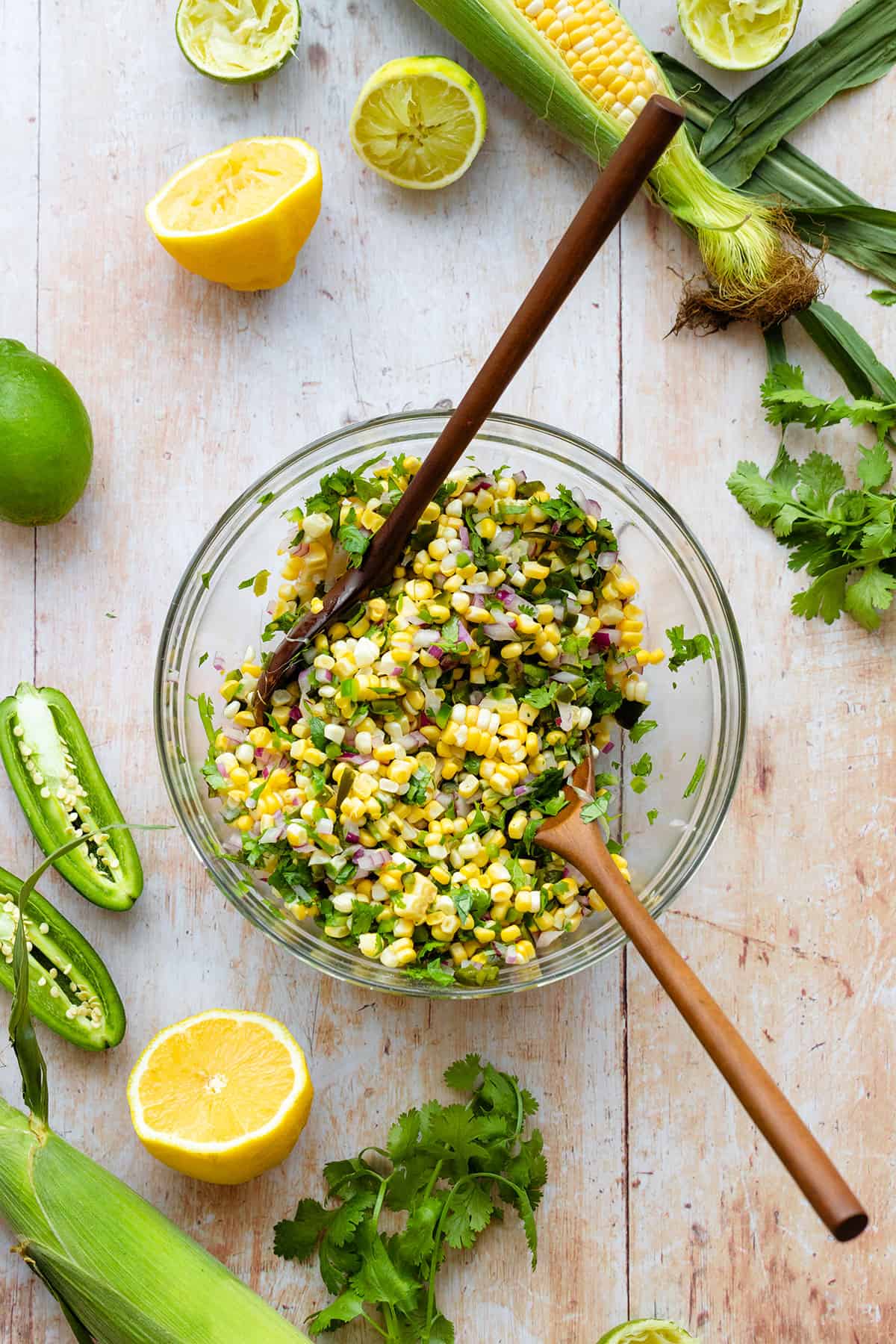 Serving and Storing
The easiest and best way to serve this salsa is on its own with tortilla chips, it makes a great appetizer. I like to serve it along with guacamole, Pico de Gallo, and these Oven Baked Veggie Chips.
It's great on salads, in burritos or burrito bowls (hello Chipotle Veggie bowl, I'm looking at you. I'll be sharing a recipe for that in a couple of weeks so stay tuned!), and it's perfect topping for tacos.
Try it with this Mexican Kale Salad with Cashew Dressing. It's an old favorite of mine!
Storing - It's usually best eaten within 2 days when it's the freshest but it should keep in an airtight container in the fridge for up to 2-3 days.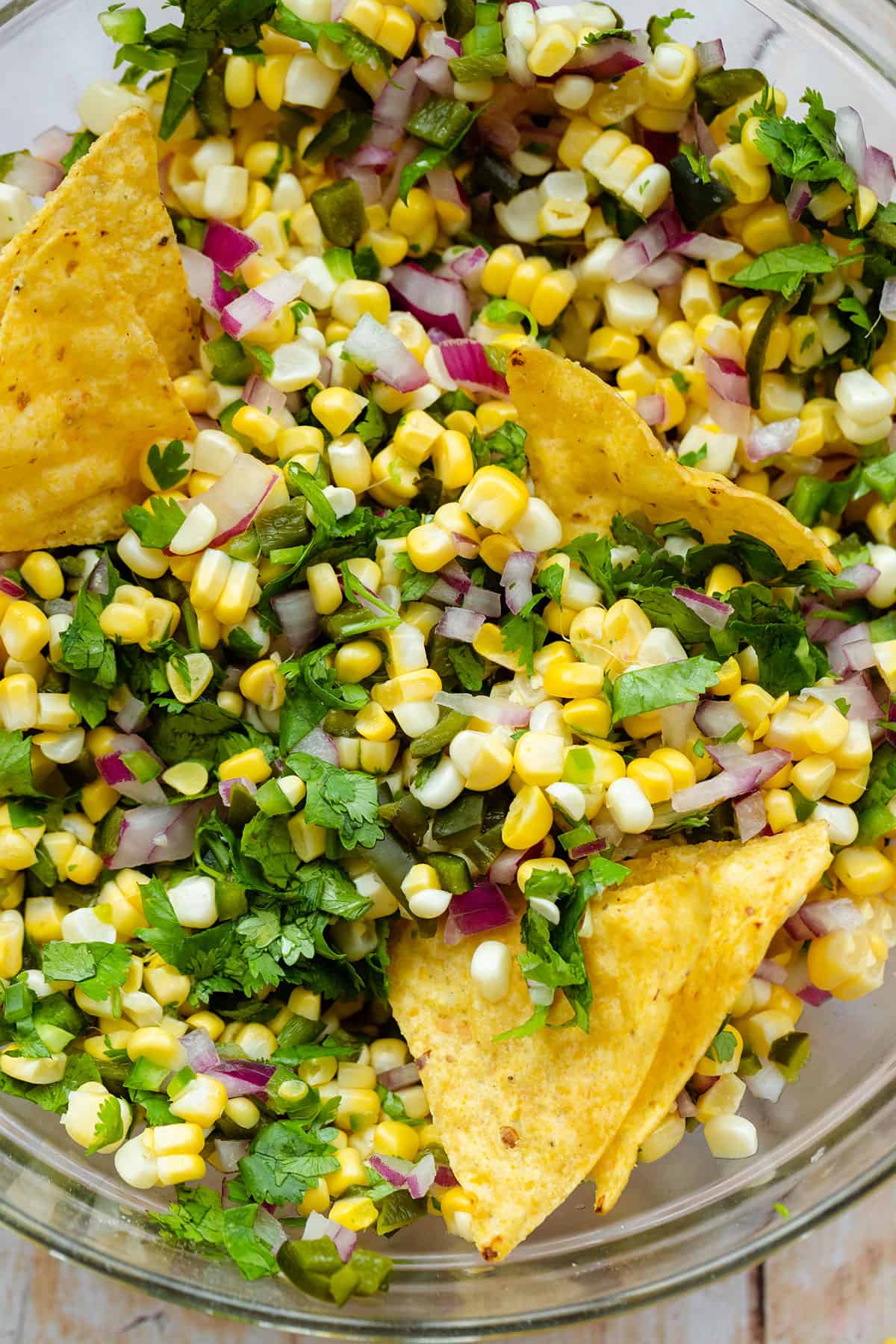 Variations and Substitutions
Tropical Salsa - If you want to get creative, you can skip the corn and add some fresh pineapple instead to make the salsa more tropical! I think it would go perfect with all the other flavors.
Extra hot salsa - If you prefer any other chili peppers, go ahead and use those! It's up to you how spicy you make this salsa. I only like mild and medium spicy so this is perfect for me but if you like the heat, use what you like!
Mild Salsa - skip the poblano peppers and the jalapeños and add bell peppers to make this completely mild. You can roast a green bell pepper in place of the poblano and use a fresh one instead of the jalapeños.
Herbs - Cilantro is classic here and I really like it but if you think it tastes like soap, parsley and chives are great alternatives. Any other herbs would probably give it a completely different taste so I wouldn't recommend it.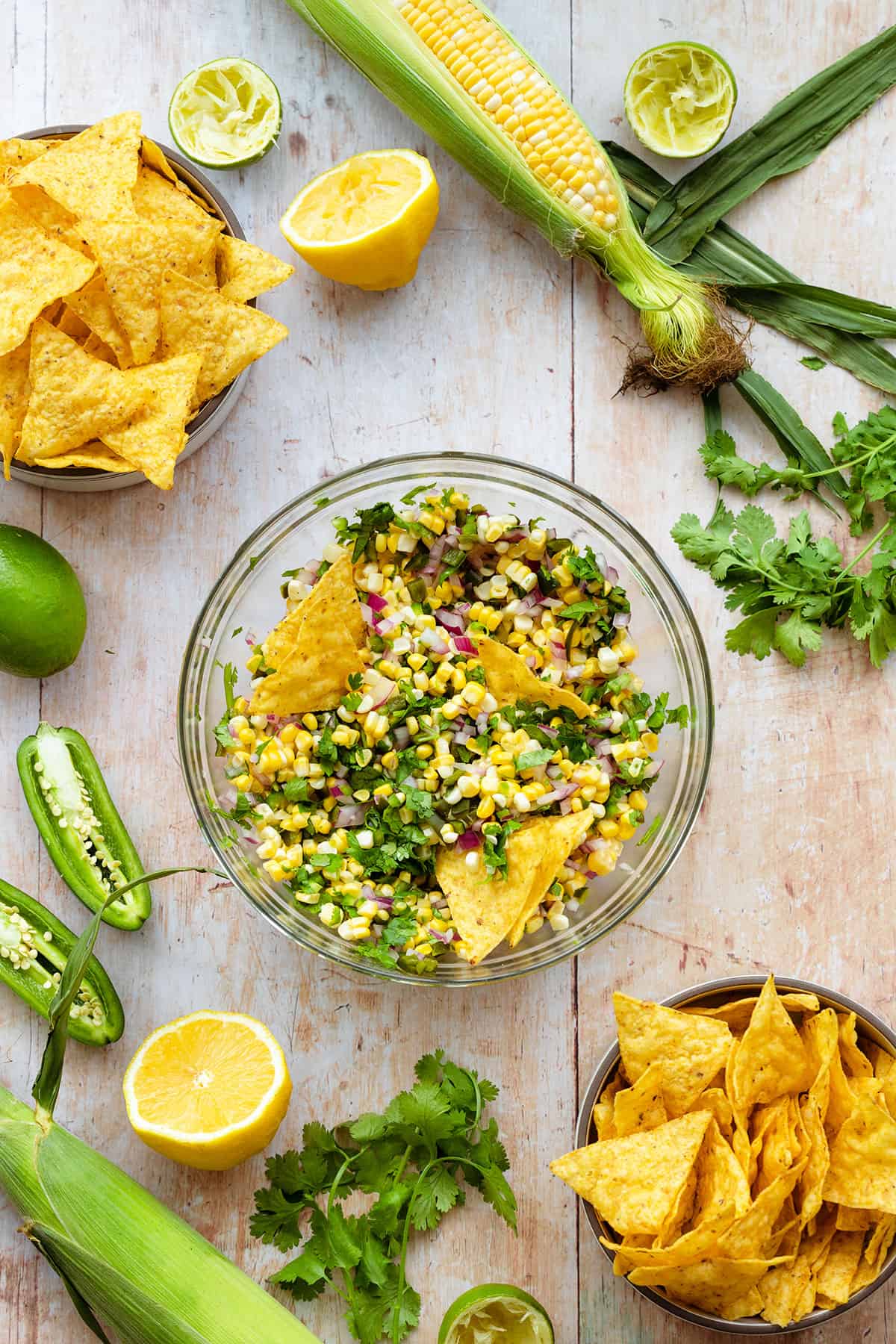 FAQs
What is Chipotle Corn Salsa made of?
It's made of fresh raw corn, roasted poblano peppers, jalapeños, red onion, fresh cilantro, and both lime and lemon juice.
Is this salsa spicy?
Everyone's heat sensitivity is different but for me this salsa is medium hot. The poblano peppers aren't very spicy so the main heat element are the jalapeños.
Can you make it in advance?
Yes! This salsa keep sin the fridge in an airtight container for 3-4 days. It actually tastes the best when made the night before. It allows all the flavors to blend.
Can you double the recipe?
Yes, you can easily double or triple the recipe by hitting the 2x or 3x buttons. You can easily cut it in half too if needed.
What do you serve corn salsa with?
Serve it in burritos, on tacos, in salads, in burrito bowls, or on its own with tortilla chips.
What can you use instead of cilantro?
If you don't like cilantro, use fresh parsley or fresh chives instead.
Print
📖 Recipe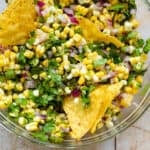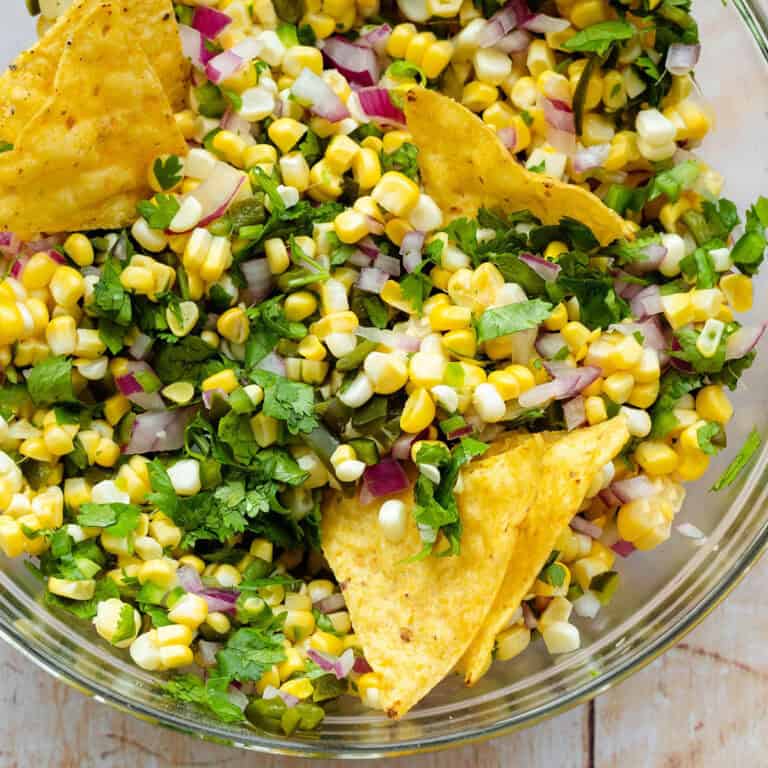 Roasted Chili Corn Salsa
Author:

Veronika | thehealthfulideas

Prep Time:

30 mins

Cook Time:

10 mins

Total Time:

40 minutes

Yield:

5 cups

1

x

Category:

Side

Method:

Mixing

Cuisine:

Mexican

Diet:

Vegan
---
Description
If you're looking for the best Chipotle Copycat Roasted Chili Corn Salsa, this is the one! It's just like the one at Chipotle, only homemade which makes it 10x better, right? 
---
1

-

2

poblano peppers (approx.

¾ cup

after roasting and chopping)

3 cups

fresh corn kernels (

5

corn cobs)

1 cup

finely chopped red onion (

1

medium onion)

1

jalapeno, seeds removed and finely chopped

½ cup

packed finely chopped fresh cilantro

2 tbsp

fresh lime juice (

1

lime)

2 tbsp

fresh lemon juice (

½

lemon)

¼ tsp

sea salt or Himalayan pink salt
---
Instructions
Preheat your oven to 450F (230C).
Lightly score the poblano peppers. This prevents the skin from popping in the oven. See notes.
Roast the peppers until they're lightly blackened (10-15 mins). Remove from the oven and set aside to cool.
While the peppers are cooling, cut the corn off the cob, finely chop your onion, the jalapeno, and the cilantro. Add them to a large bowl and set aside.
Take the cooled poblano peppers and cut them in half lengthwise. Remove the seeds and finely chop. Add to the bowl along with the lime juice, lemon juice, and salt. Toss to combine everything well.
Serve right away or store in the fridge in an airtight container for 3-4 days.
---
Notes
Poblano peppers: I score the peppers because when you don't, the skin will rip when roasting the second you open the oven door and make a loud noise. To score, simply cut a line into the pepper. It doesn't have to be deep as it's just to cut the skin.
Storing & serving: This salsa is even better made the night before. Leaving it in the fridge overnight allows all the flavors to mingle and come together. See the post for ideas on what to serve this salsa with.
Store the salsa in an airtight container in the fridge for 3-4 days.