I'm so excited to finally share these with you!! I'm happy I finally cracked the secret how to make crunchy oven baked veggie chips, you have no idea. Whenever I tried making these with someone else's recipe, they'd always turn black in like 5 minutes and still be chewy and not crunchy at all. What's the secret then? Patience. When you're patient with these, they dry out and become crunchy. I also found that the lower the temperate of the oven, the longer they stay crunchy. Don't worry, though, you don't have to bake them for 8 hours or anything, it's a 1-hour process and trust me, it's worth it! They're addicting, you'll never want to eat regular store-bought potato chips again!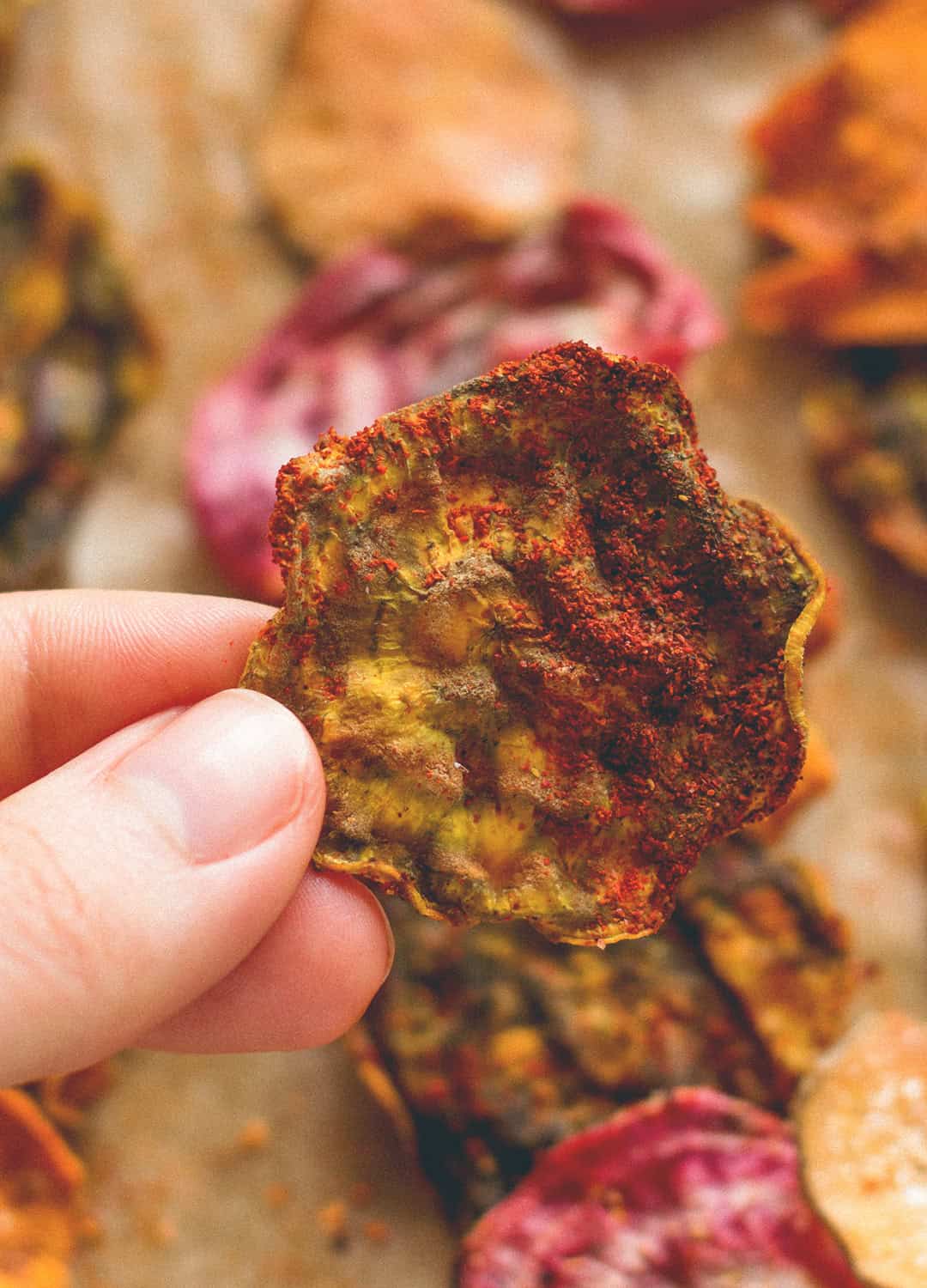 The process is simple. Wash your veggies, slice them thinly with a mandolin, lay them on a baking sheet lined with baking paper, drizzle with oil if you want (the sweet potato chips are better with it but the beet chips are better without the oil), season with sea salt, pepper, and any other seasoning you like, put them into the oven and bake at 120C (248F) with the fan on (the fan is important as it helps to dry the chips, I haven't tried making them without it) for about 50 minutes, flipping the chips every 10-15 minutes. Let them cool and that's it, you now have delicious crunchy oven baked veggie chips!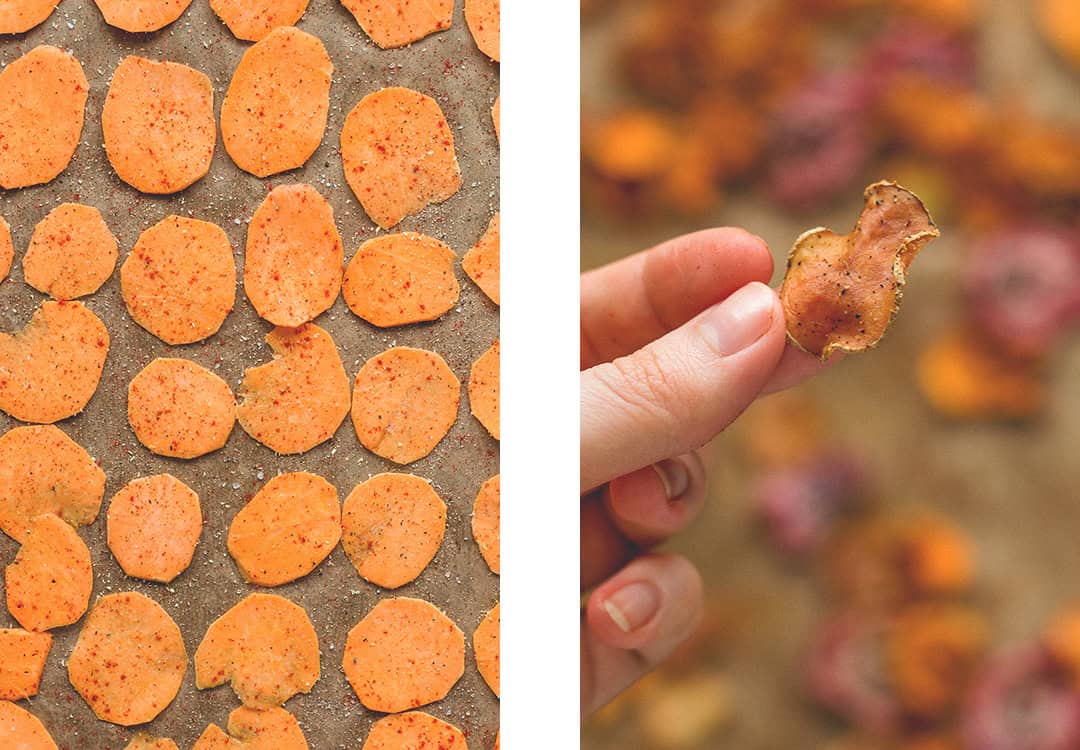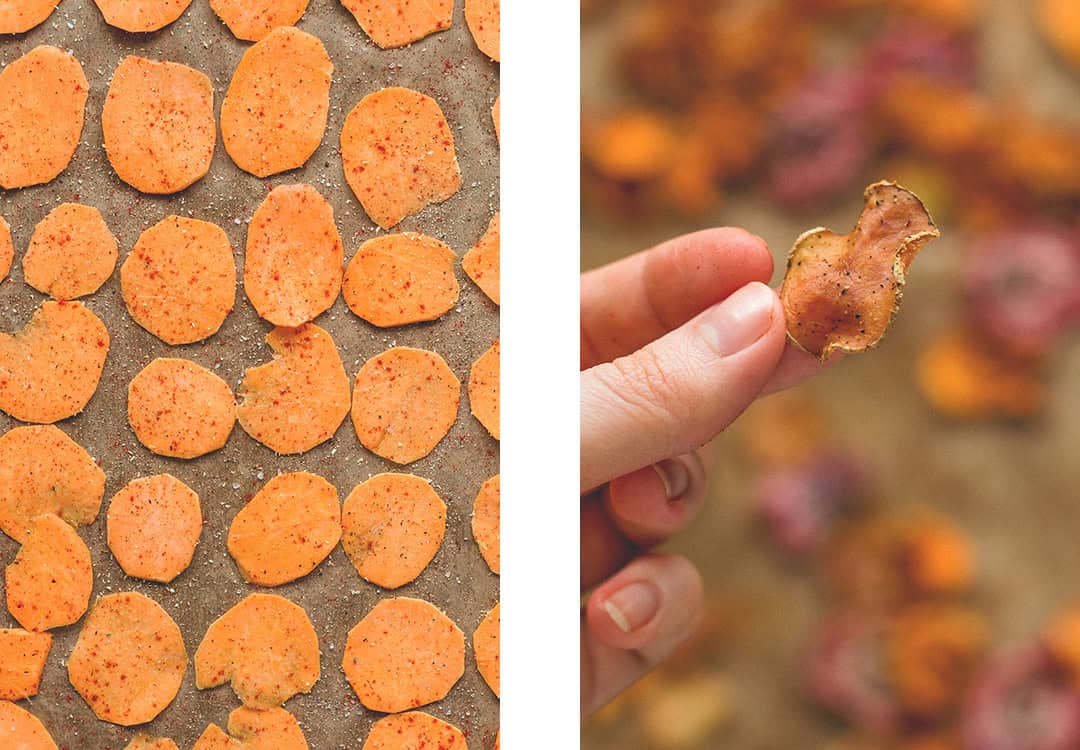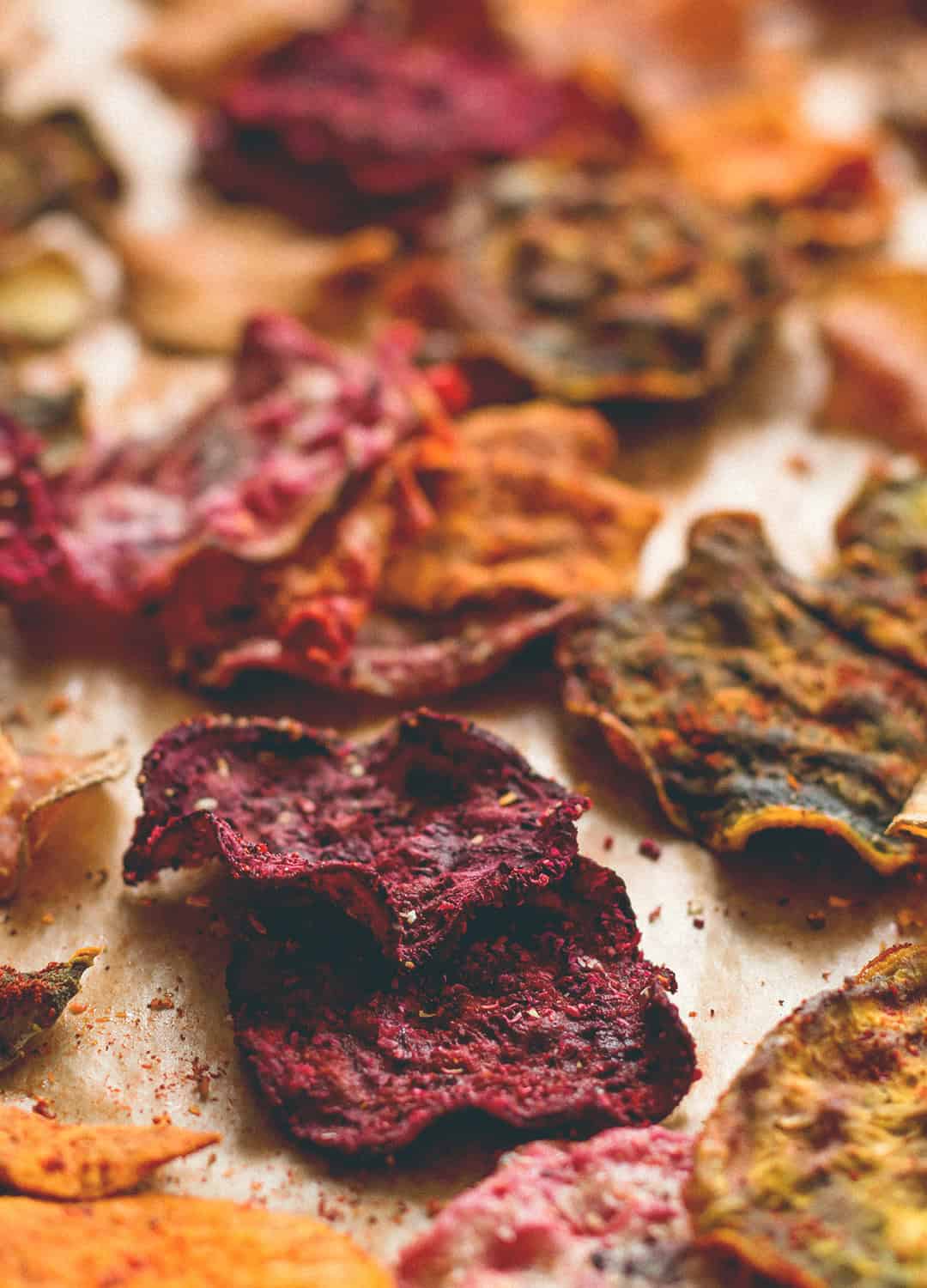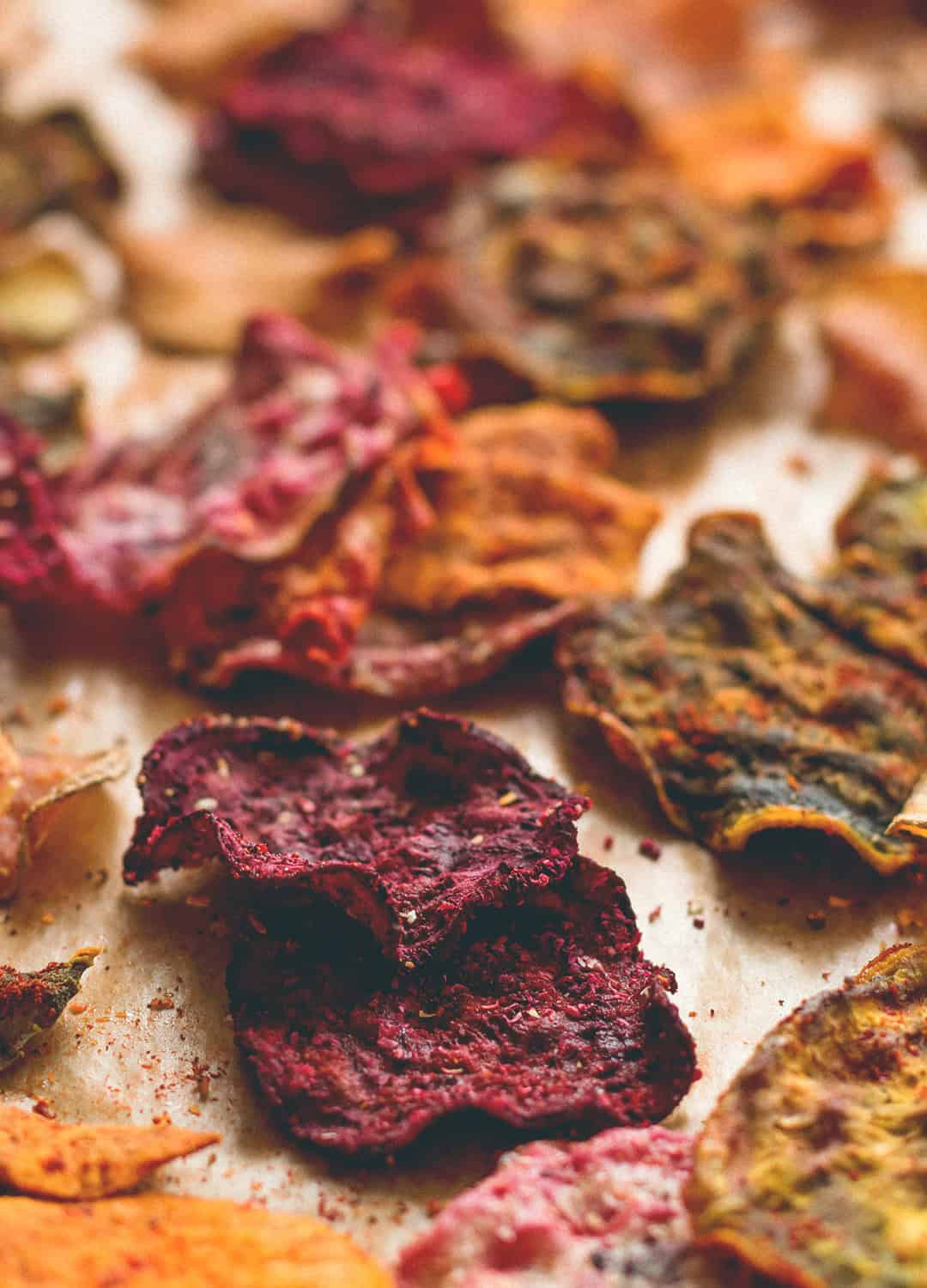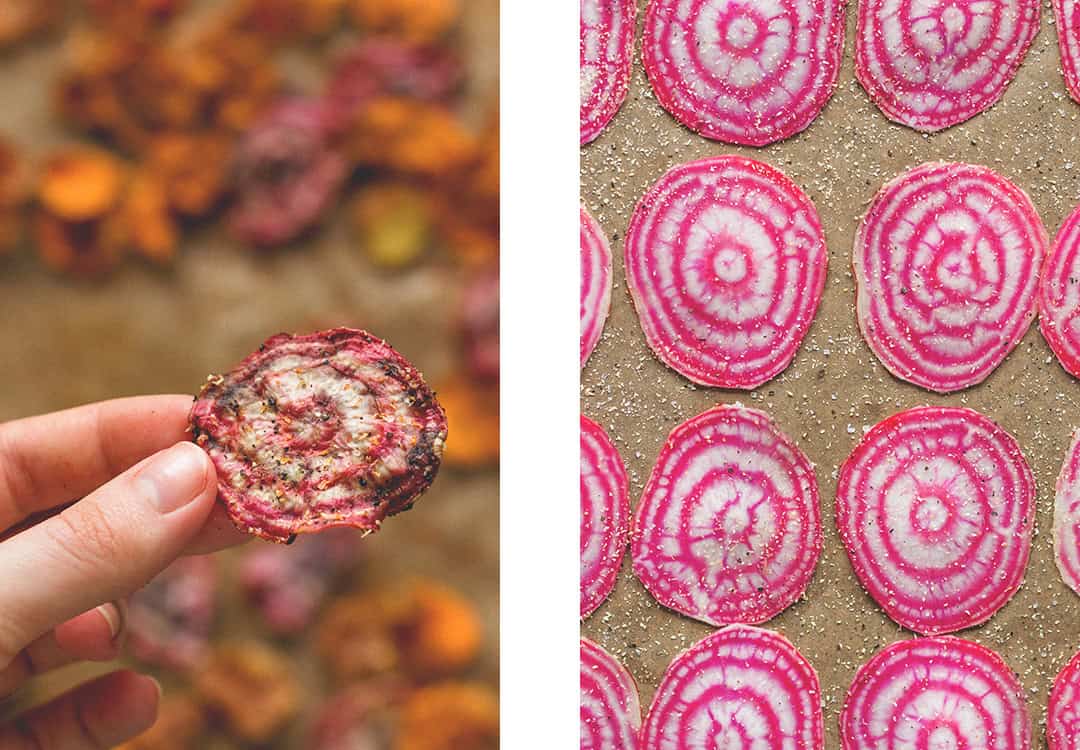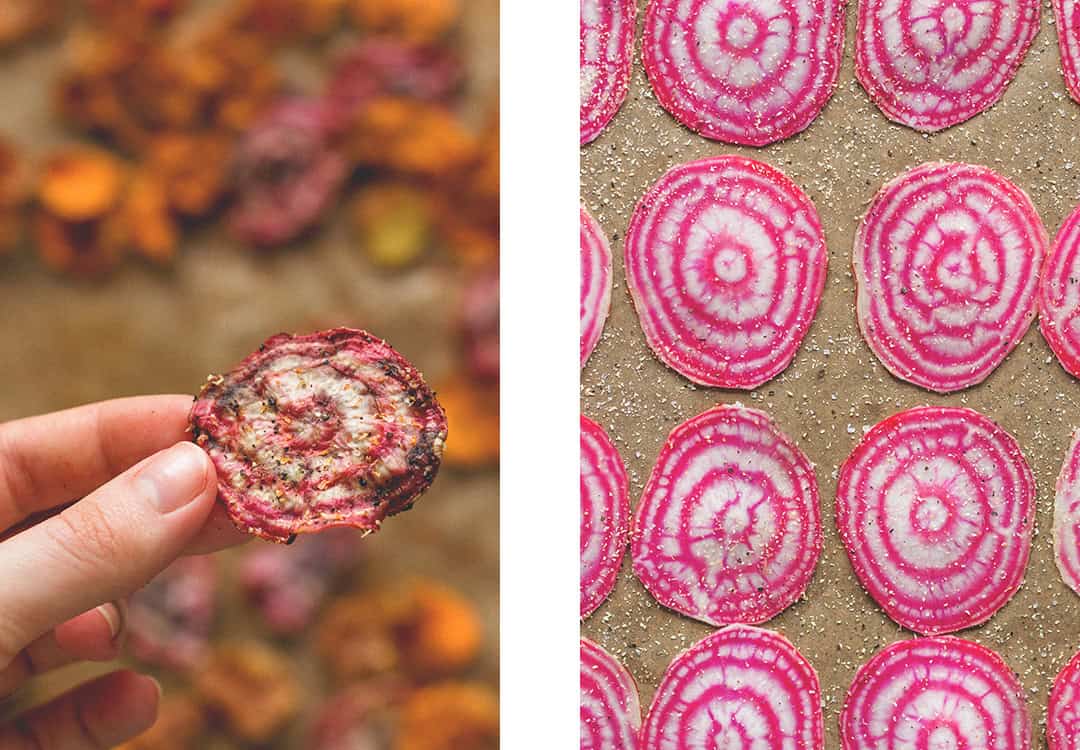 You can snack on these (they're the perfect movie snack!), put them on salads or into lunch boxes. I recently posted a Mexican Kale Salad with Cashew Dressing (you have to try it, it's the bomb dot com. Yep I really just used that phrase, I had to you know, the salad is just that awesome!) and topped it with these instead of tortilla chips. YUM!
I hope you love these! Next week, I'll share with you something delicious you can dip these in so make sure you have a big batch ready for next Thursday!
I'll also be posting another recipe next Monday! I'm pretty pumped about that you guysss. In November I'll be posting a recipe every Monday AND Thurdsday. And in Decemeber, I'll actually be posting a recipe 3 times a week! On Mondays, Wednesdays, AND Fridays. There's going to be lots of awesome Christmas recipes and I hope you love them as much as I do. Can't wait! :)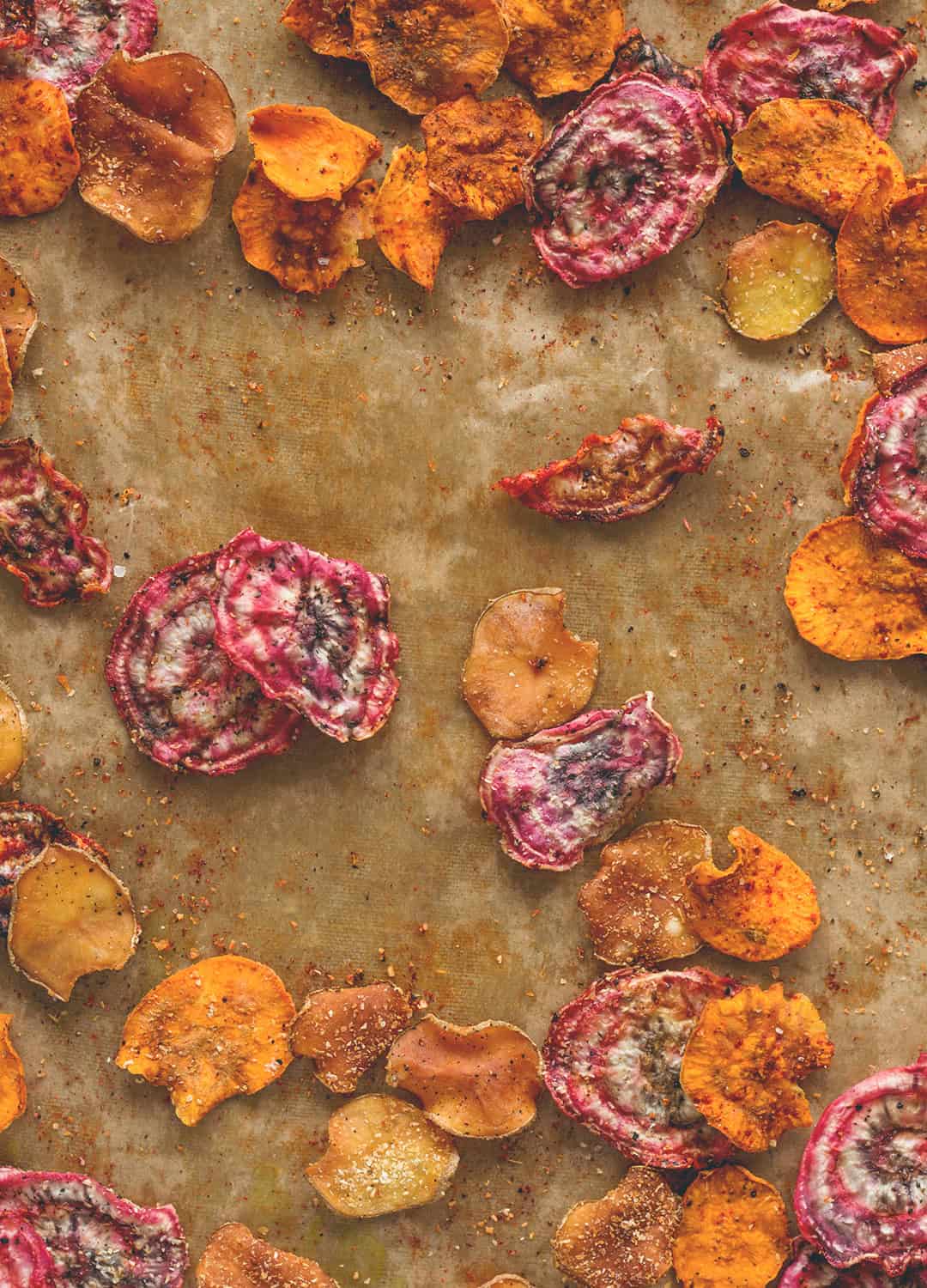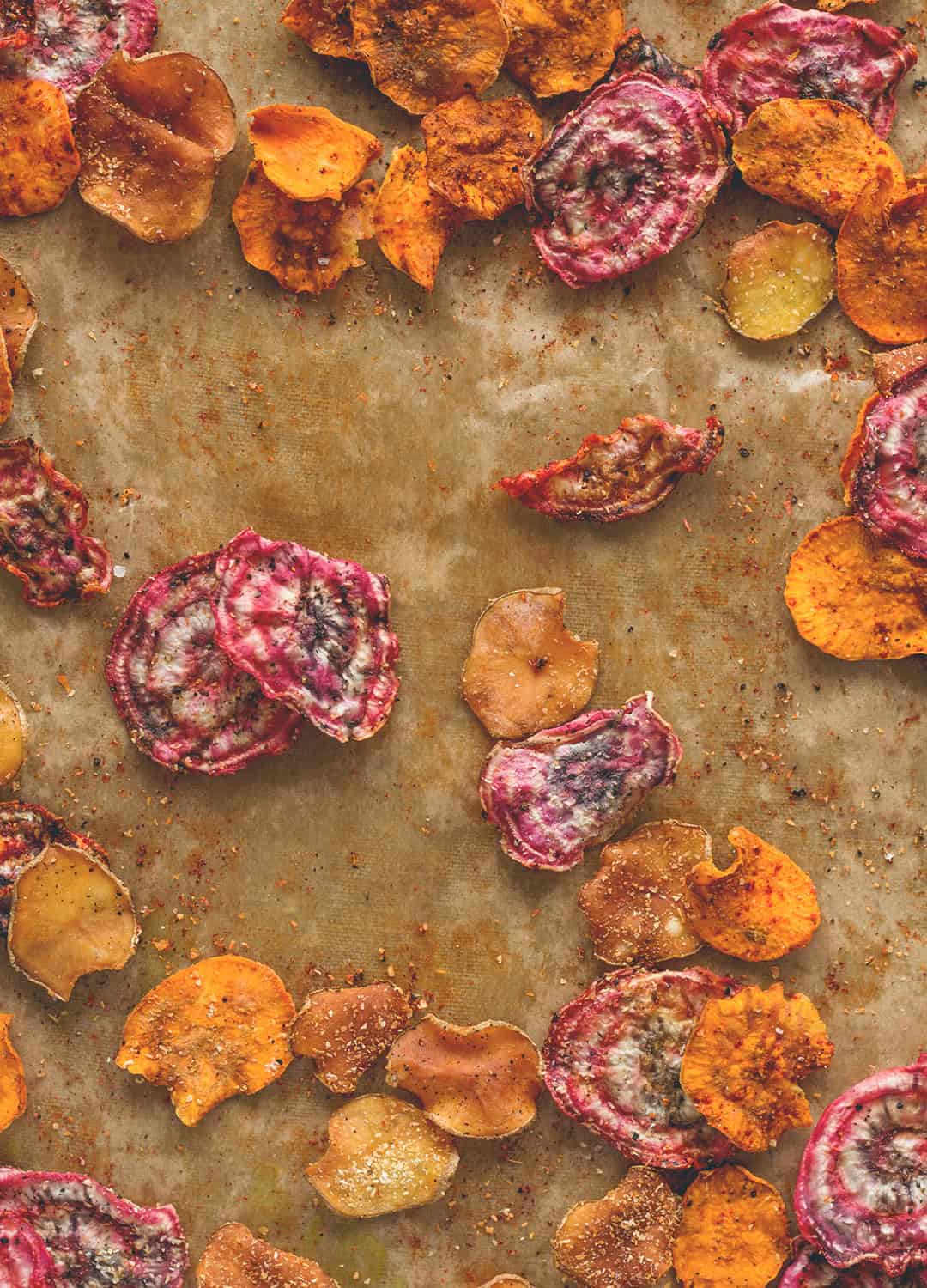 Print
📖 Recipe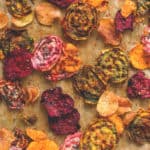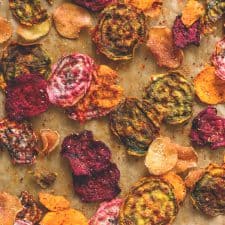 Oven Baked Sweet Potato and Beet Chips
Author:

The Healthful Ideas

Prep Time:

10 mins

Cook Time:

50 mins

Total Time:

1 hour

Yield:

3 cups

1

x

Category:

Snack
---
Description
I chose one of each for the recipe but feel free to only use sweet potato or any beets of your choice.
---
1

sweet potato

1

regular white potato

1

yellow beet

1

pink beet

1

red beet
sea salt, pepper
garlic and onion powders (optional)
smoked paprika (optional)
chipotle powder (optional)

½ tsp

olive oil
---
Instructions
Preheat your oven to FAN 120C (248F).
Start by washing your vegetables really well and peel them if not organic.
Using a mandoline, slice all the vegetables thinly. If your slices are too thick, they may not get crispy enough.
Lightly drizzle the vegetables with the oil. Mostly the potatoes as I find that the more oil you add to the beets, the less crispy they get.
Line a baking tray with parchment paper and lay your slices onto the tray. Try not to overlap them.
Sprinkle with sea salt and pepper, flip and either add a bit more salt or any other spices.
It's best not to combine the vegetables on one tray as some of them may take longer to cook.
Bake for 45-55 minutes, flipping them every 15 minutes or so. You can use multiple trays to cook more at once.
You can lower the heat to 100C if the beets start turning too black.
They're ready when they're crunchy. I find that they'll crunch up a bit when they cool down.
Store at room temperature for a few days in an airtight container.
---