It's the middle of October and I'm still eating salads. What else is new, right? Okay, I do eat fall appropriate food too. I've actually been making lots of fall/winter recipes lately (!!) that will reach you during November and December and I'm pretty excited about them. But, you know, I do love my salads. No matter what the temperature is. This one is especially delicious because it's made of all my favorite things and it's drowned drizzled with garlicky cashew dressing aka the best dressing ever. It's also quite spicy so that kind of makes it appropriate for fall. Sort of. Either way, does anyone really care? Salads are always a good idea so let's go eat some kale together.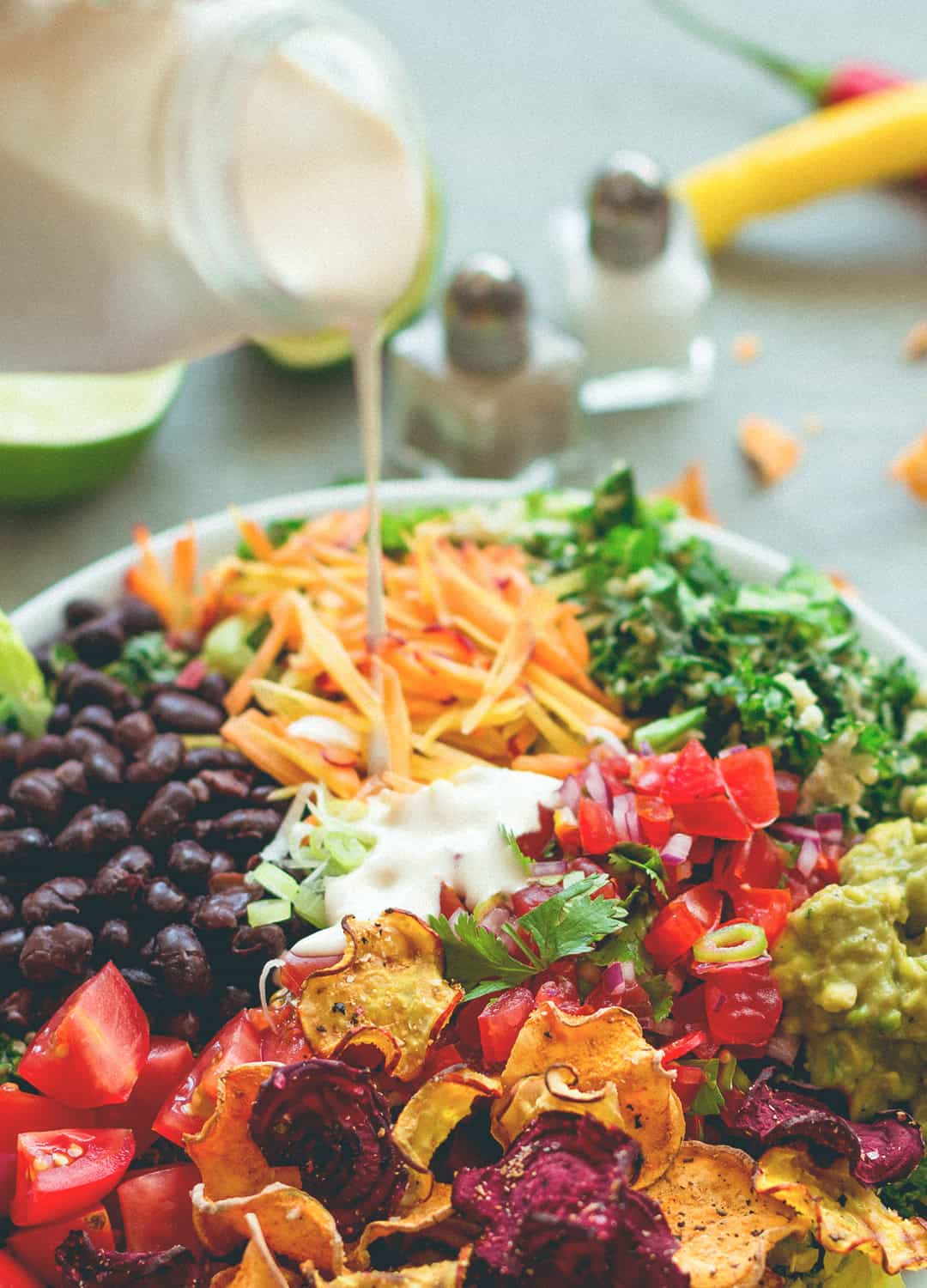 This month has been pretty challenging so far. Picture Elle Woods from the first Legally Blonde movie where she's throwing those chocolates at the TV after she broke up with Warner. Got the picture? Yep, that's basically me throwing chocolates at my life. That being said, it's all good now because I have some positive news! I have a new job!! I got the job I was telling you about at the beginning of October. YAY! I'm starting in in November at an Armani store which isn't actually there yet so we're all gonna be new employees. I'm pretty excited. That's also why I've been taking pictures like crazy for the past two weeks because I wanna get ahead with posts (ideally two months). I'm trying to step up my editorial calendar and get better at planning stuff. It's always good to be ahead a few weeks in case something comes up. Plus I'm going to be working full time this time so I don't know how well I'm gonna be able to manage my time so I wanna be prepared.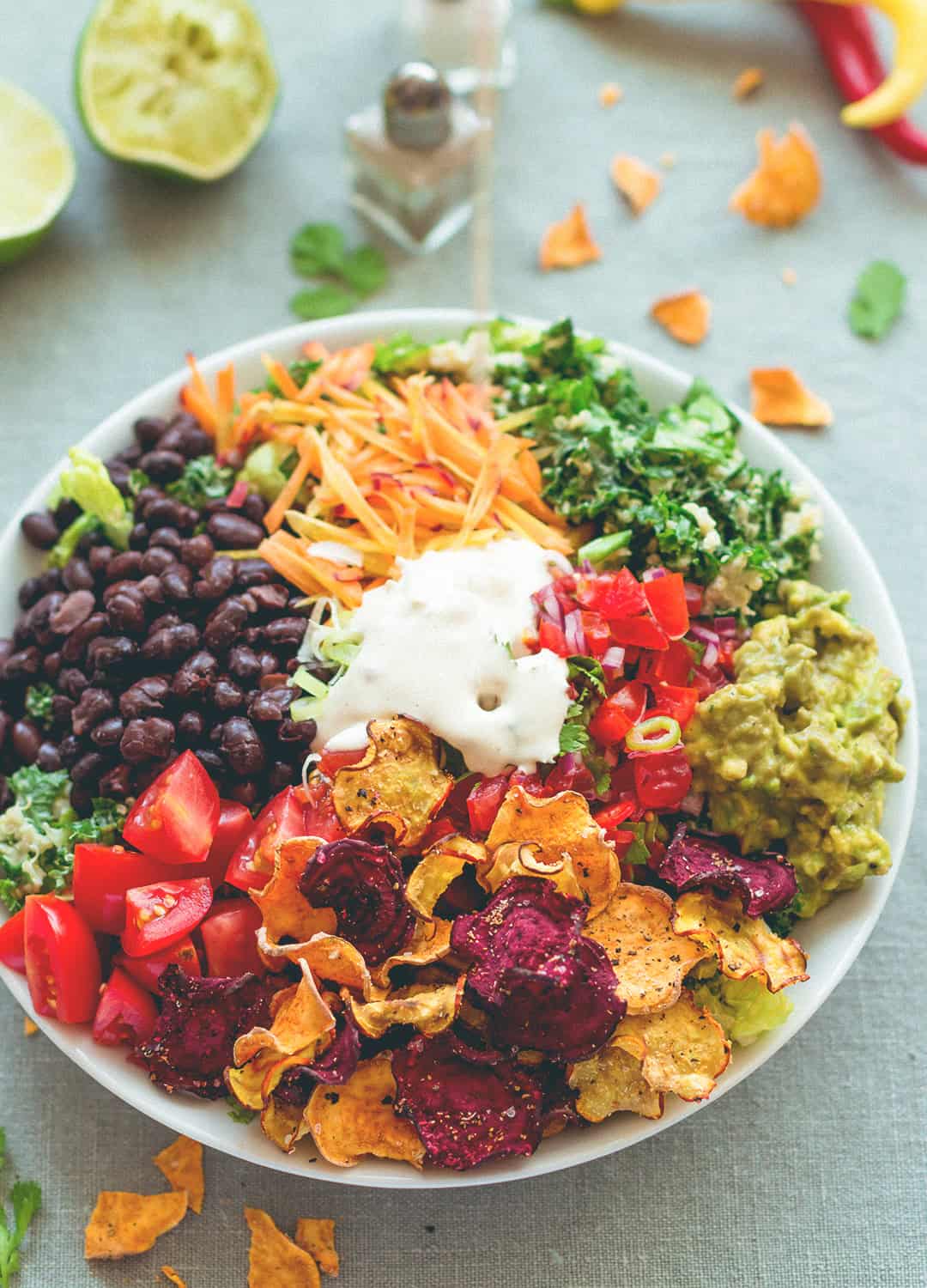 Not only am I trying to get 2 months ahead, I'm also planning TWO posts every week instead of just one. I'm really pumped about that, I can't wait to share all the recipes with you!! I already have 11 done (okay not done done, I haven't edited them yet and neither have I written the post but the photos are there so that's the first step done), I'm shooting two more tomorrow and then more during the weekend. I really wanna be  more active on the blog. The goal is three posts a week but I don't see that happening anytime soon. First, two posts a week, then hopefully a Youtube channel (shhhhhh...), then successfully managing everything, and then maybe three posts a week. I do believe in quality over quantity and I know you do too.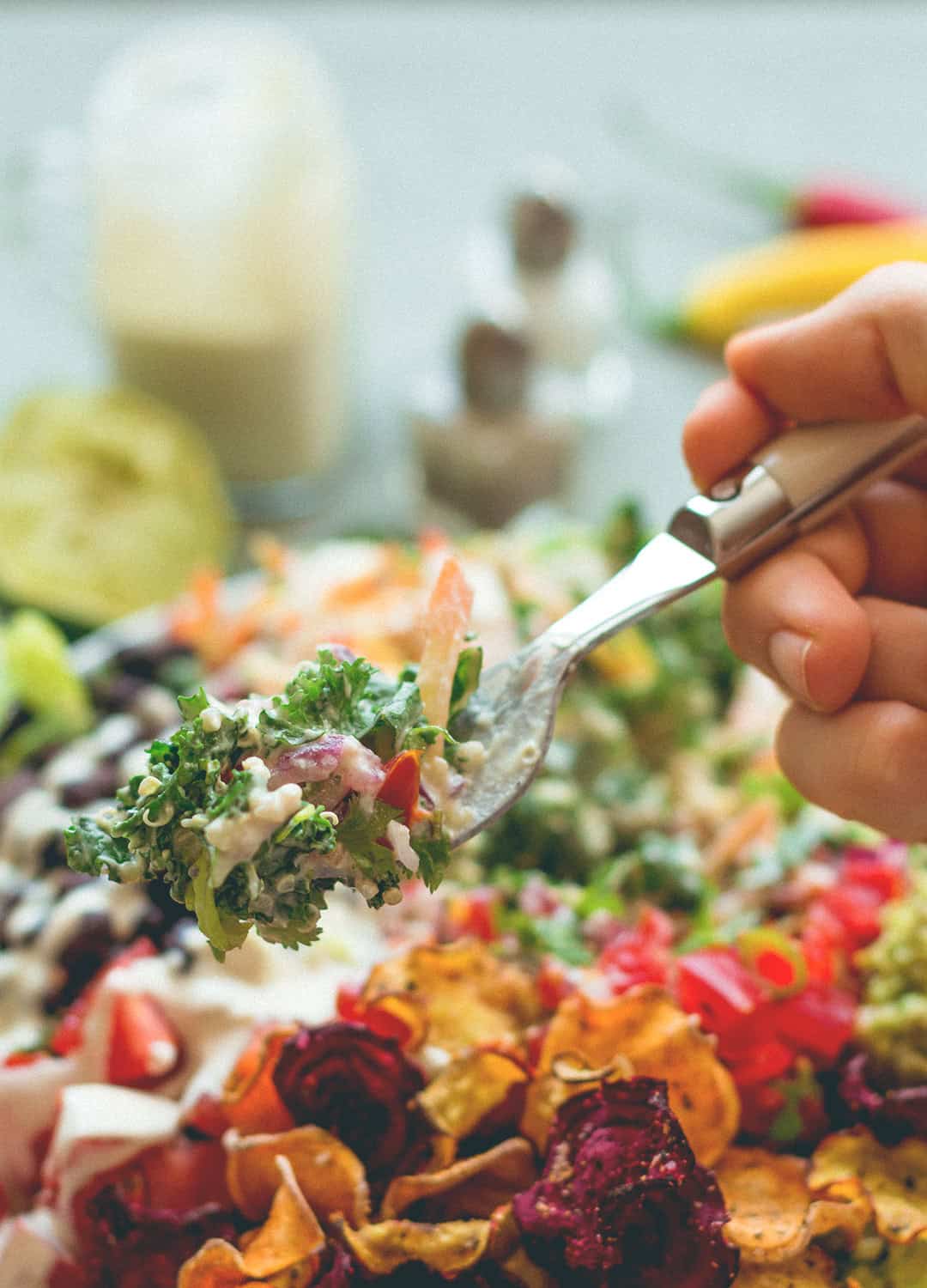 Let's get back to the recipe. I didn't actually include the exact recipe for the oven baked veggie chips I added to the salad because I'm going to post that recipe separately to avoid this one being too long. It's super easy, though! Basically, you just slice your sweet potatoes or beets really thinly using a mandoline and bake them in the oven at 120C with the fan on for about 50 minutes flipping them every 10-15 minutes. You have to be patient with them and bake them at a somewhat low temperature as they burn quickly when the temperature is too high. I also find that they don't stay crunchy for very long when you bake them at a higher temperature.
I added beans to the salad, spicy salsa, guacamole, cherry tomatoes, kale, carrots, quinoa, and, the best part, cashew dressing (!!). I'm calling all the cashew lovers out there because only you can understand my current obsession with cashews. I didn't use to like them all that much to be honest. They were always just kind of there. But oh man, am I obsessed now. It started with my raw birthday cheesecake in September (not homemade), then I finally tried making savory cashew dressing at home and I was immediately sold for life. You won't understand until you try it, it's almost life changing.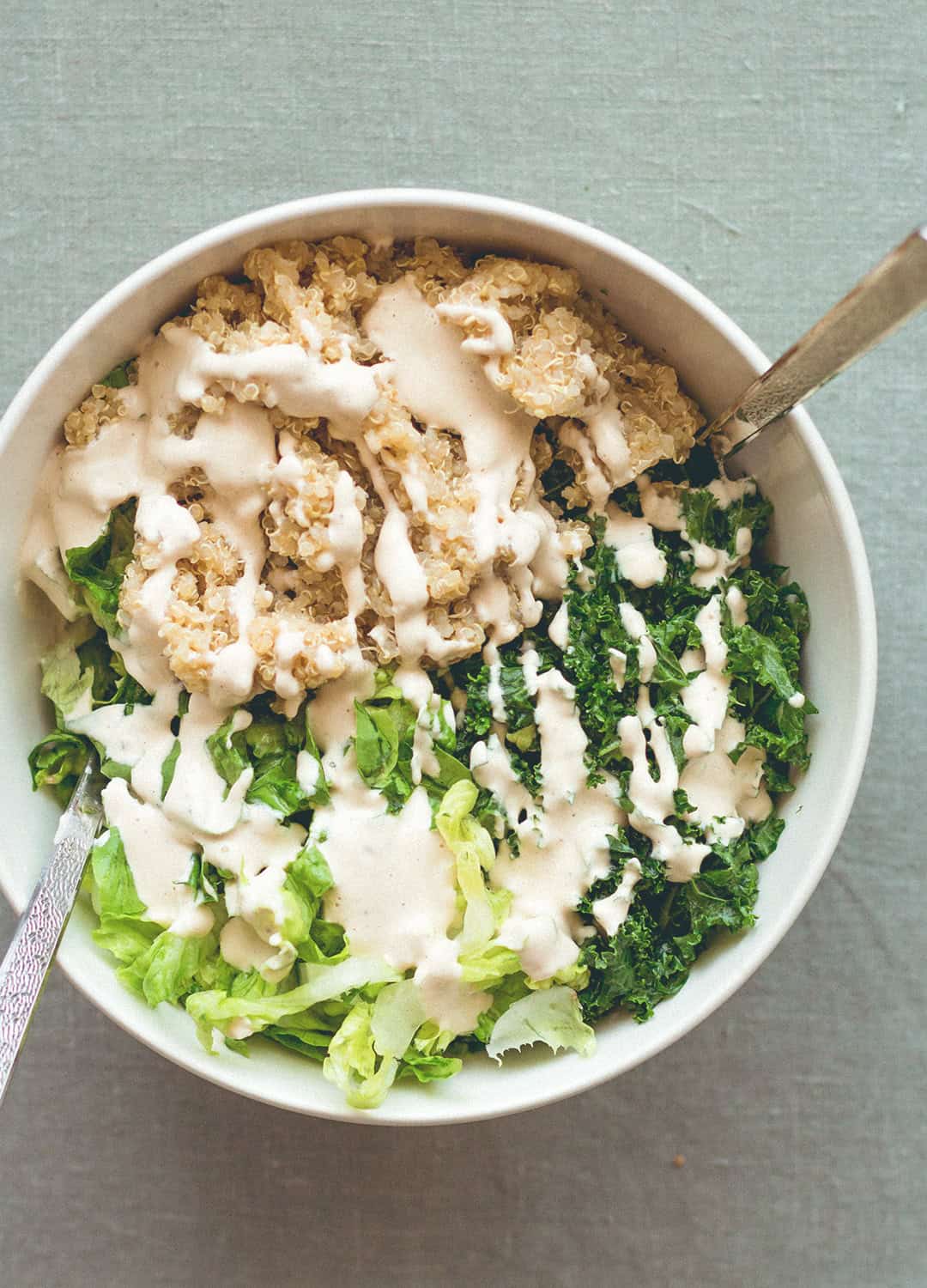 Print
📖 Recipe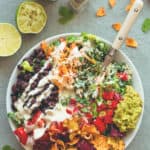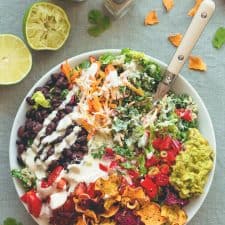 Mexican Kale Salad with Cashew Dressing
---
Cashew Dressing:
Spicy Salsa:
10

cherry tomatoes (or

2

-

3

regular tomatoes), chopped into small chunks
dash of sea salt

2 tbsp

chopped cilantro, stems removed

½

small red onion, finely chopped

¼

chili (optional)

1 tbsp

lime juice
Salad:
1 cup

cooked quinoa (

½ cup

raw)

1

bunch of kale (

4

-

5

stalks), stems removed and shredded

1

head romaine lettuce, chopped

½

avocado, mashed (to make guacamole: sea salt & pepper to taste, and a squeeze of lime juice)

1

can black beans, drained and rinsed

1 cup

cherry tomatoes, halved or quartered

1

-

2

medium carrots, grated
oven dried veggie chips (optional)
---
Instructions
First, make the cashew dressing following the recipe I linked to.
Then make the spicy salsa. In a small bowl, mix all the salsa ingredients and you're done. Set aside.
Start putting the salad together.
Mix the quinoa, kale and romaine together in a big enough bowl. Add about 2-3 tablespoon of the dressing and mix.
Divide the greens and quinoa between two bowls and start topping them with the rest of the ingredients.
Add the guacamole, salsa, about 2-3 tablespoon of the beans to each bowl, then the cherry tomatoes, the grated carrot, and the chips if using.
Drizzle with more dressing and enjoy!
---