This colorful Quinoa Chickpea Salad with creamy avocado dressing is the perfect summer salad. It's packed with protein and great both as a main or a side dish.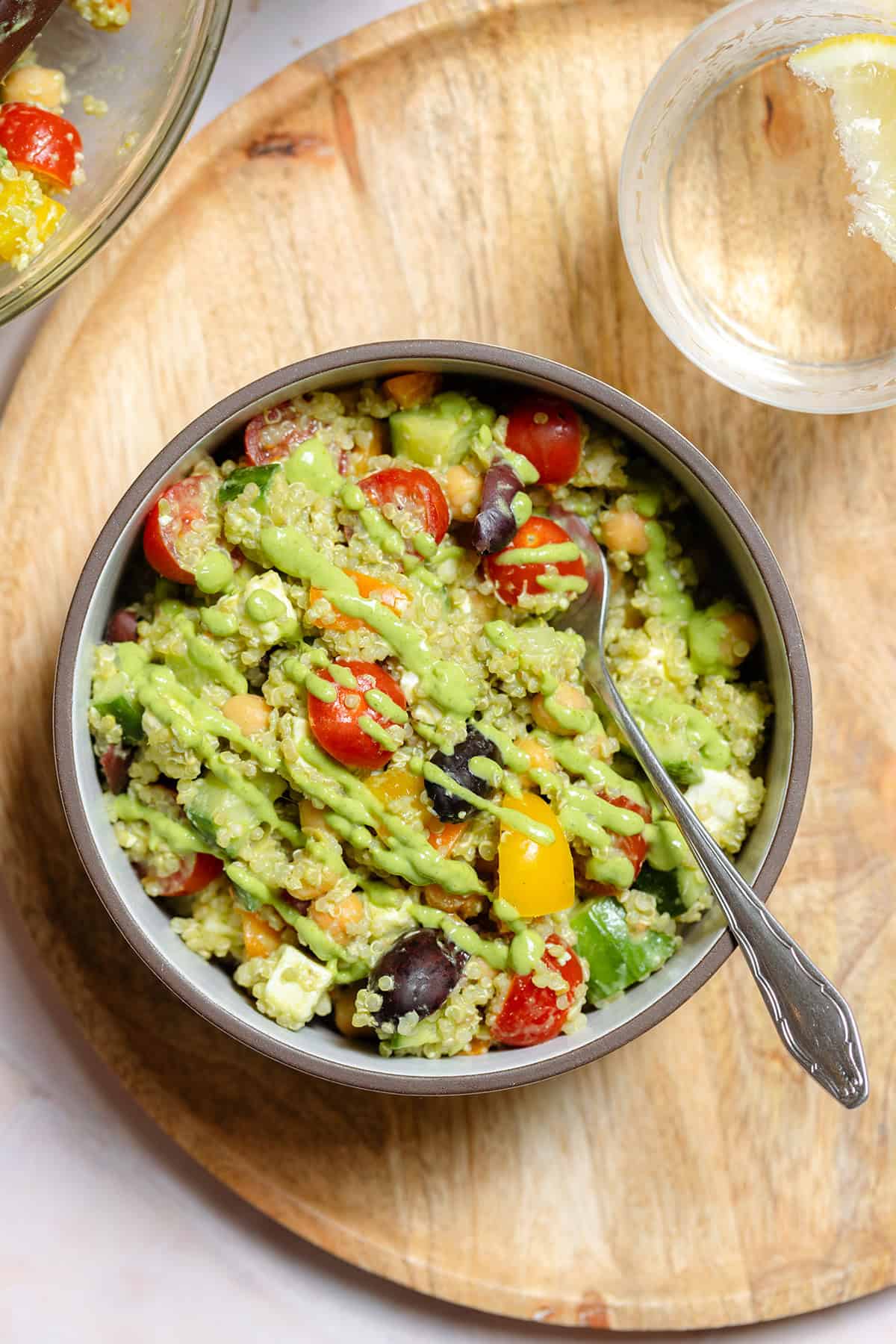 Jump to:
Why You'll Love This Salad
It's colorful and has a ton of flavor - This salad is not only pretty but also really delicious! All the different veggies, olives, feta, and creamy dressing make for an awesome salad I promise you'll enjoy!
It's great for meal prep - It's not necessarily a meal that will last you in the fridge for the whole week but you can make it 1-3 days ahead for busy days. I've made it a bunch of times and I'm always happy when I realize it's in the fridge waiting for me in the evening!
It's easy to change up based on what you have on hand - If you don't have quinoa, use brown rice. You can mix and match the veggies, too. Try different kinds of peppers, tomatoes, or other veggies. Roasted eggplant, peppers, asparagus, or zucchini would be delicious too!
The dressing really makes this salad shine - Ditch the classic dressing with olive oil as a base and make a homemade avocado dressing with no oil! It has Greek yogurt and a ton of fresh cilantro, parsley, and lemon juice. It's the best!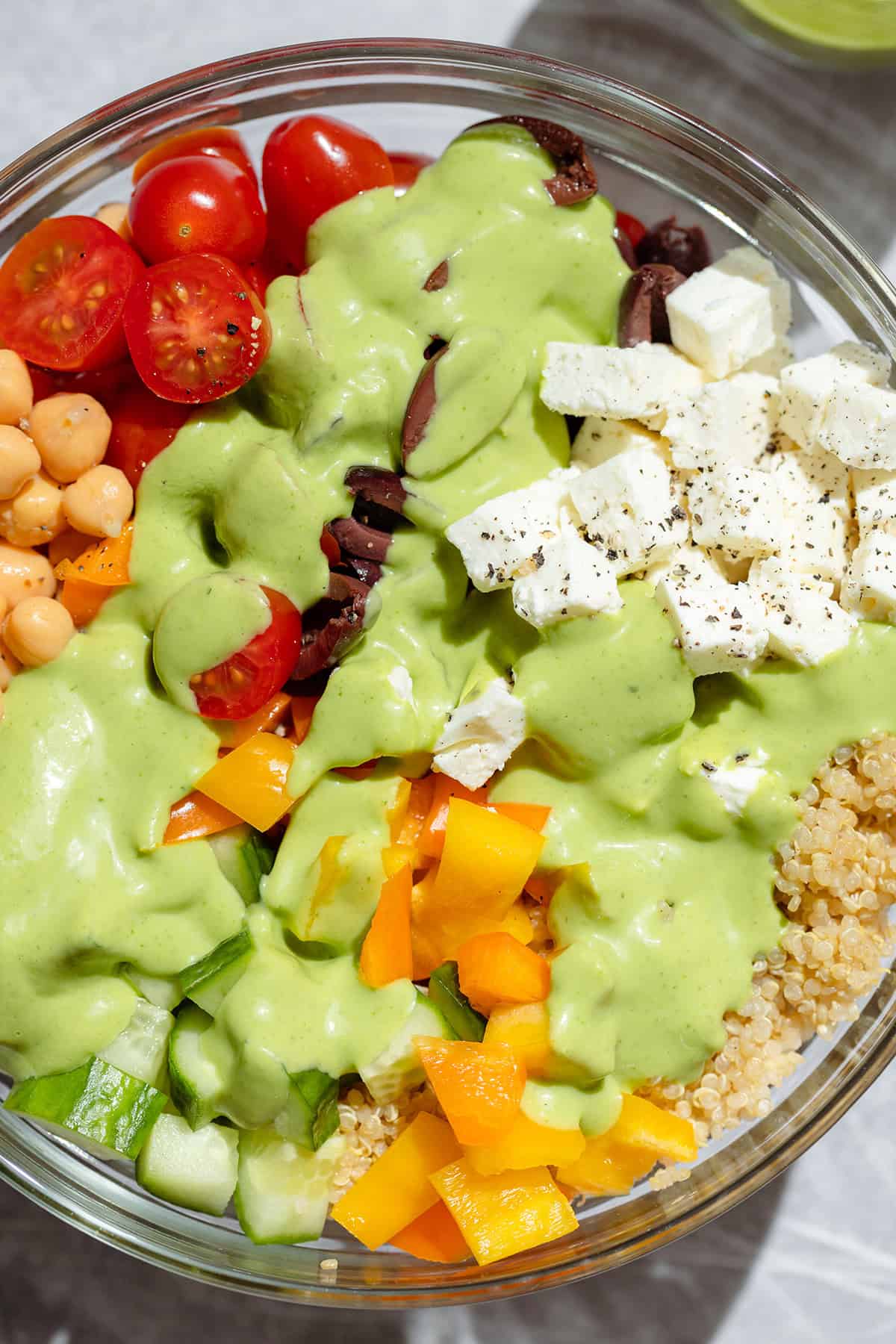 Ingredients Notes
Quinoa - There is white, red, or black quinoa. I usually use white but you can use any color or a mix. I recommend washing your quinoa even if your quinoa says 'prewashed'. It naturally contains a compound called saponin that makes quinoa super bitter. It can easily be washed off and I like to be safe so I wash it every time. Wash it as you would rice until it's not "foamy" anymore.
Chickpeas - Chickpeas are a great addition to salads because it's hearty and has a lot of protein. You can cook your own but I usually buy canned chickpeas to save time. All you have to do is drain and wash them and they're ready to use! They're great to have on hand whenever you want to add more protein to pretty much any dish.
Feta cheese - I always go for goat or sheep feta or a mix of the two. I like the flavors better than if it's made with cow's milk. I recommend using blocks of feta, not crumbled feta. It's less dry and doesn't have any extra additives.
Olives - I like using Kalamata olives because they're of a Greek origin and really work in this salad but you can use any olives you like. I don't recommend skipping them because they add a ton of flavor!
Veggies - cucumber, cherry tomatoes, bell peppers, and red onion are my go-to for most salads and they're delicious in this one.
Avocado Green Goddess Dressing - This is the dressing I use for this salad and it really makes all the veggies shine!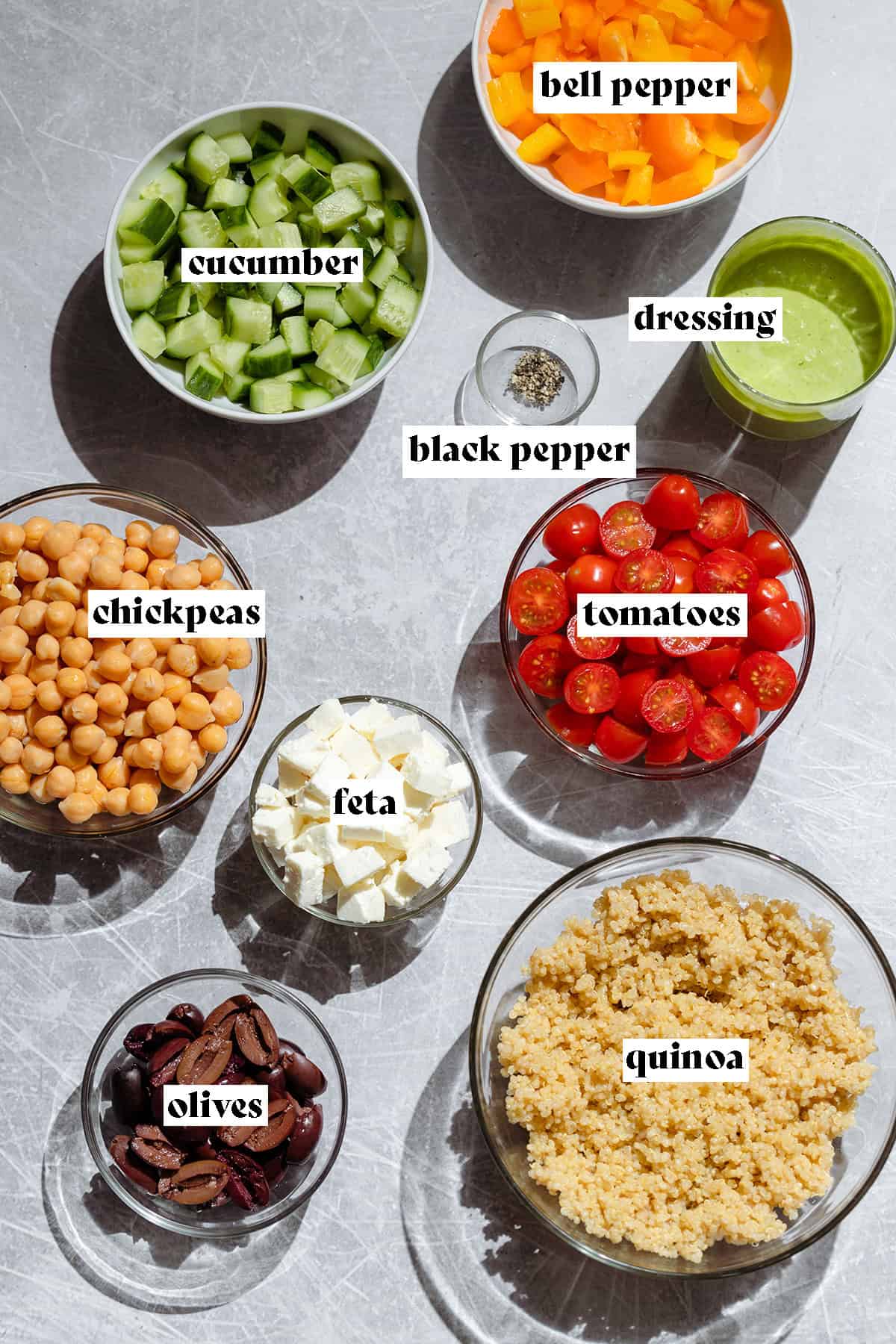 Substitutions and Variations
Roasted peppers - I use fresh bell peppers in the recipe (orange or red are my favorite) but roasted peppers would add delicious flavor. You can roast them in the oven yourself or use store-bought to save time. Roasted poblano pepper might also be tasty in this salad.
Creamy goat cheese - If you don't like feta, you can use creamy goat cheese instead or vegan cheese to keep the salad dairy-free. You may be able to find vegan feta at some grocery stores!
Quick Pickled Red Onions - If the raw onion is too strong for your taste, try these pickled red onions. They're easy to make and such a tasty addition to a lot of dishes.
Fresh herbs - the dressing is made with fresh parsley and fresh cilantro and you can totally add more to the salad for even more flavor.
Add more protein - the chickpeas and feta add a good amount of protein to the salad, as does the avocado and Greek yogurt in the dressing. One serving has about 14g of protein but if you want to add more, roasted salmon, shrimp, chicken, or tofu are all great options. Roast them with Mediterranean flavors like garlic, onion, and oregano and a drizzle of olive oil.
Use a different dressing - If you want to keep the dressing vegan or don't like avocado or yogurt-based dressings, you can use a mix of extra virgin olive oil and fresh lemon juice. It's a classic that goes with everything. Season it with salt, pepper, and dried herbs like oregano and parsley. I also recommend adding garlic powder for even more flavor!
Step-by-Step Instructions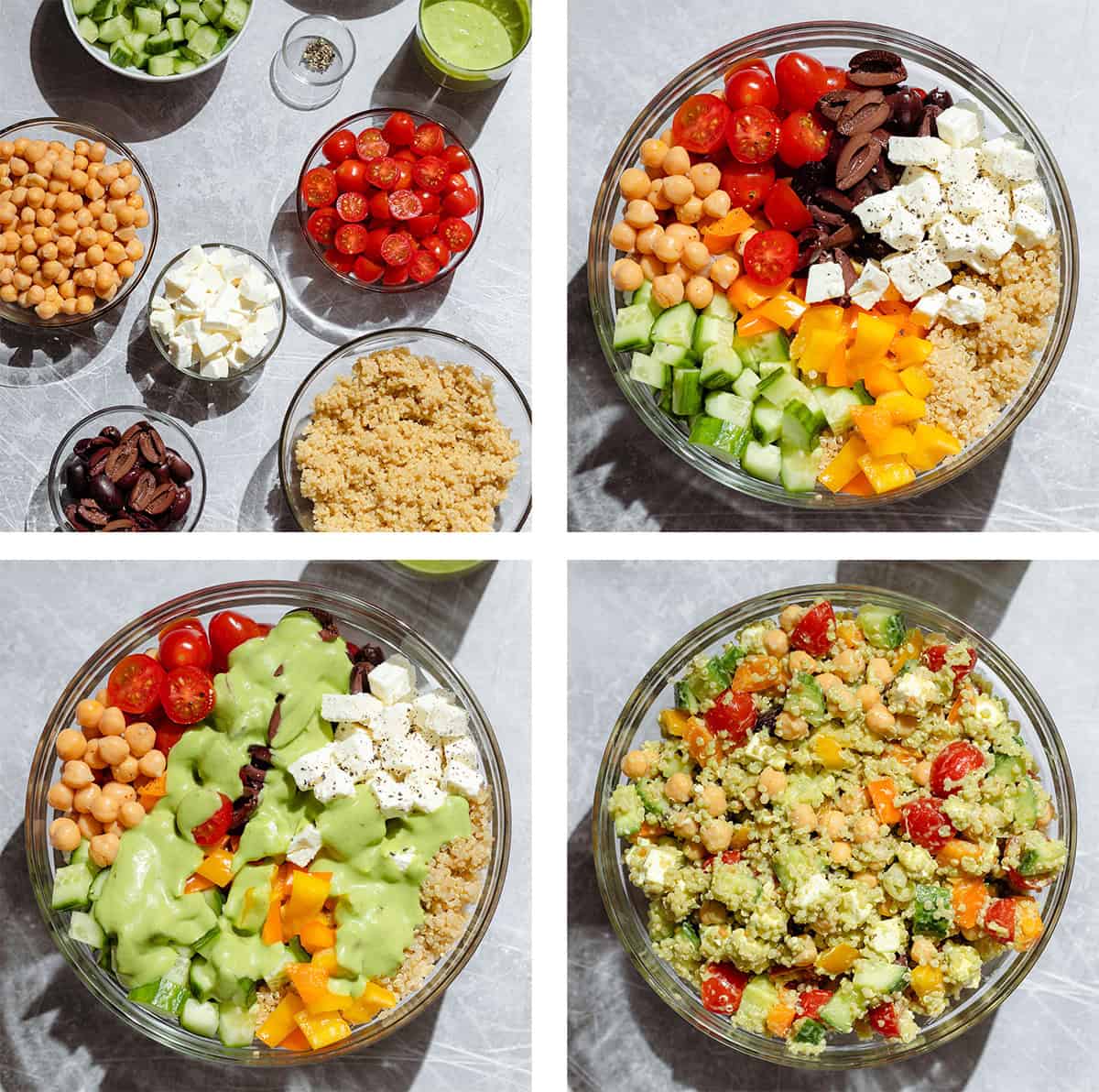 Storing
This salad tastes the best eaten the same day but it can be stored in an airtight container in the fridge and consumed within 2-3 days. You can store it tossed in the dressing - there are no greens in the salad nothing will wilt.
Because of the feta and the Greek yogurt in the dressing, I don't recommend storing it any longer than three days.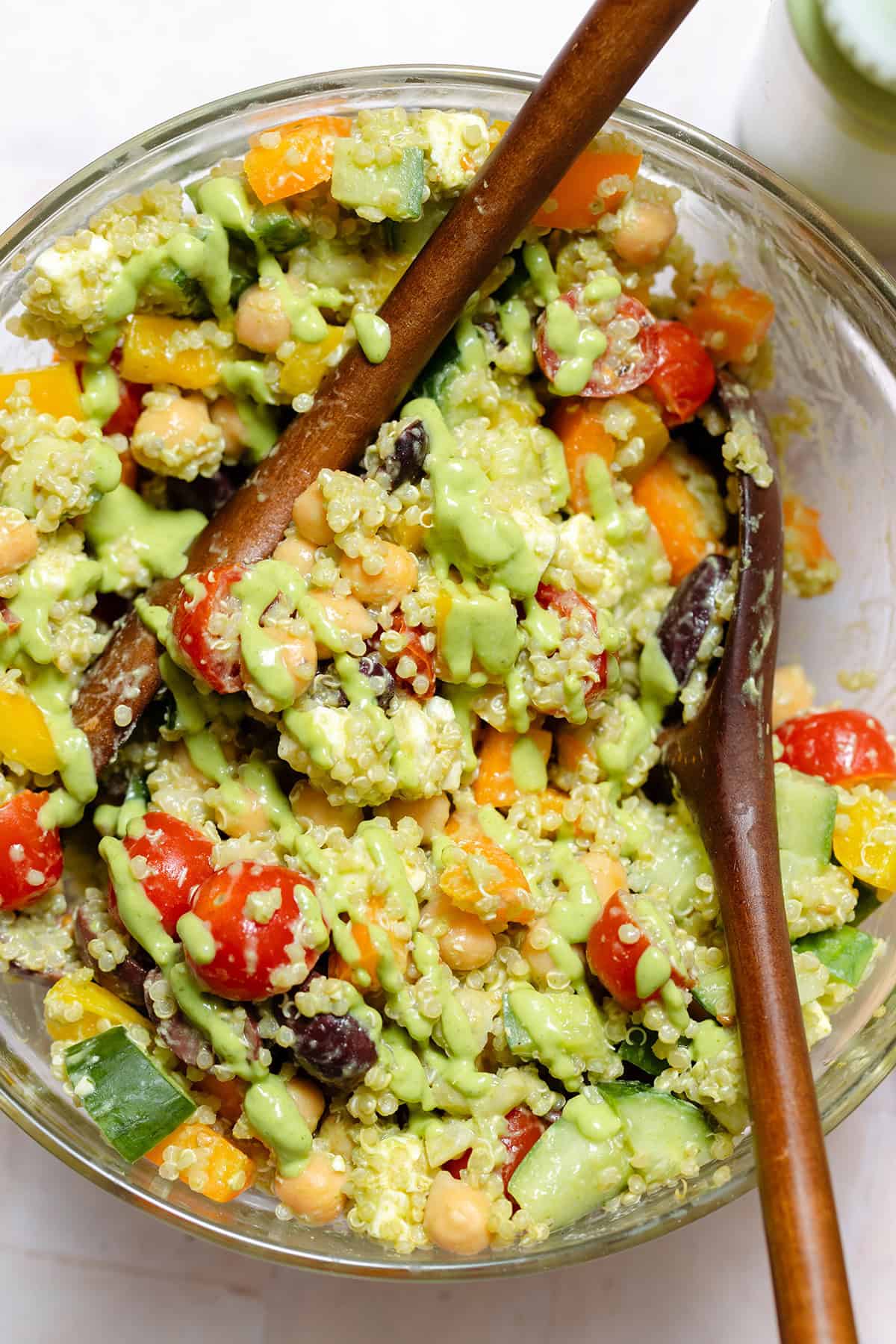 FAQs
Is this salad vegan?
It's vegetarian because it has feta and there's Greek yogurt in the dressing. You can easily use vegan feta (or other vegan cheese) and vegan yogurt to keep the salad vegan.
How much protein does the salad have? Can I add more?
One serving has about 14g of protein if divided into 4 servings. If you want to add more protein, salmon, shrimp, chicken, or tofu are great options.
Is quinoa gluten-free?
Yes, it is naturally gluten-free. I always recommend looking for cross-contamination on the packaging though.
Do you have to wash quinoa?
Yes. Quinoa naturally has a bitter-tasting compound called saponin which can be washed off. A lot of packaged quinoa has 'prewashed' on the package suggesting you don't have to wash it but I still recommend it just to be safe. I've made prewashed quinoa once without washing it and it was super bitter. Better safe than sorry!
I don't like yogurt dressings. Can I use something else?
Yes! This salad is super simple and most dressings will go with it. Try it with a mix of olive oil and lemon juice, it's a classic that never disappoints! Season it with salt, pepper, garlic powder, and dried oregano and parsley.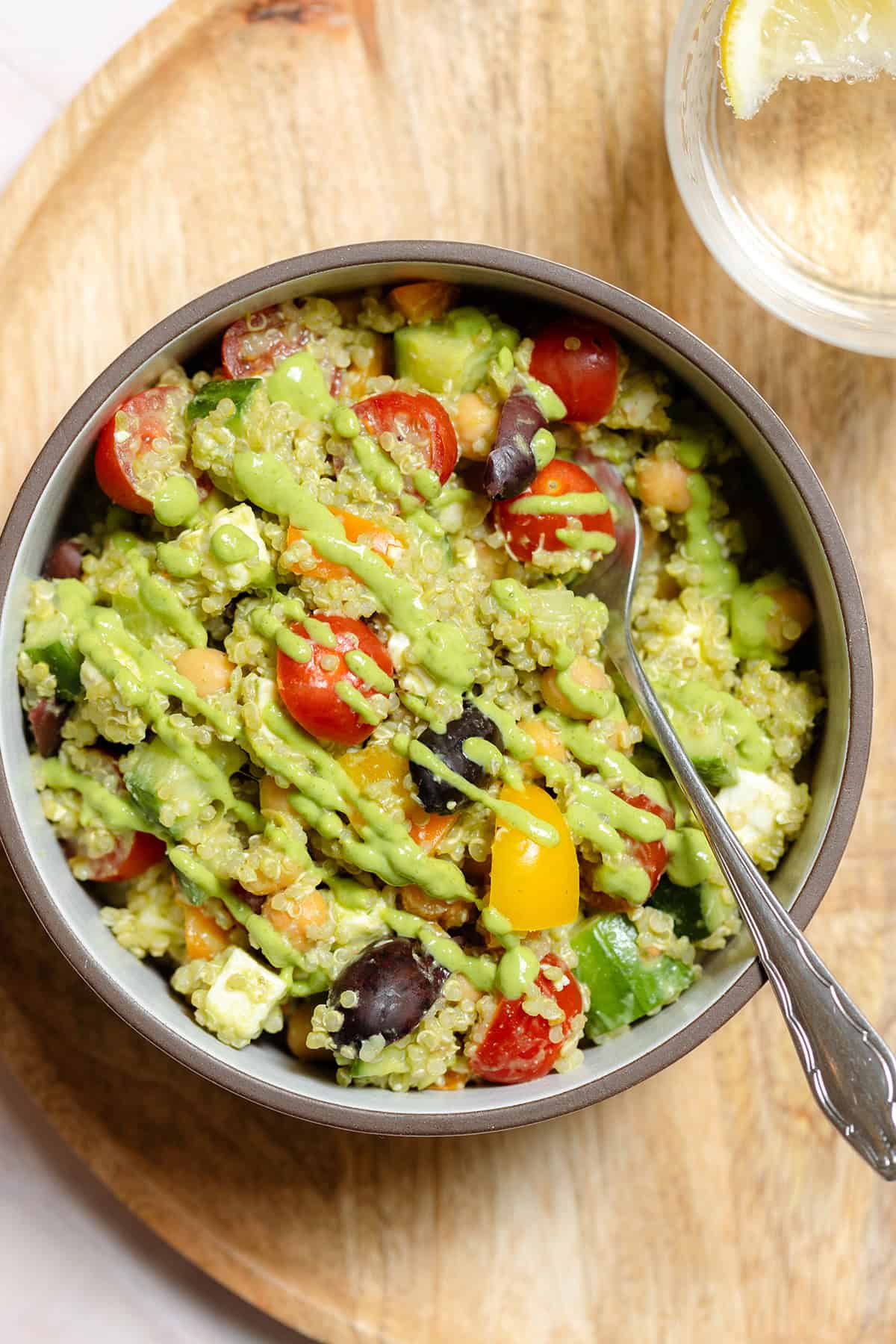 Similar Summer Salad Recipes
Below are my favorite summer salads and one fall quinoa salad. To see all the salad recipes, go to the Salads category.
Print
📖 Recipe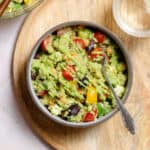 Quinoa Chickpea Salad with Avocado Dressing
Author:

Veronika | thehealthfulideas

Prep Time:

10 mins

Cook Time:

20 mins

Total Time:

30 minutes

Yield:

3

-4

1

x

Category:

Salad

Method:

Cooking

Cuisine:

American

Diet:

Vegetarian
---
Description
Colorful quinoa and chickpea salad with the creamiest avocado dressing! Great as a main or a side.
---
½ cup

dry quinoa

1

can chickpeas, drained and rinsed

1

cucumber, diced

2 cups

cherry tomatoes, halved

2

bell peppers, seeds removed, diced

1

small red onion, thinly sliced or finely chopped

½ cup

pitted kalamata olives, halved

½

-

1

cup diced or crumbled feta

¼

-

½

cup Avocado Green Goddess Dressing
---
Instructions
Make your dressing. The full recipe is linked above (with detailed information) or there's a short version in the notes section for easy access. You will need about ½ cup for this salad.
Cook the quinoa. Thoroughly wash it and add to a small saucepan with 1 cup water and cook covered for 10-20 minutes (according to package instructions). Take off heat, fluff with a fork, transfer to a large bowl and set aside to cool.
Rinse and drain a can of chickpeas, prep and chop the cucumber, cherry tomatoes, bell peppers, red onion, kalamata olives, and feta.
Add everything to the large with quinoa, along with ¼ cup of the dressing, and gently toss. Add more dressing if needed.
Serve immediately or store in the fridge in an airtight container for 2-3 days. I don't recommend storing it for longer than that because of the feta and the yogurt in the dressing.
---
Notes
Avocado dressing:
1 avocado, 150g Greek yogurt, a large handful of each fresh cilantro and fresh parsley, 1-2 cloves garlic, ½ teaspoon sea salt, ¼ cup lime juice (1-2 limes), ¼ cup water (or more as needed).
Add everything to a blender and blend on high until creamy. Add more water as needed or more lime juice to taste. Store in an airtight jar in the fridge for up to 3-4 days.
Keywords: green goddess dressing, quinoa salad, chickpeas