This easy and flavourful Greek Potato Salad is going to become your favorite go to lunch! New potatoes, cherry tomatoes, feta, olives, lots of fresh herbs, and the easiest lemon vinaigrette. The perfect summer lunch or light dinner!
I haven't shared a salad recipe in a while, which seems crazy considering it's what I eat the most of in the summer months. Ever since I made this one about a week ago for the first time, I knew it was a winner.
The combination of the olives, feta, and the lemon dressing goes with the simple roasted potatoes so well. I know this is a bit dramatic... but it really is a match made in heaven. Haha not kidding! Can't forget the fresh herbs! I'm totally obsessed with the dill here. Plus the chives and mint - hello, summer flavours!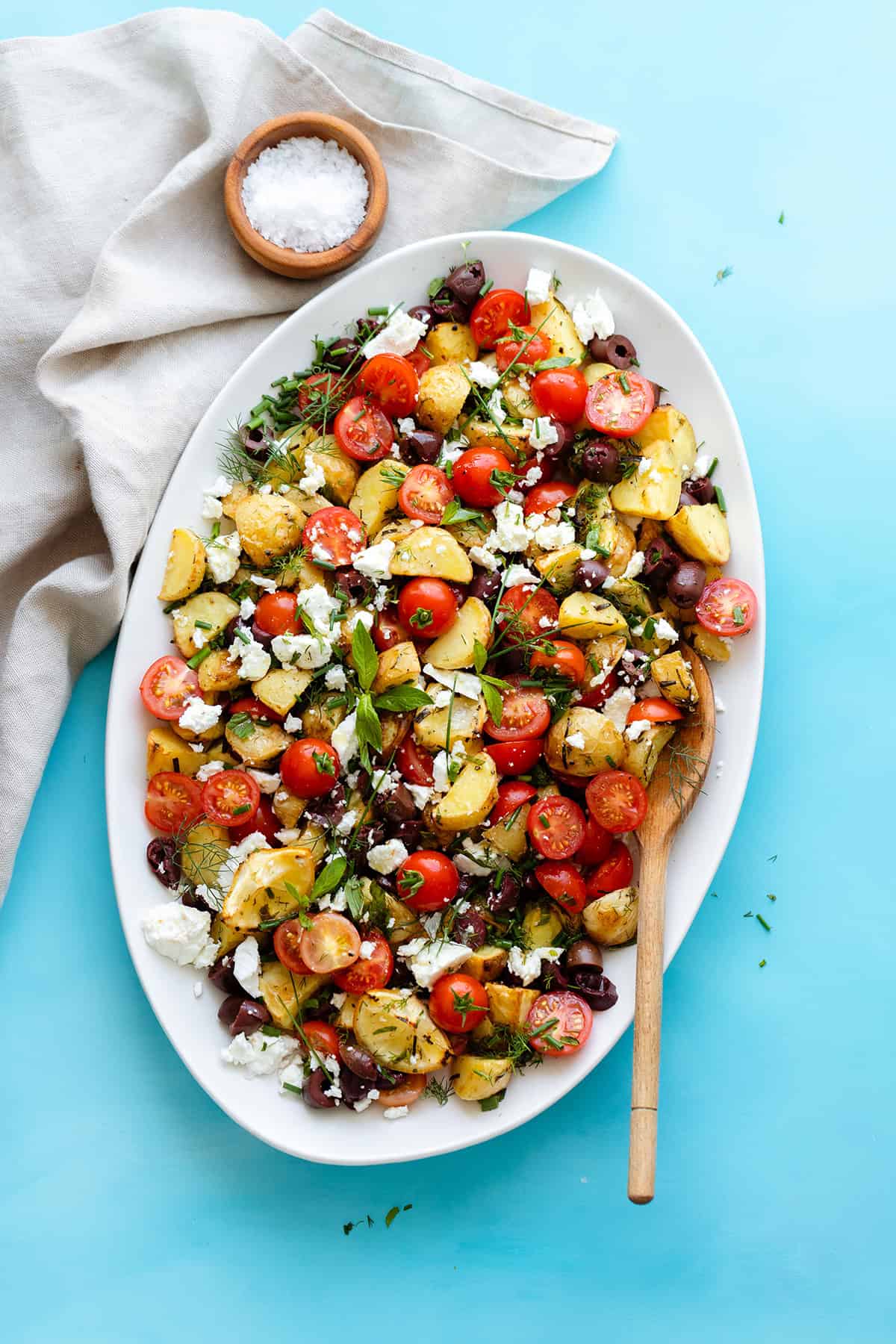 Quick funny story about the afternoon I shot this salad (unbelievable):
I had a specific bowl in mind that I wanted to shoot this salad on (if you know me, you know how obsessed I am with props), this shallow bowl I saw at a store near my house once but never bought. So there I was, at home at 3 pm with the salad ready and me on my way to the store.
I bought my favorite bowl, along with this oval plate, and a set of tiny bowls (see? guilty as charged - obsessed with props). I walked home, SO happy with my successful purchase, ready to shoot this beautiful salad while the sun is still up.
I stood at the elevators in my building waiting for the elevator, one finally made its way down to lobby level, people got off and it was my time to go up. I walked towards the elevator as the door started to close. Without thinking, as a reflex, I swiftly put my grocery bag in the door to stop the elevator from closing only to hear a loud crack and a small shard of my favorite ceramic plate fly away. OH NO. *insert a facepalm emoji here*
Guys, everyone knows I'm clumsy but I really didn't even make it upstairs without breaking the plate! It was so tragic it ended up being funny - how could that happen?!
Anyways, this pretty oval plate survived and actually ended up being a better choice. Look how pretty it looks on the blue background! The moral of the story is - don't stop elevators with a bag of ceramic plates, no matter how much you're rushing lol.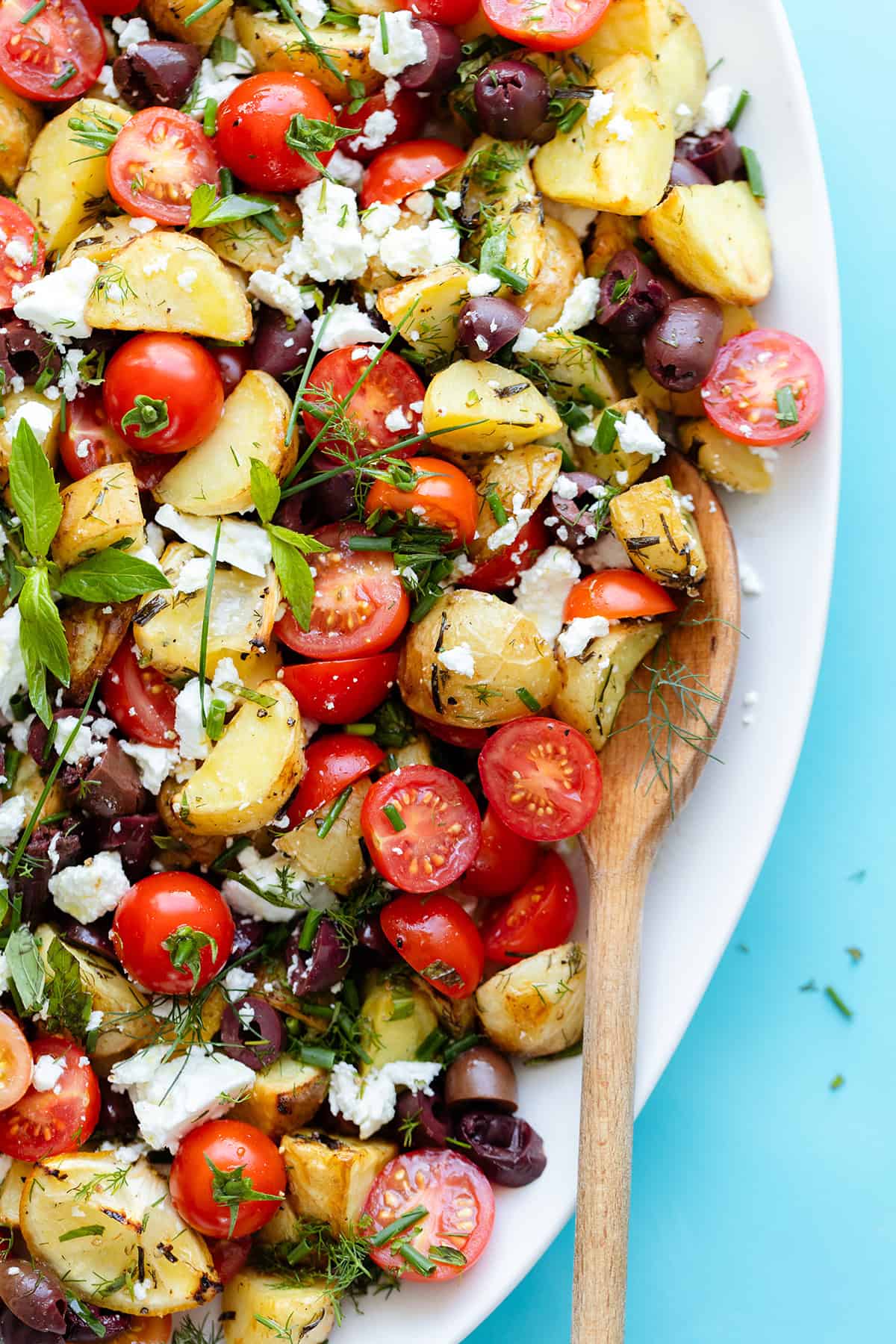 What you need for this Greek Potato Salad:
new potatoes (baby potatoes)
cherry tomatoes, halved
kalamata olives, pitted and halved
feta cheese, crumbled (sheep & goat feta is the best, I try to stay away from cow's milk as much as possible. Buy it whole and crumble it yourself - cheaper, no additives, better flavor!)
fresh dill, mint, and parsley
lots of lemon
extra virgin olive oil for the dressing
avocado oil for roasting the potatoes (or more EVO)
sea salt, pepper, and garlic powder (using powder, not fresh garlic because it would burn in the oven too much)
Roast the chopped potatoes and lemon at 425F for about 30 minutes, making sure not to overcrowd the pan. I did it in two batches to make sure the potatoes don't steam and crisp up. You can roast them all on the same pan, the salad is going to be delicious that way too, they just might not have the pretty golden edges.
Mix the potatoes with everything else together and enjoy!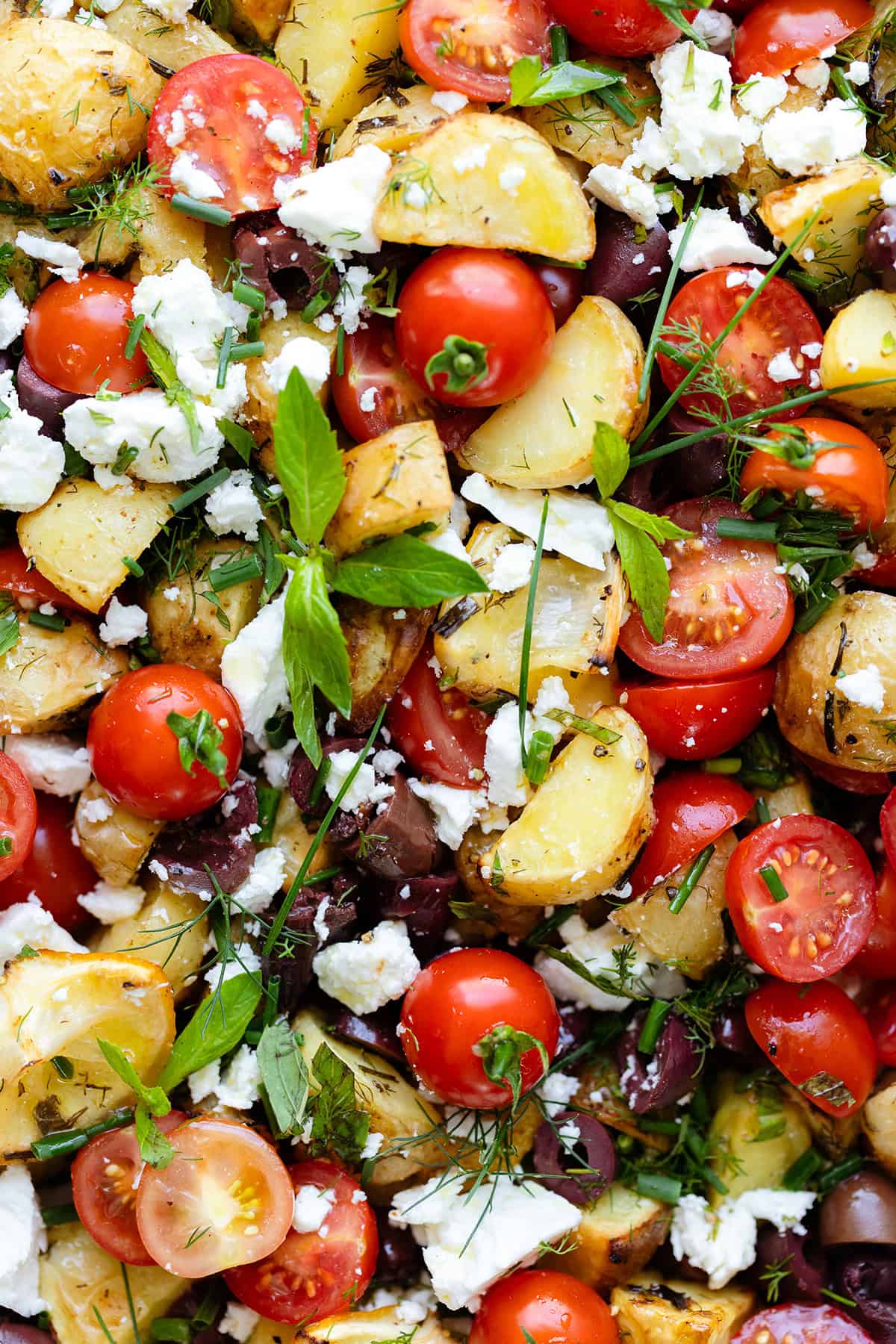 This salad comes together in just 30 minutes and it can be eaten both hot and cold. You can eat it by itself, or as a side along with your protein of choice. I recommend lemon roasted salmon. Simple and goes so well with this salad.
I roasted the potatoes with a few slices of lemon too to enhance the citrus flavor. You can either toss the roasted lemon with the salad so it releases it's flavor as you mix it all together or just squeeze it over the potatoes before adding the rest of the ingredients.
This Greek Potato salad serves 3-4 people or more if you serve it as a side.
Other salads you might like:
Quinoa Salad with Pomegranate Seeds
Cajun Roasted Cauliflower Salad (the most popular recipe on the blog!)
Persimmon Salad with Goat Brie and Pomegranate Seeds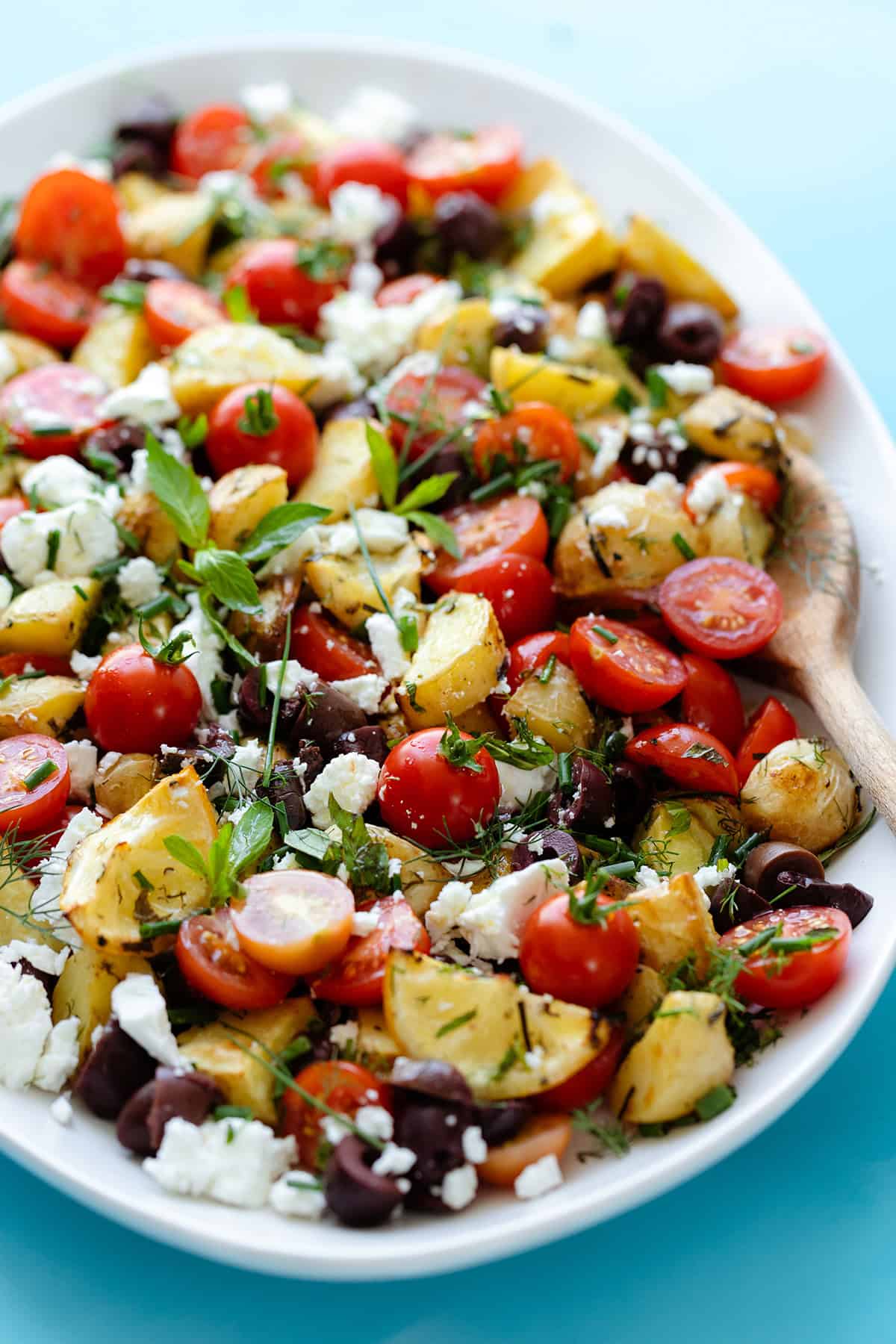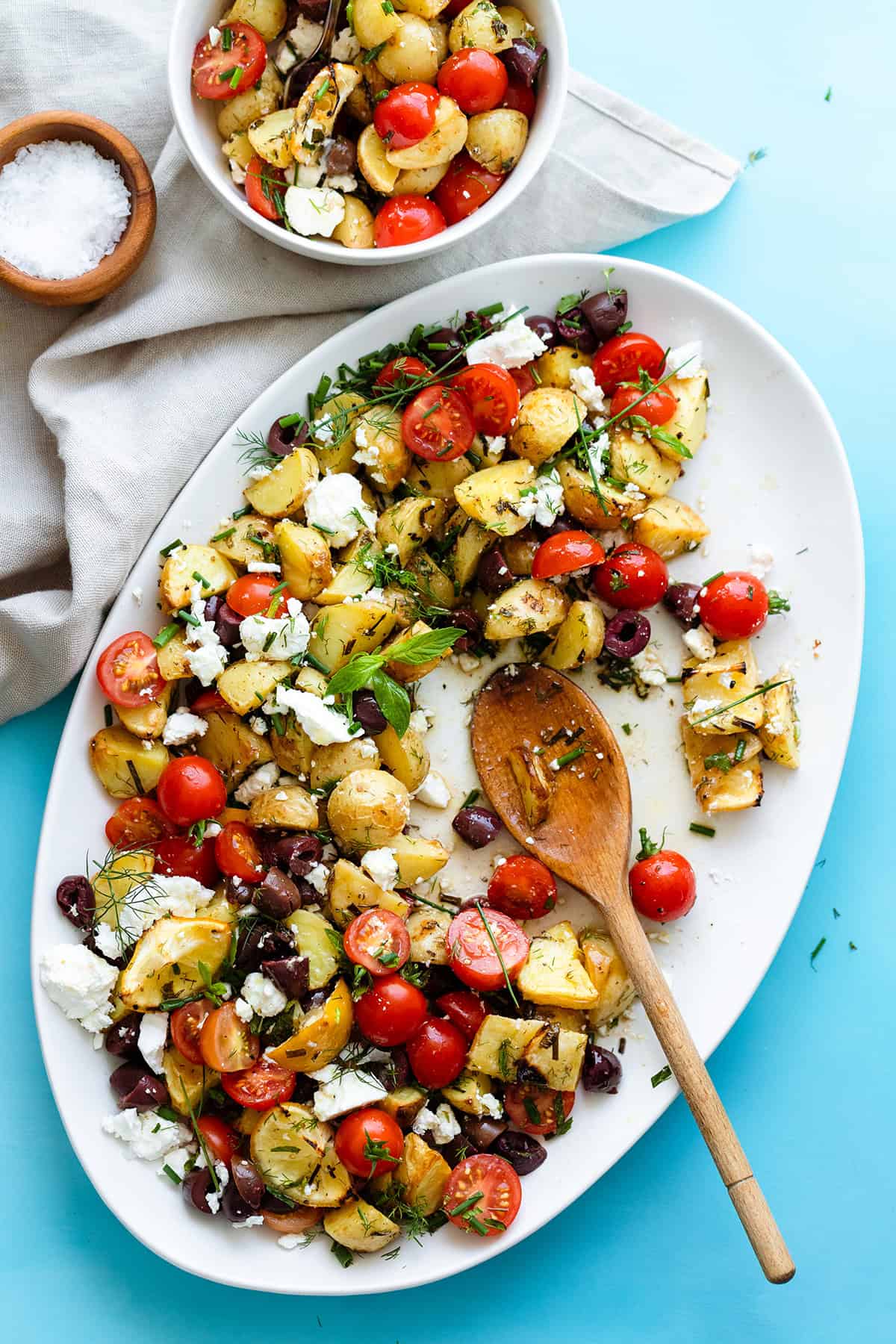 Print
📖 Recipe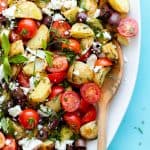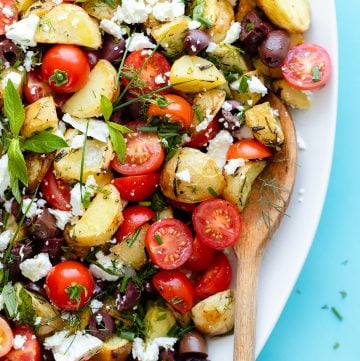 Greek Potato Salad with Feta
Author:

Veronika | thehealthfulideas

Prep Time:

10 mins

Cook Time:

30 mins

Total Time:

40 minutes

Yield:

4

1

x

Category:

Salad

Method:

Roasting

Cuisine:

Greek

Diet:

Vegetarian
---
Description
Amazing summer salad - great as a main or a side both hot and cold.
---
½ cup

chives, chopped

½ cup

dill, chopped

¼ cup

mint, chopped

25

baby potatoes, cut into quarters

2

lemons (divided)
Avocado oil (I prefer avocado oil in a spray for this, but any cooking oil is fine here)

1

-

2

teaspoon garlic powder (or more, to taste)
Sea salt and pepper to taste

1 cup

pitted kalamata olives, halved

2 cups

cherry tomatoes, halved 
Handful crumbled feta (100g)
Extra virgin olive oil
---
Instructions
Preheat the oven to 425F (220C).
In a small bowl, mix the chopped chives, dill, and mint, and set aside.
Spread the potatoes on a baking sheet, cut the lemon into similar size pieces or quarters, and add to the potatoes.
Spray or drizzle with a bit of avocado oil and season with the garlic powder, salt, and pepper. Add about 3 tablespoon of the fresh herbs mixture.
Toss to cover evenly and roast for about 30 mins, tossing 1-2.
Place the potatoes in a big bowl, add the olives, cherry tomatoes, crumbled feta, the rest of the chopped herbs and toss. 
In a small bowl or a mason jar, mix the olive oil and the juice of 1 lemon. 
Dress the salad right before serving.
---
Notes
You can also layer this salad (as pictured) on a big platter instead of tossing everything in one bowl.
This salad can be stored in the fridge for a couple of days. It's good both warm and cold.
Keywords: greek, salad, potato, feta, olive, herbs, lemon