This Starbucks Copycat Iced Caramel Macchiato is one of the easiest iced coffees you can make at home and it's just like the one you'd get at Starbucks. You only need 4 ingredients and there's no need to make a homemade syrup!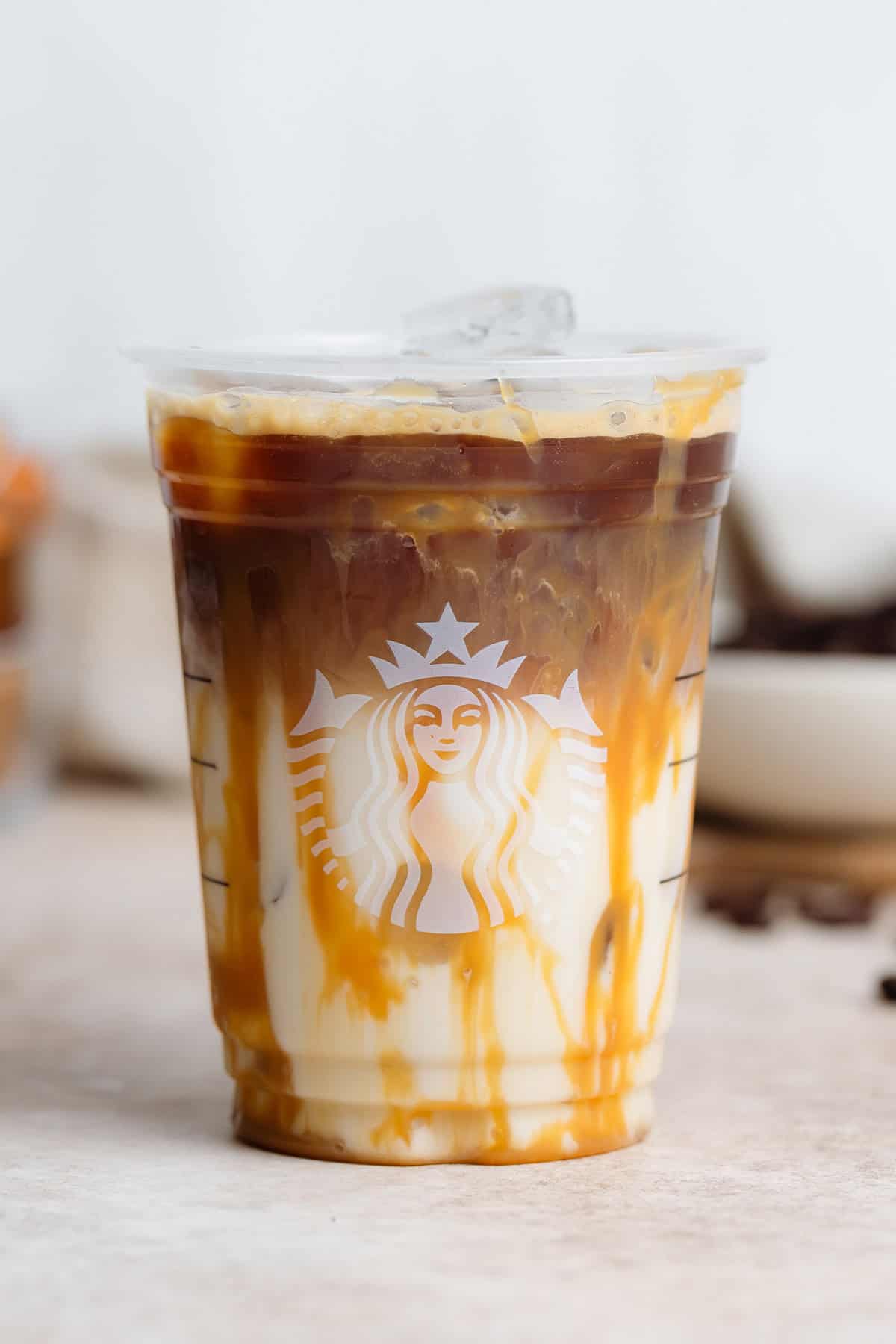 Jump to:
Why This Recipe Works
Just like Starbucks - Since this drink is so simple, it's really easy to make it taste very similar to the original. It's one of their most popular summer drinks and now you can make it at home for cheaper without having to leave your house to go to a cafe!
Easy to make - This drink is incredibly easy to make! Even easier than the other Starbucks drinks I've shared because you don't have to make your own syrup and you need only 4 ingredients. Technically, Starbucks uses vanilla syrup which you could make but I don't find the extra sugar necessary and add vanilla extract instead.
All about the coffee - The quality of your coffee really matters here so use your favorite coffee beans. You can use Starbucks coffee and make it the exact same as your order or you can change it up. Starbucks sells whole beans or their own Nespresso pods so it's easy to make the coffee taste similar.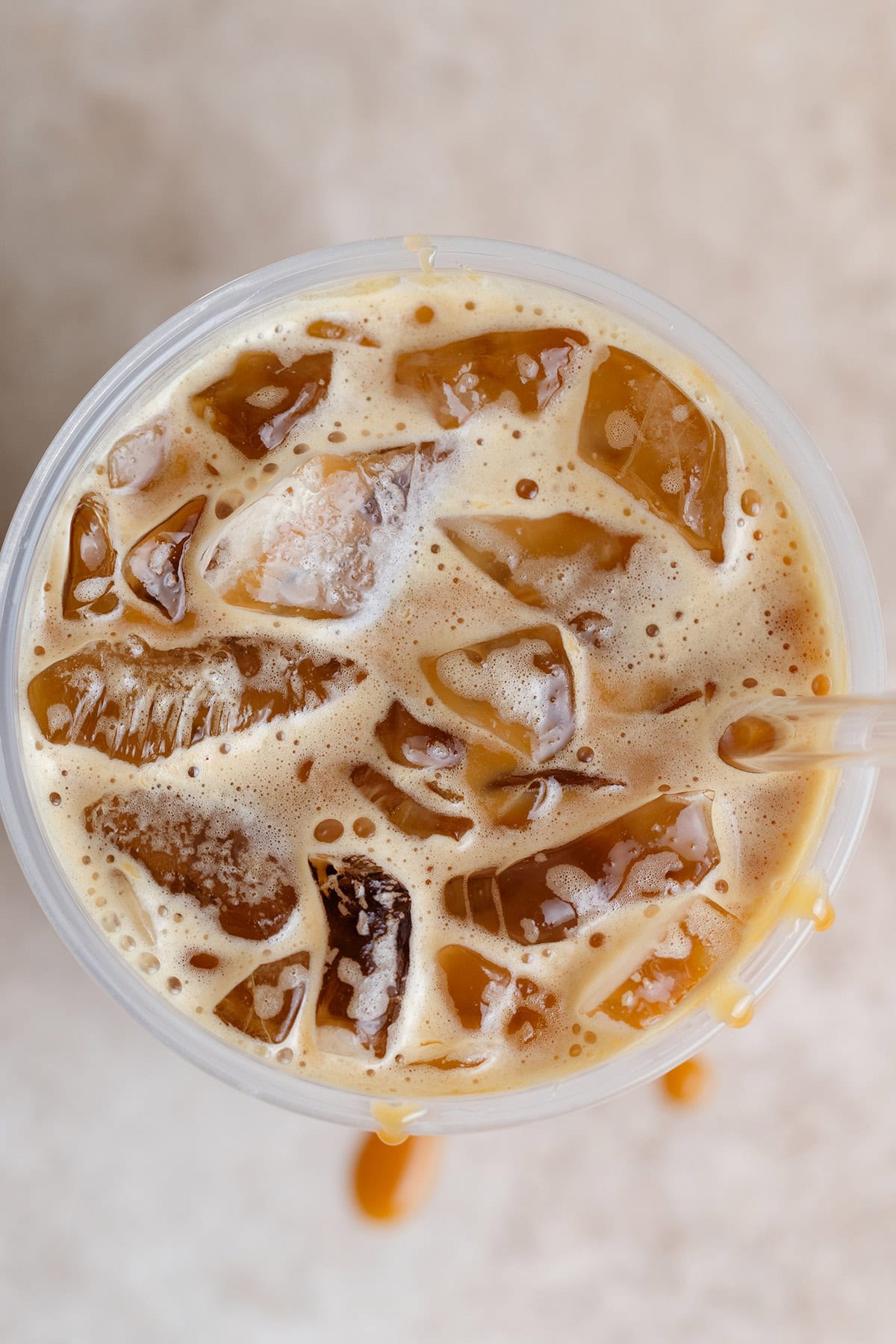 Ingredients
Espresso - You will need 2 shots of freshly brewed espresso for this drink to make it just like Starbucks. The recipe makes a grande-sized coffee. If you prefer tall, add 1 shot of espresso, and if you order a venti size, add 3 shots. The amount of milk will also change based on the size. See the recipe card for details.
Oat milk - The recipe calls for oat milk because that's what I always use in my iced coffees but you can use any milk you like.
Caramel sauce - The star of the show! My favorite caramel sauce is by the 365 Whole Foods brand. It doesn't have any corn syrup or any weird ingredients. There are many different syrups on the market so look for one you like the taste of and the ingredients. You can also make your own! I usually buy mine to save time but caramel sauce is made with sugar, water, butter, and cream. This Salted Caramel Sauce recipe looks amazing!
Vanilla extract - The original Starbucks version is made with vanilla syrup but I find the drink is sweet enough with just the caramel sauce as a sweetener so I use vanilla extract instead. If you'd like you can use store-bought vanilla syrup (Monin is great) or you can make your own!
How do you make your own vanilla syrup for coffee?
Mix together 1 cup cane sugar and 1 cup water in a small saucepan. Bring to a soft simmer stirring often making sure the sugar doesn't burn. Simmer for 5 minutes, take off heat, and add 1 tablespoon vanilla extract or vanilla paste. Cool and store in the fridge in a jar for up to 2 weeks.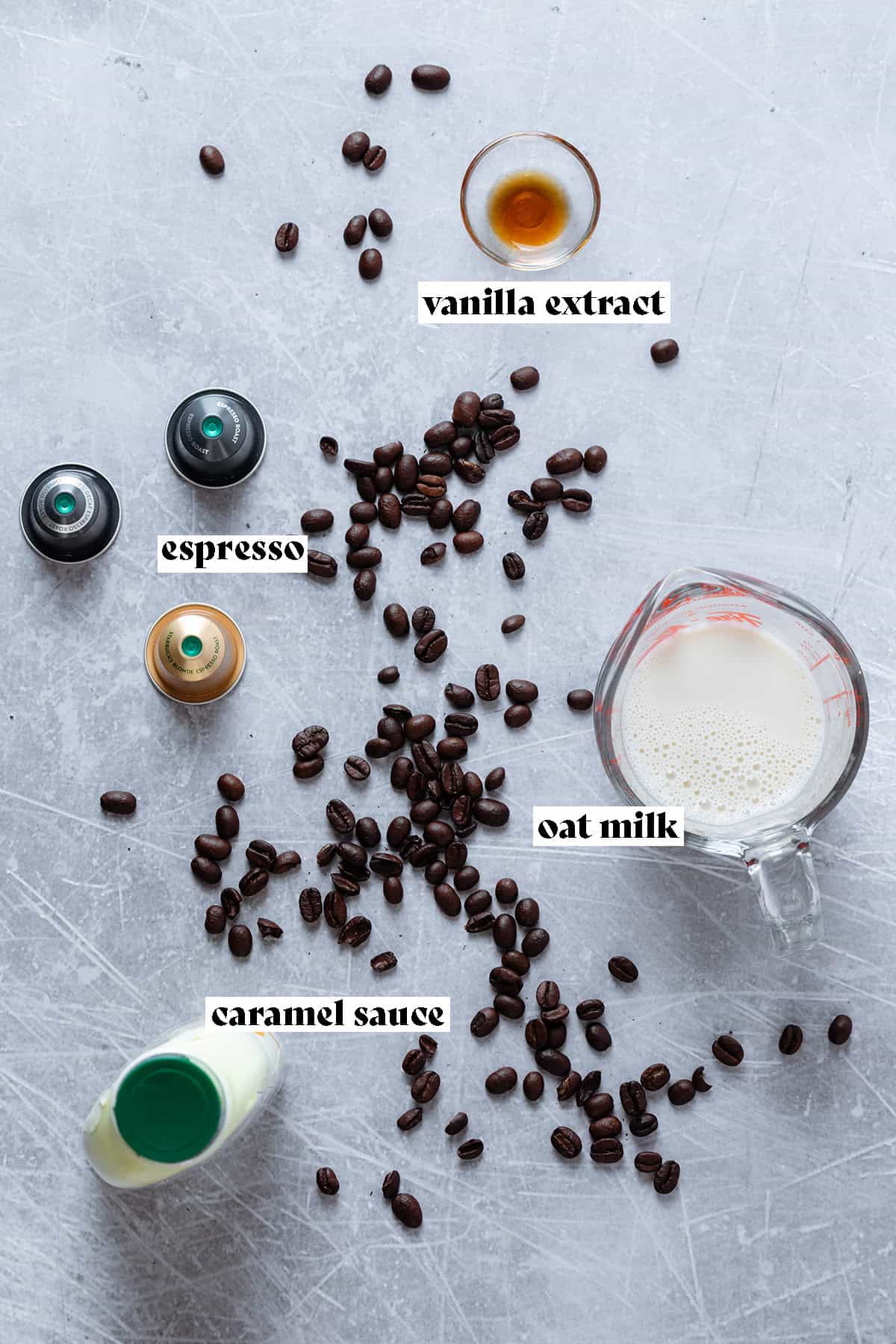 Variations and Substitutions
Make it vegan - You can use store-bought vegan caramel sauce or make your own. I haven't tried any recipes but if you look online, you will find a lot to choose from and they're all very easy to make!
Use decaf - If you can't drink caffeine or want to enjoy this macchiato later in the day, you can use decaffeinated espresso. Sometimes I like to make it half-decaf with one shot regular and one decaf to lower my caffeine intake.
Add-ons: Cinnamon sprinkle on top, whipped cream, cacao powder (mixed into hot espresso), chocolate sauce (try the one from this Iced Chocolate Almondmilk Shaken Espresso)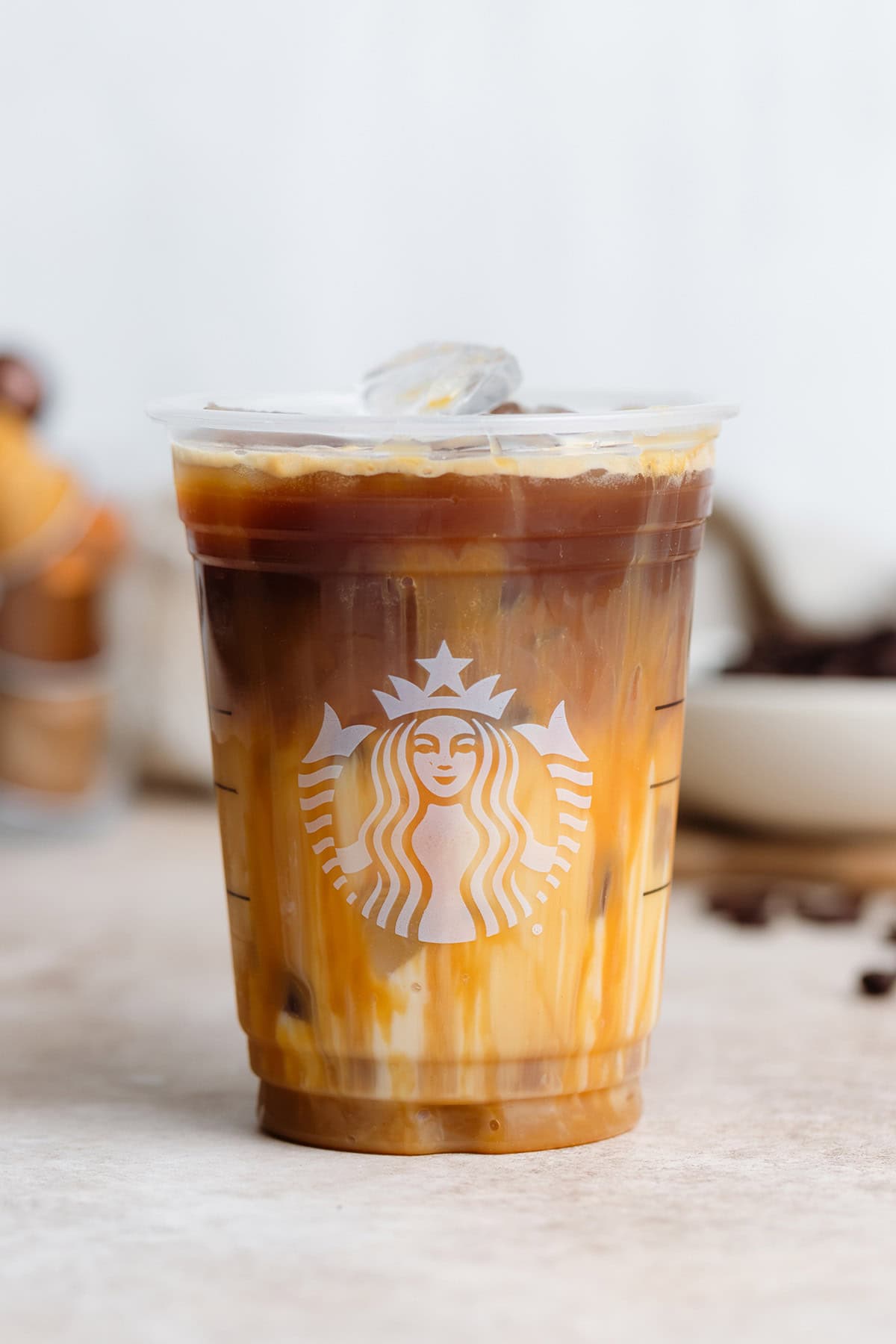 Step-by-Step Instructions
Start by prepping your glass. Take a tall glass (16 oz.) and drizzle the sides lightly with caramel drizzle. I find the caramel slides down the sides to the bottom more on glass than it does on a plastic cup.
Fill the glass with ice, and oat milk ¾ way up (I usually add ½-3/4 cup of milk) and vanilla extract.
Brew your espresso and pour it slowly over the milk and ice. This way the espresso should create a layer on top but it will sink into the milk pretty quickly anyway because both liquids have a similar consistency.
Drizzle more caramel sauce on top and sprinkle with cinnamon if desired and enjoy!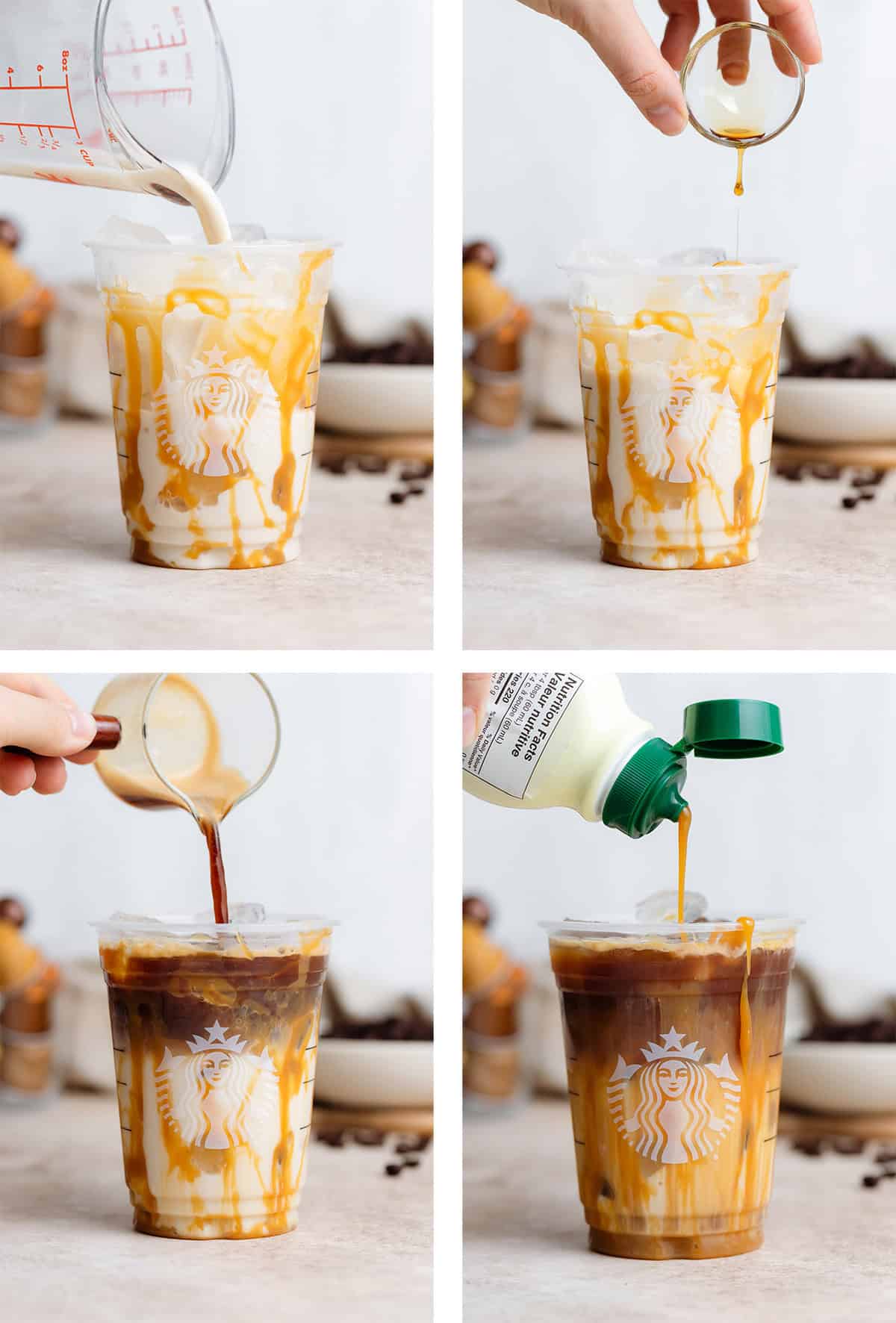 FAQs
Does caramel contain dairy?
The classic one does. It's made with sugar, water, butter, and cream. There are some brands that make vegan caramel sauce or you can make your own at home with vegan butter and coconut milk instead of cream.
Can I use other coffee besides espresso?
Yes, you can use any coffee you prefer. You might have to adjust the amount because espresso is usually stronger than any other coffee.
How much coffee and milk is in Starbucks' Iced Caramel Macchiato?
Tall size has 1 shot of espresso, Grande has 2 shots, and Venti has 3. I usually eyeball the milk for my coffee but for a Tall size, I would add about ½ cup, Grande ¾ cup, and Venti 1 cup.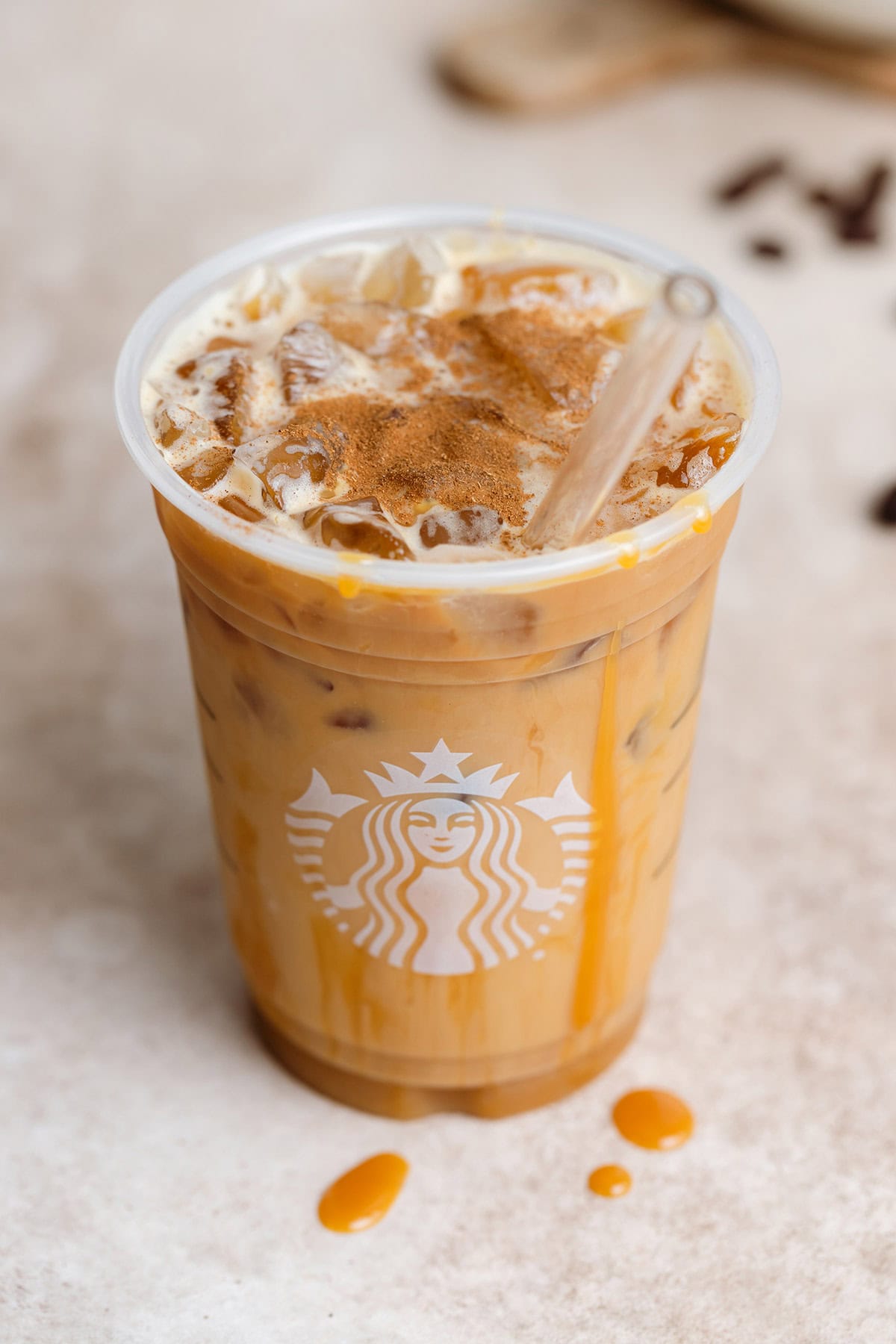 More Starbucks Iced Coffee Recipes
Below are four of my absolute favorite Starbucks coffee drinks that I like to make at home. If you'd like to see the latest ones, go to the Starbucks Drinks category! It has a bunch of other ones besides just coffee and gets updated regularly.
Print
📖 Recipe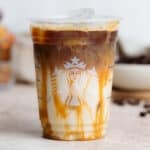 Iced Caramel Macchiato
Author:

Veronika | thehealthfulideas

Prep Time:

5 mins

Cook Time:

2 mins

Total Time:

7 minutes

Yield:

1

1

x

Category:

Coffee

Method:

Mixing

Cuisine:

American

Diet:

Vegetarian
---
Description
With this Starbucks-inspired Iced Caramel Macchiato recipe, you can make your favorite Starbucks order at home! Super easy, only 4 ingredients, and just as delicious as the original!
---
1

-

3

tablespoon caramel sauce (approximately, I don't measure this, just add a good drizzle)

1

-

2

cups ice

¾ cup

oat milk (or another milk of choice)

¼ tsp

vanilla extract

2

shots espresso
Ground cinnamon (optional, for garnish)
---
Instructions
Drizzle caramel sauce lightly around the inside of a tall glass and fill the glass with ice.
Pour in oat milk and vanilla extract.
Brew two shots of espresso and pour them over the milk slowly.
Drizzle with more caramel sauce and dust with cinnamon if desired. Enjoy!
---
Notes
The nutritional information is only an estimate. It will vary based on the caramel sauce you use and how much you add.
I find the caramel sauce sticks better to the sides of a plastic cup than it does glass.
Tall: 1 shot espresso, ½ cup milk
Grande: 2 shots espresso, ¾ cup milk
Venti: 3 shots espresso, 1 cup milk
Keywords: starbucks, iced caramel macchiato