Do you want to learn how to make the Iced Brown Sugar Oat Milk Shaken Espresso from Starbucks at home? Try this copycat recipe! You only need a few basic ingredients and you might even end up liking it more than the one from Starbucks!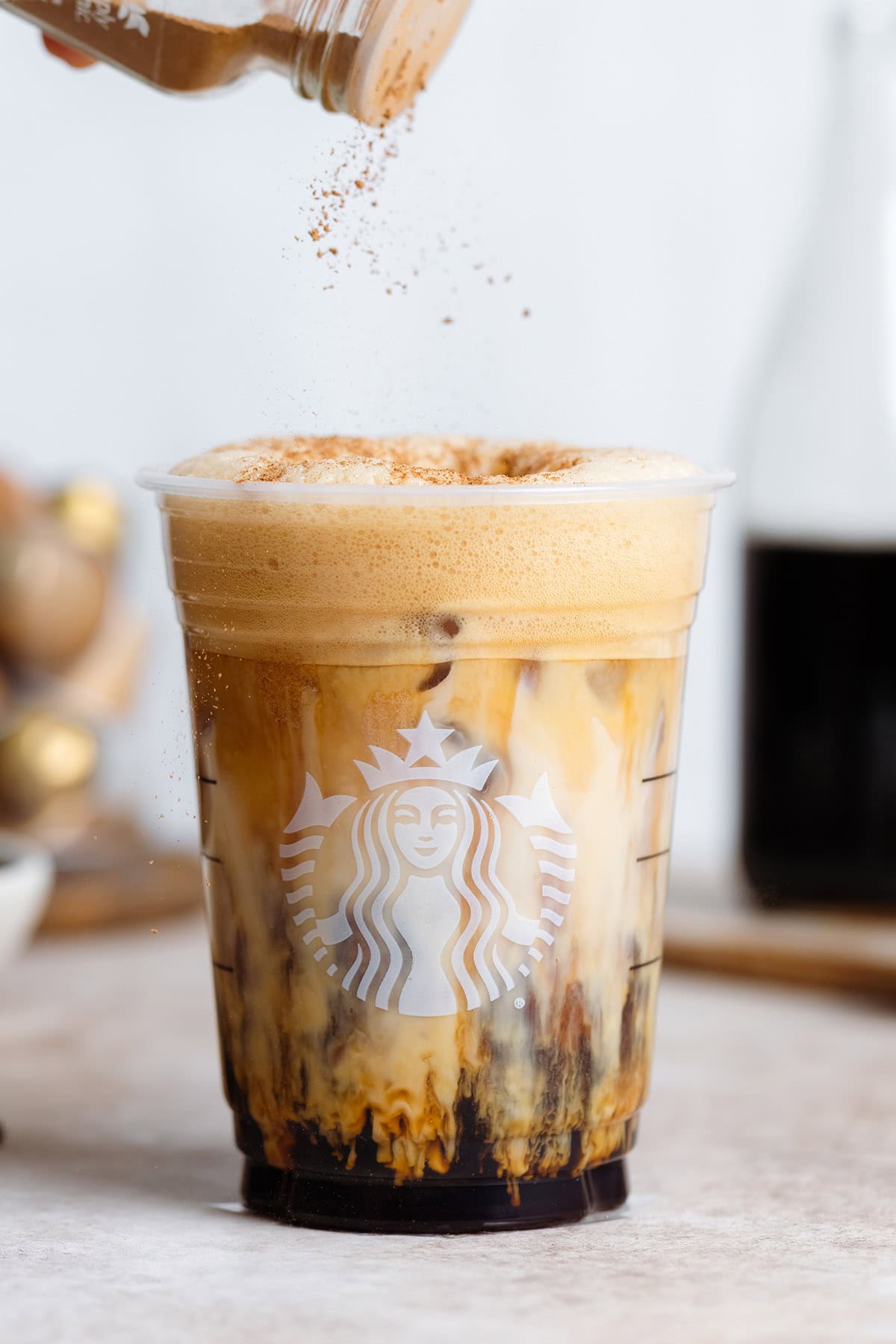 Jump to:
Why This Recipe Works
It's just like Starbucks! - The recipe calls for the same amounts of everything so it's super similar to what the brown sugar shaken espresso tastes like.
You can use the same coffee - The flavor of the final drink will greately depend on what coffee beans you use. If you want it to be the exact same, get blonde espresso roast beans directly from Starbucks. I use their capsules in my Nespresso machine for this drink!
It's fun to make! - Making a shaken espresso is like making a cocktail but instead of alcohol, you get a nice caffeine kick to wake you up in the morning.
It's healthier - The recipe still uses brown sugar but when you make it at home, you know exactly how much sugar goes in!
Cheaper than Starbucks - This probably comes as no surprise but making your morning lattes at home is much cheaper than buying them at a coffee shop! Your favorite coffee shop also probably always uses the same beans but at home, you can buy different kinds and change it up every day!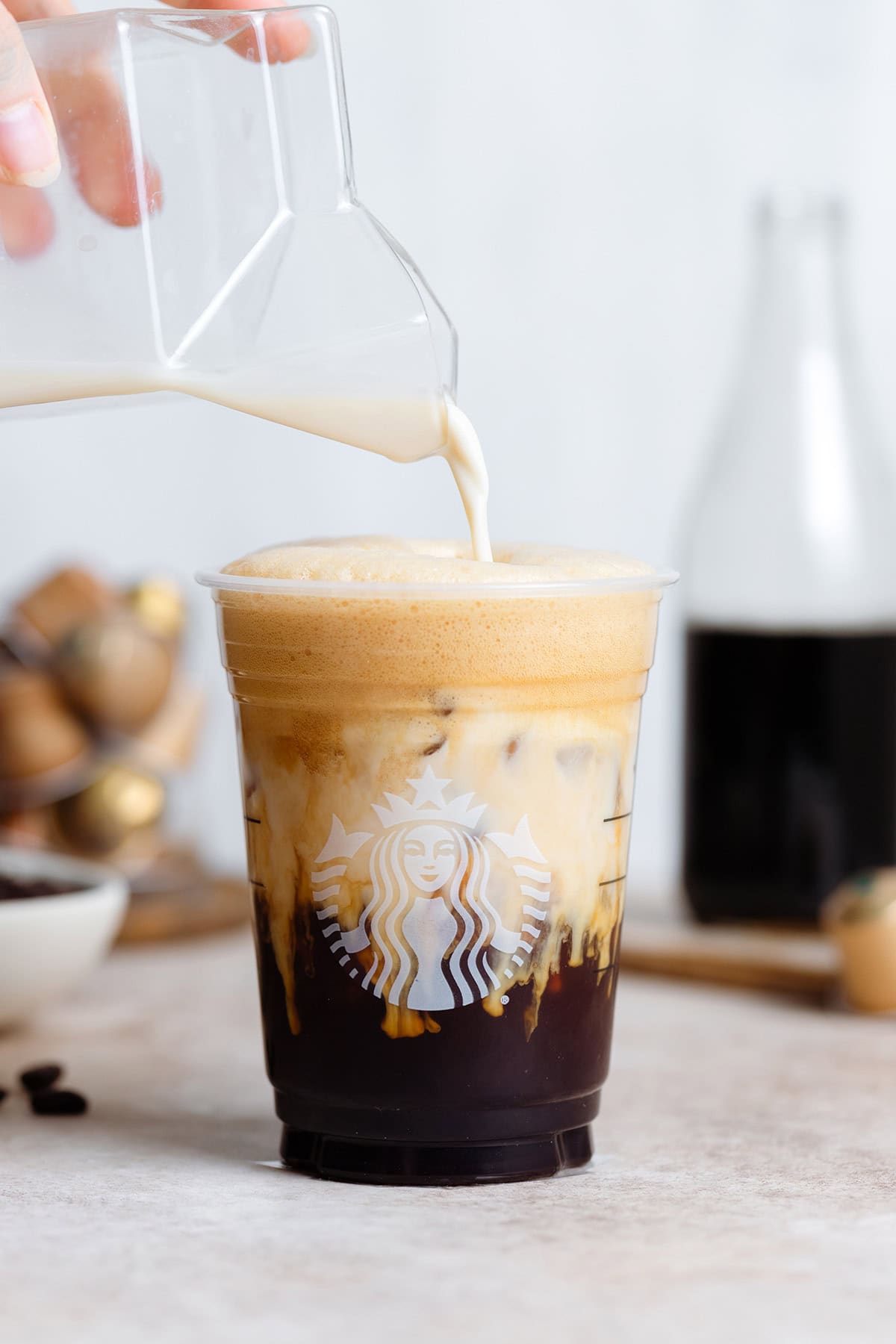 Ingredients Notes
Brown sugar - This is used to make the syrup. Both light and dark brown sugar work great! Dark brown sugar will have a stronger molases flavor.
Vanilla extract - This one is definitely optional but it compliments all the other flavors really well and I highly recommend it. You could also use vanilla powder or vanilla paste.
Espresso - You need 2-3 shots of espresso for this drink. Starbucks adds 2 shots to a grande drink but I usually find that too intense. Especially if you use Nespresso, like I do, and you use their settings for espresso which is set to 40ml. A regular espresso is usually 30-35 ml. Use decaf or half decaf if needed.
Oat milk - There are a lot of oat milks on the market today. I try to use the ones that say barista on them because they froth the best (Earth's Own Barista is my favorite). This drink doesn't need any frothing so any oat milk will do but the barista ones usually tend to be creamier. An oat creamer also does works here (Elmhurst is my fav).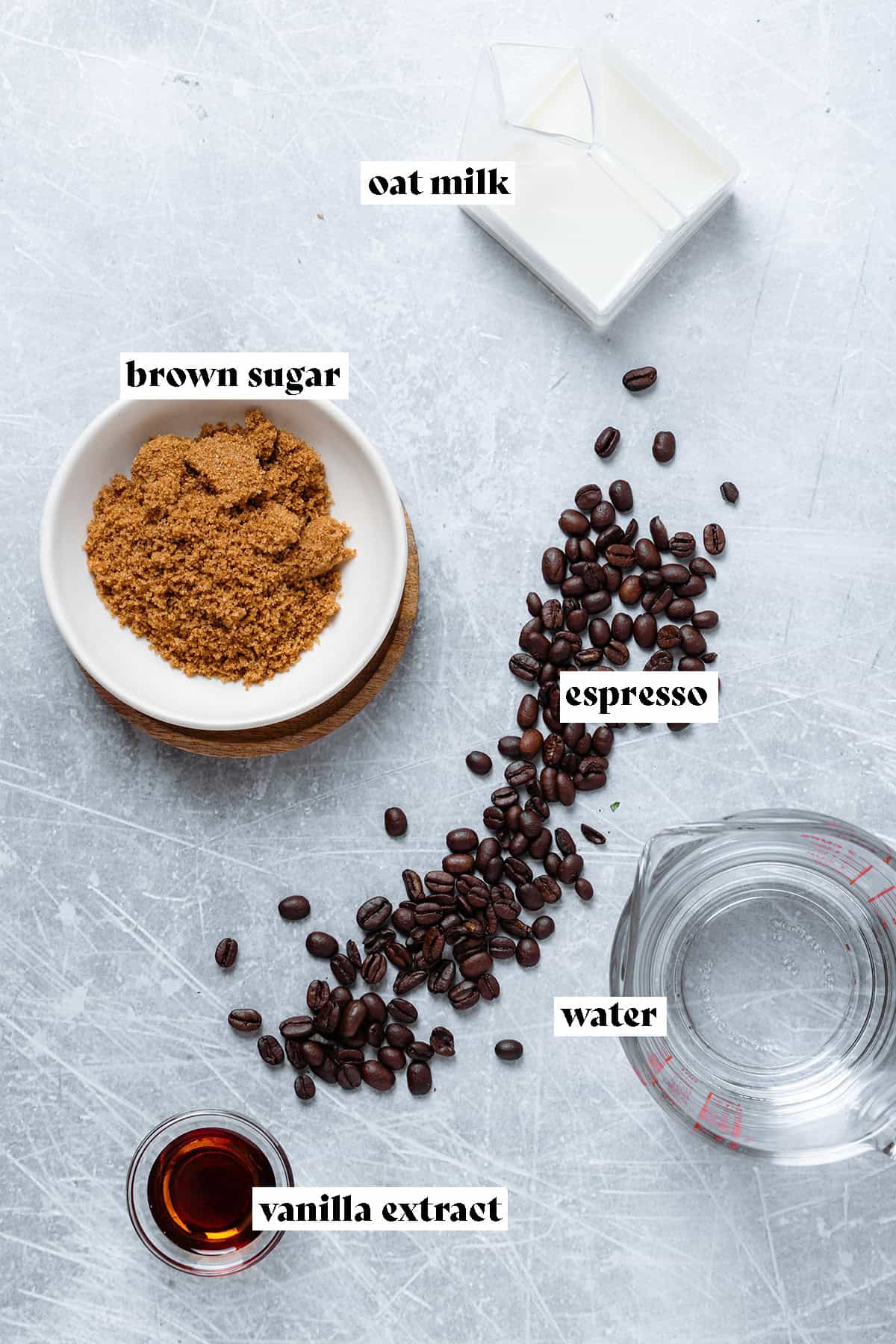 Toasted Vanilla Syrup
Starbucks has come out with the new shaken espresso with toasted vanilla instead of the classic brown sugar syrup. Do you like it? I'm curious, you can let me know in the comments below!
I'm honestly not a fan of it so I didn't try creating my own version. To me, the syrup tastes like roasted hazelnuts and vanilla so to make the syrup, I recommend roasting hazelnuts and simmering them with sugar and water, and adding vanilla.
It's hard to get the 'toasted' part of the flavor but you can use the Toasted Marshmallow syrup by Monin with vanilla extract to get that toasted vanilla flavor.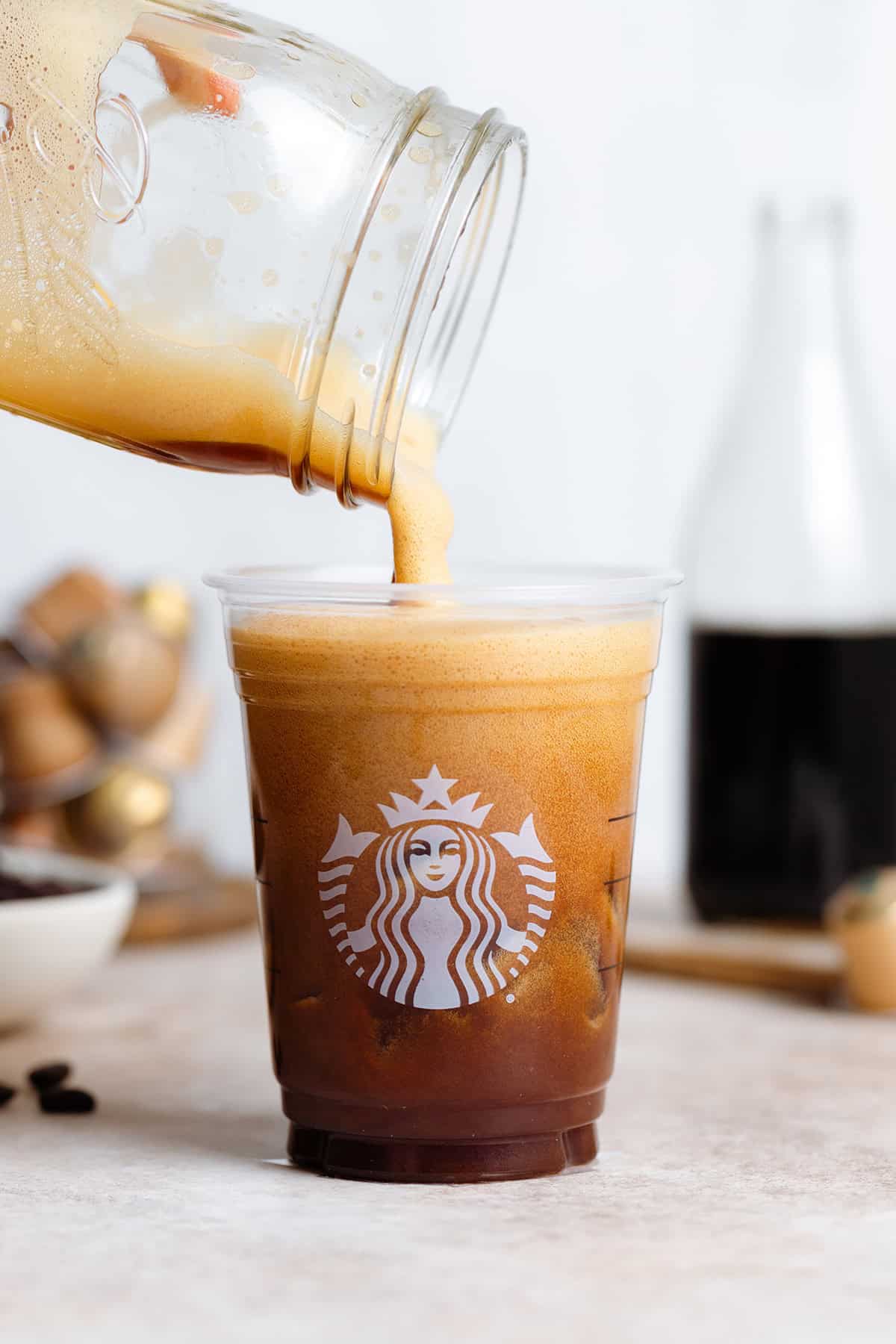 Step-by-Step Instructions
Brown sugar syrup
I have two versions of how you can make this drink. Either you can make a brown sugar syrup that you can store for about two weeks, or you can do the lazy version and mix brown sugar right into your espresso!
The lazy version: Add 1 tablespoon of brown sugar and ¼ teaspoon vanilla extract to the bottom of a mason jar, brew the coffee over it and swirl it to mix them together. The sugar will melt and you won't have to make any syrup!
The syrup: Mix equal parts of brown sugar and water in a saucepan and bring to a boil stirring occasionally. Lower the heat and let the mixture simmer for about 5 minutes. Stir in vanilla extract and transfer to a glass jar. Cool completely before closing with a lid and storing in the fridge.
Bonus! Store-bought: There are brown sugar syrups you can buy, like the ones from Monin or Torani. I prefer Monin over Torani because their syrups don't have preservatives. Keep in mind the syrup will have also have regular cane sugar along with the brown sugar and flavors. Homemade is always best but if you need a shortcut, a store-bought syrup is an option!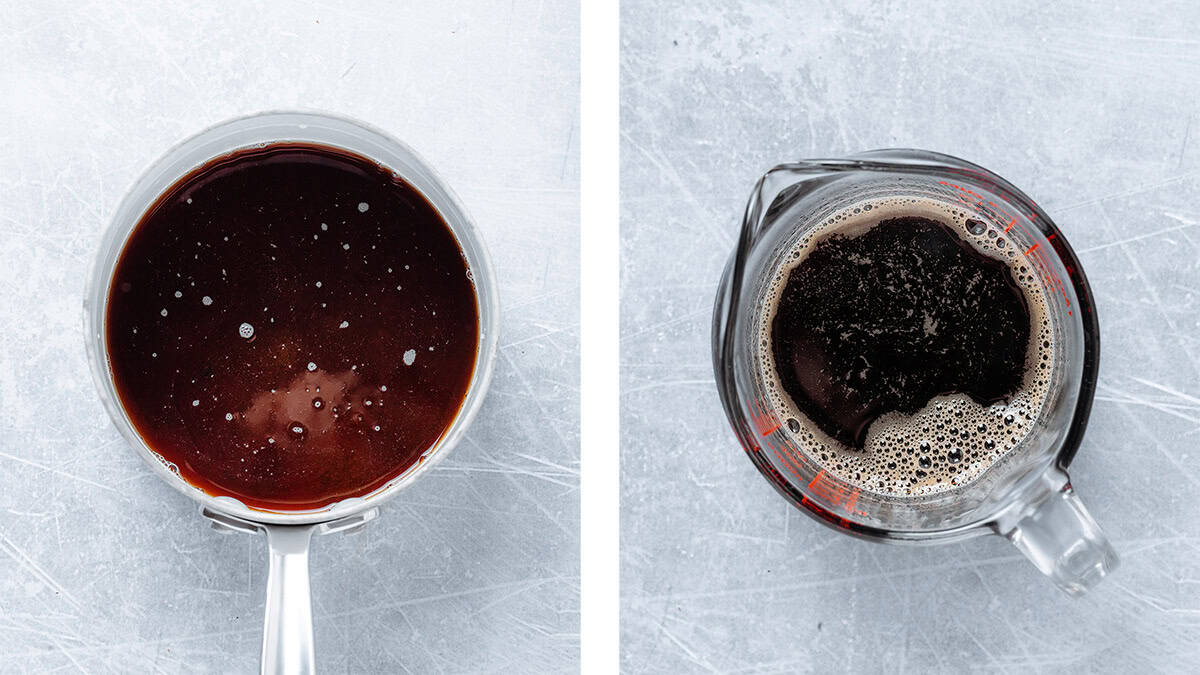 Shaken Espresso
Add 2 shots of espresso, 1-2 tablespoons of the brown sugar syrup to a mason jar or a cocktail shaker with about 1 cup of ice. Close with a lid and shake vigorously for about 5 seconds.
Pour into a tall glass with the ice and top up with oat milk. You can add as much milk as you like, I usually add anywhere from a splash to ½ cup. Starbucks doesn't add too much milk to this drink, I'd say 2-4 tablespoons is the amount they add.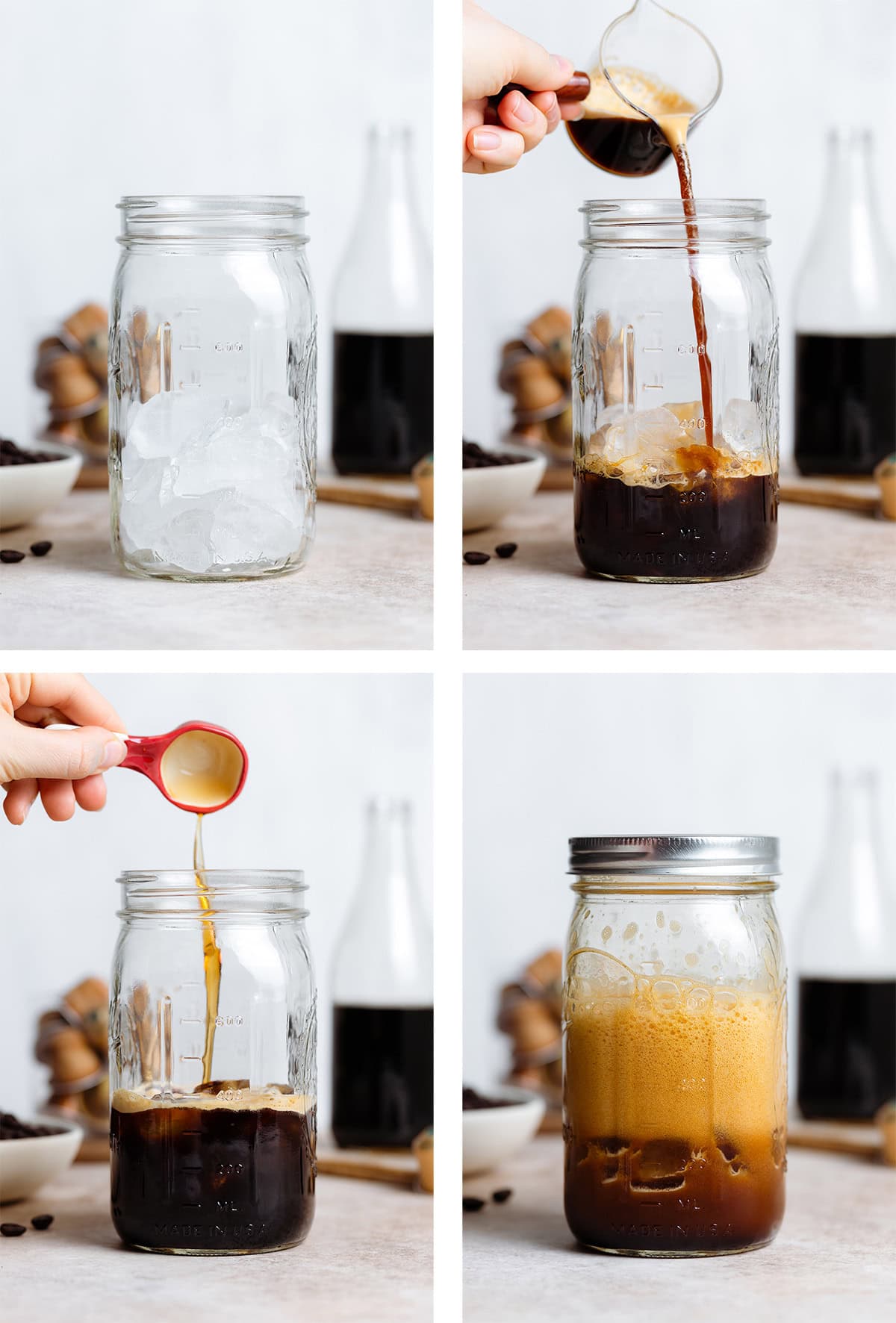 Serving and Storing
Once you make the drink, it should be served right away. You can store the syrup in a jar in the fridge for about 2 weeks. If you want it to last longer, you can add a splash of vodka to preserve it for a little longer.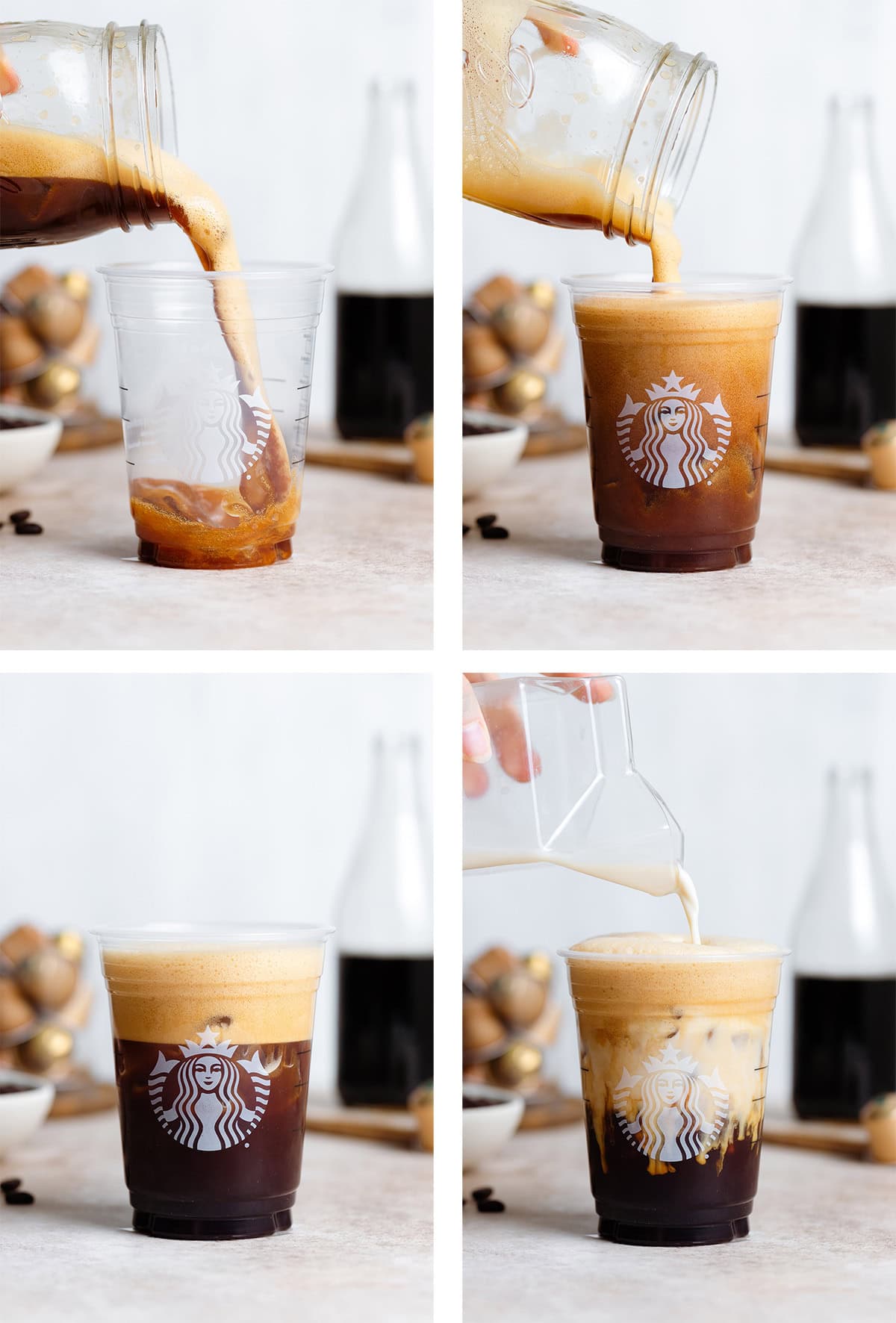 FAQs
What's shaken espresso?
It's freshly brewed espresso shaken with ice and syrup the same way you would shake a cocktail. It makes the coffee frothy and light without frothing the milk.
How many shots of espresso does Starbucks use?
Their shaken espresso has 2 shots in the Tall size, 3 shots in Grande, and 4 shots in Venti.
Can I use regular brewed coffee or cold brew?
Yes, you can substitute it 1:1 (2 shots of espresso are 60-80ml) or you can adjust the amount and add a little more because espresso tends to be stronger and more concentrated than other types of coffee.
Is this recipe vegan? Is the original at Starbucks vegan?
Yes and yes! Both this recipe and the original Starbucks versions are completely vegan. They both use oat milk.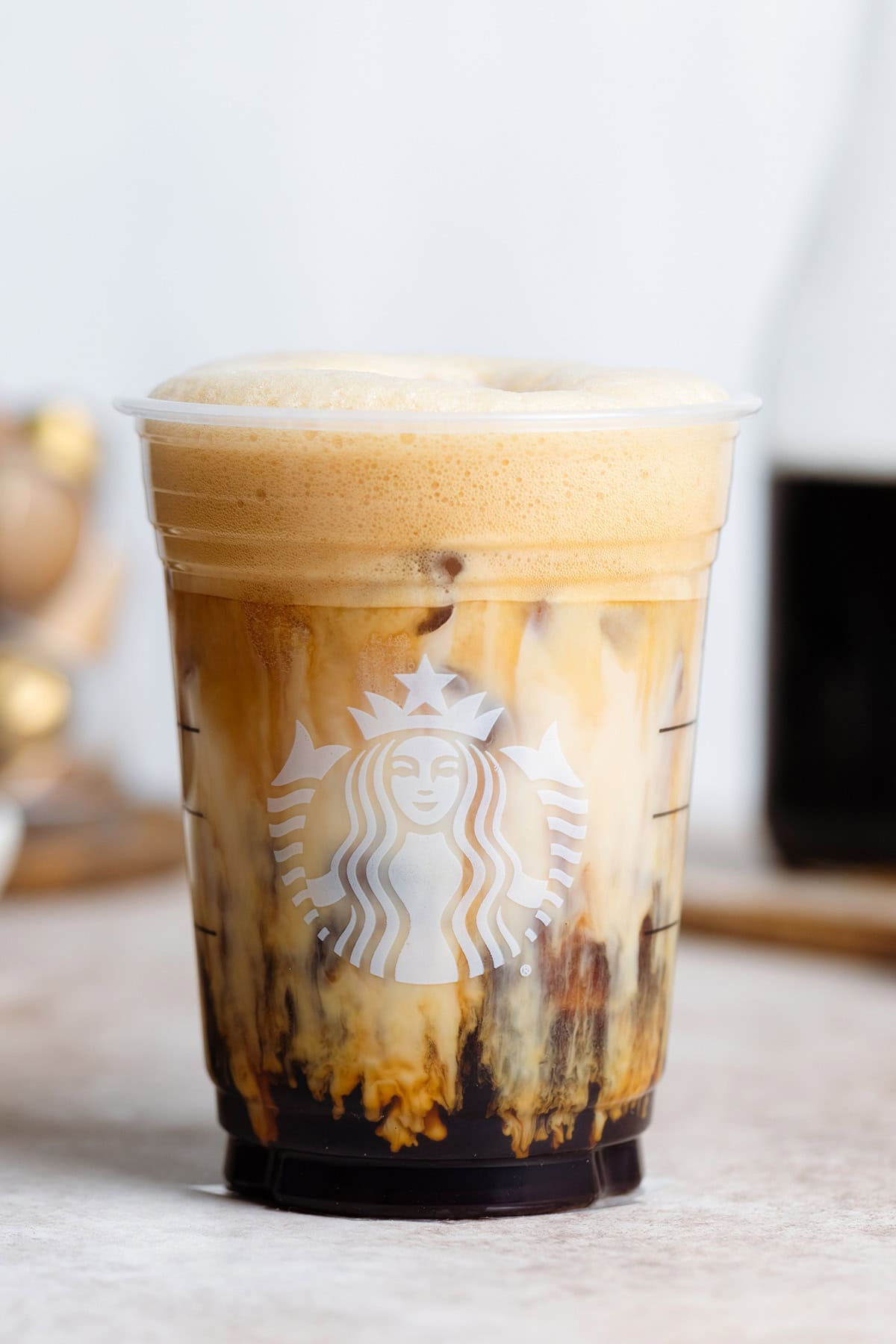 More Starbucks Inspired Drinks
Easy homemade versions of popular Starbucks drinks are my favorite recipes to create so there is definitely more to come but here are four of my favorites! To see the latest and greatest, check out the Non-Alcoholic drinks category!
Print
📖 Recipe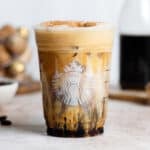 Iced Brown Sugar Oat Milk Shaken Espresso
Author:

Veronika | thehealthfulideas

Prep Time:

5 mins

Cook Time:

10 mins

Total Time:

15 minutes

Yield:

1

1

x

Category:

Drink

Method:

Shaking

Cuisine:

American

Diet:

Vegan
---
Description
A homemade version of the popular brown sugar shaken espresso drink from Starbucks. It's easy to make and much cheaper than Starbucks!
---
Brown Sugar Syrup:
Shaken Espresso:
1 cup

Ice

2

-

3

shots of espresso

2 tbsp

brown sugar syrup

¼

-

½

cup oat milk
Cinnamon (optional)
---
Instructions
In a small saucepan, mix together the brown sugar and water. Bring to a boil and simmer for 5 minutes. Take off the heat and stir in the vanilla extract. Pour into a heatproof glass jar and set aside to cool.
Brew your espresso and pour it into a tall mason jar with about 1 cup of ice. Add the syrup, cover with a lid and shake vigorously for 5 seconds.
Pour into a tall glass including the ice. Top up with oat milk and sprinkle with cinnamon if desired.
---
Notes
Different Starbucks cup sizes have different amounts of coffee and syrup. Their shaken espresso pumps of syrup are supposedly only half pumps. The regular pump is about ½ tbsp. I find the Starbucks syrup sweeter because it uses regular cane sugar along with brown sugar and this recipe only has brown sugar so I use more of it.
Here is the rundown of what Starbucks uses:
Tall - 2 shots espresso, 3 pumps of syrup (approx. ½-1 tbsp)
Grande - 3 shots, 4 pumps (1-2 tbsp)
Venti - 4 shots, 6 pumps (2-3 tbsp)
Keywords: coffee, latte, starbucks, oat milk shaken espresso