This Starbucks Copycat Iced Chocolate Almondmilk Shaken Espresso is a fun chocolate twist on one of Starbucks' most popular drinks that's also on their menu. This homemade version is made with homemade chocolate syrup and you'll love it!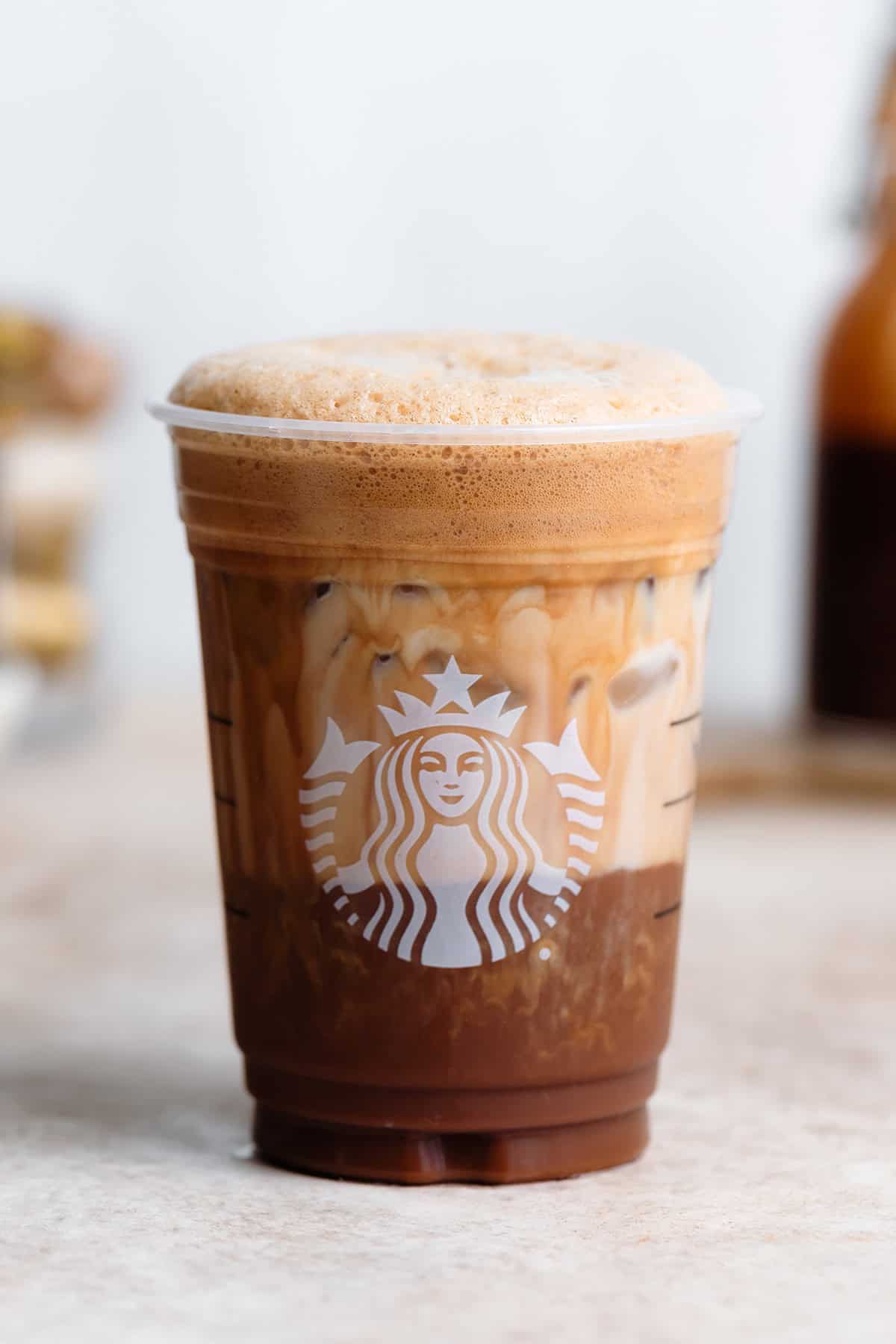 Jump to:
What's Great About This Recipe
Your favorite Starbucks order at home - Making your own lattes at home is really fun and easier than you'd think! It will save you money and you know exactly what goes into your drink.
Shake don't stir - If you've never had shaken espresso from Starbucks, you're going to love this drink! You shake the espresso which makes it super frothy. You don't even have to froth the milk because the coffee already makes it light and airy!
Chocolate syrup - You can use store-bought but I highly recommend making your own. It's super easy and it has such a better flavor, the difference is huge! You can also control how much sugar goes into your syrup and the drink which is always a plus compared to store-bought syrups!
A chocolate version of the popular classic - The chocolate syrup goes really well with almond milk and it's a fun twist on the popular shaken espresso everyone loves that uses brown sugar syrup and oat milk. To find that recipe, check out my Iced Brown Sugar Oat Milk Shaken Espresso post!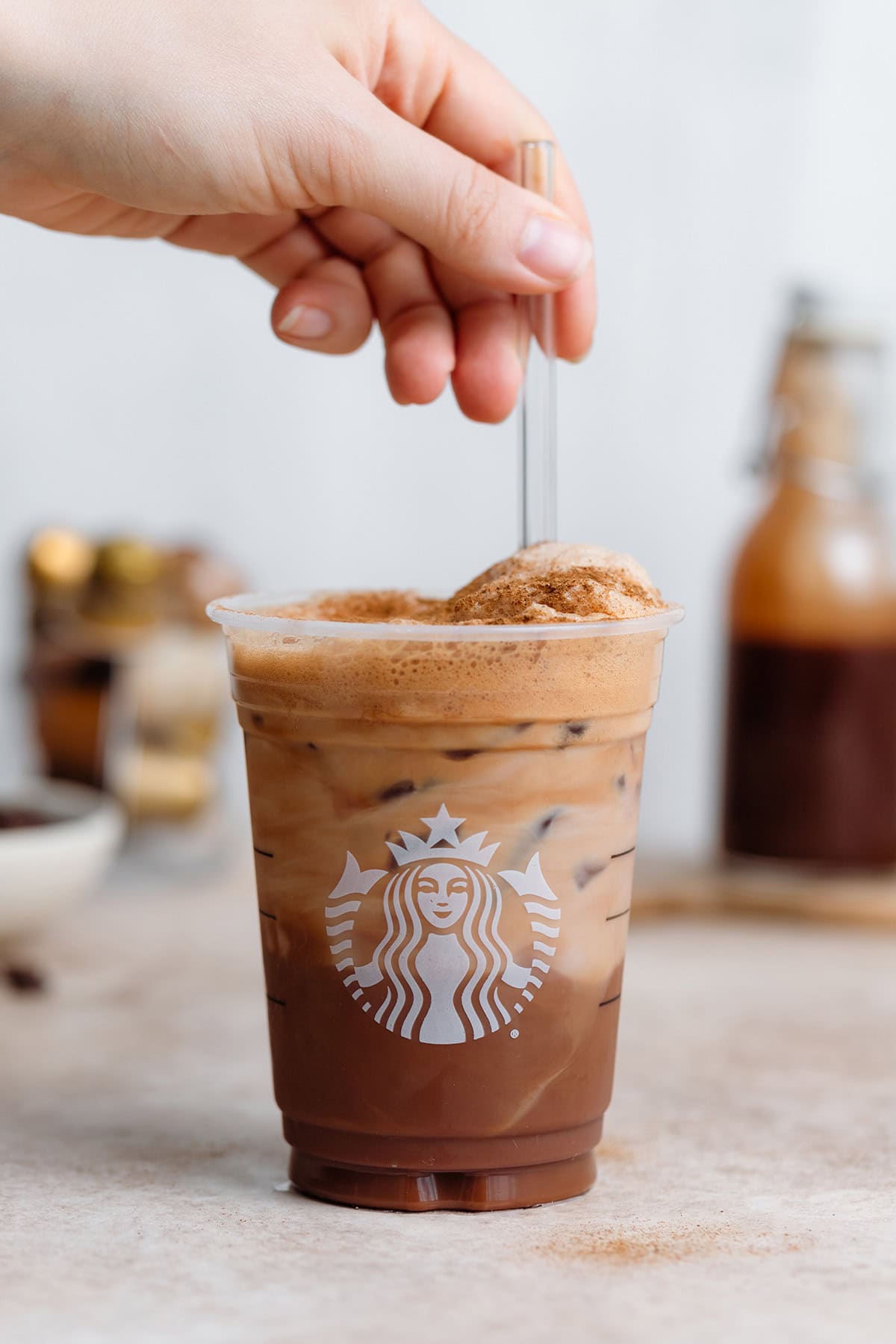 Ingredients
This drink is super easy to make and you only need a few simple ingredients. The cacao, cane sugar, and sea salt will be mixed with hot water to make the chocolate syrup.
Cacao powder - I prefer using cacao powder over cocoa powder because of its flavor and because it's raw and still has all the nutrients and vitamins intact. If you like the classic roasted flavor of Dutch-processed cocoa powder, use that one.
Sweetener - I like using cane sugar for this syrup because it only adds sweetness and no flavor but coconut or maple sugar also works great here, as does any liquid sweeter like maple syrup, honey, or agave that can be used in a 1:1 ratio to regular sugar.
Sea salt - I highly recommend using sea salt or Himalayan pink salt over regular table salt. They have all the minerals that table salt is stripped of. I add salt to the chocolate syrup to balance out the sweetness.
Malt powder - This is optional, I don't add any to my syrup but it's what Starbucks uses in this drink so add a couple of tablespoons into the syrup to make it just like Starbucks. Keep in mind though that malt powder contains dairy.
Espresso - I prefer using a medium roast for my lattes but use any coffee you like. If you want your drink to be exactly like Starbucks, you can use their coffee. I like the blonde roast espresso for my Nespresso machine.
Almond milk - The regular shaken espresso uses oat milk but this chocolate one is made with almond milk and it goes really well with the chocolate syrup in this drink. It doesn't need to be frothed so you can use any almond milk you like. I like using unsweetened almond milk to avoid unnecessary added sugar.
Cinnamon - This one is optional but I usually add a sprinkle of cinnamon right before serving on top or to the espresso before shaking so it mixes into the drink.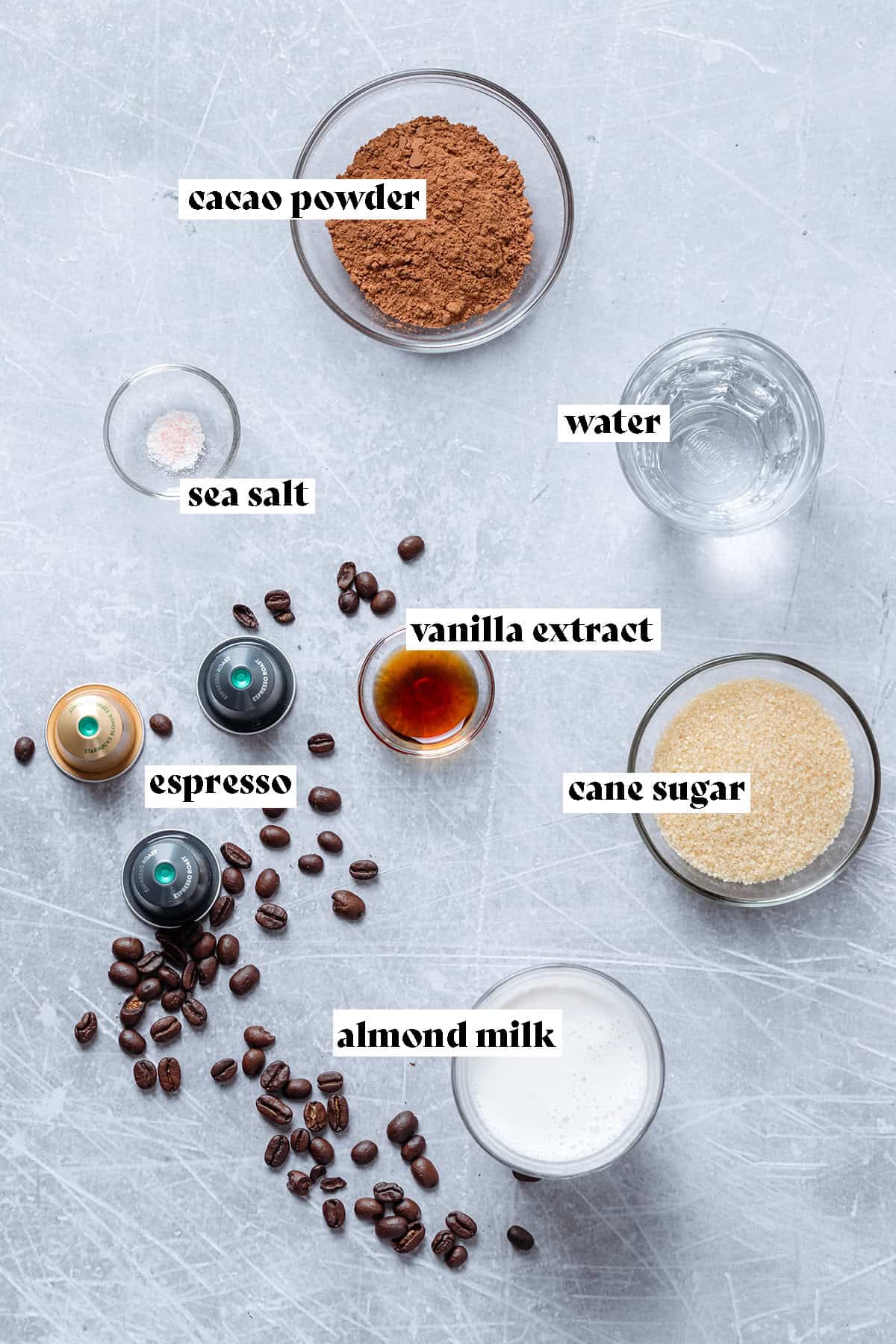 Step-by-Step Instructions
Chocolate Syrup
To make the syrup, add cacao powder, cane sugar, and sea salt to a mason jar. Pour boiling or hot water over it and use a handheld milk frother to mix everything together until the sugar melts.
You can mix it with a spoon or a whisk first to break up bigger clumps. There might be some clumps of cacao left after mixing but if you keep at it with the frother, you should be able to remove them. Using boiling water helps the cacao mix with the water better. You can also do this in the blender for smoother syrup but I like mixing it in the jar I'll store it to avoid having extra dishes to wash.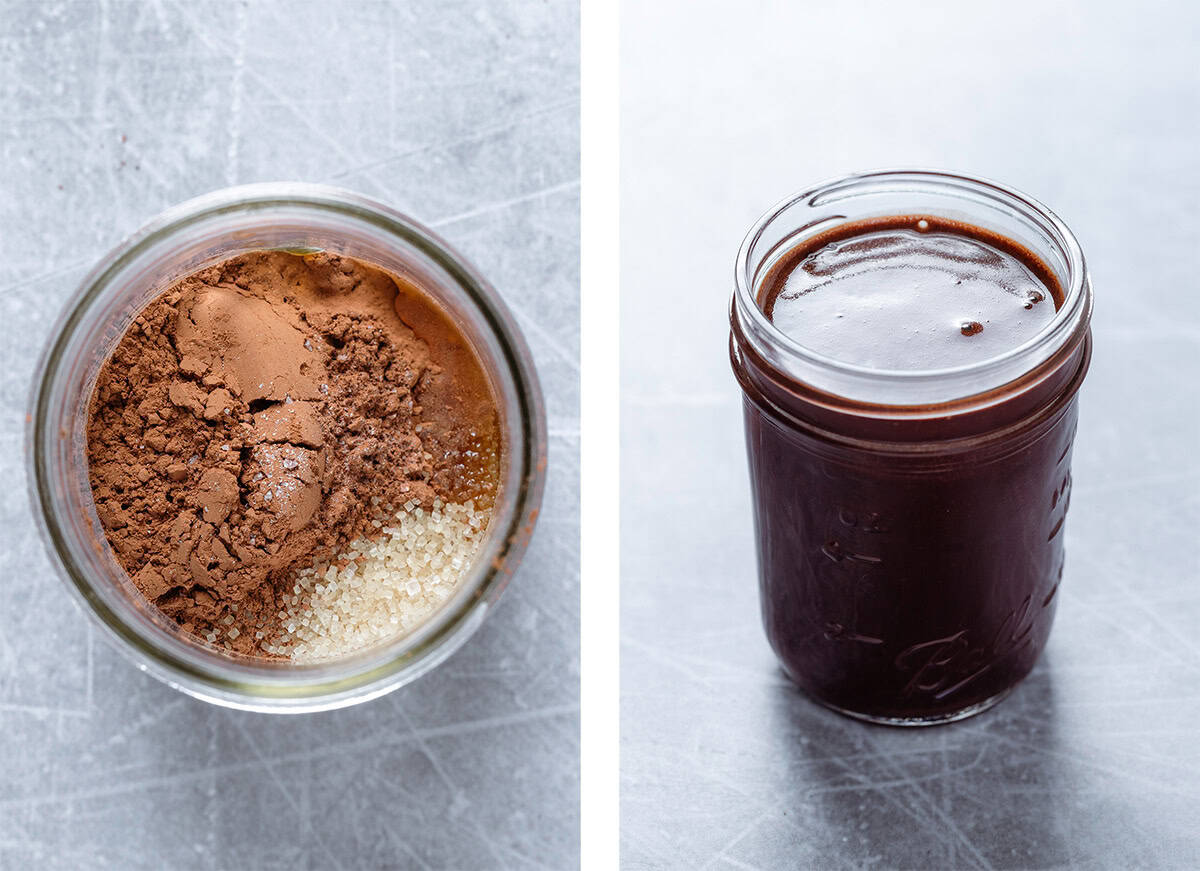 Chocolate Shaken Espresso
To make the chocolate shaken espresso, add your freshly brewed espresso to a tall mason jar and add about 1 heaping cup of ice.
Add chocolate syrup and close the jar with a lid. Shake vigorously for a few seconds until very cold and frothy.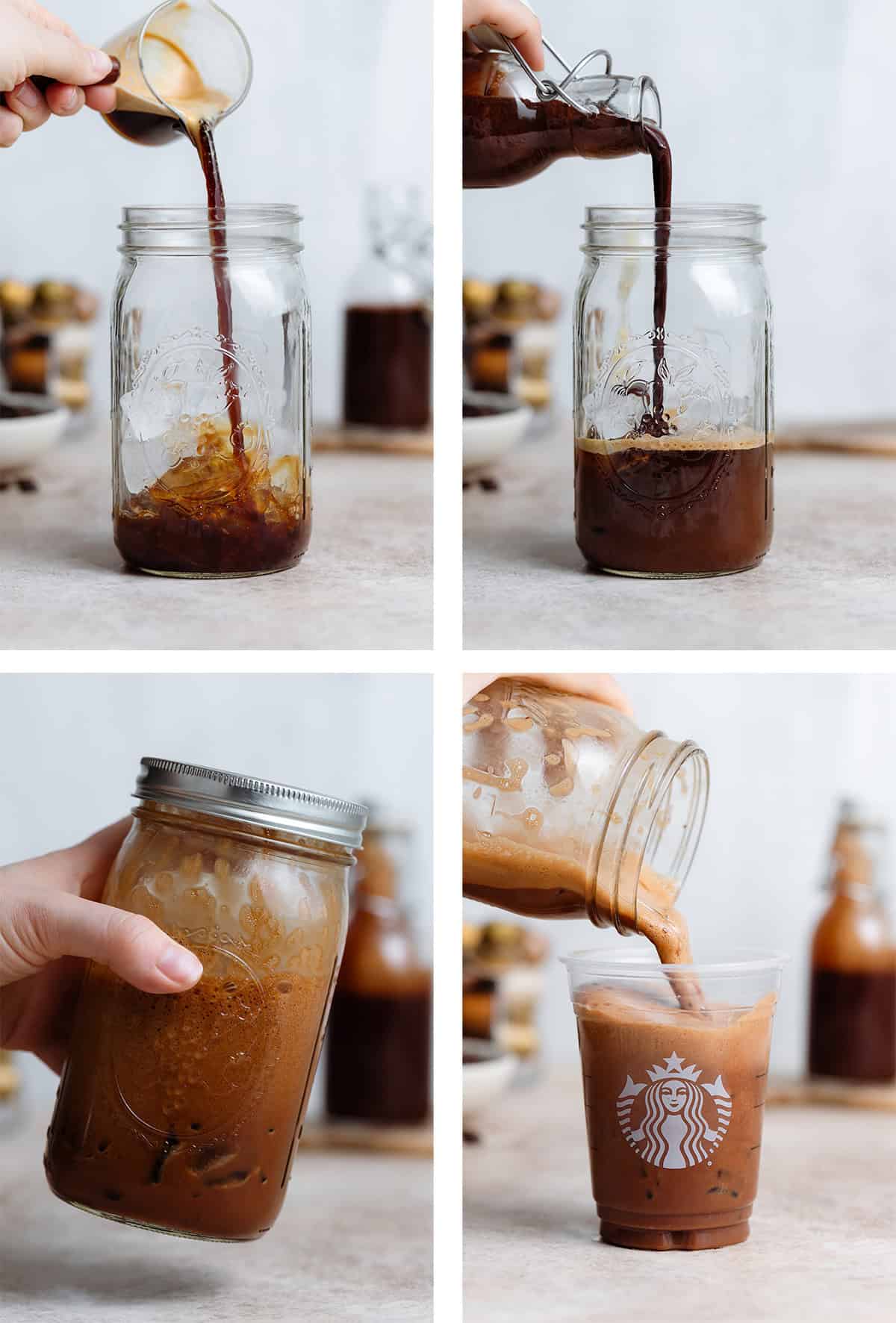 3. Pour the frothy espresso including the ice into a tall glass and add a splash of almond milk. I usually add ¼ - ½ cup of almond milk. You can also use creamer and add less.
4. Dusk with some cinnamon or cacao powder for serving if desired and enjoy!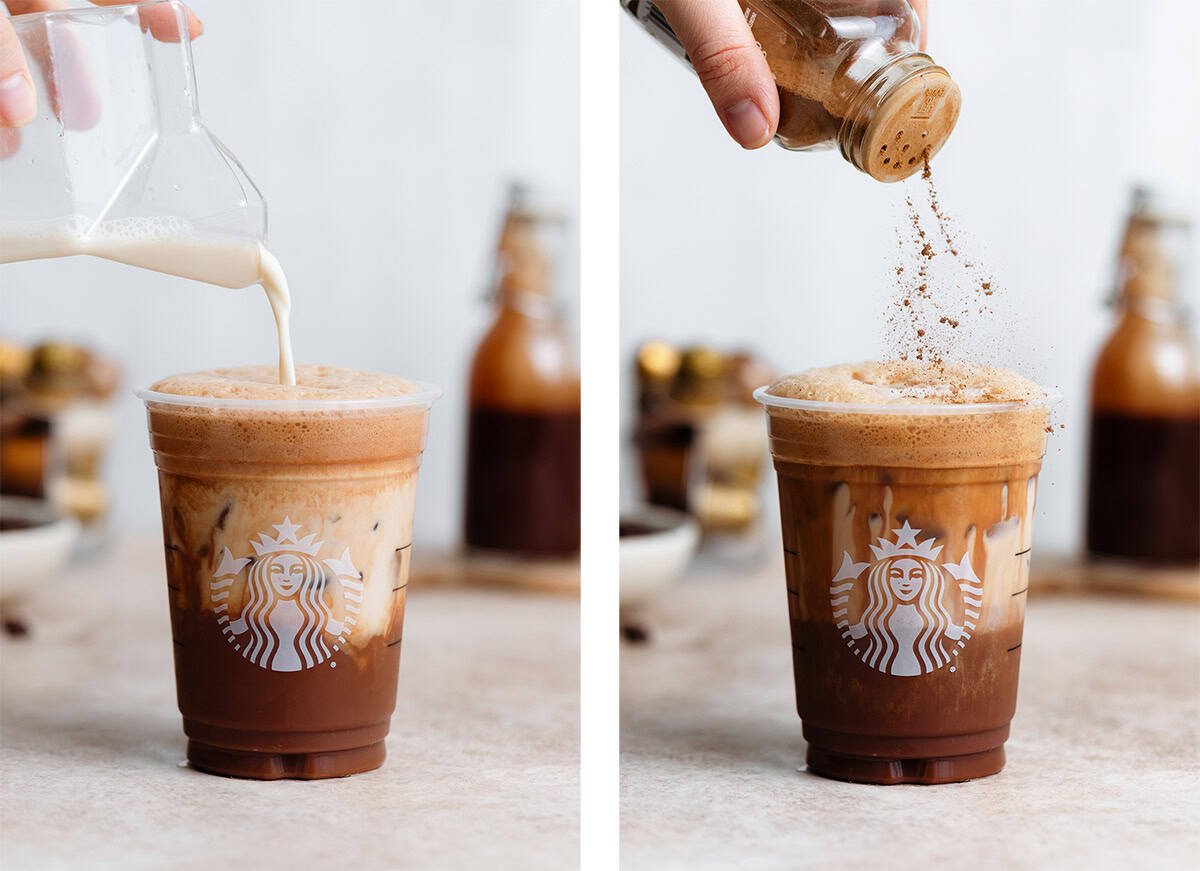 Storing
You can store the chocolate syrup in the fridge in an airtight jar for up to two weeks. The syrup might get thicker on the bottom as it sits in the fridge but it will still be good to use for two weeks with proper storage.
FAQs
Can I use cold brew?
Yes, you can totally use cold brew or regular drip coffee instead of espresso. You might have to adjust the amount though and add more because espresso is stronger and has more caffeine than regular coffee.
Can I use store-bought chocolate syrup?
You can definitely use store-bought syrup if you'd like to make things easier. I like making my own because I haven't found a syrup with a strong enough chocolate flavor but I really like Monin syrups so I'd probably go with those.
How do I make this drink decaf?
Yes, just use decaffeinated espresso instead of regular. Starbucks sells their own too, it just won't be the blonde roast one but a darker roast, the same as their regular espresso beans.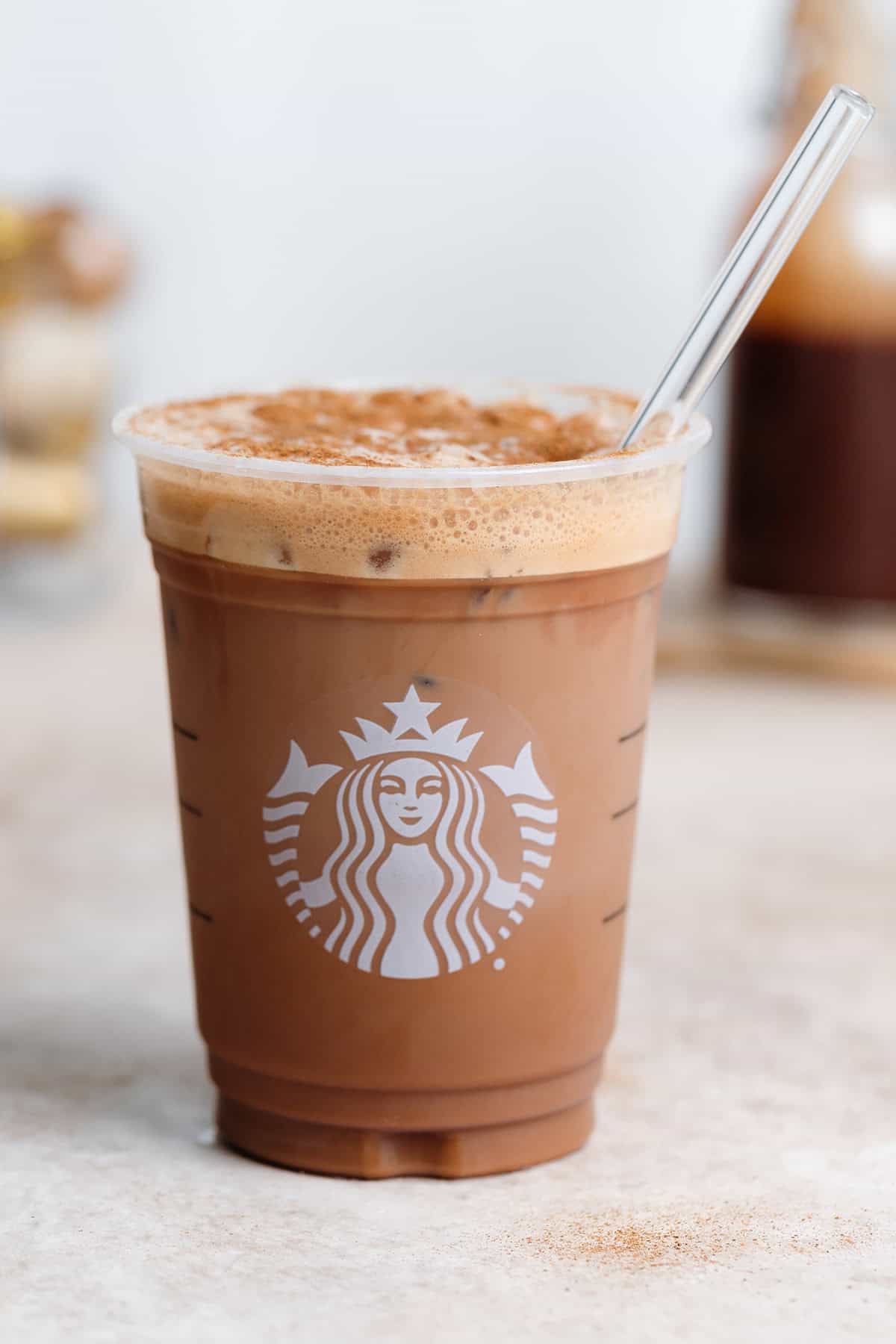 More Caffeinated Starbucks Drinks
Here are four of my favorite Starbucks drinks to have in the morning or as a pick-me-up in the afternoon. The first two are coffee drinks and the other two are made with matcha. I have a ton of other Starbucks-inspired drinks so if you want to see them all, definitely check out my Starbucks Drinks category!
Print
📖 Recipe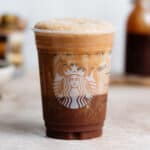 Iced Chocolate Almondmilk Shaken Espresso
Author:

Veronika | thehealthfulideas

Prep Time:

15 mins

Total Time:

15 minutes

Yield:

1

1

x

Category:

Drink

Method:

No cook

Cuisine:

American

Diet:

Vegan
---
Description
This Starbucks-inspired Chocolate shaken espresso is made with homemade chocolate syrup and almond milk. Easy, simple, and so delicious!
---
Chocolate syrup:
½ cup

cane sugar

½ cup

cacao powder

1 tbsp

malt powder (optional)

¼ tsp

sea salt

1 tbsp

vanilla extract

½ cup

hot water (or more as needed)
Shaken espresso:
1

-

2

cups ice

2

-

3

shots of espresso

1

-

3

tablespoon chocolate syrup (or more to taste)

¼

-

½

cup almond milk
Cinnamon (for serving)
---
Instructions
Chocolate syrup:
Add cane sugar, cacao powder, malt powder if using, sea salt, and vanilla extract to a heat proof jar or cup (I like to make it in the same jar I'll store it in).
In a small saucepan bring the water almost to a boil over high heat. Pour hot water over the mixture. Use a handheld milk frother to blend everything together fully. You can also use a small whisk or a spoon but there might be lumps of cacao.
Store in an airtight jar in the fridge for up to 2 weeks.
Shaken espresso:
Add ice, espresso and chocolate syrup to a large mason jar. Close with a lid and shake vigorously for a few seconds until very frothy.
Pour into a tall glass and top up with a good splash of almond milk.
Dust with cinnamon if desired and enjoy!
---
Notes
Espresso: I always make my shaken espresso at home with only 2 shots of espresso, though sometimes I get a ristretto shot too. If you want to make yours the exact same as Starbucks, a tall cup has 2 shots, grande has 3, and venti has 4. Add less or more of the syrup accordingly. This only applies to shaken espresso drinks. Regular lattes have one less shot for each cup.
Chocolate syrup: Store in an airtight jar in the fridge for up to 2 weeks.
Keywords: chocolate syrup, starbucks shaken espresso