Meet the best Homemade Hazelnut Spread aka Vegan Nutella. This healthy Nutella-like spread is refined sugar-free and oil-free. Ready in just 30 minutes! Sweetened with coconut sugar.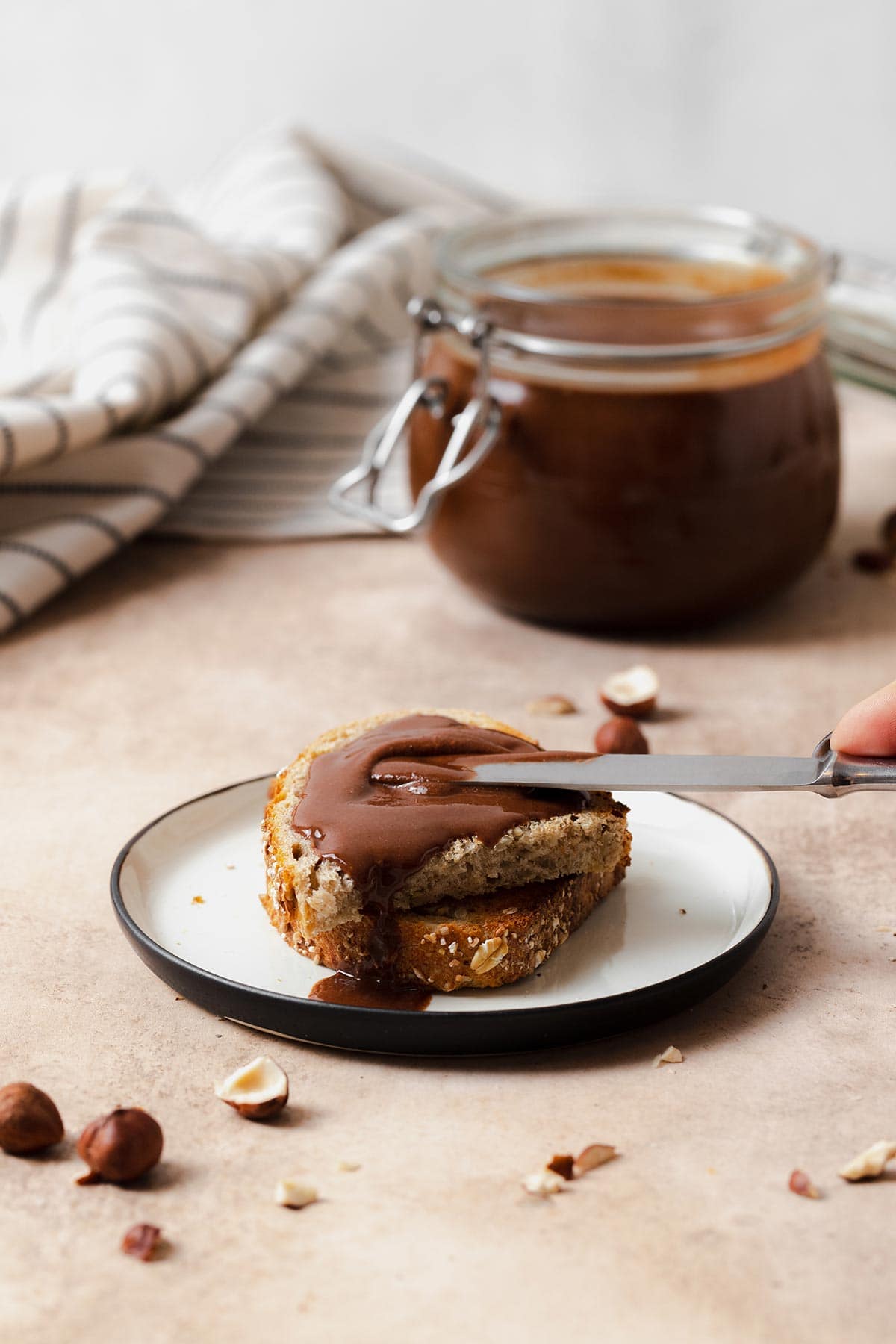 I'm so excited to be updating this recipe from a few years ago! It's one of the easiest recipes ever and my absolute favorite!
Why? Because this healthy Nutella is truly the best nut butter ever (at least in my book)!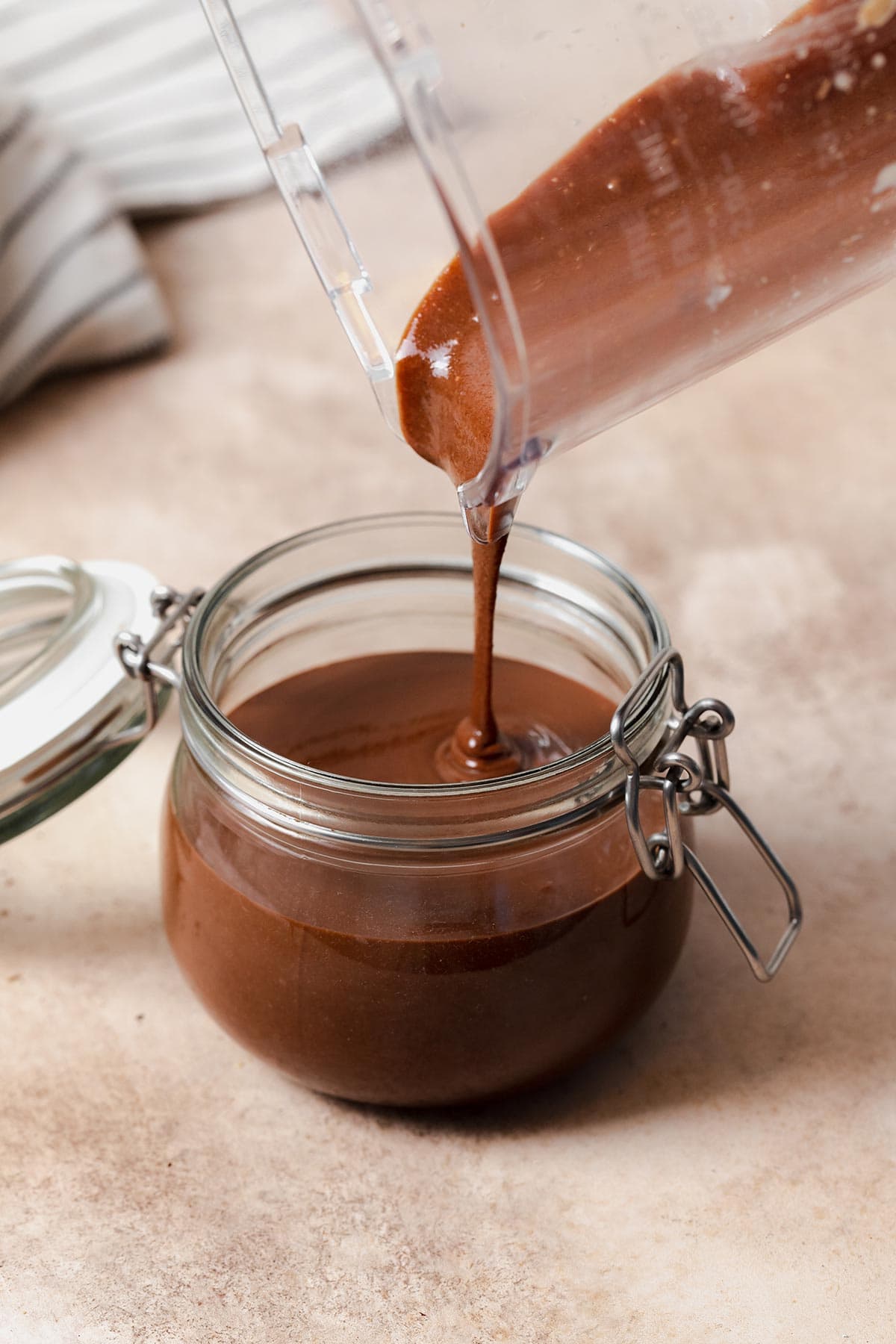 If you've never made your own nut butter at home, let this chocolatey goodness be the first one, I promise you'll love it!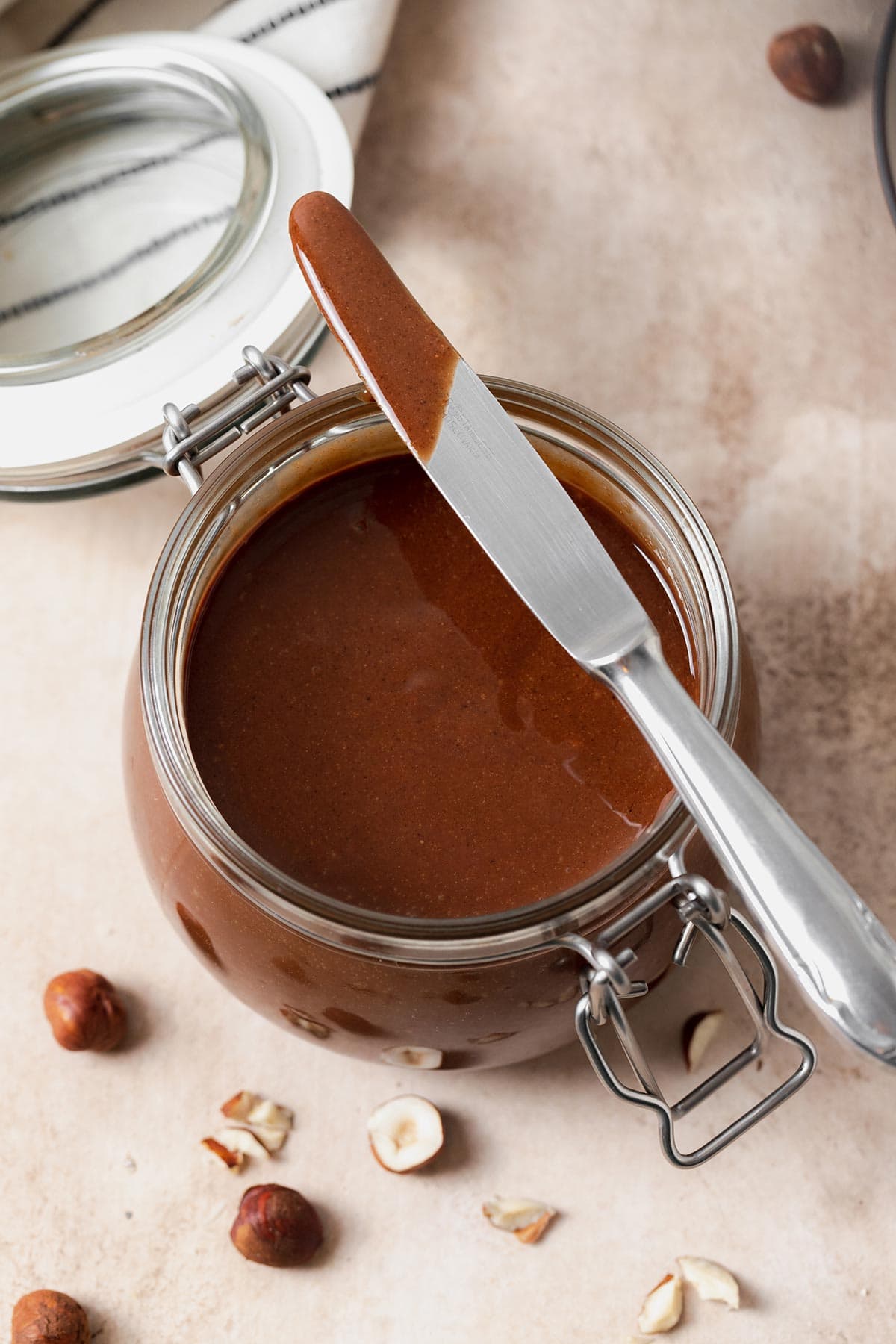 5 reasons you'll love this healthy chocolate spread:
You know exactly what goes into it. You regulate how much sugar goes in so it's perfect for your taste!
It has way less sugar than regular Nutella which makes this spread much healthier.
The hazelnut content is much higher than regular Nutella which is mostly sugar.
There are so many ways to enjoy homemade nutella: spread on toast, as a dip, in oatmeal, smoothies, milkshakes, ice cream, hot chocolate, baked goods, cakes, etc.
It makes a great present! Edible gifts are always fun. Pour into smaller jars, add some labels and pretty ribbon and you're done!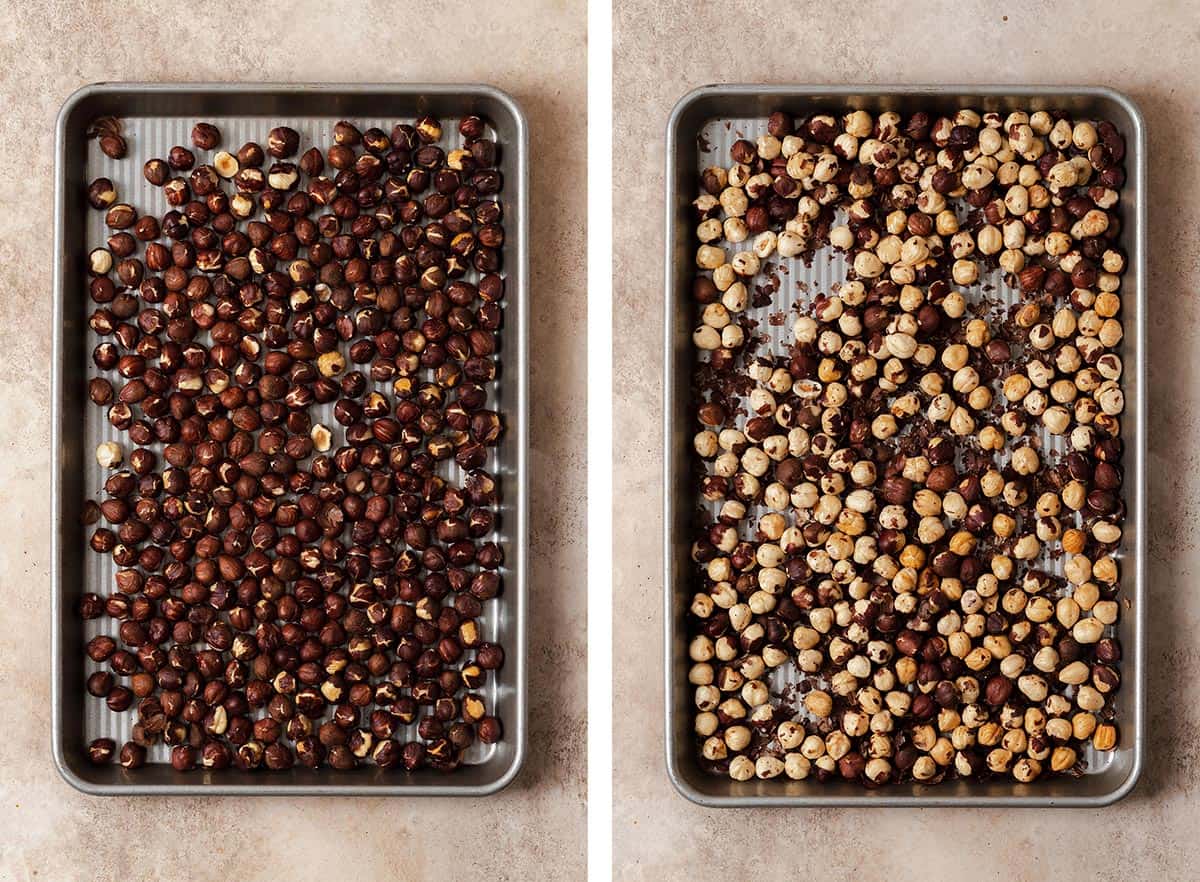 Ingredients you need:
You only need 4 ingredients for this healthy hazelnut spread.
raw hazelnuts - the star of the show
coconut sugar - or any other dry sweetener of choice
raw cacao powder - I choose raw cacao for its nutrients and because I like the taste better but you can you cocoa powder if you'd like
sea salt - to balance out the sweetness
vanilla extract - optional, for extra flavor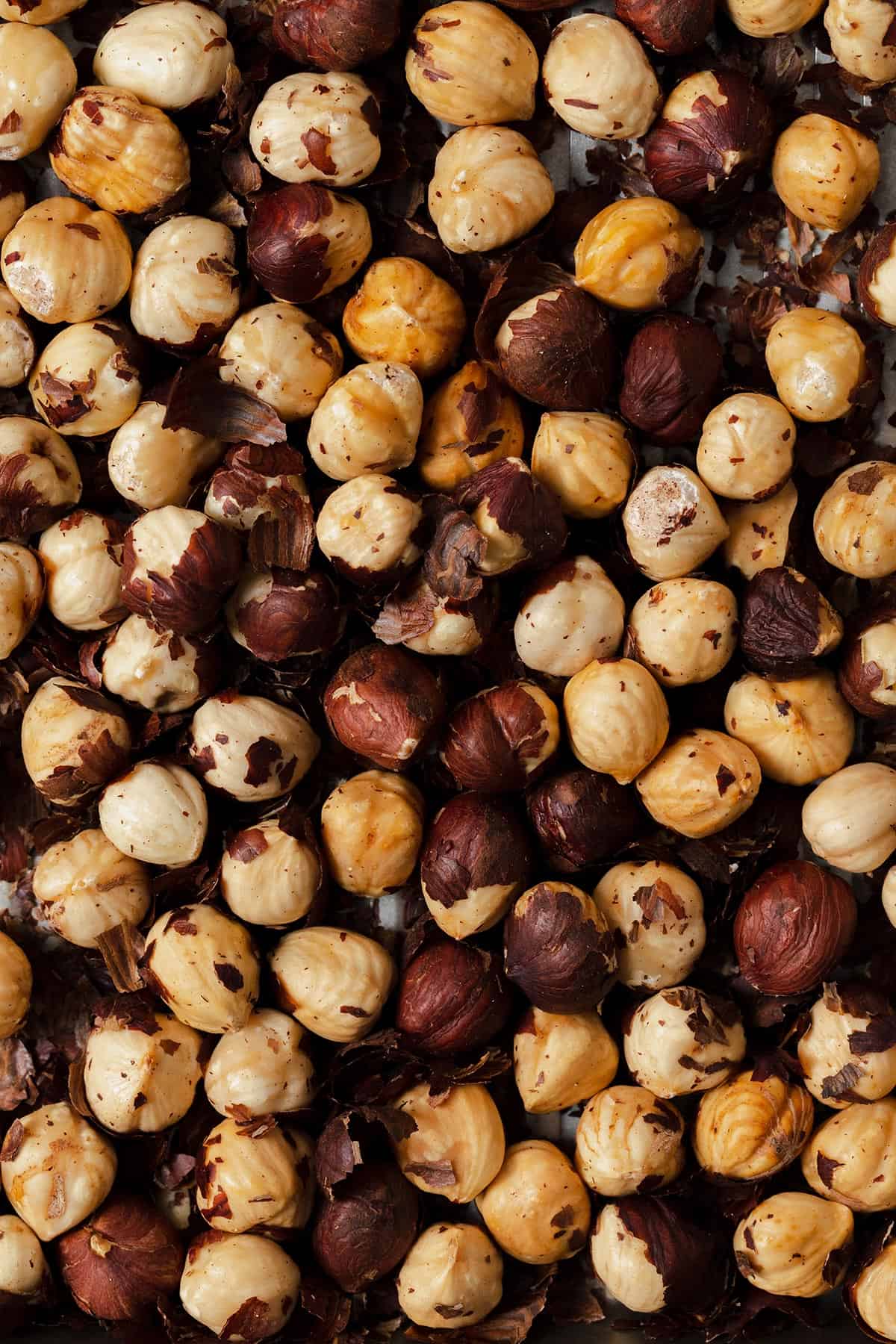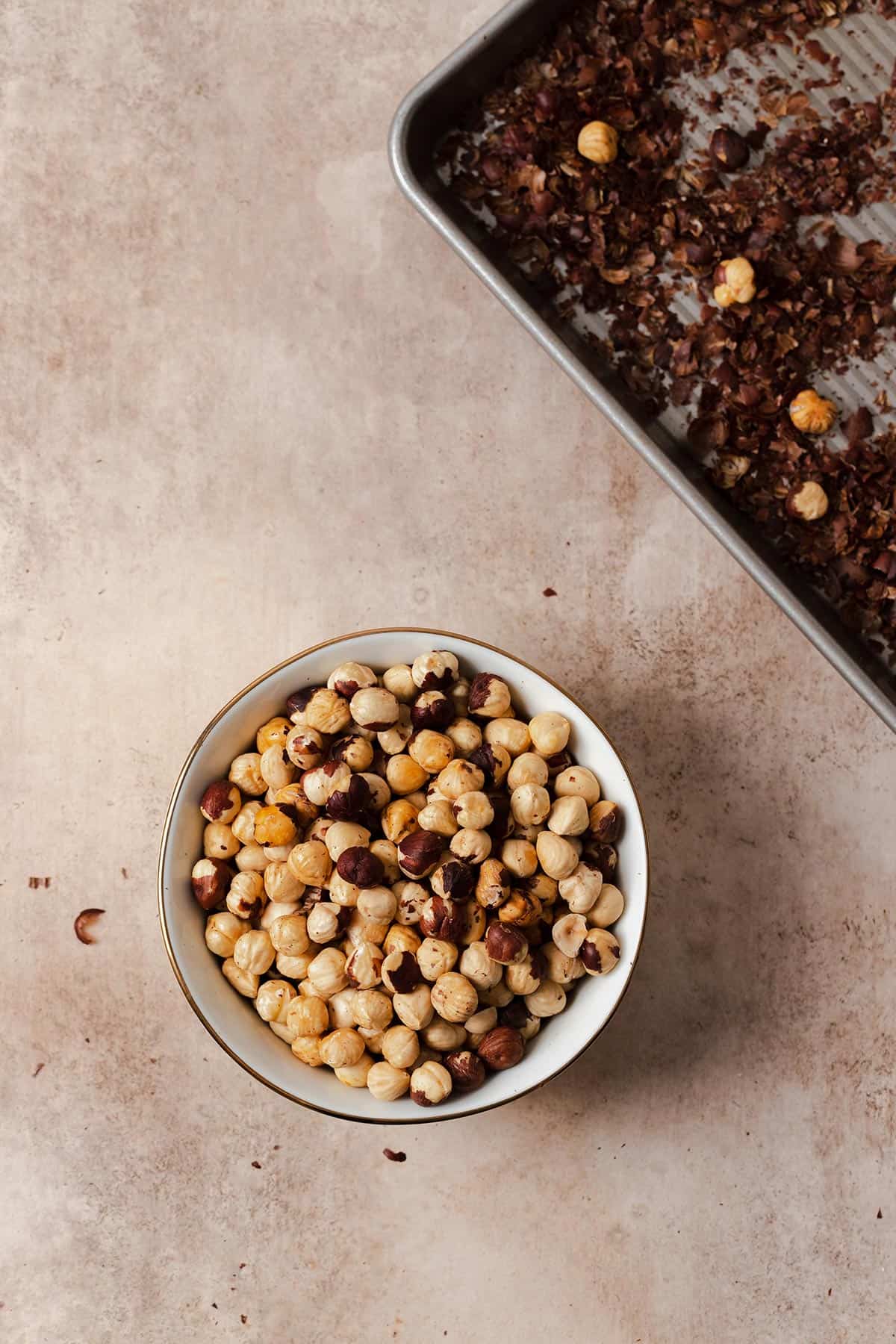 How to make vegan Nutella from scratch?
It's super easy. All you need is a baking sheet and a food processor or an upright high-speed blender. (Learn how to make it with no tools at the end of the post!)
First, you roast the hazelnuts and remove the skins. This is necessary to make the spread smoother and less bitter.
Then you process or blend the hazelnuts until they liquefy (see photos). This should only take a few minutes but it does depend on the strength of your blender or food processor. You might need to scrape the sides a couple of times.
Lastly, add the coconut sugar, cacao powder, sea salt, and vanilla. Blend again and you're done!
At this point you can taste it and add more cacao or sugar if needed.
Pour into a jar, let the Nutella cool (with the lid off) at room temperature, then store in the fridge for 2-3 weeks.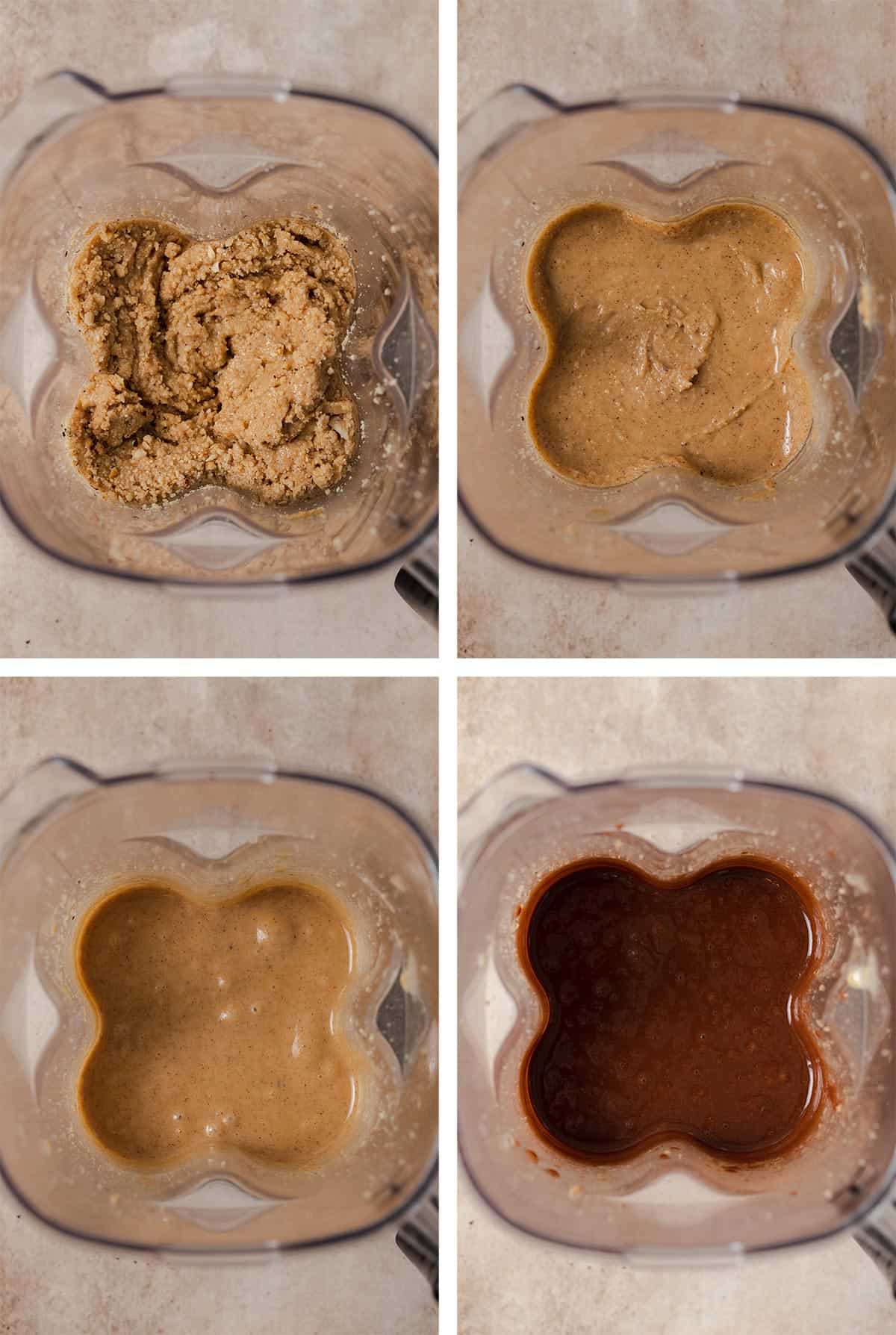 Nutella Q&A:
Why is store-bought Nutella so bad for you?
It contains way more sugar than anyone should consume and too much palm oil. If you google what Nutella is made of, you'll discover it's mostly white sugar and oil with a few hazelnuts and cacao. No, thank you!
What's a healthy Nutella alternative?
This recipe! Blend roasted nuts with cacao and sugar, and some salt and you've made yourself a homemade vegan version of the famous hazelnut spread.
Is homemade Nutella healthy?
It is definitely healthier than the original store-bought version but that doesn't mean you should be eating spoonfuls of it every day. It has less sugar than Nutella but still contains coconut sugar which is still sugar. Hazelnuts are a high calory food but nuts contain lots of healthy fats so if it wasn't for the sugar, homemade Nutella would be healthy.
How to make Nutella without a blender/food processor?
You can skip the hazelnut roasting and blending, and buy hazelnut butter instead. Make sure to get 100% hazelnut butter with no additives. When you're ready to make it, just add the hazelnut butter, coconut sugar, and sea salt to a big bowl and stir until it's all well combined.
Tip: add 1-2 tablespoon melted coconut oil to help it all to come together. Make sure your hazelnut butter isn't cold or the oil will solidify. You can sift the cacao powder to avoid clumps too.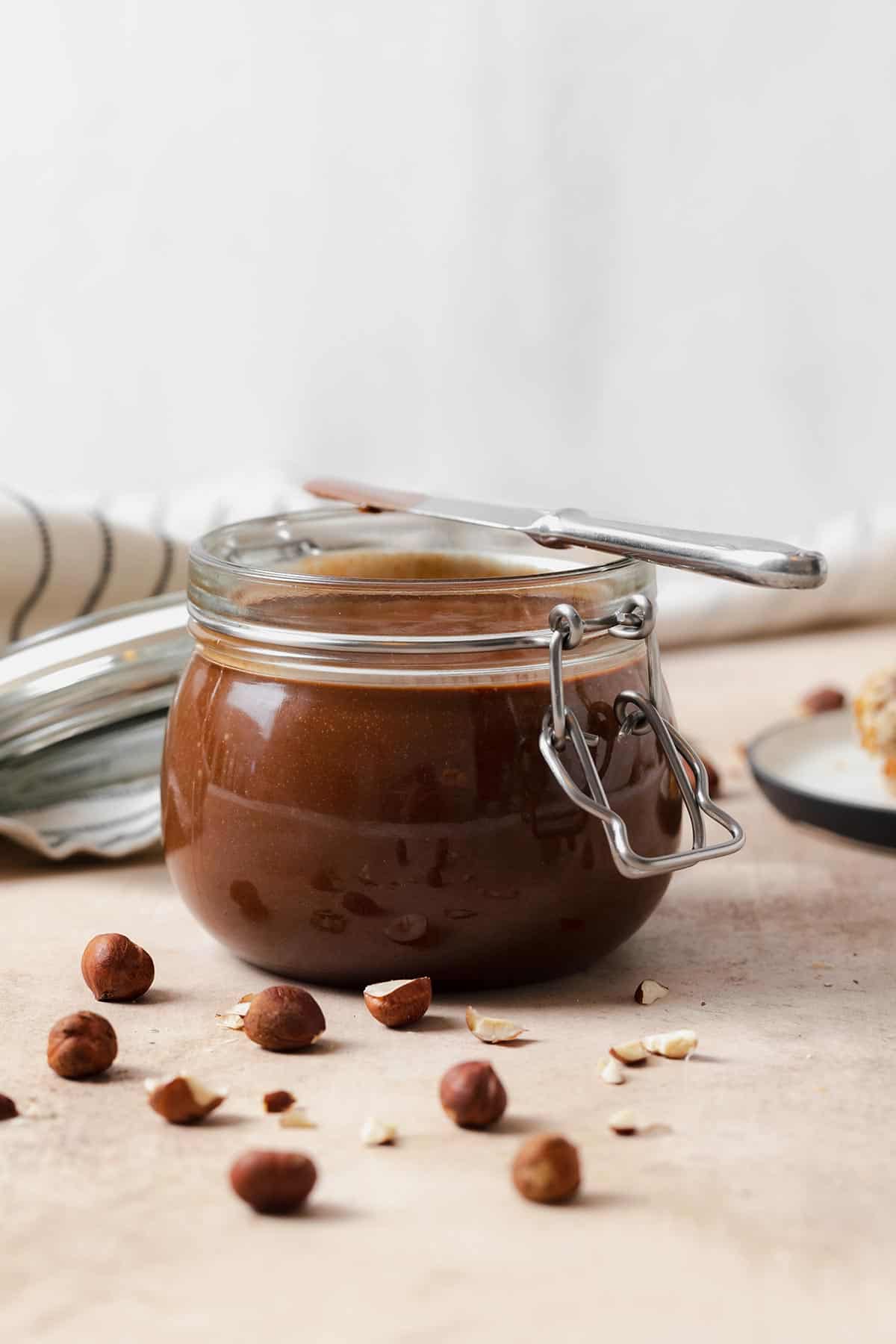 More homemade nut spread recipes: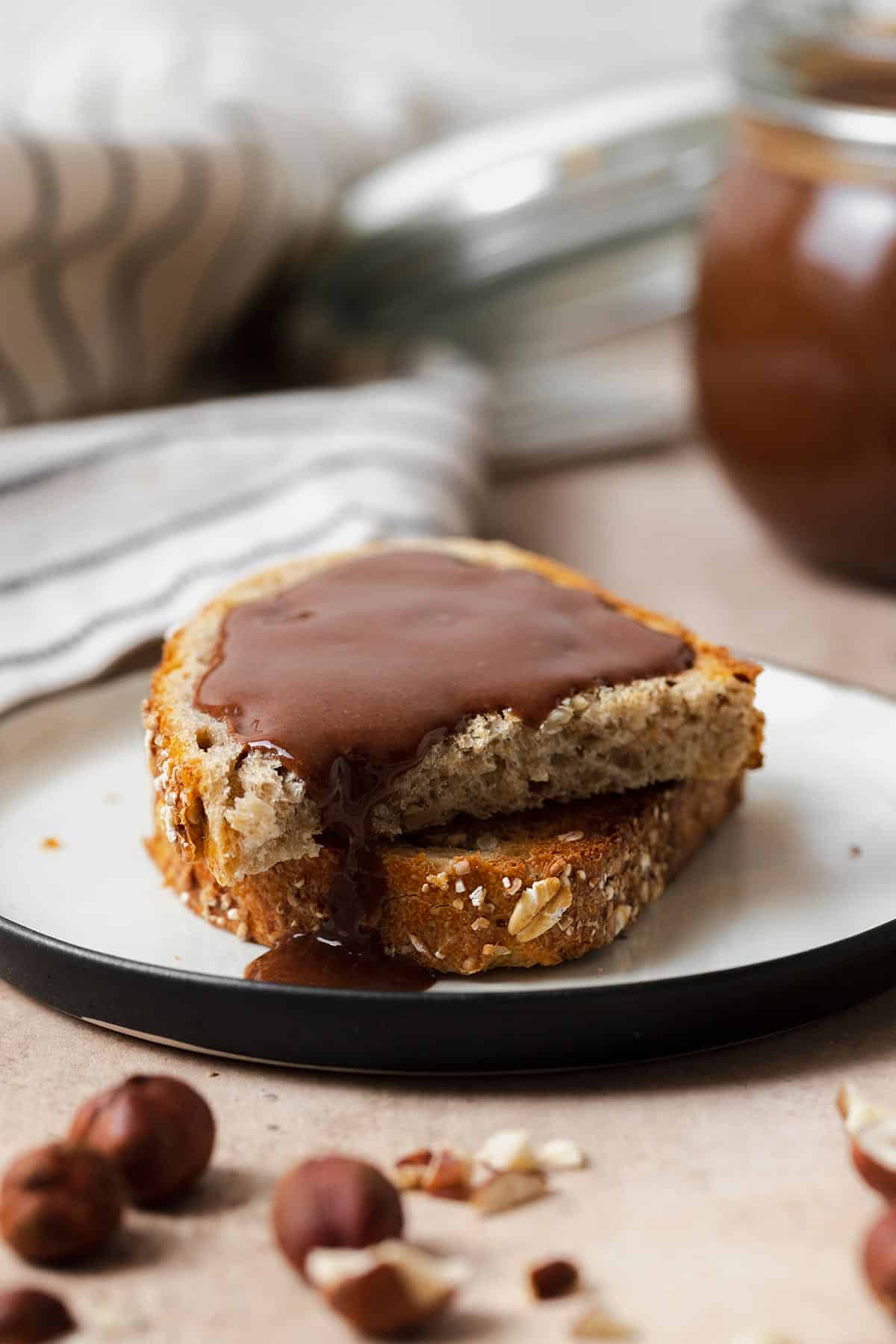 Print
📖 Recipe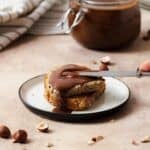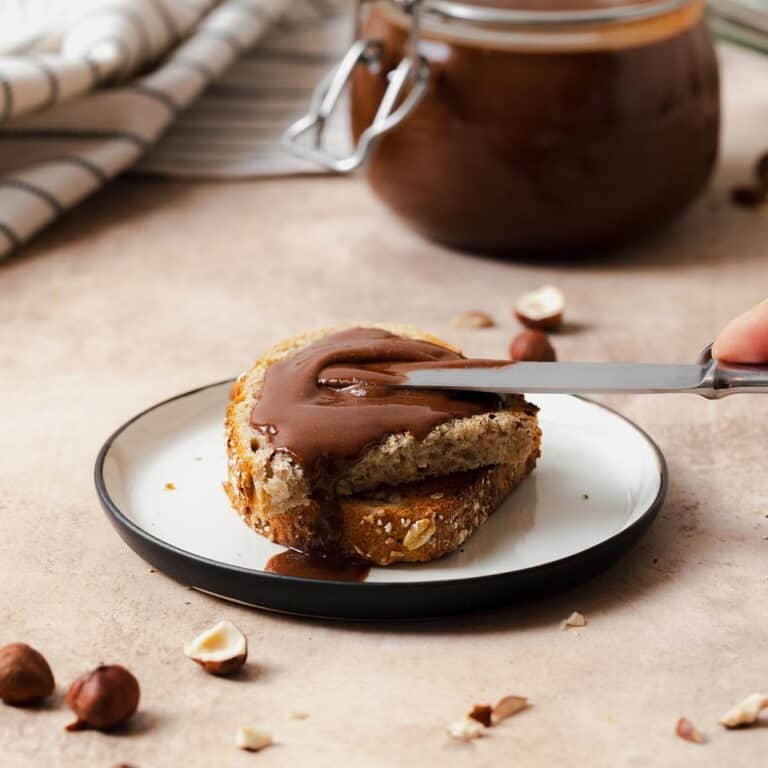 Homemade Healthy Nutella (vegan)
Author:

The Healthful Ideas

Prep Time:

15 mins

Cook Time:

15 mins

Total Time:

30 mins

Yield:

1 ½ cup

1

x

Category:

Spread

Method:

Roasting

Cuisine:

American

Diet:

Vegan
---
Description
Delicious creamy vegan Nutella-like spread made with coconut sugar.
---
3 cups

raw hazelnuts

¼

-

½

cup coconut sugar*

¼ tsp

sea salt

⅓ cup

raw cacao powder (or sub cocoa powder)
---
Instructions
Preheat your oven to 175C/350F.
Spread the raw hazelnuts on a large baking sheet.
Roast for 15-20 minutes or until slightly golden and the skin comes off of the hazelnuts easily. Cool completely.
Rub the hazelnuts with your hands or using a paper towel to remove most of the skins off the hazelnuts. It's fine if you can't get all of them.
Add the hazelnuts into the food processor or a high-speed blender** and blend for a few minutes until you get a smooth creamy spread. You might have to scrape the sides of your food processor or use the stick to push the nuts down to the blades of your blender to help it blend.
Add the coconut sugar (start with ¼ cup and add more later if needed), sea salt, and cacao powder, and process until smooth.
Taste and add more cacao or sugar to taste.
Pour into a glass jar and store in the fridge. Wait for the spread to cool down before closing the jar and placing it in the fridge.
It will last for 2-3 weeks in the refrigerator.
---
Notes
* If you don't have coconut sugar, you can use date sugar, maple sugar, or regular cane sugar. Any dry sweetener works but do not add liquid sweeteners. They will make the spread too thick and sticky.
** Do not use a Nutribullet or any other upside down blender, it won't work. You need to be able to push it down to the blades or scrape the sides.
The spread will heat up as you blend it and that's ok, just wait for it to cool down before storing it in the fridge.
Keywords: nutella, spread, hazelnut, vegan