You won't believe how easy this Cilantro Lime Rice is to make! You only need 4 simple ingredients and the result tastes just like your favorite rice at Chipotle. Serve it as a side or as a component in your homemade burrito bowl!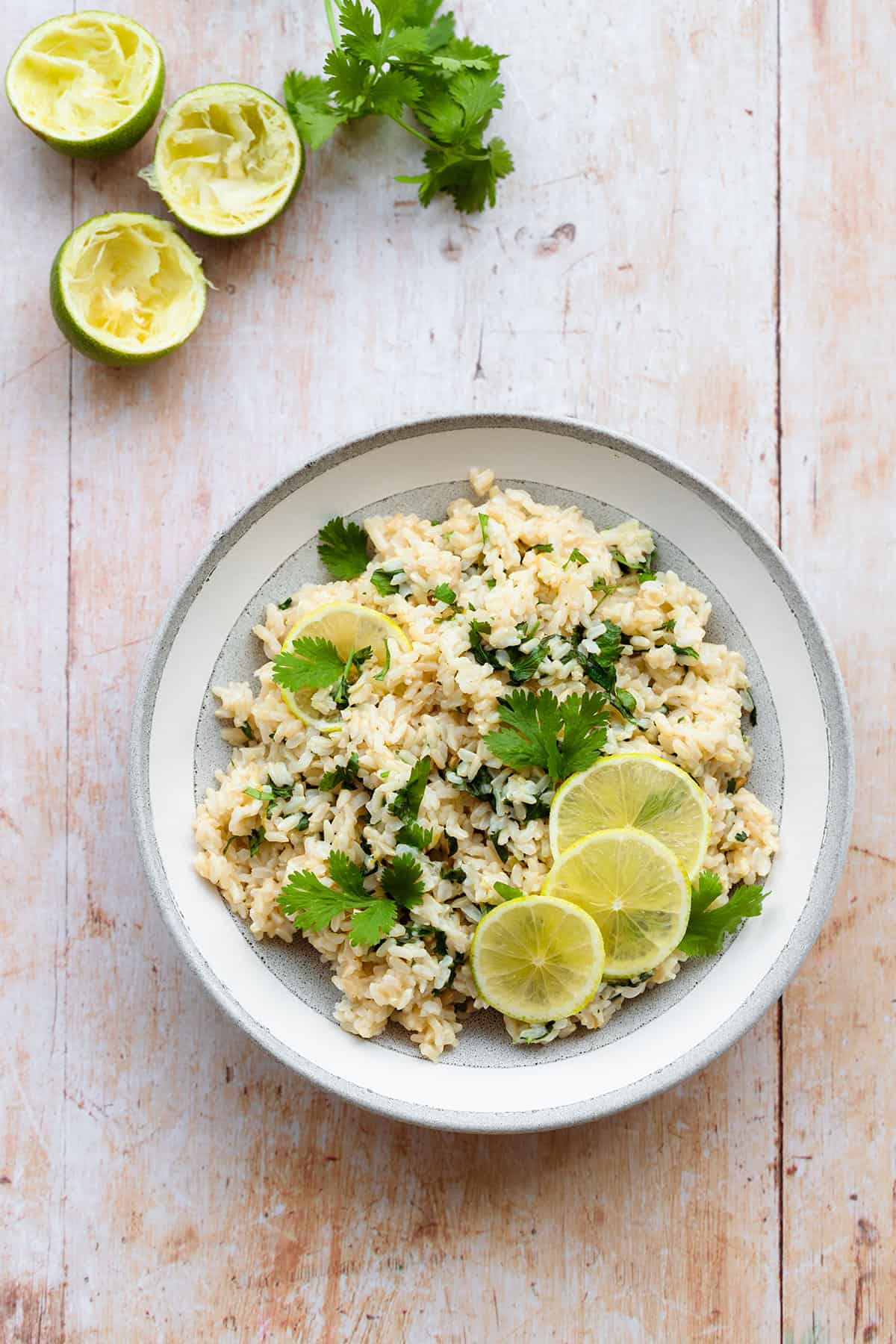 Jump to:
Why This Recipe Works
If you're like me, you're obsessed with the burrito bowls at Chipotle. Whether it's the white or the brown rice, it's such a delicious simple base to any burrito, bowl, or salad.
Adding various spices, herbs, and fresh citrus to rice makes it so much more flavorful than it would be if you served it plain. I don't ever want to go back to plain rice! Even if you're not a fan of cilantro, this is a great base recipe to follow. You can add any of your favorite herbs or seasonings! Rice is a great side to cook as part of your meal prep for the week.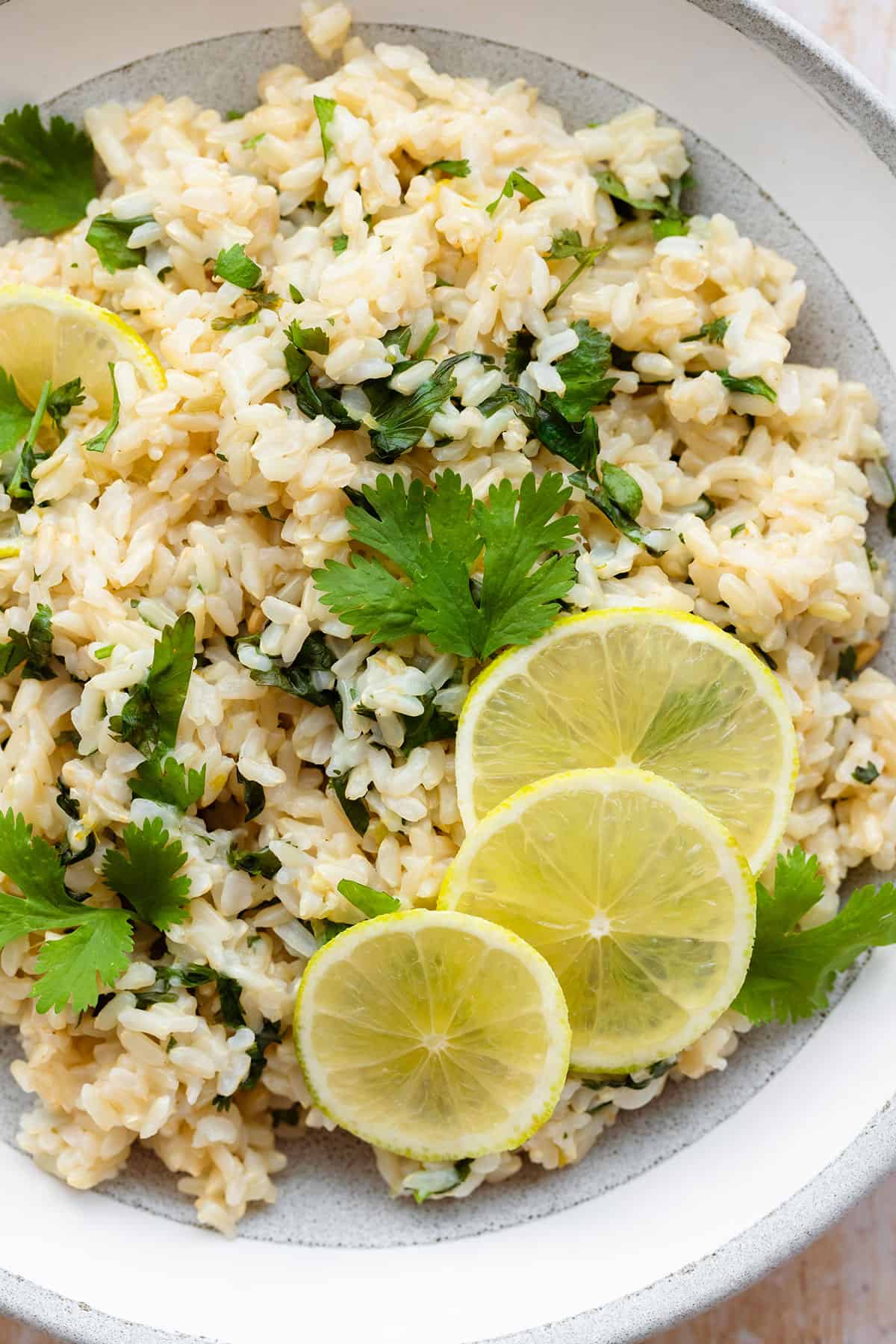 Ingredients and Substitutions
Rice - I used brown rice for this recipe but it's equally delicious with white rice. White rice actually takes less time to cook so if you're in a time crunch, it's a great option.
Bay Leaf - This is optional. I've made it with and without bay leaf and it's delicious either way. Chipotle adds it to their steamed cilantro lime rice so I'm adding it to the ingredient list. It adds a great layer of flavor if you can use it.
Cilantro - If you're here, I'll assume you like cilantro but just in case you don't, parsley or chives would be great substitutes!
Lime - The recipe uses both the juice and the zest. The zest gives the rice so much more flavor and I highly recommend adding it. Use organic lime whenever possible if you're using the zest.
What's the difference between white and brown rice?
Brown rice is a whole grain. It has all three parts still intact - the bran, endosperm, and germ. White rice only has the endosperm. Because of this, brown rice is more nutritious. It has more minerals, more fiber, and slightly more protein. It will taste more earthy and some people might not like the taste. White rice is still a good grain, use whichever you like more!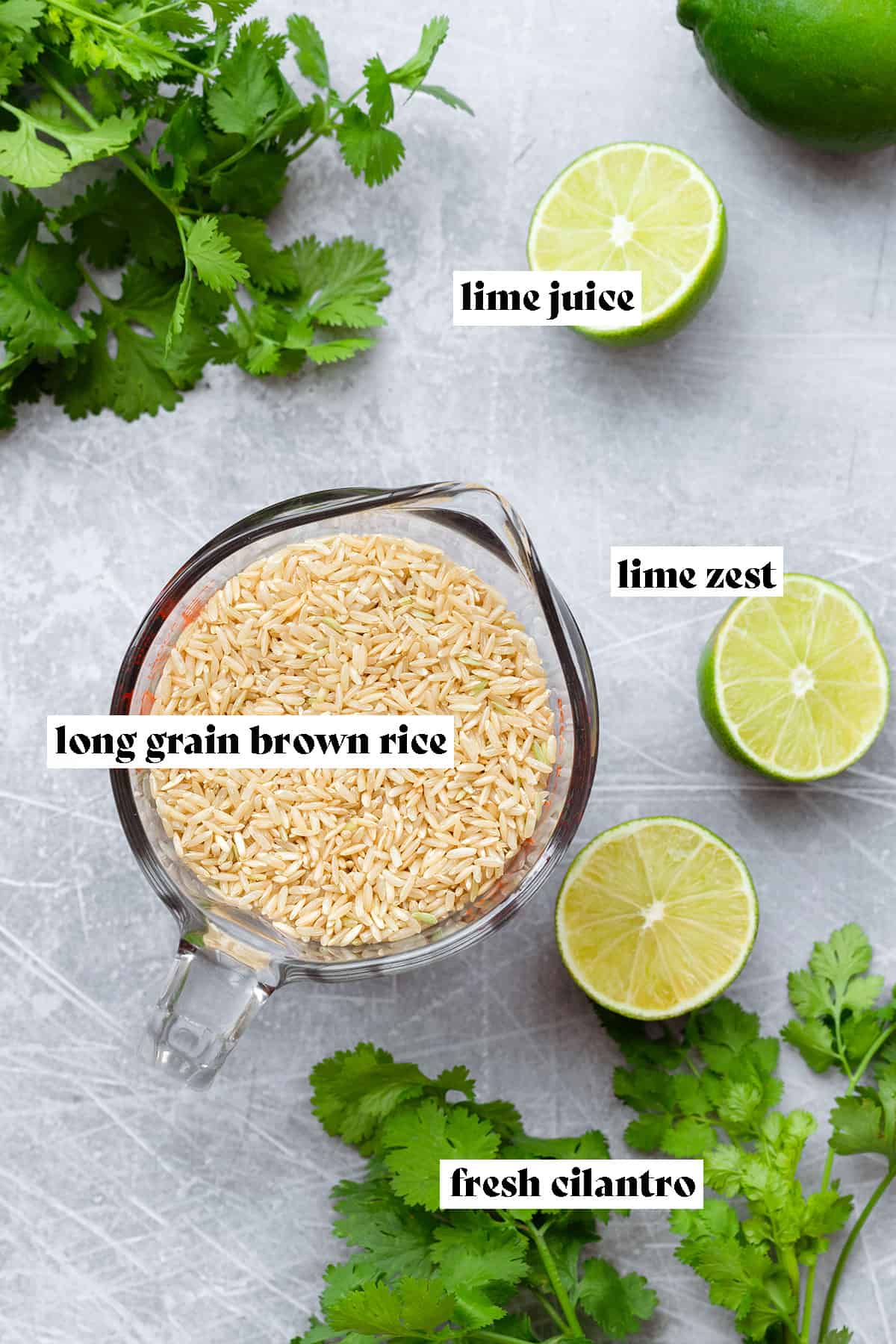 How to Make It
Prep all your ingredients before you start cooking - chop the cilantro, grate the zest of the lime, and juice it. Rinse your rice extra well. This step gets rid of the starch and prevents it from sticking too much after cooking.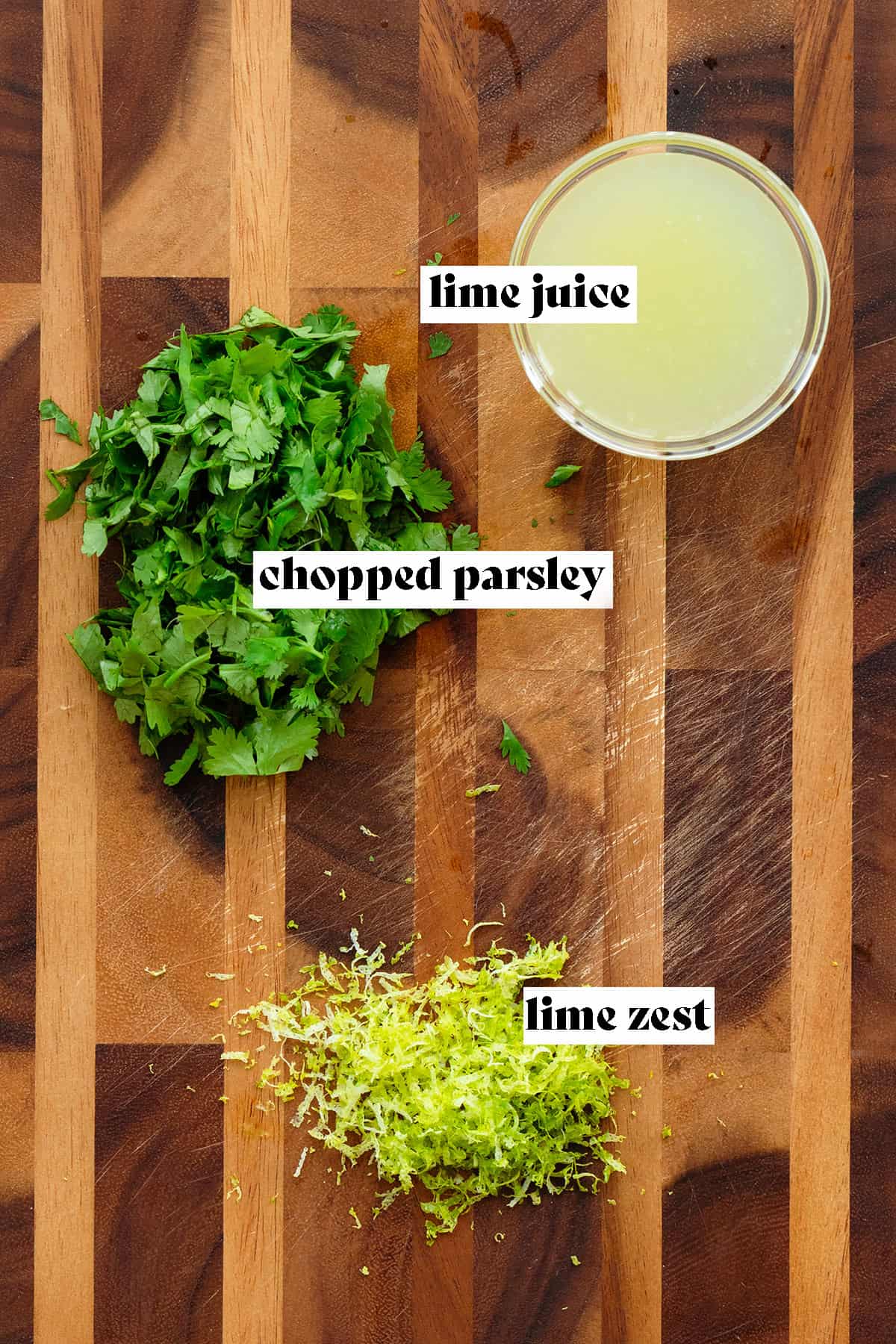 Add your rice to a pot with water and salt, bring to a boil, cover, and cook for 30-40 minutes. Add more water as necessary but try not to remove the lid too often. This is cooking time for brown rice, if you're using white rice, it will take less time. Refer to the package instructions. Only it's done, take it off the heat and let it steam for 5-10 more minutes.
Uncover the rice and fluff with a fork. Add the lime zest and juice, and the chopped cilantro. Gently toss everything together and add more lime juice, cilantro, or salt to taste.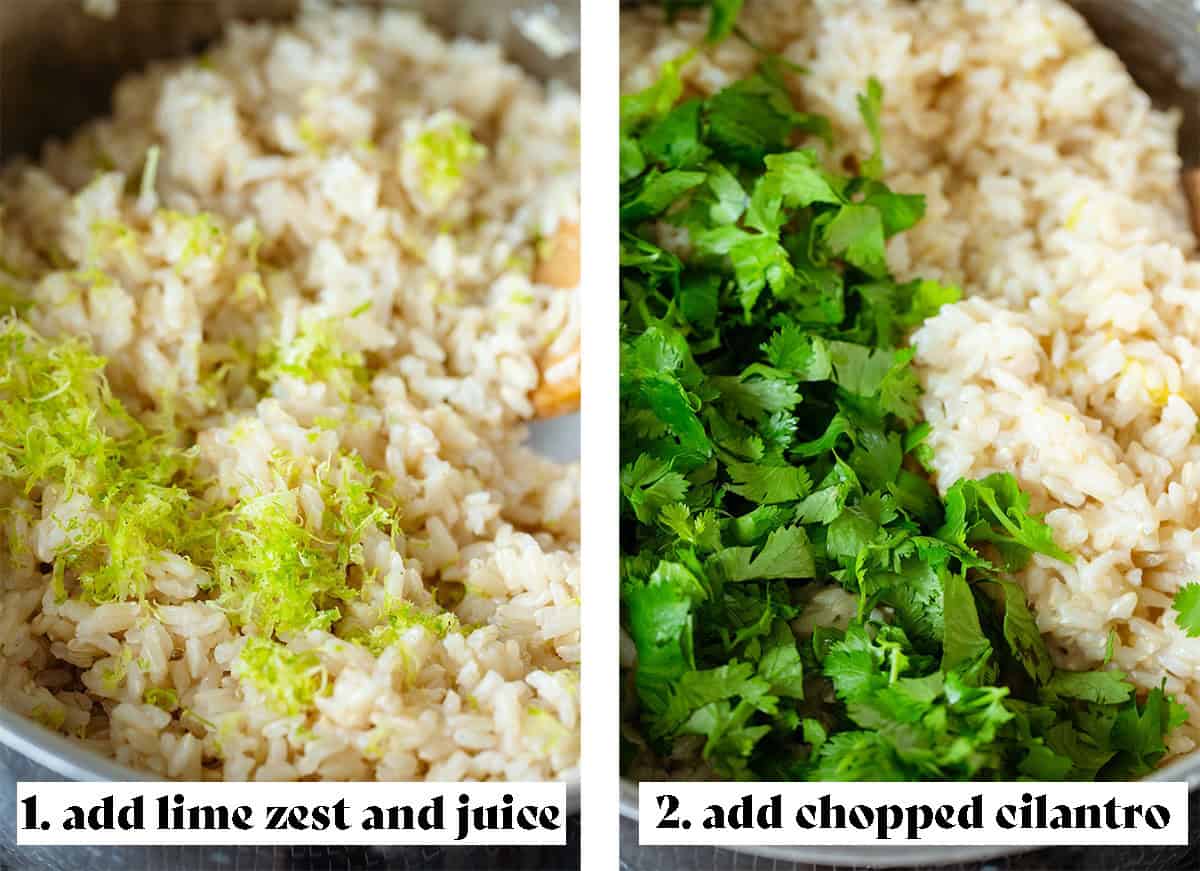 Serving
There are a lot of ways you can serve this rice but here are a few of my favorites:
Use it in burritos or burrito bowls - Think of your favorite Chipotle burrito bowl ingredients and top it with those - beans, protein, veggies, tomato salsa, corn salsa, sour cream, guacamole, and lettuce.
Add it to salads - I really like it in this Charred Corn Zucchini Salad or this Black Rice Salad Bowl with Tahini Dressing (instead of black rice). It'd also be great in place of the quinoa in this Quinoa Salad with Pomegranate and Lemon Dressing.
Serve with protein - Add this rice to your favorite meal in place of regular rice, quinoa, or any other grain. It's great with roasted tofu, veggies, salmon, or any other fish. I like to serve it with chili roasted bell peppers, guacamole, and sauteed vegan sausages.
Storing
Serve the rice right away while it's still hot or let it cool down and store in the fridge for up to 3 days to use it cold in salads. You can reheat it by adding it to a pot with a splash of water so it doesn't stick.
It's best to transfer any leftover rice to the fridge within 2-3 hours after cooking it. It doesn't do well at room temperature and it could easily go bad. Honestly, I never knew this until recently and nothing bad has ever happened to me when I left it out longer but hey, better safe than sorry, right?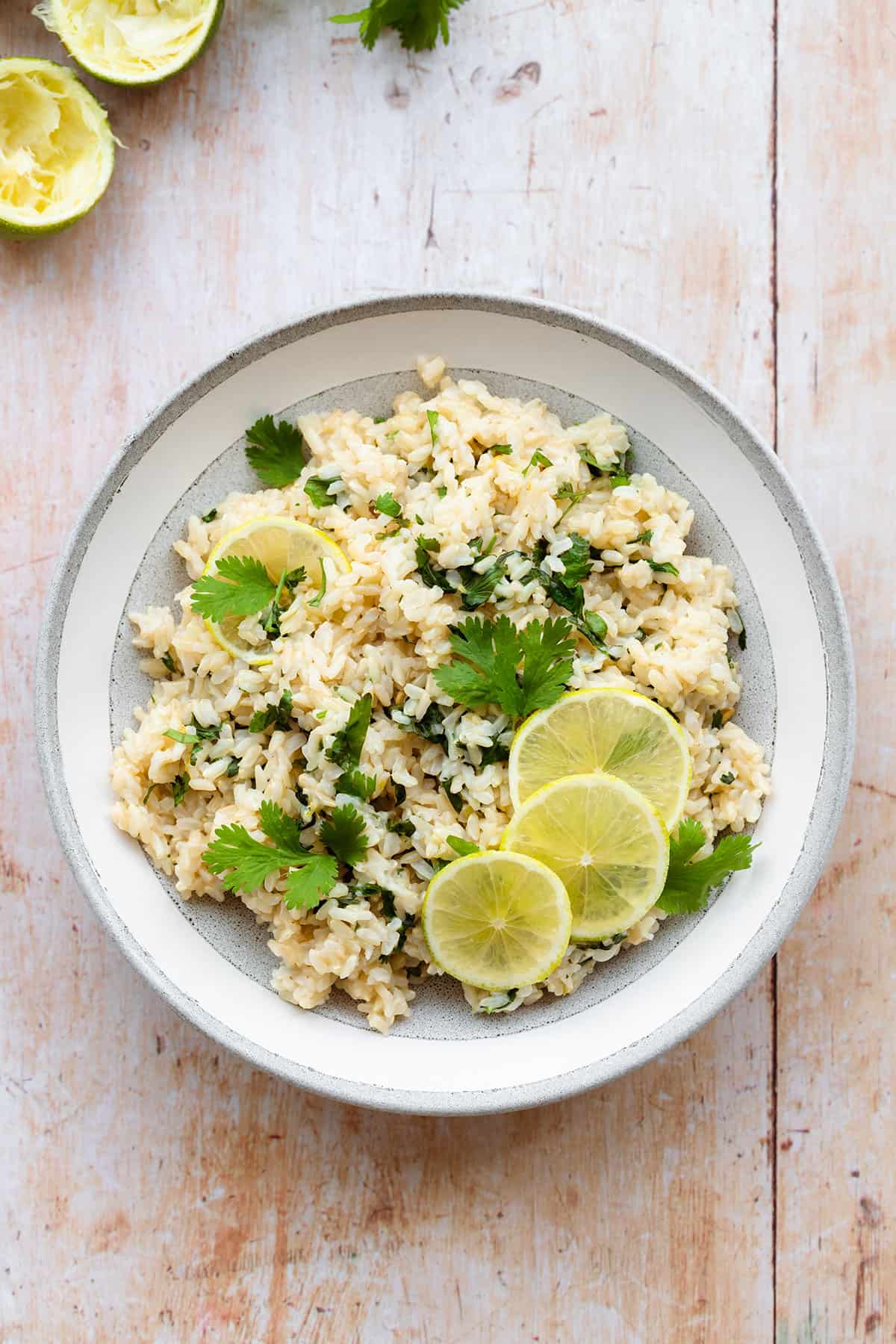 FAQs
What's in Chipotle's Cilantro Lime Rice?
Their rice is cooked with bay leaf and seasoned with lime juice, fresh cilantro, and butter.
Which is better, brown or white rice?
It depends on your preference. Brown rice is a whole grain while white rice is missing the bran and germ part of the grain. Because of this brown rice is more nutritious which technically makes it healthier.
How long do you cook brown rice?
Brown rice takes 30-40 minutes to cook. This also depends on how chewy or soft you want your rice to be.
How long does it take to cook white rice?
It can take anywhere between 15-25 depending on the shape of the rice and what your preference is.
What can I substitute the cilantro with? Can I use dried cilantro?
You can substitute it with parsley, fresh or dried. Chives are also great! You can use dried cilantro if needed.
Print
📖 Recipe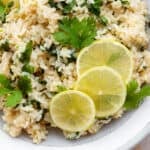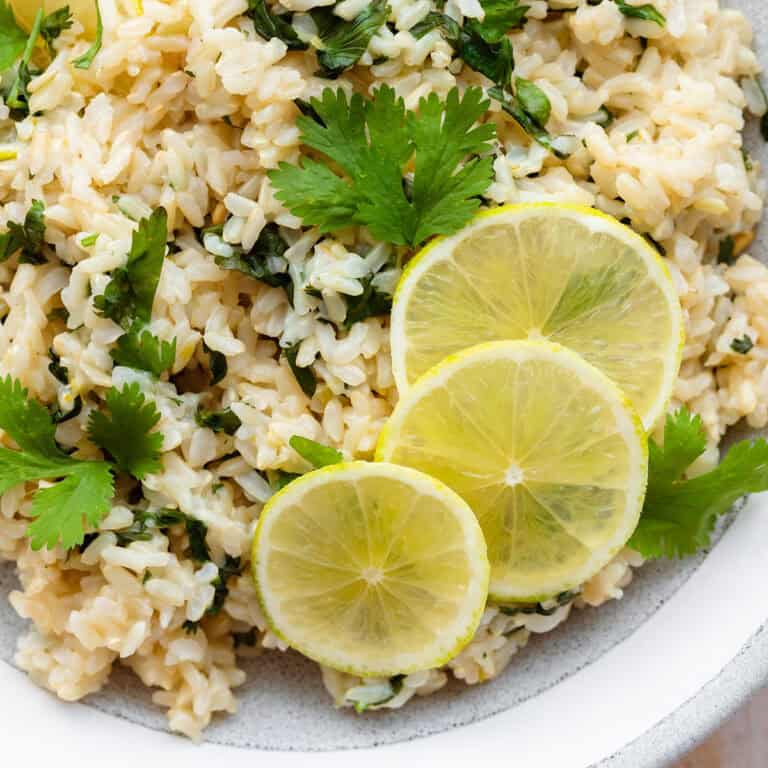 Cilantro Lime Rice
Author:

Veronika | thehealthfulideas

Prep Time:

10 mins

Cook Time:

40 mins

Total Time:

50 minutes

Yield:

6

-8

1

x

Category:

Side

Method:

Cooking

Cuisine:

Mexican

Diet:

Vegan
---
Description
This Chipotle Copycat Rice is great in burritos, bowls, salads, or served with your favorite choice of protein.
---
2 cups

dry long-grain brown rice (or long-grain white rice)

1 tsp

butter (salted, unsalted, or vegan are all great)

3 ½ cups

water (plus more if needed*)

½ tsp

sea salt or Himalayan pink salt

1

bay leaf (optional)

½ cup

packed finely chopped fresh cilantro

¼ cup

freshly squeezed lime juice (approx.

2

limes)**

1 tbsp

lime zest (

1

lime)
---
Instructions
Start by rinsing the rice. Cover it with cold water and drain a few times until the water runs clear.
In a medium pot over medium-high heat, melt the butter and add the rinsed rice. 
Toast for 1-2 minutes stirring frequently until fragrant. 
Cover with the water, add salt, a bay leaf if using, and bring to a boil. Lower the heat to medium-low, and cover. Cook for 30 minutes.  
Take the rice off the heat and let it steam for 5-10 minutes. Fluff with a fork.
Add the chopped cilantro, lime juice, lime juice, and stir to incorporate. Taste and add more salt, lime, or cilantro to taste.
Serve immediately or transfer to an airtight container and store in the fridge as soon as it cools down (cover when cool).
Store in the fridge for 2-3 days.
---
Notes
* Most brown rice packages call for 1 ¾ cup water for every 1 cup of dry rice. If you like your rice with a slight bite and not too mushy, this is perfect but cook the rice for 30 minutes, not the 40 minutes these recipes call for. If you want your rice softer, add 2 tablespoon of water per cup and cook for 30-35 minutes.
**It's best to only use freshly squeezed lime juice and not the packaged store-bought stuff. It makes a huge difference in flavor.
If using white rice, you will only need 15-25 minutes to cook it as it doesn't take as long.
Keywords: rice, cilantro, lime