Are you craving a fun new Tequila cocktail? Try this delicious, slightly bitter, Campari Margarita with freshly squeezed orange juice! This drink can also be easily made into a mocktail!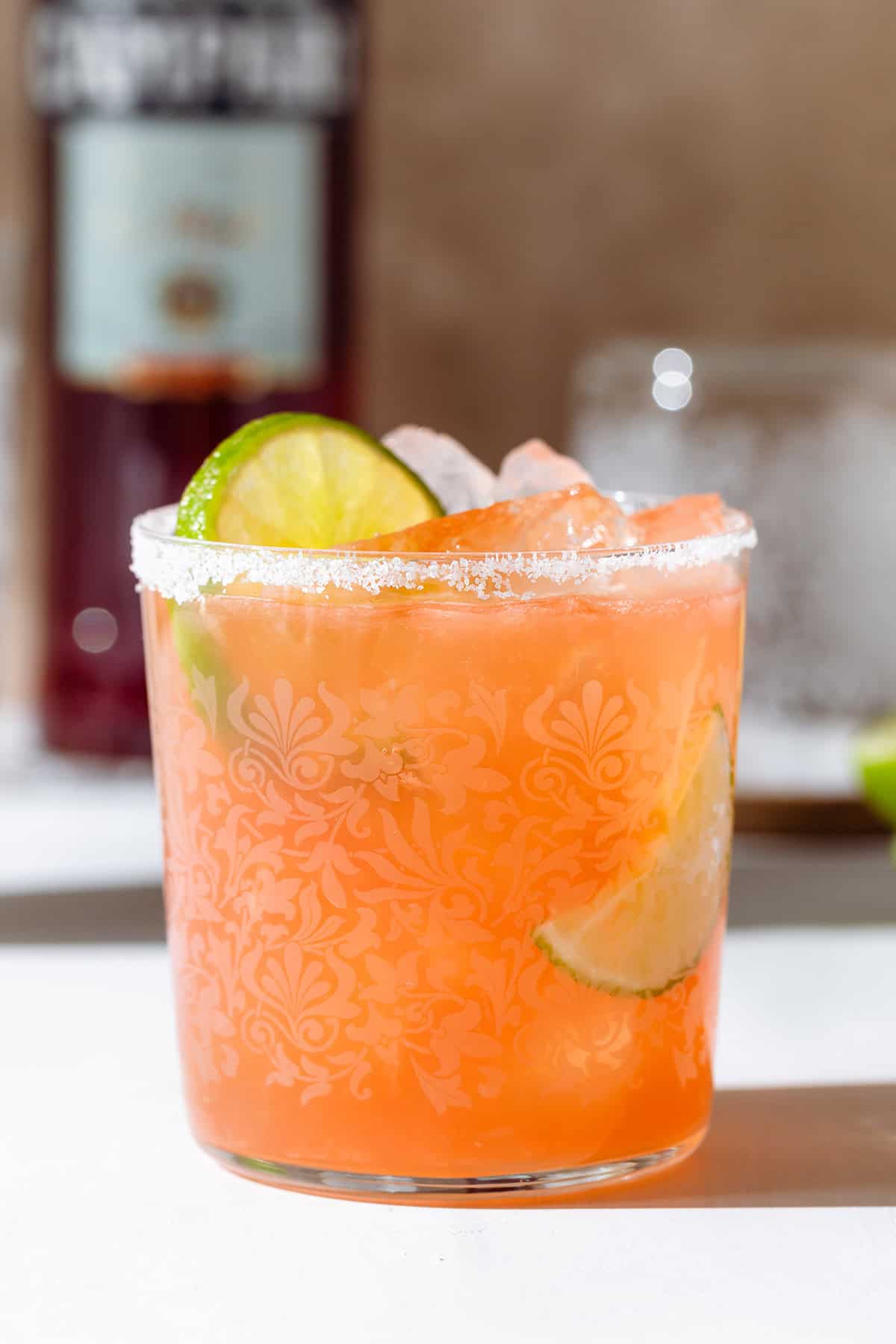 Jump to:
What Makes This Recipe Great
A different take on a margarita - If margarita is your go-to cocktail but you want to try something a little different, this cocktail is for you! It uses Campari instead of Cointreau which adds just the right amount of bitterness. It is then balanced with freshly squeezed orange juice to add sweetness.
Not overly sweet - If you don't like your cocktails too sweet, the orange juice will sweeten your drink just enough and you can skip the simple syrup!
Perfect for tequila lovers - If you're hanging out with friends who like tequila, this drink will be a perfect addition to your cocktail selection. It will make your party fancier while still keeping things simple!
It's easy to make - There isn't much prep aside from juicing oranges and limes. You can make your own simple syrup by mixing together water and maple syrup for a slightly healthier option.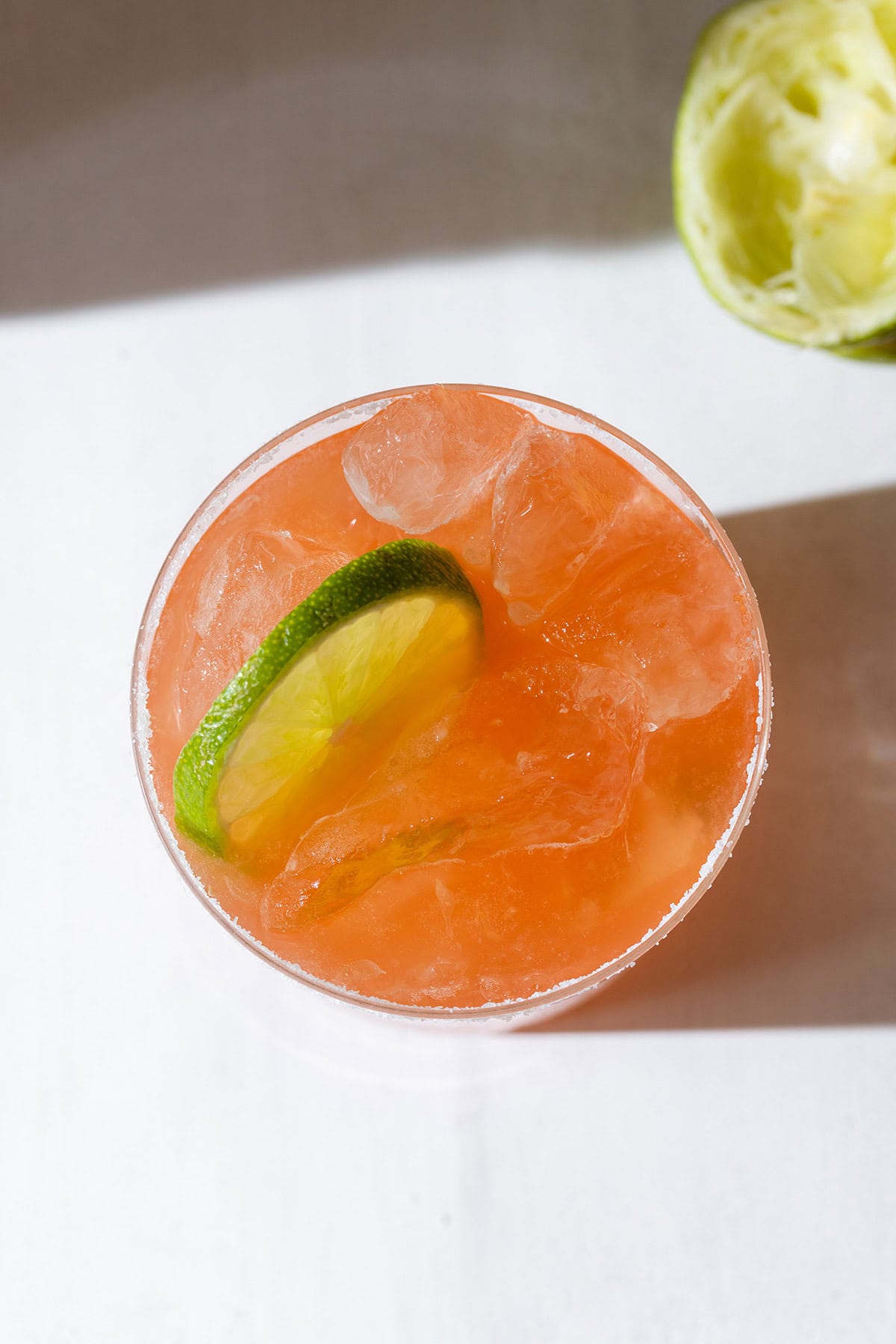 Ingredients
Reposado Tequila - You can use either silver or reposado tequila for this cocktail but I prefer reposado here. It's aged for 2-12 months and has a hint of vanilla and oak. I recommend staying away from Anejo tequila because it has a much stronger flavor and could overpower this drink.
Campari - Campari is a bitter liqueur that originated in Italy. It's made by infusing herbs and fruits in water and alcohol.
Lime juice - A classic for any margarita cocktail. I highly recommend using freshly squeezed.
Orange juice - This one is also best freshly squeezed whenver possible. I promise you can really tell the difference. Orange juice adds a nice sweetness to the cocktail and balances out the bitterness of Campari.
Simple syrup - You can easily make this at home with any kind of sugar. Use maple syrup or coconut sugar to make the syrup if you want to avoid cane sugar. If you want to add more flavor, make the Orange Blossom Syrup from this Campari Orange Blossom Cocktail! It's the best!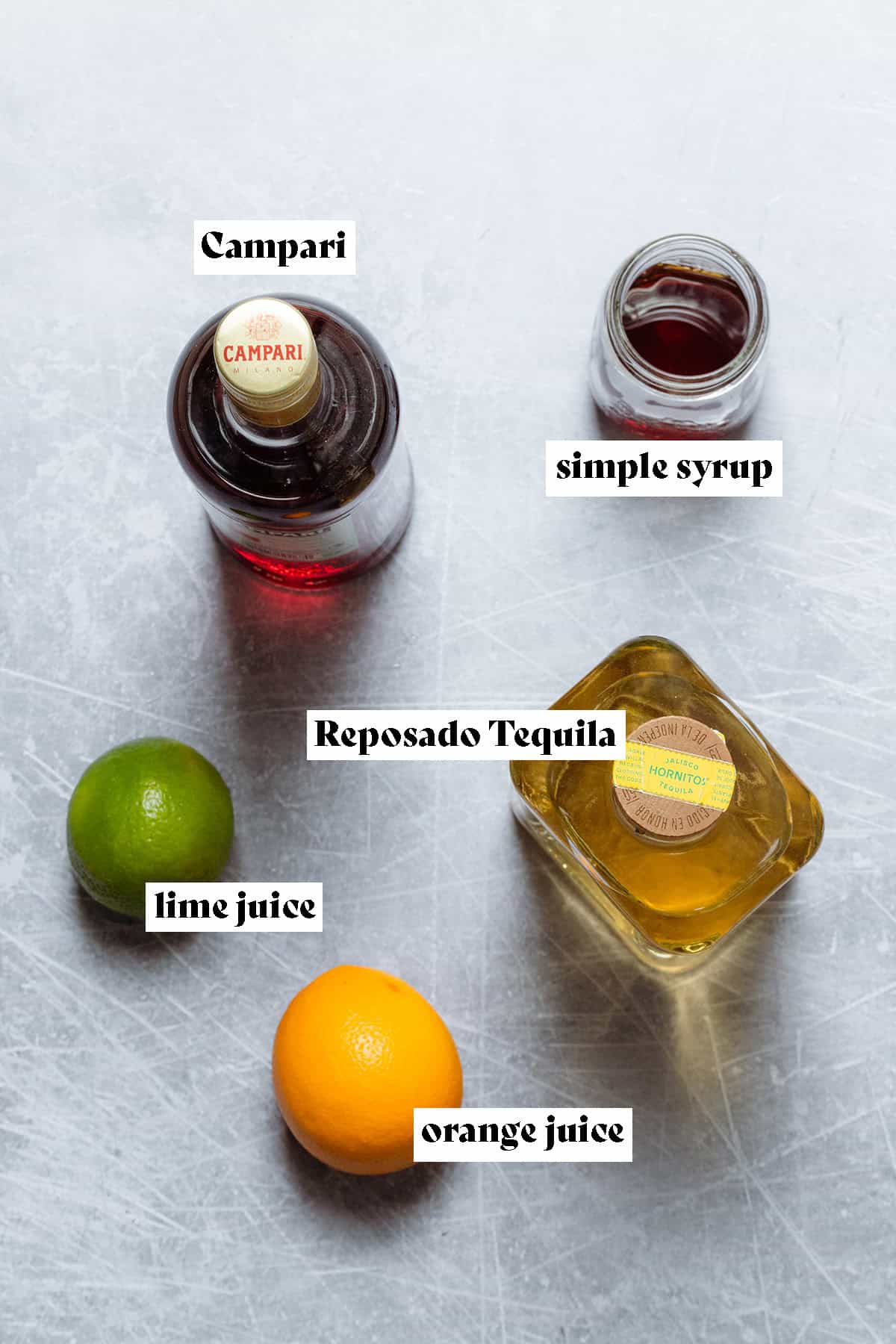 Mocktail version
The tequila and Campari make up a big part of this drink. I recommend finding a zero-proof non-alcoholic tequila that's available to you to make it as similar to the original as possible.
To replace the Campari, I recommend using freshly squeezed grapefruit juice. It adds all the bitterness and a touch of sweetness.
You can also top up your drink with sparkling water. This can make up for the loss of volume if you don't use any non-alcoholic tequila. I like using flavored, zero sugar sodas. Orange, grapefruit, or lime sparkling water are my favorite choices for this cocktail or mocktail.
Step-by-Step Instructions
Liquid first, ice last - I highly recommend adding all the liquids into your cocktail shaker first and then adding the ice right before you're ready to shake it and serve. This way, the ice doesn't water down the drink.
No cocktail shaker - If you don't have a cocktail shaker, you can use a mason jar. Use the lid to strain the drink into your serving glass.
No jigger - If you don't have the measuring up that's used for cocktails, you can measure it in spoons. ½ oz is 1 tablespoon so it's easy to multiply if a recipe calls for 1 or ½ oz.
Add ingredients - Pour in tequila, Campari, lime juice, simple syrup, and freshly squeezed orange juice. You can do this before you prep your glass as long as you don't add any ice to the cocktail shaker.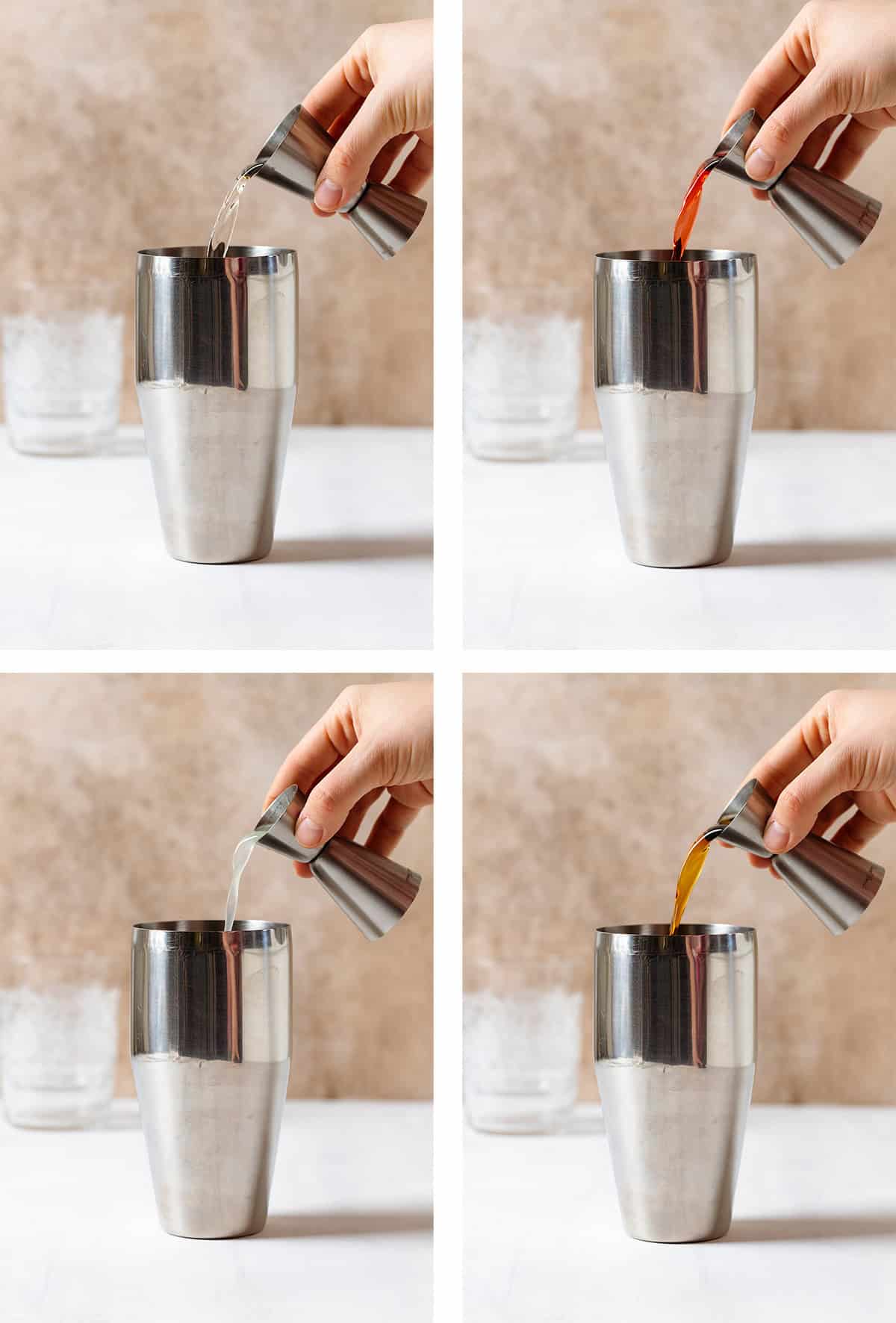 Serving
Should you serve it on ice? - Margarita is originally supposed to be shaken and served without ice in a margarita glass but most bars and restaurants serve it with ice in a short glass with no stem which is what I'm doing here. Adding ice helps to dilute the drink and make it easier to drink.
Prep the glass: To serve, run a lime wedge around the rim and dip it in sea salt. Alternatively, you can also use coarse sugar for a sweet version. Fill your glass with ice and garnish with a lime slice.
Shake: Add ice to the cocktail shaker and shake for 5-10 seconds until very cold to touch and pour the drink over the ice.
Optional: Top up your drink with sparkling water. I like doing this sometimes to make the drink bigger without adding more alcohol so I can sip it longer and have it not be as strong. I usually add a soda with no added sugar that has a natural flavor that goes with the cocktail. In this case, I'd add orange sparkling water like LaCroix.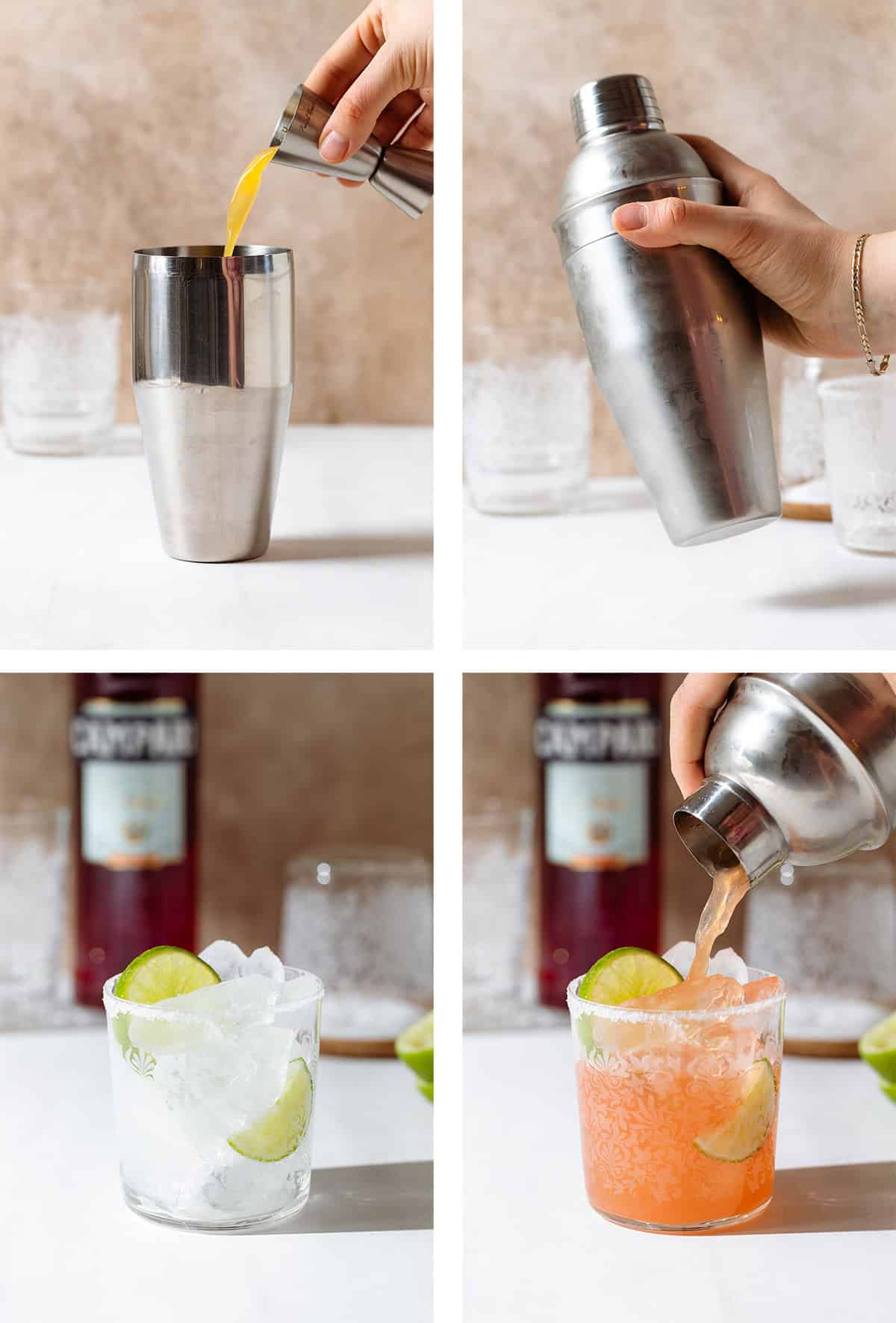 FAQs
How can I measure the ingredients if I don't have a jigger?
You can use measuring spoons if you don't have a measuring cup for cocktails. ½ oz is 1 US tablespoon so it's really easy to multiply. 1 oz is 2 tablespoons and 1 ½ is 3 tablespoons.
I don't have a cocktail shaker, what can I use?
You can use a mason jar! Use its lid as a strainer to strain your cocktail.
Do I need a special glass for this cocktail?
Margarita glass is the classic option but I like adding ice so any short glass works, it doesn't matter too much. I like using a double old-fashioned glass.
Can I turn this margarita into a mocktail?
Yes, you can use non-alcoholic zero-proof tequila. There are more and more of them on the market nowadays. To replace Campari, use freshly-squeezed grapefruit juice.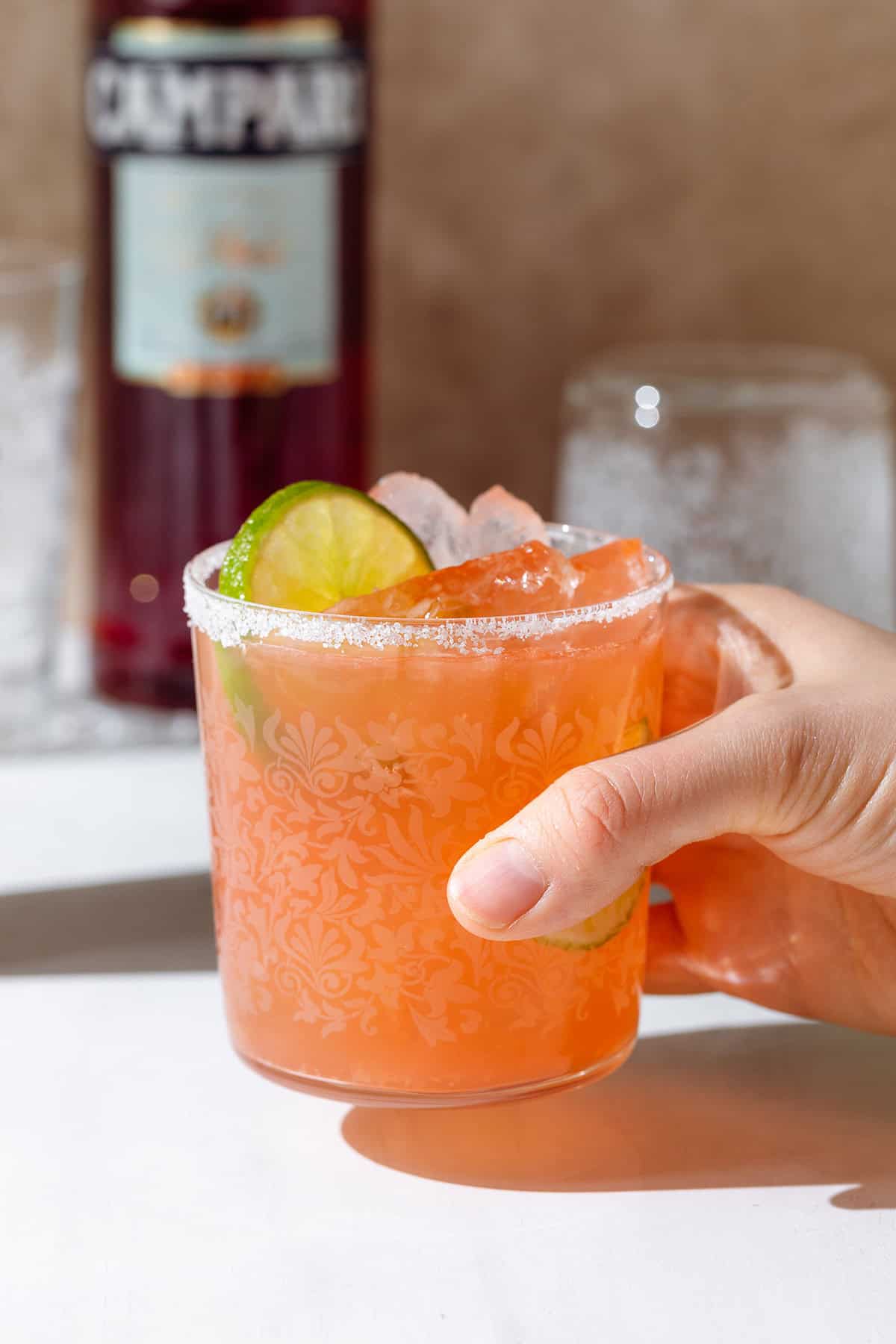 More Margaritas You'll Enjoy
To see all the latest cocktails, be sure to visit the Cocktails category page! If margaritas are all you're looking for, you can check out these six margarita recipes, they're definitely my favorites!
Print
📖 Recipe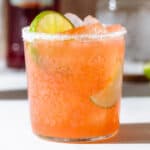 Campari Margarita
Author:

Veronika | thehealthfulideas

Prep Time:

5 mins

Total Time:

5 minutes

Yield:

1

1

x

Category:

Cocktail

Method:

Mixing

Cuisine:

American

Diet:

Vegan
---
Description
Delicious, slightly bitter, Campari Margarita with freshly squeezed orange juice.
---
Salted glass rim: 1-2 tablespoon fine sea salt and 1 lime (optional)
Ice cubes

1 ½ oz

silver or reposado tequila

½ oz

Campari

½ oz

simple syrup (see notes) or raspberry simple syrup

½ oz

freshly squeezed lime juice

1 oz

freshly squeezed orange juice
A slice of lime for garnish (optional)
---
Instructions
First prepare your glass. Add the salt to a small plate. Run a lime wedge around the rim of the glass. Dip the glass in the salt, rotate a couple of times until the salt sticks. Fill your glass with ice and set aside.
Add all ingredients to a cocktail shaker or a mason jar with a handful of ice and shake for 5-10 seconds until very cool to touch.
Pour into your prepared glass, garnish with a slice of lime, and serve immediately.
---
Notes
Simple syrup - To make simple syrup, you just combine equal parts of sugar and water and warm them while stirring constantly to mix. It doesn't have to boil, it's just so that the sugar dissolves. You can do this with any sugar alternative too. I like mixing water and maple syrup. It should last in the fridge in an airtight container for up to two weeks.
Keywords: campari, margarita