This Orange Blossom Cocktail is made with Campari, reposado tequila, and homemade orange blossom syrup with vanilla and almond extract. It has the perfect balance of sweet and bitter flavors! It's not overly strong so it makes for a great summer afternoon cocktail!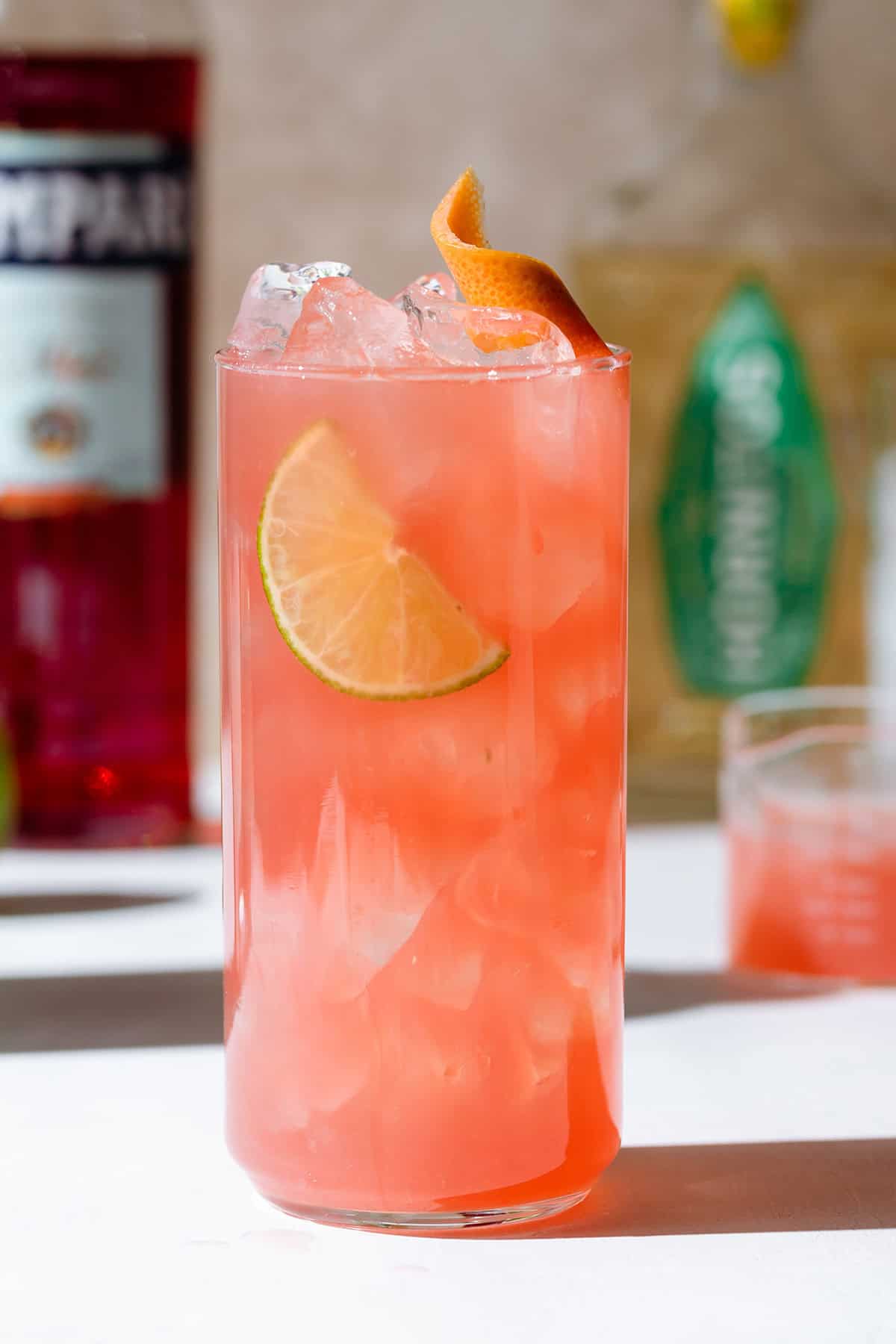 Jump to:
Why This Recipe Works
I got the idea for this cocktail from a local restaurant here in Toronto. It had orange blossom syrup in it which intrigued me because I'd wanted to use orange blossom water in cooking for a long time. When I first ordered it I thought it would be very sweet but it wasn't at all and I knew I had to remake it!
The drink is more bitter than sweet which I'm a big fan of and if you are too, you definitely need to give this cocktail a try! The bitterness comes from Campari and fresh grapefruit juice. It's balanced out with the homemade syrup and all the flavors go together beautifully.
The addition of grapfruit juice, lime juice, and lots of ice help to water down the tequila slightly, resulting in a cocktail that's not too strong. It's perfect as an afternoon cocktail for the spring or summer.
The homemade syrup is made with cane sugar but maple syrup can also be used. I add orange blossom water that's made with orange flowers, similar to rose water that's made with rose petals. The recipe also calls for almond extract and vanilla extract. I highly recommend adding them to the syrup! It's not something you'd think to pair with tequila and Campari but I promise it's amazing!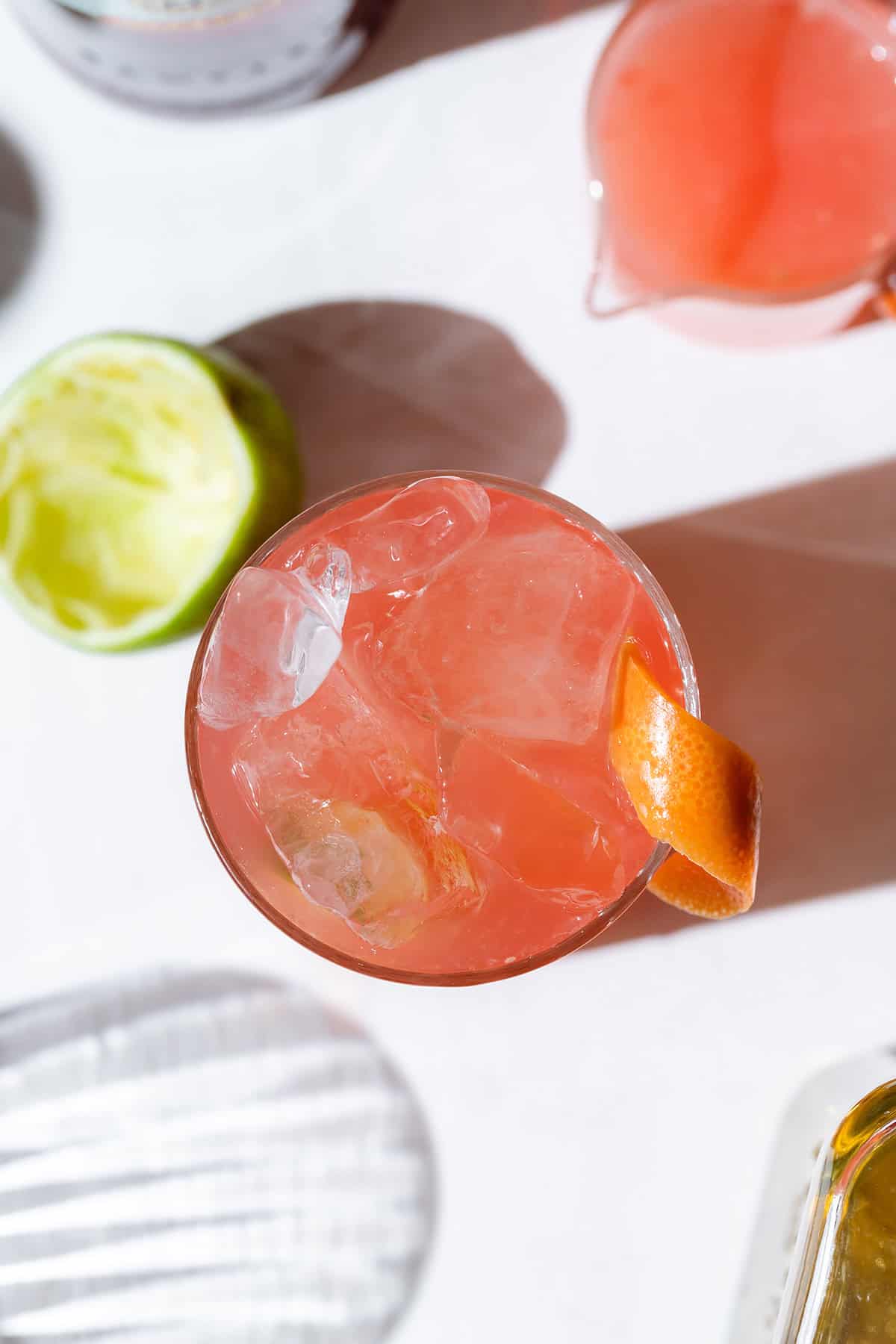 Ingredients and Substitutions
Tequila - The recipe calls for Reposado tequila but Blanco would work as well. I chose reposado because it's a aged fro 2-12 months and the oak, vanilla flavors work well in this cocktail. I don't recommend Anejo tequila because it's aged for much longer and the woody tones would overpower other flavors on this cocktail.
Campari - Campari is a bitter Italian alcoholic liqueur, or an aperitif, made by infusing herbs and fruits in water and alcohol. Campari is the most widely known but there are many other bitter red liqueurs that can be used in place of Campari. Check out this article on 9 Campari Alternatives
Grapefruit and lime juice - I recommend using freshly squeezed juice whenever possible.
Almond and vanilla extracts - These are used for the simple syrup in this drink. They can be found in most grocery stores in the baking section or near the spice section. I don't recommend skipping either because they both add a lot of flavor to the syrup.
Orange blossom water - This is the star of the show in this drink. It's just like rose water but made with orange blossoms. It's similar to elderflower but sweeter and brighter. It adds a ton of flavor to this drink and a little goes a long way so a bottle will last you a while. It can be found in specialty stores with Middle Eastern products.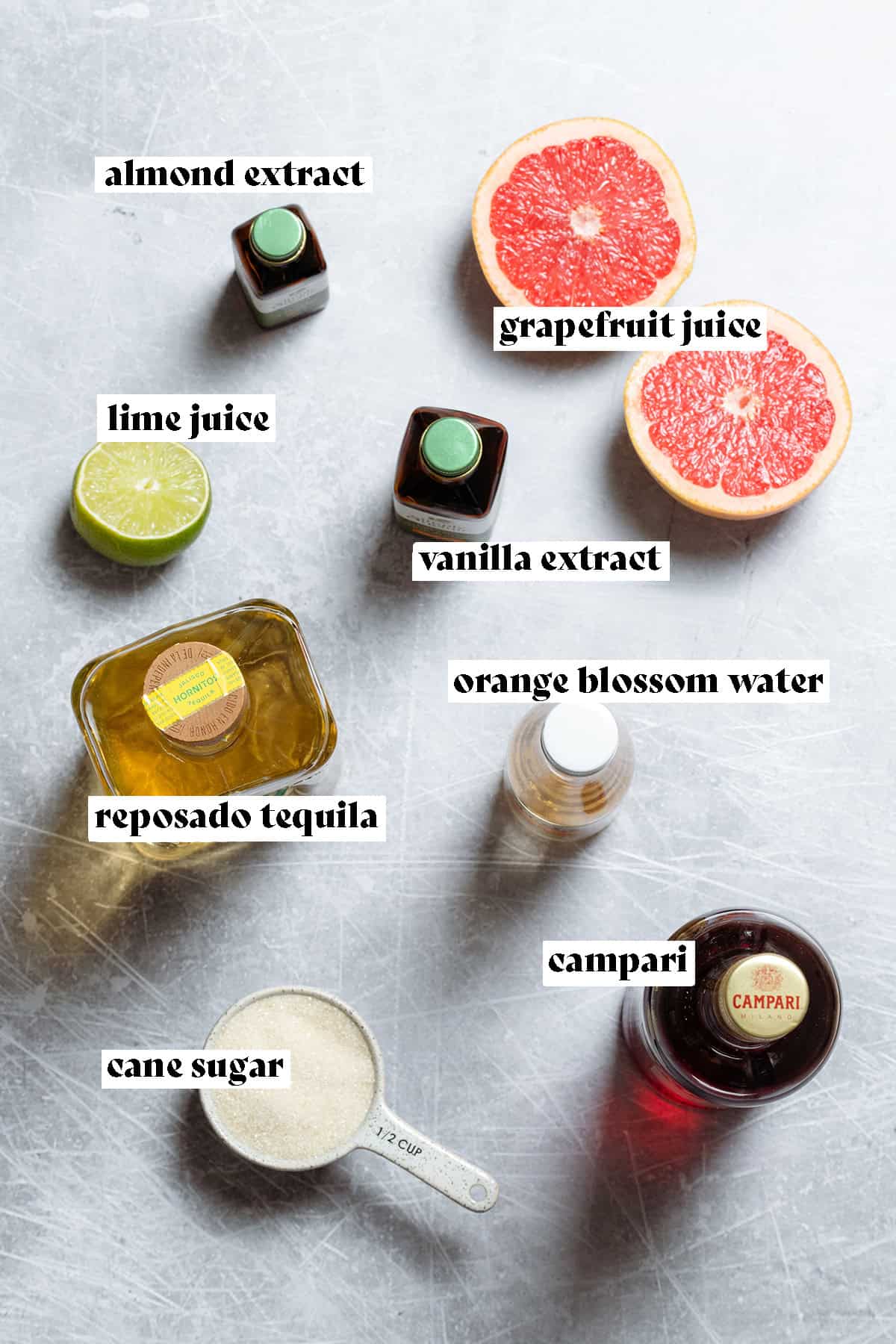 Step-by-Step Instructions
The first step is to make the syrup.
Add the cane sugar and water to a small saucepan and bring to a soft simmer stirring often. The mixture doesn't need to boil, you just need to heat up the water so that the sugar can dissolve more easily.
Add the orange blossom water, vanilla extract, and almond extract. Stir to mix in and transfer to a glass jar. Cool before closing with a lid and storing in the fridge. The syrup should keep in an airtight container in the fridge for about 2 weeks.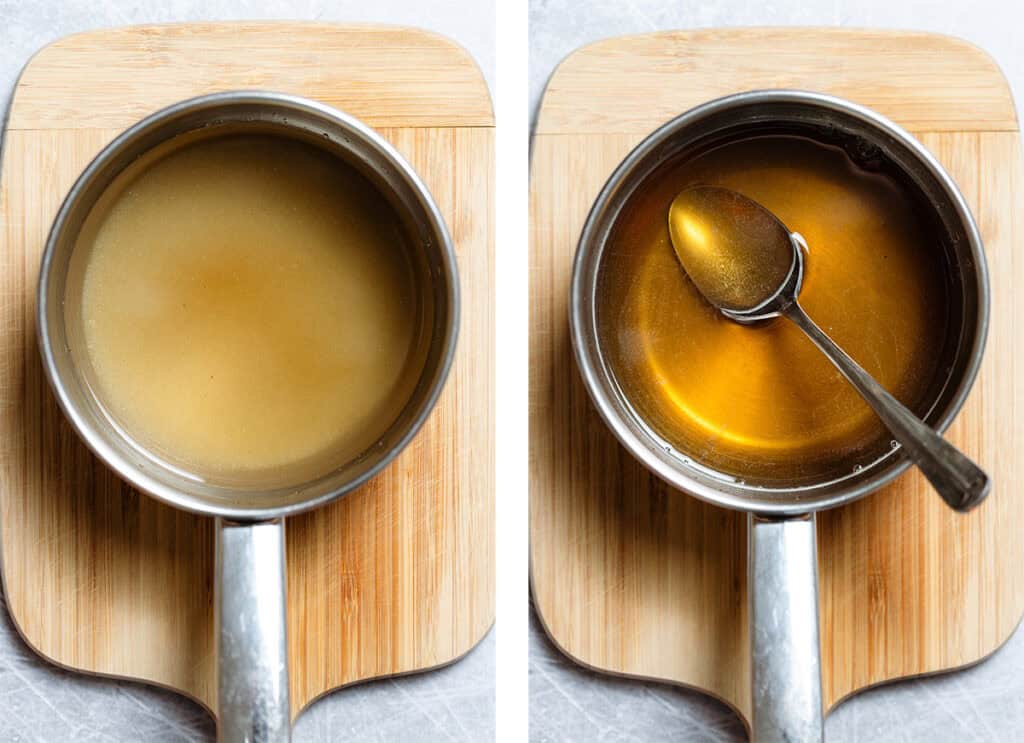 Add reposado tequila, Campari, lime juice, grapefruit juice, and orange blossom syrup to a shaker with a handful of ice. Shake for a few seconds until it's very cool to touch.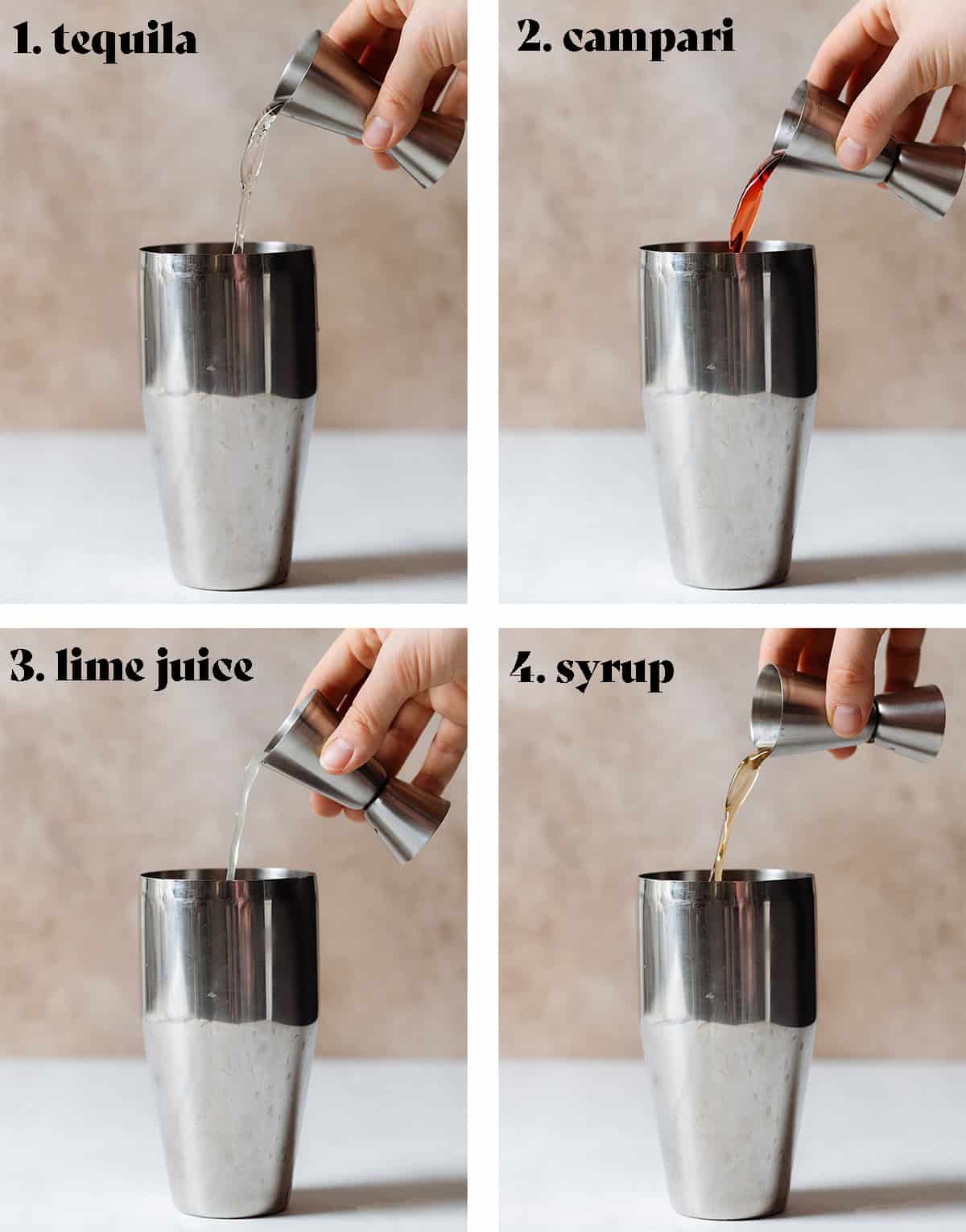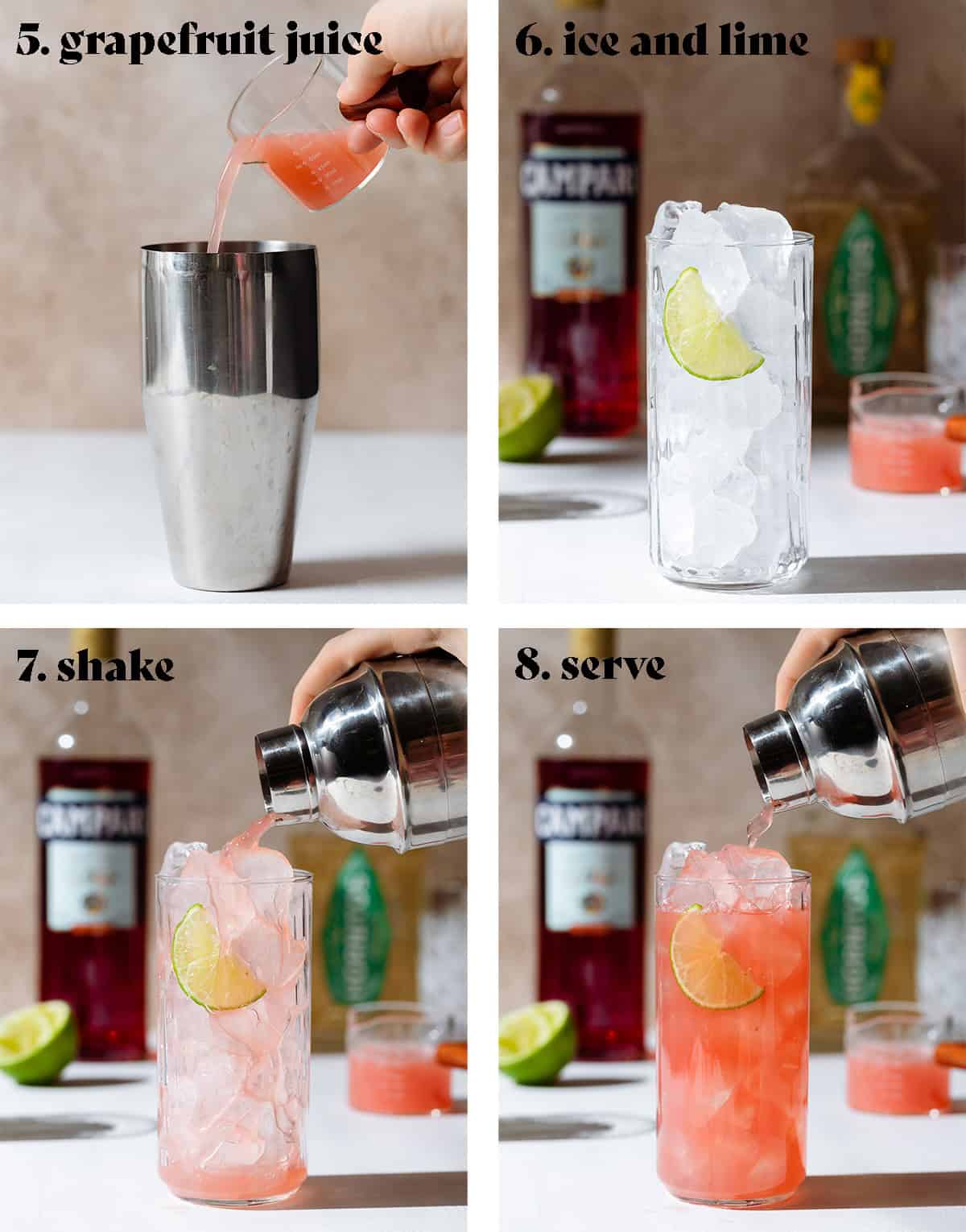 To serve, fill up a tall glass with ice, garnish with a lime slice and pour in the shaken drink. You can also garnish with an orange peel right before serving. I like to gently squeeze it above the drink and run it around the rim before placing it on top of the drink. This lets out the oils in the orange and releases a subtle aroma.
Non-Alcoholic Version
You can turn this cocktail into a non-alcoholic drink really easily.
Skip the tequila, Campari, double the grapefruit juice (use 4 oz instead of the 2 oz), and top up the drink with sparkling water if desired. I like using flavored ones without any added sugar like lime or lemon LaCroix.
Skipping the Campari will make the drink lighter in color, especially if you add sparkling water. To give the red peachy color it would normally have, you can add grenadine, 1 teaspoon should be enough to give the drink some color. I came across Liber & Co. Grenadine that's made with cane sugar, pomegranate, and orange blossom water which would be amazing in this drink! I haven't tried it but can't wait to.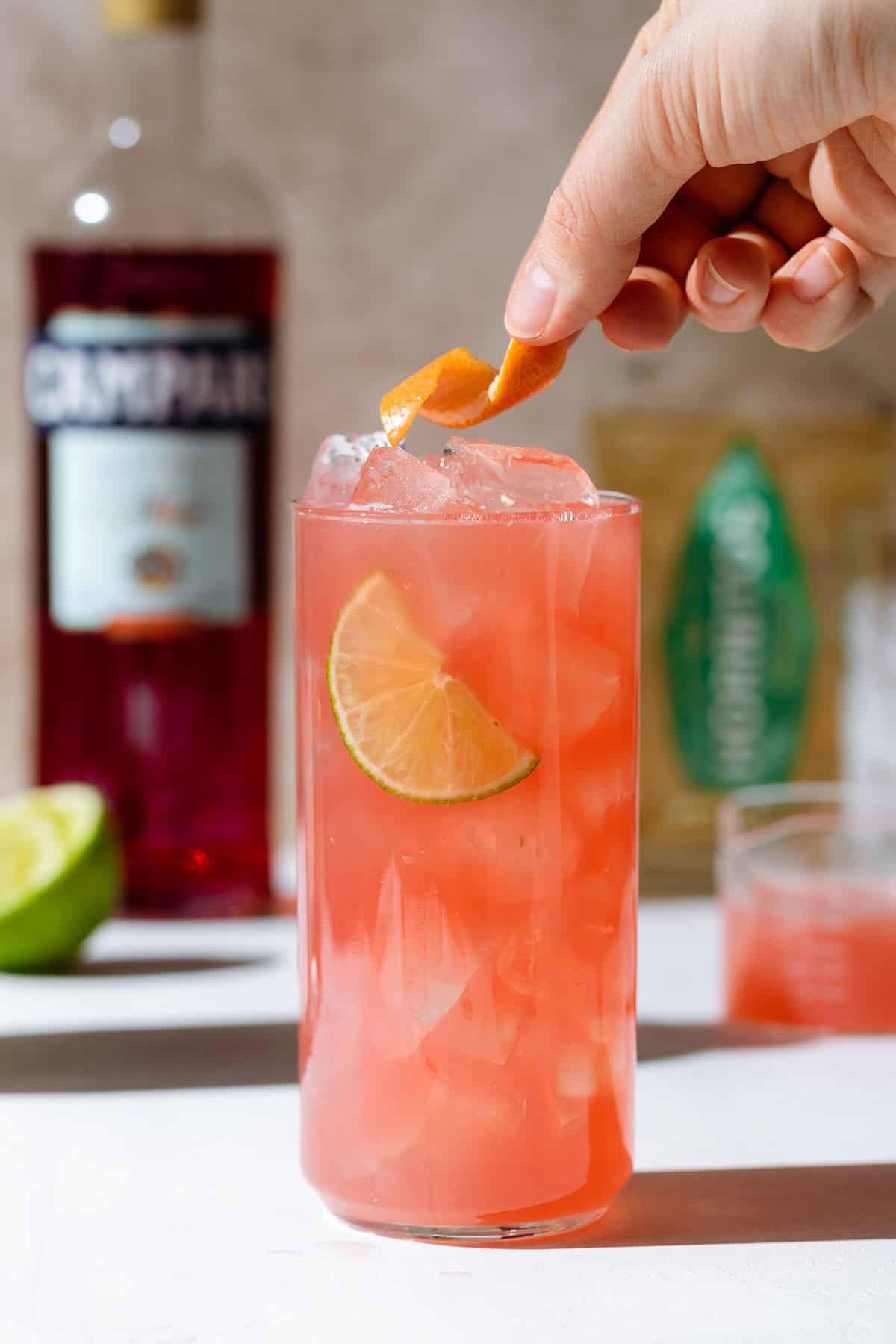 FAQs
What's the difference between Blanco and Reposado tequila?
Blanco tequila isn't aged, reposado tequila is aged in oak barrels for 2-12 months. This gives the tequila notes of oak, vanilla, and caramel which go really well with this cocktail. Blanco tequila is most often used for margaritas.
Can I make a non-alcoholic version?
Yes, I talk about it in more detail above under 'Non-alcoholic version'. Skip the alcohol and double the grapefruit juice. You can add grenadine to mimic the color of Campari.
Similar Cocktail Recipes
Below are four drinks you might enjoy if you like this one! The first two are similar because they have tequila. The rum cooler is just a fun summer drink I think you should try, and the mimosa has a similar bitter taste as this orange blossom cocktail.
To see any other cocktails I've shared, check out the cocktails category page.
Print
📖 Recipe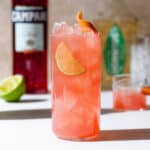 Tequila and Campari Orange Blossom Cocktail
Author:

Veronika | thehealthfulideas

Prep Time:

5 mins

Cook Time:

5 mins

Total Time:

10 minutes

Yield:

1

1

x

Category:

Cocktail

Method:

Mixing

Cuisine:

American

Diet:

Vegan
---
Description
This cocktail is made with Campari, Tequila, and homemade orange blossom syrup with almond and vanilla extracts. It's perfectly balanced between bitter and sweet, and it's not overly strong so it's the perfect afternoon cocktail!
---
Orange Blossom Almond Simple Syrup
½

water

½ cup

cane sugar (or another sweetener)

2 tsp

vanilla extract

½ tsp

almond extract

1 tbsp

orange blossom water
Campari Cocktail:
1 ½ oz

reposado tequila

1 oz

Campari

1 oz

freshly squeezed lime juice

2 oz

freshly squeezed grapefruit juice

½

-

1

oz orange blossom almond simple syrup
Ice
---
Instructions
Orange Blossom Almond Simple Syrup
Add the water and sugar to a small saucepan and heat over medium heat. It doesn't have to boil or simmer, you just need to let the sugar dissolve. 
Take off the heat and add vanilla extract, almond extract, and orange blossom water.
Let cool down completely before storing. Store in an airtight container like a glass jar in the fridge for up to two weeks. To extend the shelf life, add ½ oz vodka.
Campari Cocktail
Fill a tall glass with ice and set aside.
Add all ingredients into a cocktail shaker or a mason jar with a handful of ice, close, and shake for 10-15 minutes until mixed and very cool. 
Strain into prepared glass with ice. 
Garnish with grapefruit twist or dried grapefruit slice if desired. Serve immediately.
---
Keywords: campari, tequila cocktail, orange blossom syrup