These Mango Popsicles are the perfect treat to make for the summer! They're really easy to make and only require 3-4 ingredients.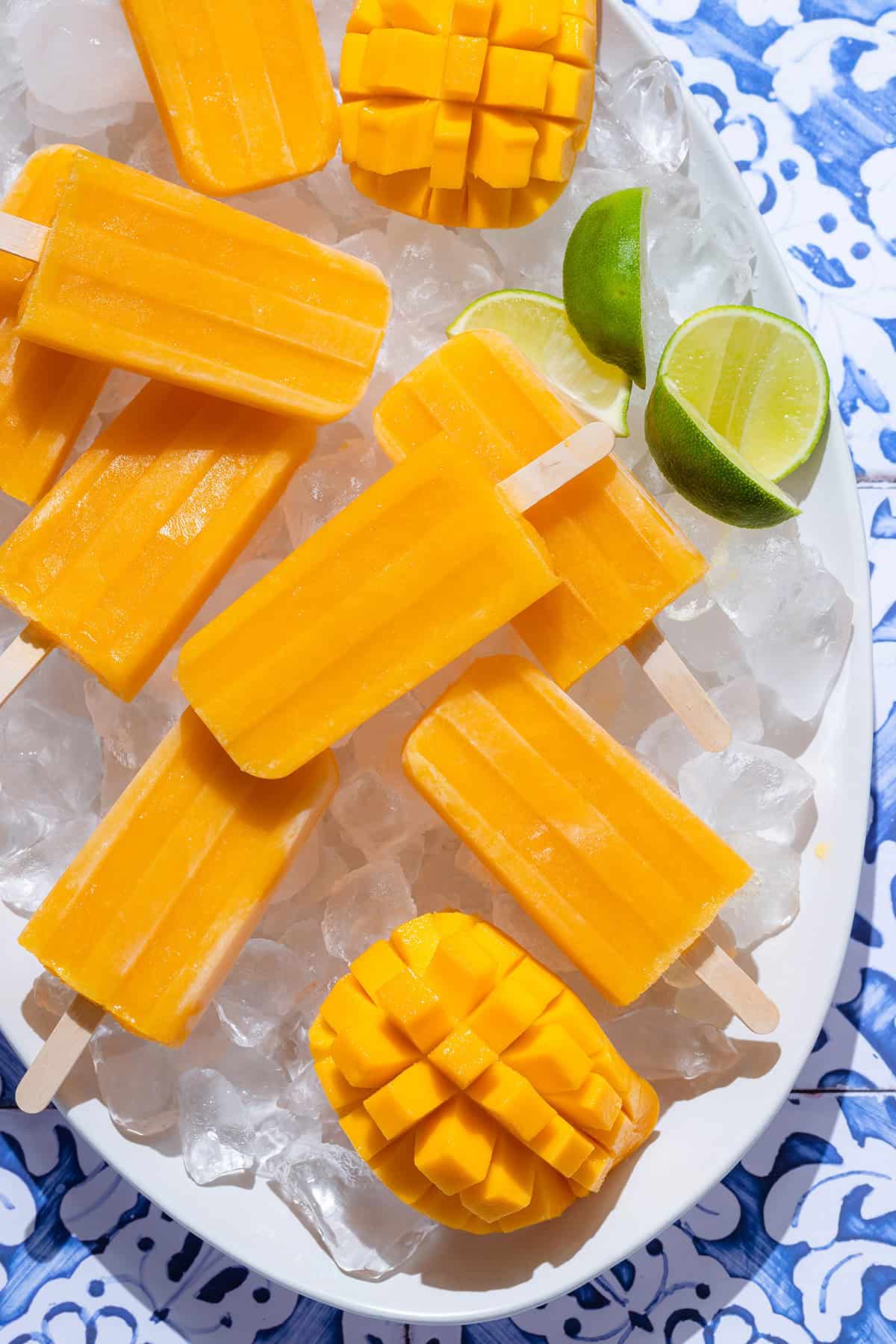 Jump to:
Why This Recipe Works
Perfect summer treat - There's nothing better than having a stash of homemade popsicles in your freezer in the summer for those extra hot days! I usually like to make a few flavors at the beginning of summer so that I have enough popsicles to last me all summer long and various flavors to choose from. Try these Orange Strawberry Sunrise Popsicles or these Chocolate Cookie Dough Popsicles - they're my all-time favorite!
Popsicles vs ice cream - These popsicles are so much easier to make than regular ice cream, especially the one you have to make in an ice cream maker! All you need is a blender, popsicle molds, and wooden popsicle sticks.
Healthier than store-bought - Making your own popsicles at home means you know exactly what goes in and you can decide how much sugar you want to add. The recipe calls for maple syrup but you can use any sweetener you like or none at all!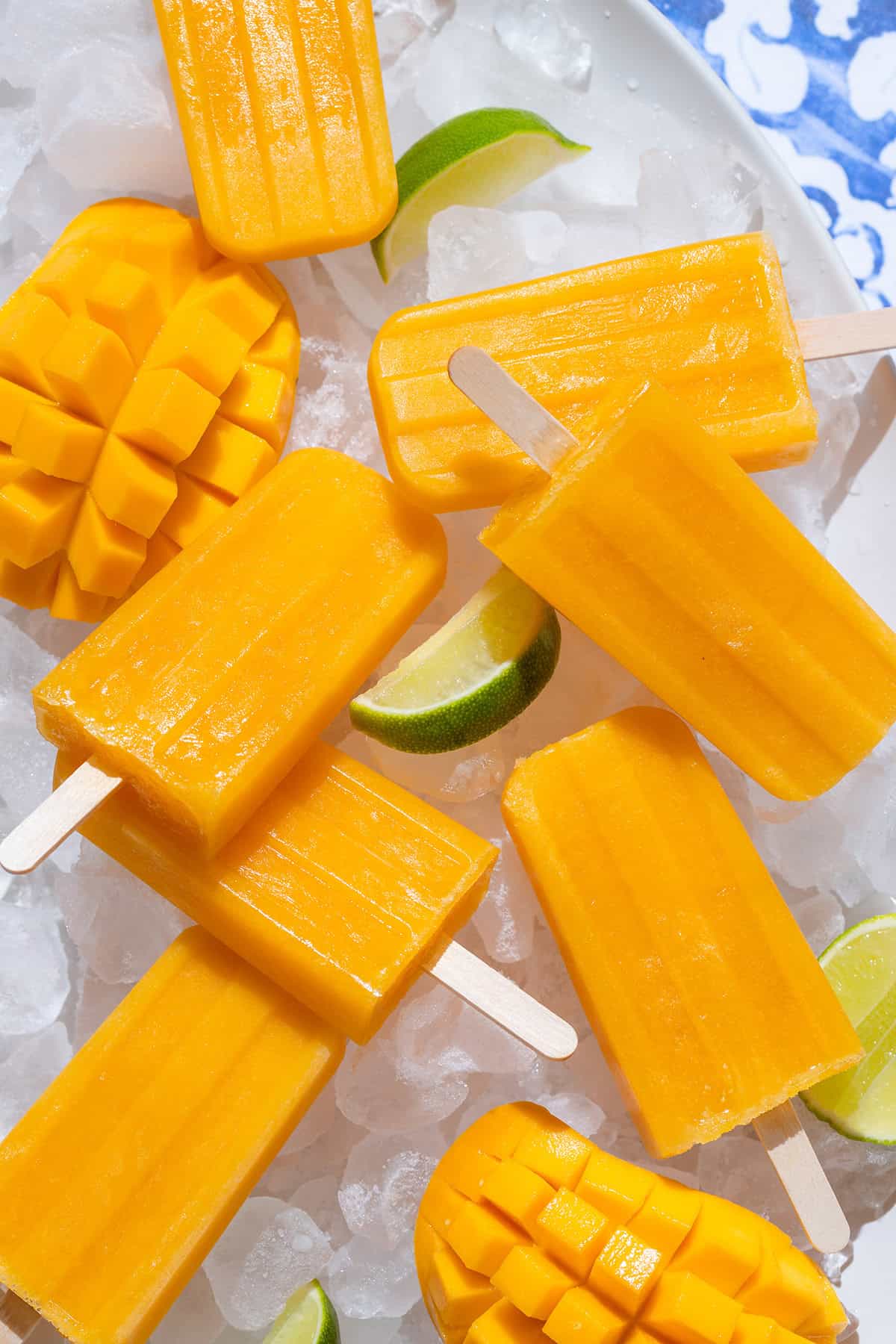 Ingredients
Mango - I recommend fresh Ataulfo mangos if you have them available. They're sweet and have a very smooth texture which this great for these popsicles. I usually stay away from store-bought frozen mango because it doesn't have as much flavor as fresh and because it needs more water to help it blend properly.
Lime - Use freshly-squeezed lime juice whenever possible. It gives the popsicles a slight tang and has a much better flavor than the bottled stuff.
Sweetener - I chose maple syrup but do taste it a little in the popsicles. If you want to use a more neutral-tasting sweetener, try agave, cane sugar (make sure to dissolve it in water first), or coconut nectar. Stevia, erythritol, or monk fruit extract can also be used.
Vanilla - This is optional and you can omit it for a simple mango flavor but I like the hint of vanilla in these popsicles. You can use vanilla extract, vanilla paste, or the seeds from a vanilla bean.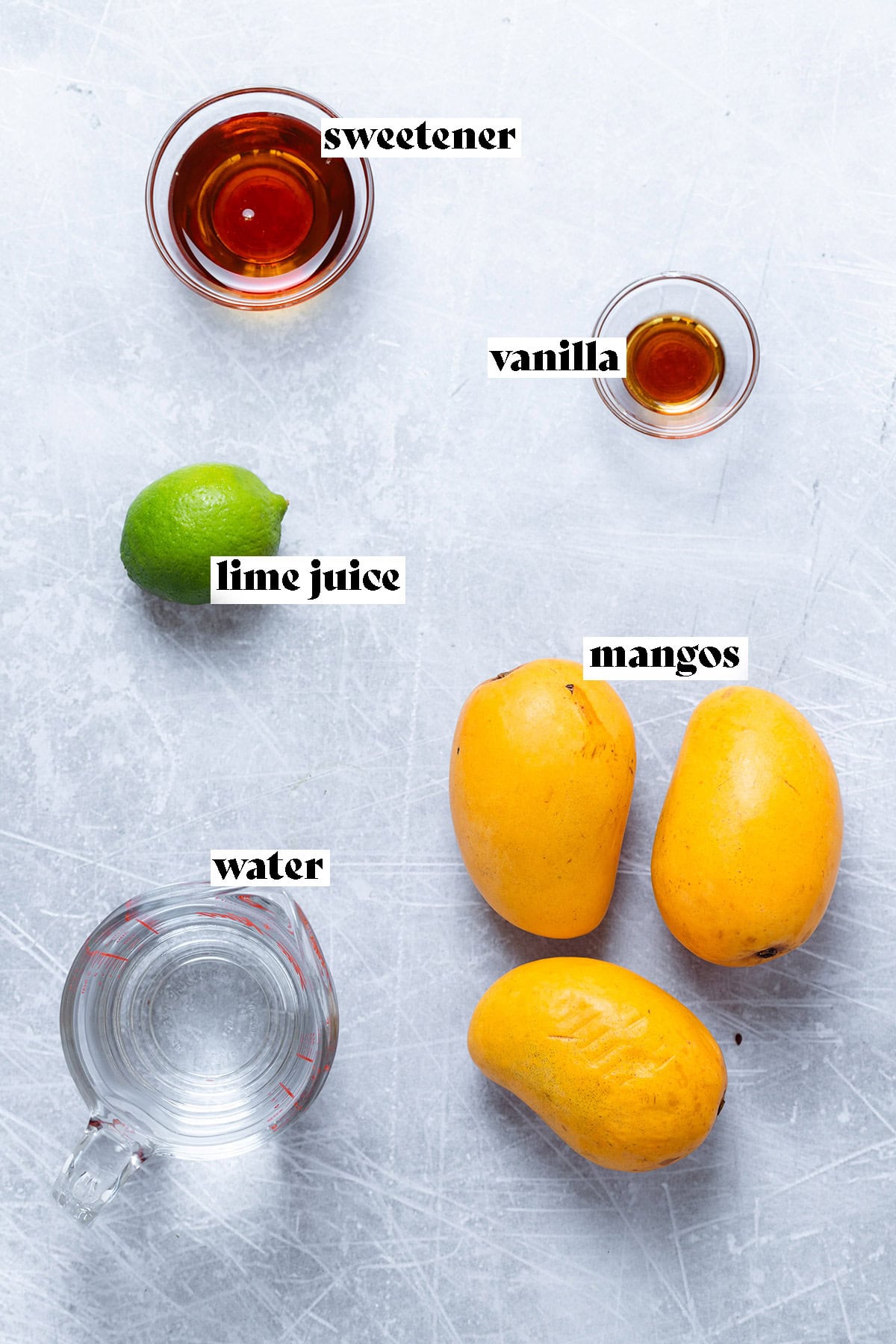 Variations and Substitutions
Coconut milk - If you want creamy popsicles, use coconut milk instead of water. Both canned and boxed coconut milk would work.
Pineapple - If you don't have mango or just don't have enough, you can use half mango, half pineapple, or just pineapple on its own. Add coconut milk and make your popsicles pina colada flavored!
Sugar-free - Skip the sweetener and add water or coconut milk instead. Mango still contains sugars but there will be no added sugar.
Berries - You can throw in a few berries for a different flavor if you want to change it up. Blend them separately to create colorful mango berry layers!
Step-by-Step Instructions
Making these popsicles is super simple and they come together really quickly. The main prep you need to do is just peeling mangos and juicing limes.
Blend
Add water, the mangos, lime juice, maple syrup (or another sweetener), and vanilla extract (if using) to a blender and blend on high until smooth.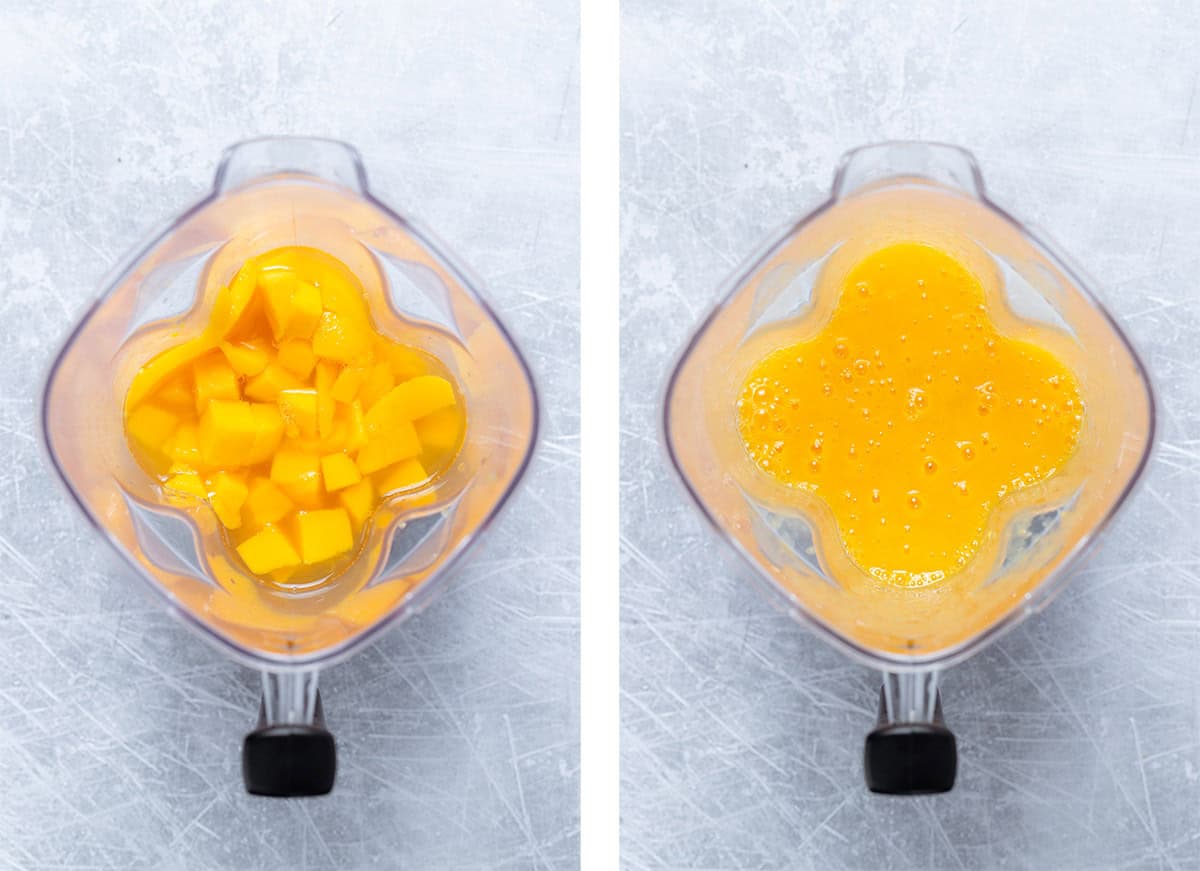 Freeze
Pour the mixture into popsicle molds to the top and add wooden popsicle sticks. I like to leave them sticking out about 1.5 in. If you leave them sticking out more than that, the popsicles might break when you're pulling them out of the molds.
The sticks should easily stay in one spot but if your mixture is too thin and they fall to a side, you can let the popsicles freeze for 30-60 minutes without them and then add them when the ice cream is slightly frozen.
Allow the popsicles to freeze for at least 8-12 hours before taking them out to make sure they freeze properly and won't break in half as you're taking them out.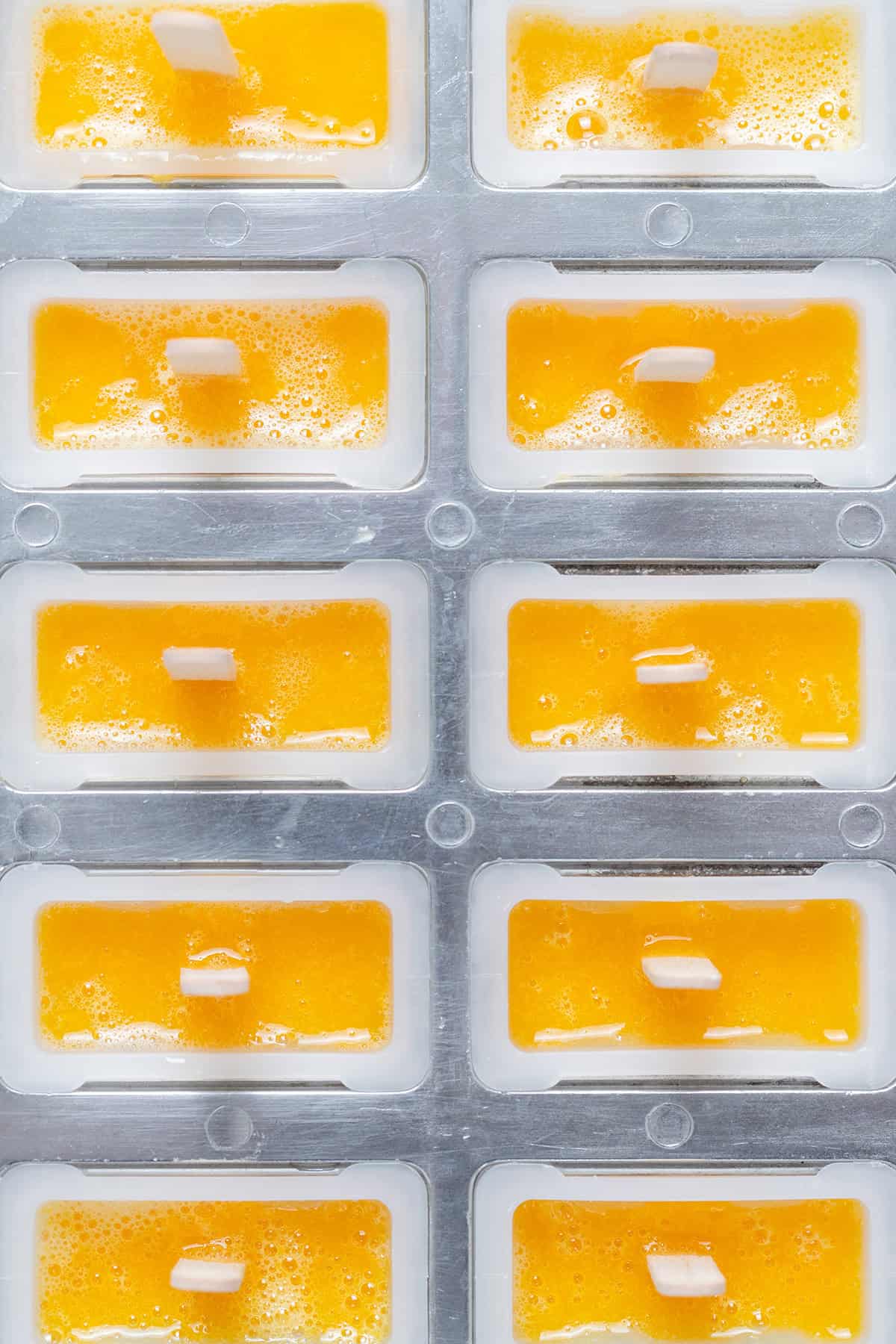 Remove popsicles from molds
To get the popsicles out of the molds, run the molds under hot water (from the tap) for a few seconds and try to pull the popsicles out. It should be fairly easy to do. Wiggle them gently to help but if they're still not coming out, run them under hot water for a few seconds and try again.
Enjoy the popsicles right away or lay them out on a baking sheet lined with parchment paper and return the popsicles to the freezer to refreeze. Once they're set again (1-2 hours), transfer them to a freezer-safe container or a bag and store them for 2-4 months in the freezer.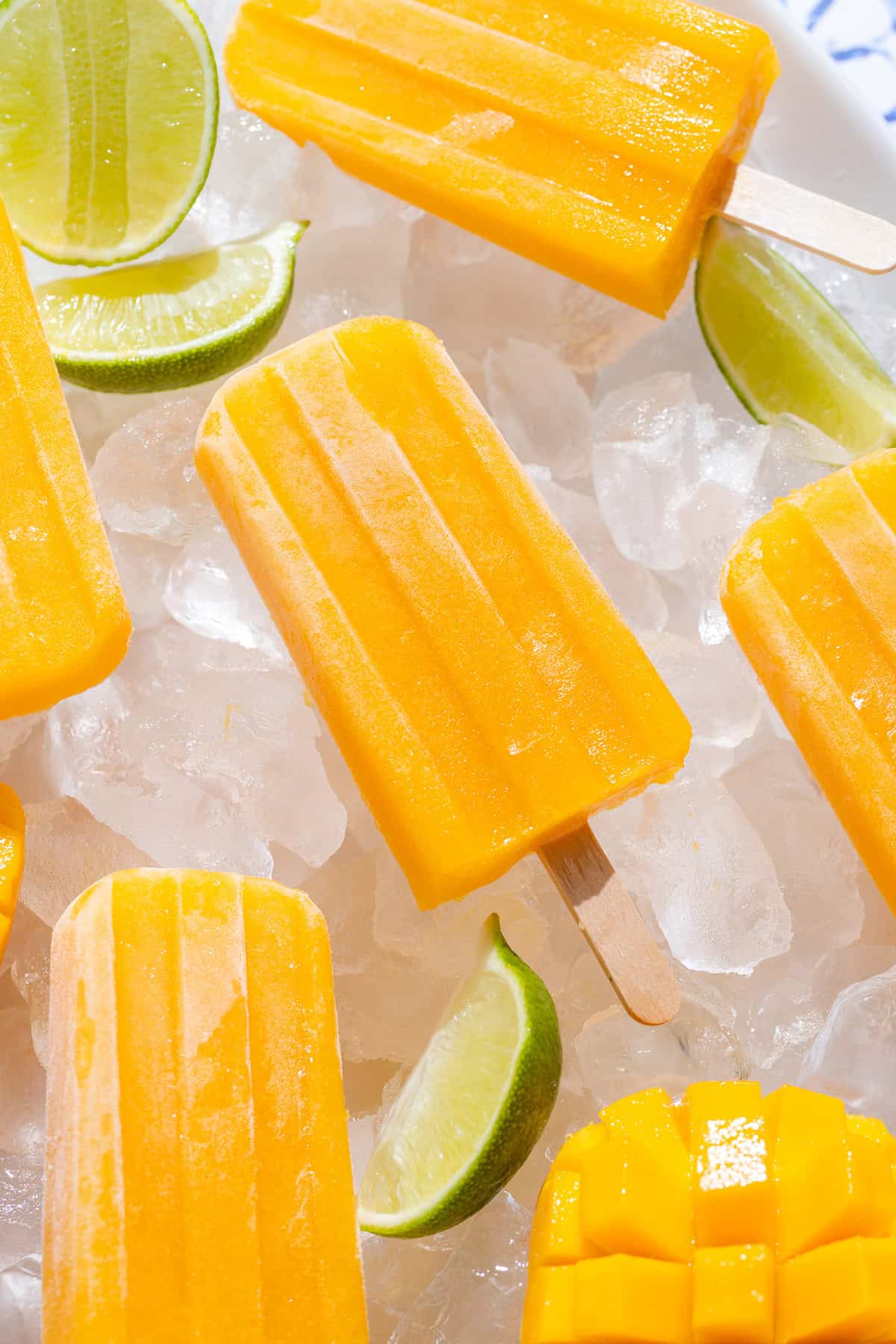 FAQs
Can I use frozen mango?
Yes, you can use frozen mango if necessary but I highly recommend fresh Ataulfo mango. You will have to add more water when using frozen mango which will make the popsicles more watery and store-bought frozen mango doesn't have as much flavor as fresh. It's also not recommended to refreeze frozen fruit so your popsicles won't keep as long in the freezer.
Can I make these popsicles without any sweetener?
Yes! You can totally make these sugar-free. Just substitute the maple syrup with water.
Can I use different fruit?
Yes! Tart fruits like berries might need more sweetener but pineapple or orange juice would make great popsicles! A mix of mango, pineapple, and berries would be delicious in these. Try these Orange Strawberry Sunrise Popsicles!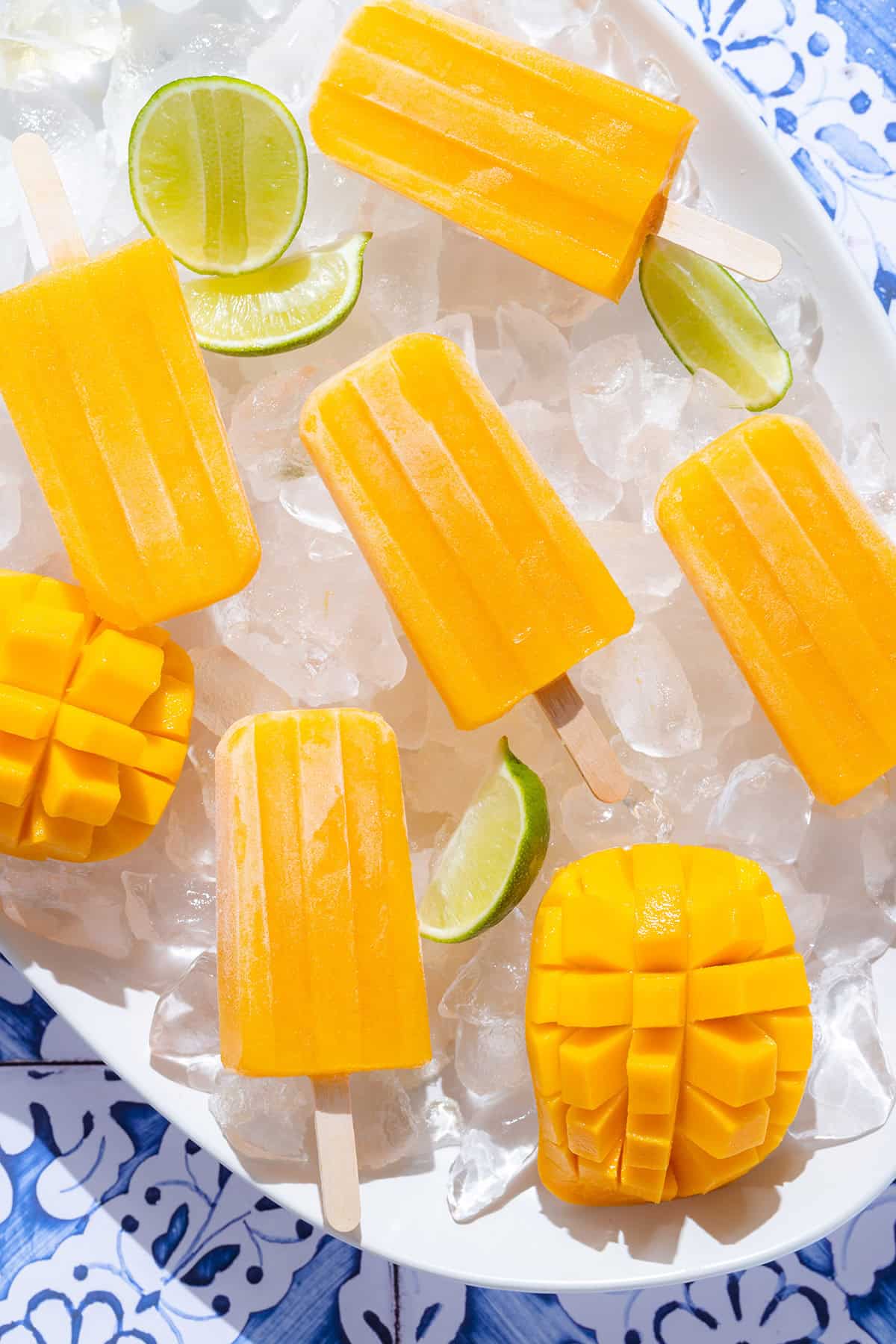 More Mango Recipes
If you're a fan of mangos just like me, you'll enjoy these four mango recipes! You could potentially turn the mango spinach smoothie into popsicles too!
Print
📖 Recipe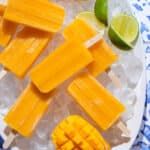 Mango Popsicles
Author:

Veronika | thehealthfulideas

Prep Time:

10 mins

Freezing Time:

8 hours

Total Time:

8 hours 10 minutes

Yield:

10

popsicles

1

x

Category:

Ice cream

Method:

Blending

Cuisine:

American

Diet:

Vegan
---
Description
These are some of the easiest popsicles and summer desserts you can make. These popsicles only call for 3 ingredients and a few minutes to make!
---
2 cups

diced mango (

2

-

3

mangos, I like ataulfo mango)

1 ½ cup

water

2 tbsp

freshly squeezed lime juice (

1

-

2

limes)

⅓ cup

maple syrup or agave (coconut or cane sugar are also great options but let them dissolve in hot water first in a 1:

1

ratio)

¼ tsp

vanilla extract (optional)
---
Instructions
Add everything to a blender and blend on high until smooth.
Pour the mix into popsicle molds almost to the top and stick a wooden popsicle stick into each popsicle almost to the bottom. They should stick out about 1.5 in. If they don't stay upright, you can let the popsicles freeze for 30-60 minutes and then add the popsicle sticks.
Transfer the popsicles into the freezer and let freeze for at least 8-12 hours.
To take the popsicle out, briefly run the molds under hot water and gently wiggle them out. Either enjoy them right away or put them back into the freezer. The outside might be sticky and slightly soft so to prevent them from sticking to each other in the freezer, add them to a baking sheet lined with parchment paper or into a large freezer-safe plastic bag in a single layer until fully frozen again, and then transfer them to a freezer-safe container or a bag.
Store in the freezer for up to 2-4 months.
---
Notes
Sweetener: The sweetener is optional since mango is already sweet on its own but anything frozen usually tastes less sweet than it would've fresh so I added ⅓ cup of maple syrup to make up for that. Use agave or cane sugar dissolved in water if you don't want the maple syrup taste to be there.
Frozen mango: You can use frozen mango but it is harder to blend and will probably need more water which will make the popsicles more watery. I do not recommend defrosting mango and then freezing it again as popsicles, it's best to use fresh mango. If you use frozen mango, the popsicles won't keep as long in the freezer because refreezing frozen fruit isn't recommended. If you're in a pinch and are making the popsicles for the following day, this is ok to do.
Keywords: mango popsicles, paletas