These Chocolate Cookie Dough Popsicles are creamy, decadent, and fudgy. They're also super easy to make, vegan, and even gluten-free! Make these to have a healthy chocolate treat on hand all summer long!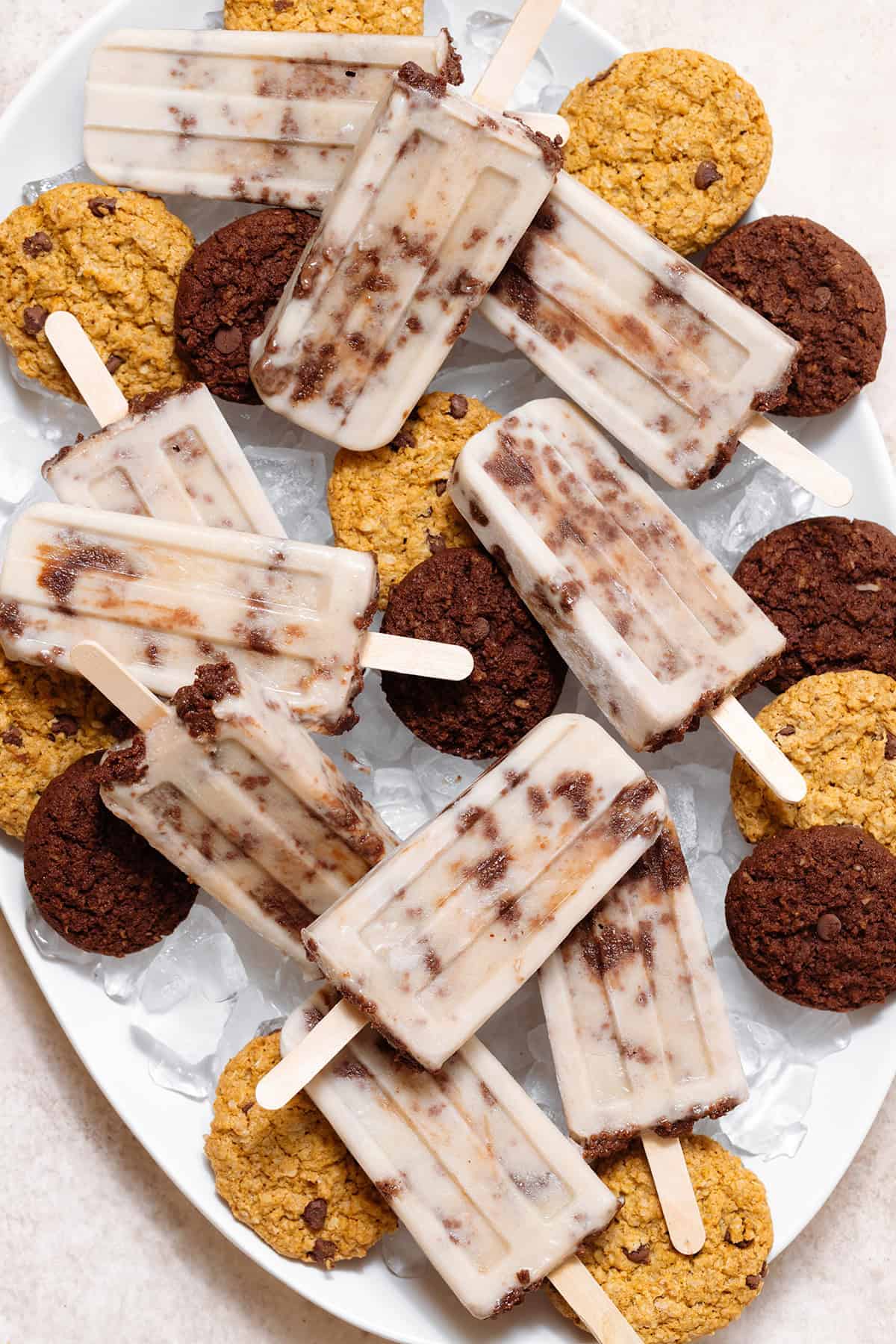 Jump to:
Why You'll Love These Popsicles
Creamy and fudgy - The cookie dough is so simple but incredibly decadent and fudgy. It pairs perfectly with the creamy ice cream and makes for delicious popsicles. These are the perfect chocolate treat to have on hand in the summer and I promise you both kids and adults will love these!
Quick and easy - Although you're using both the food processor and a blender to make these, they still come together really quickly! You only need 15 minutes (plus freezing time) to make these and a just few ingredients.
Vegan and healthy - There are no added processed sugars except for a touch of maple syrup. The cookie dough is sweetened with Medjool dates and uses almond flour which makes it gluten-free. The ice cream is made with bananas and coconut milk and is 100% vegan-friendly!
Make it into ice cream - If you have an ice cream maker, you could also churn the banana coconut milk mixture and add the cookie dough to that to make a regular cookie dough ice cream! I like the simplicity of single-serving popsicles but the choice is yours!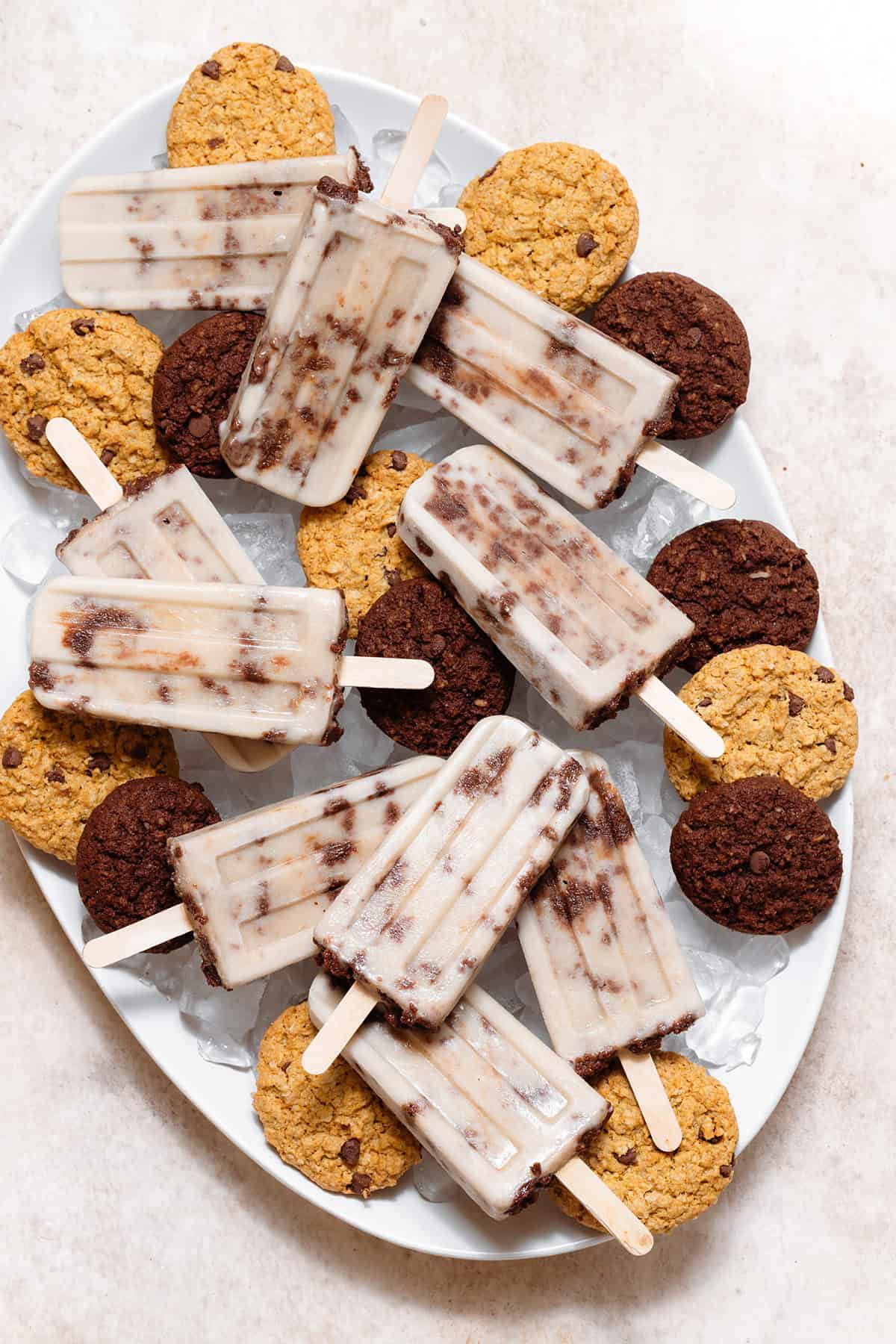 Ingredients Notes
Medjool dates - Dates help the cookie dough stick together. I choose Medjool dates because they're softer and sweeter than other varieties and work the best in this recipe. If you use different dates, you will probably have to use more of them to get the same consistency or you could also add more nut butter to help everything stick together better.
Cacao powder - You can use either cacao or cocoa powder in this recipe. I prefer cacao which is the unroasted raw version. I find it has a deeper chocolatey flavor and generally has more nutrients. Use whichever one you like and prefer.
Almond flour - This is what makes the cookie dough have the proper texture without adding any actual flour. If you can't eat nuts, you can also use regular flour or gluten-free flour but make sure to roast it before adding it make it safe to eat. Check out Shugary Sweet's post on How to Heat Treat Flour.
Almond butter - Nut butter is what helps the cookie dough to stick together along with the dates. You can use any nut or seed butter you like.
Cinnamon and vanilla extract - These two are optional but add a ton of flavor. The cinnamon adds flavor and helps your body to absorb sugar more slowly. Vanilla rounds the flavors and just adds that little something. You can use any form of vanilla - extract, paste, or vanilla bean all work great.
Bananas - Bananas add sweetness and creaminess. The sugar content of bananas helps the ice cream stay softer instead of being rock solid after freezing. Use ripe bananas but they don't have to be as ripe as the ones you'd use for banana bread.
Coconut milk - I use regular full-fat coconut milk from a can. You can also use boxed coconut milk if necessary but canned coconut milk is preferred. It makes the ice cream extra creamy and decadent which is perfect with the fudgy cookie dough.
Maple syrup - A little bit of maple syrup is added to sweeten the ice cream. You can omit this and add more coconut milk or water instead to keep your popsicles lower in sugar. The mixture might seem sweet enough without it but everything tastes less sweet after freezing so I add a little bit of maple syrup to make up for that. I promise it doesn't make it too sweet and you'll be glad you added some!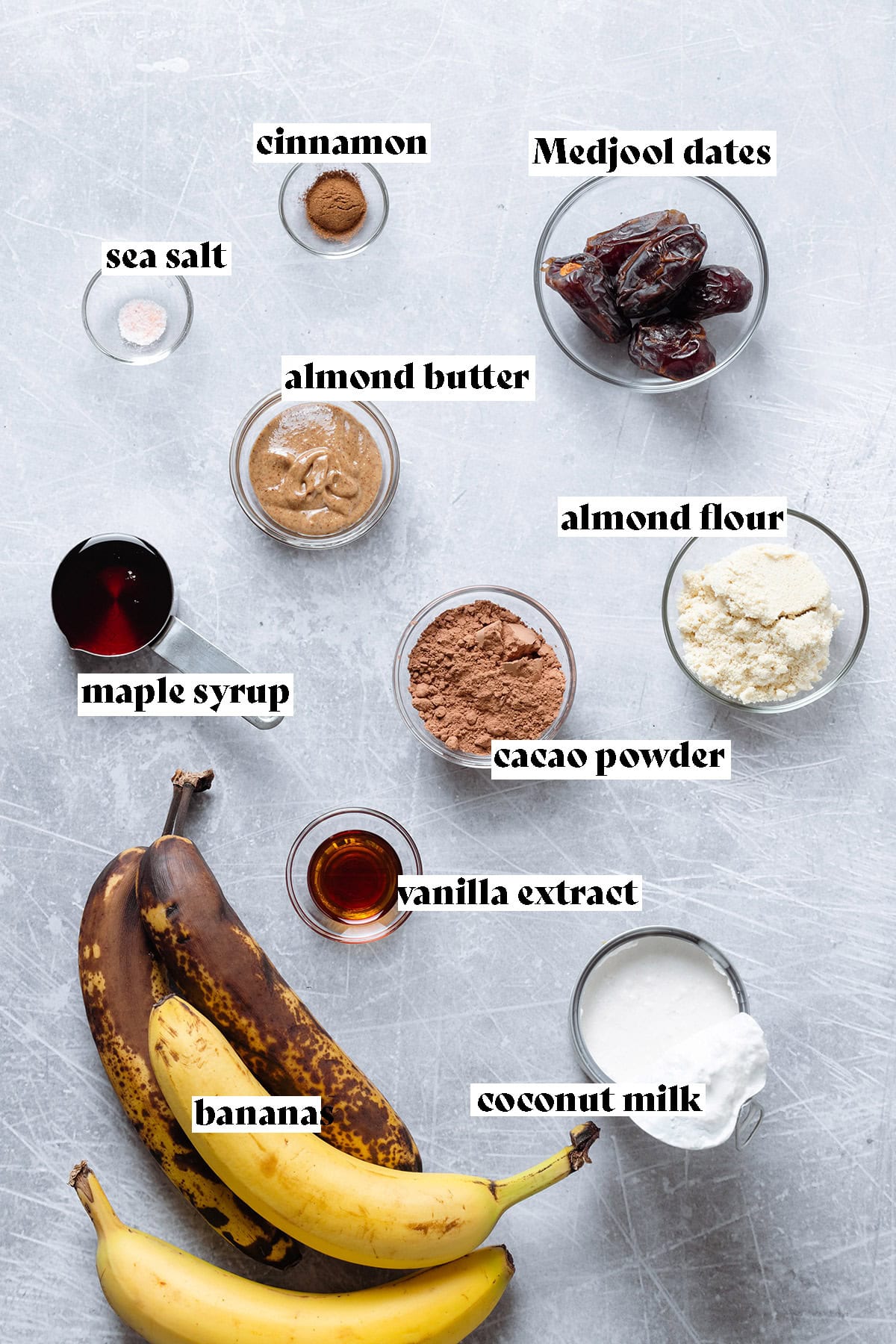 Step-by-Step Instructions
First, you'll make your chocolate cookie dough. Then you'll blend the ice cream. Pour the ice cream into popsicle molds, add the cookie dough, and popsicle sticks, and freeze.
Cookie Dough
Add the almond flour, cacao powder, and sea salt to a food processor. I prefer using a food processor over a blender for this because it's wider and the cookie dough is easier to take out and the food processor is easier to clean.
Pulse the dry ingredients together to mix. Add the dates and almond butter. Process until cookie dough forms. It should only take a few minutes but that depends on the strength of your food processor. You might have to stop and scrape down the sides once or twice.
The cookie dough is ready when you can easily form a ball out of it. If it's too dry, add a Medjool date or a teaspoon of almond butter. If it's too wet, add a tablespoon of almond flour.
Set it aside while you make the banana ice cream.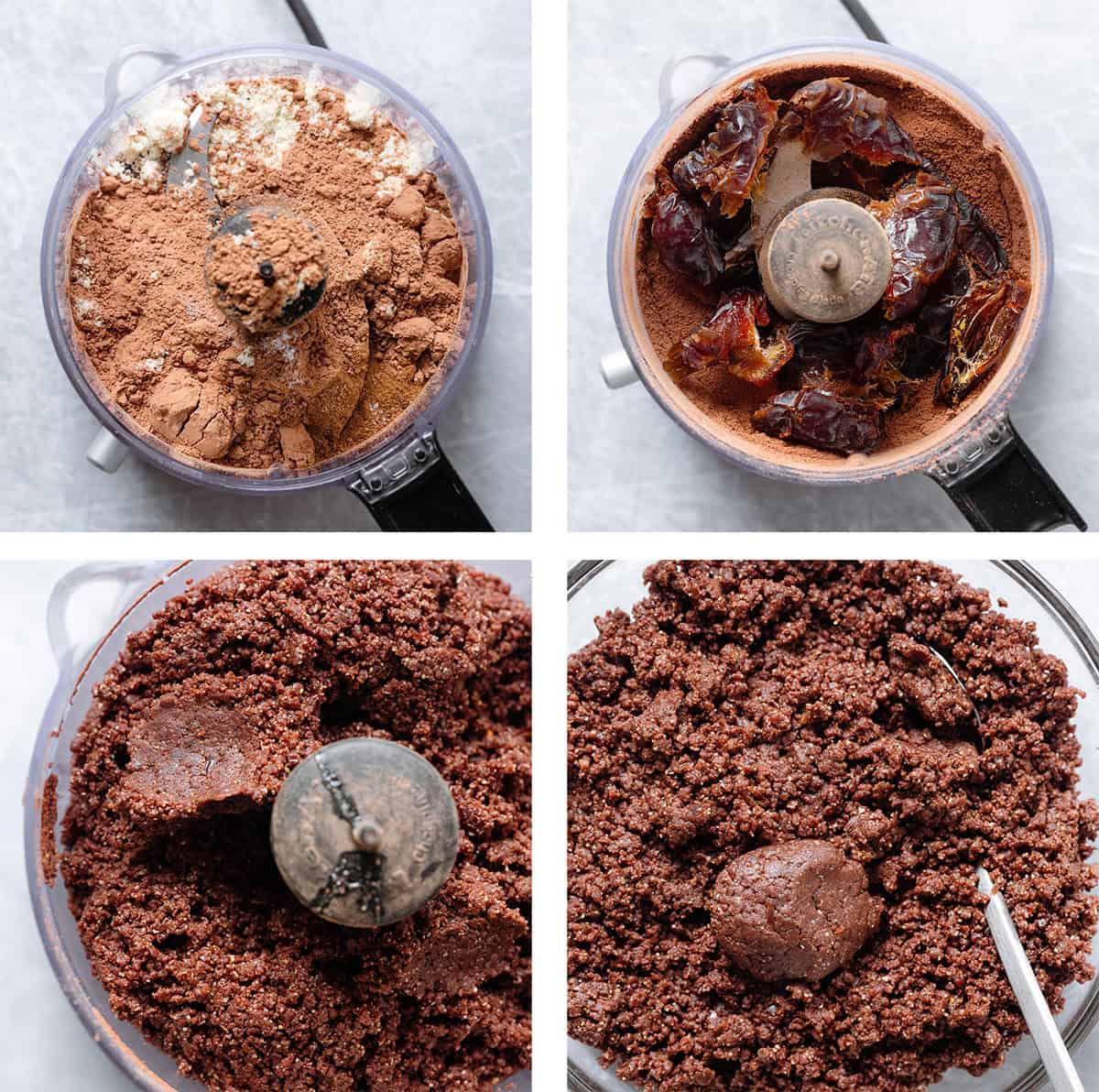 Banana Ice Cream
Add bananas, coconut milk, maple syrup, vanilla extract, and ground cinnamon to a high-speed blender.
Blend on high until smooth.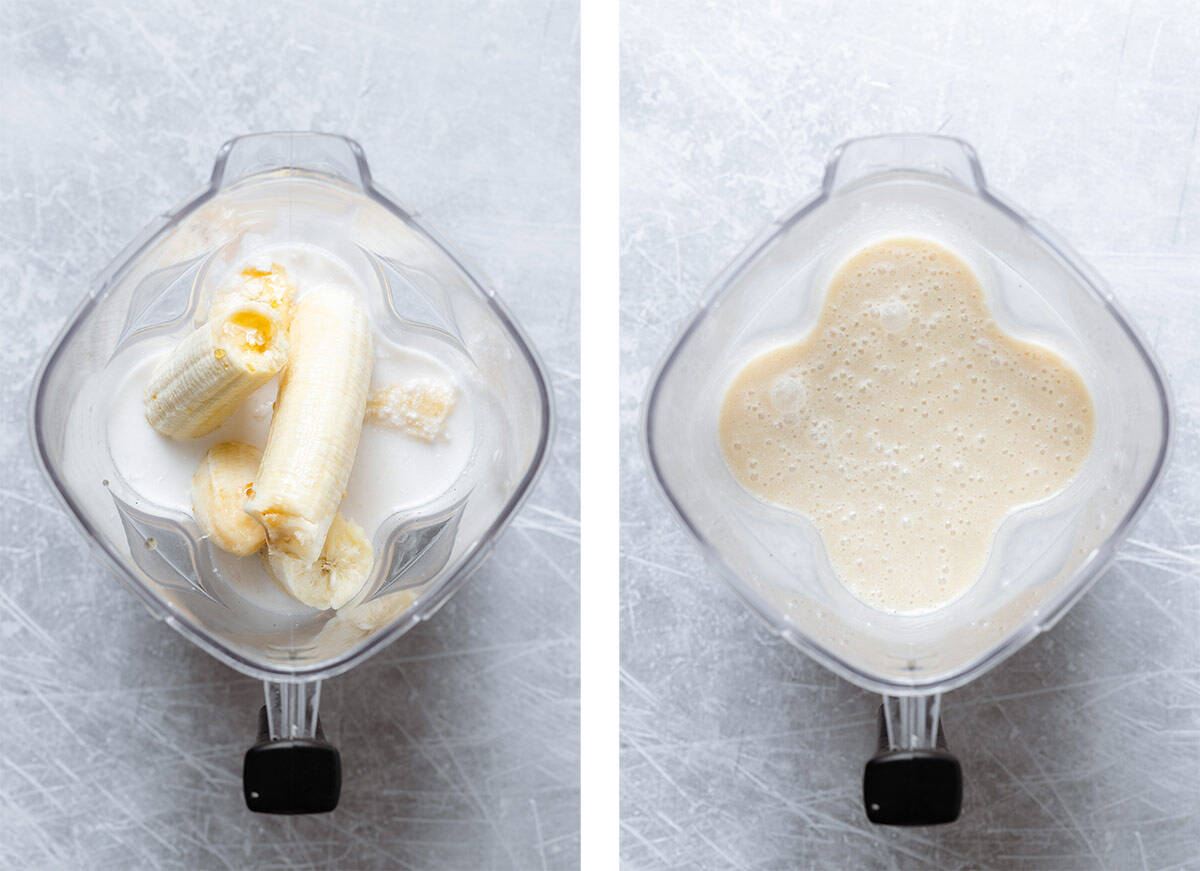 Make the Popsicles
Pour the banana ice cream mixture into your popsicle molds about ½ to ¾ way up.
Start crumbling the cookie dough into each popsicle and use the back of a spoon or a popsicle stick to push it to the bottom and move the pieces around in the ice cream. You will either have leftover ice cream or leftover cookie dough. I usually add all the cookie dough the recipe yields to make the popsicles extra fudgy but the ratio is up to you. Reserve about ¼ cup of the cookie dough for the end.
Add a little more of the ice cream mixture to each mold and stick a popsicle stick in each popsicle. The mixture is very thin but the cookie dough should help the sticks easily stay upright. Crumble the leftover cookie dough around each popsicle stick.
Transfer the molds carefully into the freezer and freeze for at least 8-12 hours.
To get the popsicles out, run the molds under hot water for a few seconds and the popsicles should be easy to pull out. If they're not, run them under hot water again briefly.
Place them on a baking sheet lined with parchment paper and flash freeze to make sure they're properly frozen before storing so they don't stick together.
Transfer to a freezer-safe container or a bag and store in the freezer for up to 2-4 months.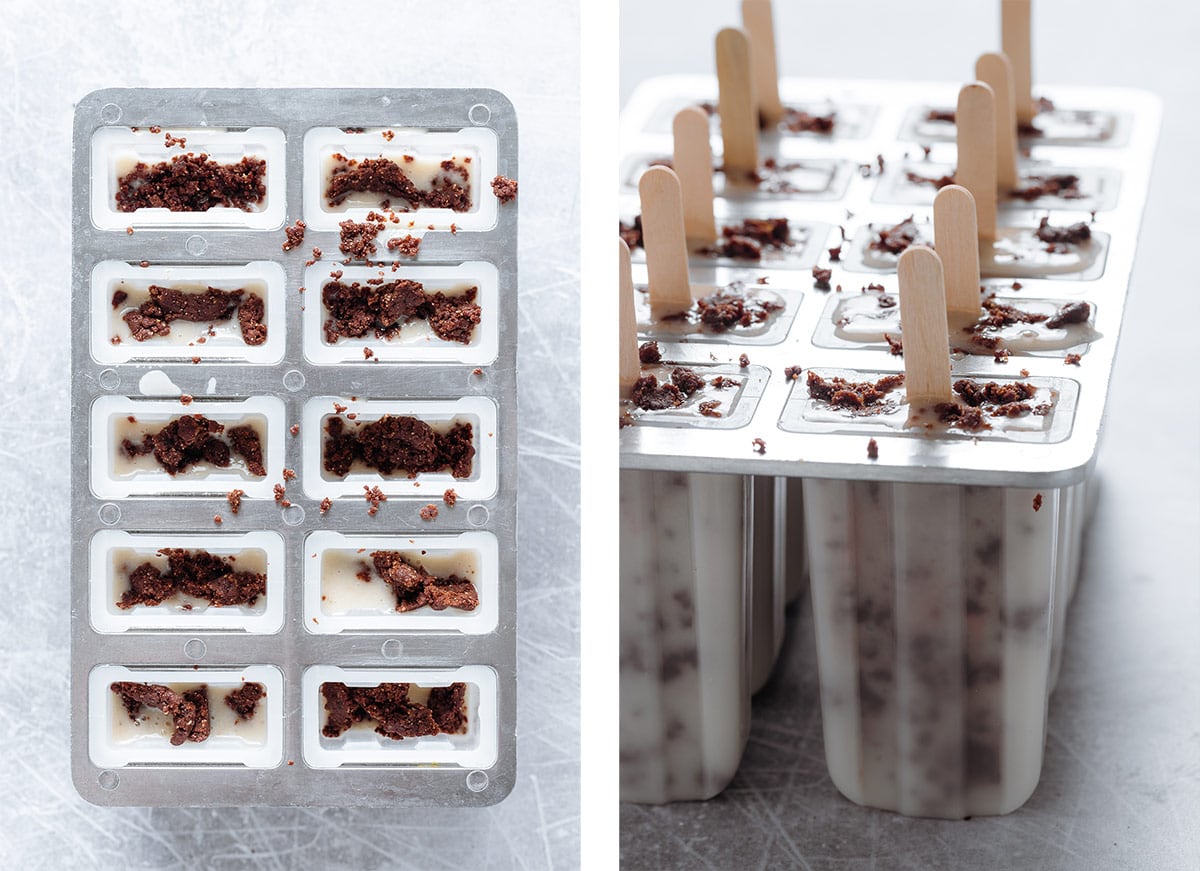 FAQs
Is the cookie dough safe to eat?
Yes! The cookie dough is made with almond flour and has no eggs so it's absolutely safe to eat right out of the bowl!
Can I bake cookies with this cookie dough?
No, this cookie dough is made specifically for this ice cream. I haven't tried baking with it so I don't know how it would turn out. You're welcome to experiment though!
Could I leave out the bananas?
You could potentially use coconut milk instead of the bananas but I haven't tried it and it will be very coconutty and the ice cream will be harder once it freezes.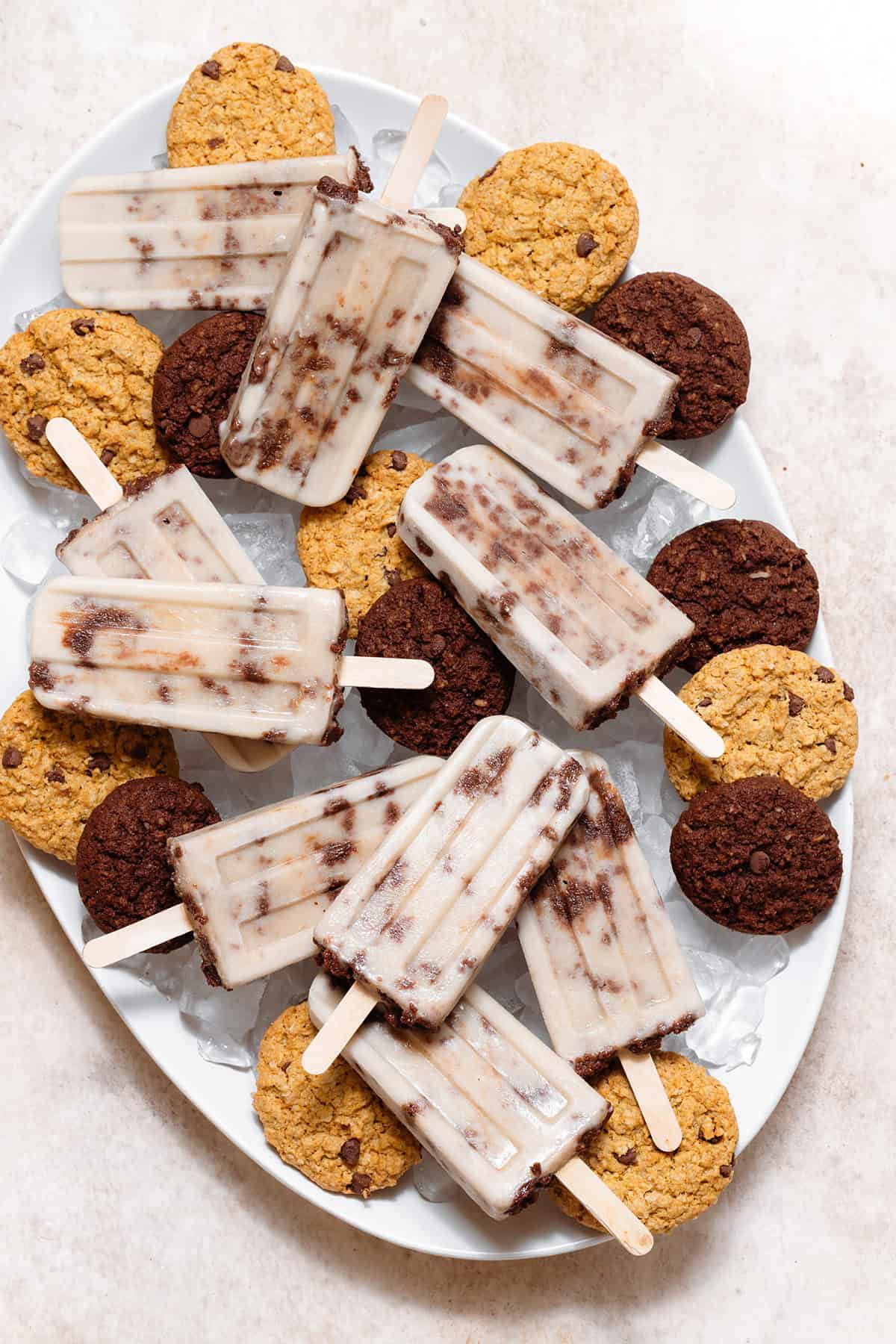 More Popsicles
If you're craving even more popsicles and want to have a variety to choose from in your freezer (yes please!), try the two below! To see all the latest dessert recipes, head to the Desserts category.
Print
📖 Recipe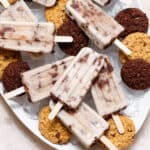 Chocolate Cookie Dough Popsicles
Author:

Veronika | thehealthfulideas

Prep Time:

15 mins

Freezing Time:

8 hours

Total Time:

8 hours 15 minutes

Yield:

8

popsicles

1

x

Category:

Ice Cream

Method:

freezing

Cuisine:

American

Diet:

Vegan
---
Description
These popsicles are incredibly creamy, fudgy, and so easy to make! They're fully vegan and gluten-free.
---
Chocolate Cookie Dough:
⅓ cup

almond flour

¼ cup

cacao powder

¼ tsp

sea salt

7

-

8

Medjool dates, pitted

2

heaping tablespoon almond butter (almond, hazelnut, cashew, peanut, or sunflower seed butter all work here)
Ice Cream:
1

can of coconut milk

3

bananas

2 tsp

vanilla extract or vanilla paste

½ tsp

ground cinnamon

2 tbsp

maple syrup (or another liquid sweetener)
---
Instructions
Make sure you have popsicle molds and popsicle sticks ready.
Chocolate Cookie Dough:
Add the almond flour, cacao powder, and sea salt to a food processor and pulse to combine.
Add the Medjool dates and nut butter and process until dough forms. You might need to scrape down the sides once or twice. The dough should stick together easily. If it's too dry, add a teaspoon more almond butter or another Medjool date. If it's too sticky, add more almond flour.
Ice Cream:
Add coconut milk, bananas, vanilla extract, cinnamon, and maple syrup to a high-speed blender.
Blend until smooth.
Pour the ice cream mixture into your prepared popsicle molds about ¾ way up.
Crumble the cookie dough into each popsicle mold and use the back of a spoon or one of your popsicle sticks to push the cookie dough around to distribute it well. Save about ¼ cup for later.
Top up the popsicles with more ice cream mixture and insert a popsicle stick into each popsicle.
Crumble the remaining cookie dough on top of each popsicle and gently push it in.
Transfer the popsicles into the freezer and freeze for at least 8 hours.
To take them out, run the molds under hot water briefly. It should make it easier for you to pull the popsicles out of the molds.
Lay the popsicles out on a baking sheet lined with parchment paper in a single layer and transfer them back to the freezer for an hour or so to flash freeze them. Once they're set, you can transfer them to a freezer-safe bag or container and they shouldn't stick together. Store in the freezer for up to 2-4 months.
---
Notes
You will probably end up with leftover ice cream or leftover cookie dough. I usually add all cookie dough and pour the ice cream into a separate container and freeze. Adding all the cookie dough will make the ice cream very fudgy but if you'd rather have more ice cream than cookie dough in your popsicles, add less and just snack on the leftovers!
Keywords: cookie dough popsicles, ice cream