This Iced Raspberry Matcha Latte is perfect for spring, summer or any time you're craving something more fun and fruity than your usually everyday matcha latte. It's simple, really delicious, and can be make completely vegan!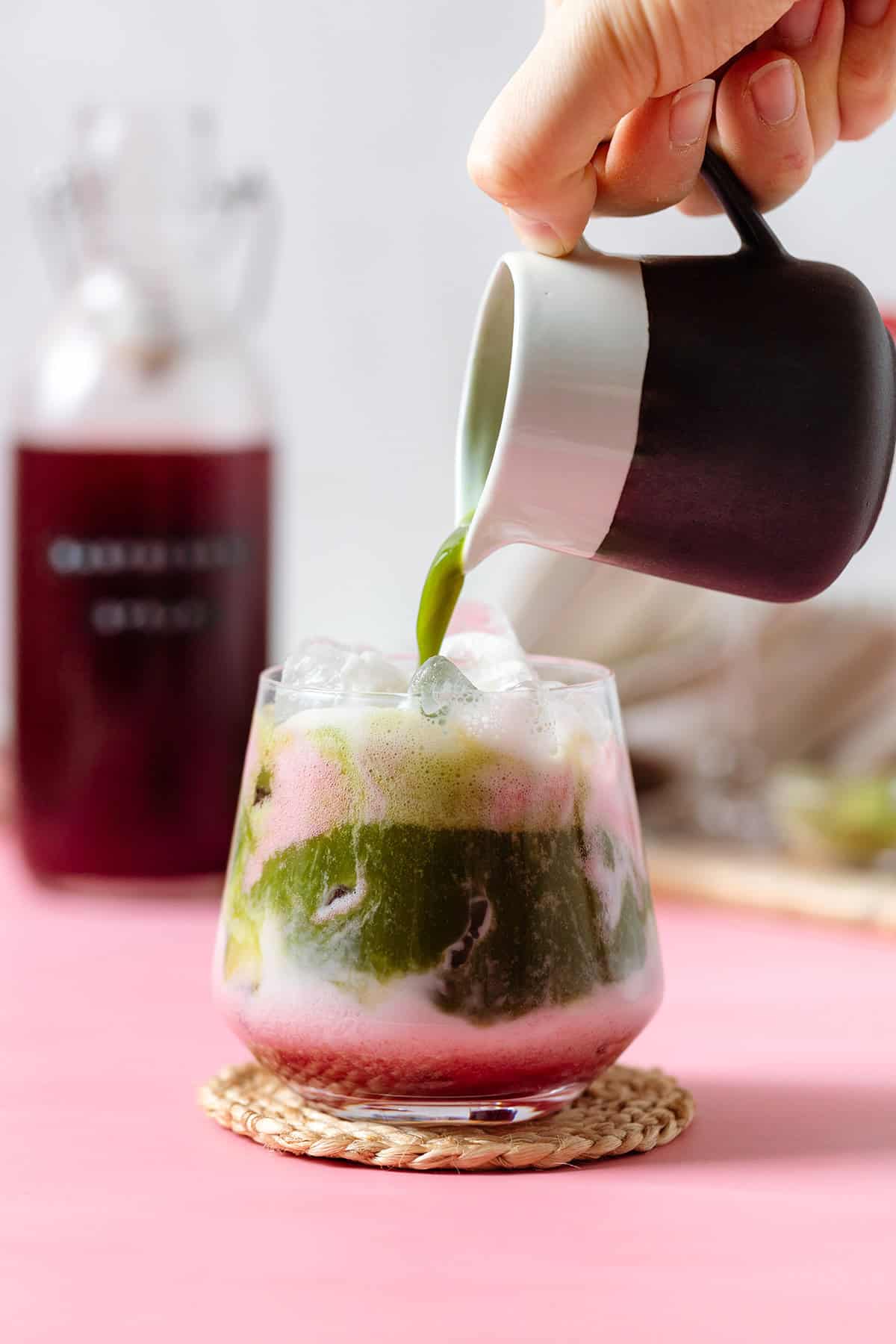 Jump to:
Why This Recipe Works
It's vegan - If you make your lattes at home, you can decide exactly what goes into your drink. I like ordering this drink at Starbucks sometimes and ask for matcha with raspberry syrup and almond milk. Their almond milk is sweetened though and so is their matcha. All the sugar adds up so I try to make my drinks at home as often as possible. Some other places might not offer plant-based milks at all so making this latte at home solves that issue.
It can be made sugar-free - The amount of sugar depends on what kind of sweetener you use to make the syrup. I usually make mine with either maple syrup or cane sugar. It can also be made with sugar alternatives like erythritol, xylitol, or stevia. Coconut sugar also works well. Keep in mind that the flavor of the syrup will change depending on the kind of sweetener you use.
It's versatile - If you don't have or like raspberries, you can use any other berry and it will work just as well! Make your syrup with fruits like strawberries, blueberries, or blackberries - those are all really great choices! Even red currants would be fun to experiment with but you might need to add more sweetener because they tend to be very sour.
You can use the raspberry syrup for a lot of other drinks - Hot or cold, alcoholic or non-alcoholic drinks, it's delicious in all of them. You can also just add it to some sparkling water, I highly recommend it!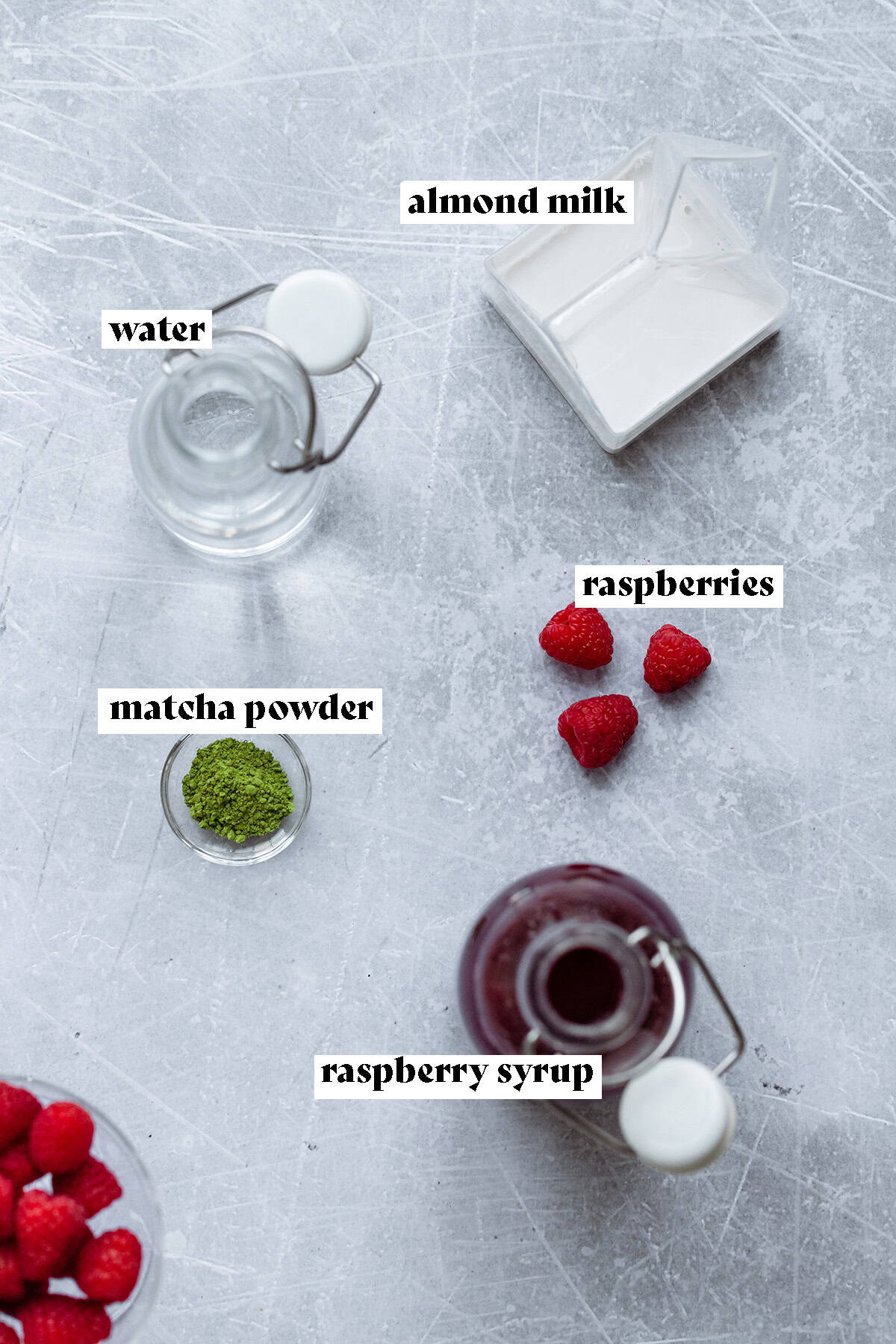 Ingredients
Matcha powder - Matcha is a 100% green tea powder. If you get matcha from Starbucks, it's a mix of matcha and sugar but if you make it at home you can avoid the extra sugar.
Milk - I prefer almond milk with matcha but you feel free to choose whatever milk you enjoy!
Raspberry simple syrup - The exact recipe can be found via the link but it's really simple. All you need are raspberries, sugar or maple syrup, and water.
Step-by-Step Instructions
Making this drink is super simple and really doesn't take more than 5 minutes if you already have your raspberry syrup ready. The syrup takes about 20 minutes to make and can be made well in advance. It makes enough for at least 10 lattes and lasts about a week. I usually add 1 oz of vodka to make it last longer but that's optional.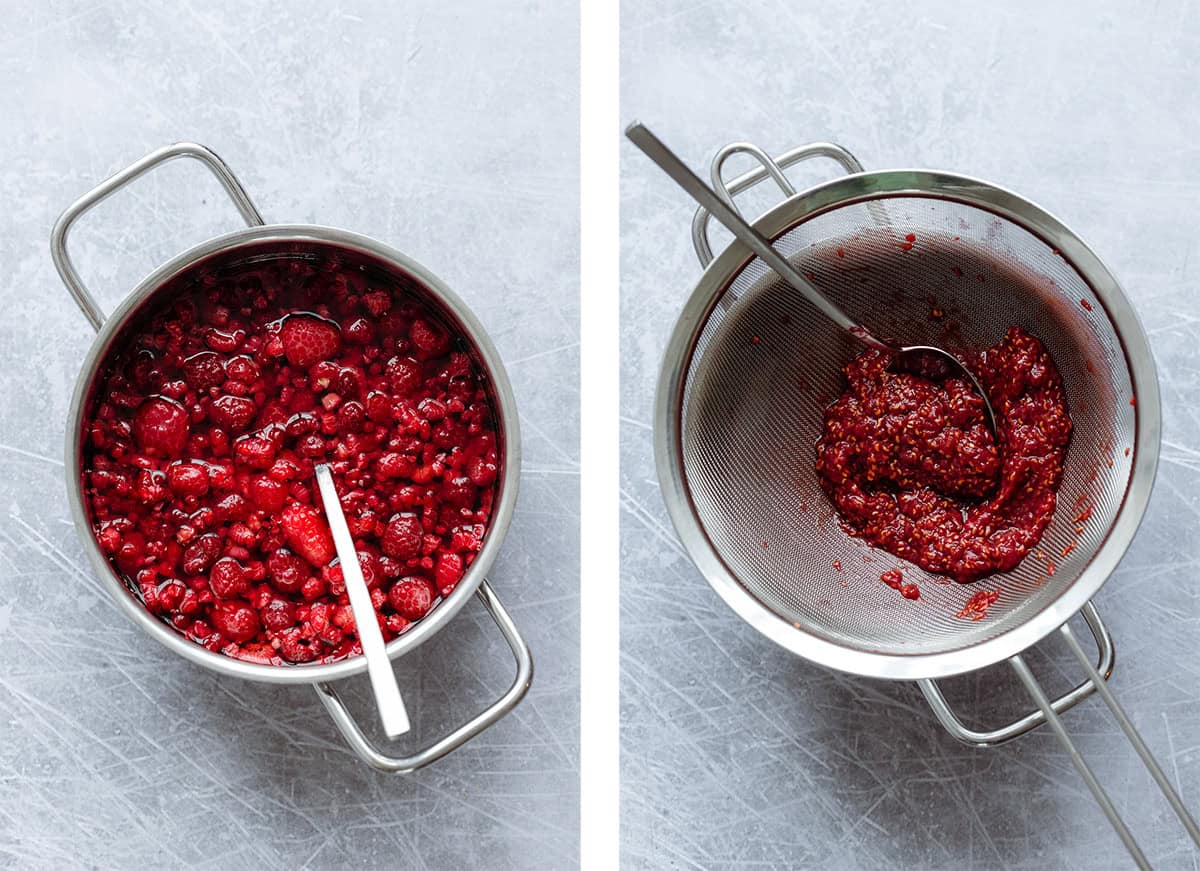 To make the raspberry syrup, simmer the raspberries, water, and sugar or maple syrup for 15-20 minutes until the raspberries are completely cooked down and fallen apart.
Strain the mixture through a fine-mesh strainer and let cool down before storing. The ingredients and instructions are also in the recipe card at the end of this post.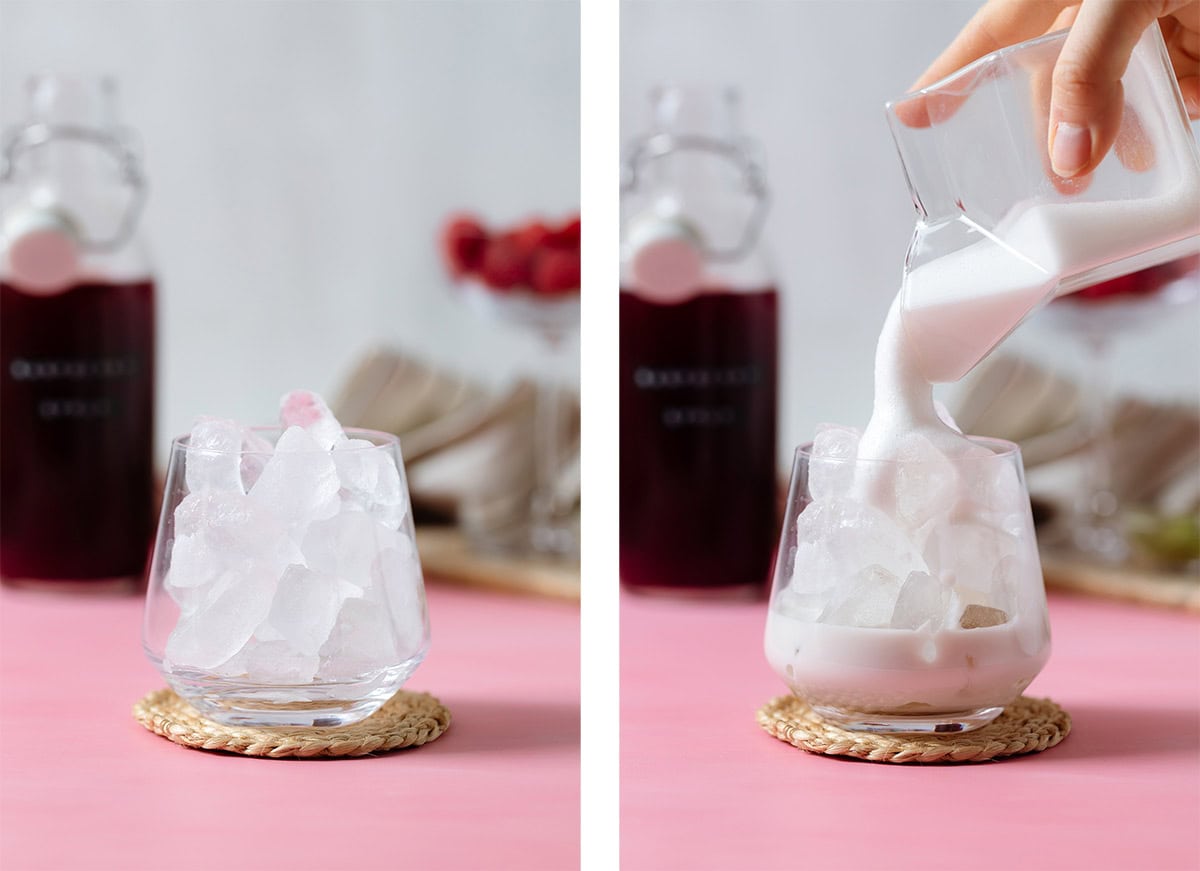 Do you need any special kitchen gadgets to make this matcha latte?
Making the actual matcha latte is simple. All you need is something to warm up your water in and a milk frother. Ideally, you should use a fine-mesh strainer to sift your matcha and a matcha whisk to mix it well with the water. I always sift mine but I don't own the whisk so I just use a handheld milk frother which you'll later use for the milk too.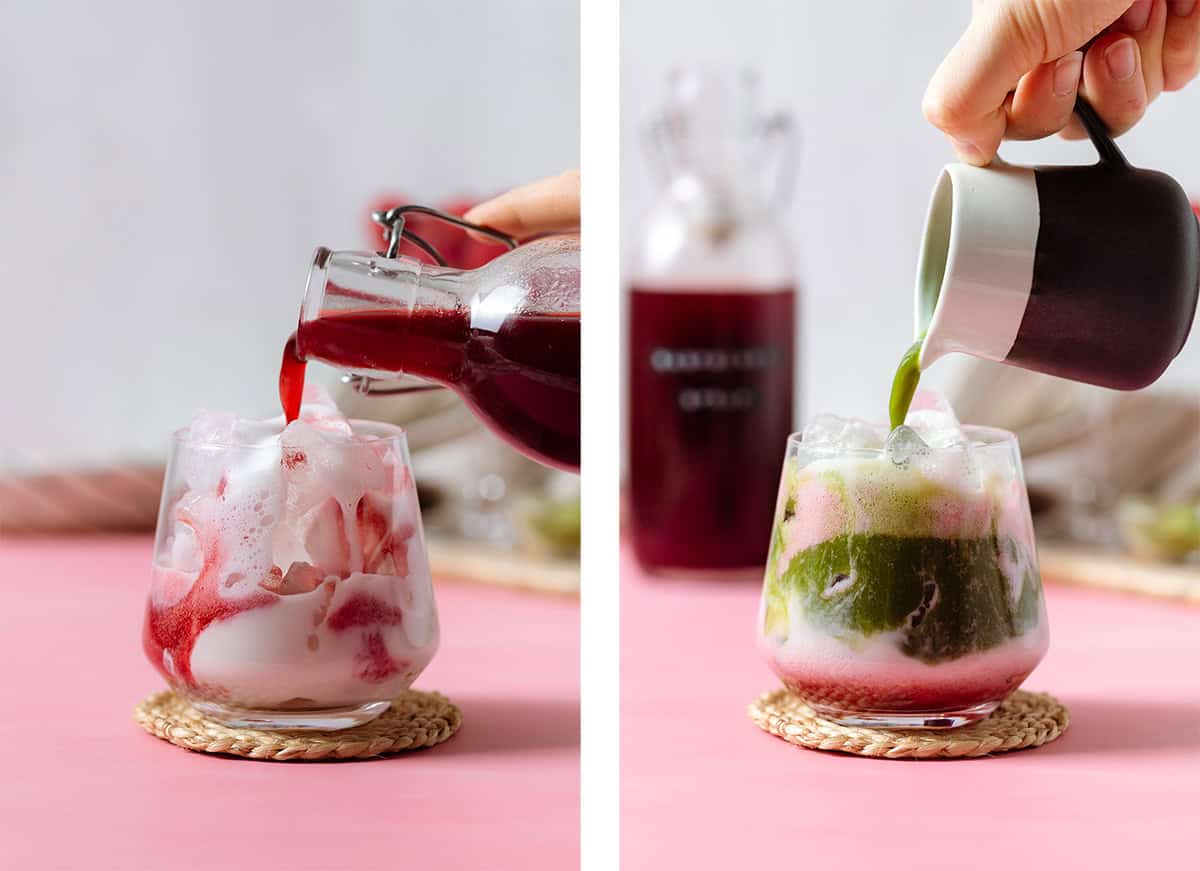 Warm up your water for the matcha. Sift in the matcha powder and whisk or blend using a handheld milk frother. Set aside.
Froth your milk of choice and pour it over some ice into a glass.
Add 1-2 tablespoon of the raspberry syrup.
Pour your matcha over the milk and raspberry syrup and enjoy!
More Drinks You Can Use Leftover Raspberry Syrup in
There are a lot of uses for the leftover syrup. Even more ideas are in the original post for the syrup but here are a few of my favorites. More recipes are coming and will be linked here!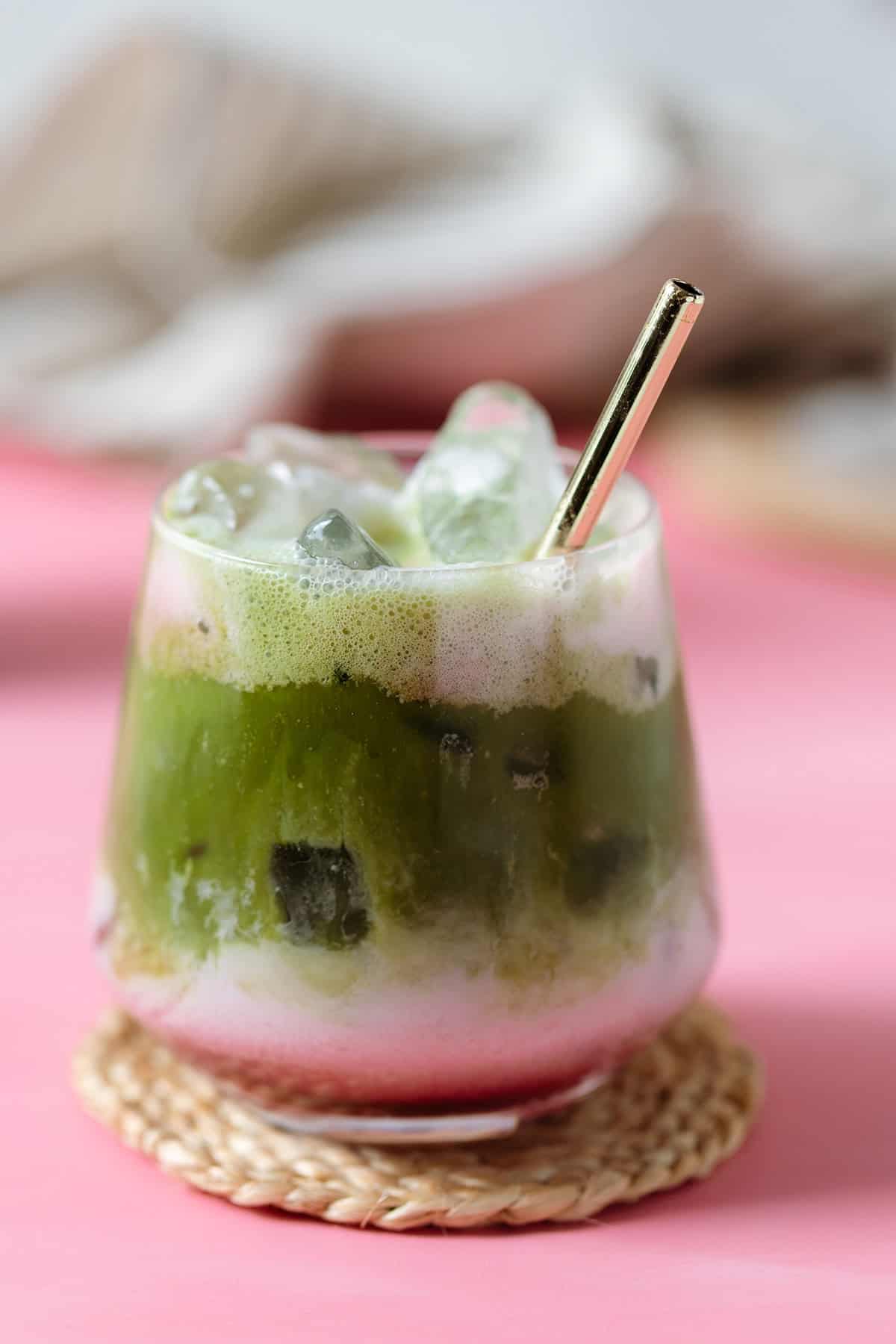 FAQs
Does matcha contain caffeine?
1 teaspoon of matcha powder has approximately 65mg of caffeine. Matcha at Starbucks will have less because they mix it with sugar.
Does matcha give you the same caffeine crash as coffee?
For me personally, it doesn't. I feel much better after drinking matcha than I do coffee. I still drink both but the caffeine in matcha tend to be easier to tolerate and digest by a lot of people.
Can I use storebought raspberry syrup?
Totally! I think Monin sells one.
Can I use different berries?
Yes, you can use any berries you like. This drink can be easily adapted to whatever you have and the berries can be both fresh or frozen.
Print
📖 Recipe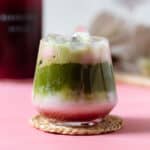 Iced Raspberry Matcha Latte
Author:

Veronika | thehealthfulideas

Prep Time:

10

Cook Time:

20 mins

Total Time:

30 minutes

Yield:

1

1

x

Category:

Drink

Method:

Mixing

Cuisine:

American

Diet:

Vegan
---
Description
Simple iced berry matcha latte with homemade raspberry syrup. The drink can be easily adapted to any other berries you have and like.
---
1 tsp

matcha powder

½ cup

water

½ cup

milk of choice
Ice cubes

1

-

2

tablespoon Raspberry Simple Syrup (see notes)
Fresh raspberries for garnish (optional)
---
Instructions
Sift matcha powder through a small fine mesh strainer into a bowl or a mug. This step is optional but helps to make the matcha smoother.
Bring your water to a soft simmer, don't boil it. See notes for extra tips.
Add a couple tablespoons of the hot water to the matcha and use a matcha whisk (or a milk frother if necessary) to mix it together.
Pour in the rest of the water and set aside.
Froth your milk in a milk frother or in a tall glass using a handheld milk frother. Add a handful of ice.
Add the raspberry syrup and warm matcha to the milk and stir to cool down.
Serve garnished with fresh raspberries and a straw if desired.
---
Notes
Raspberry syrup: The exact more detailed recipe is linked above in the ingredient list. To make it, you need 1 ½ cup water, 2 cups raspberries, 1 cup maple syrup or cane sugar, and 2 teaspoon vanilla. Simmer everything for 15-20 minutes and strain into a jar. If you want to make a quick version without cooking, mash a few raspberries with a teaspoon of maple syrup at the bottom of your glass. The seeds will stay in the drink but it will still be delicious!
Keywords: iced matcha, raspberry syrup