Hibiscus Earl Grey Latte with Rose Water - delicious floral latte that's made in less than 10 minutes! Super frothy and comforting.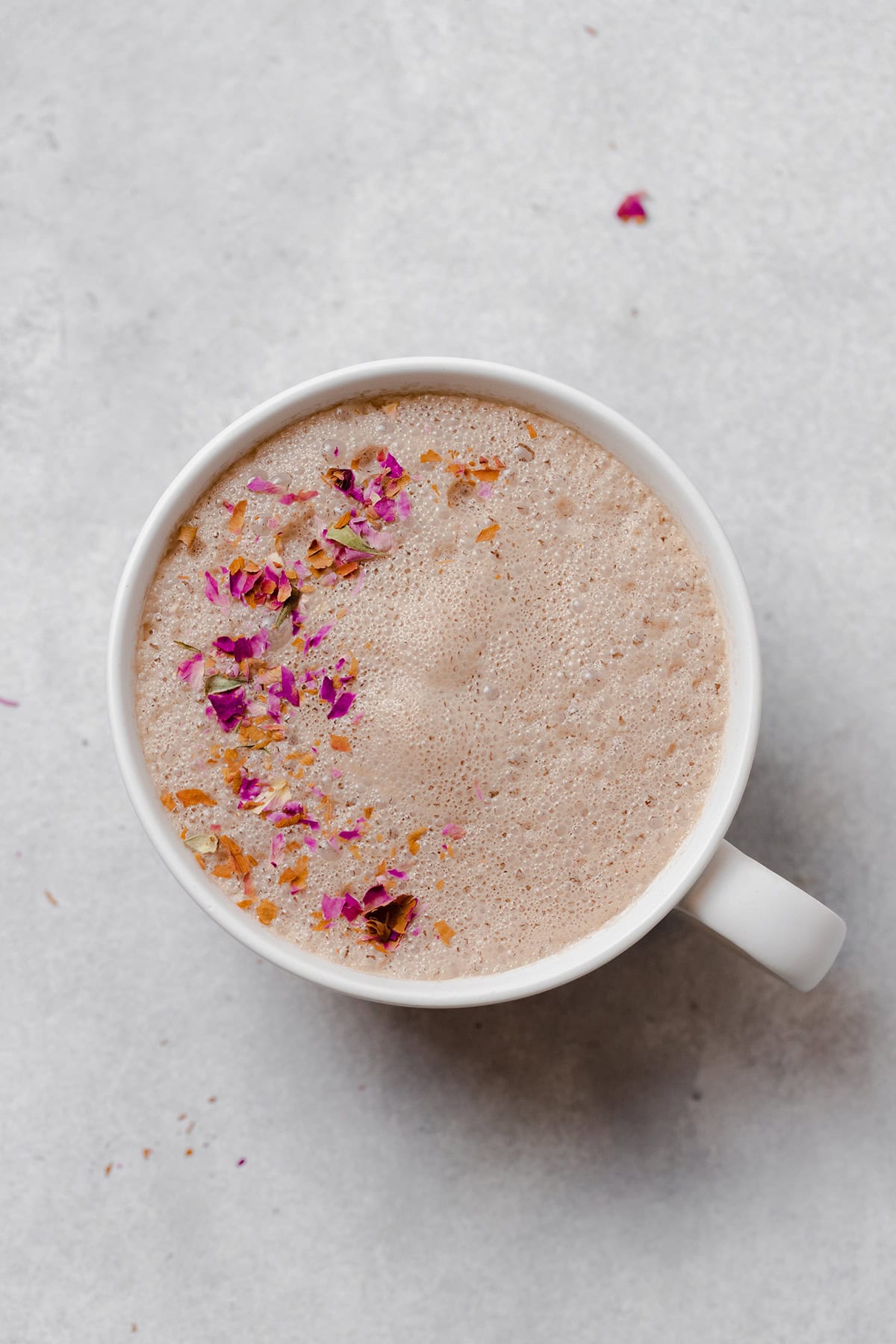 Why you'll love this latte
A while ago I shared this Rooibos Rose Tea Latte (my favorite Starbucks copycat drink) but I might like this Hibiscus Earl Grey Latte even more!
They're both made with rose water but this one had earl grey which has notes of bergamot. The hibiscus flower gives this tea a deep pink color and a nice subtle floral flavor.
This tea latte is light and floal but still frothy, warm, and comforting. I've made this sooo many times. It's really good!
It's a great drink for Valentine's Day or Mother's Day if you're in the mood for a steaming cup of delicious floral latte.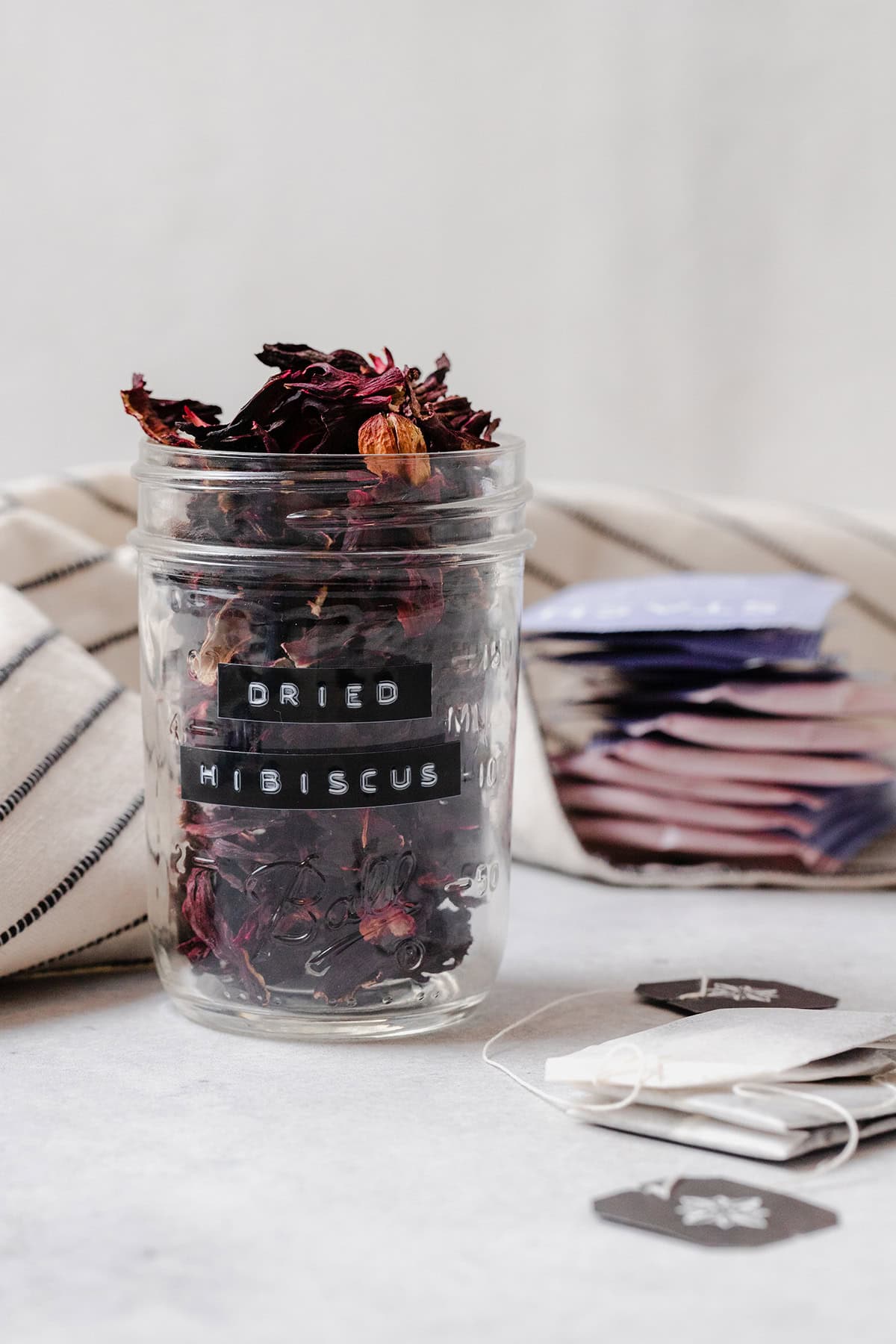 How to make this tea latte:
What you need:
earl grey tea
hibiscus petals (or one tea bag)
plant-based milk
honey (or a vegan sweetener of choice)
rose water
I make everything in the same pot on the stove.
First, bring the water to a boil, take off the heat, add both the earl grey and hibiscus tea, and steep for 5-7 minutes.
Pour in the milk and bring it back to a soft boil. Take off heat immediately when it starts to boil.
I really like using a handheld milk frother. You can use a blender too but my milk frother was super cheap and I don't have to clean a blender.
Froth the latte right in the pot and pour into a mug. Enjoy immediately.
If you want to make more than just one drink, either make them separately or pour them into mugs while making sure each one has some frothed milk on top.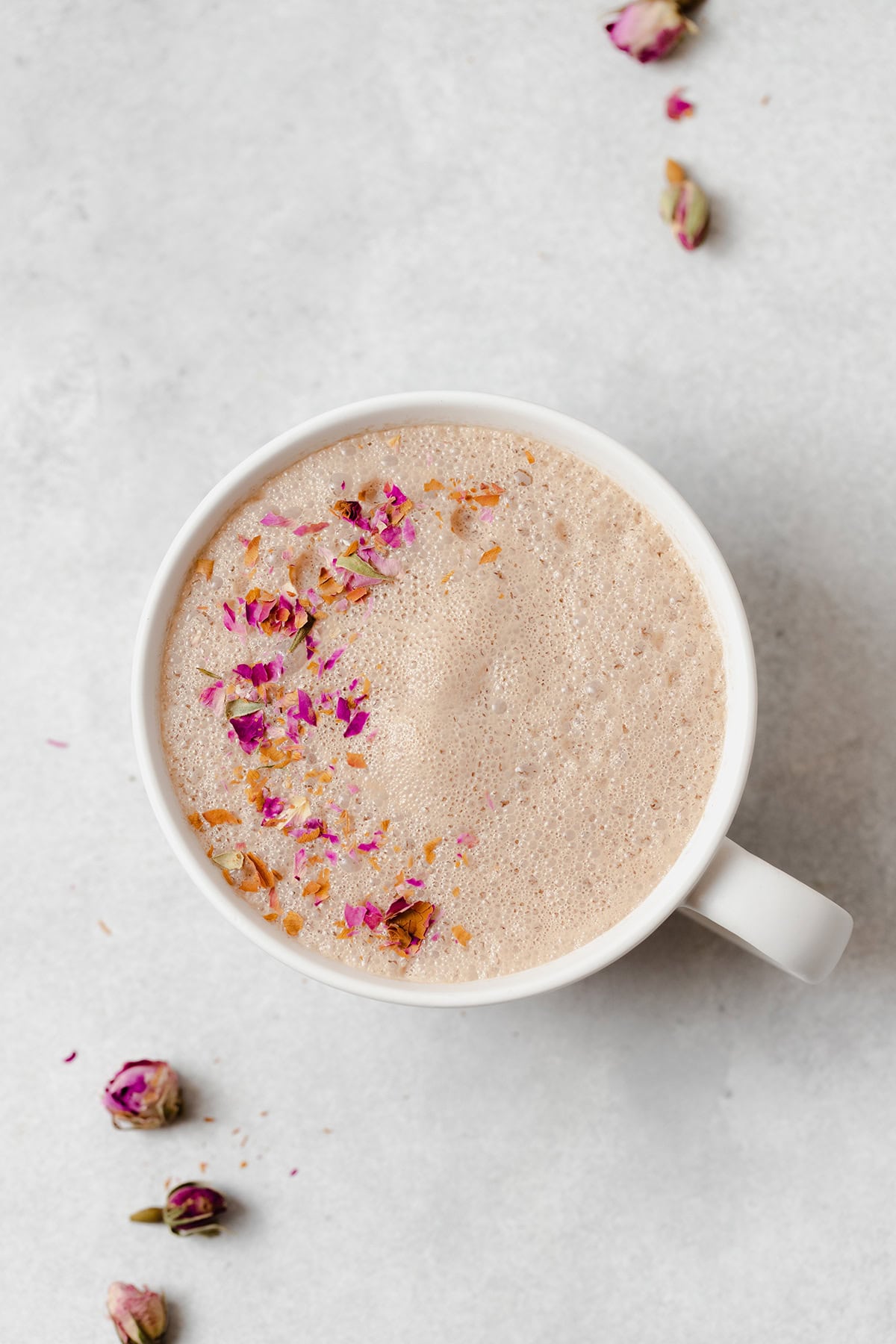 Tea latte Q&A:
Will tea steep in milk?
Yes! You can steep tea in any hot liquid.
What's the perfect water : milk ratio for a tea latte?
I like to to 2:1 ratio of water : milk. You can adjust this to your liking based on how creamy you want the tea latte to be. In this recipe I use 1 cup of water and ½ cup of milk.
What kind of plant-based milk froths best?
Cashew or almond milk are great options. You can also look for Barista plant-based milks made specifically for frothing.
How to make a tea latte at home without a machine?
It's so easy. You don't need any tools. I like to make it two ways.
Pour the latte into a high-speed blender and blend on high for a few seconds. Be very careful as it's hot. This adds air to the latte and makes it frothy. Serve right away.
Use a handheld milk frother (mine cost $10 and it works like magic!) and froth the milk right in the pot according to the instructions. Serve right away.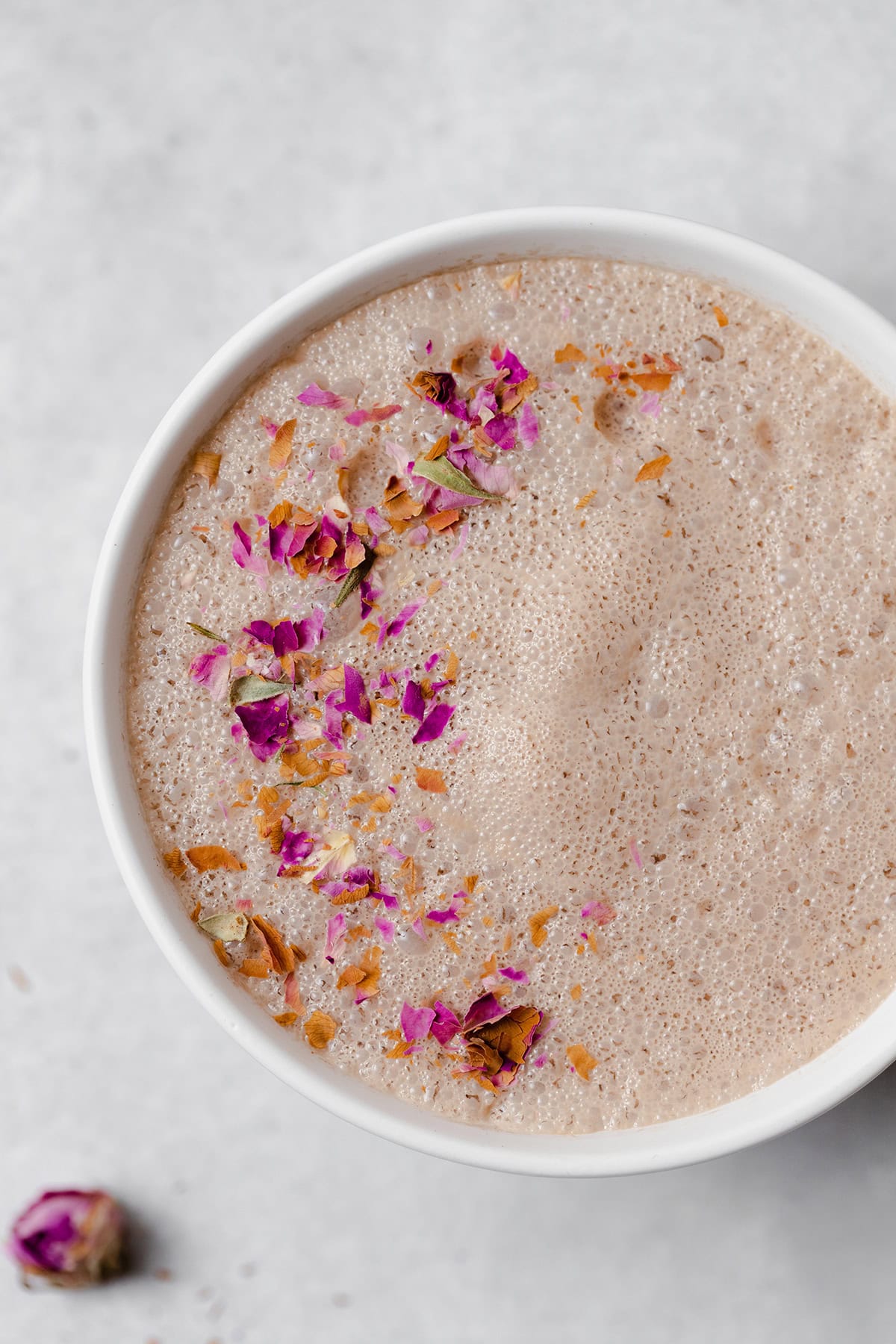 More hot drink recipes:
Print
📖 Recipe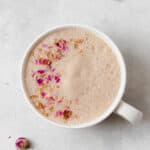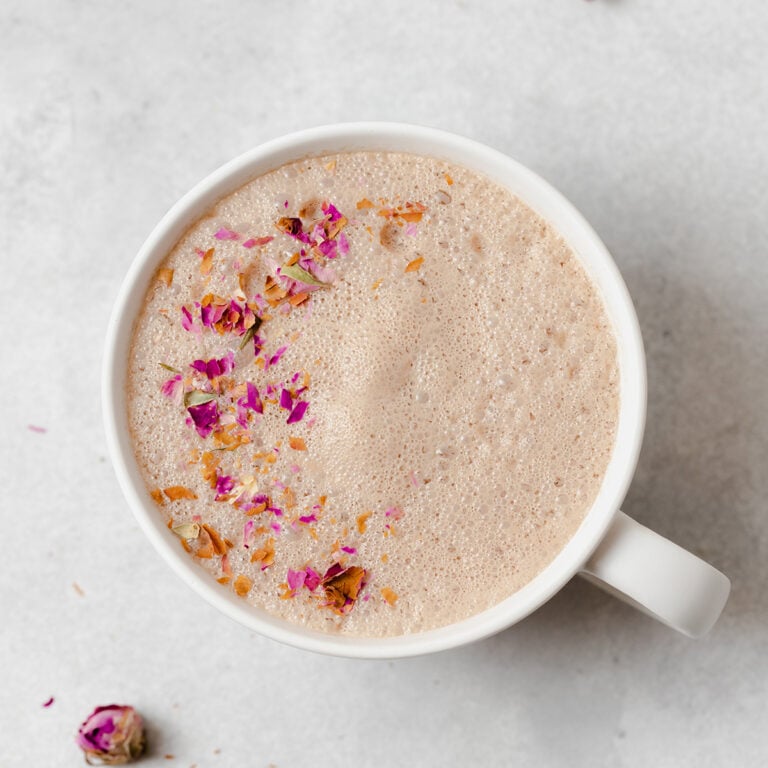 Hibiscus Earl Grey Latte with Rose Water
---
Description
Delicious earl grey latte with a hint of hibiscus and rose.
---
1 cup

water

2

earl grey tea bags (decaffeinated if necessary)

1 Tsp

hibiscus flower (or

1

hibiscus tea bag)

1

-

2

teaspoon honey or maple syrup (or your sweetener of choice) 

½ cup

plant-based milk (cashew or almond milk are great)

¼ tsp

rose water (optional)
crushed dried rose petals (for serving, optional)
---
Instructions
Bring the water to a boil in a small pot on the stove.
Remove from heat, add the earl grey and hibiscus. Let steep for 3-4 mins.
Take the teabags and hibiscus flowers out, add the honey, milk, and stir well.
Add rose water if using.
Use a small handheld milk frother to froth the drink or pour into a high-speed blender and blend for a few seconds.
Serve immediately sprinkled with dried rose petals if desired.
---
Notes
The rose water is totally optional and it's tasty with or without it. You can try it with orange blossom water instead if you have any!