Add this Raspberry Simple Syrup to your next cocktail, non-alcoholic drink, or just water for some berry flavor! This syrup has so many great uses and can be made with any kind of sugar, even sugar-free alternatives!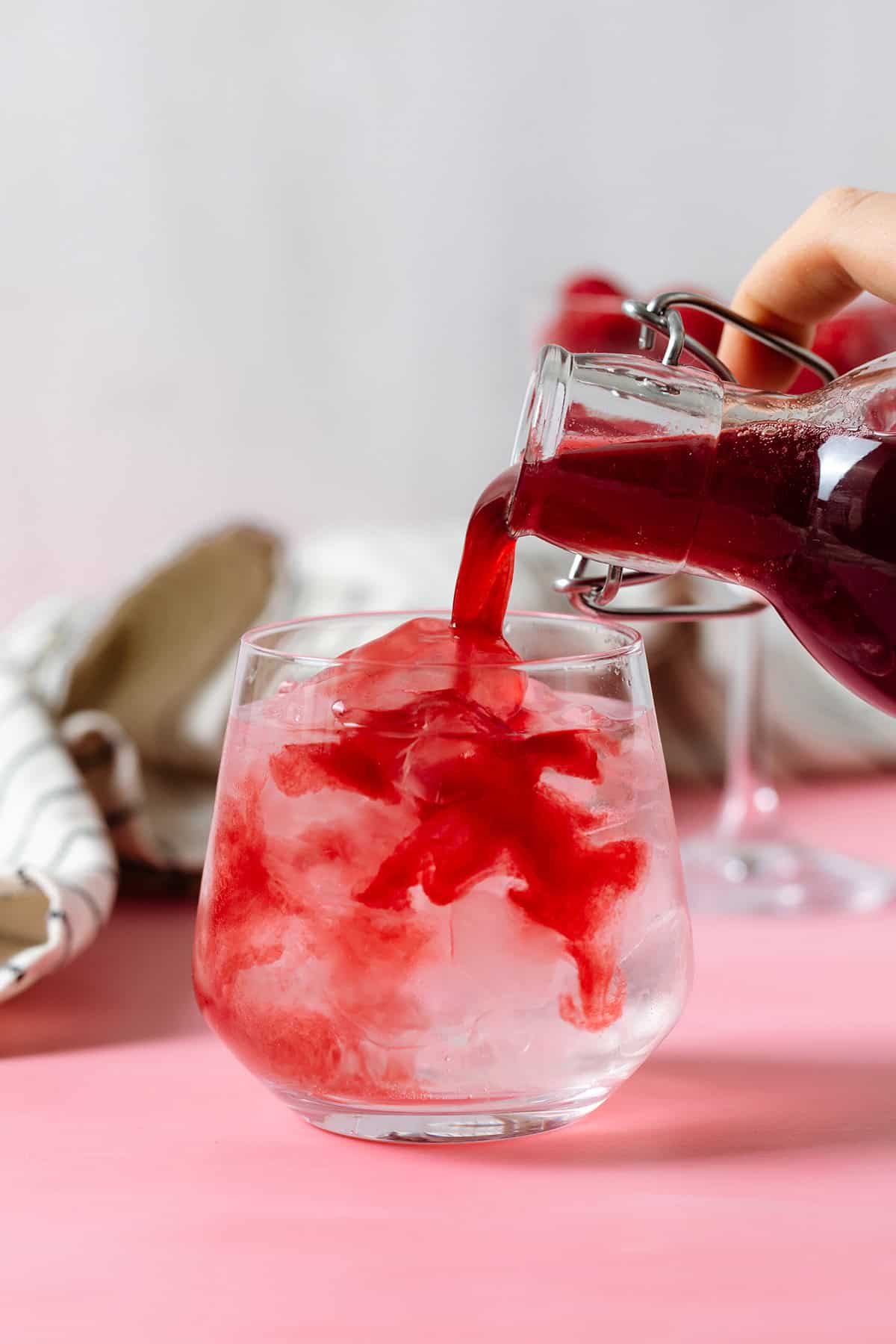 Jump to:
Why You'll Love This Syrup
It's easy and simple - This syrup only needs 4 ingredients and you probably already have all of them! It also takes only 20 minutes to make and there is no prep except for measuring your ingredients!
It's a very versatile syrup - Simple syrups are used in hundreds of cocktails but making one with berries is more special and fun! You can make the same syrup with other berries, or a mix as well!
It can be made sugar-free by adding a sugar alternative you can substitute in a 1:1 ratio. This makes it the perfect syrup for everyone, no matter what your preference is!
Use it for cocktails, non-alcoholic drins, hot coffee or tea, or maybe even drizzled on pancakes or waffles because why not!
Ingredients
You only need 4 ingredients to make this syrup and all of them are common staple ingredients.
Raspberries - You can use either fresh or frozen raspberries but I usually use frozen because those are the ones I usually have on hand, especially in a bigger quantity.
Sweetener - I'm using maple syrup in this recipe, it's my favorite sweetener and it adds a nice warm maple flavor to the syrup. You can use any kind of sugar here. Cane sugar, coconut sugar, brown sugar, or even sugar-free alternatives like xylitol can be used! Keep in mind the taste of the syrup will change based on the syrup you use.
Vanilla extract - I chose vanilla extract because it's the most common but feel free to sub vanilla paste, vanilla powder, or a halved vanilla bean (don't forget to scrape the seeds into the syrup after!) Vanilla powder or a whole bean will have the strogest and best flavor.
Water - The raspberries do release water as they cook but the water prevents them from burning and thins out the syrup. Without water, the syrup would be extremely thick and very sweet.
Extras: I like adding floral bitters to this syrup. My favorite are hibiscus and rose, the flavors go so well together with the raspberries. You could also use rose water or hibiscus water instead of bitters to avoid the alcohol.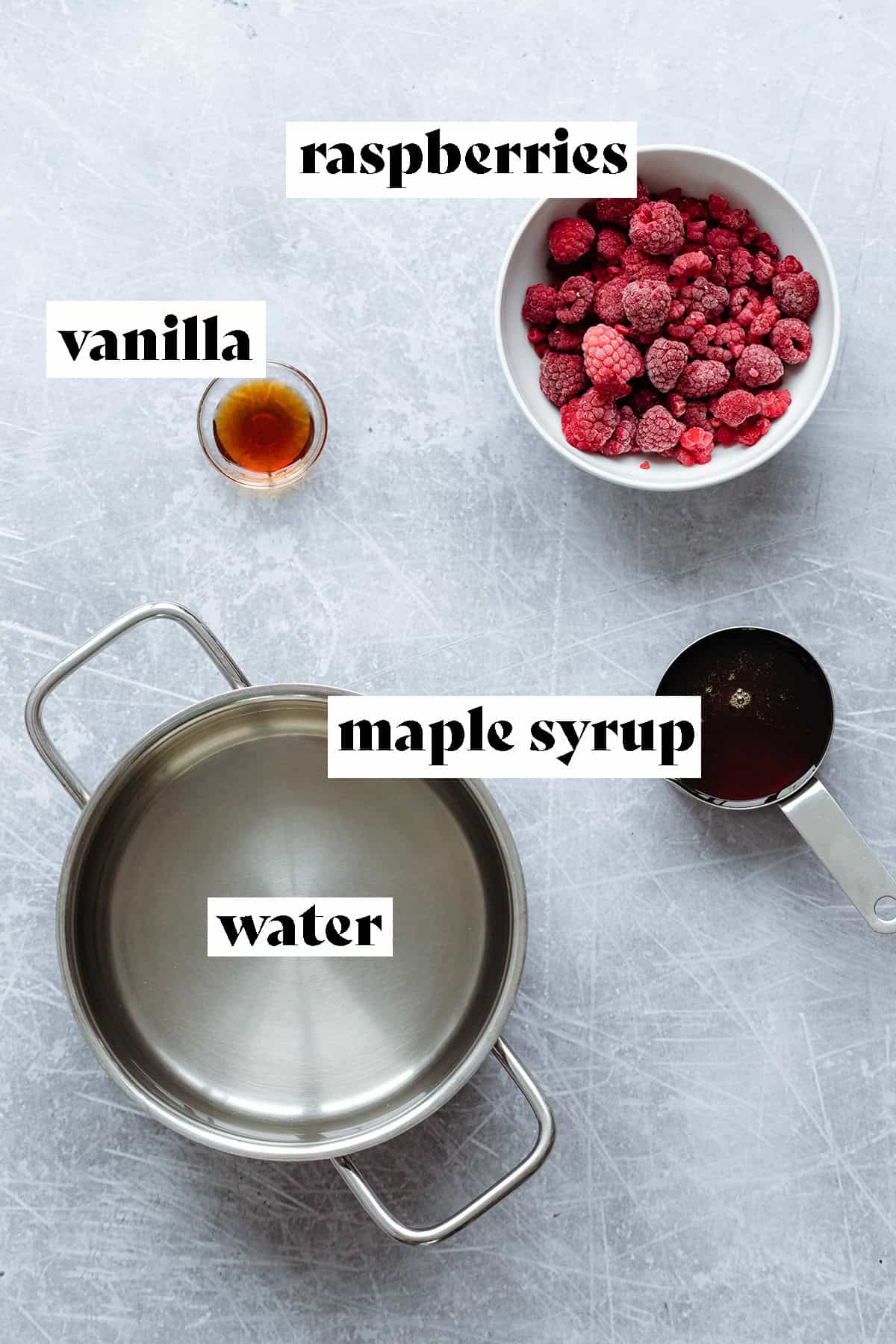 Step-by-Step Instructions
Add raspberries, water, and maple syrup to a small pot. Bring to a boil, lower the heat, and simmer for 15-20 minutes, stirring often until the raspberries have completely fallen apart and the syrup has reduced a little bit.
You can help speed this up by mushing the raspberries with a fork or a spoon as they simmer.
Strain the raspberries into a large measuring cup or a bowl.
Transfer to an airtight glass jar and wait until completely cool before closing and storing in the fridge.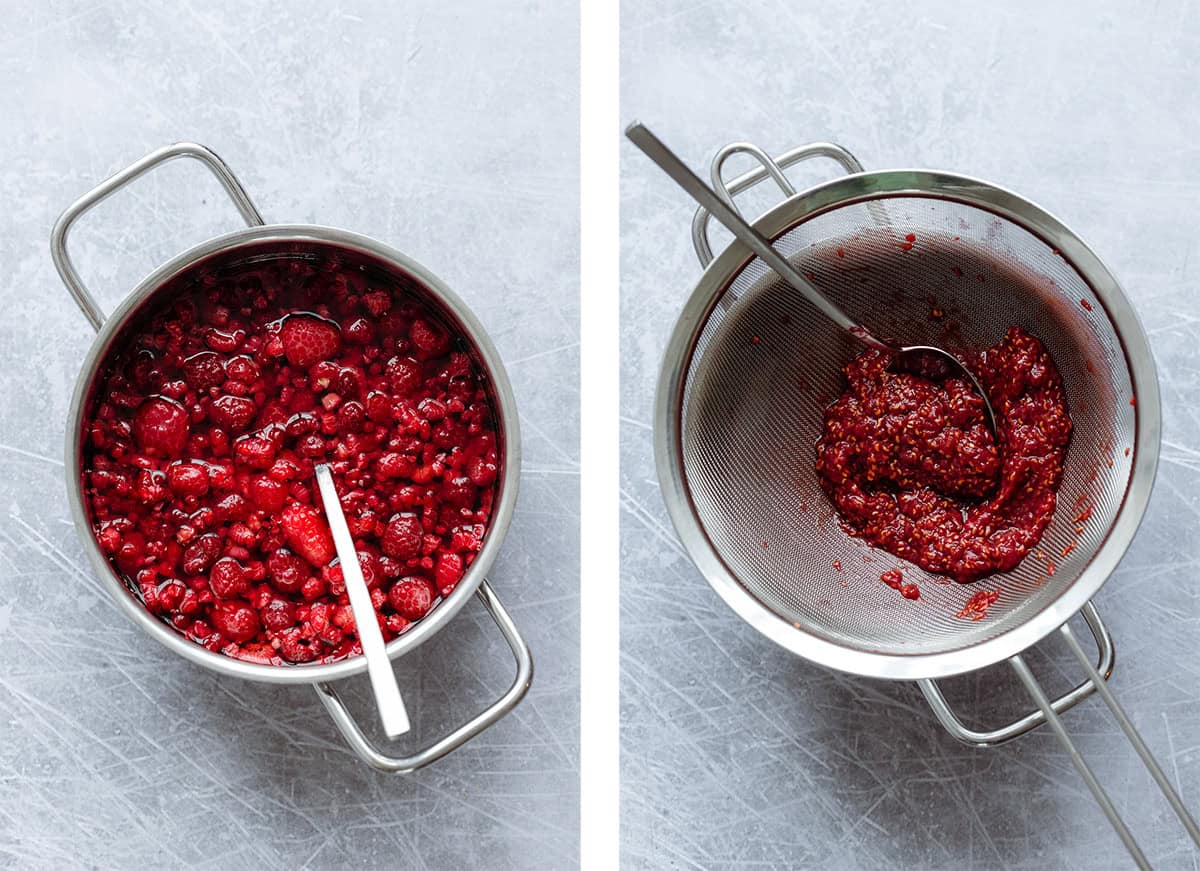 Storing
The syrup will last about a week in the fridge. I usually keep it a bit longer but a week is a safe bet.
If you want your syrup to last longer, add a splash of vodka. I like adding 1 oz. You won't taste the alcohol and it won't make you drunk but it will preserve the syrup and it will last about two weeks. Skip the alcohol if serving to children to just to keep the. syrup 100% alcohol-free.
Sometimes I like adding my favorite Hibiscus bitters which contain alcohol and also preserve the syrup slightly.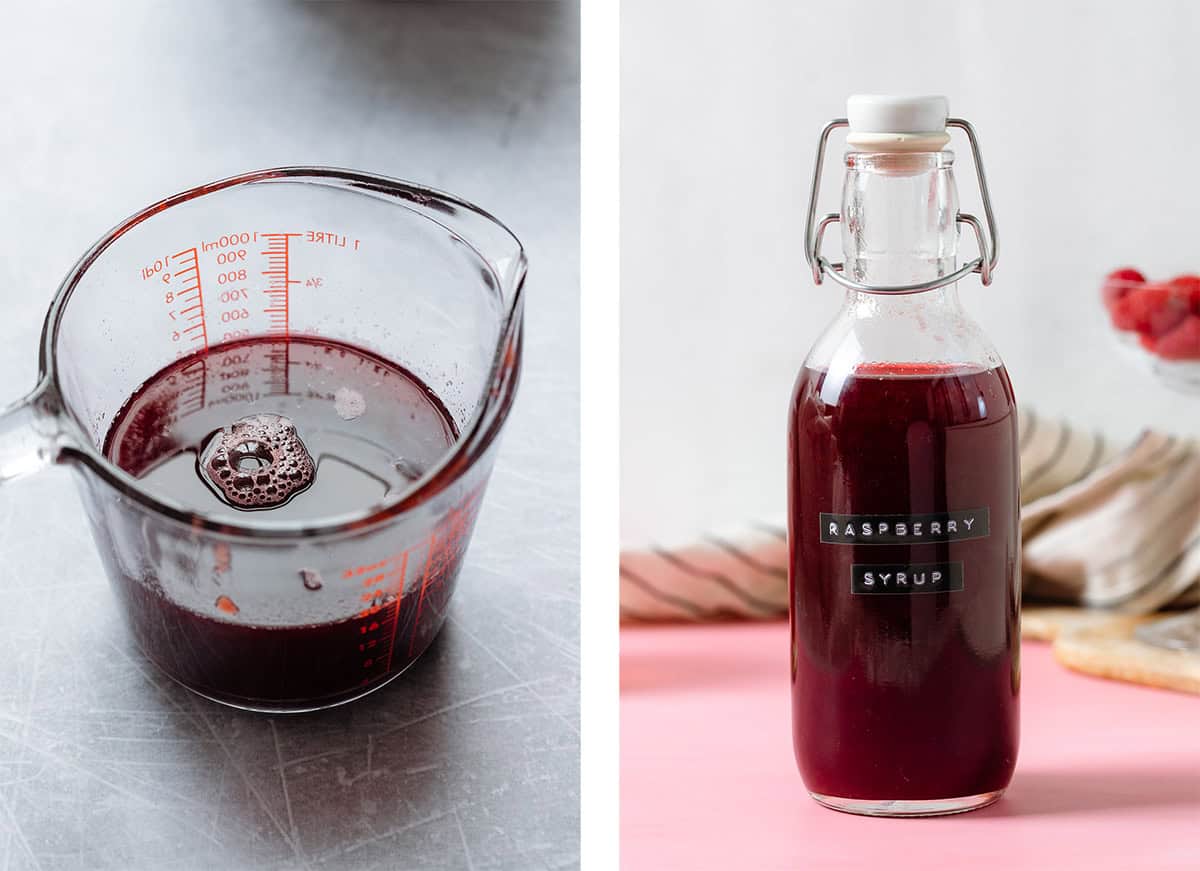 How To Use It
Here are countless drinks you can use this sweet syrup for, below are a few of my favorites! I'll be adding more recipes that use this syrup in the coming weeks so definitely keep an eye out for those.
Cocktails
Champagne cocktail (recipe coming in two weeks!)
Raspberry Mojito - try this Classic Mojito with Agave but add 1 oz raspberry syrup instead of the agave! It's really tasty I promise!
Iced Non-Alcoholic Drinks
Iced Tea - This berry syrup is perfect for all kinds of iced tea! It works with any fruity or floral tea. I'll be sharing my version of the Iced Passion Tea from Starbucks very soon and will add a link here when I do!
Water - Still or sparkling. This is super simple but it's a syrup to add to your water to flavor it lightly!
Iced Matcha - Both with and without milk. Like this Iced Pineapple Matcha Drink. You can simply add this raspberry syrup or skip the pineapple and only add the syrup. I'll be sharing a new raspberry matcha recipe next week! It can be made both with or without any milk.
Iced Coffee - It might seem weird but I've had a few people tell me they like adding raspberry syrup to their Starbucks coffee! It might not be for everything but it's fun to try!
Refreshing Raspberry Mint Smoothie - If you want to double the raspberry flavor, try this smoothie and add the syrup. The smoothie is just as delicious and sweet on its own as well.
Hot Drinks
Hot teas - The same thing applies here as it did with iced tea! Any fruity or floral tea is delicious with this syrup. Even green or white tea work great!
Matcha - This syrup goes well with both hot and cold matcha!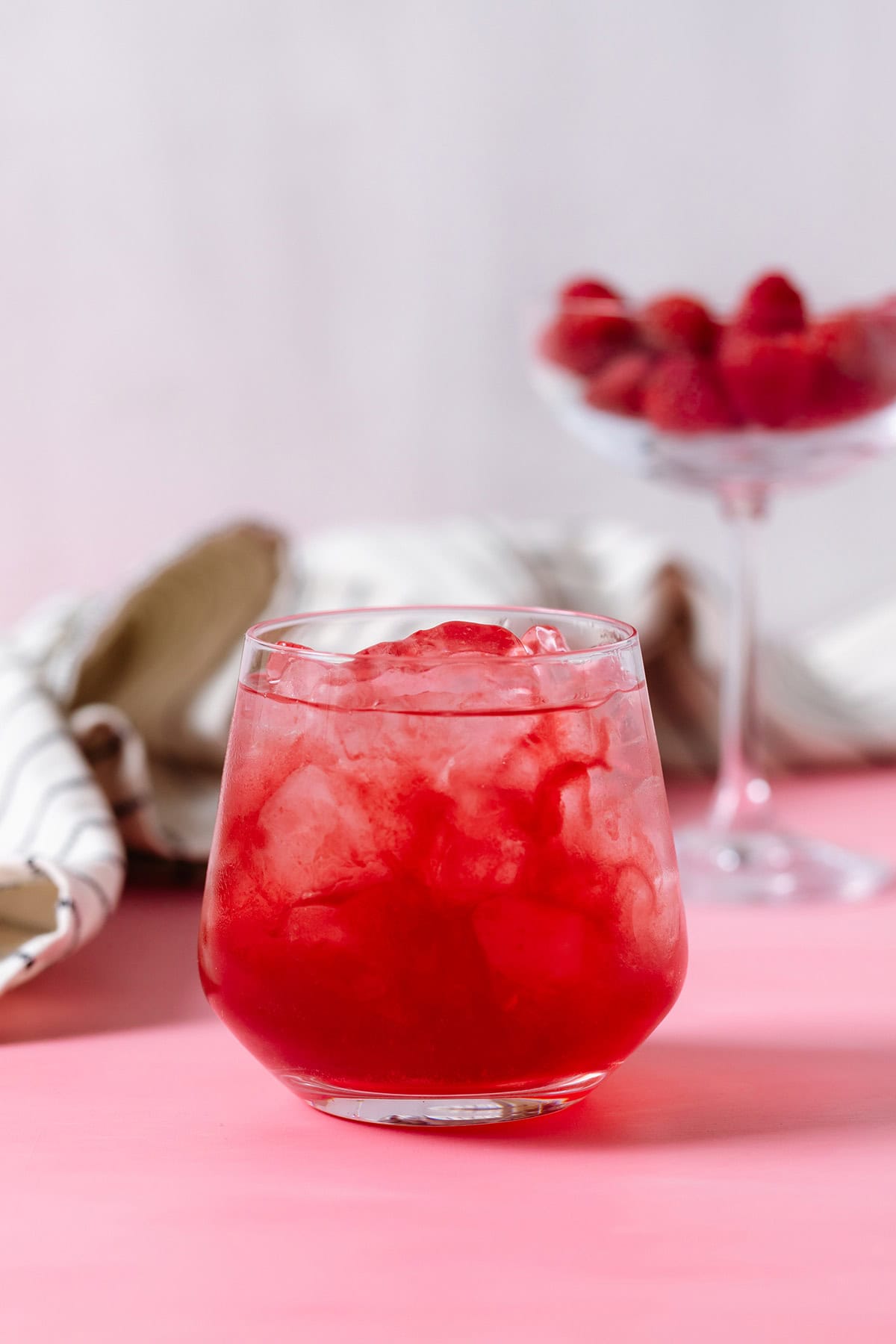 FAQs
Can I use frozen raspberries?
Yes, you can use both fresh or frozen.
Can I use different fruit?
You can use any type of berries you like! Fresh or frozen. This recipe would work well with blackberries, strawberries, blueberries, or even cherries! Just sub the raspberries for your favorite berries 1:1.
Can I make the syrup sugar-free?
Yes, definitely! You can use any sugar-free alternatives. The flavor of the syrup will change depending on what kind of sugar you use but anything works. If you want to use stevia drops, I recommend adding more water, enough to cover the raspberries. This will make up for the lost sugar volume but will make the syrup more watery. Using sweeteners that can't be replaced 1:1 will result in a different amount and consistency of finished simple syrup.
How long does it last? Does it need to be refrigerated?
You can store the syrup in an airtight glass jar in the fridge for about a week. Add 1 oz vodka to the syrup to extend its shelf life. It has to be refrigerated.
Print
📖 Recipe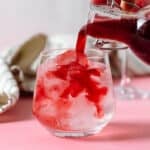 Raspberry Simple Syrup
Author:

Veronika | thehealthfulideas

Prep Time:

10 mins

Cook Time:

20 mins

Total Time:

30 minutes

Yield:

2 cups

1

x

Category:

syrup

Method:

cooking

Cuisine:

American

Diet:

Vegan
---
1 ½ cup

water

2 cups

raspberries (fresh or frozen)

1 cup

maple syrup or cane sugar (or another sweetener of your choice)

2 tsp

vanilla extract
---
Instructions
Add the water, raspberries, and maple syrup to a saucepan and bring to a boil.
Lower the heat to a simmer and cook for 15-20 minutes stirring often until the raspberries are all mushy and the liquid has reduced slightly. You can help this process out by smushing the raspberries with a fork while they cook. The mushier they are, the more flavor they will release.
Take off the heat and stir in the vanilla.
Strain the syrup through a fine-mesh strainer into a bowl or a jar.
Let cool completely before storing in an airtight jar in the refrigerator for about a week.
---
Notes
Storing: The syrup should last for a week in the fridge but to extend the shelf life, stir in 1 oz of vodka after straining. The alcohol preserves it and it will last in the fridge for 2-3 weeks. 
Keywords: raspberry, simple syrup