This Iced Matcha Chai Latte is made with homemade chai syrup and can be served both hot and cold. It's inspired by the popular Starbucks Matcha Latte with chai syrup. It's vegan and really easy to make!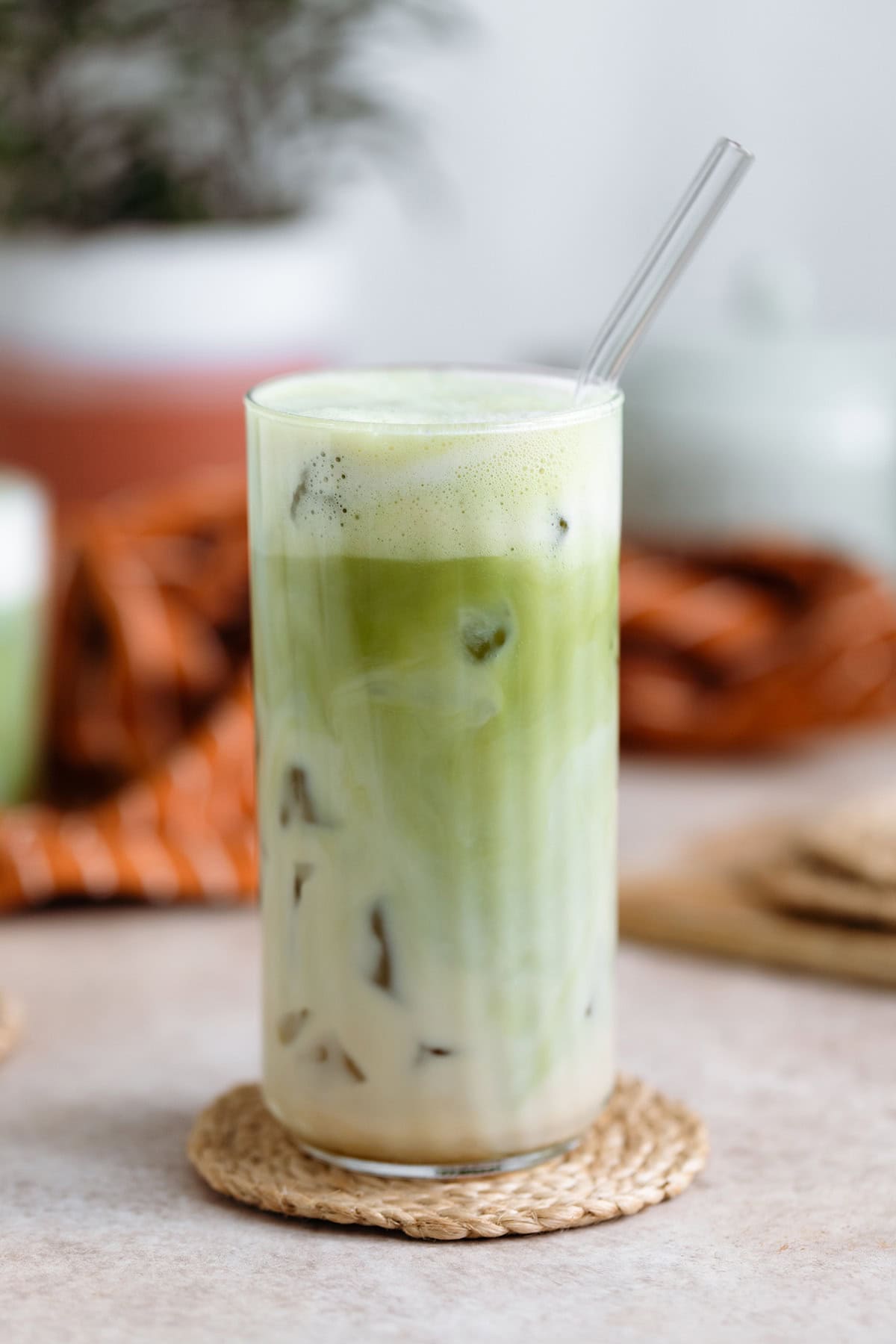 Jump to:
Why This Recipe Works
Chai and matcha are a match made in heaven - It might sound dramatic but it's one of my most favorite flavor combos EVER. It's so good! I was sold the first time I tried it at Starbucks. Definitely my favorite way to drink matcha!
It's delicious both hot and cold - I always make my matcha iced (same as coffee), even if it's freezing cold outside, but this drink is just as delicious made hot. Steam your milk or warm it up on the stove and froth, and pour your hot matcha and the syrup over it.
Better than Starbucks - I don't think many people know about this drink but it's one of my favorites to order whenever I go. It's not on their menu but it's fairly popular. What I order is a venti matcha latte with almond milk, no liquid cane sugar, three pumps of chai syrup, and two pumps of sugar-free vanilla syrup. It's really easy to make a homemade version and it comes out just as delicious as the Starbucks one!
You control how much sugar goes in - Making your coffee or matcha at home in the morning helps you control the amount of sweetener you add to your drink. The Starbucks matcha is a mix of green tea and sugar and most of their dairy-free milk alternatives have added sugar too. At home, you can control how much sugar you add and avoid sugars you don't even know about.
You can use the chai syrup in other recipes - I'll be sharing more drinks you can make with this syrup and will link them here as I do. You can make a double spiced chai latte (use both chai teabags and chai syrup), use the syrup on pancakes or waffles, add it to cocktails, or use it to sweeten your coffee. It's really good in a latte with espresso and oat milk!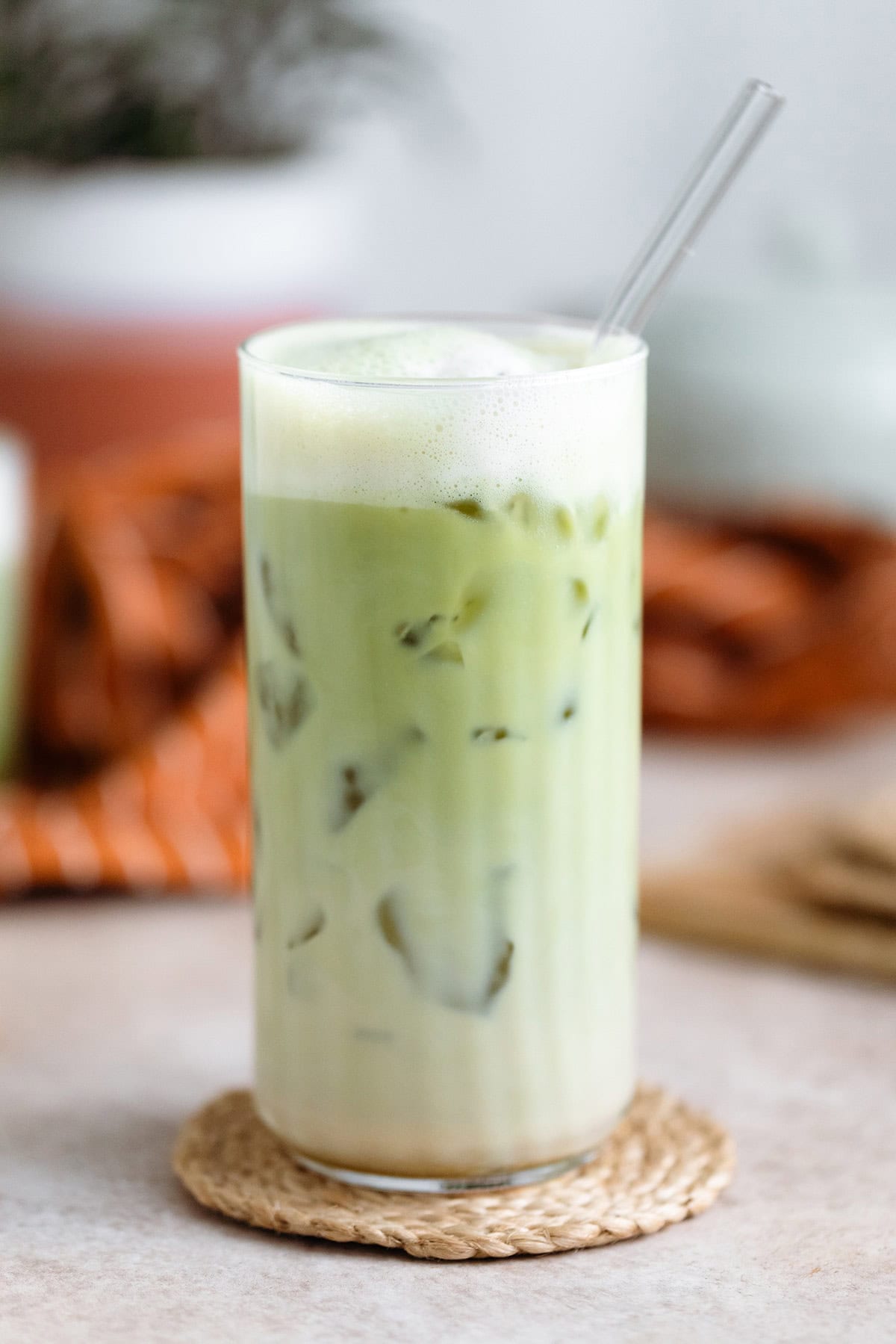 Ingredients Notes
Chai spices - To make the syrup you'll need whole spices so you can strain them out. You'll need cinnamon, cloves, cardamom, coriander, fennel, and black pepper. You'll also need fresh ginger. I'm using fresh because dried ginger isn't very common and powder would stay in the syrup and make it more gingery as it sits.
Maple syrup - The syrup can be made with any kind of sugar but I like using maple syrup because I find it goes really well with the chai flavors. Honey, cane sugar, or coconut sugar also work. If you have a sugar alternative you like, for example, erythritol, you can use that too!
Vanilla extract - This is optional but highly recommended! Vanilla goes really well with all the spices and rounds out the flavors really well. I believe the Tazo chai concentrate that Starbucks uses for their lattes also has vanilla.
Matcha powder - There are a lot of brands out there, I haven't found my favorite one yet but a good rule to go by is that if it's too cheap, it's best avoided. Matcha can get expensive and cheaper brands are sometimes bitter and not as good or fresh.
Almond milk - I prefer almond milk with matcha but any milk works. I like frothing it to make it fancier. I like the Nespresso milk frother but you can use a handheld milk frother too, it's cheap and works great!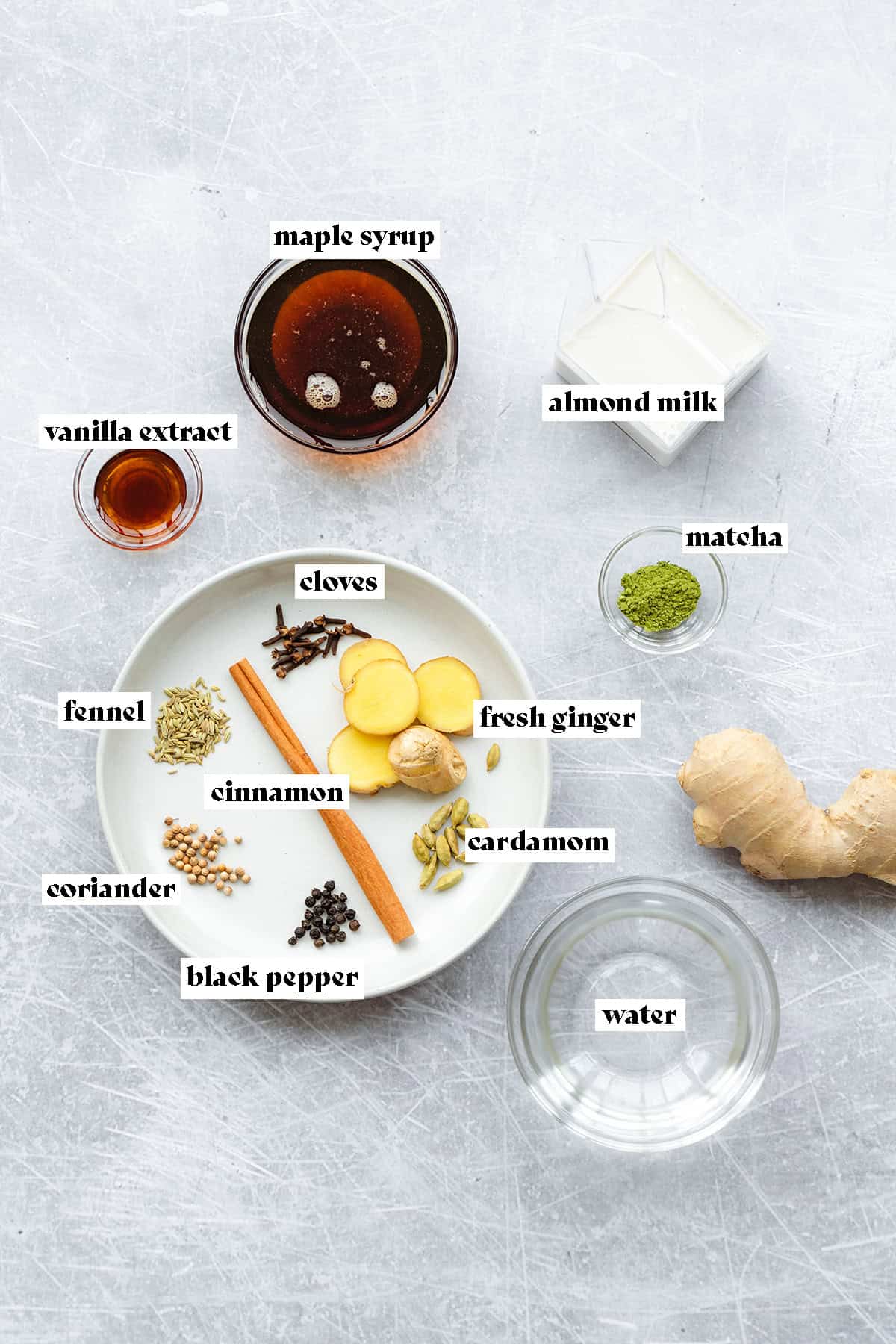 Step-by-Step Instructions
First, you'll make the chai syrup. It's a super simple process. I like toasting the spices before simmering them with water and the sweetener to make the flavors stronger and slightly toasty but you can totally skip that step!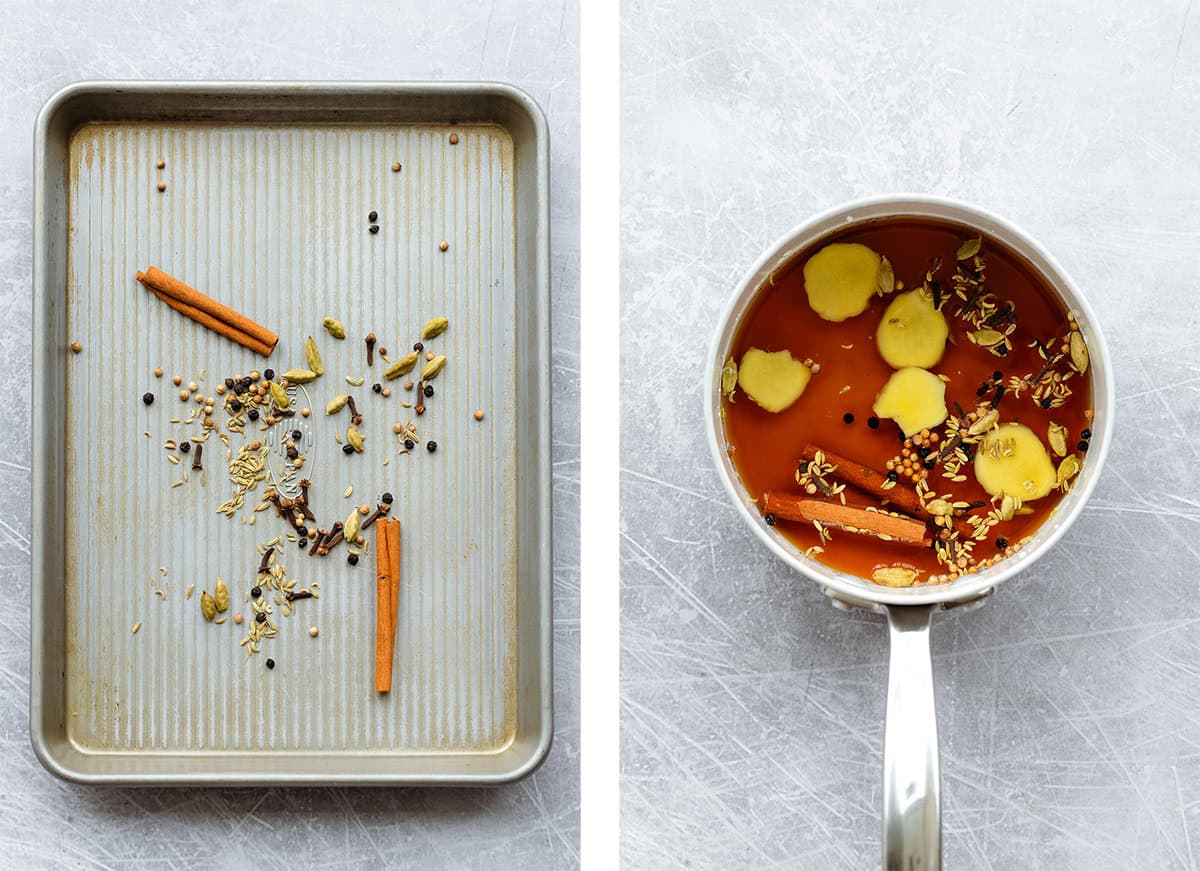 Add the spices to a baking sheet and toast in the oven at 350F (175C) for 5 minutes. This step is optional. Be careful not to burn them, it's better to not toast them at all than to burn them!
Transfer the toasted spices to a saucepan and add maple syrup and water. Simmer for 10-15 minutes. Stir in the vanilla about 5 minutes towards the end. The mixture will reduce and thicken slightly.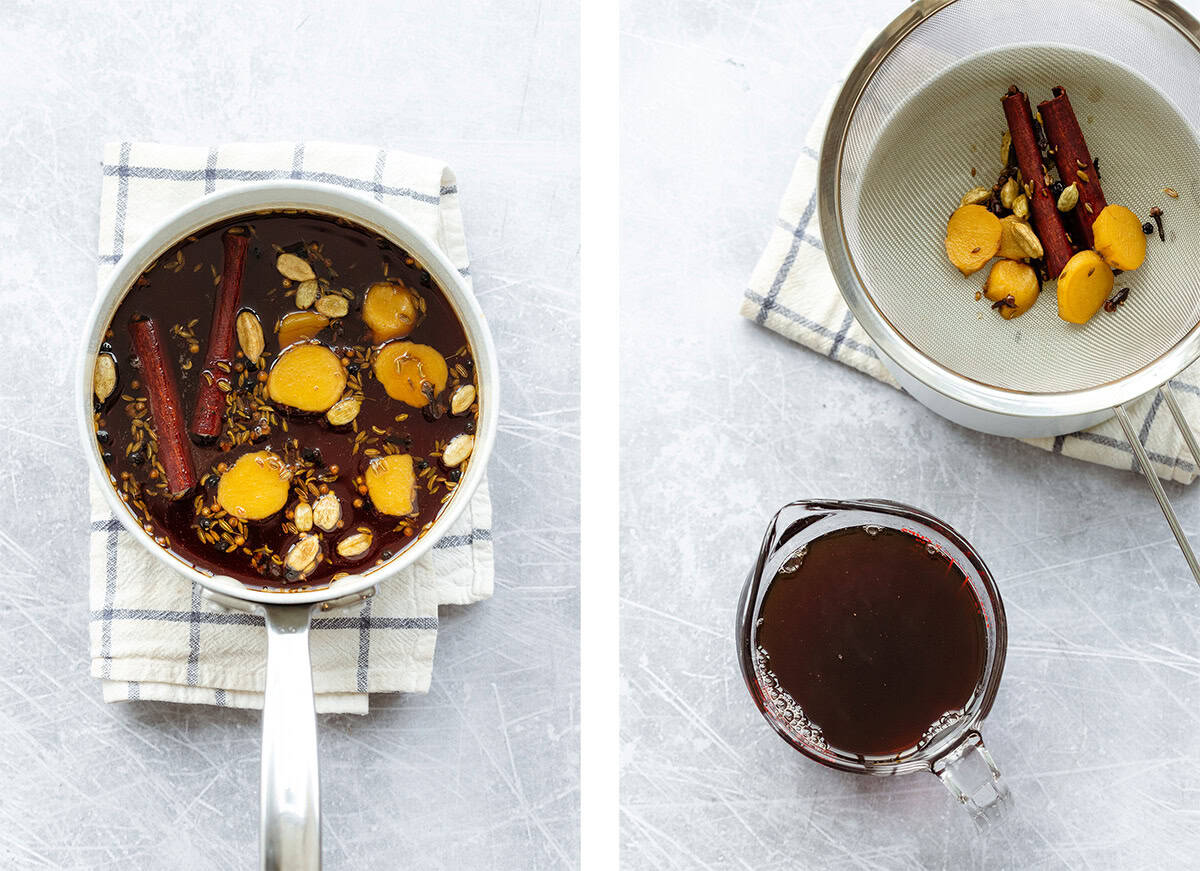 You can let the syrup sit with the spices for extra 5 minutes off the heat to make the flavors stronger or you can strain it right away. Transfer the syrup into a glass jar, wait until it's completely cool before closing, and store in the fridge.
The syrup will keep for 2 weeks in an airtight container in the fridge. If you want to be sure it doesn't go bad, you can add 1 oz vodka. It won't taste like alcohol or make you tipsy but it will help the syrup to stay fresh longer.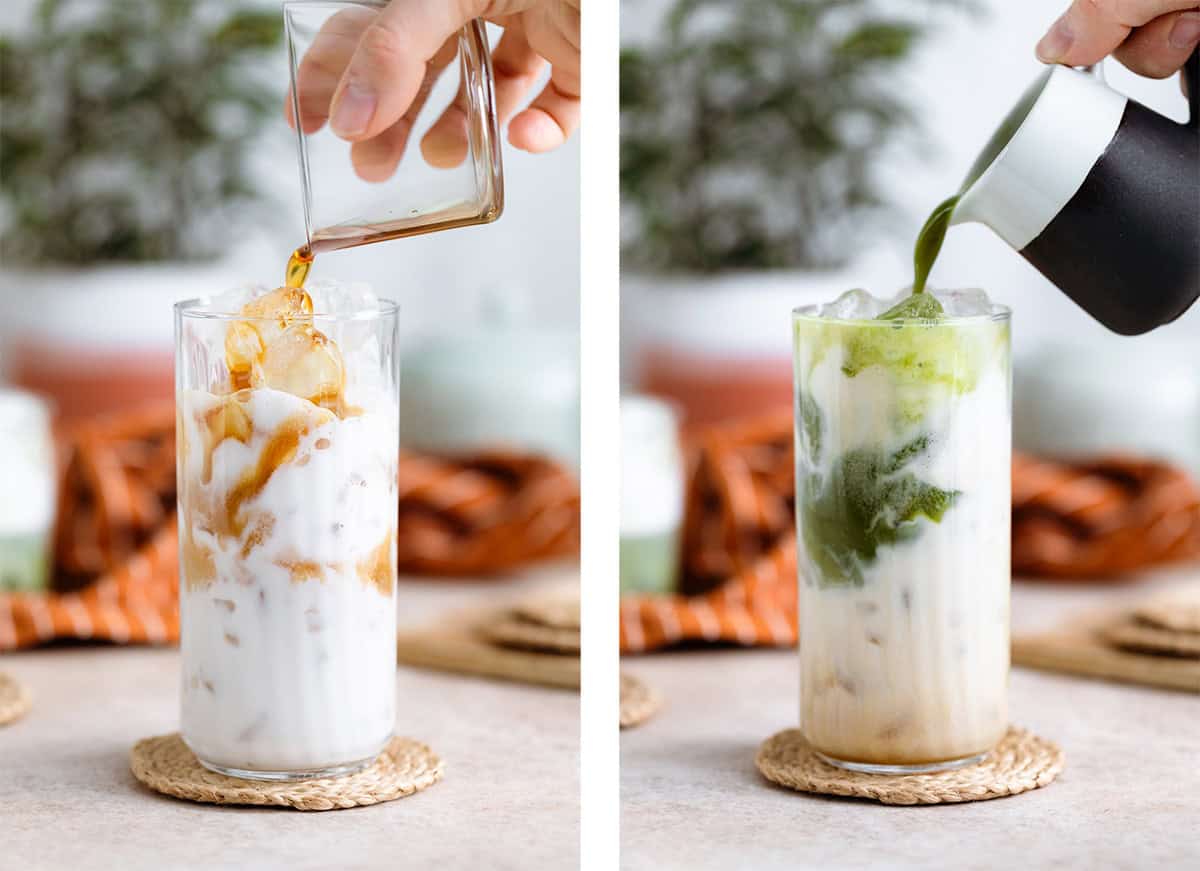 FAQs
Can I use a sugar substitute?
Yes! You can use any sugar or syrup that can be used in a 1:1 ratio. Great alternatives are honey, coconut sugar, cane sugar, brown sugar, date sugar, coconut nectar, agave, erythritol, or other sweeteners. If you want to use stevia, you'd have to add more water to make up for the amount of sweetener you're skipping and it will be very watery.
Can I use a Chai concentrate instead?
Yes, definitely. The Tazo Chai concentrate is a great option. That's what Starbucks uses but for this drink, they have chai syrup. The concentrate is already sweet but depending on your preference, you might have to add a bit of maple syrup or honey.
Does matcha have caffeine?
Yes. One teaspoon of matcha powder has approximately 65mg of caffeine. This will slightly vary based on the brand and source. Starbucks matcha has less caffeine per scoop because it's a mix of sugar and matcha.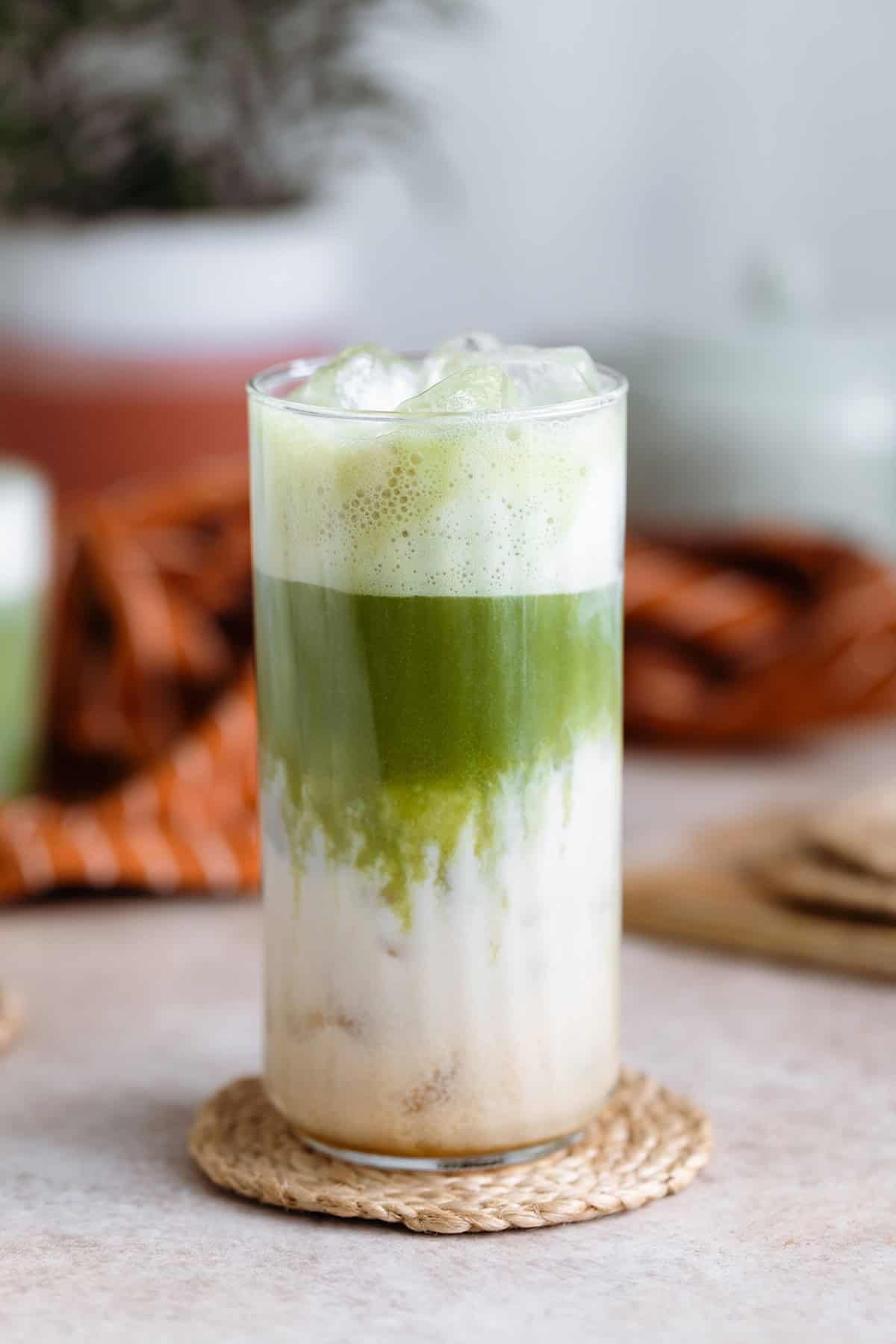 Similar Drinks You'll Enjoy
Here are two matcha drinks and two tea lattes you might enjoy. The pineapple matcha drink is my favorite! To see all drinks go to Drinks.
Print
📖 Recipe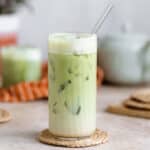 Iced Matcha Chai Latte
Author:

Veronika | thehealthfulideas

Prep Time:

5 mins

Cook Time:

20 mins

Total Time:

25 minutes

Yield:

1

latte + syrup for more

1

x

Category:

Drink

Method:

Mixing

Cuisine:

American

Diet:

Vegan
---
Description
This Iced Matcha Chai Latte is my favorite drink to order when I'm trying to avoid coffee. It's really good, easy to make, and sweetened with homemade Chai syrup!
---
Chai syrup
15

cardamom pods (

4g

)

1

cinnamon stick (

6g

)

20

whole cloves

½

-

1

teaspoon whole black peppercorns (

25

peppercorns)

1 tsp

fennel seeds

½ tsp

coriander seeds (

40

seeds)

2

inches fresh ginger, peeled and thinly sliced or chopped (see notes on how to peel)

1 ½ cup

water

1 cup

maple syrup

2 tsp

vanilla extract

½ oz

vodka (optional as a preservative)
Chai Matcha Latte
½ cup

water

1 tsp

matcha powder

½ cup

almond milk
Ice cubes

1

-

2

tablespoon chai syrup
---
Instructions
Chai Syrup
Preheat the oven to 350F (175C).
Crush the cardamom pods slightly and add them to a baking sheet along with the cinnamon stick, whole cloves, black peppercorns, fennel seeds, and coriander seeds to a baking sheet and toast in the oven for 5 minutes (they should be very fragrant).
Add the toasted spices to a medium pot with the water, and maple syrup. Bring to a boil, lower the heat slightly and simmer for 10-15 minutes. The longer you simmer the syrup, the stronger the flavors will be.Towards the end of cooking, stir in the vanilla.
Strain the syrup into a very clean jar, stir in the vodka if using and let cool before closing with a lid and storing in the fridge.
Chai Matcha Latte
Add the water to a small pot and warm-up, do not boil it, the best is 60-70C but I don't measure it. This is optional but I find the matcha blends easier when the water is hot.
Use a matcha whisk or a handheld milk frother to whisk the matcha into the water in a bowl or a mug. Set aside.
Add the almond milk to a tall glass and use a handheld frother to froth the milk. Fill the glass with ice ¾ way up. Add the chai syrup and slowly pour in the warm matcha.
Use a glass straw to mix it all together and to cool down the drink. Enjoy!
---
Notes
Storing: Store the syrup in the fridge in an airtight glass jar. It should last about two weeks without the vodka but I like to add the alcohol to extend its shelf life and make sure it doesn't go bad before I use it all. The matcha latte itself doesn't store well and is best made right before serving.
Keywords: matcha latte, chai syrup