This Grapefruit Paloma is made with fresh grapefruit juice and grapefruit soda, and it's the perfect cocktail for any occasion! Simple to make and easy to make into a mocktail!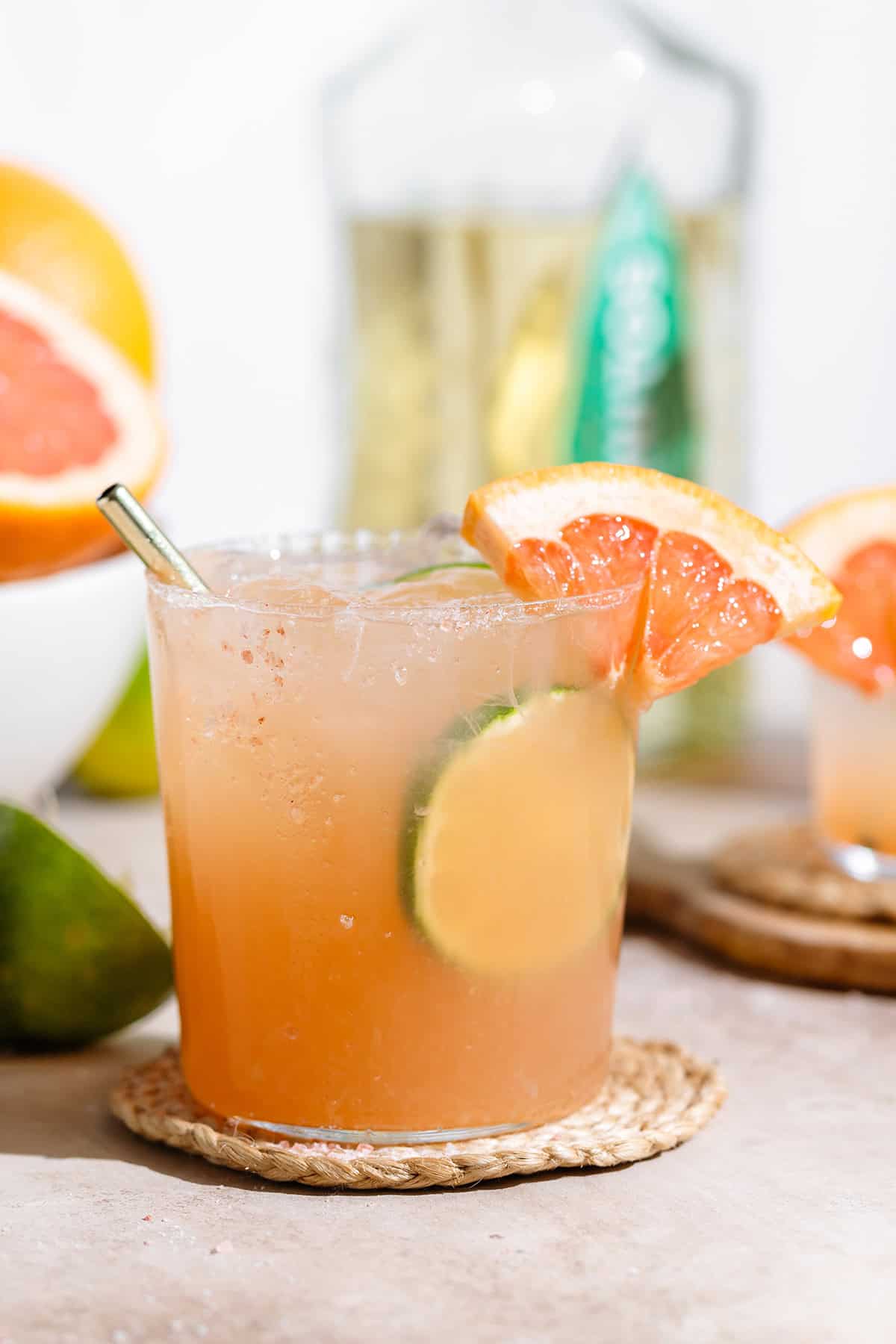 Jump to:
Why You'll Love This Cocktail
Similar to a margarita - If you like margaritas, you'll love a Paloma! It's a tequila-based cocktail with grapefruit soda, which is what makes it different from a margarita. I'm also adding freshly squeezed grapefruit juice to mine to make the grapefruit flavor even more pronounced and I highly recommend it!
Perfect for the summer - The freshly squeezed grapefruit juice makes the drink really refreshing and the perfect drink to cool down with during the summer months. I also recommend you try this Frozen Mojito on those extra hot days.
Can be served in a pitcher - If you're making this drink for a crowd, you'll find measurements for a pitcher version in the notes of the recipe card. It's really easy to make in a pitcher and it will save you a ton of time if you're serving it to more people!
Easy to make non-alcoholic - Grapefruit, lime, and grapefruit soda make a delicious drink on their own so turning this cocktail into a mocktail is a breeze! Don't forget simple syrup to make the drink a little sweeter.

Ingredient Notes
Tequila - I usually use silver or reposado tequila. Silver tequila is the most common for a Paloma cocktail but I enjoy the richer, ever so slightly woody flavor of reposado tequila.
Lime - I highly recommend using freshly squeezed lime whenever possible, it makes a huge difference!
Grapefruit juice - Freshly squeezed grapefruit juice is the best here, it adds a ton of flavor with no added sugar.
Sweetener - The recipe calls for simple syrup which you can easily make by mixing water and any kind of sweetener in a 1:1 ratio. Cane sugar is the most common but maple syrup, agave, coconut sugar, or any other sweetener of your choice would work.
Grapefruit soda - This is optional but I like to top my Paloma with a splash of sparkling water, usually a grapefruit-flavored one which is what any classic recipe usually includes. I usually go with LaCroix because it has no added sugar.

Step-by-Step Instructions
Simple syrup
I highly recommend making your own simple syrup, it's incredibly easy! You could use store-bought too, or add a splash of maple syrup or agave to the cocktail but simple syrup mixes with everything more easily and it's less concentrated than pure syrup.

To make simple syrup, add water and sugar (I used cane sugar but maple syrup, coconut sugar, agave, or other sugars are also great) to a saucepan in a 1:1 ratio. ½ cup of each is usually enough for 4-8 cocktails depending if you're adding ½ or 1 oz to each cocktail. The syrup will last 2 weeks in the fridge so feel free to double the recipe if needed!
Bring the mixture to a boil while stirring constantly to make sure the sugar doesn't burn. Simmer for 5 minutes until slightly reduced and thicken and take off the heat. Let the syrup cool and store in an airtight container in the fridge.
Paloma
Prep your glass: This step is optional but before you mix your cocktail, you can add salt to the rim of your glass. Run a lime wedge around the rim and dip it in sea salt. This is always done for margaritas but it's also very common for Palomas. Lastly, fill your glass with ice.

Shake the cocktail: When you have your simple syrup and your glass ready, all you have to do now is add the tequila, Cointreau, lime juice, simple syrup, and grapefruit juice to a cocktail shaker, top up with a handful of ice, and shake really well for 5-10 seconds.
Serve: Strain the cocktail into your prepared glass with ice and garnish with a slice of lime and a quarter or half a slice of grapefruit if desired. Dried grapefruit or lime is also a great garnish if you want the drink to look a little fancier.

Non-Alcoholic Version
Making a mocktail Paloma is really easy!
There are a lot of non-alcoholic spirits on the market so you can always use those instead of the tequila if you have one you like. If not, you can simply skip it and add a little more grapefruit juice and grapefruit soda. Everything else can stay the same or you can add a little more sweetener if you'd like the drink a little sweeter.
Fresh grapefruit juice, lime juice, and sparkling water make a great drink on their own and everyone can enjoy it!
FAQs
Where does Paloma originate?
The cocktail comes from Mexico and it's originally made with just tequila and Squirt (a brand of grapefruit soda). It's a simple cocktail and just as popular, if not more, as a margarita.
What's the difference between a margarita and a Paloma?
They're both tequila-based cocktails with lime juice, and simple syrup, but Paloma also has fresh grapefruit juice and grapefruit soda or sparkling water. If you've never tried it before, definitely give it a shot!
What grapefruit soda do I use? Where do I find it?
I like using grapefruit LaCroix because it's sugar-free and has a good flavor. Any grapefruit soda you like works. If you can't find any, plain sparkling water is a great option.
What does Paloma cocktail taste like?
It's a refreshing, sweet, slightly bitter cocktail that's usually served with grapefruit soda which gives it more texture and makes it easier to drink (less alcohol concentration).

More Tequila and Grapefruit Cocktails
If you like cocktails with grapefruit, tequila, or ones that are more on the bitter side, definitely try the three drinks linked below! To see all the latest cocktail recipes, head to the Cocktails category.
Print
📖 Recipe

Grapefruit Paloma
Author:

Veronika | thehealthfulideas

Prep Time:

10 mins

Cook Time:

5 mins

Total Time:

15 minutes

Yield:

1

1

x

Category:

Cocktail

Method:

Mixing

Cuisine:

Mexican
---
Description
This Grapefruit Paloma is made with fresh grapefruit juice and grapefruit soda, and it's the perfect cocktail for any occasion!
---
Glass prep: 1 teaspoon coarse sea salt or Himalayan pink salt + a lime wedge

1 ½ oz

silver tequila

3 oz

grapefruit juice

1 oz

lime juice

½ oz

simple syrup (see notes for how to make it)
Ice
Grapefruit soda (I used LaCroix)
Lime and grapefruit slices for garnish (dried lime or grapefruit slices are also a great garnish option)
---
Instructions
To prep your glass, add sea salt to a plate and run a lime wedge around the rim of your glass. Dip the outside of the glass into the salt and set it aside.
Add the tequila, grapefruit juice, lime juice, and simple syrup to a cocktail shaker.
Add a handful of ice and shake vigorously for 5-10 seconds until very cool.
Pour into your prepared glass over ice, top up with grapefruit soda, and garnish with a slice of lime or grapefruit. Enjoy!
---
Notes
Simple syrup: Add ½ cup water and ½ cup water to a small saucepan. Bring to a simmer stirring constantly until sugar dissolves. Let the mixture simmer for 5 minutes until it reduces and thickens slightly. Let the syrup cool and transfer to a jar and store in the fridge for up to 2 weeks.
Non-alcoholic version: Substitute the tequila with a non-alcoholic spirit of choice or skip it completely. Add the rest of the ingredients to a shaker and serve over ice topped up with grapefruit sparkling water. Add a splash of freshly squeezed orange juice for more flavor.
Keywords: paloma, cocktail