These Crispy Breakfast Potatoes are the perfect savory side for breakfast or brunch! They're crispy on the outside and soft and fluffy on the inside. Try them with eggs, in breakfast burritos, or on their own with ketchup!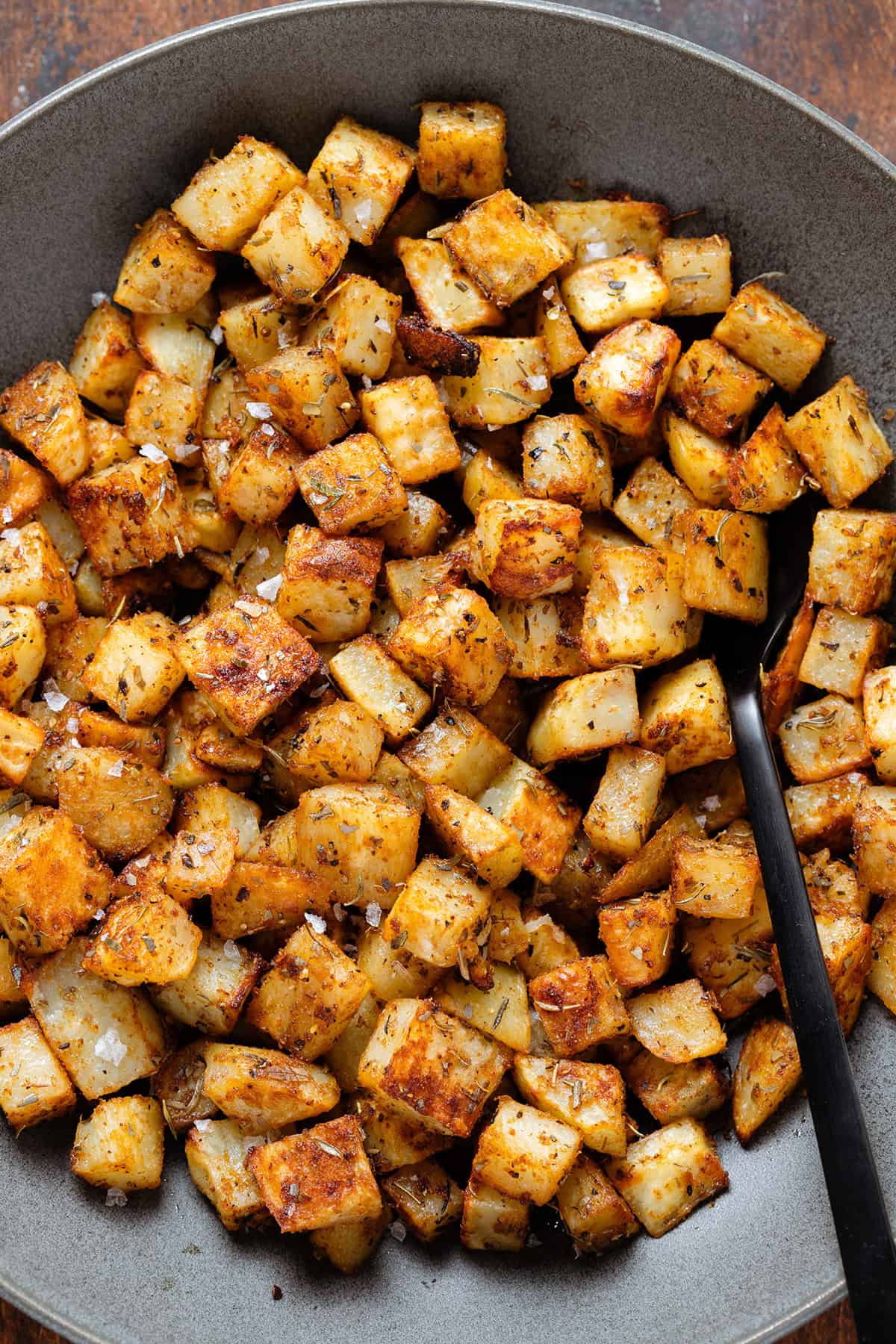 Jump to:
Why This Recipe Works
A pantry staple side - You don't need anything special for this recipe which makes it easy to make last-minute without much prep. All you need is potatoes, cooking oil, and 8 basic spices you most likely already have in your pantry including salt, pepper, dried herbs, and garlic!
Perfect for breakfast - If you're like me, you don't want to spend too much time making a complicated breakfast but still want something delicious. These potatoes are perfect for that! They only need about 5-10 minutes of prep and then they roast in the oven while you make the rest of your breakfast. No need to parboil the potatoes, they'll be perfect just roasted in the oven!
Great for meal prep - These potatoes can be made ahead and reheated as needed or you can add them into breakfast burritos for a delicious grab-and-go breakfast. They will lose their crispiness in the fridge but they'll still be delicious and there's nothing like a good breakfast side you can reheat in 5 minutes when you don't feel like cooking!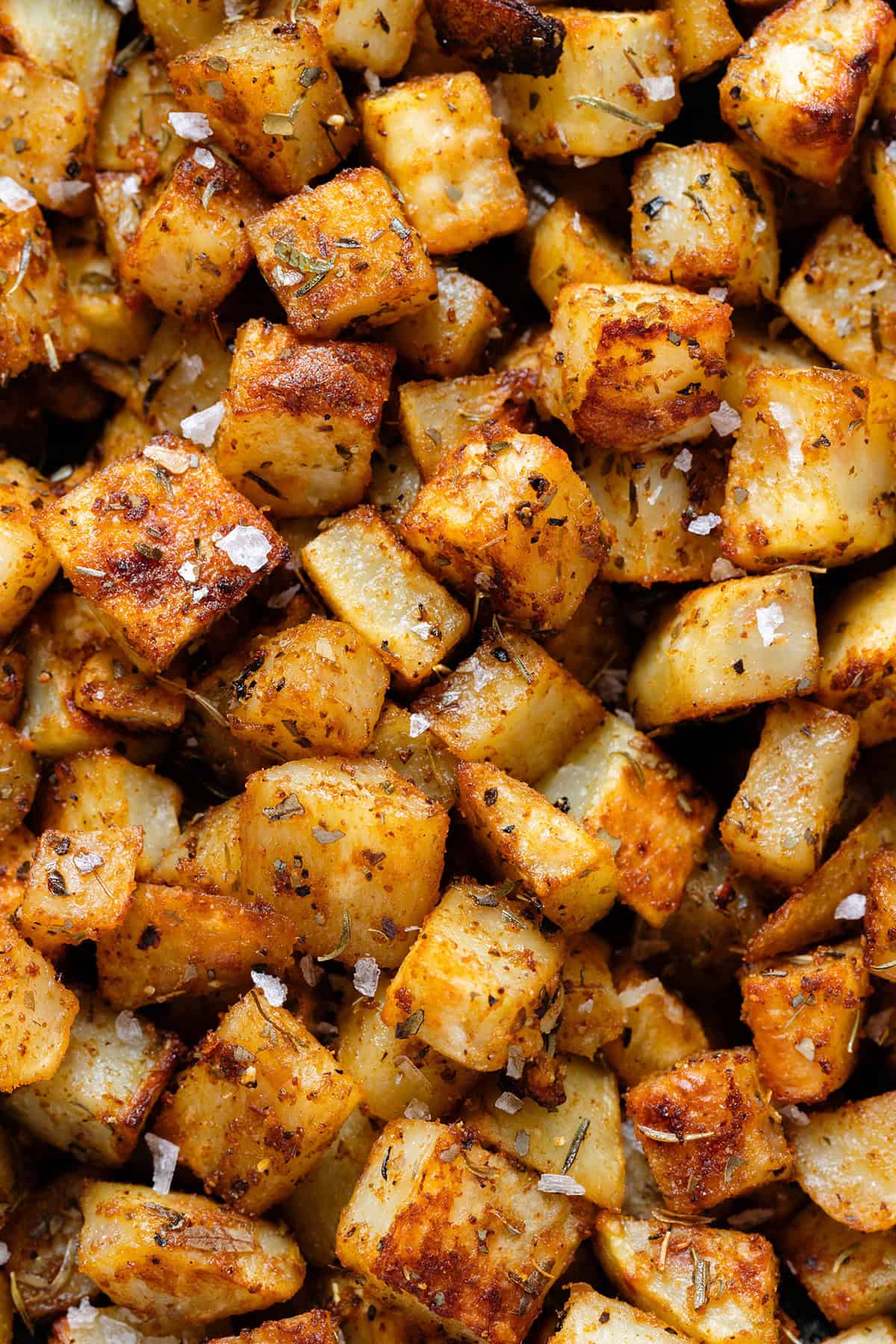 Ingredients Notes
Russet potatoes - Russet potatoes are larger than other potatoes which makes them perfect for fries or roasted potatoes because they're easy to peel and dice into even pieces. The skin in edible but I usually peel it because it can be a little tough sometimes. These potatoes are great for roasting because they keep their shape, they can get crispy on the outside but the inside will still remain soft and fluffy. They dry out less than other potato varieties do.
Dried herbs - I recommend using dried herbs for these potatoes. Fresh herbs would likely burn in the oven and we want to avoid that. I'm using dried thyme and oregano but marjoram, rosemary, or parsley would also be delicious. You can use a dried herb mix like Italian seasoning too if you'd like.
Onion and garlic - Garlic is non-negotiable in this recipe and I use the granules (or powder) instead of fresh because garlic burns very easily and doesn't taste good when burnt. Onion granules (or powder) is optional but highly recommended, the combination of the two is great in this dish.
Paprika - I add both regular and smoked paprika but you can use either. You can add more or less of the smoked paprika dfepending on your preference. I also add chipotle powder but you can use cayenne powder or crushed chili flakes if you want to avoid the smoky flavor.
Avocado oil - This is my preferred cooking oil but you can use any oil you have on hand. I'd stay away from olive oil and other oils that have a low smoke point because the potatoes are roasted at a very high temperature.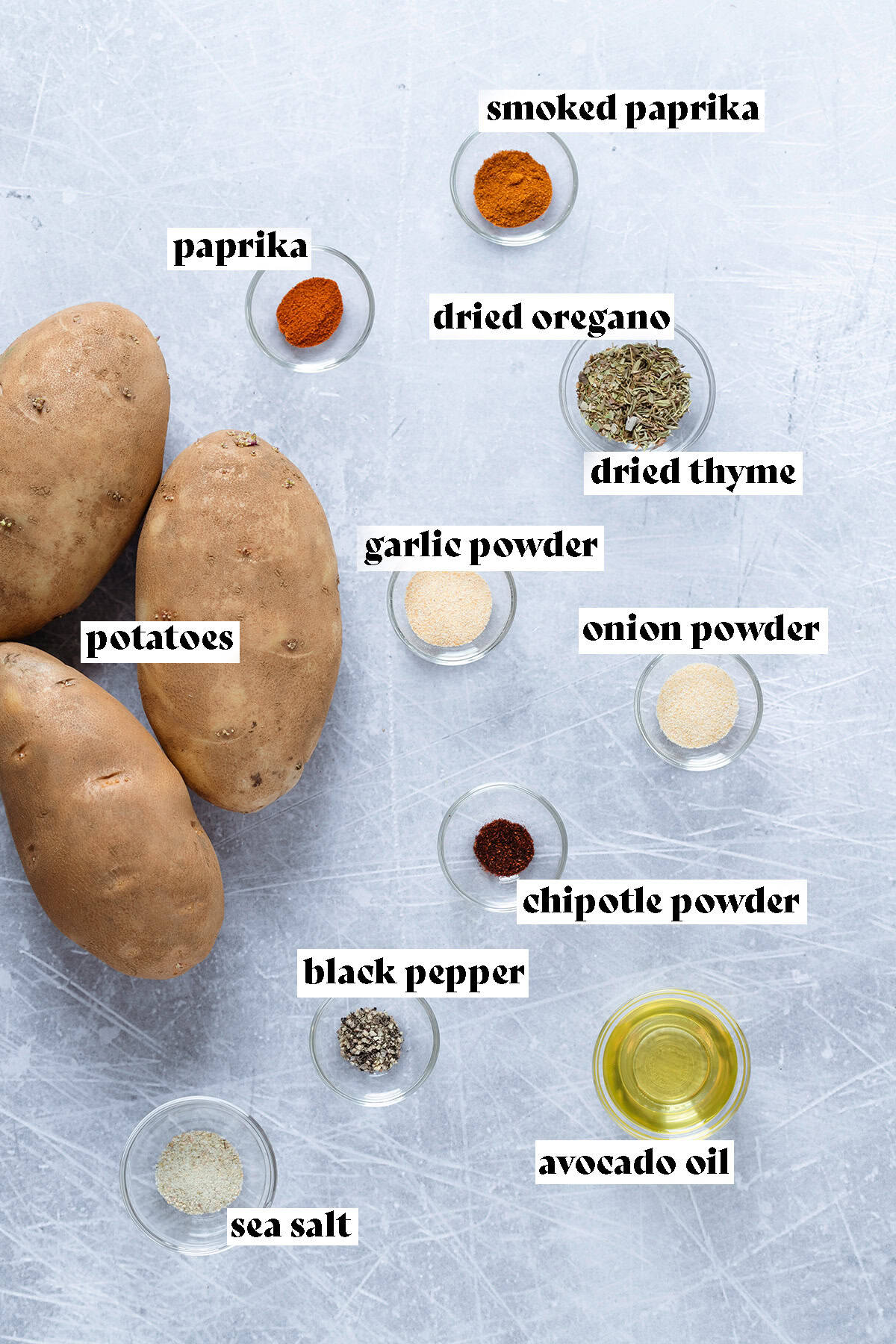 Step-by-Step Instructions
Start by mixing all your spices together in a small bowl.
Dice the potatoes into evenly-sized cubes and use a paper towel to pat them dry to get rid of any excess starch. They will release quite a lot and drying them as well as possible will make sure the potatoes crisp up in the oven.
Add the diced potatoes to a baking sheet lined with parchment paper, drizzle with avocado oil, and toss. Sprinkle evenly with the spice mix and toss again to coat everything well.
Roast the potatoes in a preheated oven at 450F (230C) for 15 minutes. Toss the potatoes, turn on the broiler, and roast for 10 more minutes. Keep an eye on the potatoes to make sure they don't burn, broilers can get very hot very quickly. If you don't have a broiler option, just roast them for 10-15 more minutes at the same temperature (450F).
Take the potatoes from the oven and sprinkle them with flaky sea salt if desired and enjoy!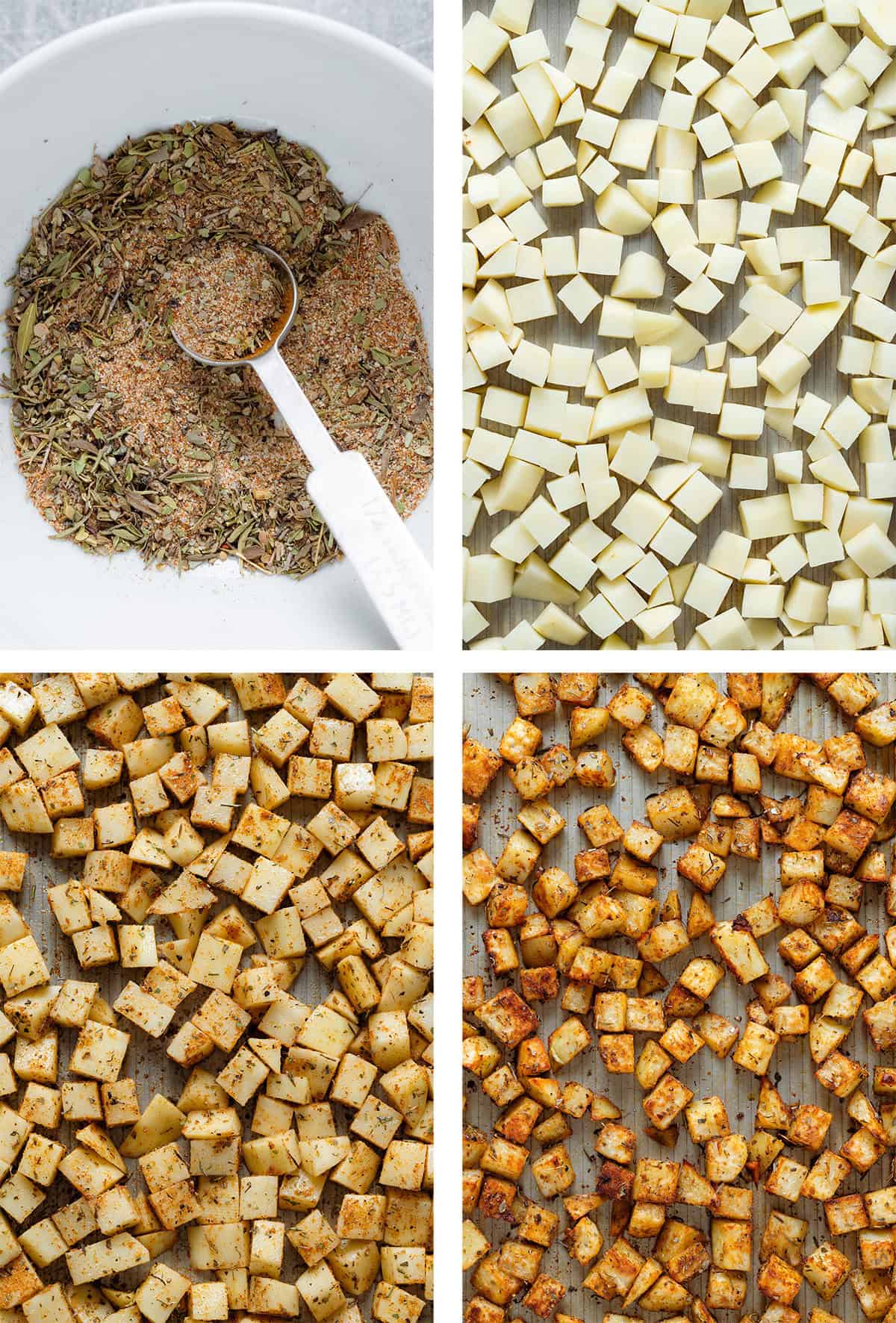 What to Serve the Potatoes With
These potatoes are meant to be served as a breakfast side but they're just as delicious for lunch or dinner. You can serve them as you would regular fries or roasted potatoes, they just have a ton more flavor than regular fries.
I usually serve them with eggs (omelette, sunny side up, frittata, poached, etc), breakfast sausages, or with a side of roasted veggies. You can also add them to breakfast burritos, tacos, or just eat them on their own with ketchup on the side. Below are four ideas for what to serve the potatoes with. I highly recommend the breakfast burritos, they're my favorite!
Storing and Reheating
Storing leftovers: The potatoes keep fairly well in the fridge for 2-3 days. They will lose their crispiness but the leftovers can be heated back up in the oven and will still be delicious, just not as crispy. Once the potatoes cool down, transfer them to an airtight container and store them in the fridge.
How to reheat: To reheat them back up, line a baking sheet with parchment paper and preheat your oven to 350F (175C). Roast the potatoes in the preheated oven for 10-15 minutes or until warmed through.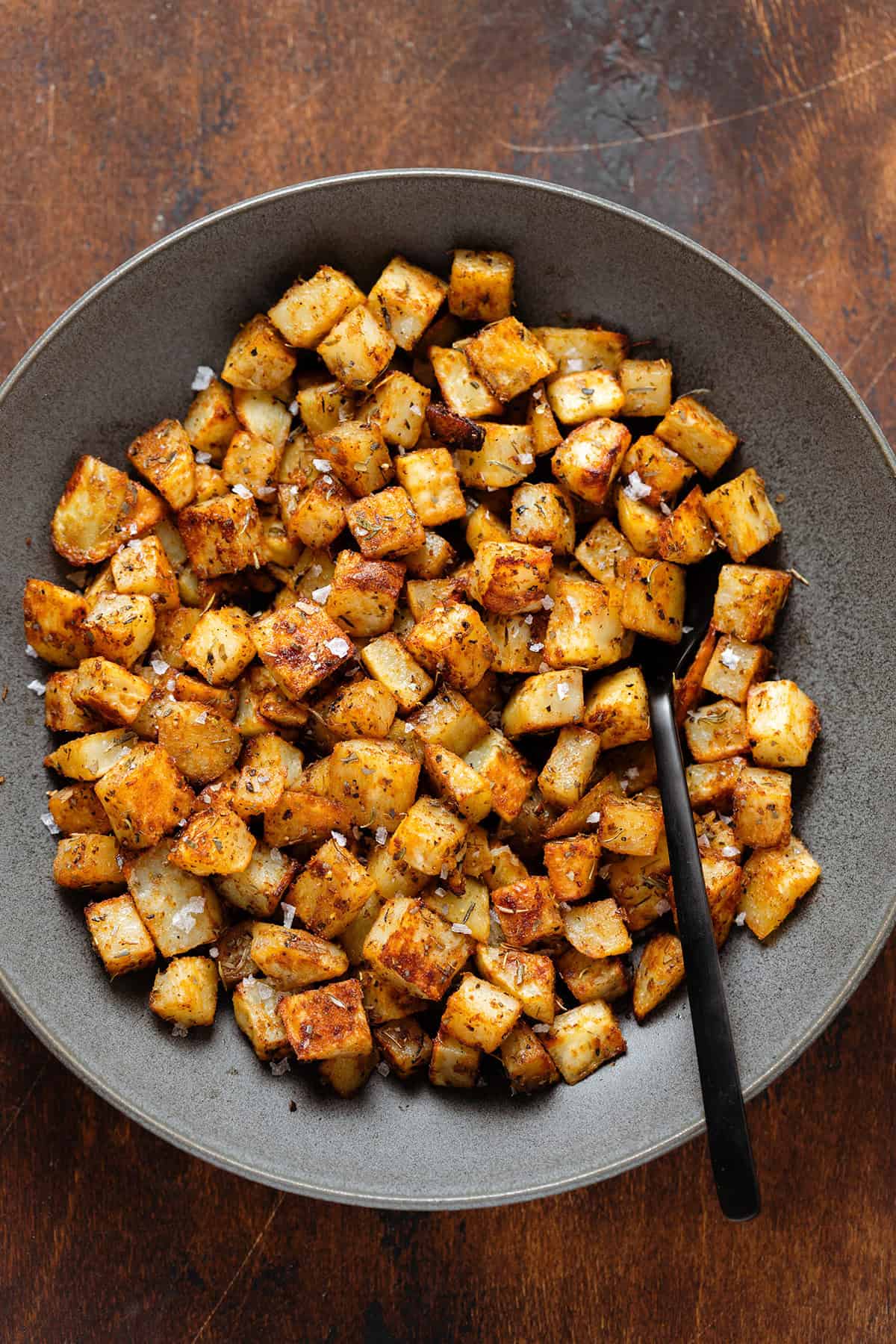 FAQs
How do you get the potatoes extra crispy?
After dicing the potatoes, use a paper towel to soak up any excess moisture. The potatoes will release a good bit of starch and it's important to pat them dry in order for them to crisp up in the oven. To get them extra crispy, turn on your broiler for the last 10 minutes of roasting.
What's the best potato variety for this recipe?
Russet potatoes are the best choice. They're large which makes them easy to peel and dice and they stay soft on the inside after roasting while the outside gets crispy.
Do I need to boil the potatoes before roasting?
No, you don't. Some recipes say to parboil potatoes before roasting but I don't think this is necessary, I don't taste much difference. I wanted to keep the recipe simple and only roasting them in the oven is easier and still really tasty. Who wants to spend an hour making potatoes in the morning anyway, right?!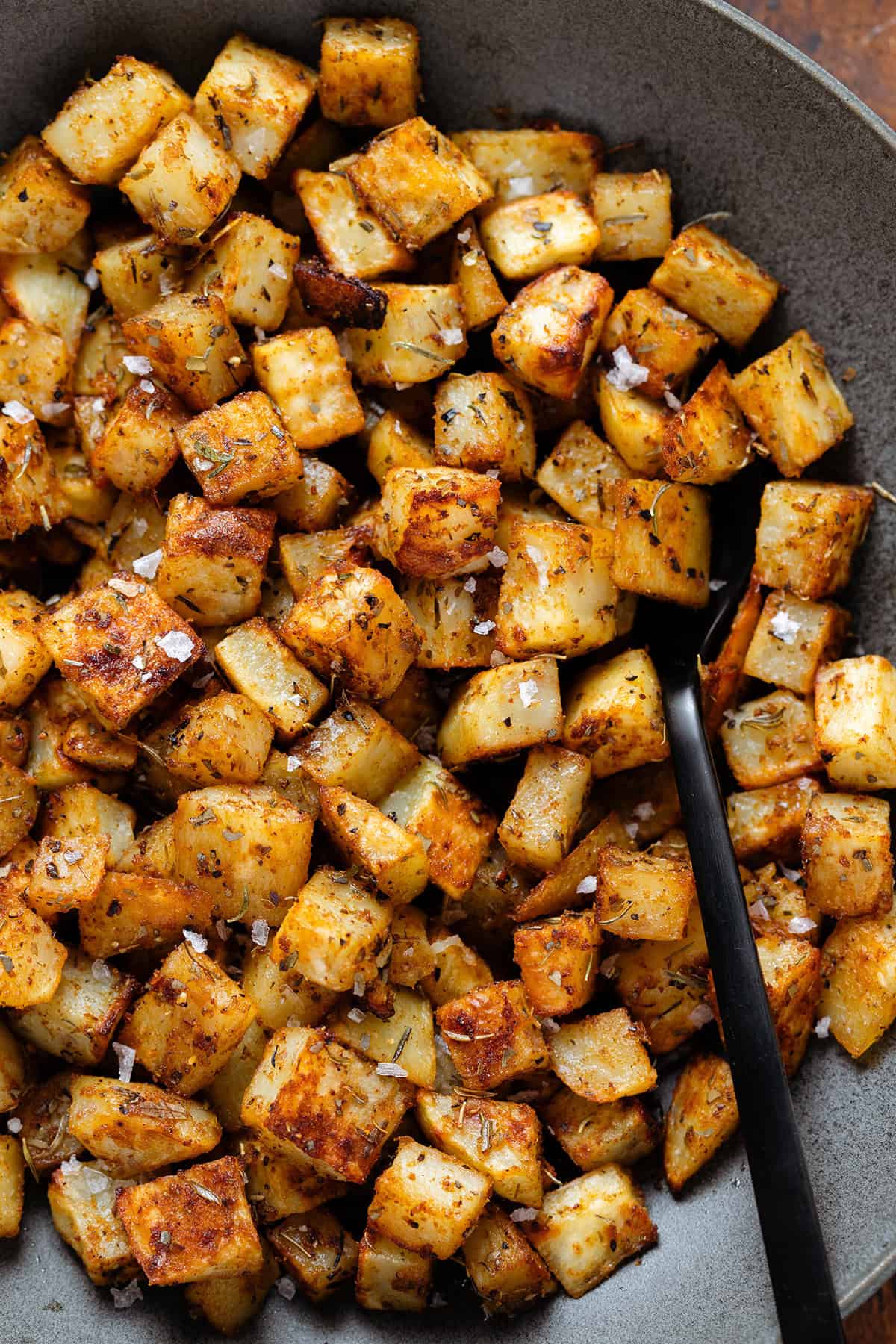 More Savory Brunch Sides
If you're looking for more savory dishes to add to your brunch table or just want something to snack on, definitely check out the recipes below. The spinach and feta triangles are definitely my favorite! Head to the Savory Breakfast Recipes category to see all the latest savory breakfast and brunch recipes.
Print
📖 Recipe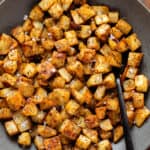 Crispy Breakfast Potatoes
Author:

Veronika | thehealthfulideas

Prep Time:

10 mins

Cook Time:

25 mins

Total Time:

35 minutes

Yield:

2

-4

1

x

Category:

Breakfast

Method:

Roasting

Cuisine:

American

Diet:

Vegan
---
Description
Try these Crispy Breakfast Potatoes for breakfast with eggs, roasted vegetables, or anything else you like! They're crispy on the outside and soft on the inside.
---
800g

russet potatoes

1

-

2

tablespoon avocado oil

1 tsp

garlic powder

1 tsp

onion powder

½ tsp

paprika powder

½

smoked paprika powder

½ tsp

dried thyme

1 tsp

dried oregano

1 tsp

sea salt

½ tsp

freshly ground black pepper (I used coarse, add less if it's fine black pepper)

⅛

-

¼

teaspoon chipotle powder (or cayenne, optional)
flaky sea salt (for serving, optional)
---
Instructions
Preheat your oven to 450F (230C).
Wash and peel your potatoes (you can leave the skin on too if you prefer). Dice them into evenly sized pieces and add to a large baking sheet (you can line it with parchment paper but it's not necessary). The more the potatoes are spread out on the baking sheet, the crispier they'll get. Use a paper towel to absorb as much moisture out of the potatoes.
Drizzle with avocado oil and toss.
Mix all your spices in a separate bowl and sprinkle evenly over the potatoes. Toss to coat well.
Roast in the preheated oven for 15 minutes. Gently toss the potatoes to flip, turn on the broiler, and roast for another 10 minutes. If you don't have a broiler function, just keep the oven at 450F. Keep an eye on the potatoes as broilers get very hot and could burn the potatoes quickly.
Serve them with scrambled eggs, veggies, other savory breakfast dishes, or on their own with ketchup. Sprinkle with flaky sea salt for serving if desired.
---
Notes
Storing: Store the potatoes in an airtight container in the fridge for 3-4 days.
Reheating: Preheat your oven to 350F (175C). Spread the potatoes on a baking sheet lined with parchment paper. Roast them in the oven for 10-15 minutes or until hot.
Keywords: breakfast potatoes, savory breakfast