Hi there, guys! I'm back to posting regularly and I'm bringing you yet another breakfast recipe! I simply can't help it, breakfast is my favorite meal of the day.
This Cherry Chocolate oatmeal has become one of my most favorite breakfasts ever. I used to make only baked oatmeals before, but now that I've tried regular oatmeal, there's no turning back. Don't get me wrong, I still like baked oatmeal and you can check out my Chocolate Maca Baked Oatmeal and my Blueberry Baked Oatmeal, but there's something very comforting about a hot bowl of creamy oatmeal.
I tend to stick to chocolate oatmeal because I just can't live without cacao and since I love making a cherry chocolate smoothie, I decided to put cherries into my chocolate oatmeal too. And it worked! It's so so so good.
It's the ultimate comfort food.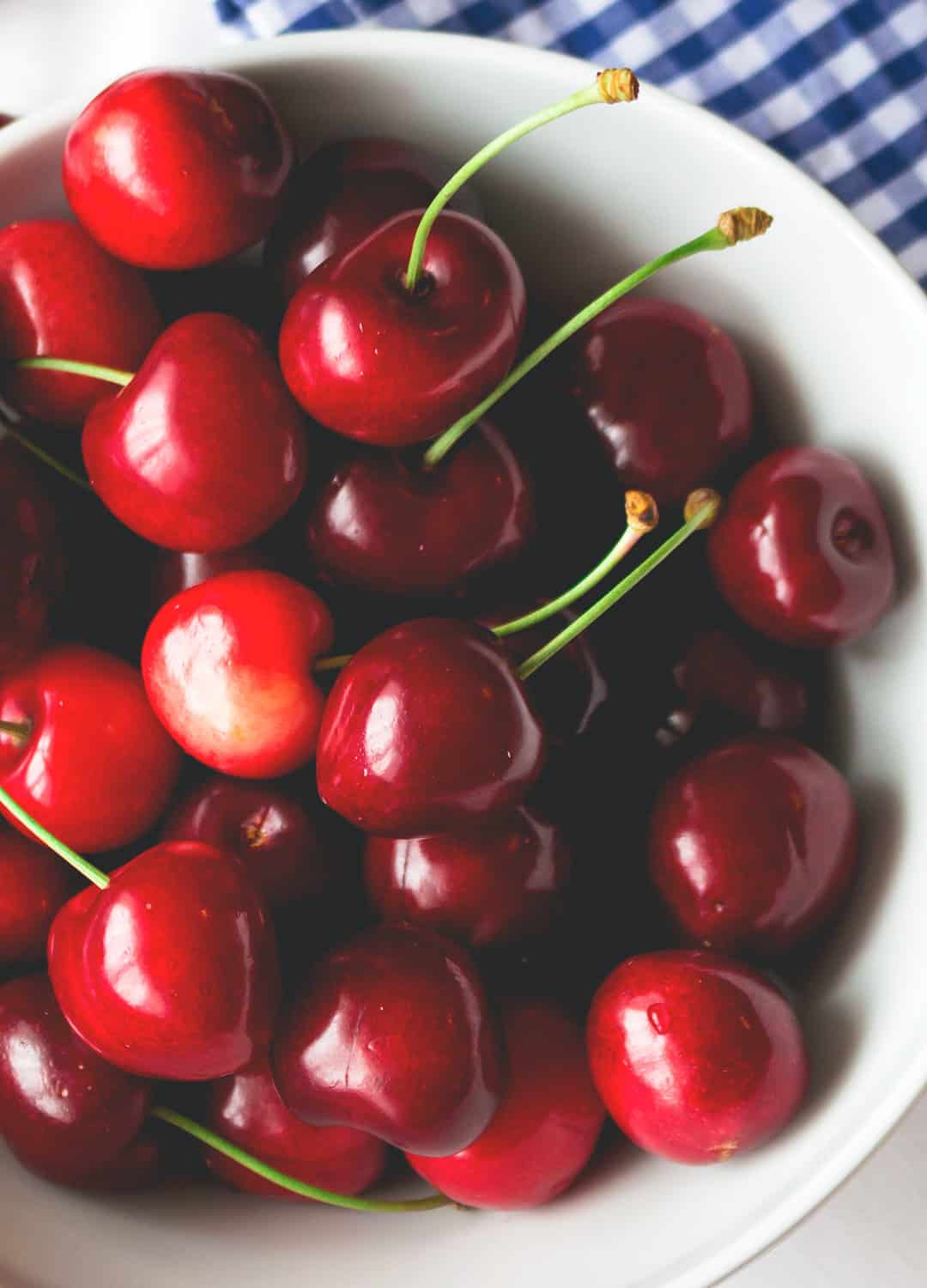 Oatmeal has officially become my go-to breakfast. Banana ice cream used to have that title, but I'm kind of over bananas so most of my breakfasts nowadays are banana-free. I still enjoy those little wild bananas, but I'm not into eating 5 regular bananas a day anymore. And honestly? I don't think there's anything really nutritious about eating so many bananas a day. I used to make smoothies and ice creams full of frozen bananas for breakfasts but now I feel like I need to move on.
It's oatmeal's time to shine.
Now, don't go bananas if you're someone who inhales bananas with every meal and you don't agree with my banana opinion. —Well, there's a sentence I never thought I'd say. Banana ice cream is great, and even though I don't like the taste of plain bananas as much as I used to, I still make banana ice cream on a hot summer day for a dessert or even for lunch.
I literally used to go bananas for bananas. I even bought the big 20kg banana boxes a couple times, believe it or not!
Nowadays I'm more of a hot breakfast kind of girl and this oatmeal is my #1 choice. I love to top it with my Cherry Compote, nut butter, and fresh fruit. By the way, that's mixed seeds butter in the middle of the oatmeal.
I express my love for cherries in my Cherry Compote post, so you can check it out if you like. I'm not going to into much detail about cherries in this post because it'd much likely result in me running off to the kitchen to make cherry ice cream right away.
Just know that I do really enjoy cherry recipes.
A lot.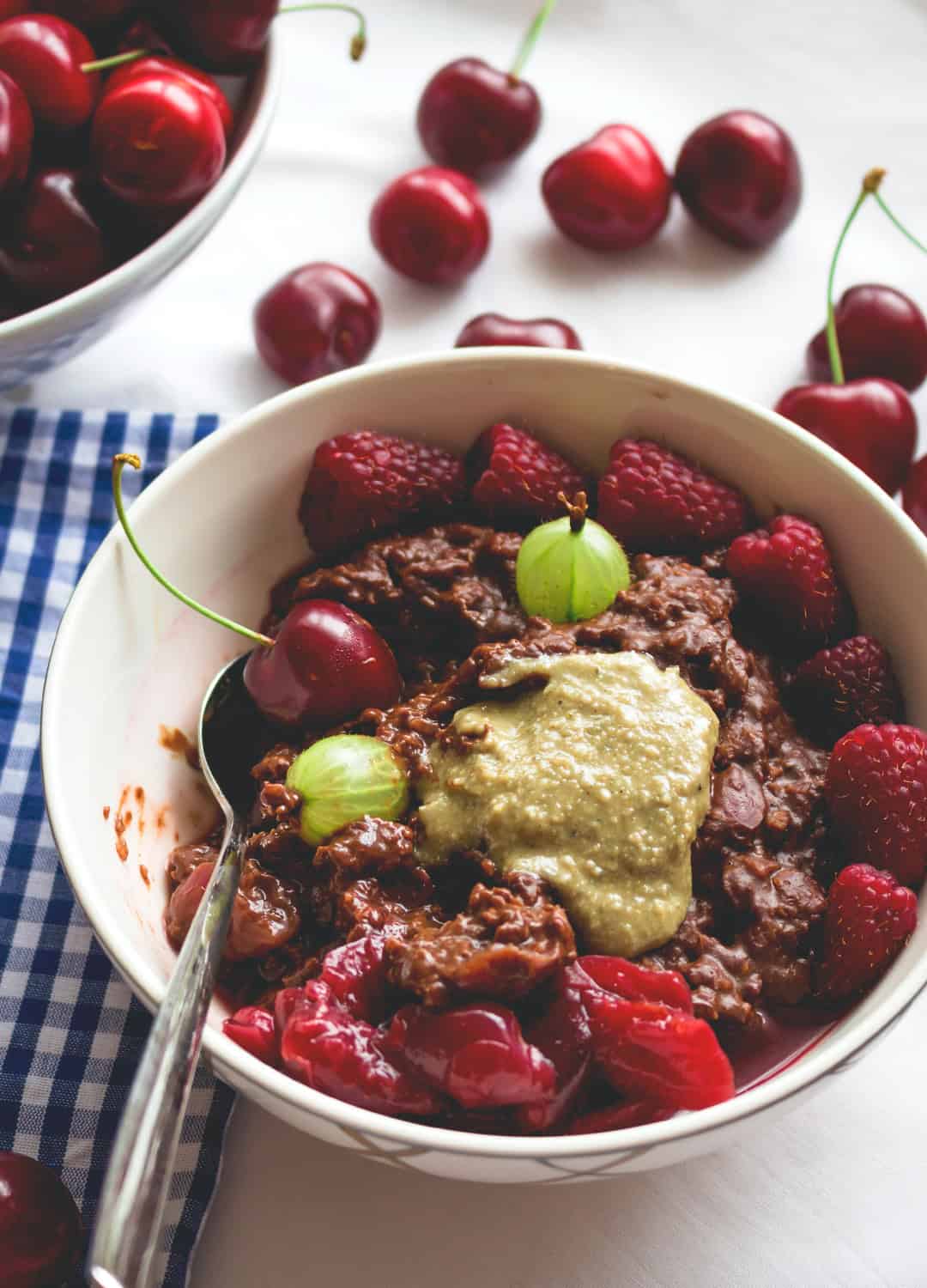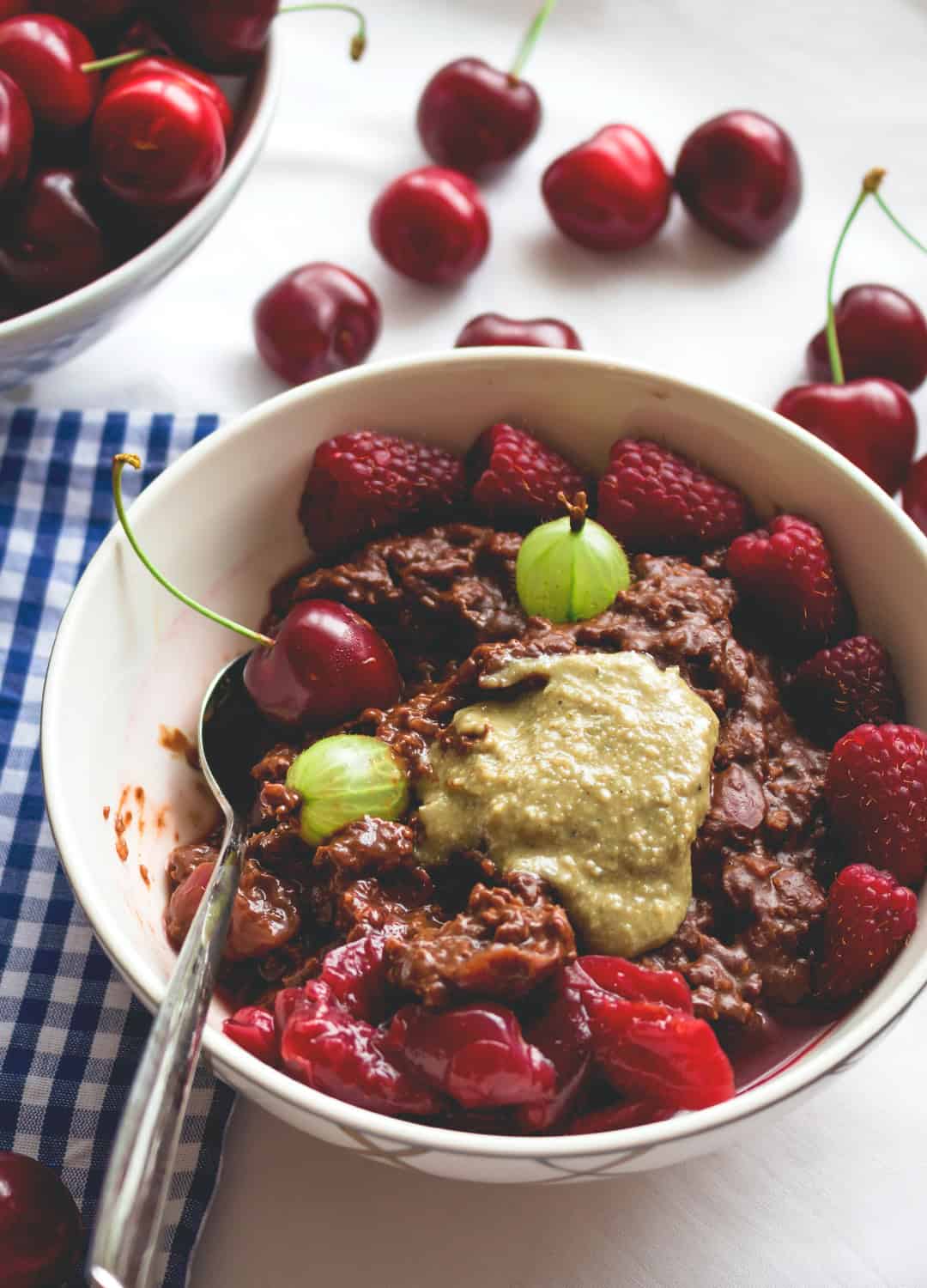 Come to think of it, I'm generally more into the small kinds of fruit—cherries, raspberries, strawberries, blueberries, gooseberries, goldenberries, red currants, and blackberries—almost forgot those...Ops!
So of course, this cherry oatmeal is topped with raspberries, gooseberries, and even more cherries.
So predictable.
But so good.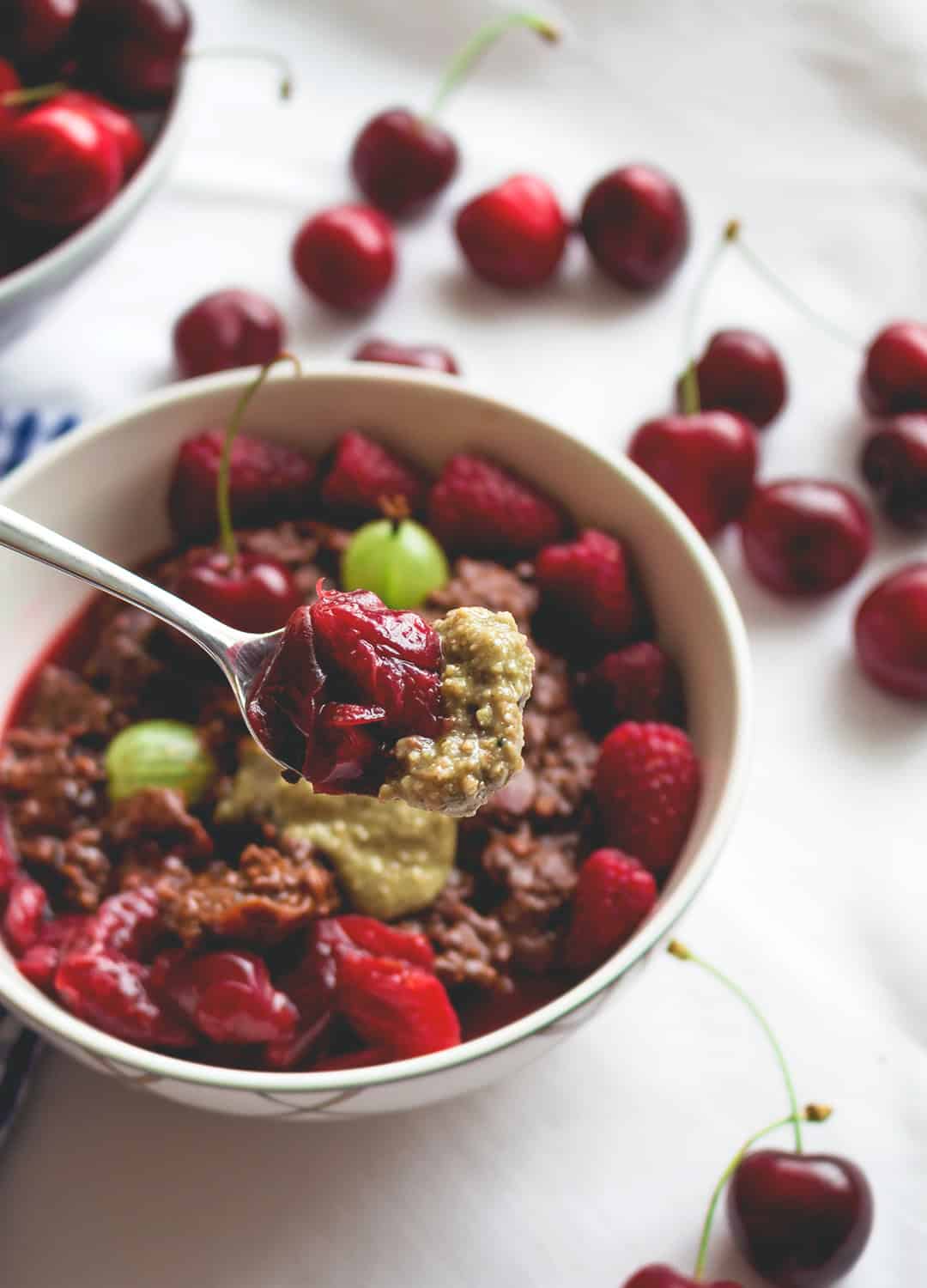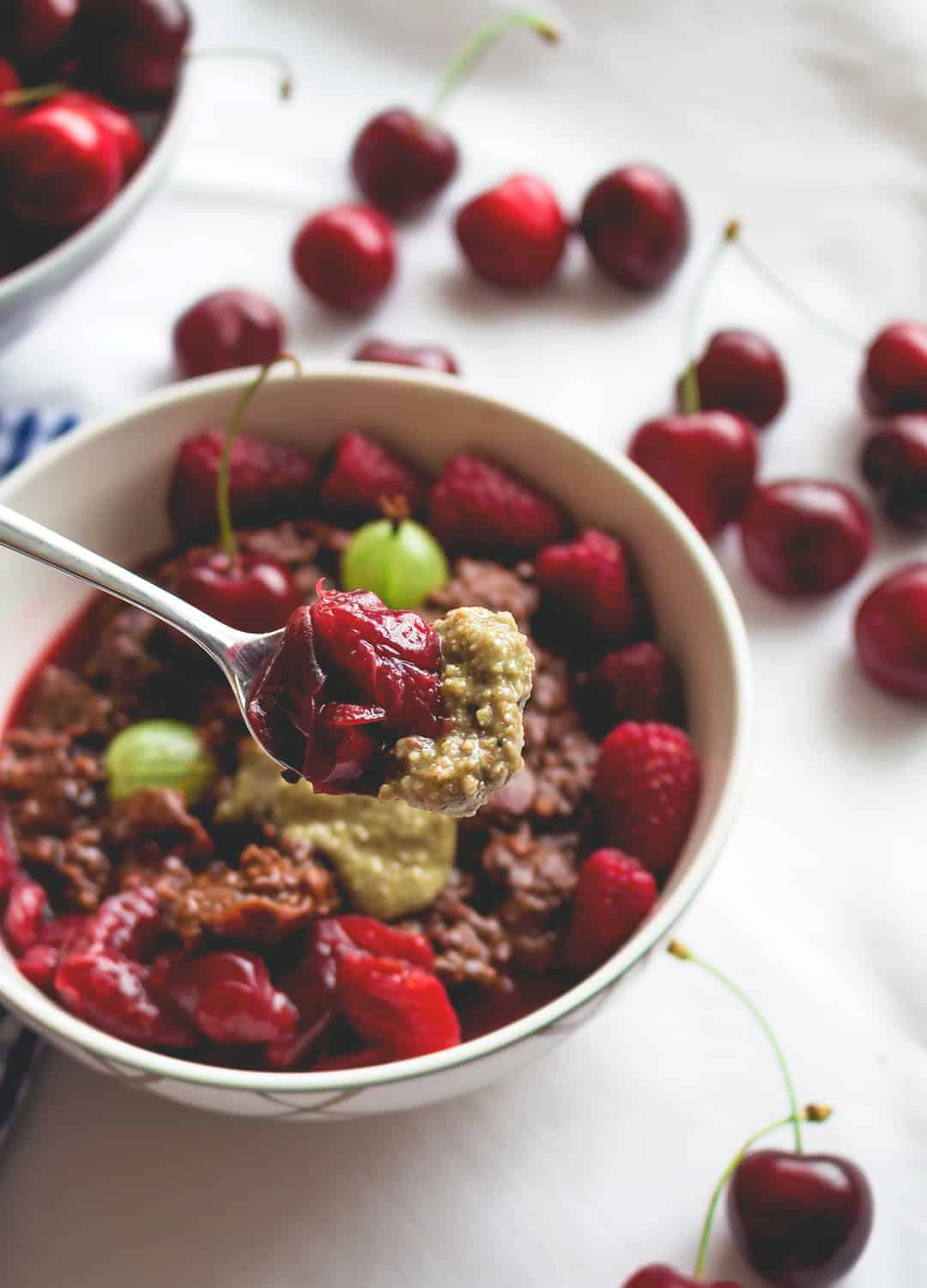 For all you vegans out there, this oatmeal is completely vegan. Yay!! It's made with coconut milk because I can't tolerate regular milk, literally.
(There's info about my health background and food allergies in my about me page)
If you don't have coconut milk, use oat milk or any other nut milk you have on hand. You can either make nut milk yourself from scratch (which is easier than it sounds) or buy it at the store. However, ALWAYS read the label and look out for additives! No emulsifiers, thickeners, table salt, or carrageenan!
LOOK AT HOW CREAMY THIS OATMEAL LOOKS!
I might just make some for dinner today... I did have a bowl for breakfast, though. Is it acceptable to have oatmeal for breakfast AND dinner? I mean, come on, chewing green salad doesn't seem as appealing as savoring a bowl of this hot cherry chocolate oatmeal, does it?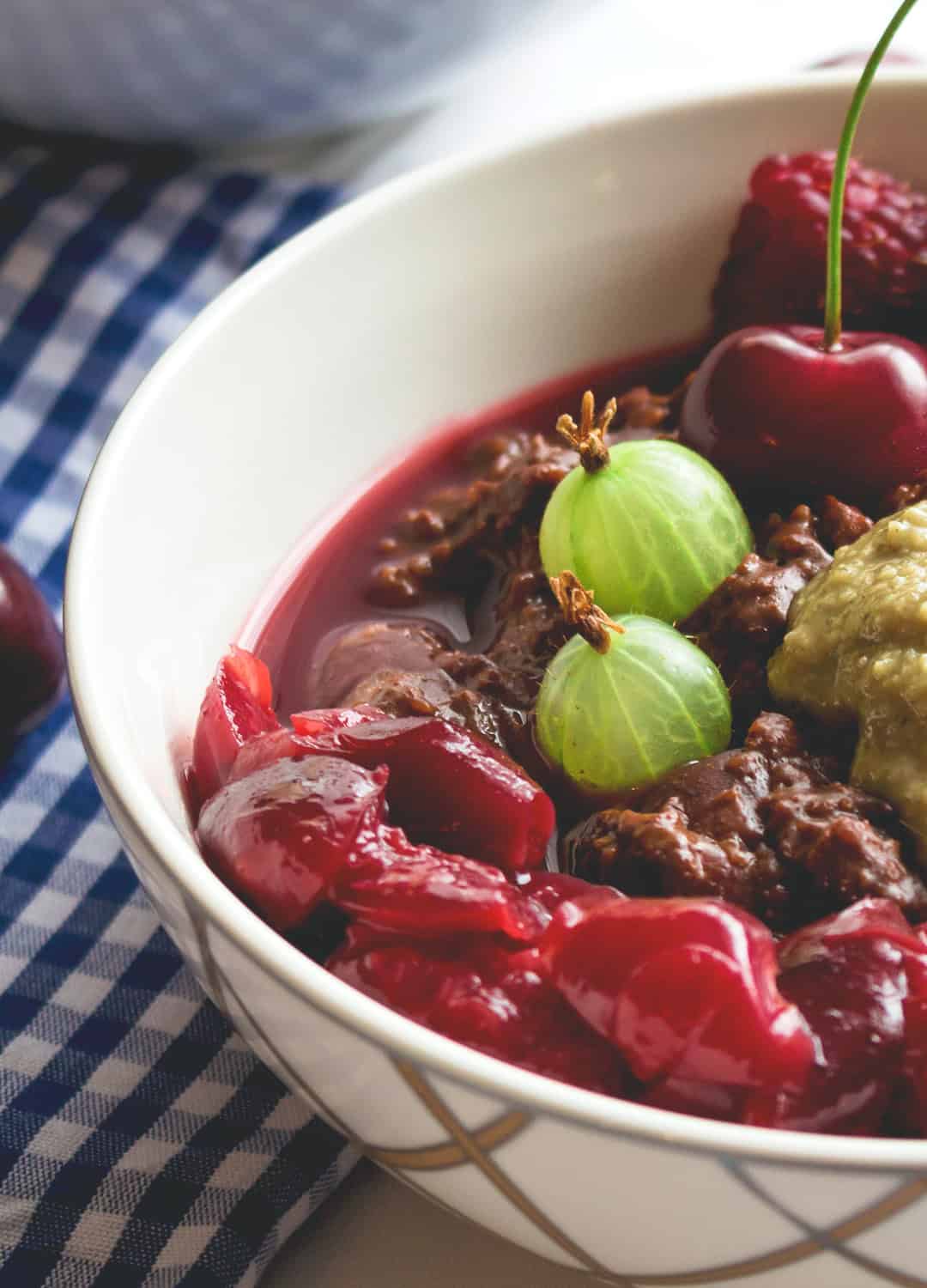 Print
📖 Recipe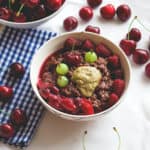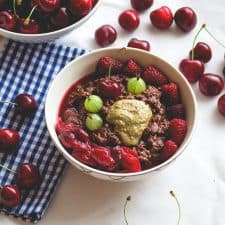 Cherry Chocolate Oatmeal
Author:

The Healthful Ideas

Prep Time:

10 mins

Cook Time:

17 mins

Total Time:

27 mins

Yield:

2

1

x

Category:

Breakfast
---
Description
Cherry season is my favorite and I like to add cherries into everything I make. The cherry chocolate combination is divine. The cherries brighten up an otherwise dull oatmeal and add interesting texture. I like to top mine with my easy cherry compote. In the recipe, I add the cacao last, because I want to preserve as many enzymes and vitamins in the cacao as I can.
---
2 cups

coconut milk (+additional

½ cup

if it needs more liquid)

2 cups

cherries, pitted, halved

1 cup

oats

½ tsp

blackstrap molasses or other sweetener of choice)
a pinch of sea salt

1 tsp

cinnamon

3 tbsp

cacao powder

½ tsp

vanilla powder (optional)
topping options: fruit, nut/seed butter, nuts, seeds, cherry compote
---
Instructions
Place the milk and the cherries into a saucepan and bring to boil.
Lower the heat and cook for 10 minutes so the cherries soften a bit.
Add the oats and cook for additional 5-7 minutes.
After 5 minutes, add the blackstrap molasses, salt, cinnamon and stir with a wooden spoon.
Depending on the texture, either turn off the heat or cook for additional 2 minutes and add more coconut milk if necessary. It should be creamy, but not too runny.
Turn off the heat and mix in the cacao.
Serve with seasonal fruits, nut butter, or my cherry compote (recipe on my blog)
Enjoy!
---