Autumn is officially here and sharing a pancake recipe seems like the necessary thing to do. And so does eating them in bed on a Sunday morning. I mean, come on, who doesn't like having breakfast in bed?
Pancakes are without a doubt a comfort food. What's your favorite comfort food?
When I think of comfort food, I usually think of cold weather appropriate meals. Pancakes, oatmeal, apple pie, anything with pumpkin spice, pumpkin soup, roasted seasonal vegetables, pasta, and hot chocolate. I also think of lazy mornings, hot tea, cozy bed & comfy socks, candle light, and colorful leaves.
I mostly seek comfort food in the colder months. Much more than I do in summer. The weather makes me want to snuggle in bed with a bowl of hot oatmeal in my hand while watching the snow fall just outside my bedroom window. I'm little ahead of myself with the snow falling, but I can't help but be excited about Christmas. (I know, I know. Yes, really, already.) As much as I enjoy the summer months, I really like fall and winter. I'm one of those people who go see Christmas decorations in shops as soon as they're on display. I don't necessarily need to buy anything, I don't hoard Christmas decorations to feel the spirit, I just observe it. I like fall because it's not boiling hot anymore, there are hundreds of shades of orange, red, and brown everywhere you look, and because both fall and winter feel kind of magical. Fall with its foggy mornings, crunchy leaves, and the golden hue everything has when the sun finally peaks through the clouds. Winter spent walking along snow covered streets that make everything quieter and more peaceful, listening to Christmas carols, eating Christmas cookies and spending time with your family during the magical time of the year that is Christmas.
And these pancakes go with the magical feeling perfectly. They're sweet, comforting, and great for a family breakfast.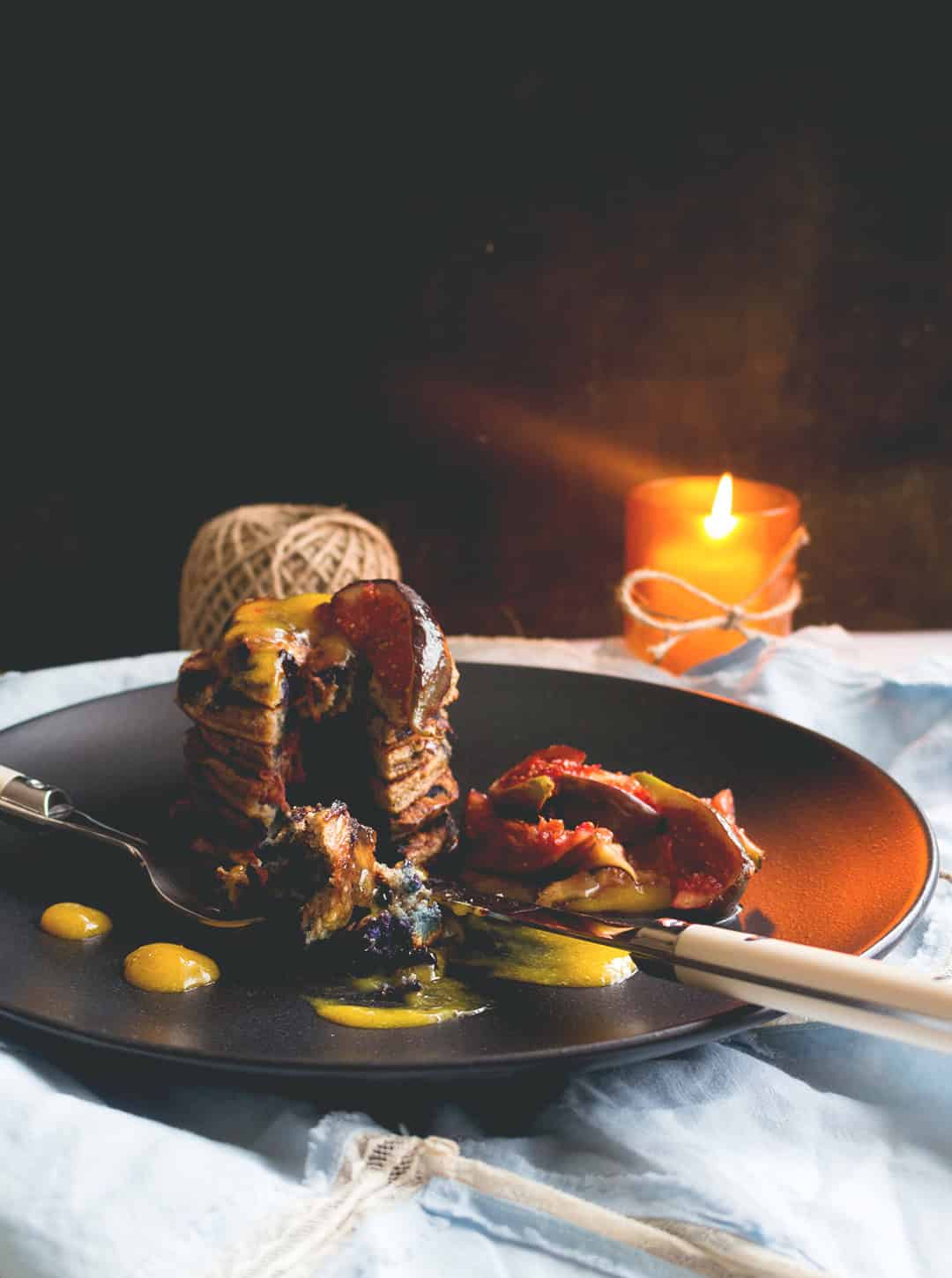 Before these, the last time I made pancakes was maybe a couple of months ago—which is crazy considering how much I like them. I guess oatmeal won every time I had time to make breakfast, it's just too good to pass.
I love sharing these pancakes with people who don't believe healthy food can be delicious. These aren't exactly packed with nutrition, but they're gluten, grain, dairy, and sugar-free which speaks for itself. They're also nut-free if that's a concern for you. Unfortunately, they're not vegan as eggs make up most of the batter. I do want to make a vegan version but right now, I don't recommend skipping the eggs and adding a vegan substitute. You can try to make it work without the eggs, but it might end up being a big mess or taste like a piece of cardboard.
The pancakes in these pictures definitely don't taste like cardboard, though. They're fluffy, delicious, and surprisingly easy to flip!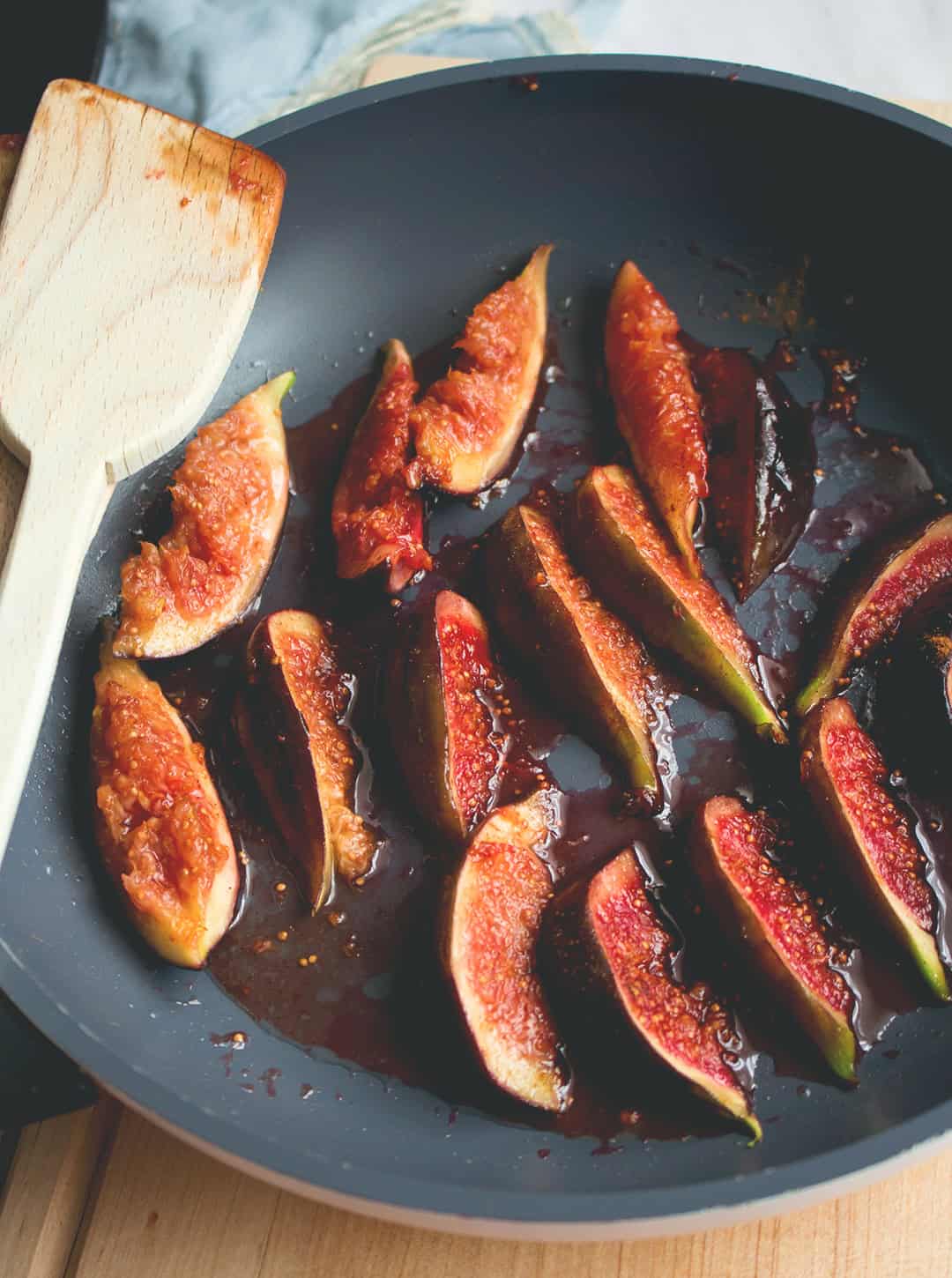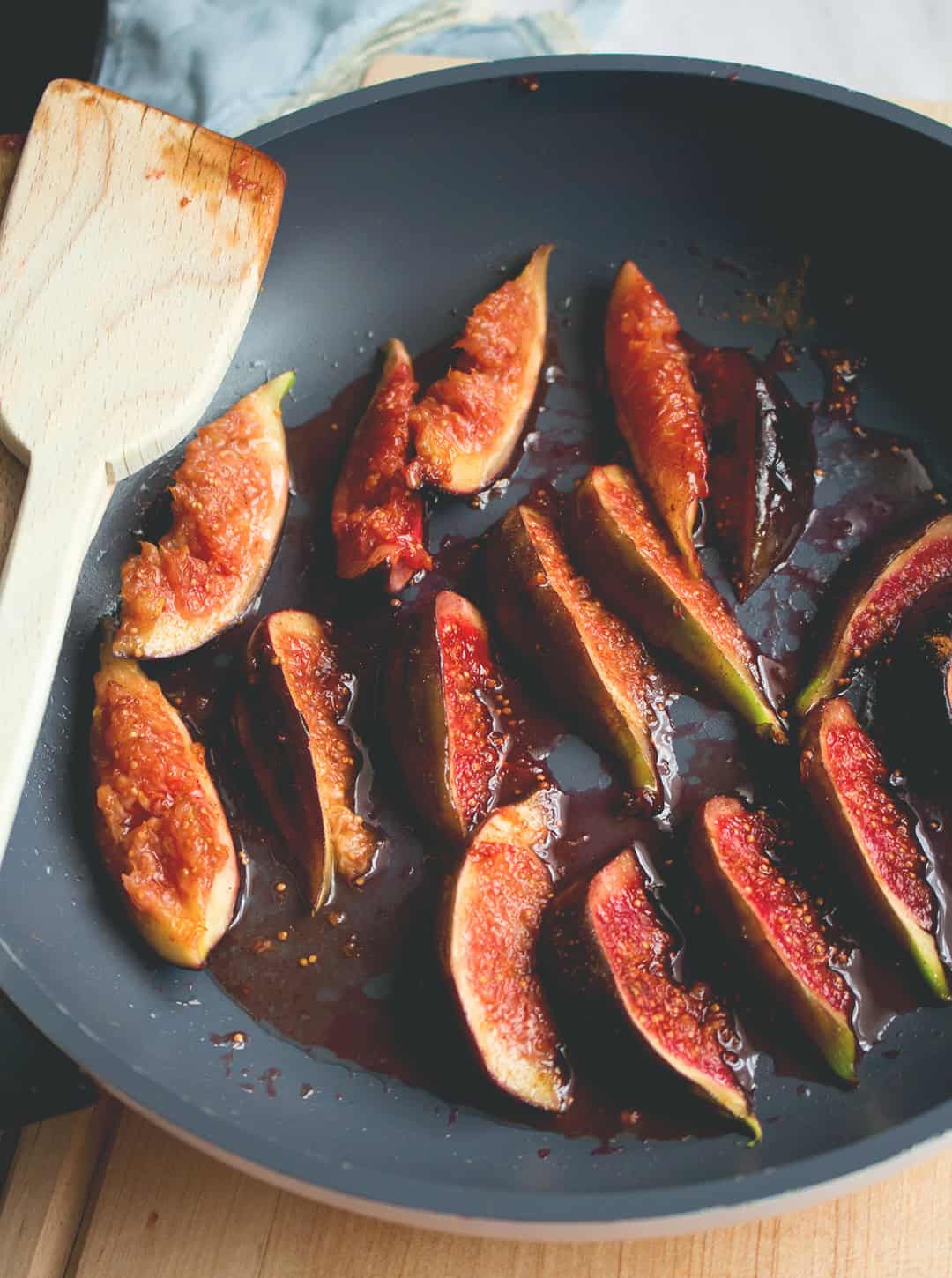 Figs are one of my most favorite fruit ever. They're in season at the end of the summer, so I'm a little late but when I saw these juicy big figs in my local shop, I couldn't resist. I usually buy figs from a local online store where I buy most of my produce, however, this summer, they didn't carry them. How disappointing! Especially because those would be organic, as opposed to the ones I used in this recipe. But you gotta use what you have and the figs you see were delicious nonetheless.
I was surprised how good the mango-blueberry-fig combo was! SO DELICIOUS. Do I say delicious way too much? Probably. I admit, sometimes I get overly excited about good food and the only adjective I use is delicious. I mean, these pancakes aren't just good, they aren't just tasty—they're D-E-L-I-C-I-O-U-S. Or divine, if you will. Anyways, moving on. I added tahini to the mango sauce because tahini and mango go really well together and if you haven't tried the combination yet, you really should because, yes, you guessed it, it's delicious.
Tahini is a sesame paste. When buying tahini, make sure the only ingredient is sesame seeds and nothing else. Preferably raw so all the minerals and vitamins are intact and also because roasted nut and seed butter can go rancid, and nobody wants that.
Tahini is also great to add to salad dressings, spreads, or to make your own hummus! Tahini also pairs well with chocolate—try it, I dare you. It's really good! Also, tahini is a great source of calcium, which is great if you don't drink milk.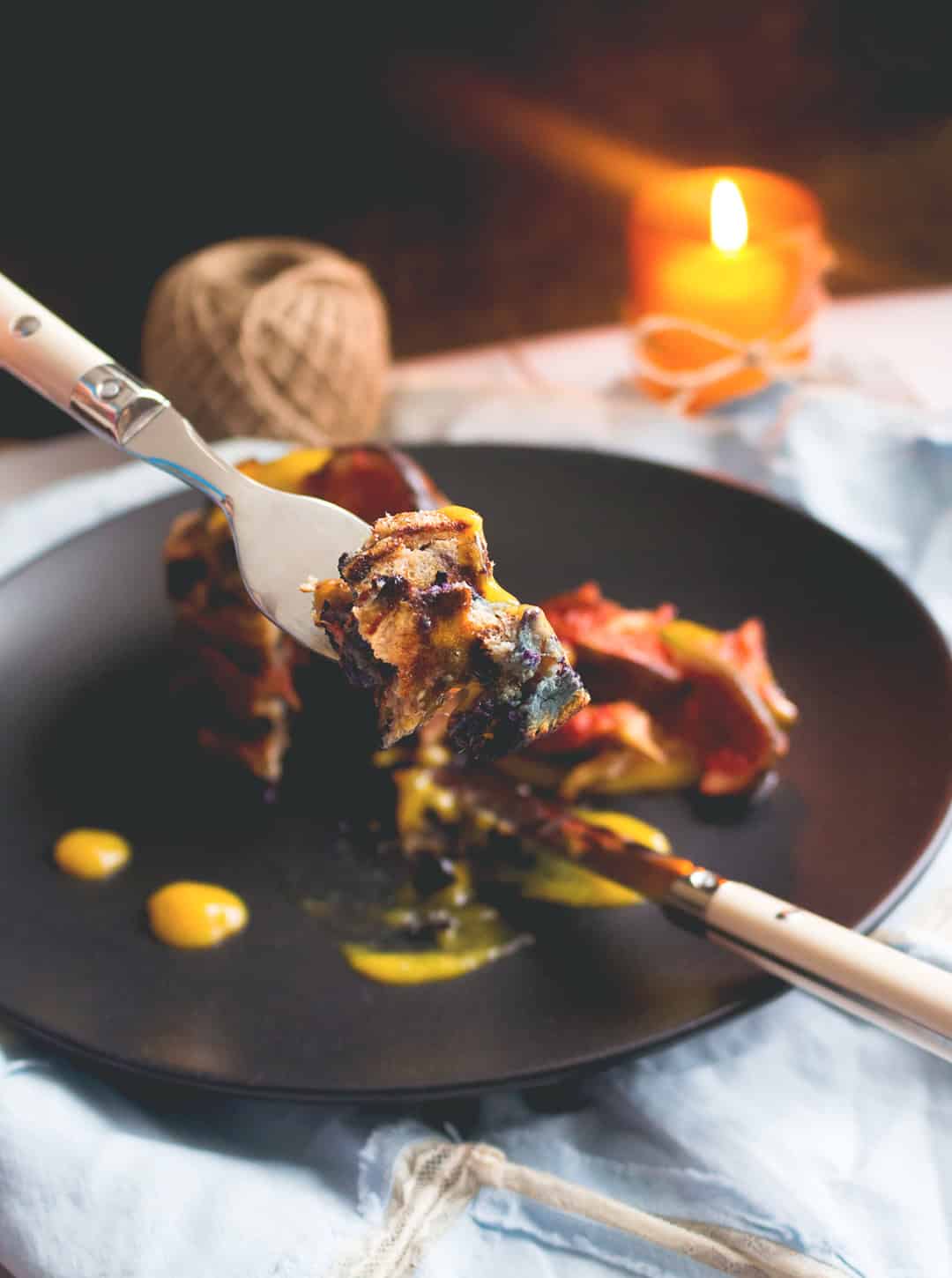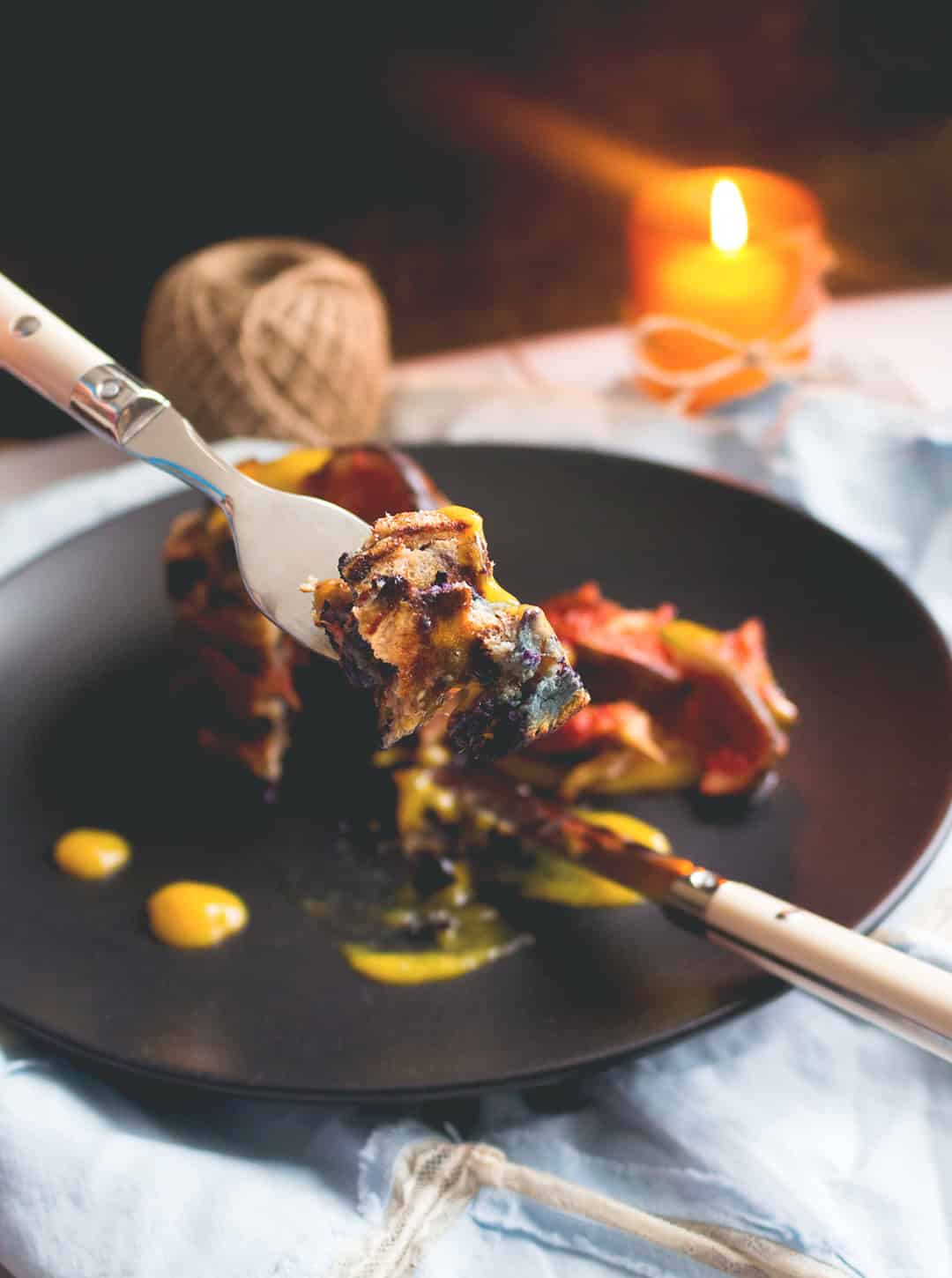 I took so many pictures of these pancakes, but can you blame me? Just look at them. They scream comfort food. I usually don't like when blogs have only one or two pictures of a certain meal in a blog post. I always like to see a plate of food from a thousand different angles and it's always such a disappointment when you click read more and there's only the one picture you already saw on the home page. Especially if it's something pretty, like chocolate cake. That's why I like to post as many pictures as possible, as long as the pictures aren't repetitive. I love having a picture from above, from the side, a close up. I just really like food photos, as you can tell. Have I taken too many photos for this post? Nah.. there can never be too many pancake photos, right?
Look at them. Fluffy pancakes, perfectly caramelized figs and tahini-mango sauce. Could it BE any better?? (10 points for you if you get the capital letters reference)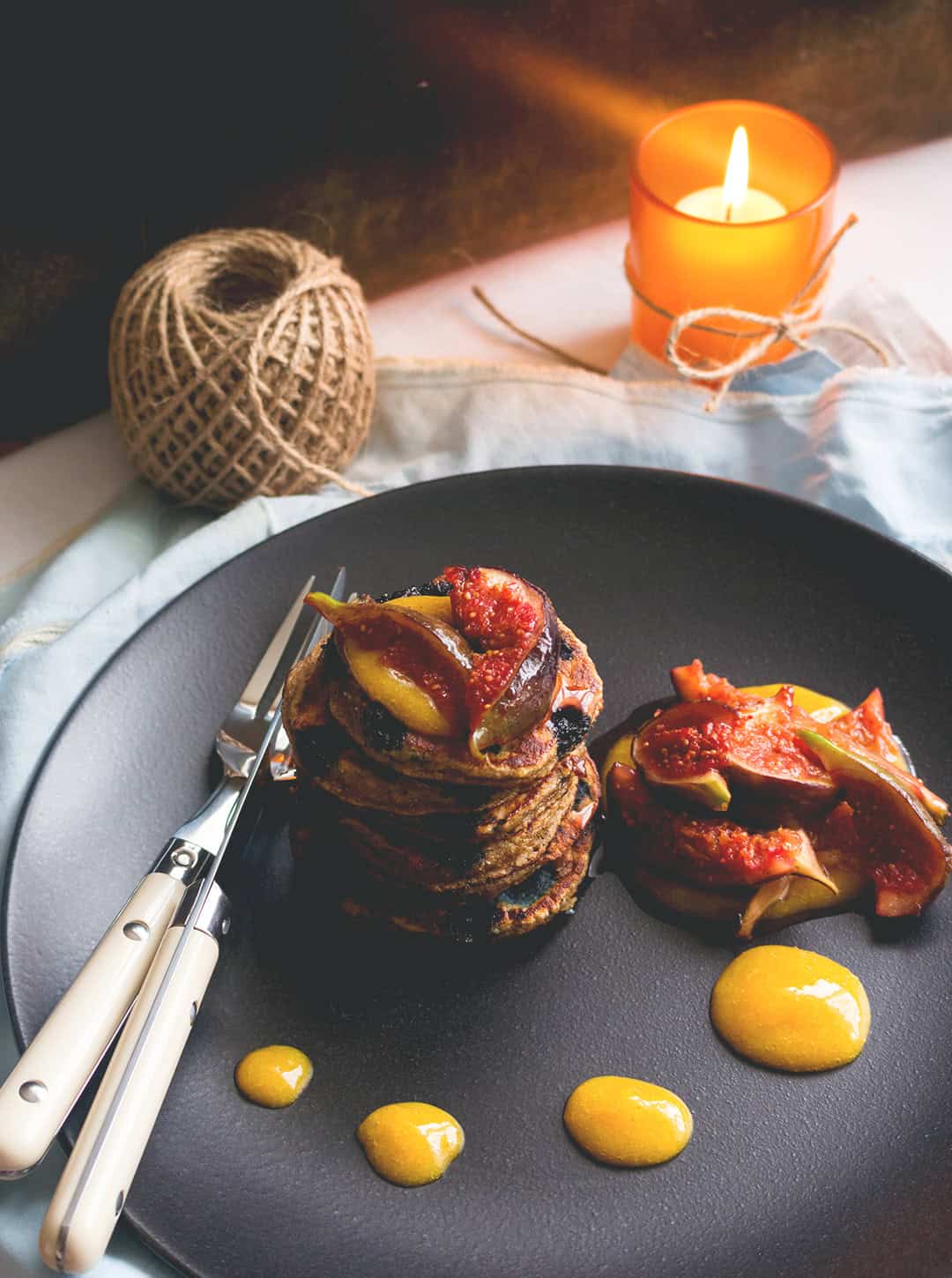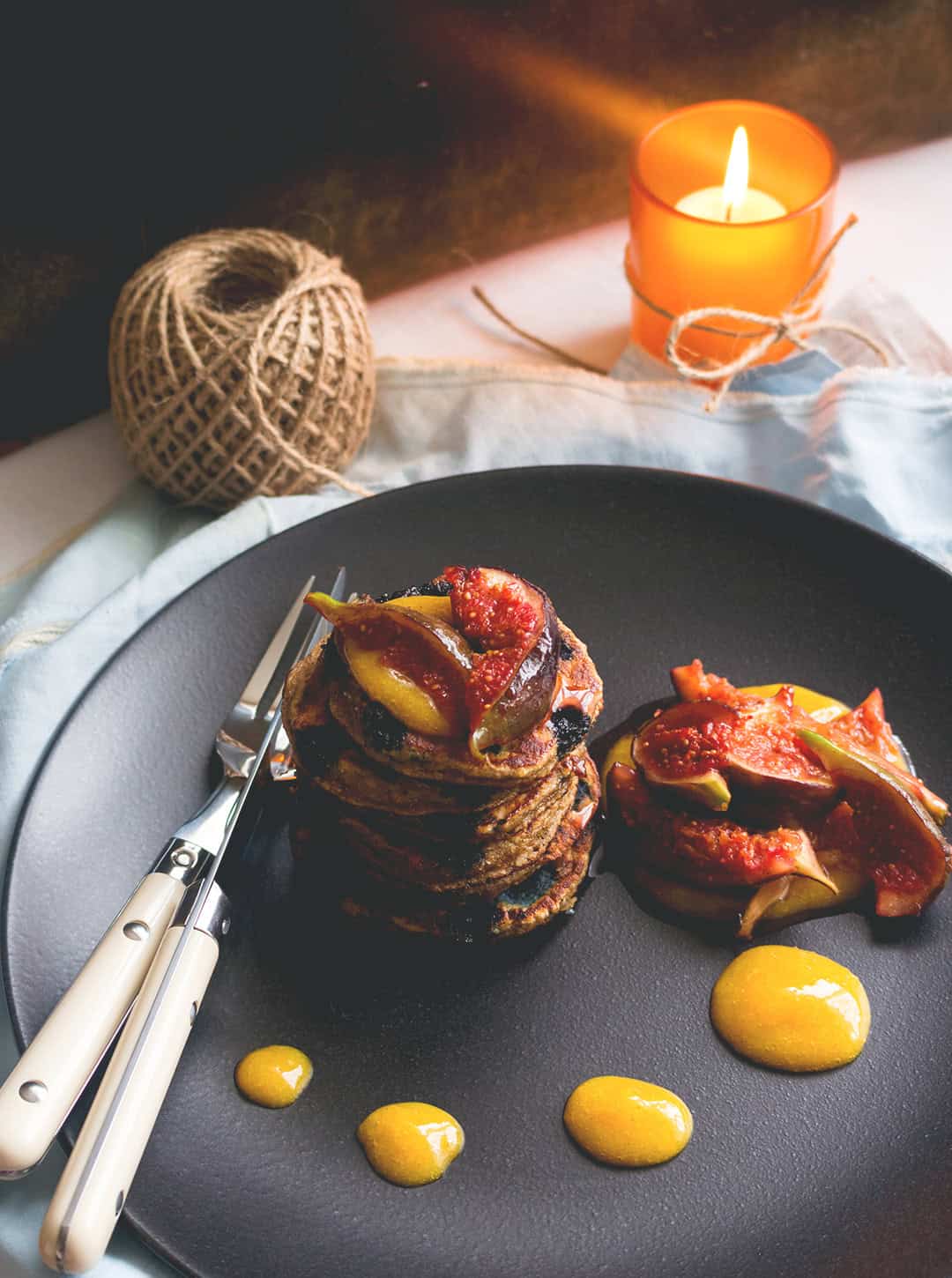 Yes, it was a Chandler reference. I'm not gonna lie, I probably know all the jokes from all of the episodes. I've watched Friends so many times. My favorites include the one with ross's sandwich, ross's teeth, the apothecary table or the one where phoebe runs. What are your favorite episodes?
Watching Friends while eating pancakes is my favorite hobby.
I don't make pancakes often but I do really like them. And I'm proving it by planning to post yet another pancake recipe next month—a Christmas edition! I also posted a recipe for colorful pancakes a while back → Colorful Pancakes with Chocolate Sauce . The recipe includes chlorella powder and beet juice but you can taste neither. You should try those too, but try these blueberry ones first, they!re even fluffier. But maybe you could top them with my Raw Chocolate Sauce too. To make them even more delicious!
I'm so tempted to make these right now. But my bananas aren't very ripe yet so I have to wait. The best bananas for pancakes are those really soft ones that are easy to mash. They're also sweeter.
Now it's finally time to get to the recipe and start cooking! I hope you like it! If you make them, don't forget to tag me on Instagram, or other social media because I'd love to see your creations.  The recipe is enough for 2, so if you're making it for 3-4 people, I suggest doubling the ingredients.
Enjoy! :)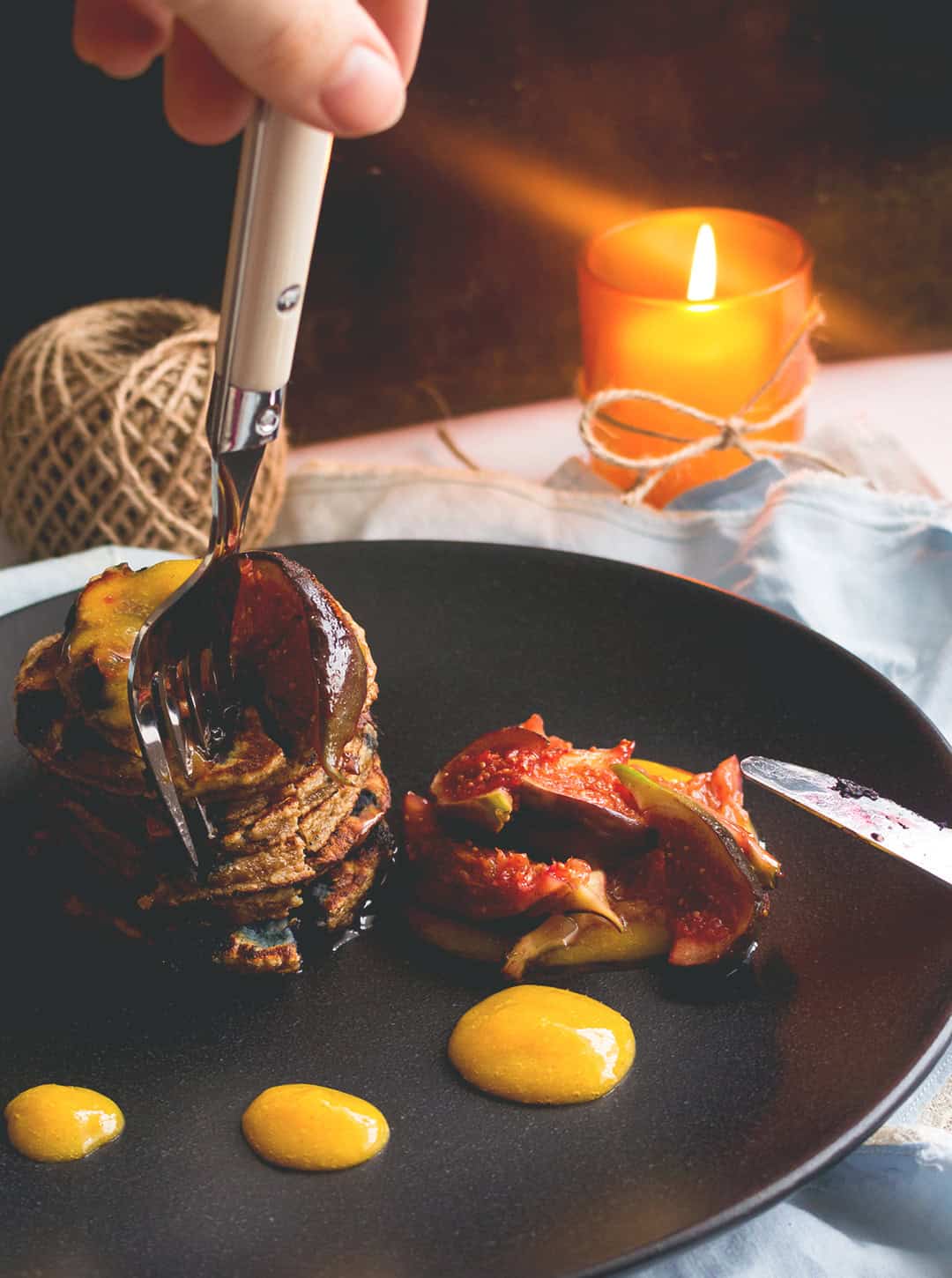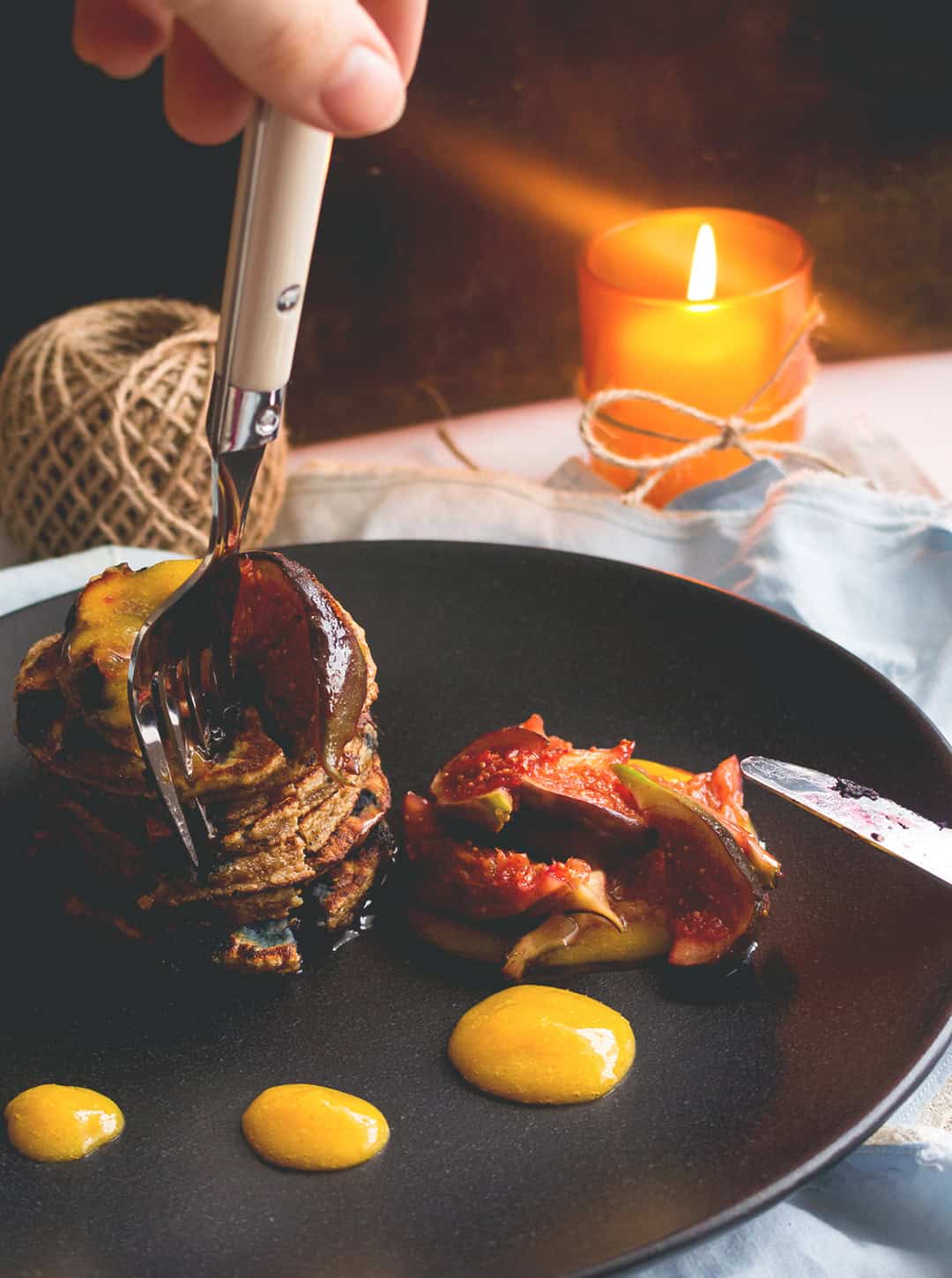 Print
📖 Recipe Blueberry Vanilla Pancakes with Caramelized Figs and Mango Sauce
---
Pancakes:
3

eggs

2

ripe bananas

1 tbsp

dairy-free milk of choice (oat, almond, coconut, rice, cashew)

¼ cup

coconut flour

¼ tsp

baking soda

¼ tsp

sea salt

½ tsp

vanilla powder or the seeds of 1 vanilla bean or

1 tsp

vanilla extract

½ tsp

cinnamon

½ cup

blueberries

1 tsp

coconut oil for cooking (or any other high-temperature friendly oil)
Mango sauce:
1

mango

¼ tsp

tahini sauce

¼ tsp

cinnamon
Caramelized figs:
3

figs
cinnamon

2 tbsp

maple syrup/honey

1 tsp

coconut oil for cooking
---
Instructions
Pancakes:
Crack the eggs into a bowl, beat them with a whisk and set aside.
Peel the bananas and mash them with a fork on a separate plate.
Add the bananas to the bowl along with the milk and stir the mixture with the whisk to combine.
To a separate bowl, add the coconut flour, baking soda, salt, vanilla powder, and cinnamon and mix with a spoon.
Add the dry ingredients into the wet and mix well until well incorporated. Set aside for a few minutes so the coconut flour has time to soak up the moisture. Then stir again.
Heat a frying pan over medium heat and add the coconut oil.
When hot enough, spoon the batter into the pan (about a tablespoon at a time) and make a circle.
Add a few blueberries onto each pancake.
Cook for 1-2 minutes on each side until golden brown. The time depends on how hot your pan is.
When it gets too hot, lower the heat, so the pancakes don't burn.
Flip them with a thin spatula. You'll know they're done on one side when they're easy to flip.
Put the pancakes into a baking dish and place them in the oven set at 50-70C (122-158F) to keep them warm.
Mango Sauce:
Add the mango, tahini, and cinnamon into a blender and blend until smooth.
Pour into a glass jar and set aside.
Caramelized Figs:
Wash the figs and cut them into quarters.
Dust them evenly with cinnamon.
Heat a small frying pan over medium-high heat with a little bit of coconut oil.
Spread the figs onto the pan evenly so they all touch the surface (skin up).
Drizzle them with maple syrup and cook for 2-5 mins on one side, flip and cook for a couple more minutes until they're soft and the maple syrup starts to caramelize.
Take off the heat.
Plate the pancakes, top with mango sauce and caramelized figs.
Enjoy!
---