Baked oatmeal used to be my go-to breakfast for quite some time about a year ago. I started eating it around the time I started this blog (march/may) and instantly fell in love. At that time my diet wasn't as clean as it is now so you can be sure I melted a good quarter of a dark chocolate bar. It definitely was a dessert for breakfast and it was oh-so-delicious.
Then I discovered that regular oatmeal is just as tasty and I started cheating on baked oatmeal with creamy oatmeal and green smoothies. Now that I'm rediscovering the amazingness that baked oatmeal is, I need to share it with you. You're gonna love this recipe. Blackberry baked oatmeal with raw chocolate sauce — sounds incredible, right? I think the pictures speak for themselves.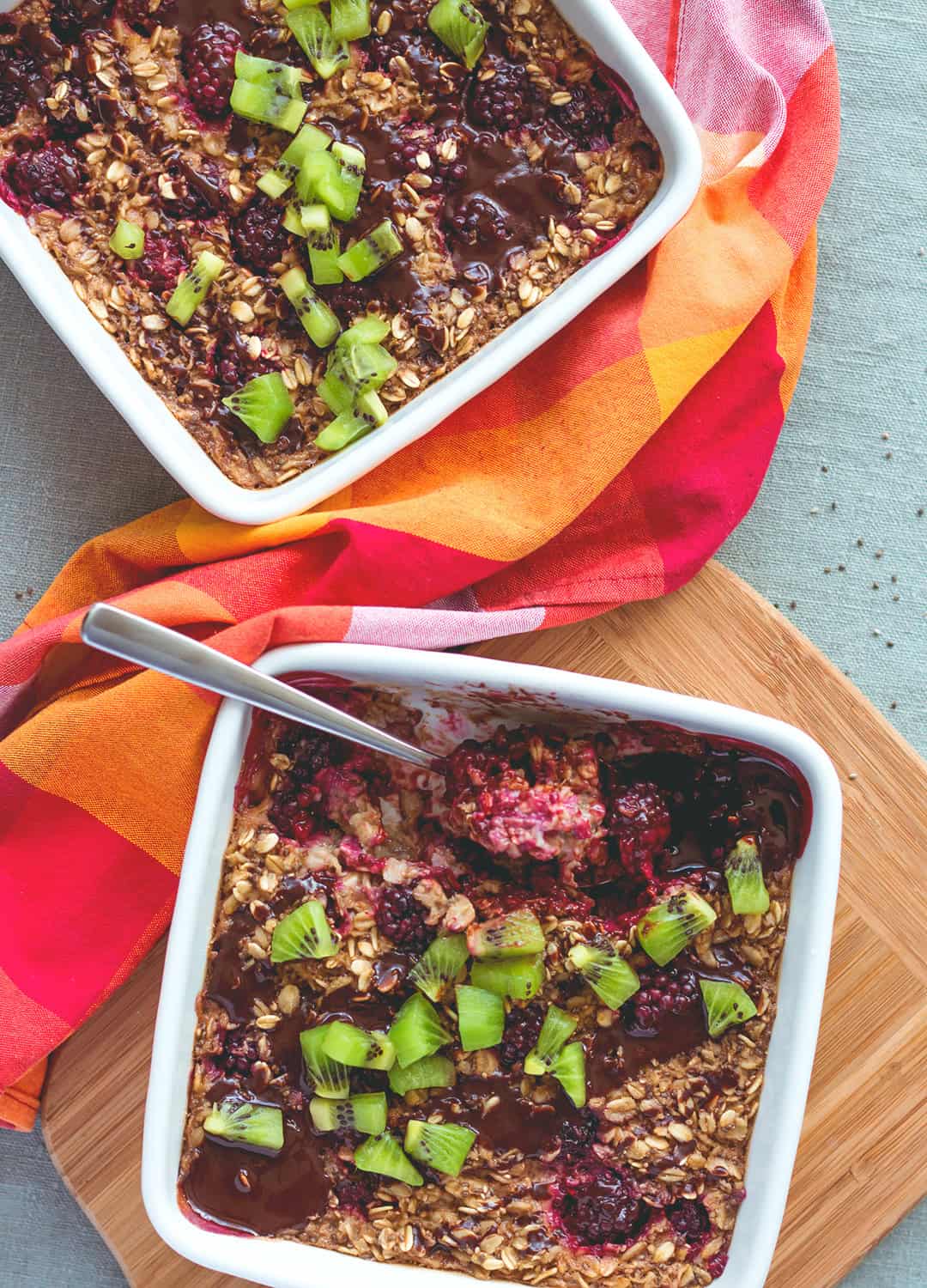 During my baked-oatmeal-for-breakfast-every-single-day-period, I shared two of my favorite recipes with you on here. Check out my  Blueberry Baked Oatmeal or Chocolate Maca Baked Oatmeal. They're both delicious, though you should keep in mind that those are one of the first recipes I ever posted so you should probably take the ingredients and instructions with a grain of salt. I mean, for one, you don't need 1 cup of oats for 1 person. Now I do 1/2 cup oats + 1 cup milk per serving. And no baking soda. Those two recipes are more of an oatmeal cookie than anything else. No complaints about that, though.
This blackberry baked oatmeal is light, fluffy, and chewy all at the same time. Of course, it's also sweet from the maple syrup and tangy from the blackberries with a hint of cinnamon and cardamom so it's basically everything you're asking for in a baked oatmeal.
Quick question: Do you also get as excited about homegrown produce as I do? I love growing my own food.
Okay, I have to admit, we planted some tomatoes this year which was frankly kind of a fail but we did have a ton of cherries this year so at least that was a smashing success. The blackberries you see in the baked oatmeal photos are actually from our neighbors which still counts as homegrown — winning. I was picking them one day (yes, with permission!) and got the idea to make baked oatmeal right away. I wanted the flavor of the blackberries to really come through so the recipe is really simple. No cacao, acai, maqui berry powder, chlorella or anything else I tend to throw into my oatmeal every day. Just a touch of cinnamon and cardamom which go both really great with blackberries.
Side note: yes I really do put chlorella into my oatmeal. I mix it with acai, raw cacao, and other superfoods in a small bowl and add it to the oatmeal after I take it off the heat. You could never taste it.
As I was saying before, I used to love melting chocolate squares on my oatmeal but since I don't eat regular sugar anymore and don't want to melt expensive raw chocolate on my oatmeal, I like to make my own raw chocolate sauce. It's the easiest thing ever. You just need two tablespoons of each: coconut oil, maple syrup, and raw cacao powder. I like to add a bit more cacao powder because I like it really chocolatey. I also add a pinch of sea salt and a dash of cinnamon which is great at balancing blood sugar levels. Mix all that together and drizzle over your oatmeal. So delish!
If you make this recipe, don't forget to tag me on Instagram #thehealthfulideas or on Twitter. I'd love to see your creations! :) Cheers and enjoy!
Blackberry Baked Oatmeal
Author:
The Healthful Ideas
Ingredients
½ cup rolled oats
½ tsp cinnamon
¼ tsp cardamom
1 tbsp chia seeds
½ tsp vanilla powder or the seeds of 1 vanilla bean (or 1 tsp vanilla extract)
1 cup almond milk
1 cup blackberries (fresh or frozen)
1-2 tbsp maple syrup or any other sweetener (optional)
Instructions
Preheat your oven to 175C (347F).
Mix all the dry ingredients in a small bowl or in the baking dish you're going to bake it in.
Add the almond milk and maple syrup if using and mix until well combined.
Stir in the blackberries and pour into a small baking dish (if you're mixing it in a bowl first).
Bake for 25-30 minutes. Serve immediately topped with berries, nut butter, or any other toppings of choice.