Honestly, I never really liked maca. I didn't like it blended with bananas or any other fruit. So naturally, the idea of maca baked oatmeal didn't appeal to me so much. But, you know, people change and so did my taste. Brussels sprouts are a great example of that. I kept seeing other people's creations of maca oatmeal on Instagram so I decided to give it a try and now I'm so happy I did. This is now my go to breakfast if I need to keep going for hours. It's filling, chocolatey, sweet, and really easy to make!
It's like cake for breakfast and who'd say no to a cake? The cacao & maca combo really is winning!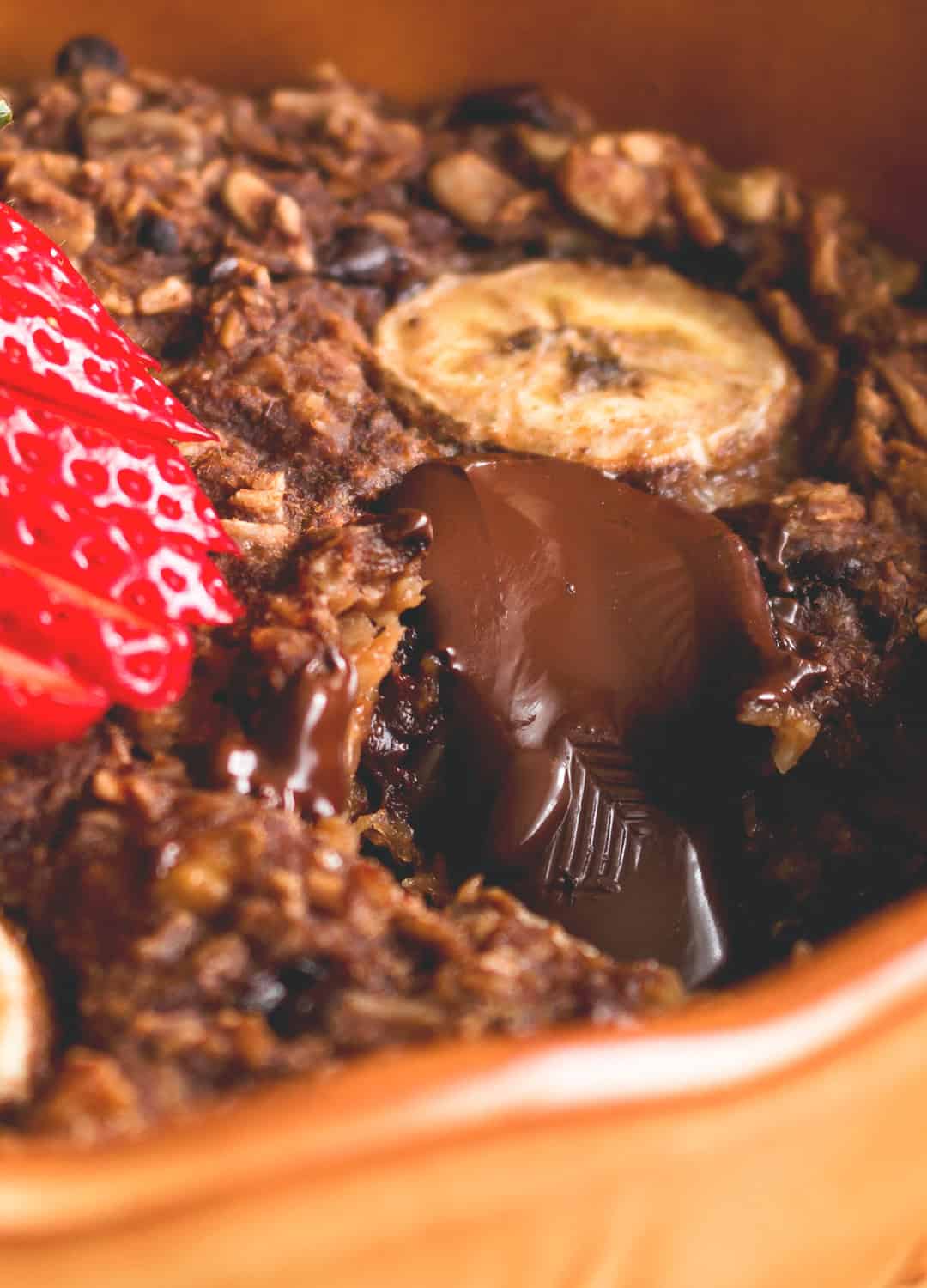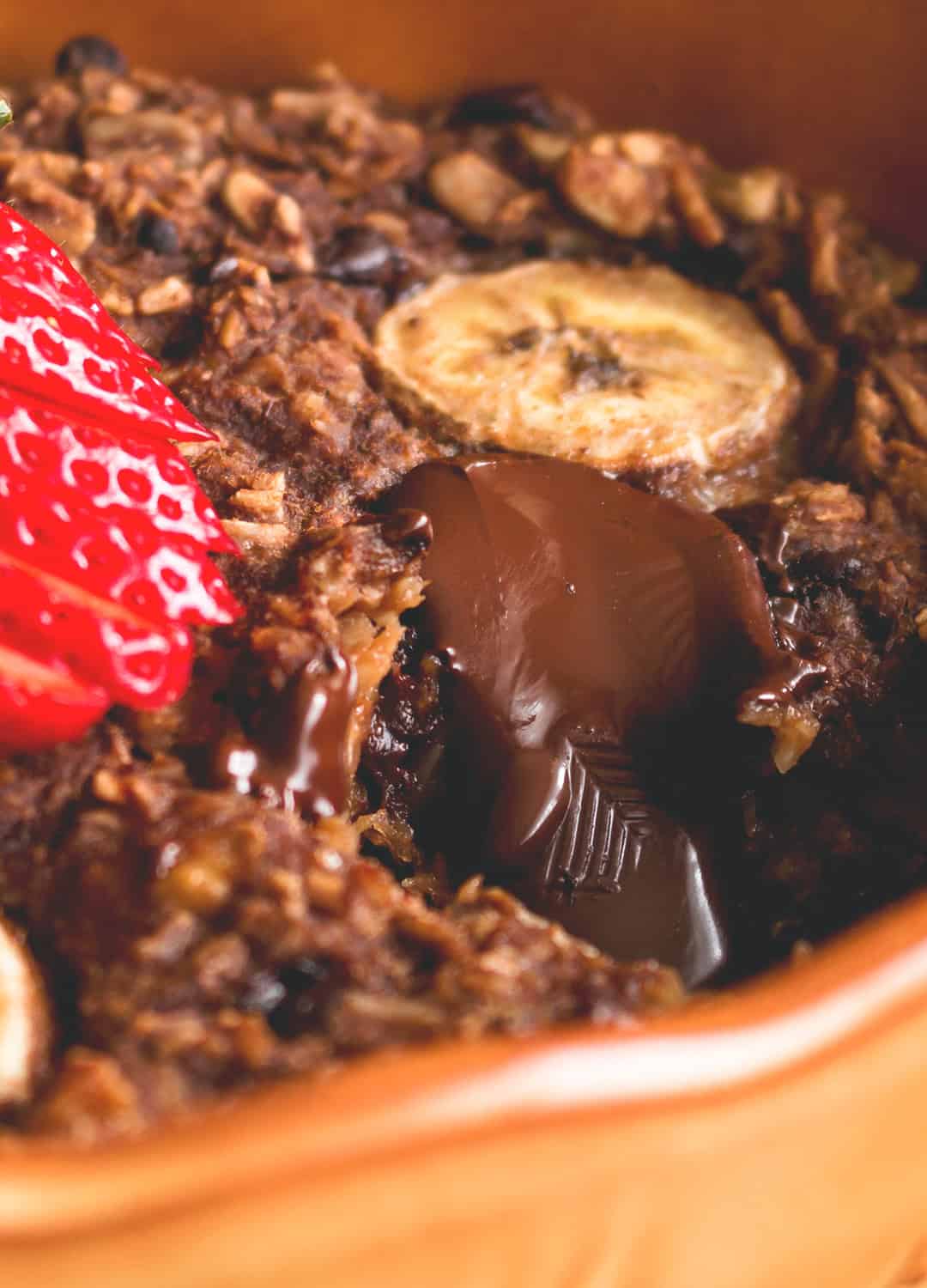 Maca is a root vegetable, grown in high altitudes, native to the Peruvian Andes. It's been consumed for over 2,000 years and they say that Incan warriors used to consume maca to increase their endurance and strength during battles. Maca increases your energy levels and helps you keep going for hours which is one of the many reasons I like it.
Maca root has a yellow-ish color and green leaves that show above the ground. The root looks similar to celeriac, only smaller — the size of a beetroot, you might say.
Benefits of maca
Maca is a great adaptogen since it grows in such extreme conditions—sunlight, winds, changes
Maca increases strength, stamina, and libido. It can help improve one's mood and it greatly supports the endocrine system and good thyroid function. If you haven't read the about me page, thyroid problems are something I used to struggle with. I wouldn't necessarily say maca alone cured me, but I feel better eating it. (What helped my thyroid function was, in my opinion, an increased amount of iodine which I apply in a liquid form topically everyday, and the consumption of raw brazil nuts and pumpkin seeds. Brazil nuts for selenium and pupkin seeds for zinc.) It's said that when you have thyroid problems, you should avoid raw cruciferous vegetables like broccoli, brussels sprouts, cabbage, radishes, kale, as well as maca. However, I think the pros outweight the cons here and unless you consume too much every day for a long pperiodof time, I think you'll be fine.
I usually add 1-2 teaspoon of maca powder into my smoothies or oatmeal according to how pronounced I want the flavor to be. I find it to taste better in baked or cooked oatmeal, as that is how I started liking it. Plus with baked oatmeal, you don't have to worry about eating too much of it raw.
Ideally, you want to consume it daily for one month max., then give it a break for a few weeks and continue. I don't really think about it this way, though. I like to change up what I eat so there's no way I'd consume maca every single day because it doesn't go with everything.
Maca is a great source of carbohydrates and is 10% protein. It's also rich in vitamins B1, B2, C, and E, and minerals such as: calcium, iron, potasium, magnesium, sodium, and sulfur. It also contains a few trace minerals: selenium, zinc, manganese, and copper.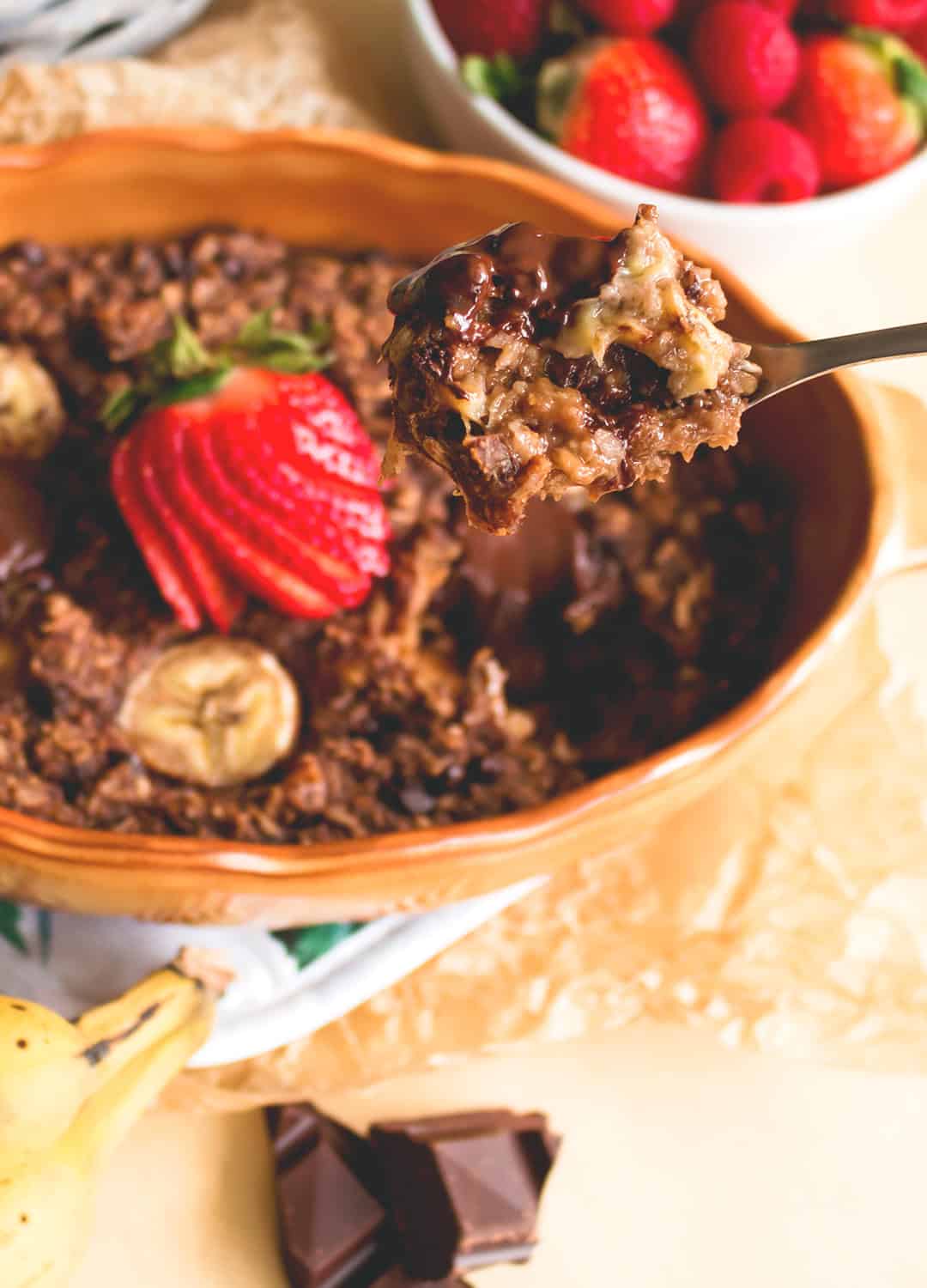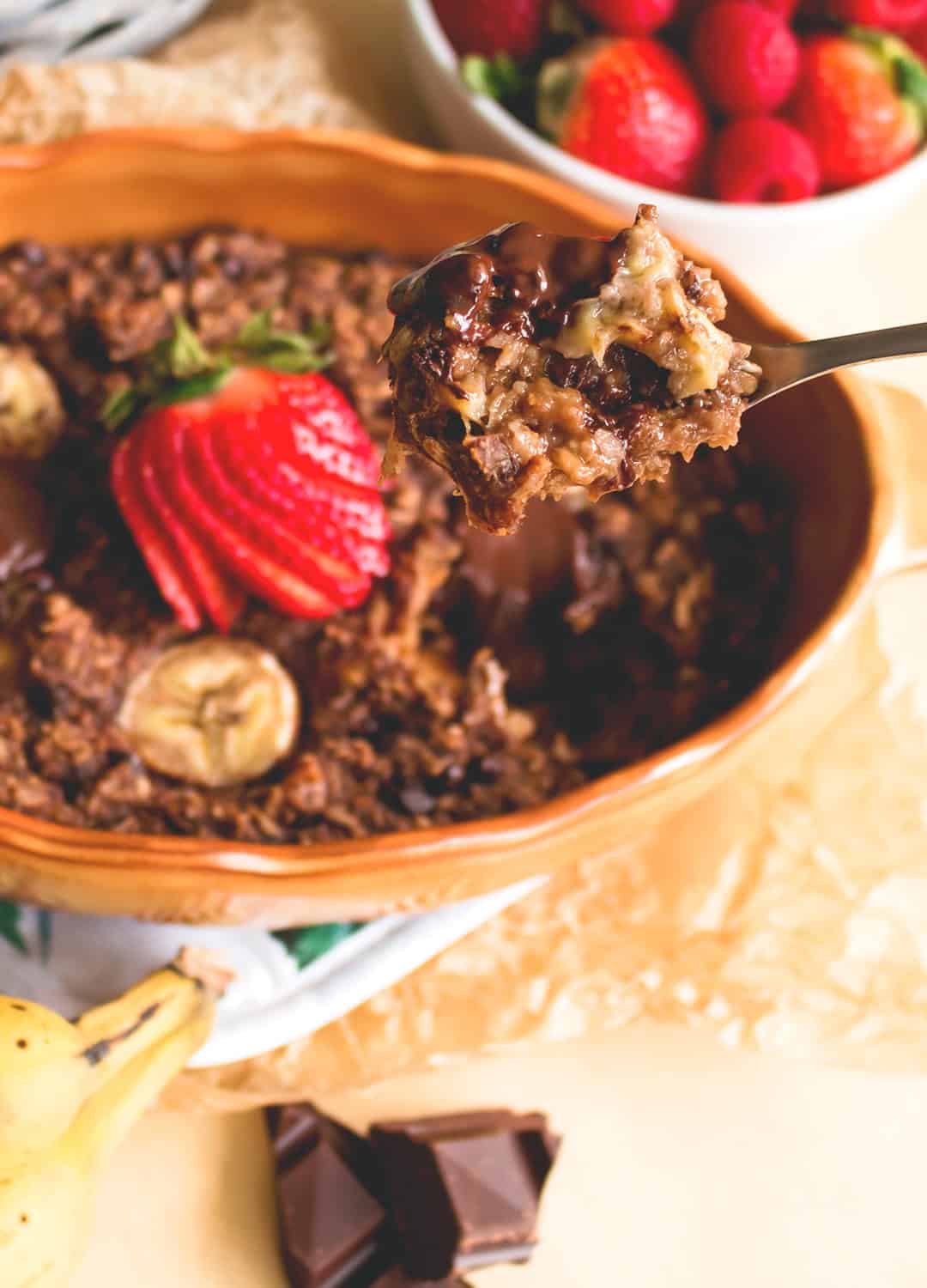 This literally tastes like warm cake with added oats, because my oats are really fine gluten-free oats by a British brand so it almost has a texture of a batter when I'm mixing it.
I like to add dried figs or dates on top along with some chopped chocolate, which melts immediatelly, or I drown it in my raw chocolate sauce. Also, adding banana slices on top before baking makes it extra special.
Print
📖 Recipe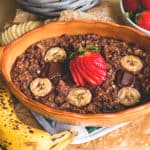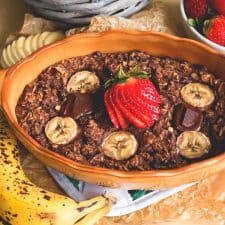 Chocolate Maca Baked Oatmeal
Author:

The Healthful Ideas

Prep Time:

10 mins

Cook Time:

25 mins

Total Time:

35 mins

Yield:

1

1

x

Category:

Breakfast
---
Description
Double chocolate & maca baked oatmeal. Ideal for a chilly morning when you need something sweet and warm to start the day.
---
1 cup

rolled oats

3 tbsp

shredded coconut

2 tbsp

sunflower seeds

¼ tsp

sea salt

¼ tsp

baking soda

¼ tsp

cinnamon

2 tbsp

cacao powder

1

-

2

teaspoon maca powder (if you're beginning with maca, start with ½-1tsp)

1 tsp

vanilla extract or

½ tsp

vanilla bean powder

1 ½

ripe bananas, mashed (keep the other half for toppings)

⅔ cup

coconut milk or water

1

-

2

tablespoon maple syrup (optional for additional sweetness)

2 tbsp

chocolate chips
---
Instructions
Preheat your oven to 175C/350F.
First, add all your dry ingredients into a bowl and combine.
Mash your banana and add it along with vanilla extract and milk into the bowl and mix well.
Lastly, stir in the chocolate chips, pour the batter into a baking dish and top with sliced bananas.
Bake for 20-25 minutes until firm and golden brown on top (I know there's cacao so it's already brown, but you'll know it's done when it rises and forms kind of a crust on top).
Top with dried figs, dates, berries, or chocolate and enjoy!
---