Stuffed Chocolate Covered Dates are the perfect snack when you're craving something sweet and chocolatey that will also fill you up at the same time. They're not overly sweet, they're versatile and really easy to make.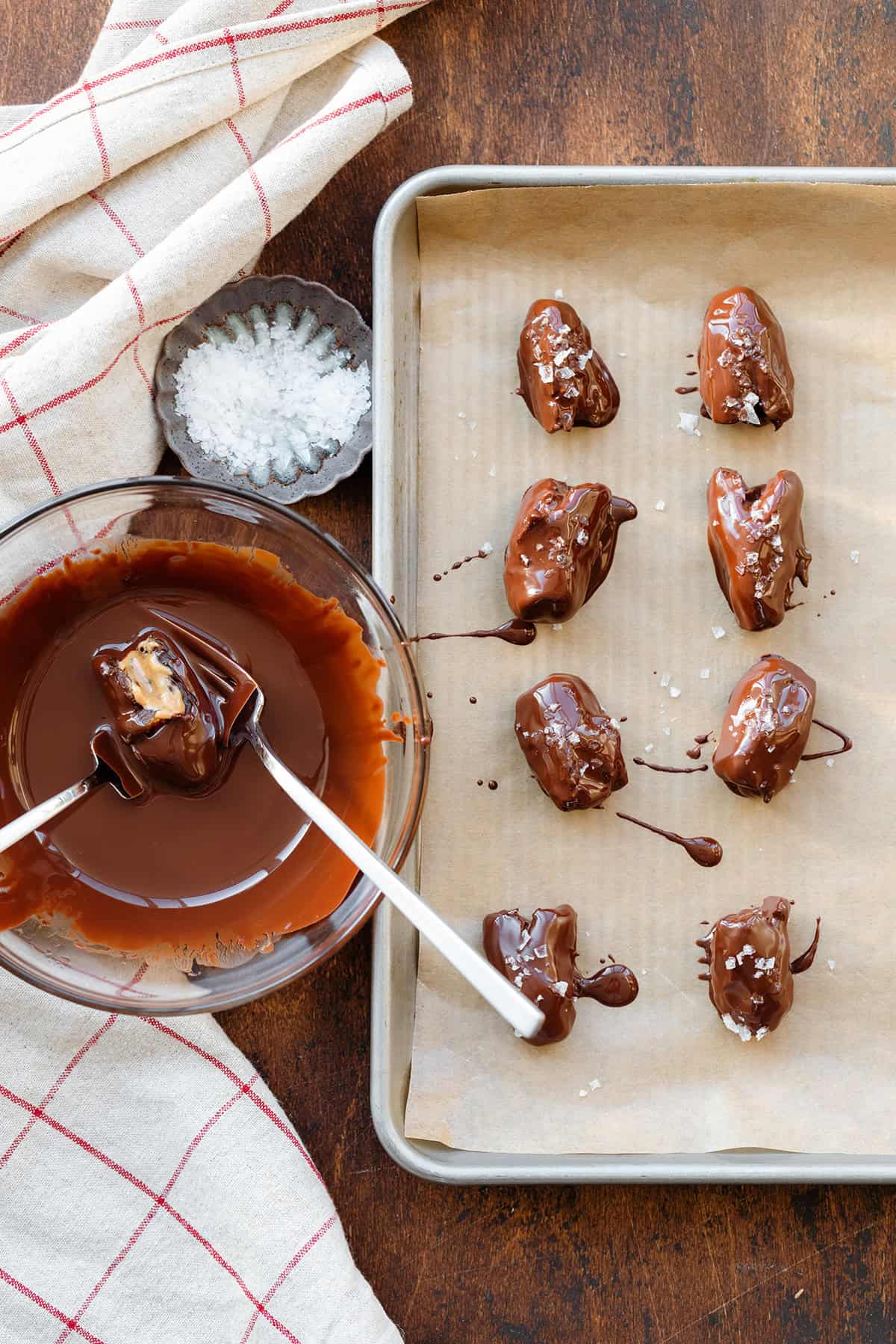 Jump to:
Why This Recipe Works
It's the simplest healthy chocolate snack - It really doesn't get easier than chocolate-covered dates stuffed with some kind of nut or seed butter. Dates do contain a lot of sugar but it's naturally occurring sugar which is a lot better than white sugar in highly processed foods. The nut butter will add a good amount of protein. The combo makes this a great snack that will both satisfy your sweet tooth and make you feel full!
The three main ingredients are a match made in heaven - Seriously! The combination of soft Medjool dates, dark chocolate, and almond or peanut butter is the perfect trio. I also add a small sprinkle of sea salt which rounds out all the flavors.
Only 5 ingredients - It's super simple. Dates, chocolate, nut butter, a little bit of coconut oil, and sea salt. You can learn more details about the ingredients I use in the ingredient notes below.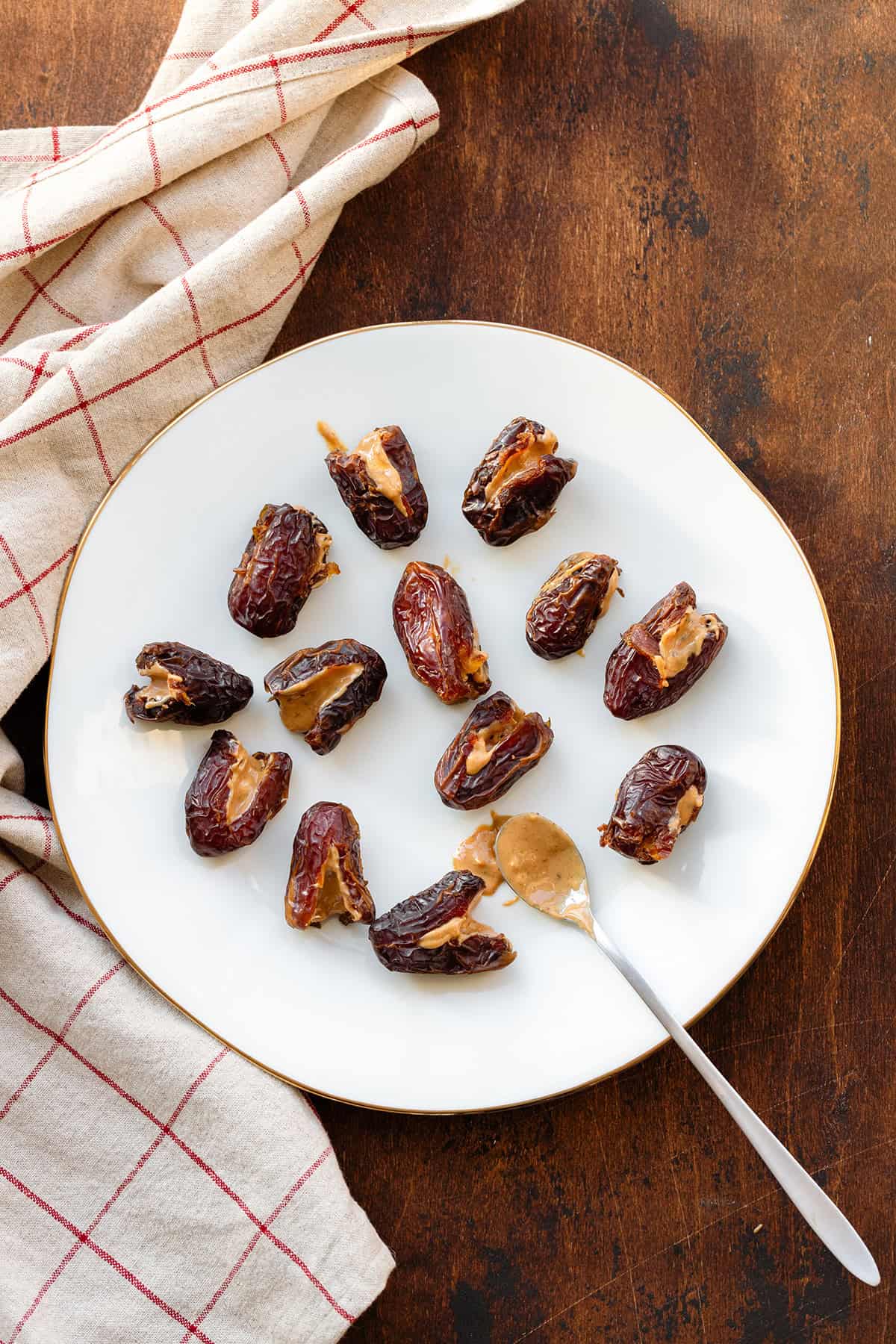 Ingredients Notes
Dates - You can use any dates you have but each will give you slighly different results. For this recipe I used Medjool dates because they're softer and sweeter than the harder variety and make this snack into a decadent dessert. The harder ones are great if you prefer dates to be less sweet and not as mushy.
Nut butter - Any nut butter works here. Great options are almond butter or peanut butter (I prefer crunchy). Hazelnut butter is also delicious with chocolate and if you want to make it extra fancy, add this Homemade Healthy Nutella (vegan).
Chocolate - I like dark chocolate that's at least 70% because the dates are already really sweet. I usually use 85% dark chocolate bars. You can also use chocolate chips if that's all you have.
Coconut oil - This optional but recommended. It thins out the the chocolate so if you don't use it, you might have to use more chocolate. Be careful to not add too much because the chocolate wouldn't set well and melt very easily.
Sea salt - I like adding a light sprinkle of Maldon sea salt to the top after dipping the stuffed dates in the melted chocolate. I like using flaky sea salt because the flakes are beautiful and bigger but still delicate. You can use freshly ground sea salt or himmalayan pink salt. I don't recommend table salt because it's too fine, it's stripped of all the minerals, and it's just not as good.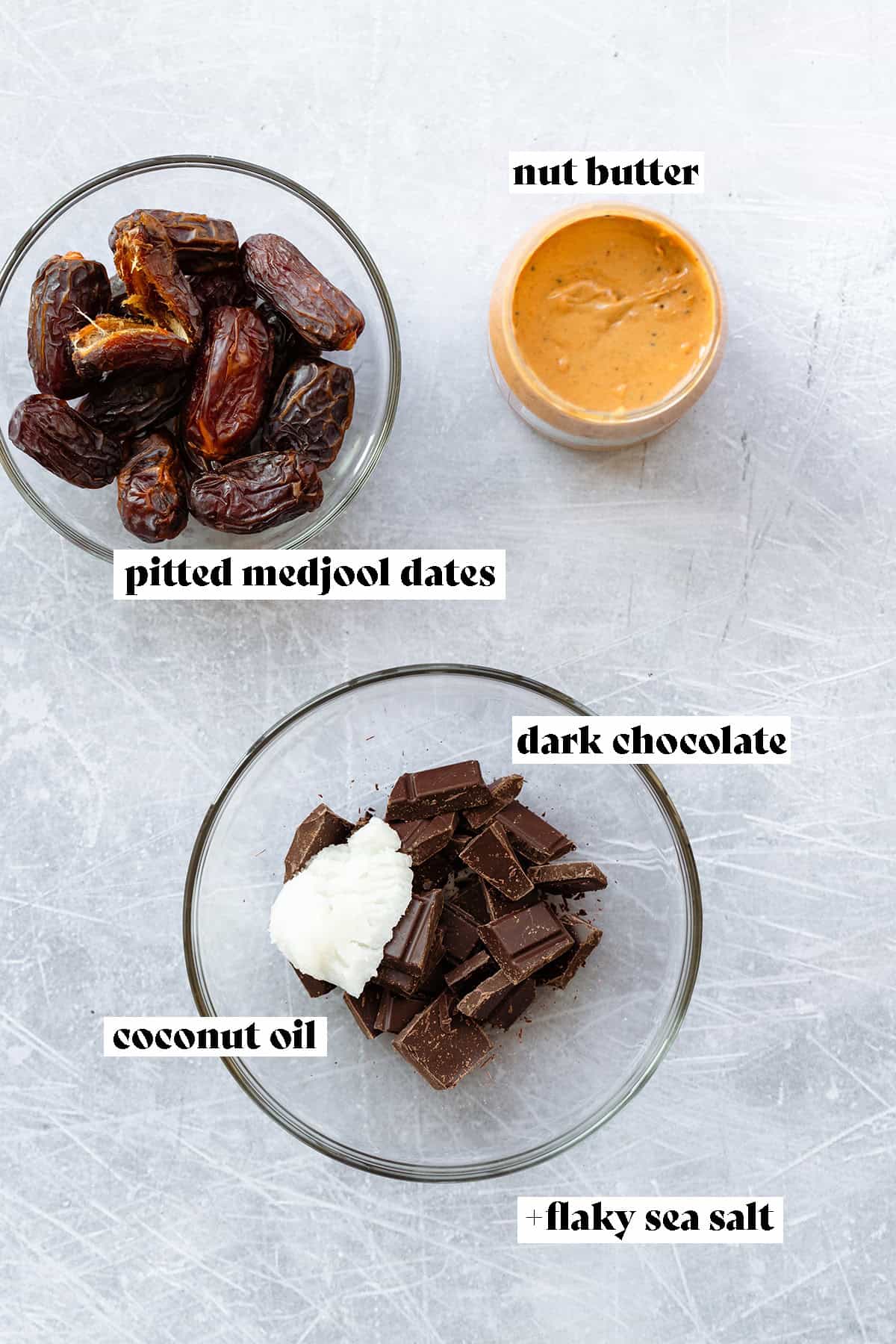 Step-by-Step Instructions
The process of making these is just as simple as the ingredients. There are pretty much only three steps! I highly recommend keeping your dates in the fridge before making this recipe. If the dates are already cool, the chocolate will harden more quickly.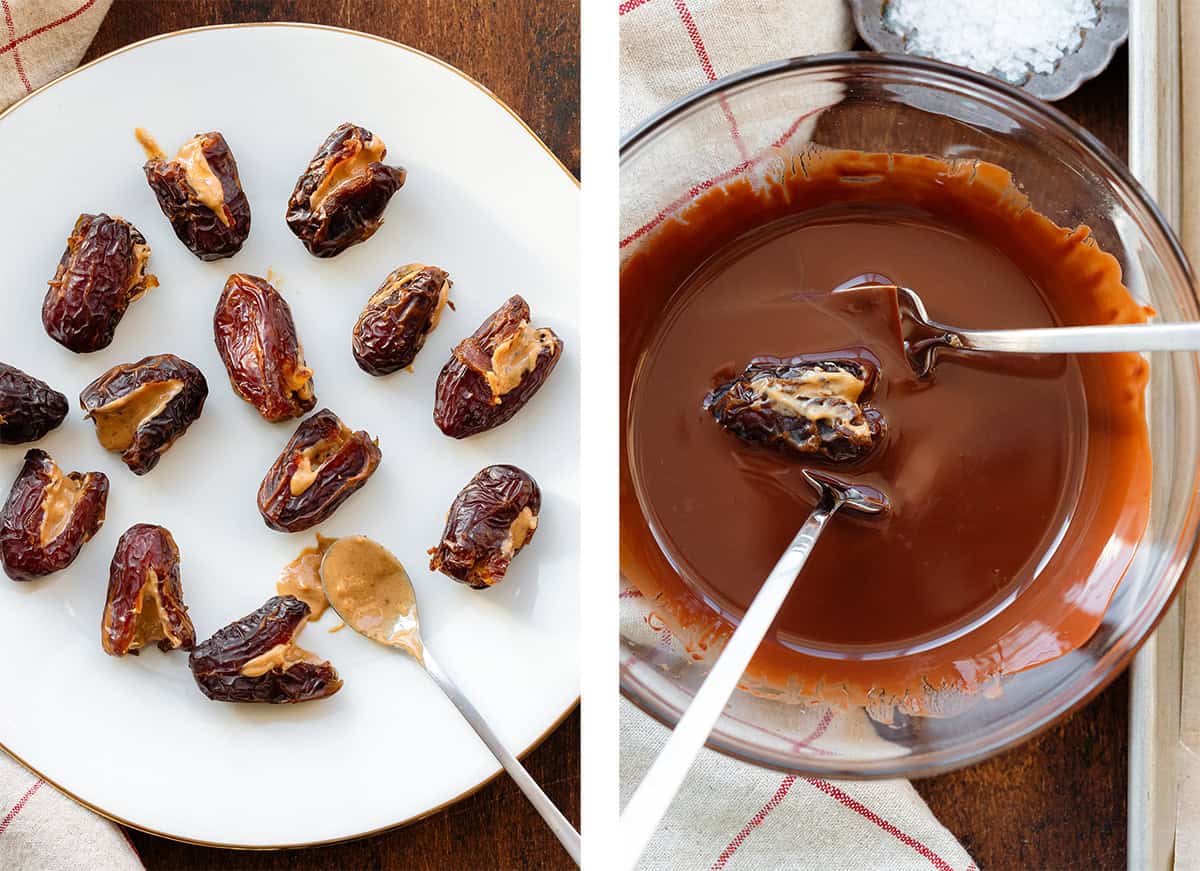 Start by pitting your dates. To do this either cut along the side of the date and open it with your fingers or skip the knife step and open the date the same way you would a ripe apricot. Most medjool dates are really soft and easy to open.
Stuff your dates with nut butter of choice, Try not to overfill them too much, especially if your nut butter is runny, it will make it harder to dip them in the chocolate.
Melt the chocolate using a double boiler on the stove. Mix in a litttle bit of coconut oil - this step is optional. It will make the chocolate softer. If you want the chocolate to create a shell and stay solid, skip the coconut oil.
Dip the filled dates into the melted chocolate. Use a fork to drip off excess chocolate, sprinkle with flaky sea salt, and let cool on a baking sheet or a plate in the fridge for about an hour until hard.
Storing
Chocolate-covered dates are best stored in the fridge because the chocolate might melt slightly at room temperature. Some kinds of nut butter are also supposed to only be stored in the fridge. I keep the dates in the fridge for about one week (if they even last you that long!).
Take the dates out of the fridge 10-15 minutes before snacking to soften them up slightly so they're not as cold.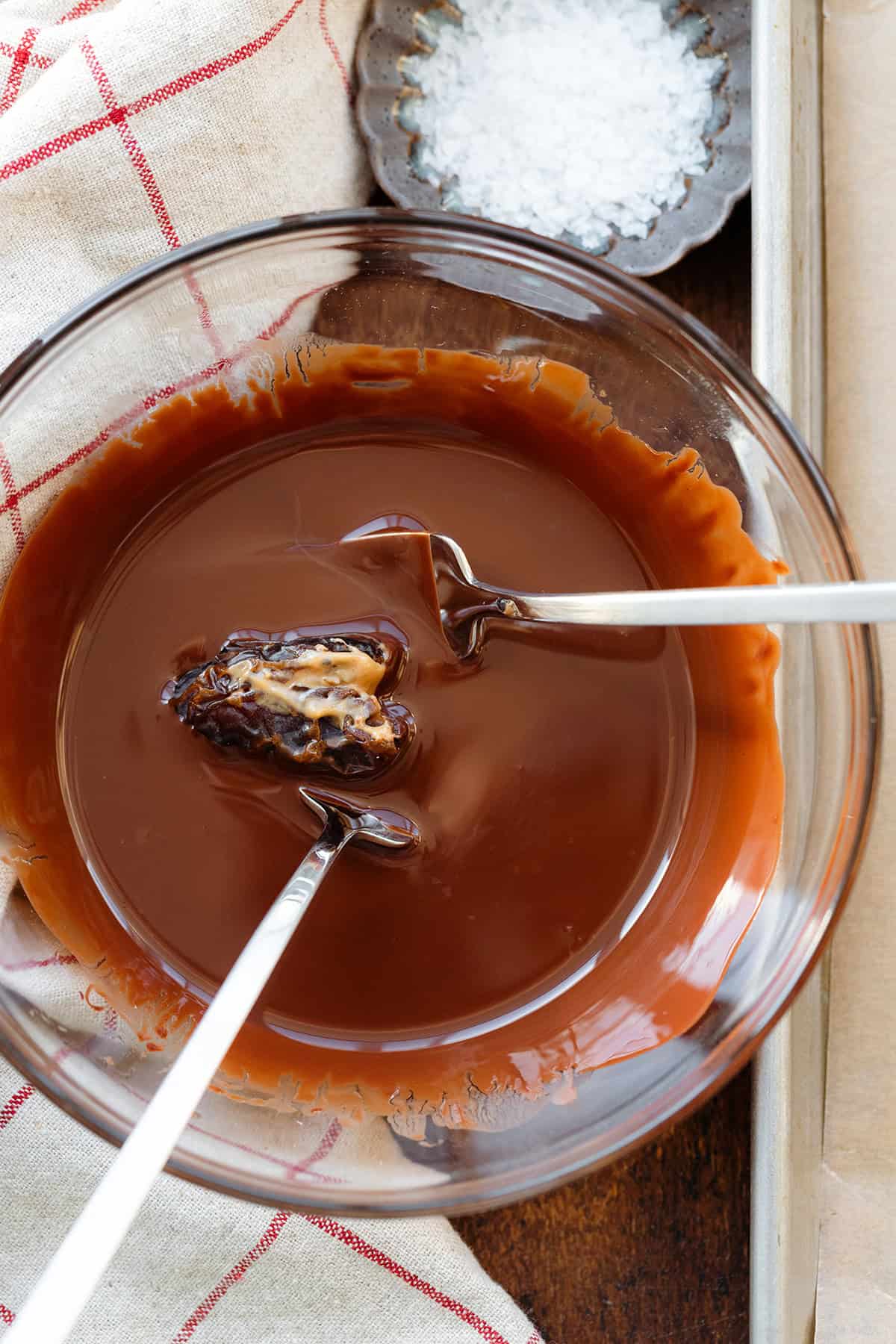 FAQs
What kind of dates can I use?
Any dates you have. Medjool dates are perfect if you want to serve these as dessert, the harder smaller variety is great for snacking.
What nut butter is the best for these?
Any nut or seed butter you like. Almond, peanut, hazelnut, pecan are great options. Seed butter, sunflower butter, or tahini are also delicious. In general, the thicker it is, the better it is to work with because it won't leak out when you're filling up the dates.
How long do chocolate-covered dates last?
They should last in the fridge in an airtight container for about one week. They'll last longer if you skip the nut butter. I like keeping them in the fridge and taking them out 10-15 minutes before eating.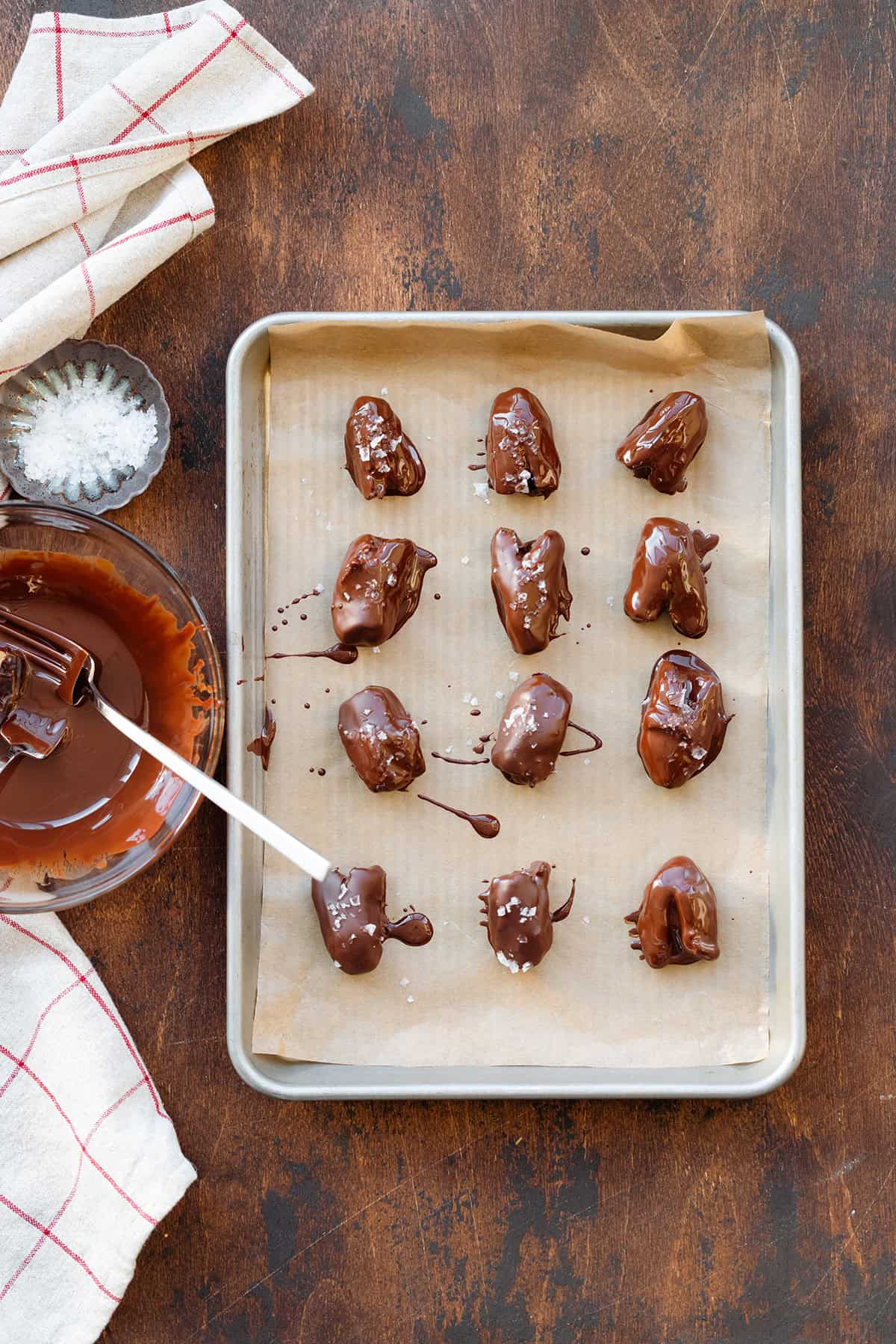 More Simple Sweet Snacks
Simple protein-packed snacks you can take on the go with you are always great to have on hand. The awesome thing about all the recipes listed below is that you can freeze them all (except for the granola) and defrost them as you need them!
This makes it really easy to avoid snacking on processed foods loaded with sugar and to instead always have healthy snacks on hand.
Print
📖 Recipe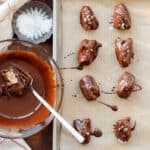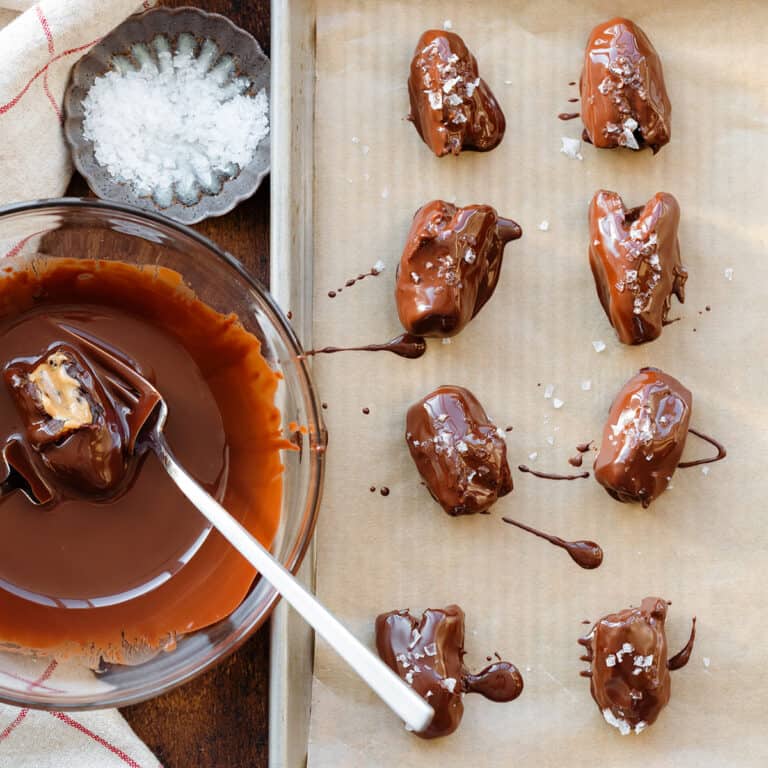 Stuffed Chocolate Covered Dates
Author:

Veronika | thehealthfulideas

Prep Time:

20 mins

Freezer Time:

30 mins

Total Time:

50 minutes

Yield:

15

dates

1

x

Category:

Dessert

Method:

No-bake

Cuisine:

American

Diet:

Vegan
---
Description
These dates are filled with nut butter of choice and dipped in dark chocolate. They're great for both dessert or as a snack!
---
15

dates, pitted

⅓ cup

nut butter of choice (or as needed)

1

dark chocolate bar (

90g

, I used 85% chocolate)

1 tsp

coconut oil (optional)
Flaky Maldon sea salt (for garnish)
---
Instructions
Prepare a baking sheet lined with parchment paper and set it aside.
Pit the dates and fill with nut butter, try not to overfill so you can close the dates. Lay them out on the baking sheet and keep it in the freezer or fridge while you melt the chocolate. This will make the chocolate easier to harden.
Prepare a bain-marie (a heatproof bowl over a pot with hot steaming water, don't let the bowl touch the water) and melt the chocolate and coconut oil (if using) in the bowl, stirring often until melted.Take the bowl off the hot water.
Dip the dates in the chocolate and let drip off before transferring to the baking sheet using two forks.
Sprinkle with flaky Maldon sea salt and transfer back into the freezer or fridge to harden.
Store in the fridge for up to 5 days or the freezer for 3 weeks.
---
Notes
You can use deodorized coconut oil to avoid the chocolate having a coconut flavor.
Using thicker nut butter will make the dates easier to handle when dipping into the chocolate.
I recommend keeping the dates in the freezer for 30 minutes or the fridge for an hour before dipping them in the chocolate. This will help the chocolate harden faster.
Keywords: chocolate covered dates