I can't believe it's already December 21st! Christmas is almost here and I'm sure everyone is in holiday mood shopping and wrapping presents, baking Christmas cookies or decorating the house. As for me, I came back from New York two days ago and I 've been unpacking ever since. Now that I'm finally done, I wrapped all my presents today and I can say I'm really proud how they turned out this year. I had so much fun using wrapping paper I brought all the way from New York , along with pretty name tags and ribbons.
The weather was so nice in New York. If it wasn't for the giant tree at Rockefeller Center, I'd think it was April. Such weather was ideal for long walks around the city. I was expecting freezing winter and quite frankly I was also hoping for heaps of snow. I could take pretty pictures of snow covered Central Park on a quiet Sunday morning and really experience Christmas in New York. But I think it was better without the snow, I didn't even have to wear a coat! It was so nice outside every single day!
I know I said I'd keep posting at least once a week even while I'm NY, yet the last post on my blog is from before I left. I'm failing miserably at being consistent, which is one of my New Year's resolutions. A resolution I really want to stick with. I've been way too busy or exhausted to write a post. It's New York City, after all, you can never get bored there, there's always something to do and something to explore. I wanted to be outside walking around all day every day which made me exhausted every night. But when you're in New York, you can't not be outside. It's mesmerizing and you always want to be out exploring the city.
Anyways, I'm finally back to uploading every Monday and today I'm sharing my favorite chocolate "bliss ball" recipe with you! I called them Chocolate Hazelnut Bites because I just don't like calling them "bliss balls". I mean, they are after all small bite-sized pieces of chocolatey goodness. They're perfect to share with friends and family during the holidays!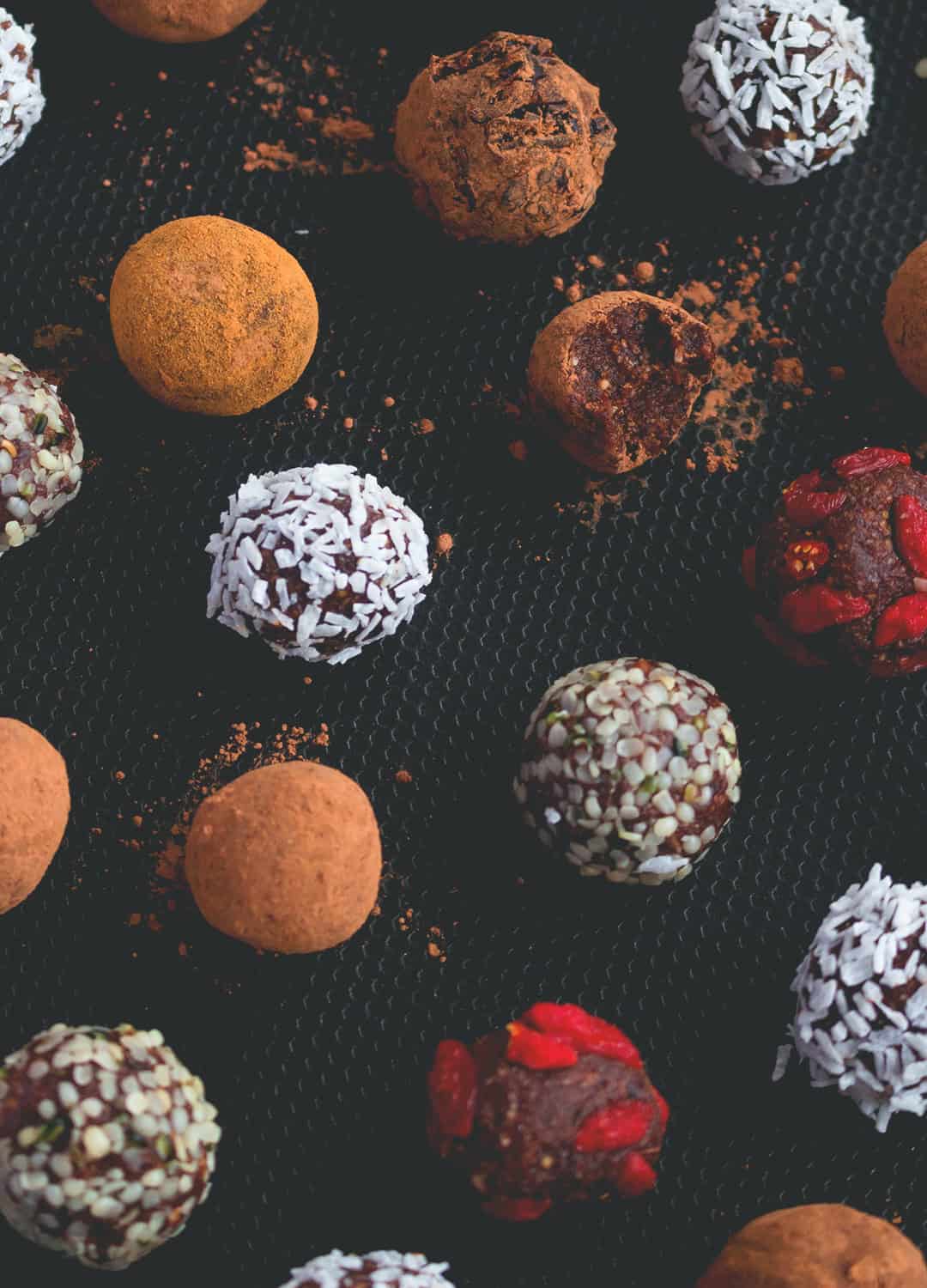 Let me tell you more about New York. Do you guys have that one place you really love and never want to leave? That's New York for me. I like to say I feel as if it's my second home. It isn't, not really. I don't have an apartment, I don't know anyone in the city and I've never even lived there. But whenever I come back, it feels familiar, like I'm finally back, where I should be. I don't think I could stay in New York for a longer period of time in a hotel or at someone else's place. I was there for a month last year and by the end of the month, I was really missing home. I'd need my own place, my own apartment. Oh, how I wish I could rent one in the city and start to furnish and decorate it.
When I'm in New York, I always spend too much money, try to see everything and eat everything, basically, I try to get out of my trip as much as possible. New York is like a fairytale to me. When you're there, time stops and everything you do seems okay and nothing is impossible. When I look back at it, going to New York is a distraction from reality for me. Which is funny, since Manhattan is full of reality—people running from one place to another and working their ass off. But it's like, I forget everything when I'm there. Any problems, anything that could possibly bother me, it's all gone and I know I can deal with it when I get back. I also eat more in New York... Haha. It's true, I mean, I do have to try all the raw chocolate bars so I know which one I wanna take back home with me, right?
I really do love New York. Even with its crowded streets full of garbage bags everywhere, the tiny apartments, high buildings, expensive food and all the walking. I love every second of being there.
What's your favorite city or dream place to live?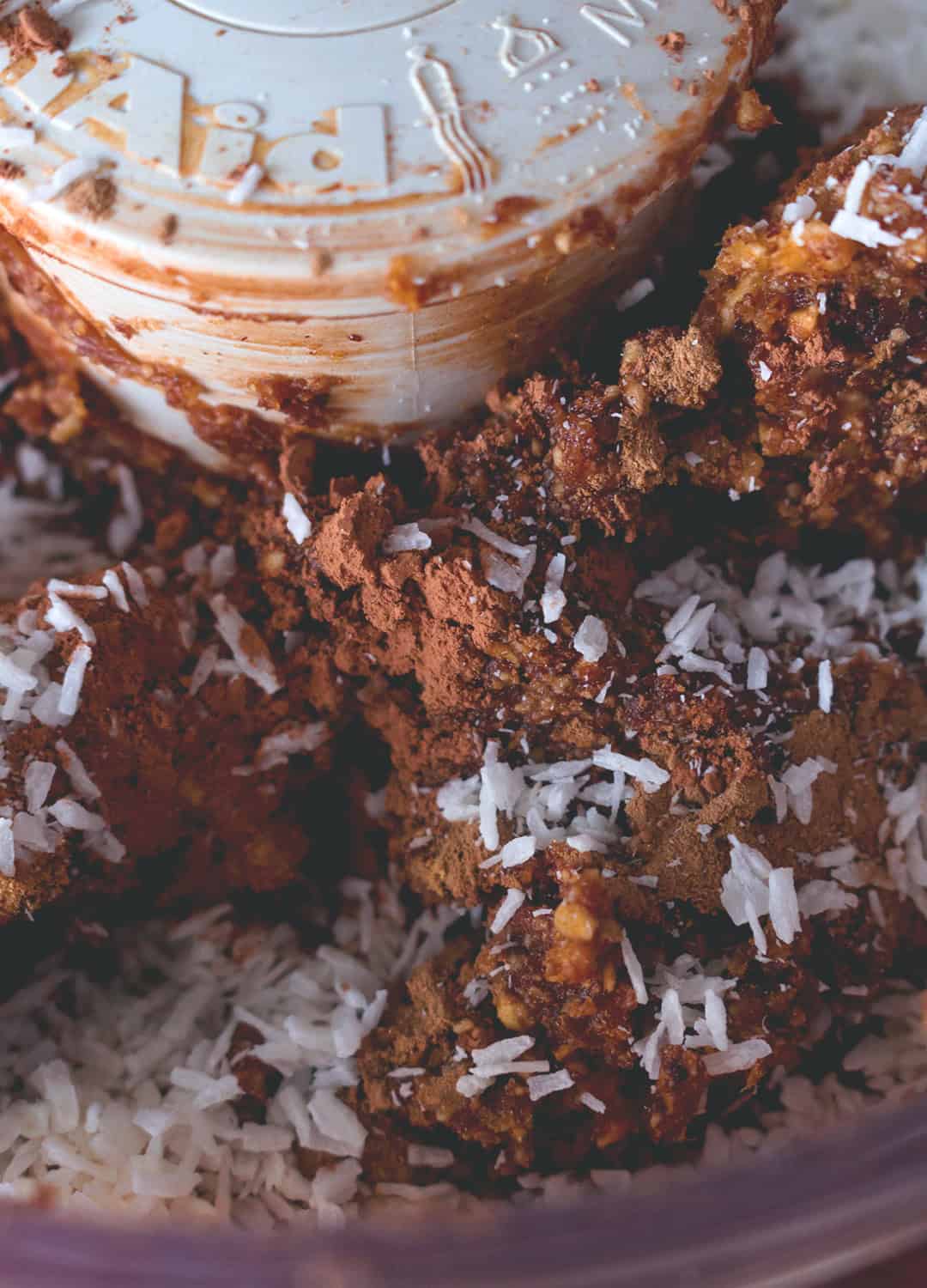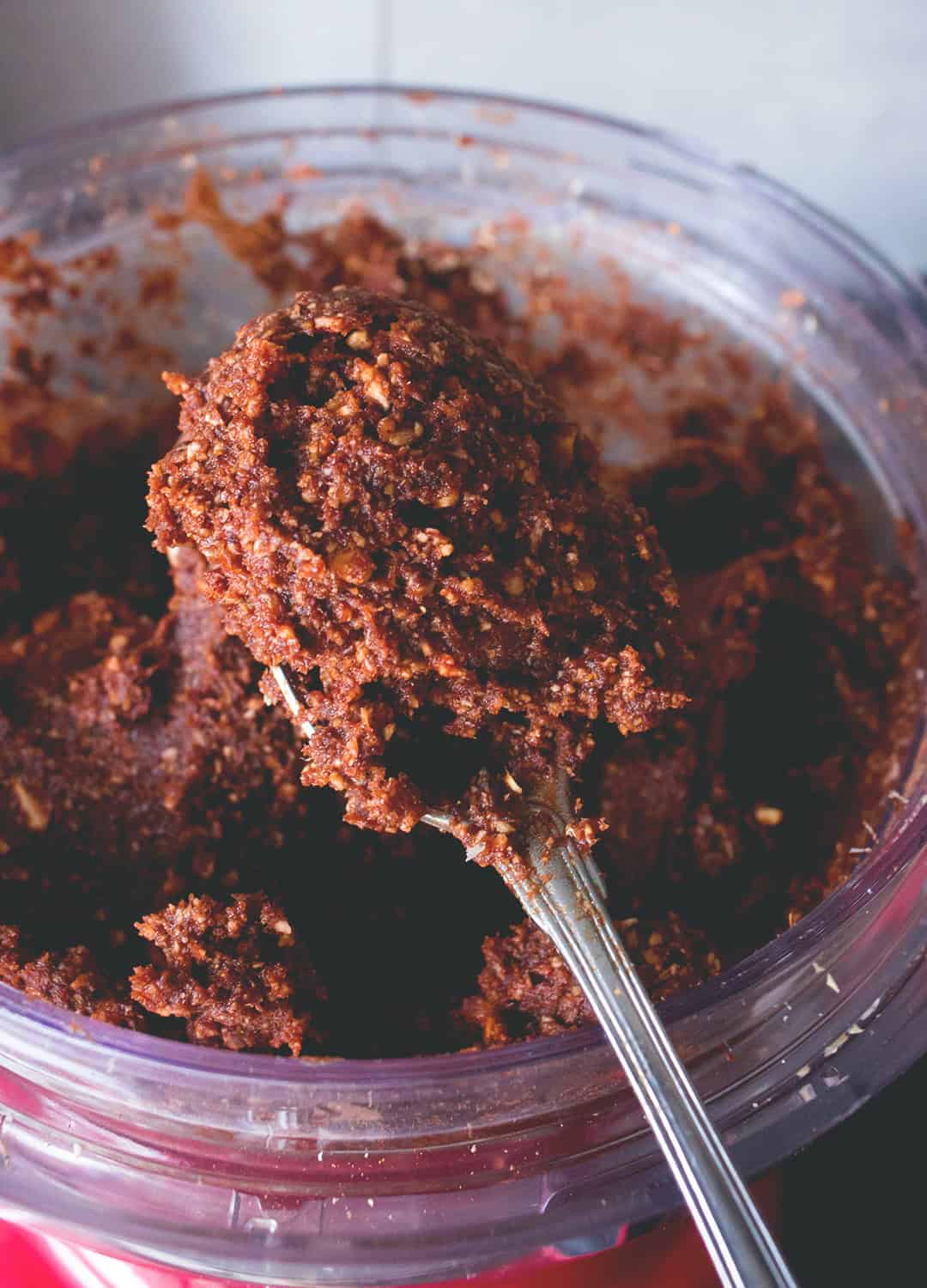 Okay, enough about New York, I'll save my stories for a post dedicated to my trip to New York. All I'm gonna say for now is I ate some really great food there, and it gave me a TON of ideas for recipes so I'm excited to try and recreate my top favorites!
Now back to the recipe. It's extremely easy, I mean, essentially you just throw stuff in the food processor and then roll the dough into bite-sized pieces. In the recipe, I roasted the hazelnuts prior to adding them to the dates, but you can totally add them raw if you want. Roasted hazelnuts just give it more of a Nutella vibe. The flavor of roasted hazelnuts is very different from raw hazelnuts, it's more pronounced, they're crunchier and overall tastier. In my opinion, anyway.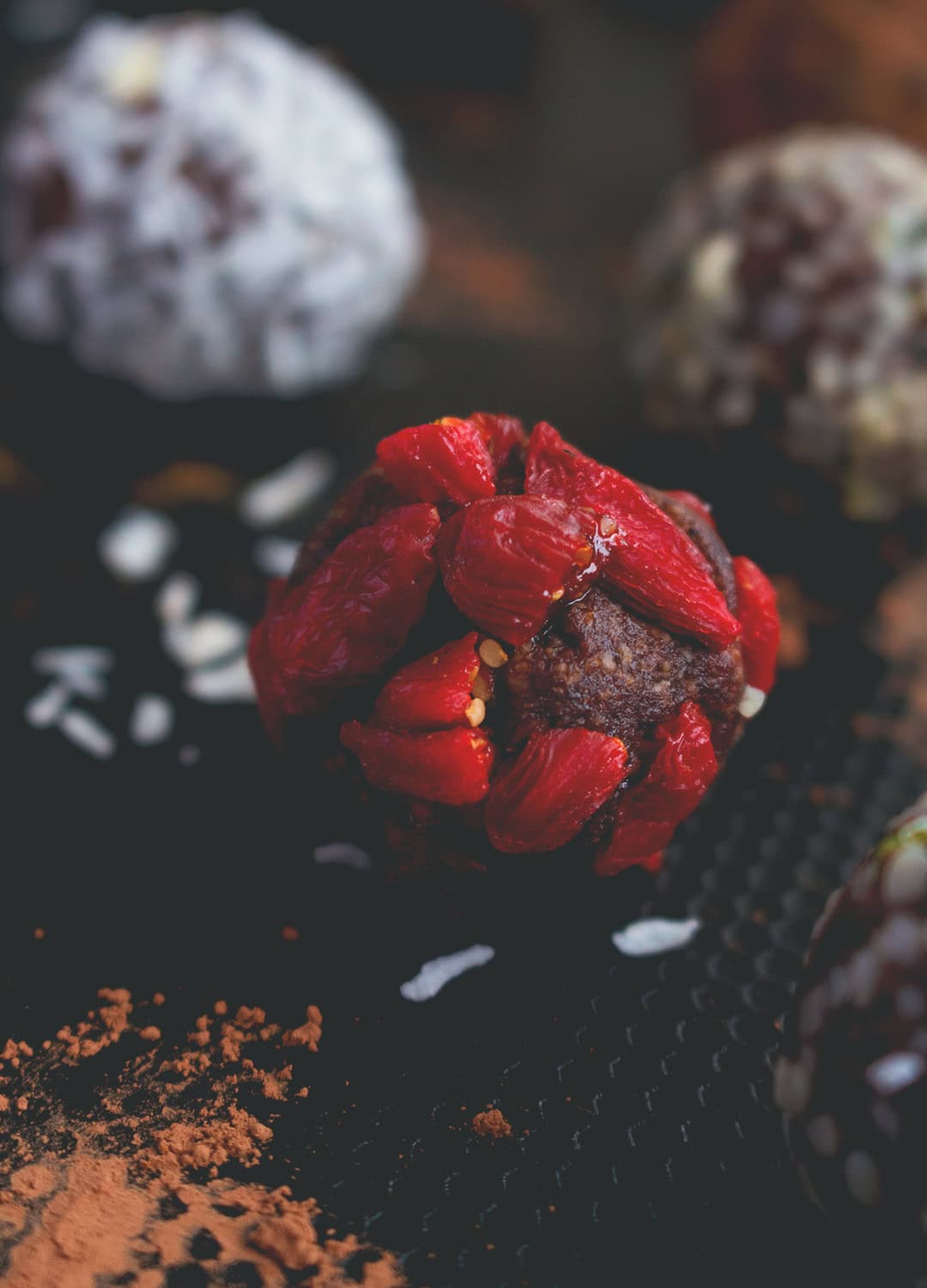 After you blend all the ingredients into a big ball of dough and let it set in the fridge for a bit you can start rolling it into small balls, about a teaspoon at a time. You can make them as small or as big as you want.
Generally, I like to make them smaller because when you serve them to other people, they're more likely to take one. You know what I'm talking about. You're at a friends house and they offer you cookies or any other snack they made and you most likely always take the smallest piece. Why? Well, because then, if you like the cookie, you can always take a second piece, but if you don't, and you took a big one it's much harder to finish. I'm sure you're like me and  you try to be polite so you don't just throw it in their face or spit it out into a paper napkin when you think no one is looking. No, you finish it, thank them, and simply not take another piece. I'm not saying people won't like these, I mean, come on it's dates, hazelnuts, and chocolate! But for their peace of mind, make them smaller. Also, if you make them smaller, you'll have more.
Anyways, I'm gonna let you read the recipe now and please try these out they're really delicious! They're similar to my Chocolate Truffles recipe, but those were made mainly with leftover coconut pulp, whereas the main ingredient in these is roasted hazelnuts. These are like Nutella bites, only much healthier. Go and enjoy these chocolates that are actually good for you! And make sure to let me know if you try them, I'd love to know how you like them! :)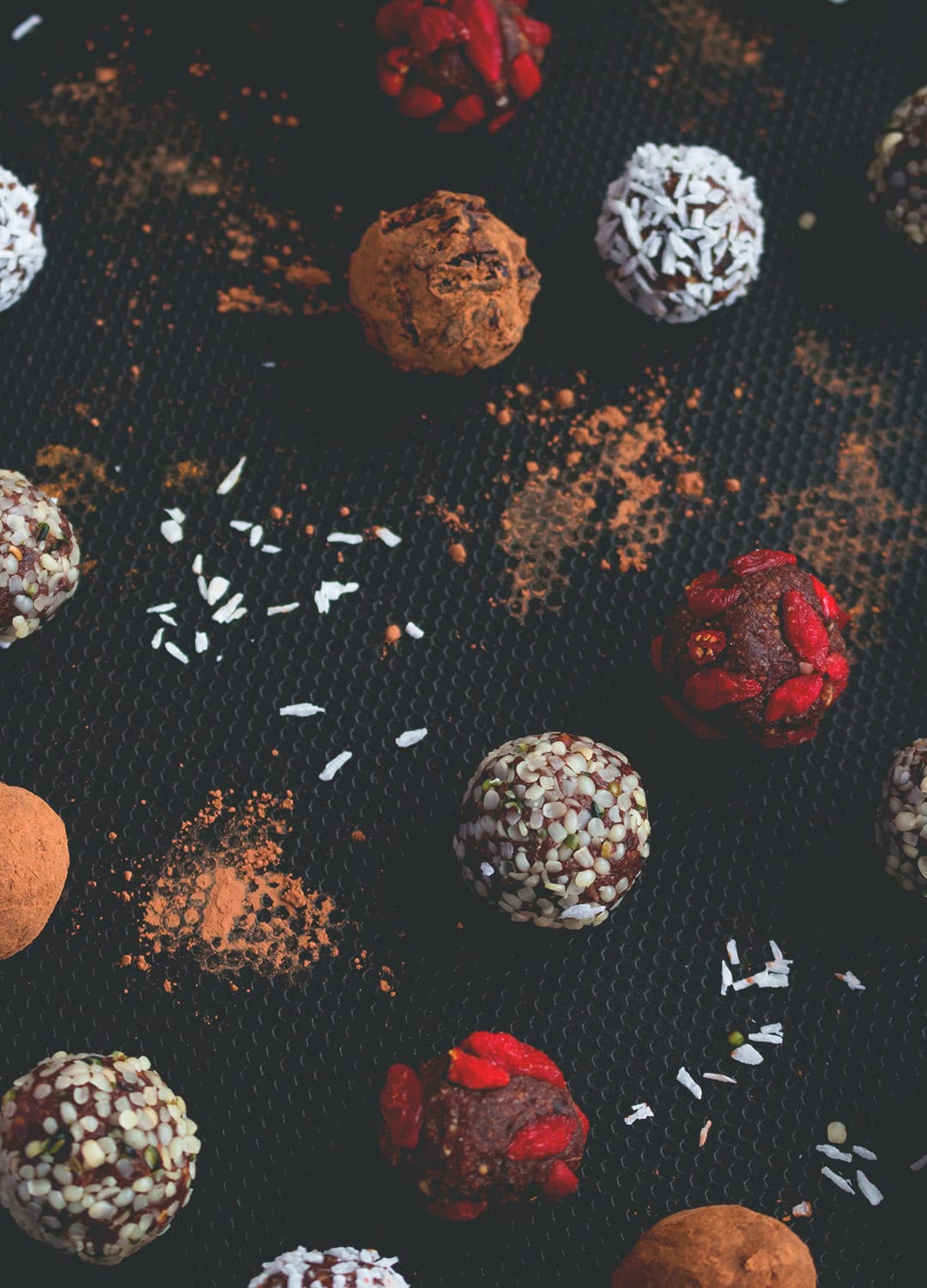 Print
📖 Recipe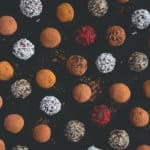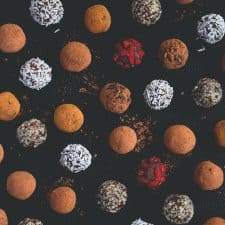 Easy Chocolate Hazelnut Bites
---
2 cups

hazelnuts, roasted or raw (instructions on how to roast them are below)

2 tbsp

shredded coconut (optional, leave out if you want the texture to be smoother)

2 tbsp

raw cacao powder

1 ½ tsp

cinnamon

¼ tsp

sea salt

½ tsp

vanilla bean powder or

2 tsp

vanilla extract

15

Medjool dates, pitted*

2 tbsp

hazelnut butter
toppings: raw cacao powder, cinnamon, or both mixed together, goji berries, hemp seeds, shredded coconut, cacao nibs
---
Instructions
Preheat your oven to 175C (350F).
Spread the hazelnuts on a baking sheet lined with parchment paper and roast for 10-15 minutes until slightly golden and the skin is easily removed.
Remove as much of the skin as possible by rubbing the hazelnuts between two paper towels or your hands.
Allow the nuts to cool completely before adding them to the food processor.
Pulse them in a food processor a few times to until they're roughly chopped but not too fine.
Add the shredded coconut, cacao, cinnamon, sea salt, and vanilla powder and pulse again just to combine.
Add the dates and the hazelnut butter and blend until it forms a sticky dough. You might have to stir it a few times with a spoon to get it closer to the blades as it tends to stick to one side of the food processor.
Take it out and roll about 1tsp of the dough at a time in the palm of your hand to form small balls.
Roll them in toppings of choice (my favorite is a mix of cacao and cinnamon - 1 teaspoon cacao, ½ teaspoon cinnamon).
Store them in an airtight container in the fridge or in the freezer.
---
Notes
if you only have the regular smaller dates, soak them prior to making this in hot water for 10-20 minutes to soften them up. You might have to use more than 15, but I only tried the recipe with Medjool dates so I don't know exactly how many. If you can get your hands on Medjool dates, use those because they're mushier and they blend better.