I'm not so big on celebrating Valentine's Day but when there's an opportunity to make pink oatmeal, you take it, right? I mean, what day of the week would you say no to PINK oatmeal?
I bought this big big bag of frozen raspberries the other day and I've been raspberry crazy ever since. I've been putting it in my oatmeal every morning, I made raspbarry jam, raspberry crumble, I made smoothies, ice cream — I obviously enjoy raspberries. I even plan to buy a second freezer to put in our basement so I can freeze them in the summer when they're in season so that I can have delicious raspberries all year round — as I said, raspberry crazy.
I've always liked raspberries, though. The problem is their season isn't very long and I never seem to freeze enough. That's the beauty of it, though, right? You get excited about them every year. If they were available all year round, you wouldn't enjoy them as much. Okay, okay, I know they actually ARE available all year round, but you can't really compare imported winter berries with fresh seasonal ones you buy at a small stand from a local farmer.
If you have frozen raspberries and acai on hand, this oatmeal is incredibly easy to make! Apart from being pink and cute, this amazing bowl of oatmeal is also full of vitamins and antioxidants! It's a win-win! And if you're someone who enjoys Valentine's Day, you should definitely make these either for yourself or your special someone this Sunday!
Even if the person doesn't usually enjoy oatmeal, I can promise you they'll love this one!
After all, the way to anyones heart is through their stomach and having someone who cooks you food is the ultimate dream.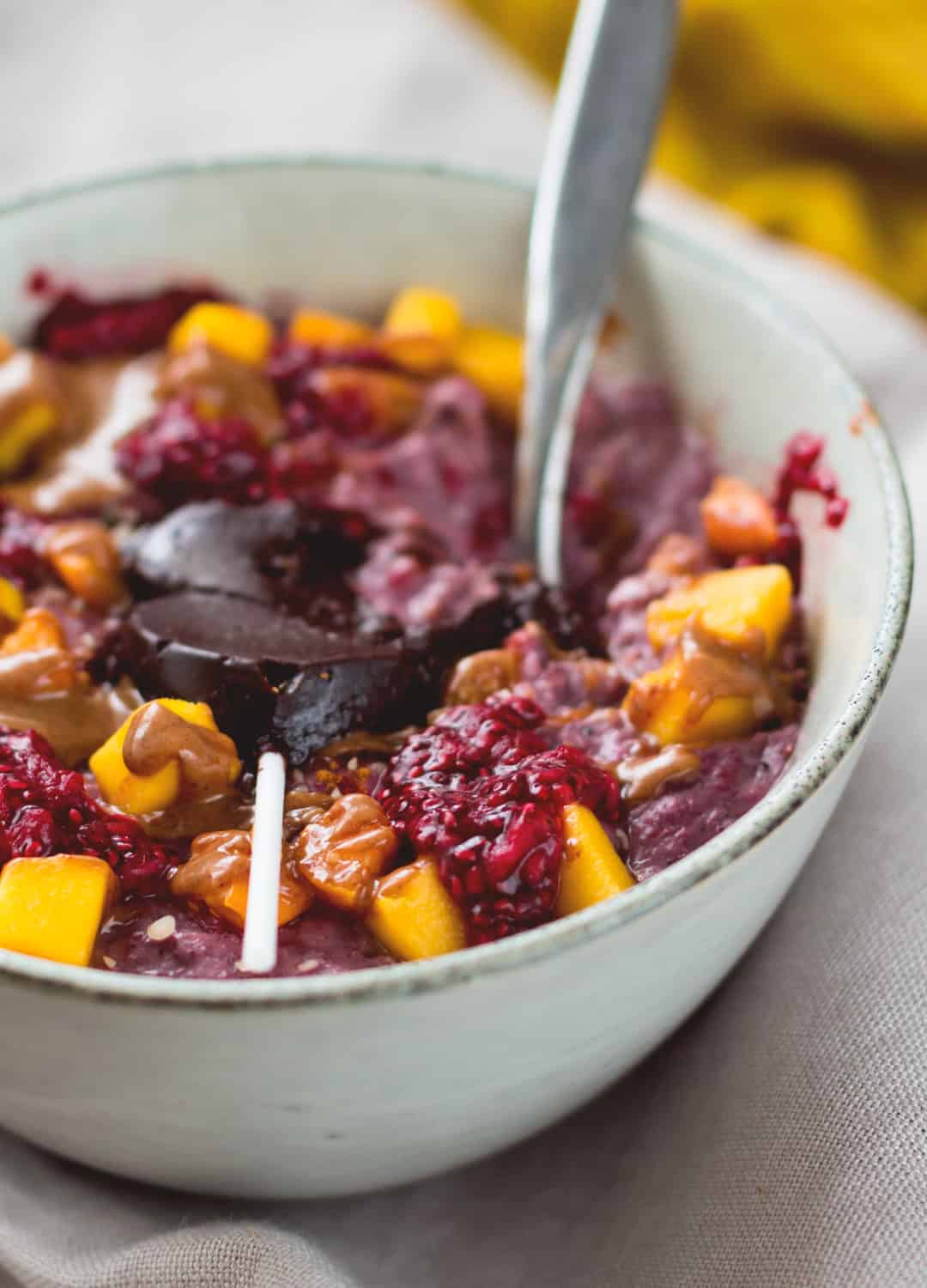 I've been really into acai ever since last summer when I used it to make acai-chocolate oatmeal. I was immediately hooked. Before that I felt kind of meh about acai. Probably because I had never properly tried it before. I have a bad habit of saying I don't like something when in fact I didn't even give it a chance. Don't we all, though?
Since then, I posted a couple recipes using acai. My favorite acai recipe are these Raspberry Chia Overnight Oats with Acai which is basically a raw version of this oatmeal. I can't wait for summer so that I can mash fresh raspberries and make those overnight oats! My second favorite is this Cherry Blueberry Oatmeall with Acai I made last August for the first time when I had my freezer FULL of homegrown cherries and wild blueberries (aka magical times).
Besides the acai-raspberry combo, I really enjoy cacao-acai combination. It's heavenly. I tried to avoid "acai bowl" as much as I could because it being everywhere annoyed me and I rolled my eyes everyone someone mentioned the magic of acai bowl. (everything that gets too commercialized gets annoying.. *cough* Valentine's Day *cough*) Each time I saw it I went "it's the same thing as a smoothie bowl???" I still don't incorporate "acai bowls" into my every day routine, but that doesn't mean I don't enjoy a smoothie bowl with acai from time to time.. Yeah, I totally just called it a smoothie bowl with acai, because I'm too stubborn to admit I succumbed to the acai-bowl-craze. Anyways, moving on.
I love acai and I'd be willing to eat acai bowl every day of the week if I had to. Essentially, it's a dessert, kind of, and you don't say no to a dessert. Especially when it's twice the size of a regular dessert portion and called healthy breakfast.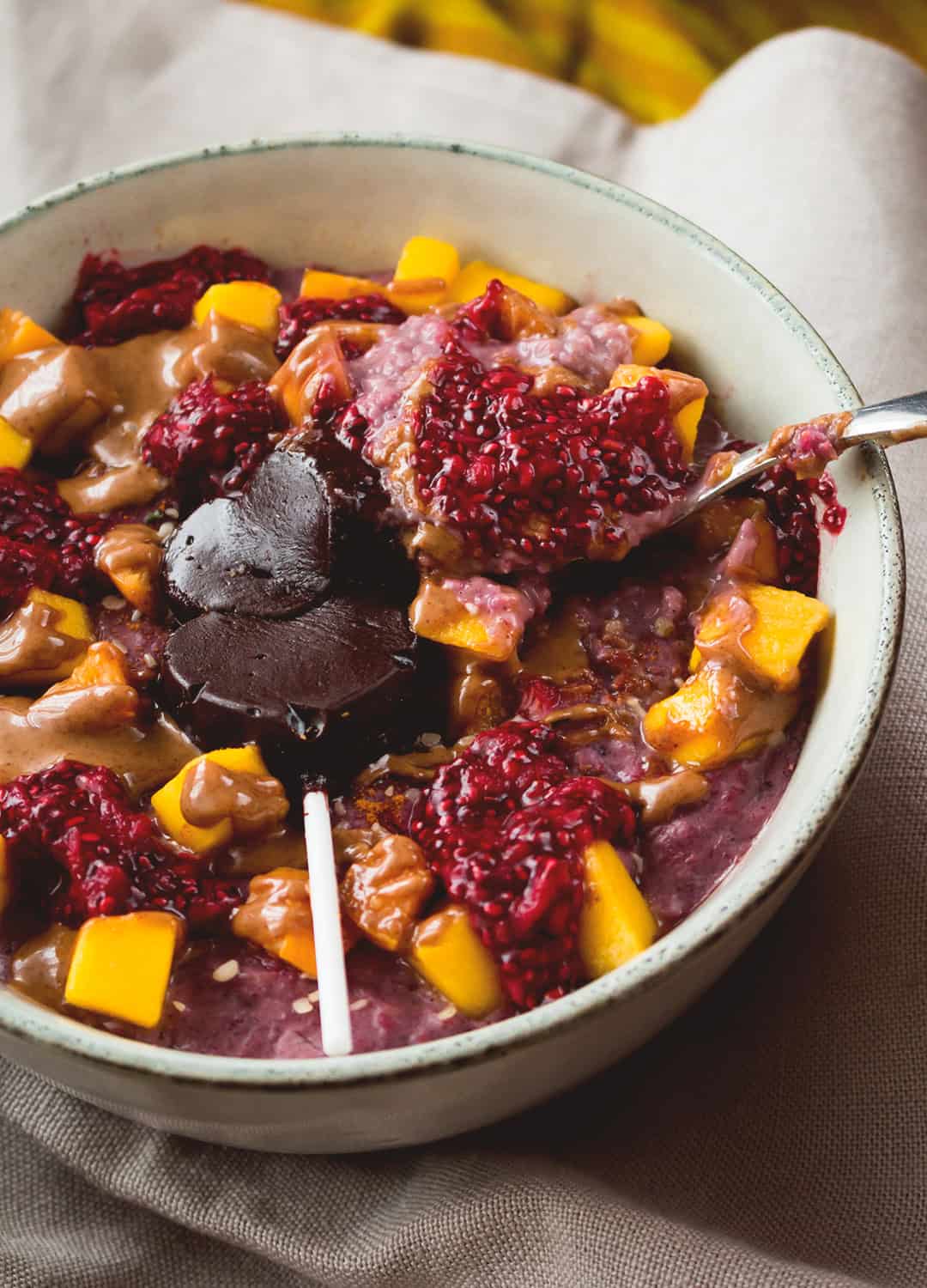 Raspberries go so well together with almond butter. So so so well. I remember the first time I bought almond butter for the first time, spread it on a toast and topped with raspberries. That was one life-changing piece of toast. A match made in heaven. It's a sun-shining-unicorns-and-rainbows-everywhere kind of combo. Okay, I'm probably being a little dramatic about almond butter and raspberries, let's move on hahah. I really wish I could use emojis in my posts.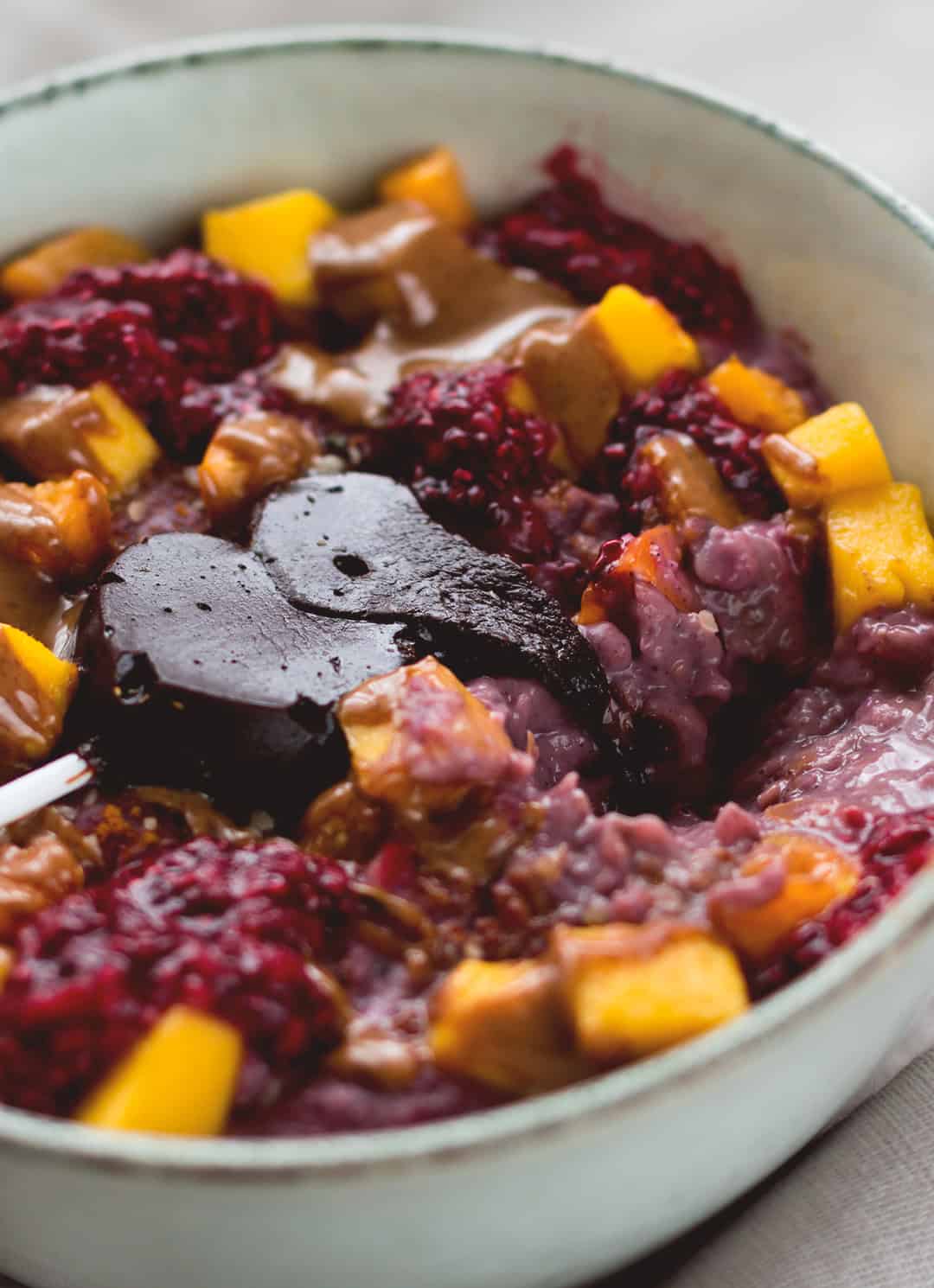 The chocolate heart lollipop on top of the oatmeal is just a leftover of a raw chocolate recipe I was trying out. (Which actually, believe it or not, included acai—I know, I'm so predictable) If you have heart-shaped chocolate molds, you can either use it to make your own chocolate from scratch (which is easier than it sounds) or you can buy dark chocolate, melt it, pour it in the molds and leave them to harden in the fridge/freezer.
You can try my Cherry Pecan Chocolate Bark recipe. Simply leave out the dried cherries, pecans, and pour it into the chocolate molds!
In case you need more convincing to make this delicious bowl of pink oatmeal, you should know it's bursting with antioxidants which happens to be really good for you and your immune system! I like to add the acai in last, when the heat it off, so that the heat doesn't destroy all the goodness in the acai. Acai berries are also full of fiber and even healthy fats! I think the taste is somewhere between blackberries, black currants, and blueberries. They're really delicious so go ahead and give them a try!
Let's dig in! :)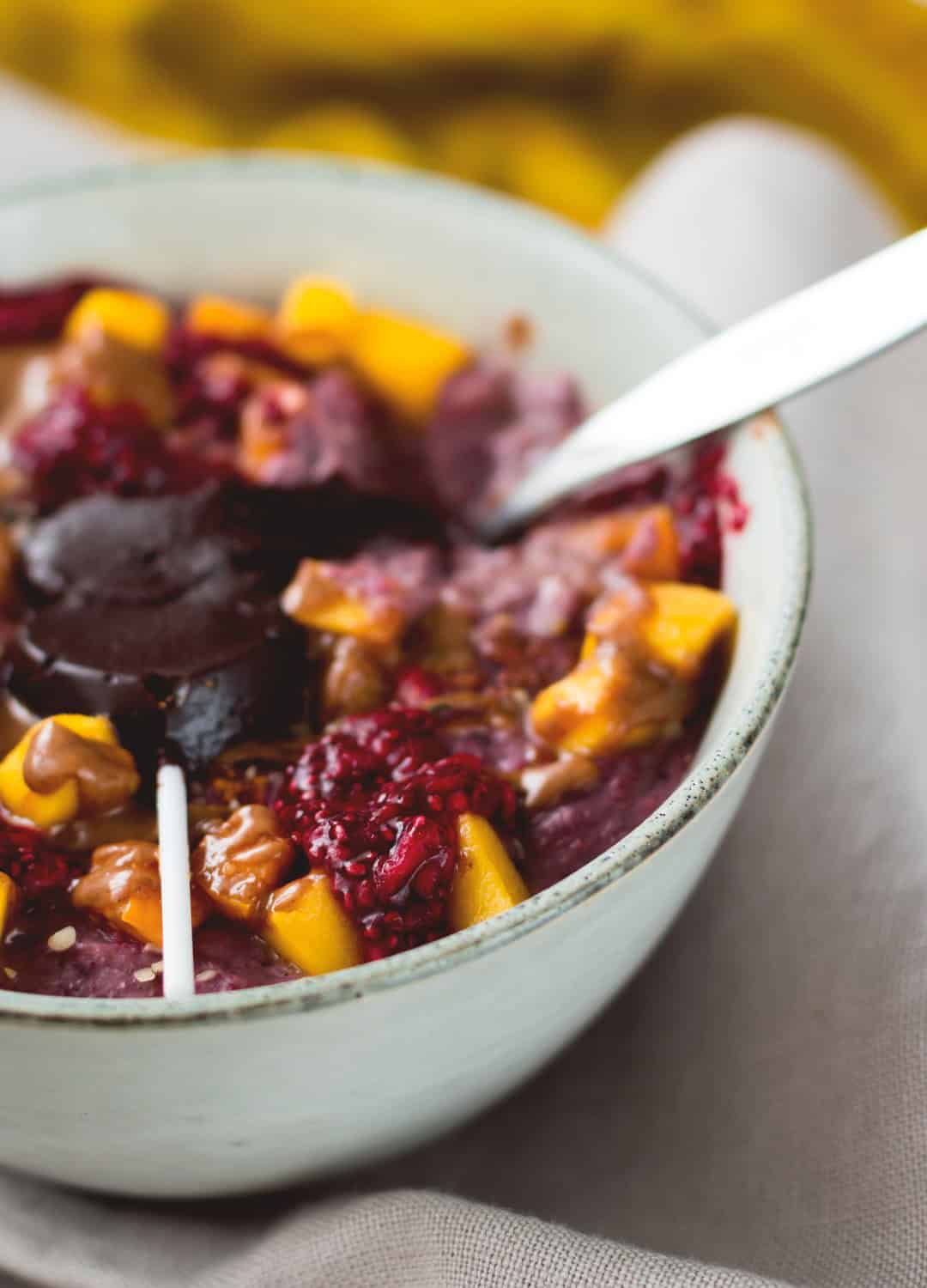 Print
📖 Recipe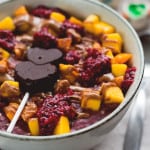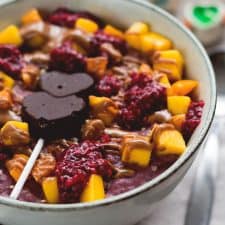 Pink Raspberry Acai Oatmeal
Author:

The Healthful Ideas

Prep Time:

5 mins

Cook Time:

10 mins

Total Time:

15 mins

Yield:

2

1

x

Category:

Breakfast
---
Description
Pink oatmeal is great for Valentine's Day but it's also great for any other day of the week because who wouldn't want pink oats for breakfast? I like to mix and match the superfoods and sometimes add also cacao, or maqui instead of acai which would make it more purple. Be creative!
---
2 cups

almond milk (or any other plant-based milk you like)

2 cups

fresh or frozen raspberries (I used frozen)

2

small apples, shredded (no need to peel them)

1 cup

rolled oats

½ tsp

vanilla powder (or

1 tsp

vanilla extract)

1

-

2

tablespoon maple syrup (optional)

4 tsp

acai
optional add-ins: cacao powder, maqui powder
optional toppings: almond butter, goji berries, nuts, seeds, coconut yogurt, berries, homemade chocolate*)
---
Instructions
Add the almond milk, raspberries, and shredded apples into a medium saucepan and bring to boil.
Add the oats, mix well and lower the heat to low-medium. Stir in the vanilla and cook until soft and creamy (about 10 minutes). Add more milk if needed.
Turn off the heat and add the maple syrup and acai.
Serve with more berries, almod butter, or other toppings.
---
Notes
*I had homemade chocolate on hand because I was trying out a recipe but you can use store-bought vegan chocolate. Just make sure there's no processed sugar! I love brands that use coconut sugar/nectar.