Learn how to easily roast garlic in the oven! It's easier than you think and the result is truly incredible. 5 mins of prep, 50 minutes in the oven, and 1000+ uses!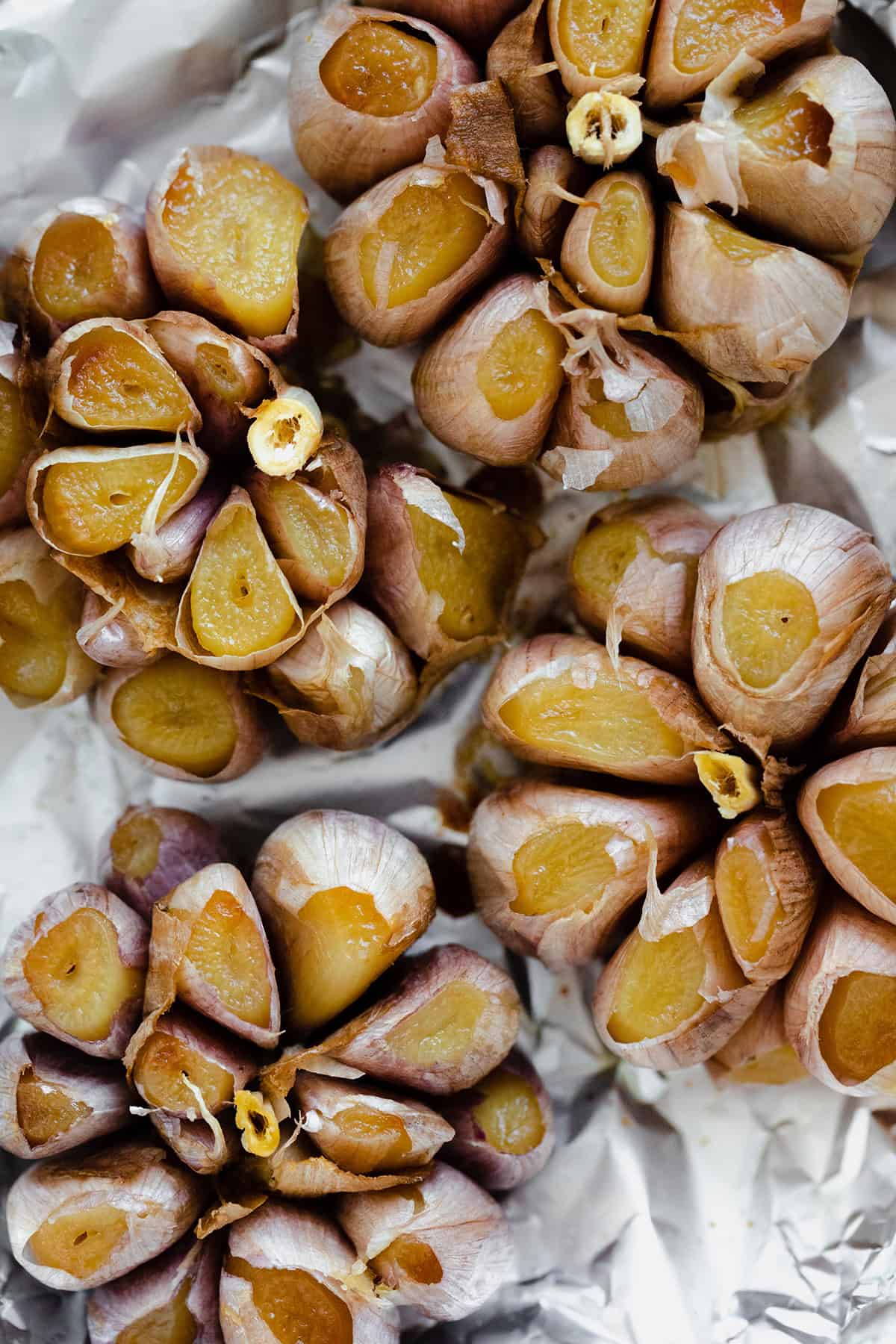 What ingredients do you need?
You only need two ingredients. Whole garlic bulbs and olive oil. You'll also need a baking dish and some aluminium foil. That's it! Only two ingredients and two tools! Roasting garlic is so much easier than you might think.
If you don't want to wrap the garlic directly with the aluminium foil, you can wrap it in some parchment paper and then wrap that in the aluminium foil.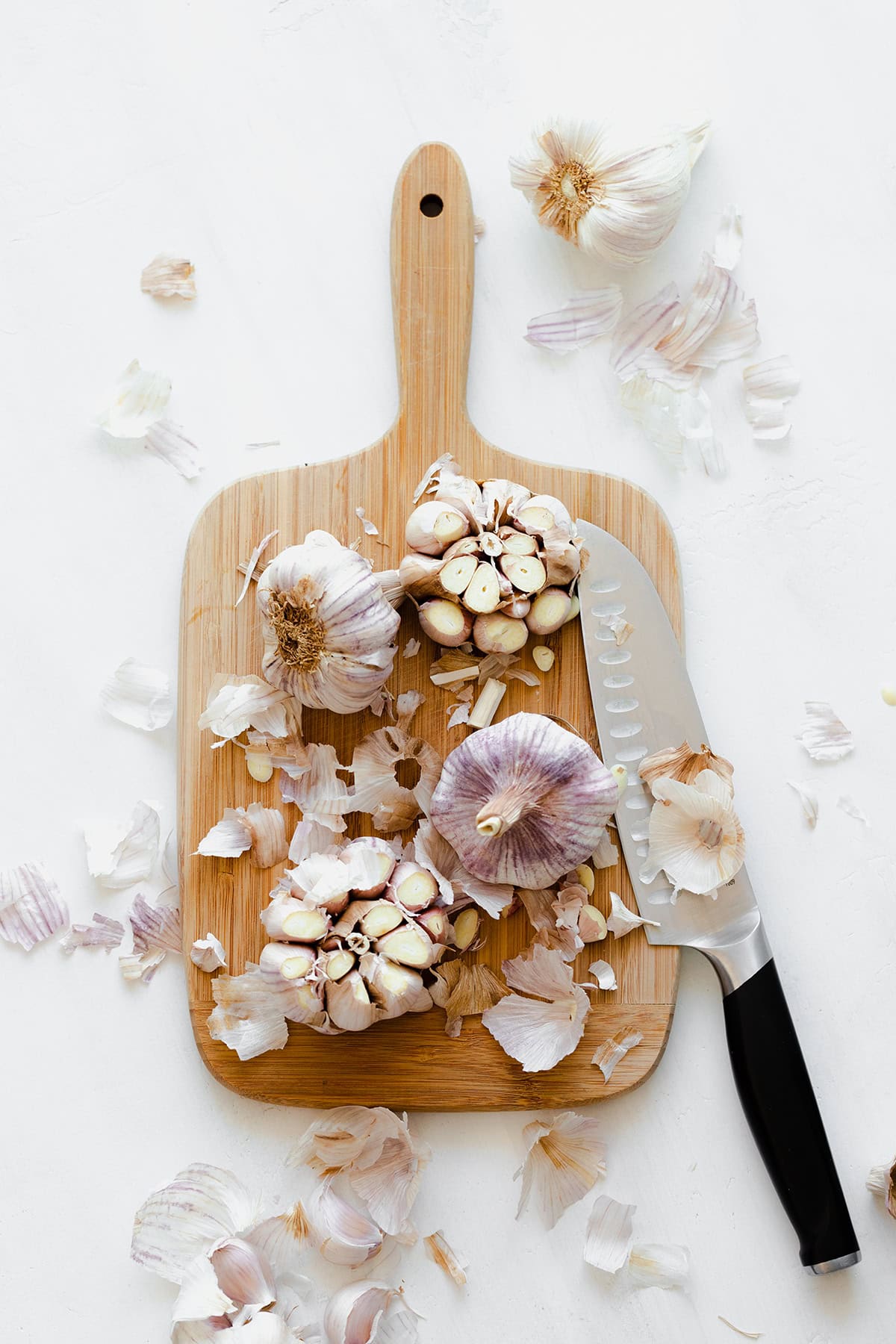 How do you roast garlic?
It's easy and really simple. There are only about 5 minutes of active prep and then you just let the oven do its magic for 50 minutes and voila, you have amazing, creamy, and caramelized roasted garlic!
First preheat your oven to 400°F (200°C).
Rub the garlic bulb gently to remove some of the loose outer layers but still keep the garlic whole and in tact.
Cut off the top part of the bulb (1-2cm or ½ inch), only enough to expose the garlic cloves. Be careful not to break the garlic apart doing this. If a few cloves fall off, it's ok, just try to keep them intact as much as you can.
You might have to cut off the tops of some smaller cloves separately so you don't remove too much of the other ones. Repeat with the rest of the garlic bulbs.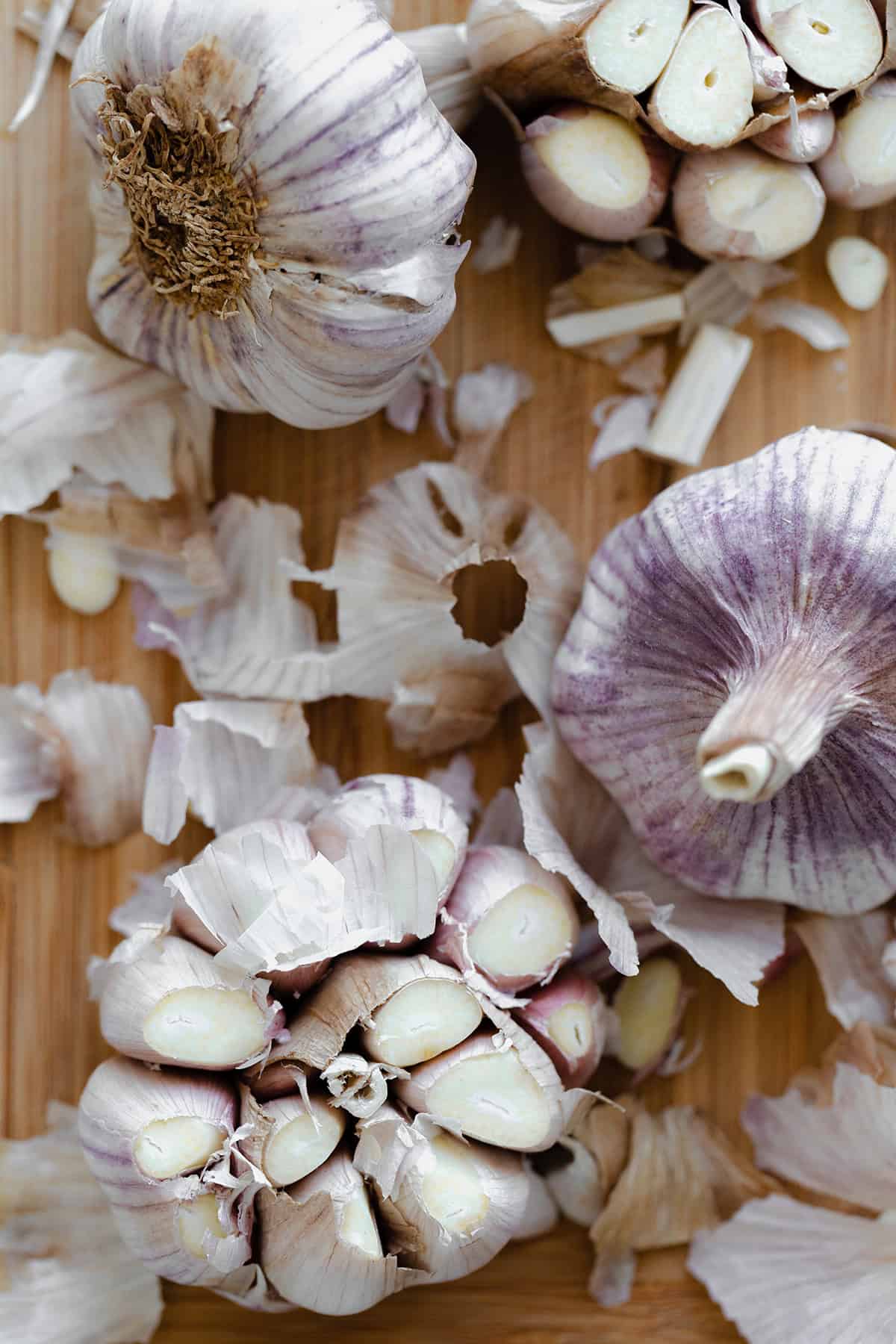 Place enough aluminium wrap in a baking dish to wrap all the bulbs, add the garlic, and drizzle with a little bit of olive oil covering each clove.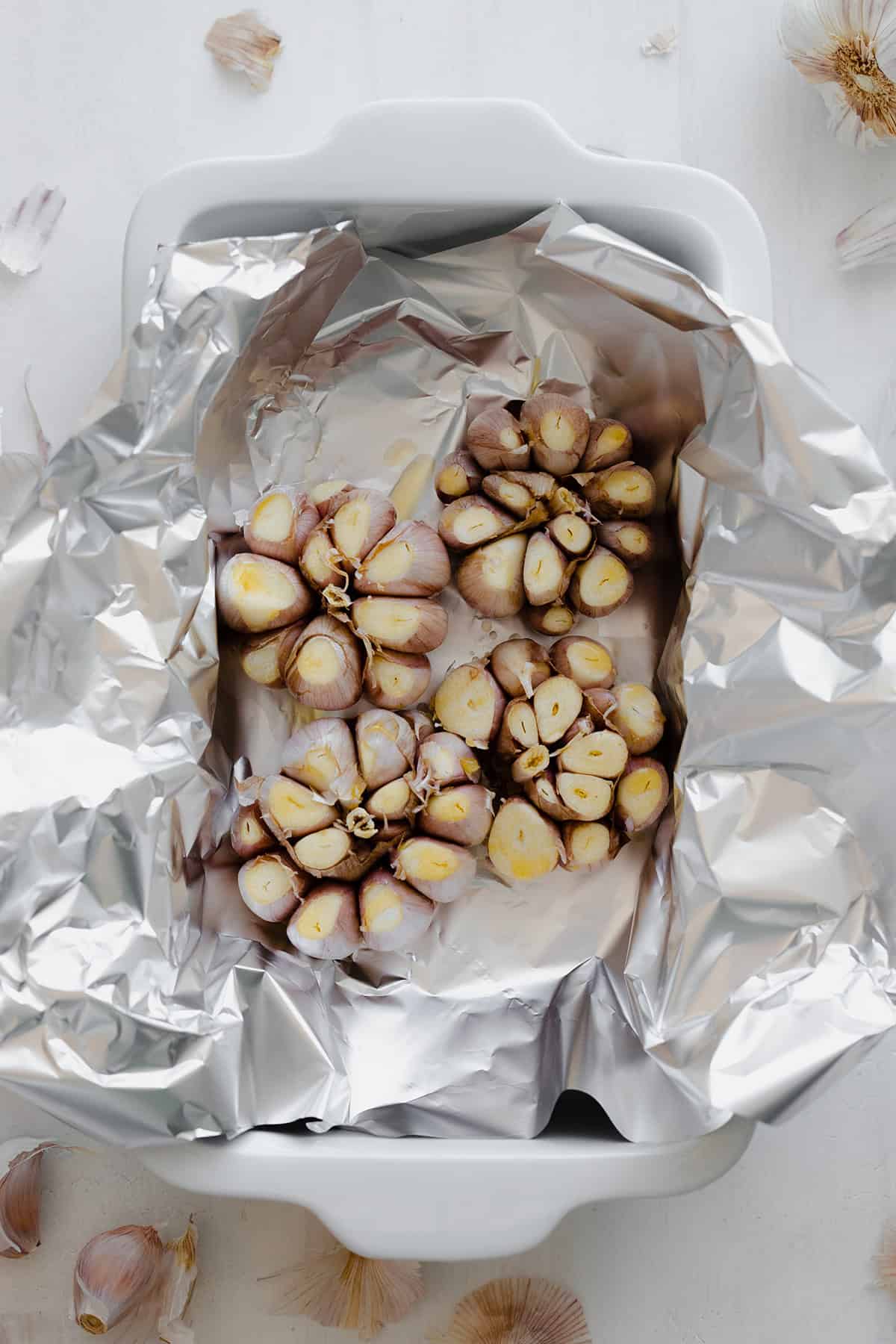 Wrap the garlic in the foil and transfer to the oven. Roast for 40-50 minutes. You'll know it's done when the cloves are slightly golden and very soft. It's better to overcook it than not cook it enough.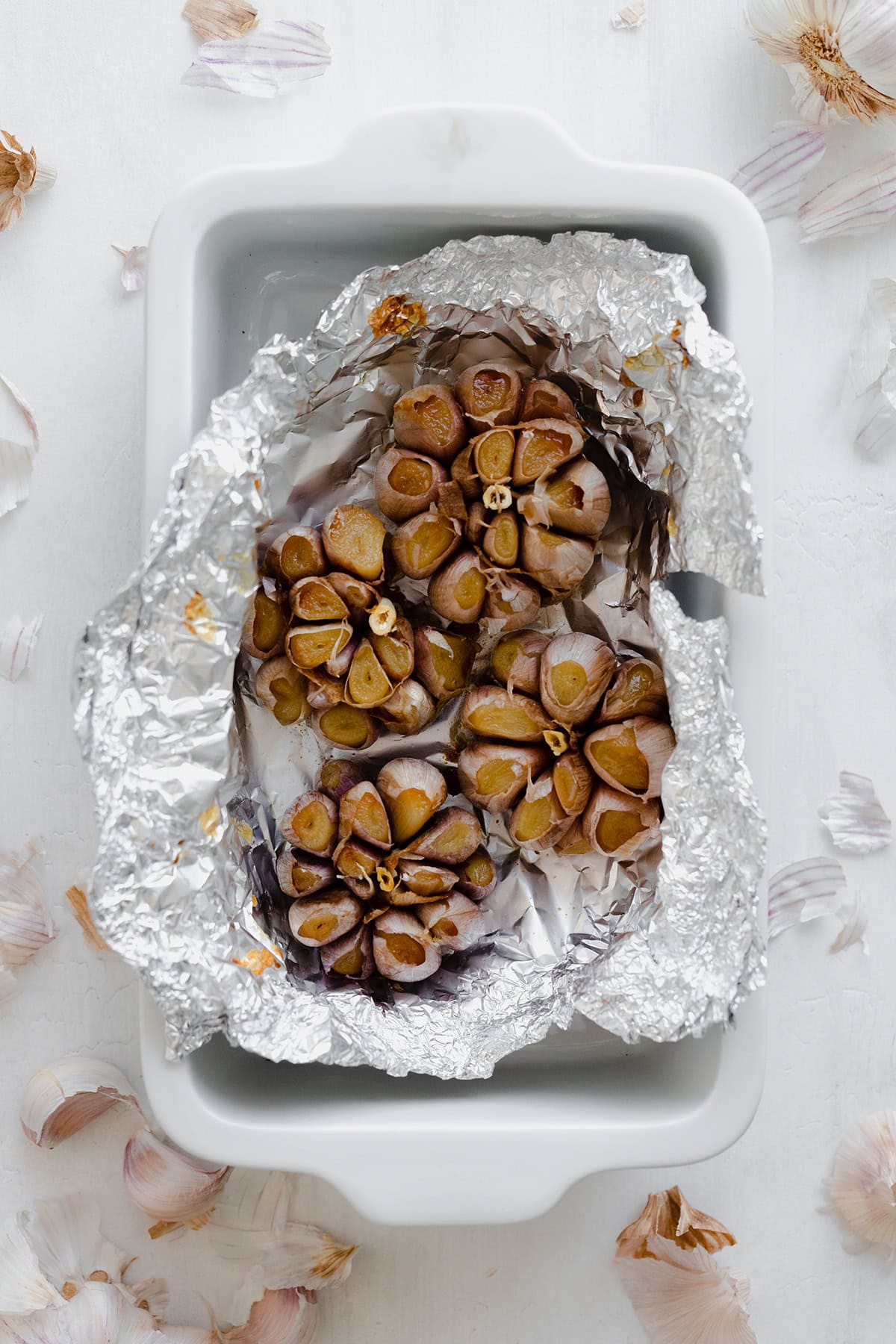 Oven Roasted Garlic Q&A:
What to do with roasted garlic?
There are so many uses for roasted garlic. You can use it in almost any recipe that calls for garlic! The simplest way to eat it is just smearing it on a piece of toast like you would butter.
You can add roasted garlic to any pasta sauces, dips, dressings, or spreads. I like using it in Spaghetti Aglio e Olio instead of regular raw garlic, it's life-changing. It goes really well with any breakfast egg dishes, sandwiches, or even soups.
How much roasted garlic can you eat in a day?
There is no hard rule about how much garlic you can eat in a day but try not to eat more than you would if it was regular raw garlic and you were chopping it up into your meals. Believe me, it's so incredibly delicious and buttery, it's not hard to eat a whole head of garlic in one day but your stomach might be upset at you afterward.
Be careful with eating too much garlic if you're on any blood regulating medication. It may interfere with it. It's also recommended not to eat garlic before any operation. If you are concern about any side effects of eating garlic please consult a doctor. This is not medical advice.
If you don't have any of those issues, your biggest problem after eating too much garlic would be smelling like a clove of garlic. And honestly, that's a price to pay I'm willing to accept.
How long can I keep roasted garlic?
You can keep it in the fridge in an airtight container for 1-2 days or the freezer for up to 1 month. I highly recommend keeping it in the freeze, not in the fridge, and definitely not at room temperature. Room temperature creates the perfect environment for the garlic to produce botulism toxin.
After you take the roasted garlic out of the oven, remove the cloves out of their skins as soon as possible and lay them out on a baking sheet or a freezer-safe plate.
When frozen, transfer to a freezer-safe airtight container. Keep in the freezer for a month.
Can garlic cause Botulism?
Potentially yes, if not stored properly.
Please refer to this PDF to learn more about garlic and botulism, how to store garlic, how to freeze it, and more.
But please don't let this discourage you from making roasted garlic! If you properly store it, there is nothing to fear. Just make sure to always keep it in the freezer.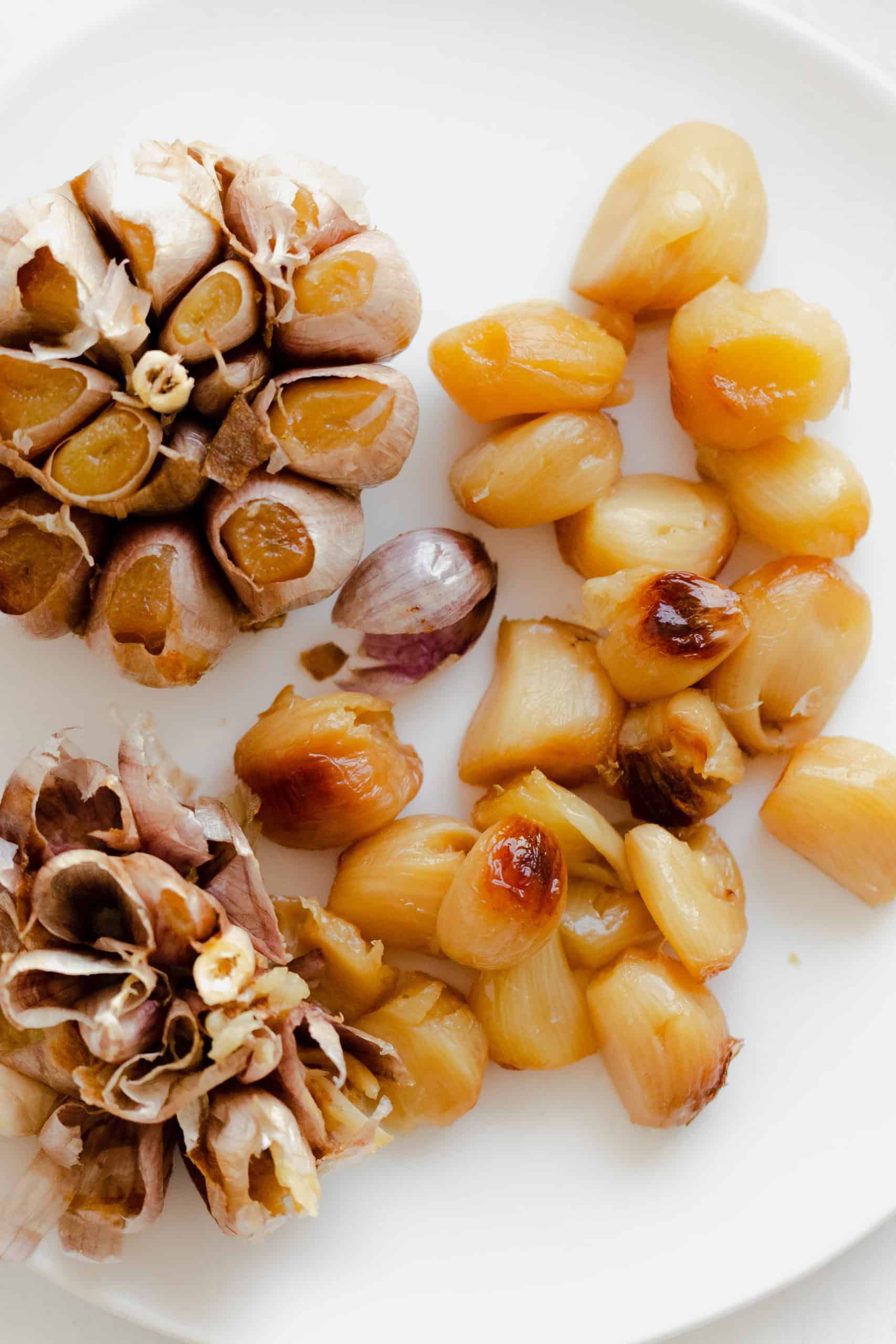 Recipes where you can use roasted garlic in:
These are my favorite recipes to add roasted garlic to. Just use roasted instead of raw whenever the recipe calls for any.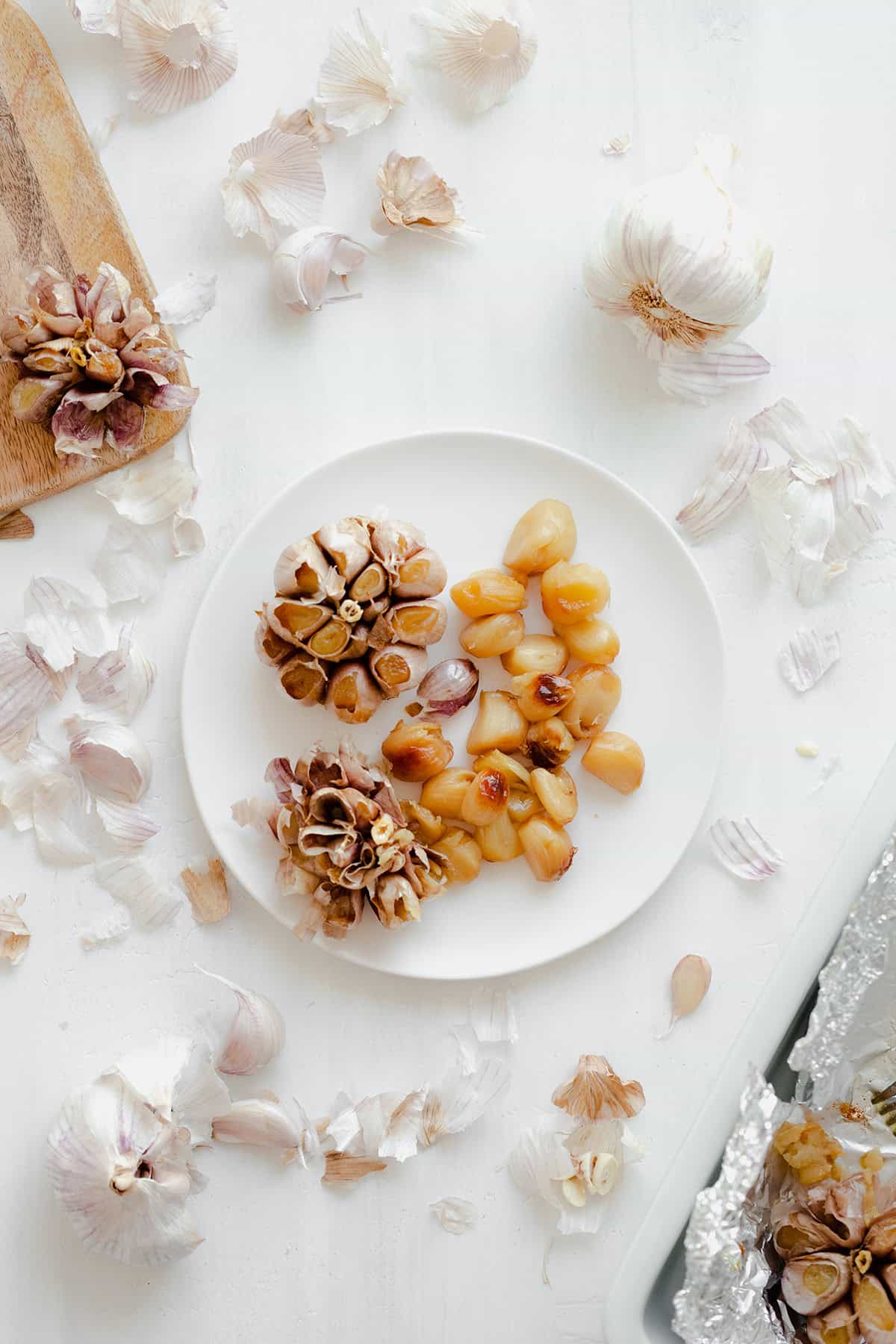 Print
📖 Recipe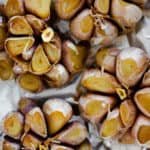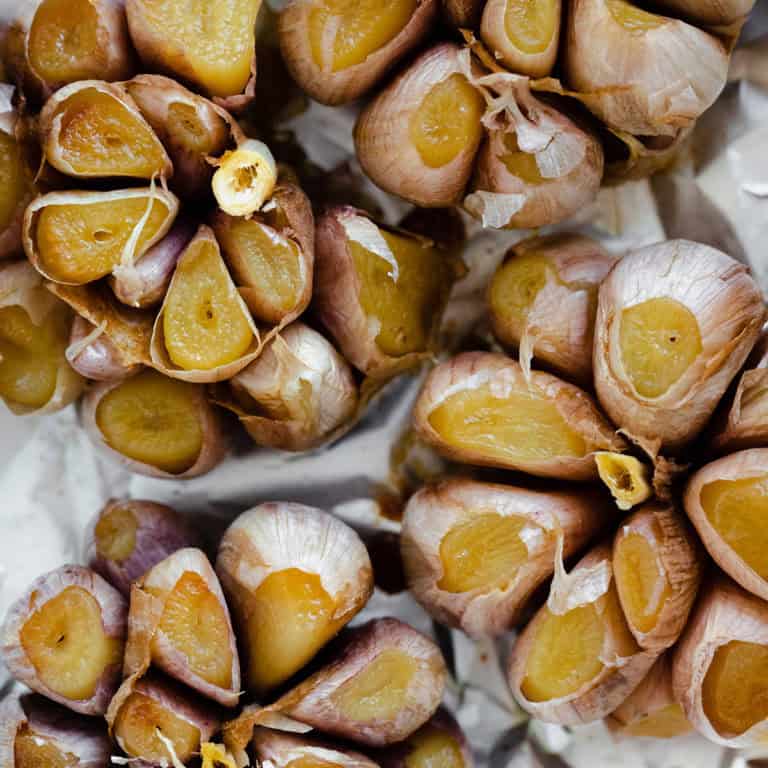 How to Roast Garlic
Author:

Veronika | thehealthfulideas

Prep Time:

5 mins

Cook Time:

50 mins

Total Time:

55 minutes

Yield:

4

bulbs

1

x

Category:

Basics

Method:

Roasting

Cuisine:

American

Diet:

Vegan
---
Description
Learn how to roast garlic. You will always have delicious garlic on hand and you'll never have to peel it!
---
4

whole garlic bulbs (or however many you like)
Olive oil for drizzling (about 1 teaspoon per garlic bulb) 
---
Instructions
Preheat your oven to 400°F (200°C) and prepare a baking dish and some tinfoil.
Cut the tops off the garlic bulbs, not too much, only enough so that the inside of the garlic cloves are exposed. Make sure not to break up the bulbs too much so they stay intact.
Gently remove the papery skin of the garlic that is falling off but do not peel the cloves.
Take enough tinfoil that can wrap all your garlic cloves. Place it in the baking dish, shiny side down. Place the garlic bulbs on it cut side up and lightly drizzle with the olive oil trying to cover every clove of garlic. This will help them to caramelize.
Wrap tightly in the tinfoil and transfer the baking dish into the oven. 
Roast for 40-60 minutes. Check up on the garlic at the 40-minute mark, careful not to burn yourself opening the tinfoil. When it's done, the cloves should look golden and very soft. The more bulbs you roast the longer they need to roast. I usually take them out after 50 minutes.
When it's done, take the garlic out of the oven and let cool for 10-15 minutes before handling. 
Use a small fork to take the cloves out or squeeze them out with your fingers. 
Lay the cloves on a baking sheet and place in the freezer for about an hour to freeze. Transfer to an airtight container and store in the freezer for up to a month. 
---
Notes
If you don't want to use tinfoil, you can also place the cloves in a baking dish that has a lid. Or wrap them in parchment paper first and then wrap that in tinfoil so it doesn't directly touch the garlic.
I store roasted garlic in the freezer because I always make a bigger batch. You can also store it in the fridge for 1-2 days if you only roast 1-2 bulbs. It's easy to eat lots of it but try to limit yourself to no more than  ½ - 1 bulb a day as a lot of garlic may be hard on your stomach. 
Keywords: garlic, roasted, how to