Christmas is almost here and I have a really tasty and comforting hot chocolate recipe for you today. This really is the best vegan hot chocolate I've ever made. It's so easy to whip up whenever you're craving something sweet and warm.
It's easy to modify too. Skip the water and add more milk to make it extra creamy or skip the milk and only add water to keep it lighter. Keep in mind the more milk you add, the creamier and frothier it will be.
I like the 1 cup milk to ½ cup water ratio. I tend to usually add more water whenever I want more hot chocolate but also want to keep the calories low.
That being said, sometimes I only do milk, no water, which turns this hot chocolate into an actual decadent dessert once frothed.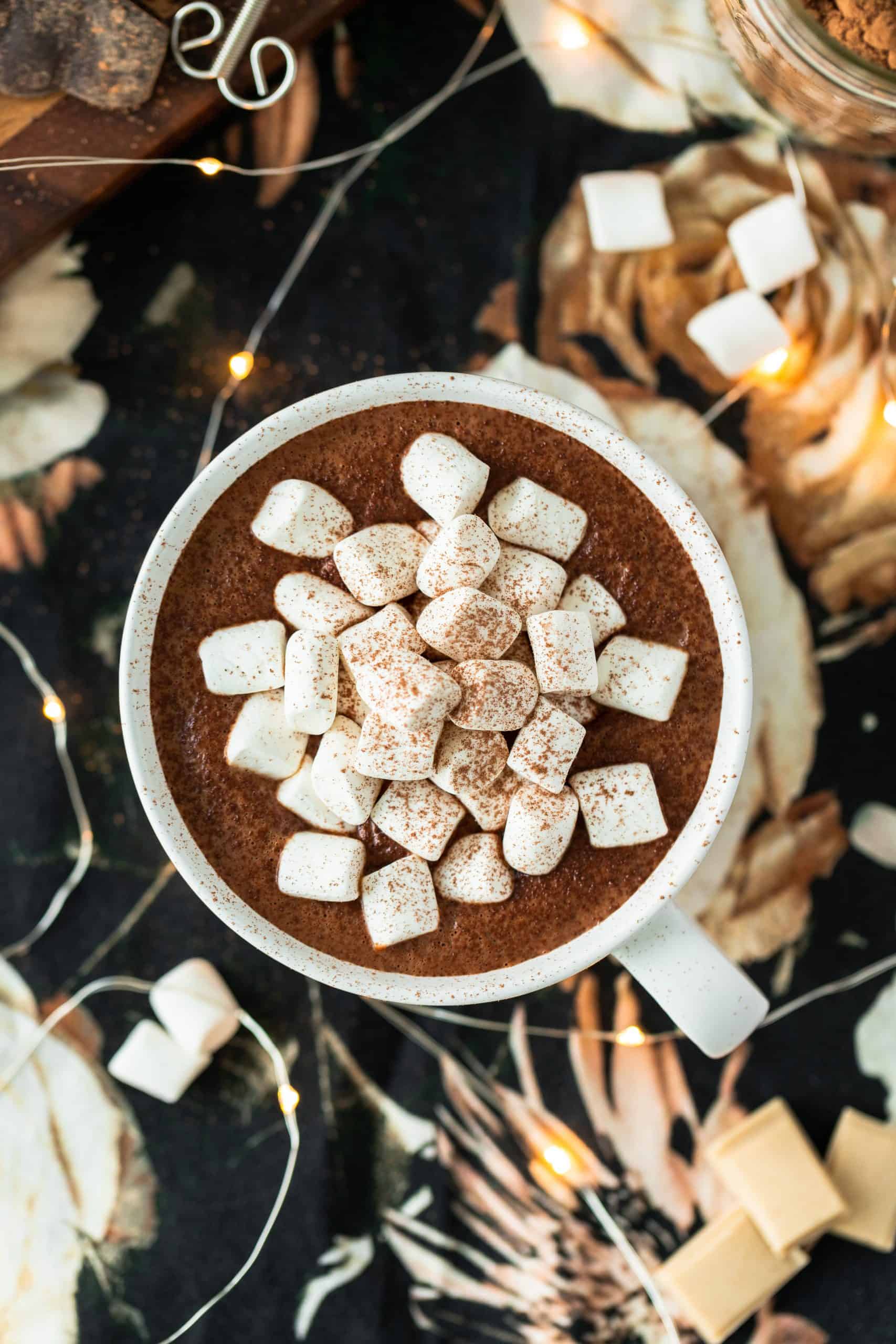 Two years ago I posted this Almond Chai Hot Chocolate and it is still one is my favorite warm drinks but honestly, this recipe right here really is the best hot chocolate. And what makes it so great is mostly the fact that I froth it before serving.
I bought this handheld tiny milk frother at Canadian Tire here in Toronto a while ago for less than $10 and let me tell you, it's one of the best purchases I've ever made. No really! I didn't believe it'd actually work but it does. No need for expensive milk frothers, a small cheap one does the trick for me. A more professional milk frother would, of course, be nice but I don't make hot drinks every day so it doesn't feel like the right investment for me right now.
If you don't own a milk frother and don't want to get one, you can still make this hot chocolate and it will still be really delicious! What the milk frother does is it makes it creamy and creates a thick chocolate foam on top. The more milk you add, the thicker the foam.
The recipe calls for 1 cup of milk and ½ cup of water. If you want the hot chocolate to be really creamy and decadent, add ½ more of milk instead of the water. You could also make this with just water but I really recommend adding at least ¼ cup of milk to make the chocolate a bit creamier.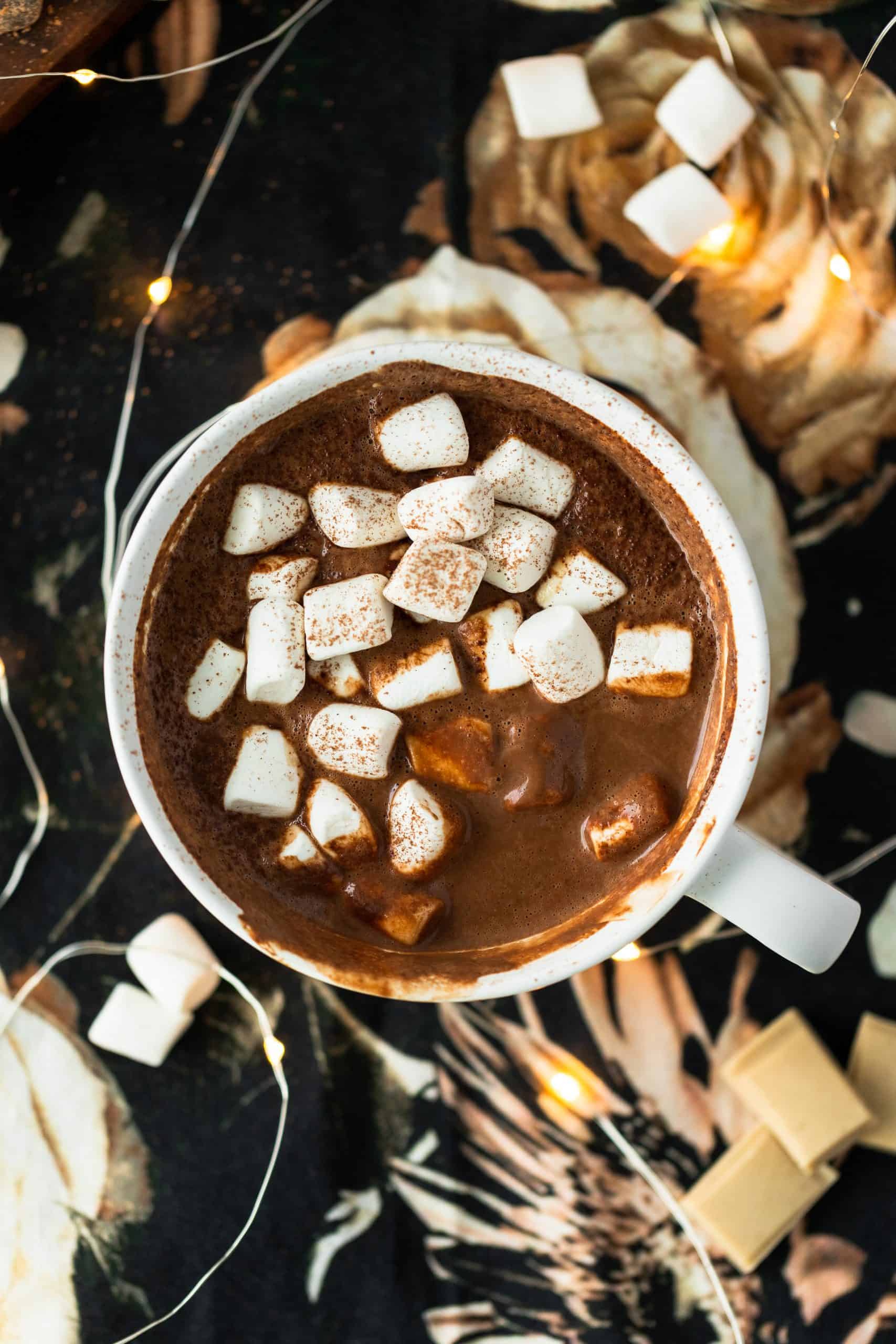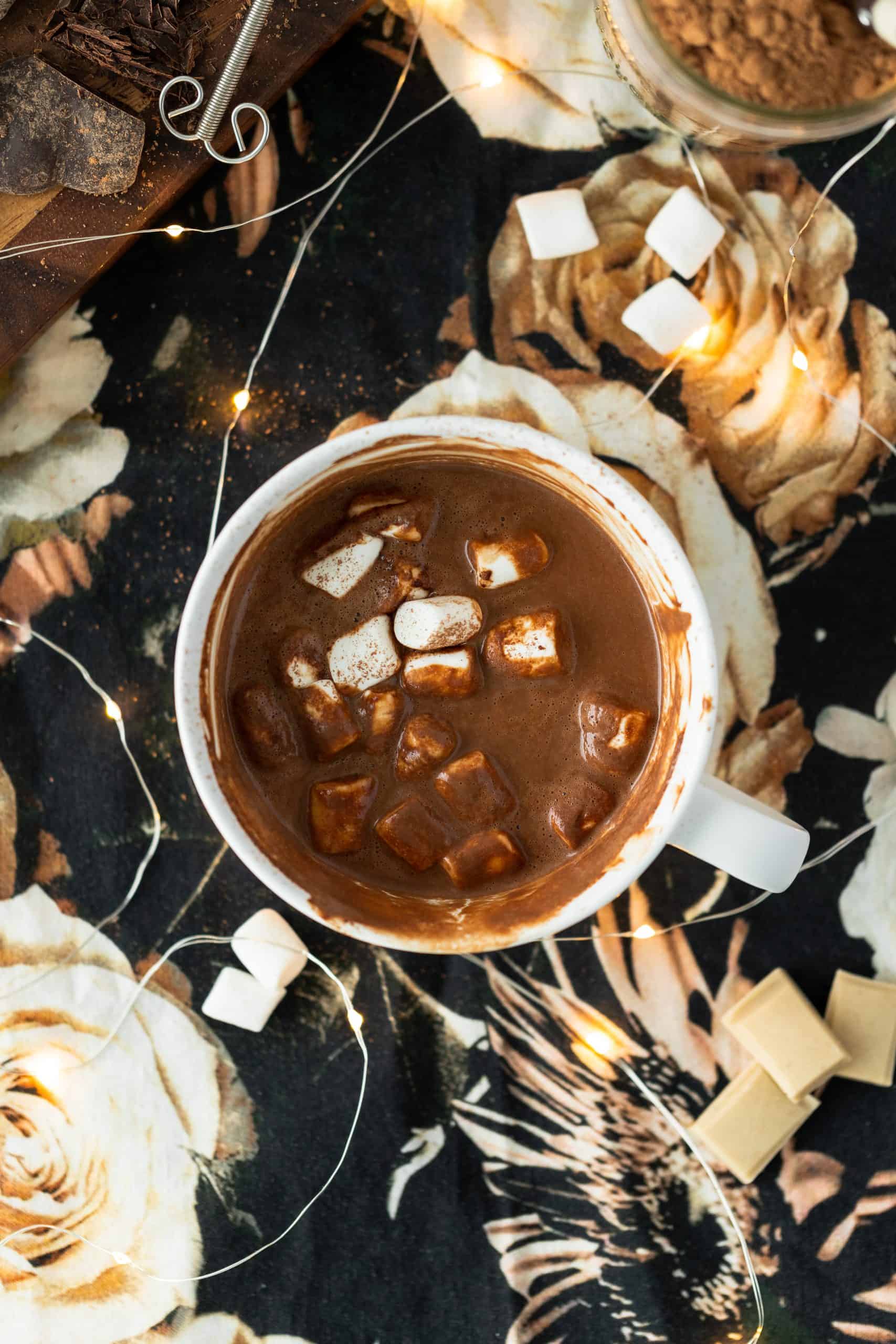 Print
📖 Recipe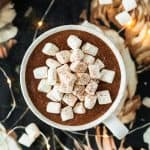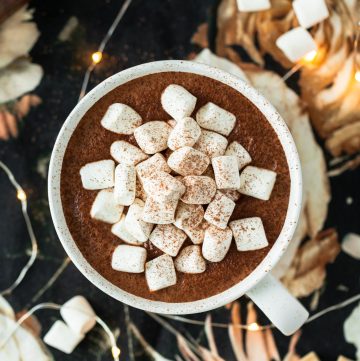 ---
Description
The Best Vegan Chocolate with Vegan Marshmallows
---
1 cup

almond milk

½ cup

water

1 tbsp

finely chopped raw cacao paste or dark chocolate

1 tbsp

cacao powder

1 tbsp

maple syrup

¼ tsp

cinnamon

½ tsp

vanilla extract
pinch sea salt
a handful of vegan marshmallows
---
Instructions
In a small pot, bring the milk and the water almost to a boil. 
Take the pot off the heat and add the rest of the ingredients (except for the marshmallows) 
Stir until the chocolate melts.
Turn the heat back on and bring the hot chocolate to a boil.
Let simmer for 1-2 mins and take off the heat.
Optional: Using a small handheld milk frother, froth the hot chocolate according to package instructions.
Pour into a mug, top with the marshmallows and dust with more cacao or cinnamon.
Enjoy immediately.
---
Notes
I'm using a milk frother here to get nice creamy foam on top. I have a tiny one that was less than $10 and it's my favorite thing to use. You don't have to do it if you don't have one, the chocolate is just as tasty when not frothed.
Keywords: the best vegan hot chocolate