Cheesy Vegan Popcorn?!
Yes, that's right! And it's so delicious you won't even miss the cheese.
It's salty, cheesy, and satisfying. It's basically everything you want from popcorn.
I always loved the popcorn you buy at movie theaters. The cheese & ham flavor was my favorite. The only problem was it was so salty, I was stuggling even then, when I didn't care about healthy food. You know when something is so salty, it almost burns your mouth and you can still feel it on your tongue hours later? Well, this popcorn has none of that. There's just the right amount of salt, and the GOOD kind of salt, I might add. The kind full of minerals, not the stripped version we call table salt. I love sea salt.
What's the secret to achieve the cheesy flavor without any cheese? NUTRITIONAL YEAST! It's delicious and it's the perfect addition to any savory vegan dish!
FUN FACT: Did you know that January 19th is a national Popcorn Day?? I didn't either! But now I do and I'm sharing this just in time for you to celebrate this monumental day haha! Enjoy!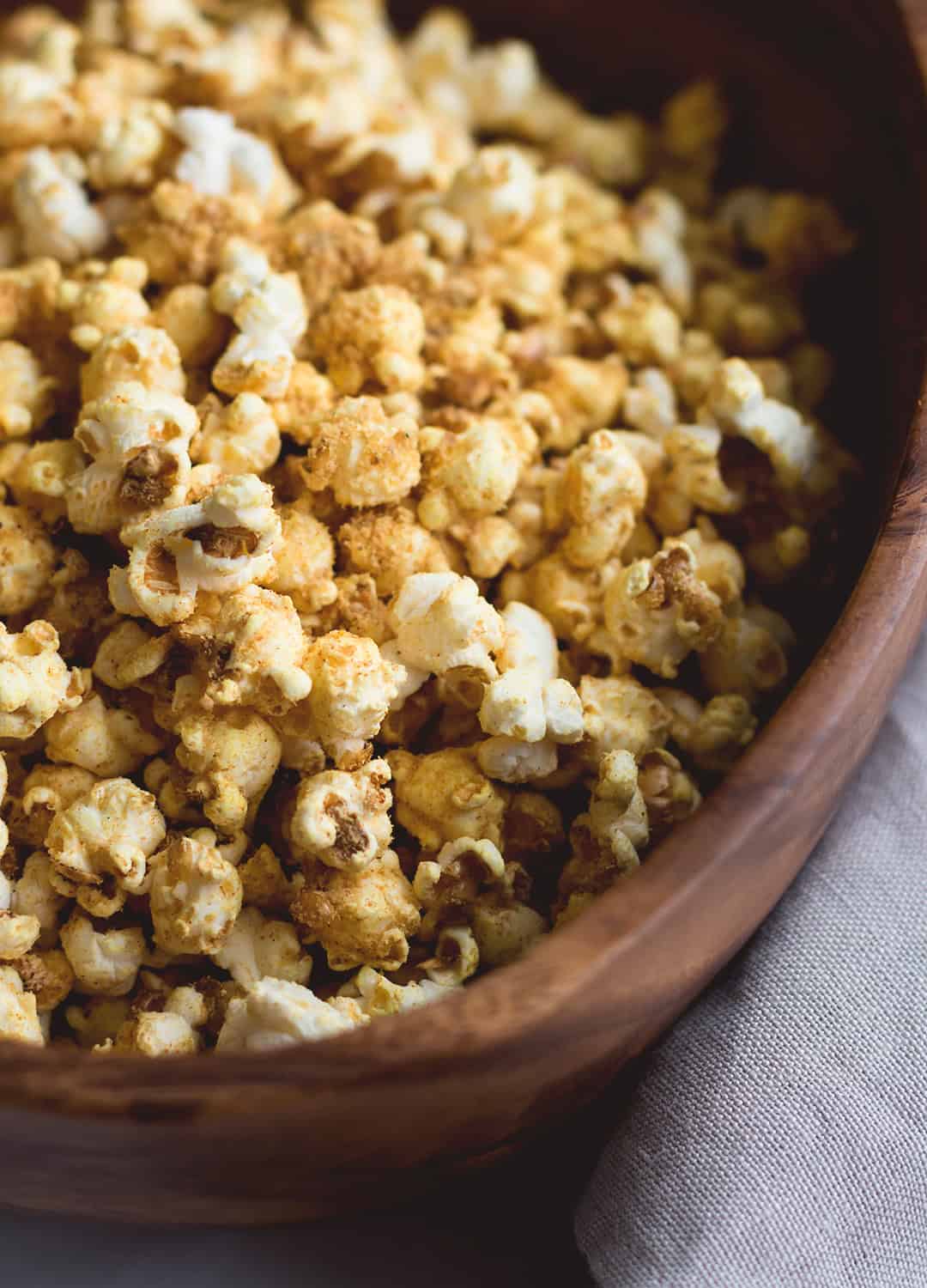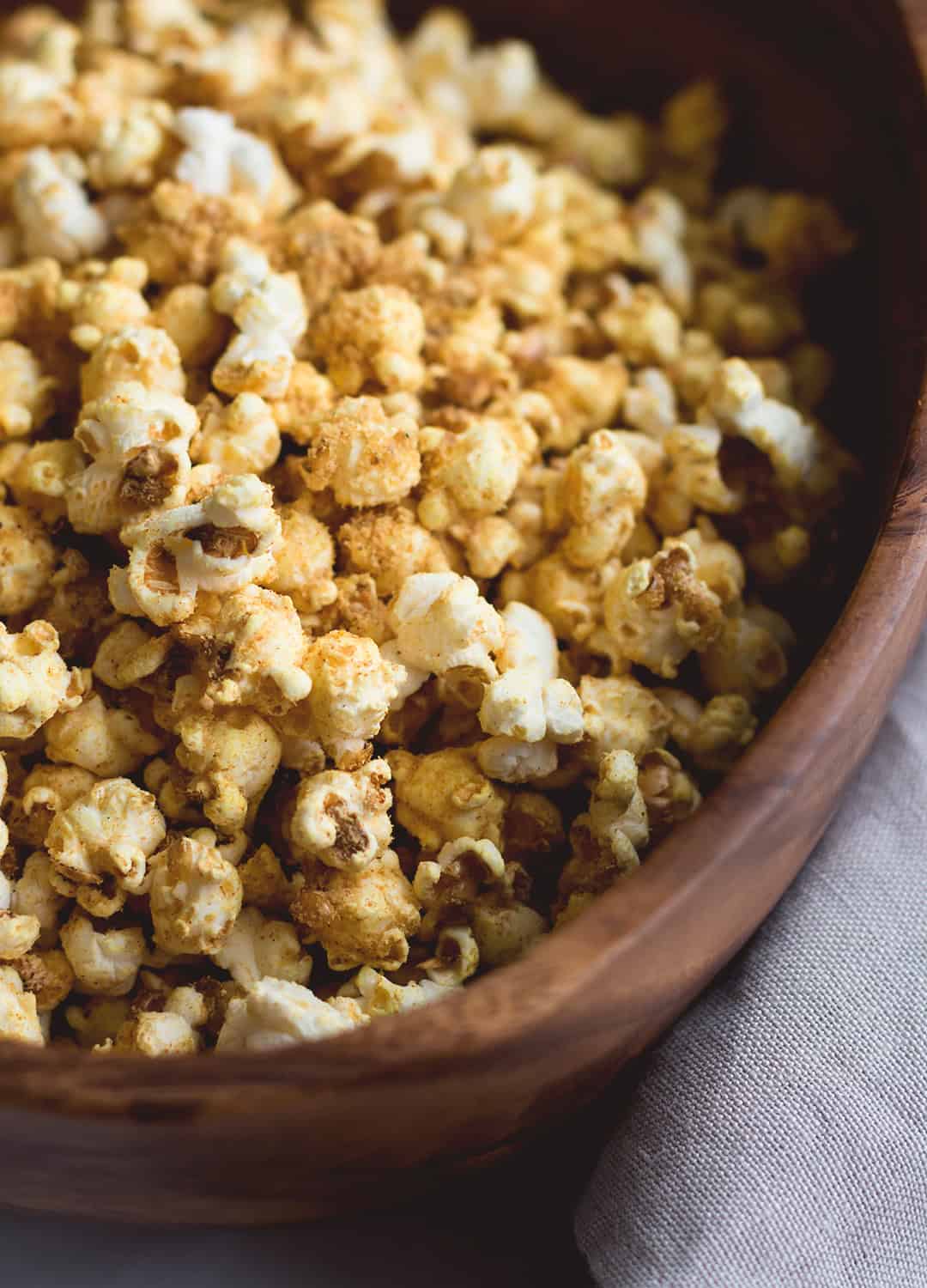 Salt is actually good for you, contrary to the popular belief. Okay, okay, maybe not in popcorn but everyone cheats sometimes and if we didn't have fun with food what's the point?
Anyways, sea salt (or himmalayan pink salt) is good for you because it contains a lot of minerals. Sea salt is generaly higher in the mineral content than himalayan pink salt but both of them are eaqualy good. Salt and water is actually a match made in heaven because together they keep you hydrated. If you eat too much salt your're dehydrated. If you drink too much water by itself, you're also dehydrated (I know! But it's actually true!). HOWEVER, if you combine a glass of water with a pinch of sea salt, you have the ultimate weapon againt dehydration!
If you consume a lot of processed salt (table salt) on a daily basis, maybe sea salt with water isn't the best for you at this stage. For me, when I first started eating better I went cold turkey on salt. I either added a tiny bit or I didn't add it at all to anything. And that really helped me rediscover what food ACTUALLY TASTES LIKE! Then after a month or so, I started adding sea salt back into my diet. It almost came naturally, you know? Like, I was finally rid of the table salt residue inside my body and started craving salt again.
To sum it up, sea salt is good for you so try to add sea salt instead of table salt to food when you're cooking at home. Also, when you buy pre-packaged foods, look at the ingredients list and try to stay away from products that are high in table salt or ideally, don't buy those products at all.
Now let's talk about this delicious bowl of popcorn!!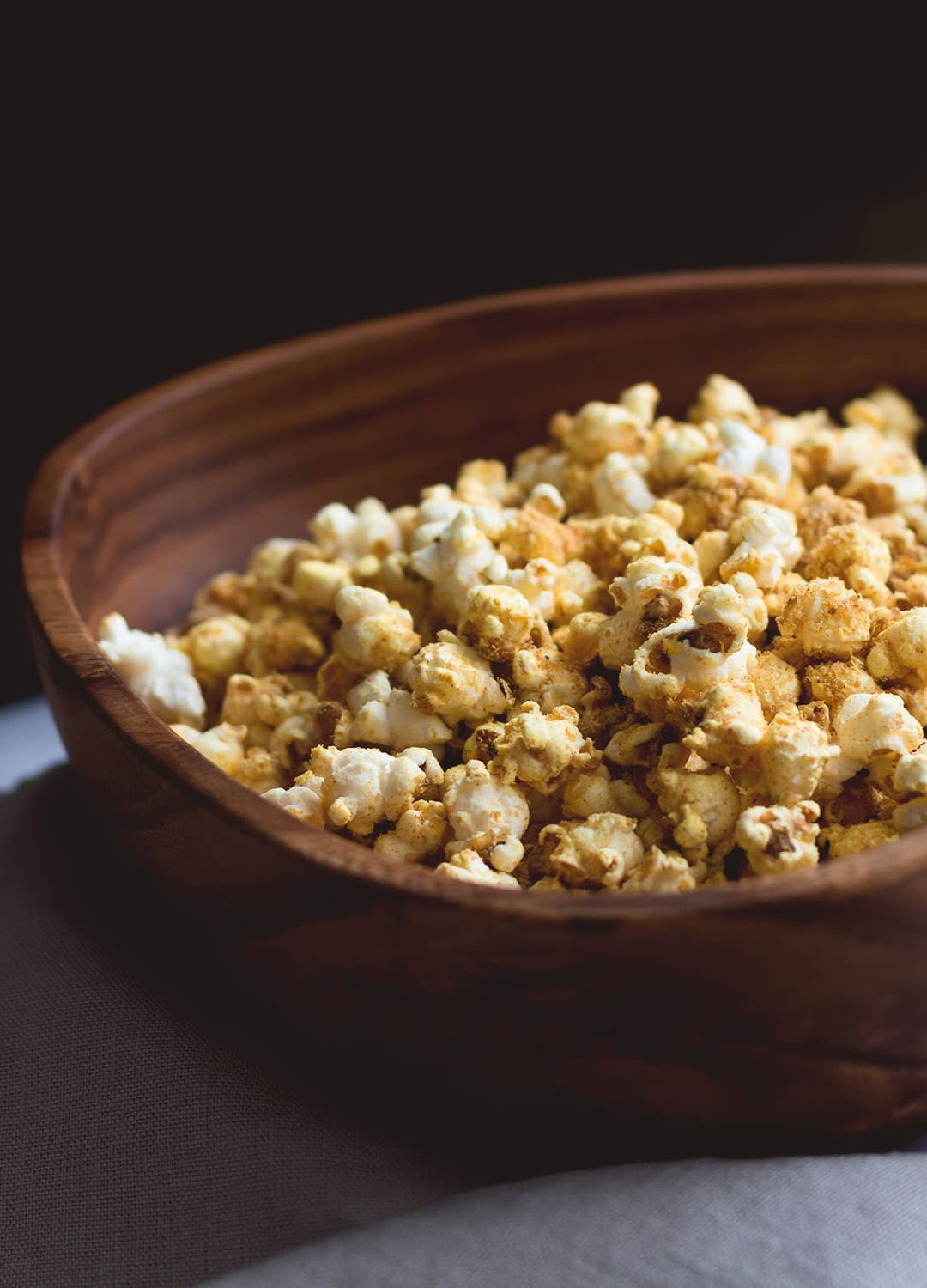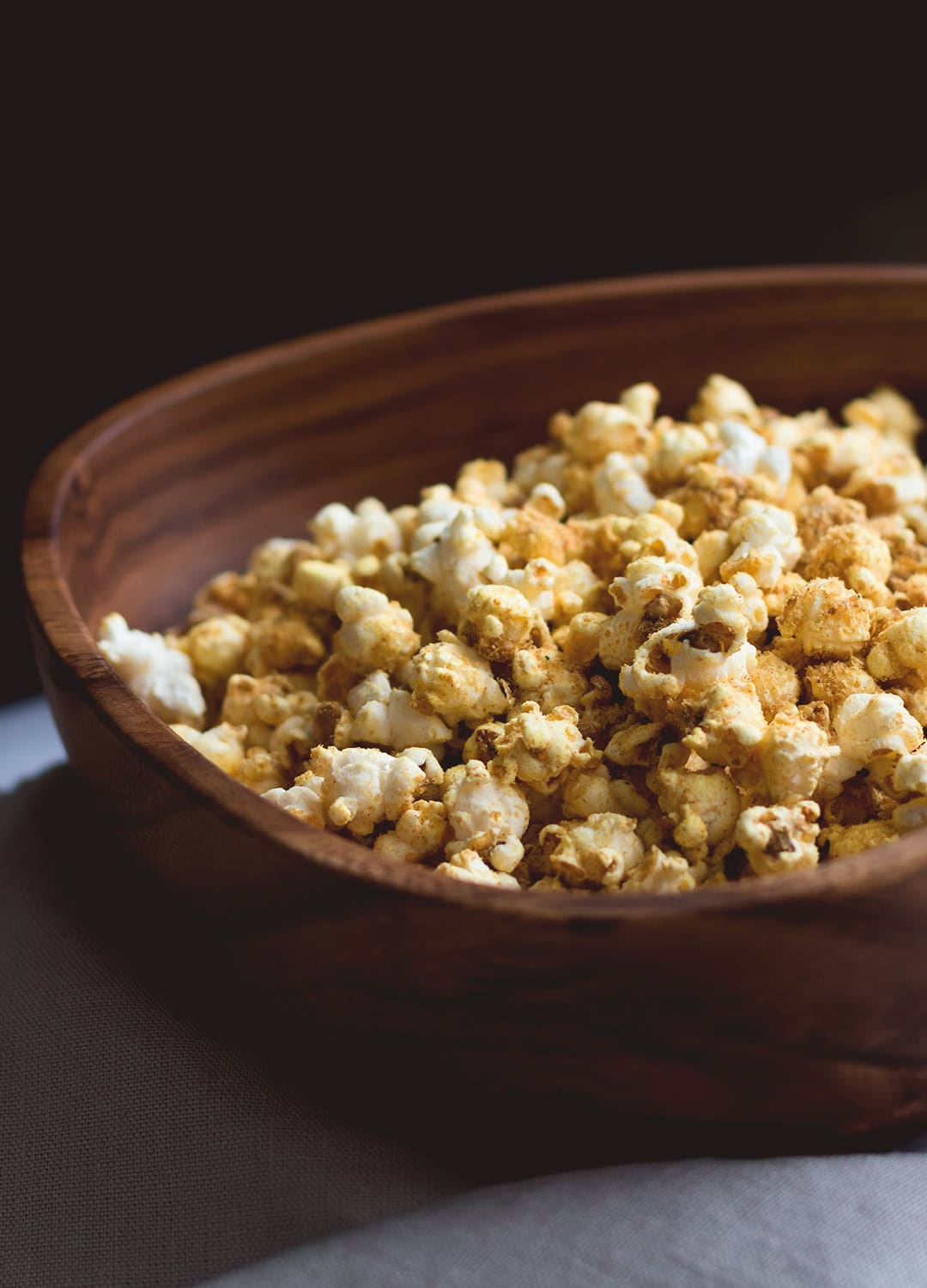 An important thing about popcorn is when you're buying the corn kernels, always, and I mean ALWAYS buy organic corn kernels. Corn that isn't certified organic is most likely GMO (Genetically Modified Organism) and we don't want none of that in our body!
So what exactly is nutritional yeast?
First off, it's not the same as the regular yeast you'd use for making bread. It'd deactivated yeast so don't worry about getting bloated like a loaf of bread. Nutritional yeast has many benefits apart from adding a great flavor to vegan dishes.
It's very nutritious, hence the name, and it's particularly rich in B vitamins. It's a source of vitamin B12, which is great news for vegetarians since most of vitamin B12 is sourced from animals. On top of that, it's also a complete protein which helps you to keep your energy levels high when you're working out. And as a bonus, it's also full of fiber so it's awesome for gut health. If your concern is gluten, then you don't have to worry, nutritional yeast is gluten-free! (Though, I'd always check the package to be sure!) One thing nutritional yeast isn't is raw. It has to be pasteurized in order to destroy the yeast that helps raise the bread. But unless you're a hardcore raw vegan (which I doubt you are, I mean, you're reading a post about popcorn) I don't think that's a problem for anyone.
So all in all, nutritional yeast is your best friend when it comes to cooking healthy food. It's so versatile—you can make pasta sauces, dips, dressings, crackers, vegan cheeses, etc. The possibilities are endless!
Making your own popcorn seems intimidating at first but it's actually incredibly simple! I'd never go back to eating microwave popcorn again! Not only because of the nasty ingredients, but also because of the damage microwave does to the popcorn and essentially to you! Did you know you should stand at least 10 meters away from a microwave when you're using it so the radiation doesn't hit you?
I have to admit I did burn the popcorn the first time I made it like a year ago. Okay maybe I burned it a few more times after that, but after you get the hang of it, it's really easy and satisfying because you know you made your own popcorn from scratch!
The secret is to keep shaking the pot. Like literally put oven gloves on, lift the pot and shake it so the popcorn keeps popping but it's not constantly on the heat. It's also great to prevent the kernels from burning on one side and to make sure it's all evenly popped. That being said, don't try to pop each and every kernel as that'd result in burning the ones that are already popped!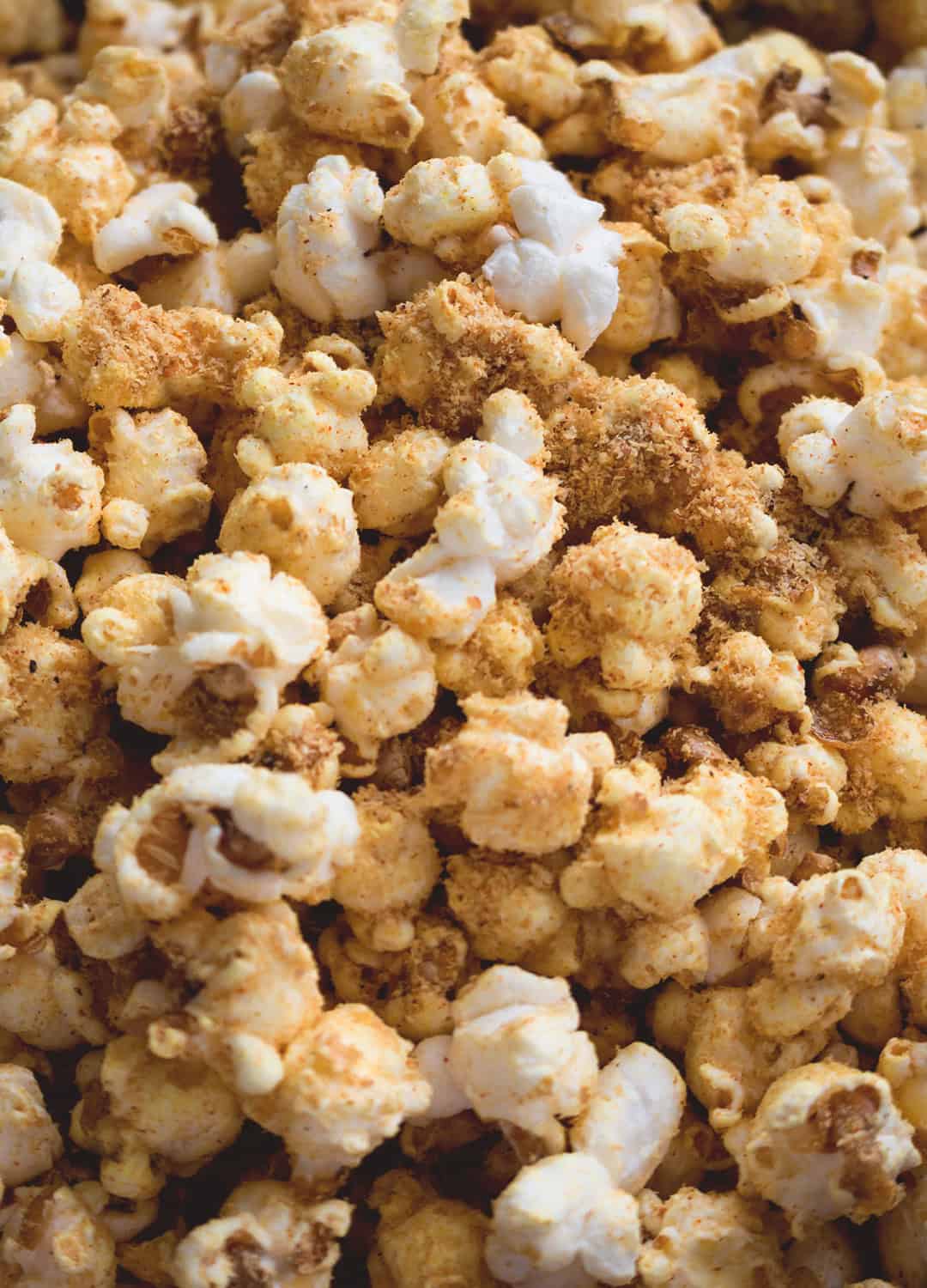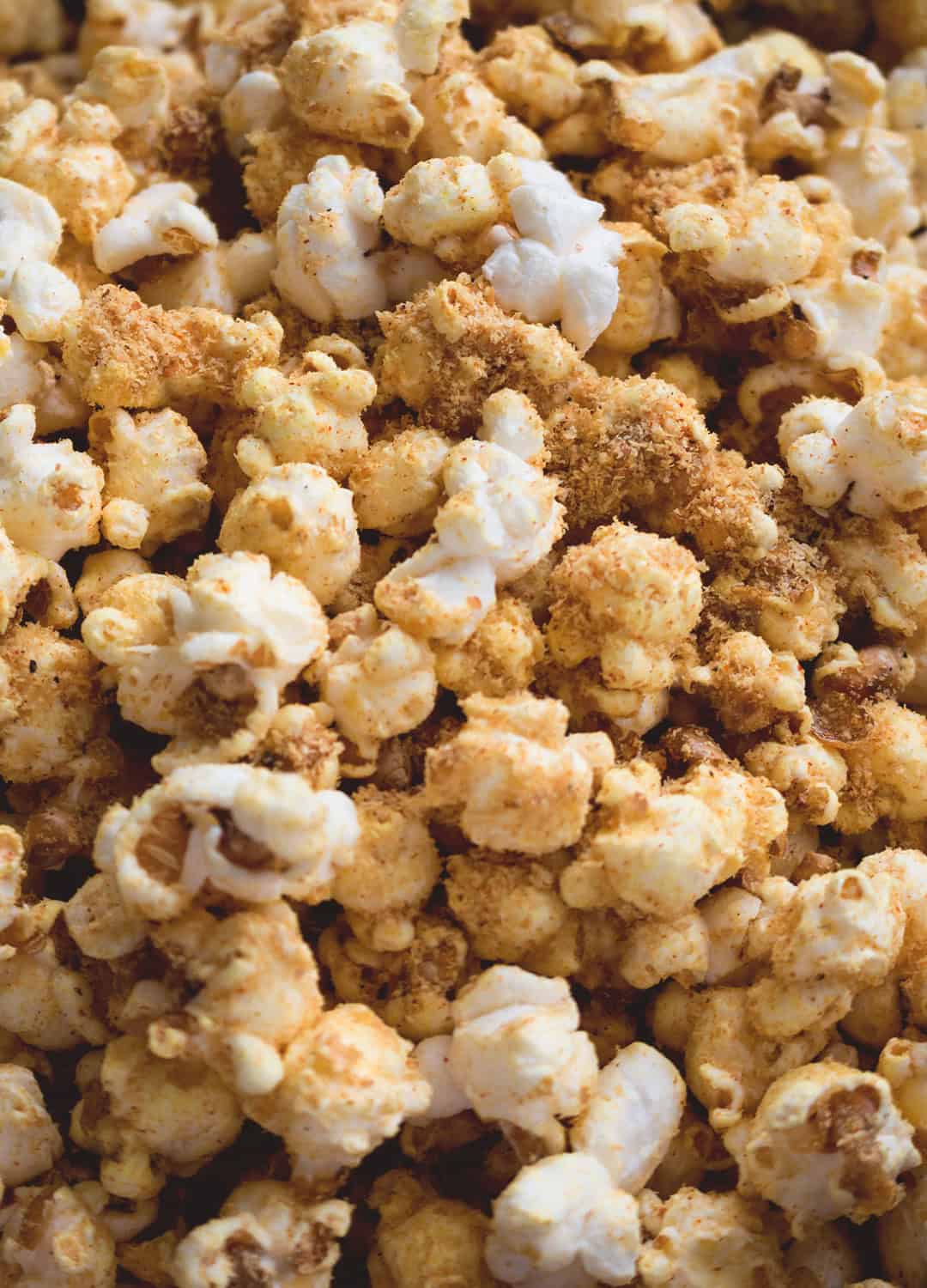 In the recipe I use ¼ cup corn kernels, but feel free to double or tripple the recipe. However, I'd always pop ¼ cup at a time, because greater amount means more time on the heat and you could end up with a big batch of burned popcorn. So take it slow and shake shake shake! (I may or may not listened to Shake it off while making the popcorn).
The whole thing from the second you add the kernels into the pot to the second you take it off the heat takes only a few minutes. It's so quick you won't believe how easy it is!
If you try this let me know how it went! :)
And f you already know how to make popcorn on the stove, what's your favorite way to season it?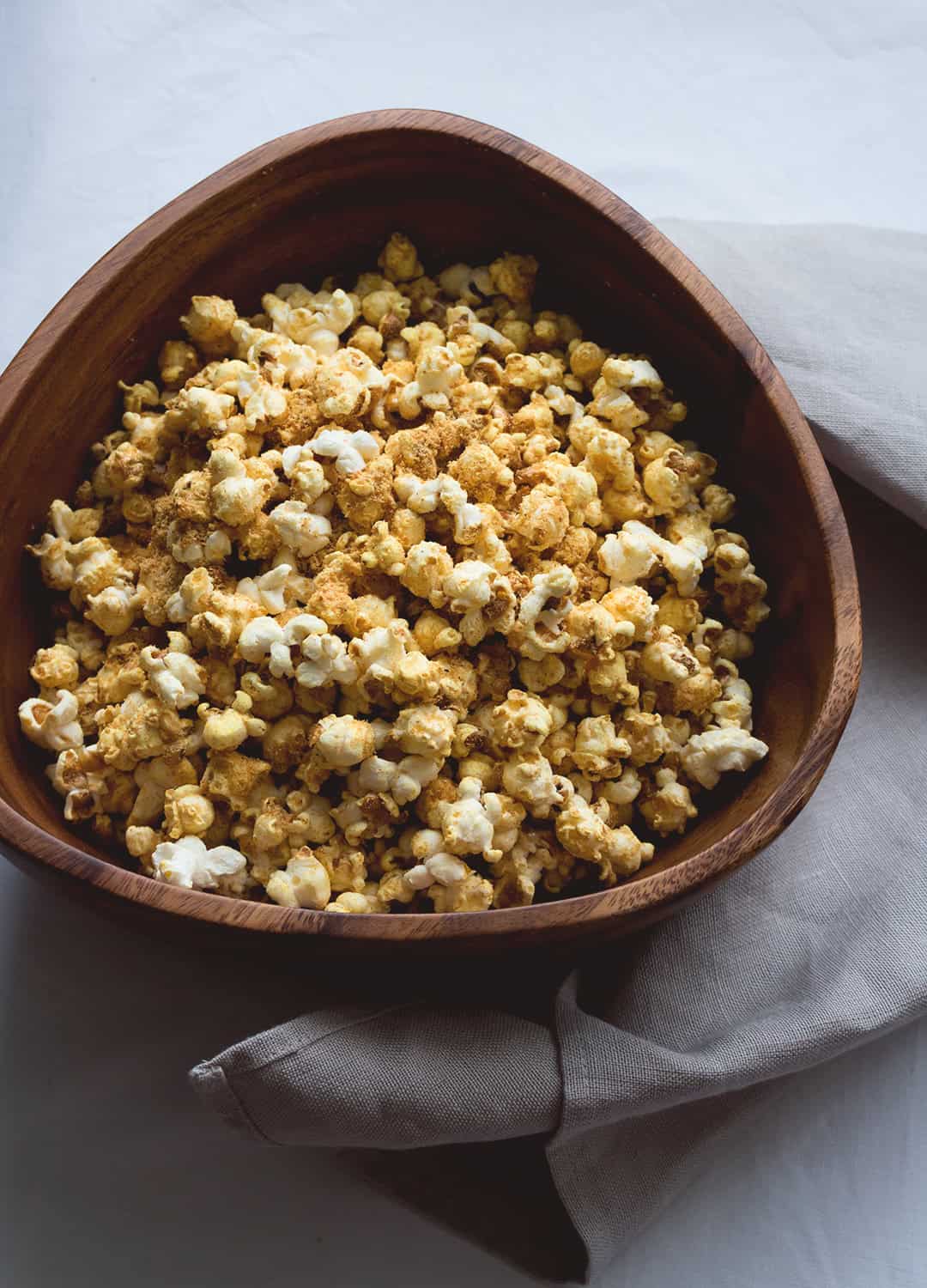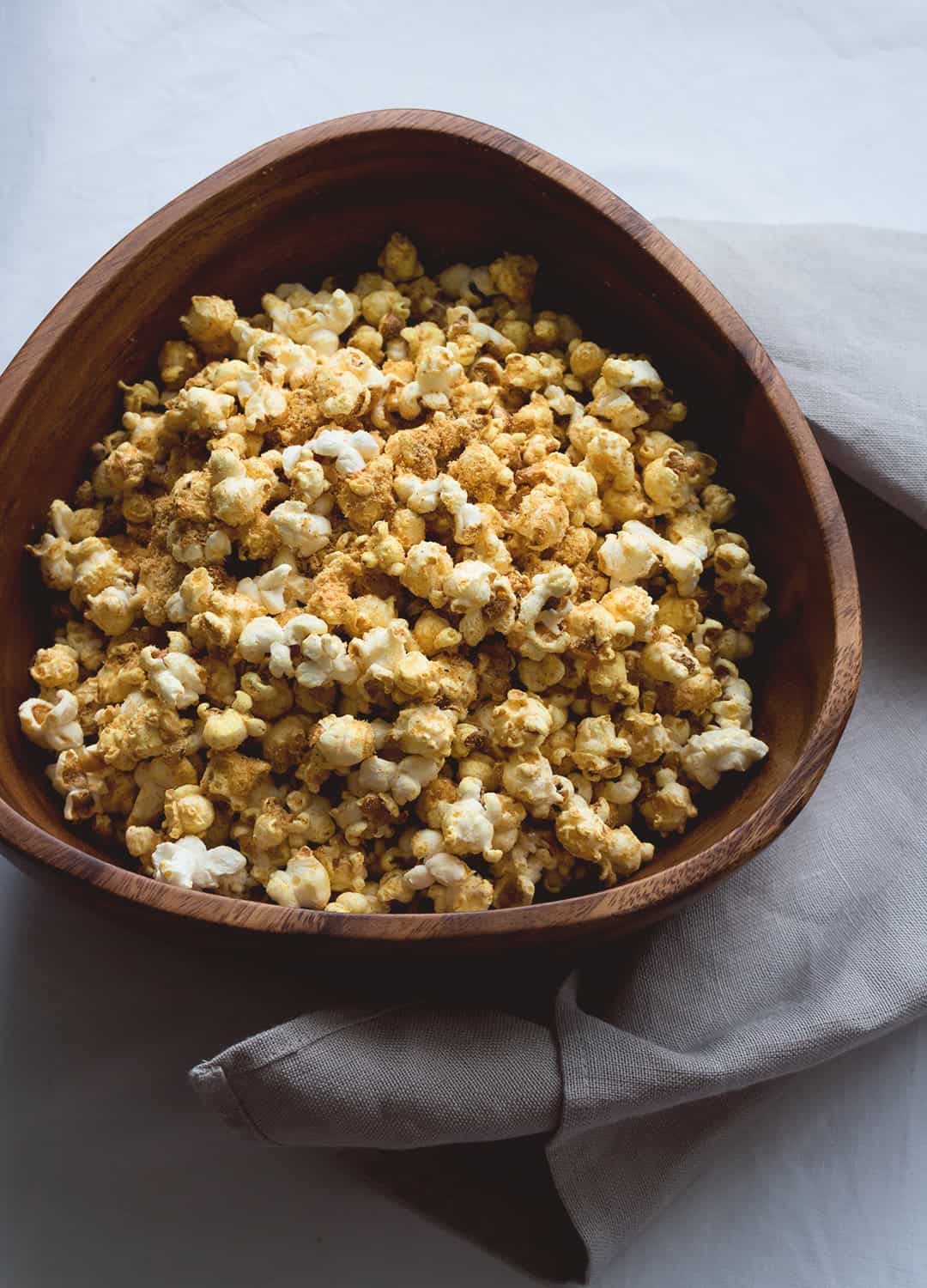 Print
📖 Recipe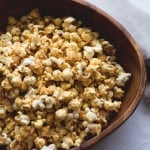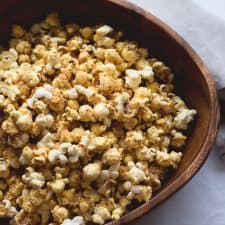 Cheesy Vegan Popcorn
Author:

The Healthful Ideas

Prep Time:

5 mins

Cook Time:

3 mins

Total Time:

8 mins

Yield:

3 cups

1

x

Category:

Snack

Diet:

Vegan
---
Description
Cheesy Popcorn with no cheese?! The secret is nutritional yeast! It gives it the cheesy, nutty, salty taste simillar to cheese! It's really delicious and semi-healthy. I you want to make a bigger batch of this you can just double or triple the recipe. However I recommend always doing ¼ cup of corn kernels at a time because if you did a more at once, it would take longer you could burn the popcorn.
---
2 tbsp

nutritional yeast

¼ tsp

turmeric powder (for color)

⅛ tsp

cayenne pepper (more or less depending on your preference)

¼ tsp

paprika powder

¼ tsp

garlic powder

¼ tsp

onion powder
sea salt to taste (¼-1/2 tsp)

1 tbsp

coconut oil

¼ cup

corn kernels
---
Instructions
First start with the spices.
Into a small bowl add the nutritional yeast, turmeric, cayenne pepper, paprika, garlic, onion, and sea salt. Stir to combine and set aside.
Heat a big pot with the coconut oil over high heat. have a lid for the pot prepared.
When the pot seems hot enough, add 2-3 corn kernels and cover with a lid. Shake the pot a little and wait for all 3 to pop. When they do, remove the lid (carefully, there's A LOT of steam!) and remove the kernels with a spoon.
Add the rest of the kernels and cover with a lid.
Keep the heat on high and shake the pot holding the lid so there's no steam escaping. (use oven gloves, because again, everything is very hot)
When it starts popping, which should be immediately,, shake the pot every 3-5 seconds so the popcorn doesn't burn.
When there are 5 second gaps between popping, remove from heat immediatelly.
Don't try to pop each and every kernel or you'll burn the popcorn.
Carefully remove the lid and transfer the popcorn into a big bowl. Add the seasoning and mix quickly and well so the popcorn is evenly coated. If the seasoning doesn't stick, you can add 1tsp melted coconut oil and mix again.
Best served immediatelly.
---