This Black Mojito is the perfect spooky cocktail for Halloween! It's made with activated charcoal that makes the drink naturally black. A mocktail version is included!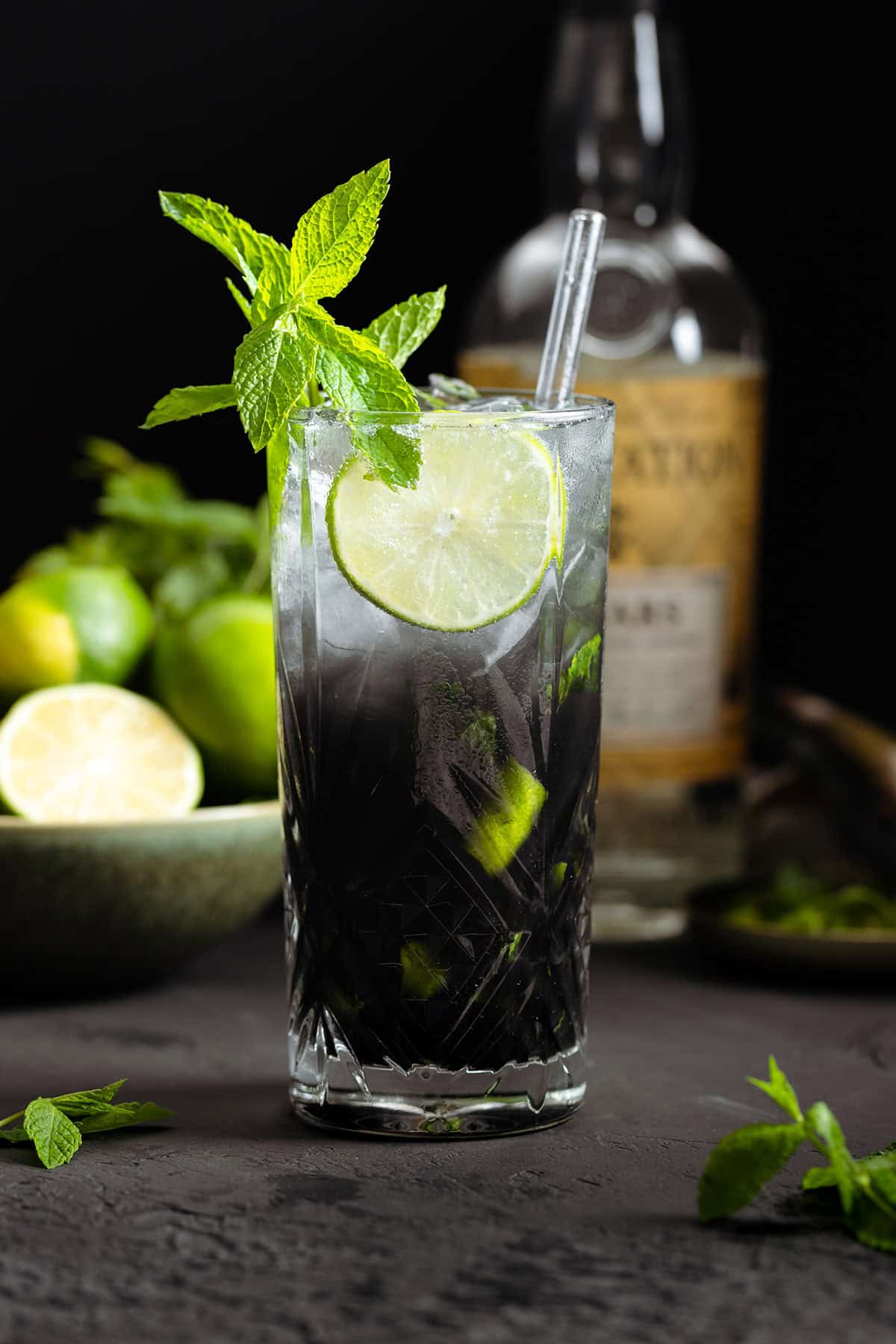 Jump to:
Why This Recipe Works
Perfect for Halloween - Adding charcoal to cocktails is my favorite way to turn classic cocktails into spooky ones for special occasions just like I did with this Black Margarita!
No food coloring - Activated charcoal is sold as a supplement in health food stores and is completely natural. It usually comes in capsules you can easily open. It's a great addition to any foods you want to turn black without the use of food coloring!
Easy to make into a mocktail - You can easily turn this mojito into a black lemonade by leaving out the rum. It'll still be delicious and a fun drink to serve!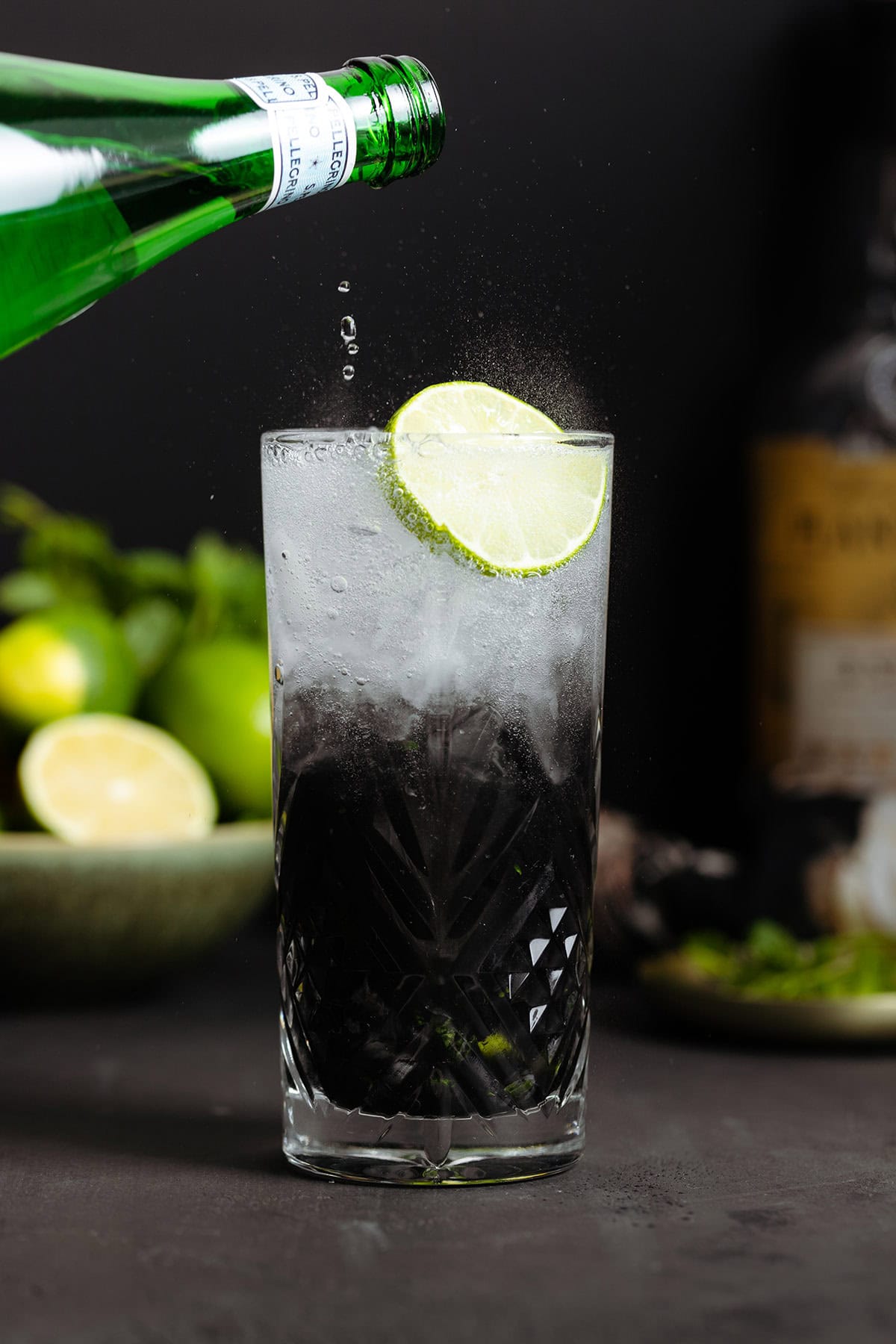 Ingredients
White rum - This is a classic for a mojito and it can't be missing in this one! My go-to brands are Bacardi or Plantation. Bacardi is very mild and most often used in cocktails. Plantation has a stronger taste and will be more noticeable in a cocktail.
Fresh mint - Both spearmint and peppermint work. Peppermint has a stronger flavor but they can both be used.
Lime - Fresh lime is necessary because you're chopping it up into the drink. If you're in a pinch, you can use bottled lime juice (preferably not from a concentrate) but I highly recommend using fresh lime.
Cane sugar - Any sweetener works here. Cane sugar is the most natural tasting one that won't change the flavor of the drink. Maple syrup or agave also both work great.
Activated charcoal - I use capsules that you can open and empty into the drink. Look for ones that only contain activated charcoal and no fillers. Sometimes they also contain ginger which is fine, it doesn't add any flavor. Charcoal is flavorless and helps with digestion. It's also said to help with hangovers so it's a great addition to a cocktail!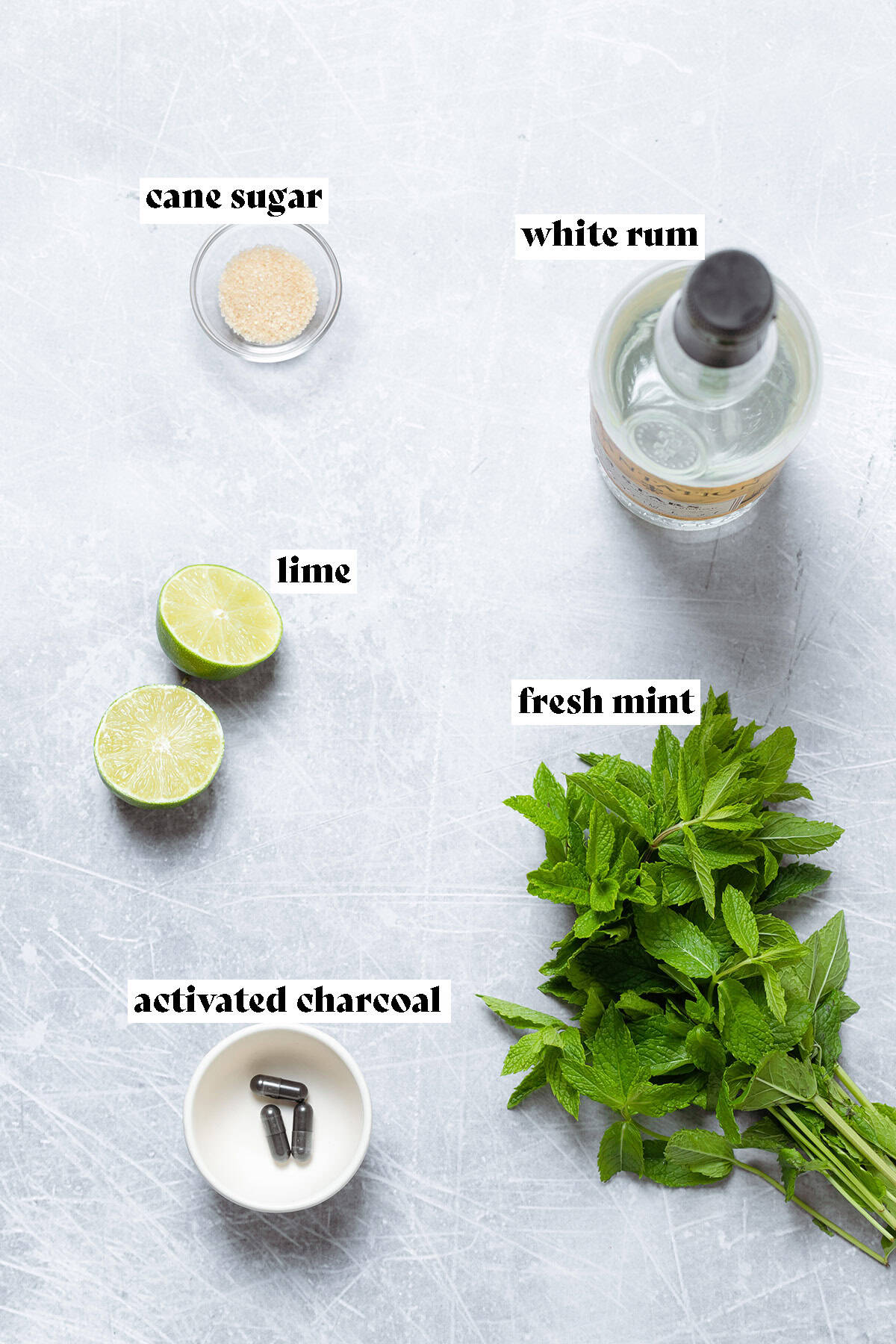 Step-by-Step Instructions
Making this cocktail is super simple, it's just like any other mojito, except you're adding charcoal in there to make it black!
Start by chopping your lime and adding it to a tall glass with a handful of mint leaves and cane sugar. I like saving a slice of lime and a spring of mint for garnish.
Use a cocktail muddler to mash everything together and release the juices.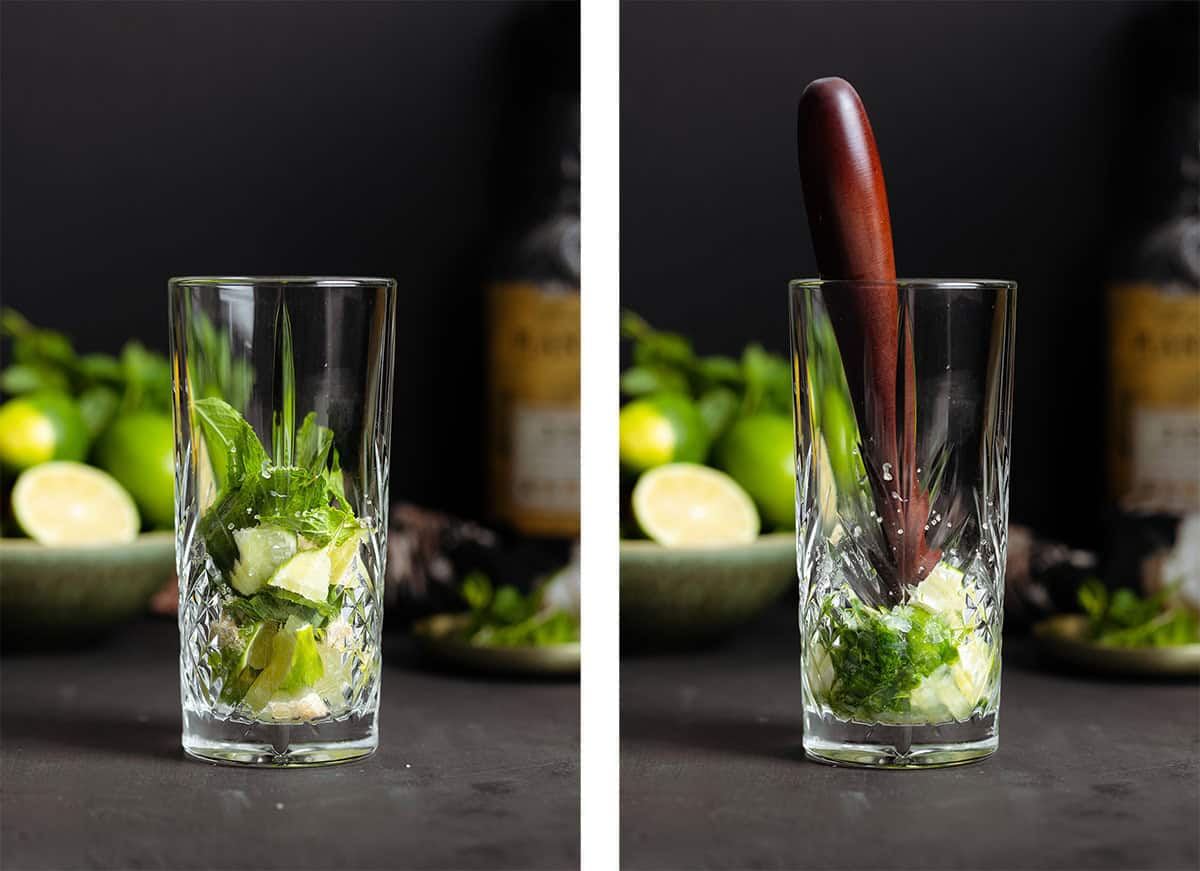 Open up one activated charcoal capsule and add it to the mashed lime and mint. Add white rum and mix everything together with a cocktail spoon.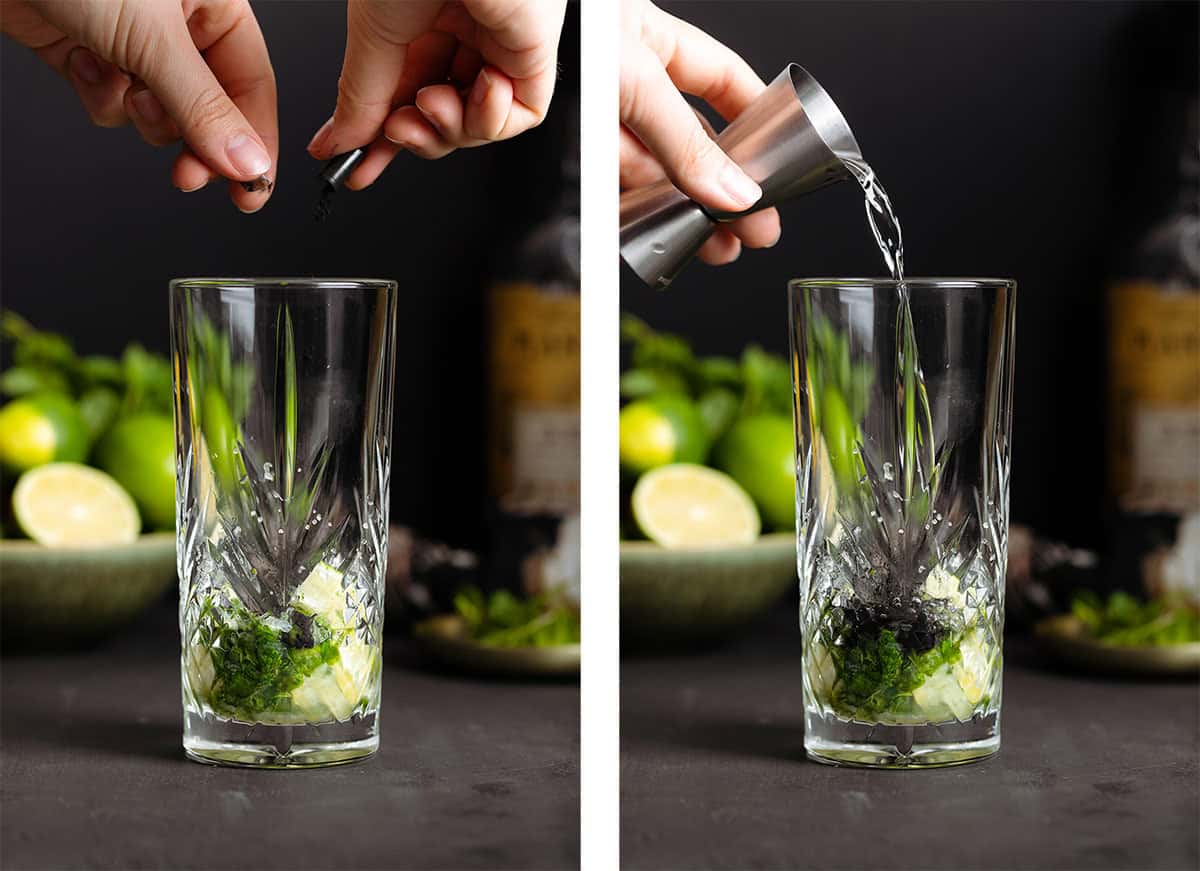 Fill the glass with ice and add your reserved slice of lime. Top up the drink with sparkling water or flavored soda and garnish with a string of mint. Serve immediately and enjoy!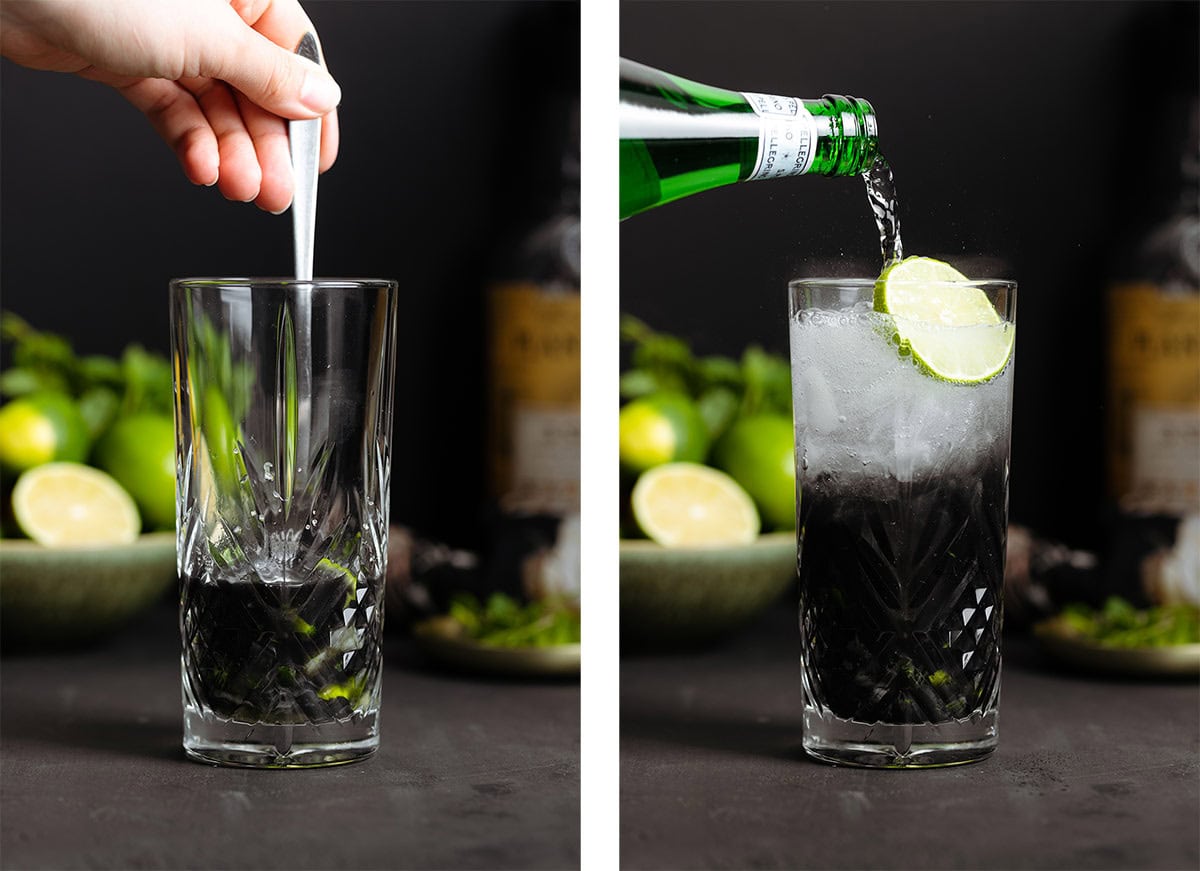 A Mocktail Version
Making a non-alcoholic version of this drink couldn't be easier! All you have to do is skip the rum and you can follow the rest of the instructions as you normally would.
I recommend using a flavored soda instead of plain sparkling water to make the drink more fun. I like lime-flavored ones without added sugar like Lacroix but any soda you like and have works!
FAQs
What is activated charcoal?
It's charcoal that has been treated with oxygen at high temperatures. This process reduces the size of the pores and increases the surface area. This makes the charcoal more absorbent. I recommend always choosing coconut charcoal.
Does it have any flavor?
No. Activated charcoal is black odorless and flavorless powder. It won't change the flavor of the drink but if you add too much, it might taste a little "powdery". One capsule is enough for 1-2 drinks.
What is activated charcoal used for?
It helps with digestive issues and can even help with immediate food poisoning because it absorbs anything it comes in contact with and helps the body to detox. It's also said to help with hangovers when taken before drinking and the next morning. Always remember to drink plenty of water because charcoal can be dehydrating and so is alcohol. (This is not meant as medical advice. Always consult a doctor before adding any supplements to your diet.)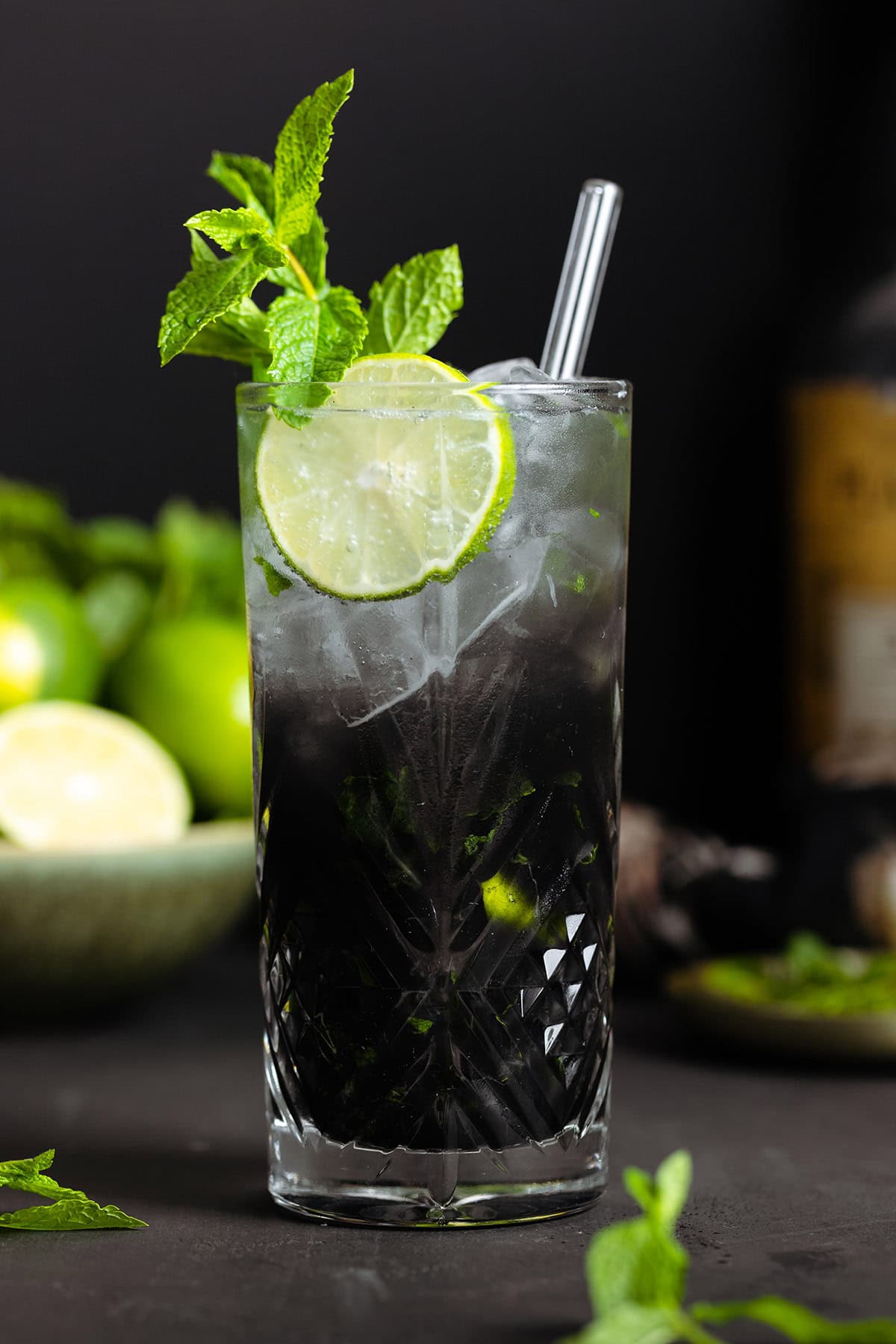 Other Rum Cocktails
Mojito is definitely my favorite cocktail which is why there are multiple variations on the blog. If you'd like to try a more fall-appropriate cocktail, try this Spiced Rum Apple Cider Cocktail. To see all the latest cocktail recipes, head over to the Cocktails category!
Print
📖 Recipe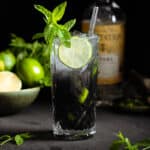 Black Mojito
Author:

Veronika | thehealthfulideas

Prep Time:

10 mins

Total Time:

10 minutes

Yield:

1

1

x

Category:

Cocktail

Method:

Mixing

Cuisine:

Cuban

Diet:

Vegan
---
A handful of fresh mint leaves (about 15, plus more for garnish)

1

lime, sliced and chopped (save a slice for garnish if desired)

½ oz

simple syrup or

2 tsp

maple syrup

2 oz

white rum

1

activated charcoal capsule (approx.

¼ tsp

)
Ice
Sparkling water
---
Instructions
Add mint leaves, chopped lime, and simple syrup to a tall glass.
Using a cocktail muddler, muddle everything together to release the juices of the lime and the mint.
Add the white rum and empty one charcoal capsule into the glass. Swirl the drink around to mix everything or use a long cocktail spoon to stir everything together.
Fill up the glass with ice and top up with sparkling water. Don't stir again, the sparkling water should create a fun ombre effect with the black cocktail staying on the bottom.
Garnish with a slice of lime and a spring of fresh mint. Serve with a straw and stir before enjoying.
---
Keywords: black mojito, activated charcoal