This post is sponsored by iHerb. All opinions are my own.
---
Hello, friends! I'm officially back and I have the perfect fall recipe for you! This vegan Apple Pie Cake is absolutely scrumptious and I'm happy to be sharing the recipe with you today. Especially with Thanksgiving coming up (unless you're in Canada like me, that is) — it can be something you bring for dessert for those folks who don't believe vegan desserts can actually taste good. ;)
Speaking of Canada, it's been getting cold lately and although I'm actually quite happy about that, whenever it gets colder (or in general because let's be real, I'm a lazy human being) I like to shop online. Back home in Prague, I used to order even groceries online. It's such a time saver! You know I've talked about iHerb several times in the past and you know how much I love to shop on their site. You can check out my Top 10 Superfoods post from 2015 where I talk about my favorite superfoods and link the products on iHerb. (2015? wow, the time flies!) That post pretty much revolves around chocolate and I actually use three of the superfoods from that post in the frosting/filling for this cake! It's cacao powder, lucuma powder, and mesquite powder. Come to think of it, you could use some maca powder too in this for a little energy boost. I absolutely LOVE adding superfoods to my daily meals and sneaking them in when no one expects them is my favorite thing to do.
One of the reasons I shop on iHerb is the sheer volume of the products they have available. There are over 5,000 grocery products AND they ship to over 160 countries which is A+ in my book, mostly because until a few months ago, I lived in the Czech Republic and couldn't get certain products any other way. Their customer service is amazing too, I have to mention that. They offer support in 10 languages and when I had a problem with something being torn or broken in the package, they refunded me the money no questions asked.
PS: New customers can get 5% and $5 off their orders of $20 or more! Learn more at the end of this post.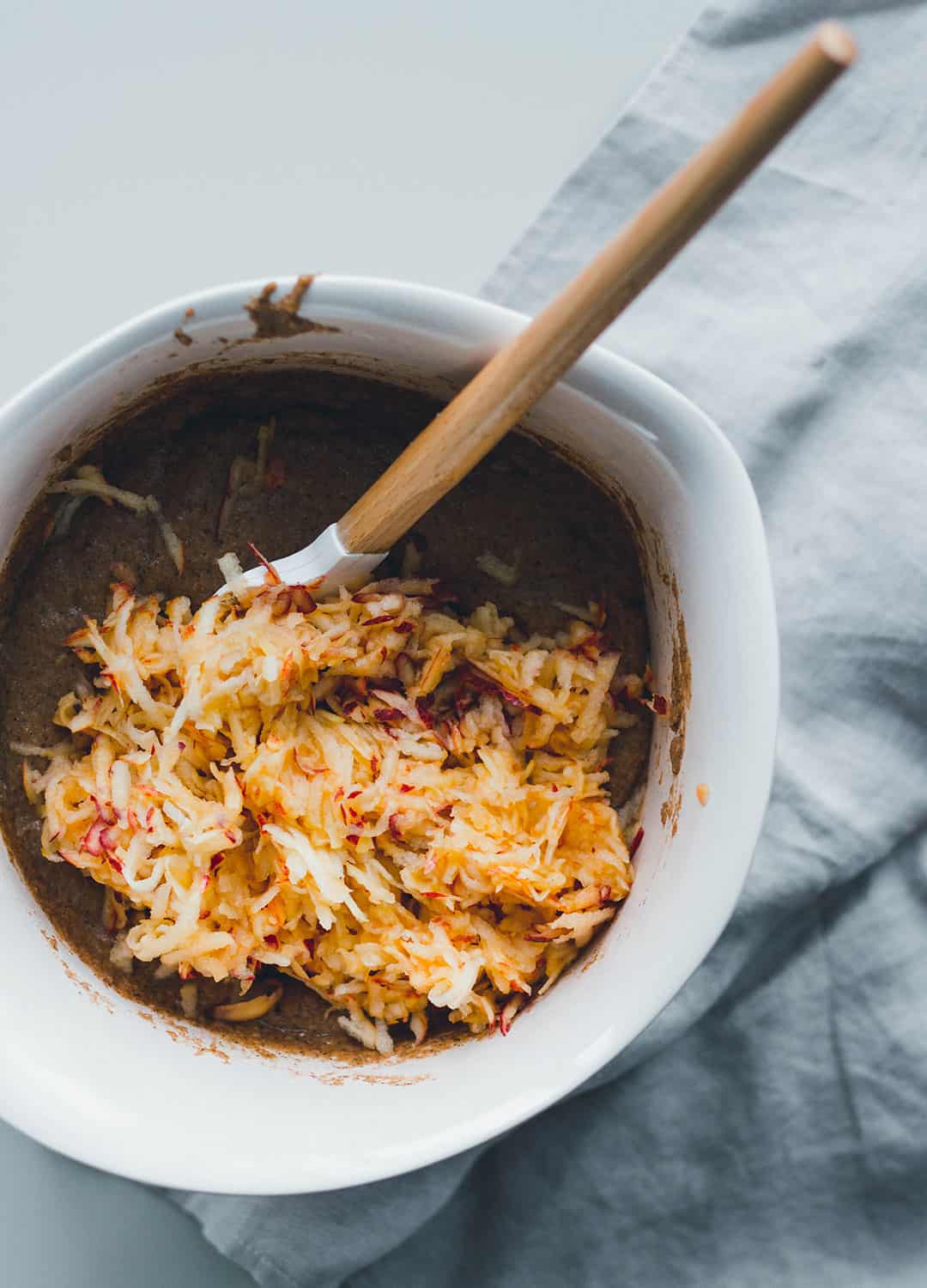 To me, fall is the perfect excuse to bake desserts and make all the comfort food you can possibly think of. All the spices make your whole house smell amazing and it just feels natural to cook hearty meals and denser desserts when it's getting chilly outside and the leaves start to turn to shades of apple pie. Making this cake just wouldn't feel right in any other season. Just like you don't have watermelon slushies in January, you don't make apple pie in spring. Nowadays, you can grow basically anything all year round but fresh produce just tastes so much better during its peak season. I love going to the farmer's market and shopping from local farmers fruits and veggies that are in season at that exact moment. The best fresh fall produce you need in your life are pears, apples, persimmons, pomegranates, brussels sprouts, sweet potatoes, pumpkins, and beets. You could totally serve this cake with sliced persimmon! So delicious.
Let's talk more about the ingredients.
I already told you about the lucuma and mesquite superfood powders. They're a great addition to anything that involves chocolate, vanilla or the combination of both. Or in this case, they go really well with apple pie spice. I love using them with cacao, vanilla powder, frozen bananas, cherries, and almond milk to make healthy chocolatey ice cream! So versatile — smoothies, cakes, ice cream, raw chocolate, you name it.
Speaking of versatility, I love using cashews for everything from frosting to snacks and salad dressings. That being said, I tend to struggle so much with finding good quality ones that don't have weird dark not-so-good looking spots on every other nut. For the filling in this recipe, I used these cashews from Nutiva and I honestly have to say I was surprised by the quality! I had two packs and both were awesome quality. It's good to always go for organic cashews and avoid buying them from random places where they could've been lying around for a long time and/or in warm places. Nuts are very susceptible to molds so it's best to buy them from reliable sources and store them in the fridge or the freezer if you're planning on keeping them longer, especially if you live in warmer climates.
I also recently discovered this organic raw almond butter and I've been loving baking with it. It's surprisingly hard to come across completely clean nut butter made only with 100% nuts nowadays. That's what I kind of miss about Europe — things usually have a much shorter ingredient list. That's one of the main reasons I shop on iHerb. Why bother running around the city looking for almond butter when I can just look it up online on a site I know I can trust?
As I was saying in the beginning, I have a discount code for you to use! <3
→→ Use ZLN873 at checkout to get 5% off your iHerb order with no minimum purchase.
Or you can also use this link to get $5 off your first purchase of $20 or more. That can basically get you this cinnamon for free and how could you say no to cinnamon?? Literally, though, I probably go through a jar of that stuff every month, its crazy. I put it in everything sweet — oatmeal, smoothies, pancakes, cakes, chia puddings, or sprinkle it on fruits and it's amazing.
Anyways, I hope you love this recipe as much as I do please let me know in the comments or on social media if you make it, I'd love to see your results. Happy fall! xx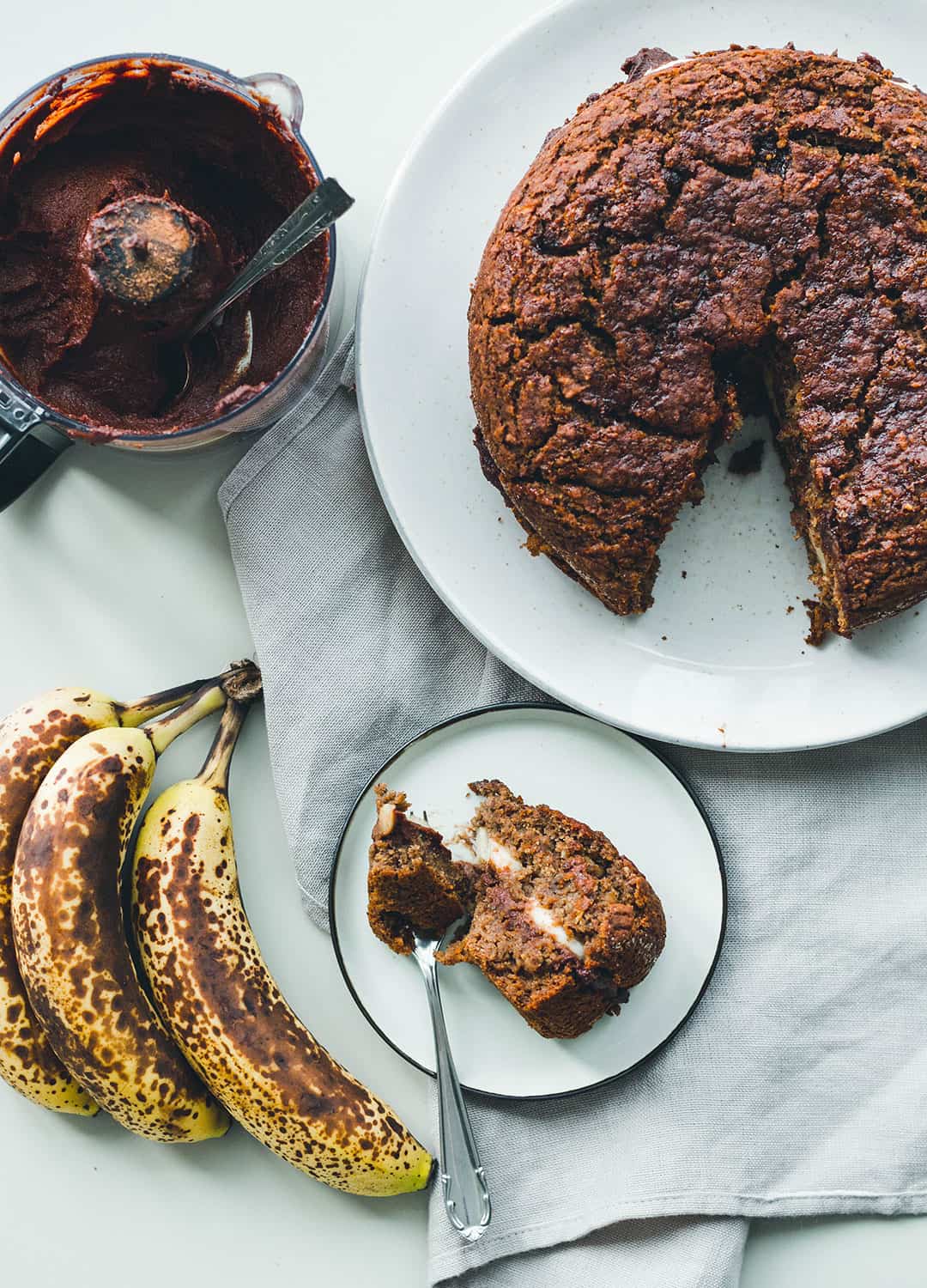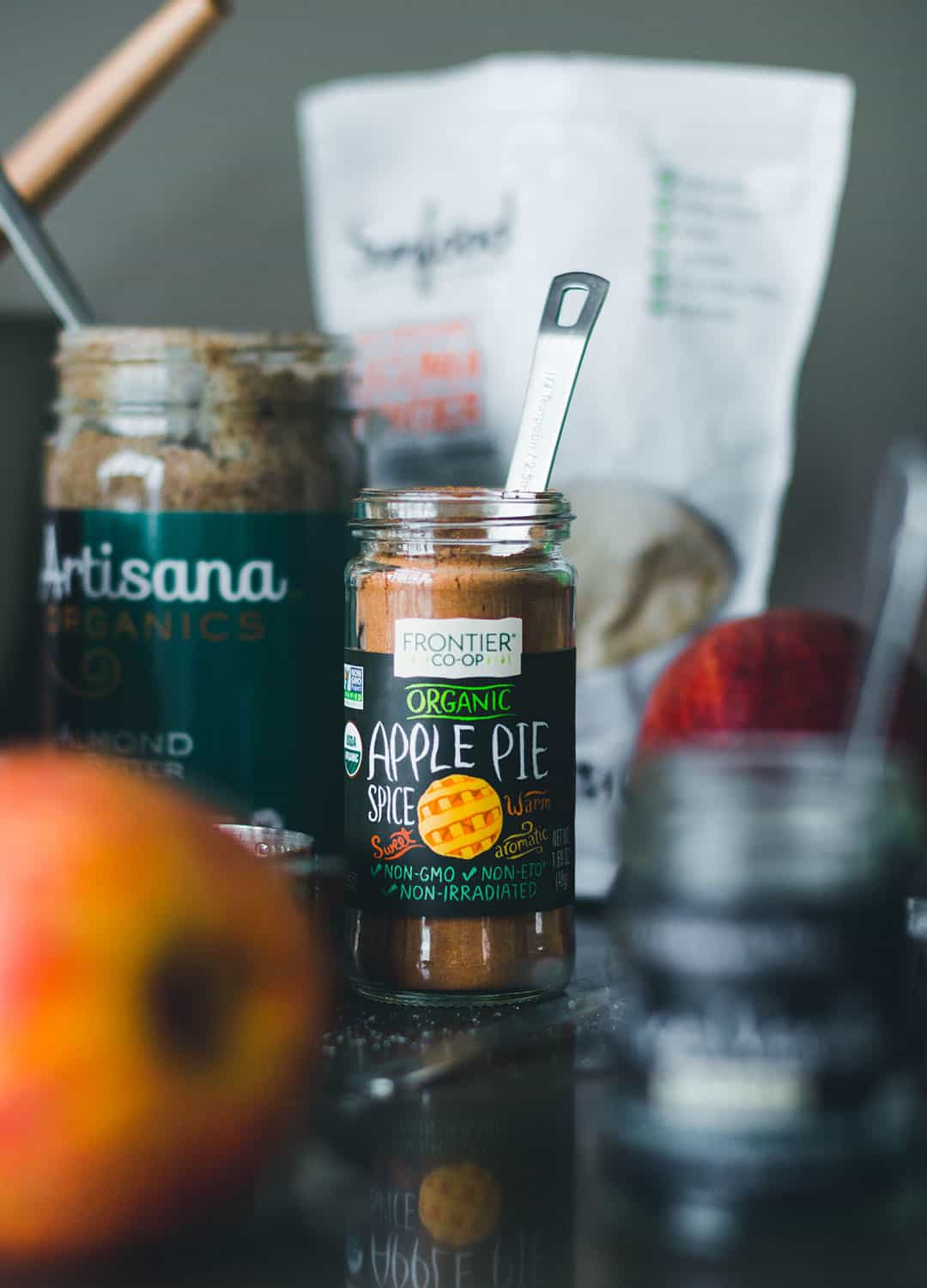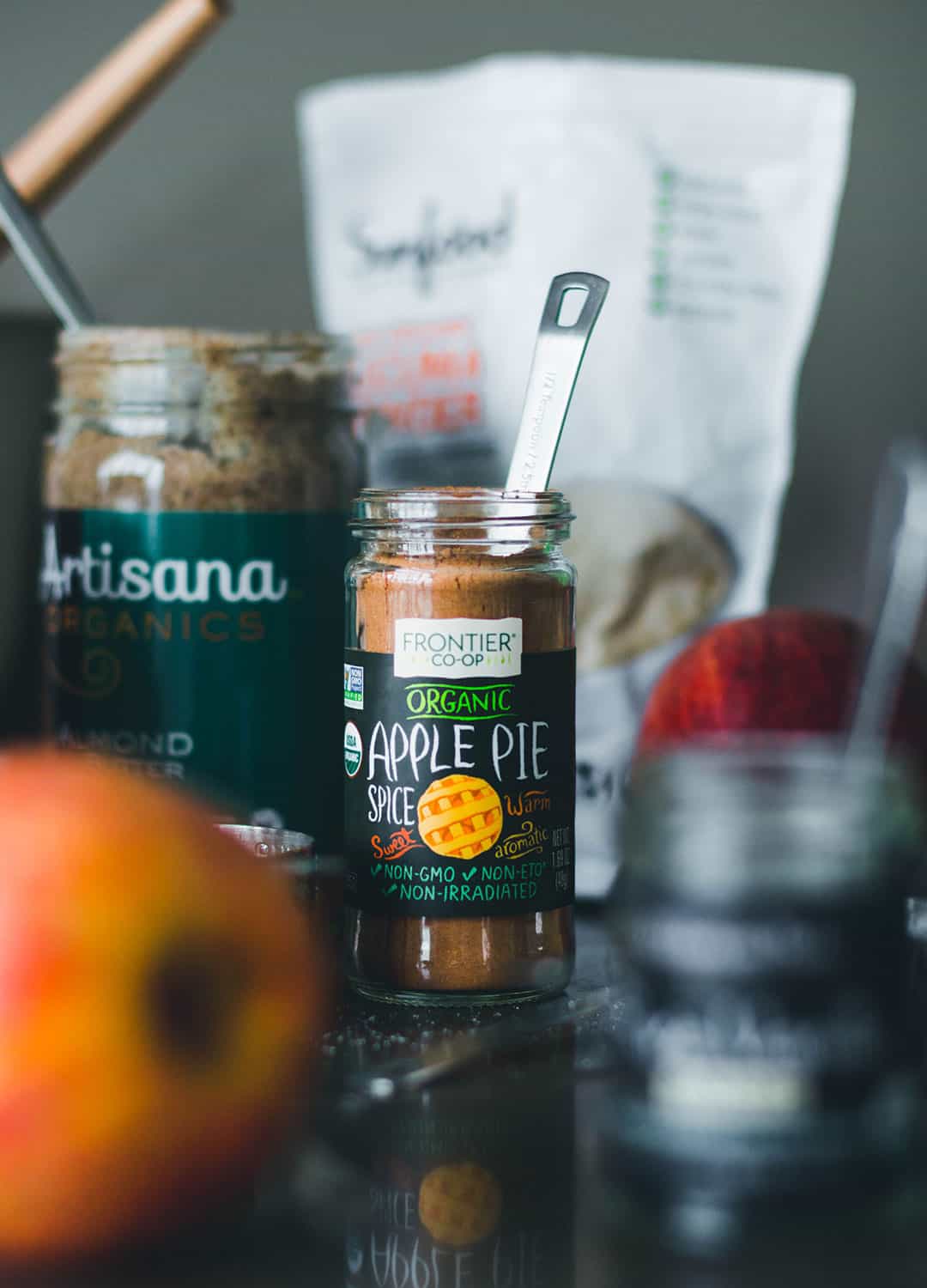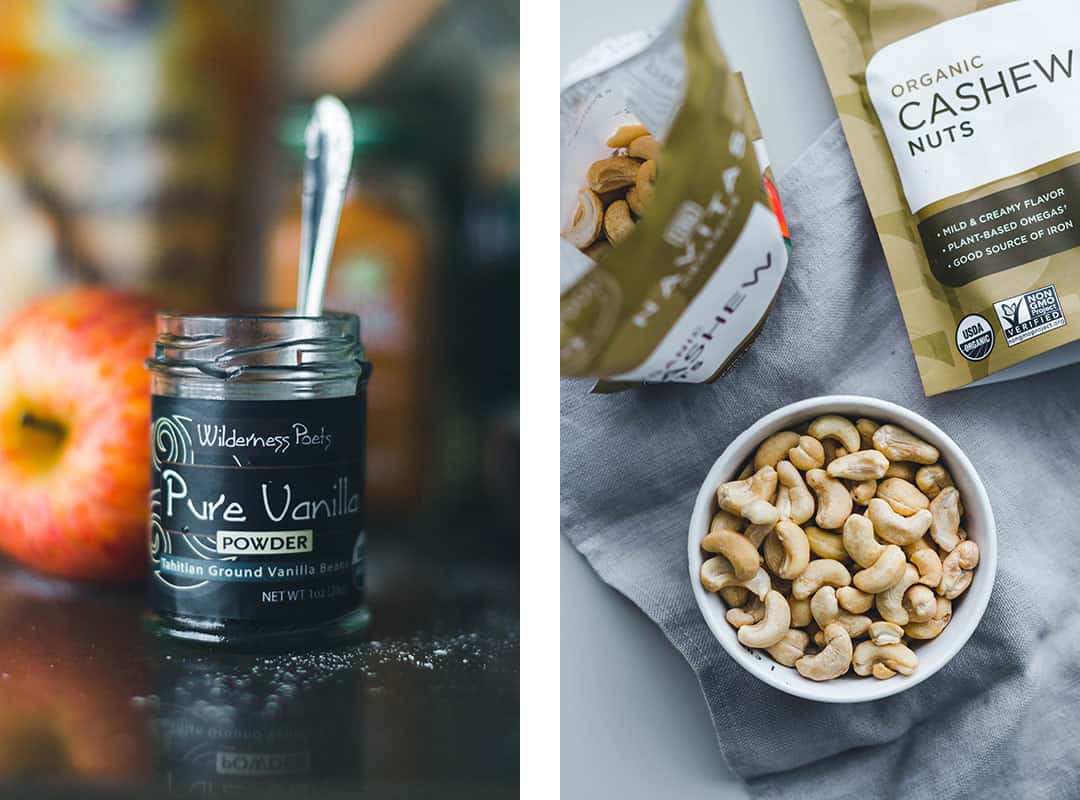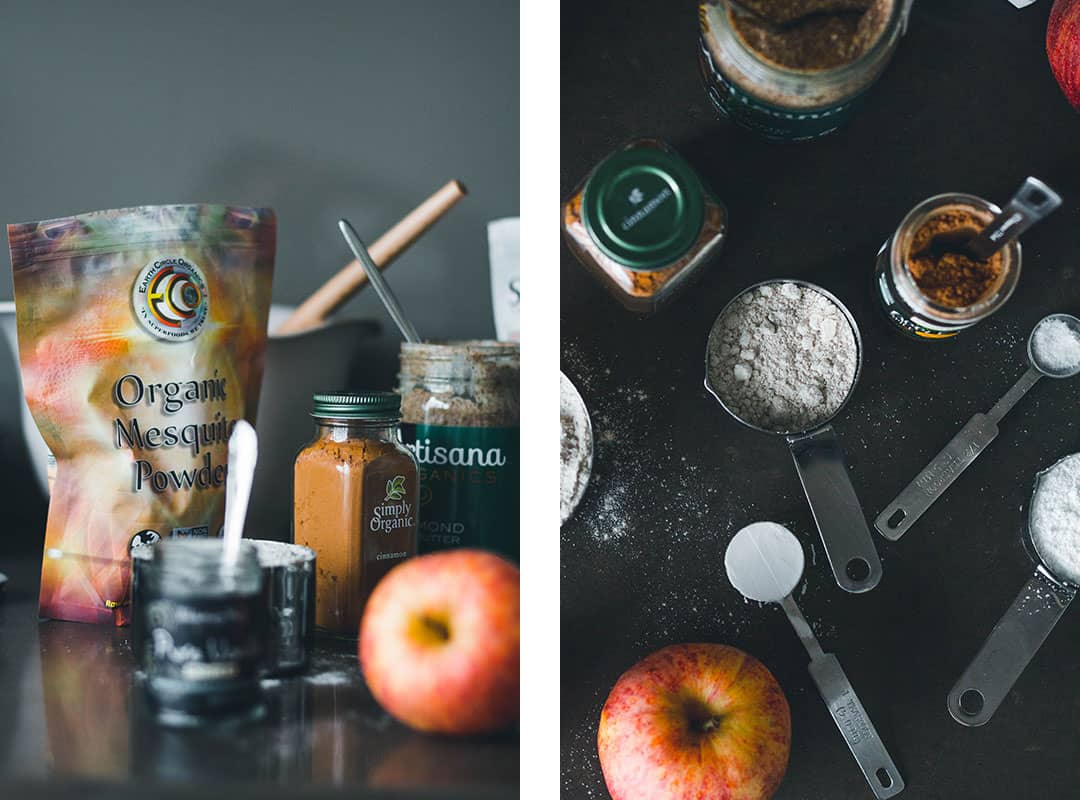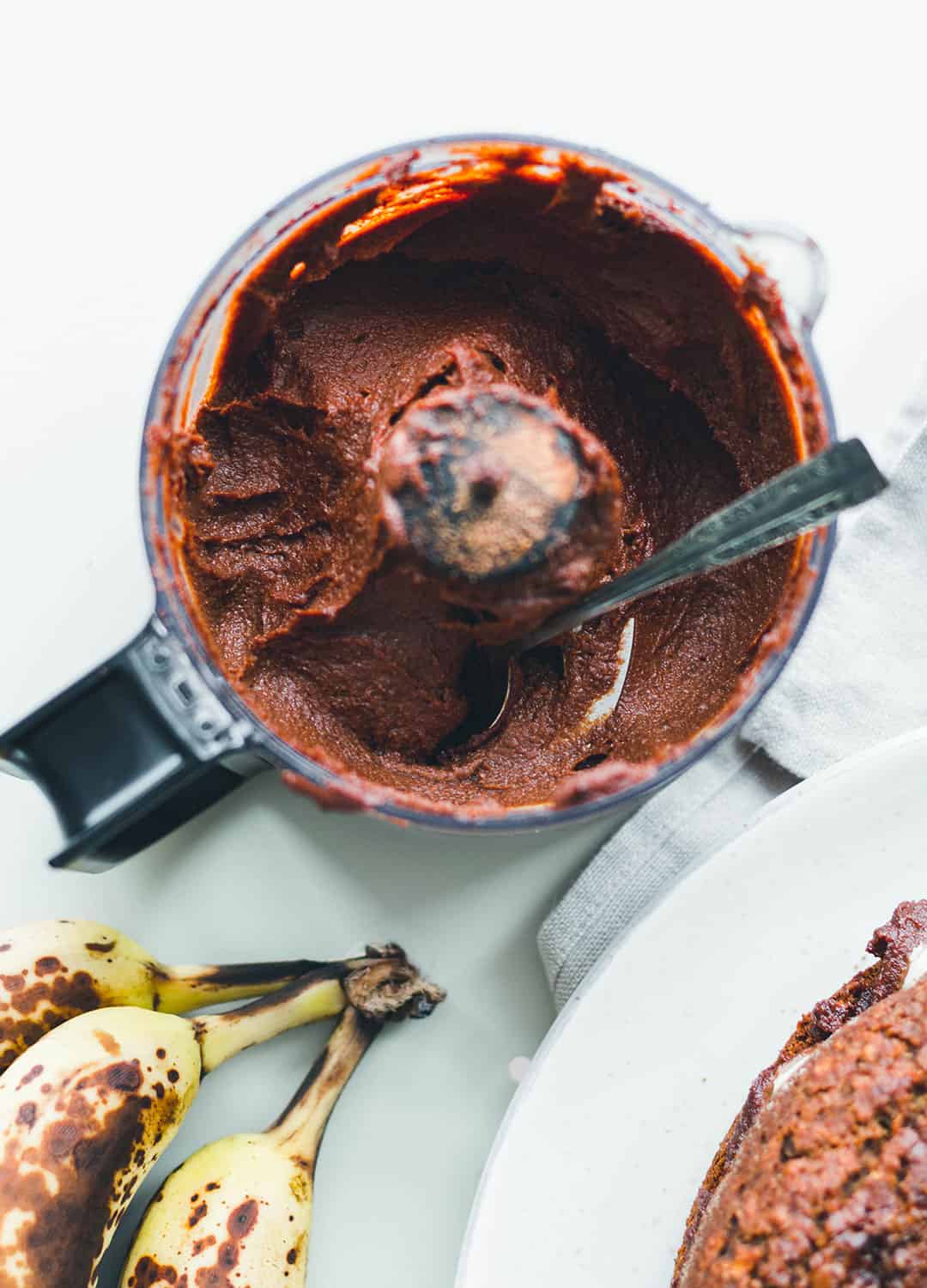 Print
📖 Recipe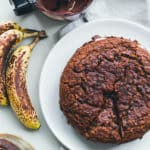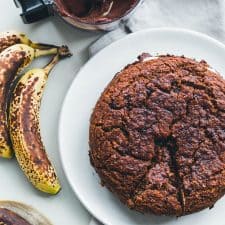 Apple Pie Cake with Chocolate Cashew Filling (V, GF)
---
---
Instructions
CAKE:
Start by preheating your oven to 350F (175C).
In a big bowl mix all your dry ingredients (buckwheat flour, almond flour, tapioca flour, oat flour, coconut sugar, baking powder, baking soda, ½ teaspoon sea salt, apple pie spice, cinnamon, ginger, and vanilla)
Add all the liquid ingredients (apple puree, almond milk, maple syrup, and almond butter. Mix with a spatula or a whisk until completely combined with no lumps. Mix in the shredded apples and set aside.
Grease a round cake form with a little bit of coconut oil and dust with a bit of buckwheat flour to until lightly covered. Pour in the batter, flatten, and bake for 50-55 minutes. Let it cool down completely or at least for 20 mins before removing from the pan so it doesn't break. Set aside while you make the filling.
FILLING:
Add the soaked cashews into a food processor and process until there are no visible cashew pieces. Add the lucuma, mesquite, cinnamon, vanilla, and salt and process to combine.
Add the maple syrup and almond milk and mix again.
Add the cacao (all at once or a little by little) and process until well combined. You might need to scrape the sides down to help it mix.
When the cake's cooled down, slice it in the middle, carefully remove the top layer, spread about ½-2/3 of the frosting, and cover with banana slices. Cover with the top layer of the cake carefully. If you add less filling inside, you can use the rest to decorate the top of the cake using a piping bag (I didn't have one but the filling holds up pretty well for this).
Enjoy immediatelly or refrigerate until ready to eat. Keeps in the fridge for 2-3 days.
---