This Vegan Creamed Spinach is the perfect side for when you're looking for a lighter but just as delicious version of that classic creamy spinach we all know. The secret is cashew milk and nutritional yeast. So good and creamy, you wouldn't believe it's dairy-free!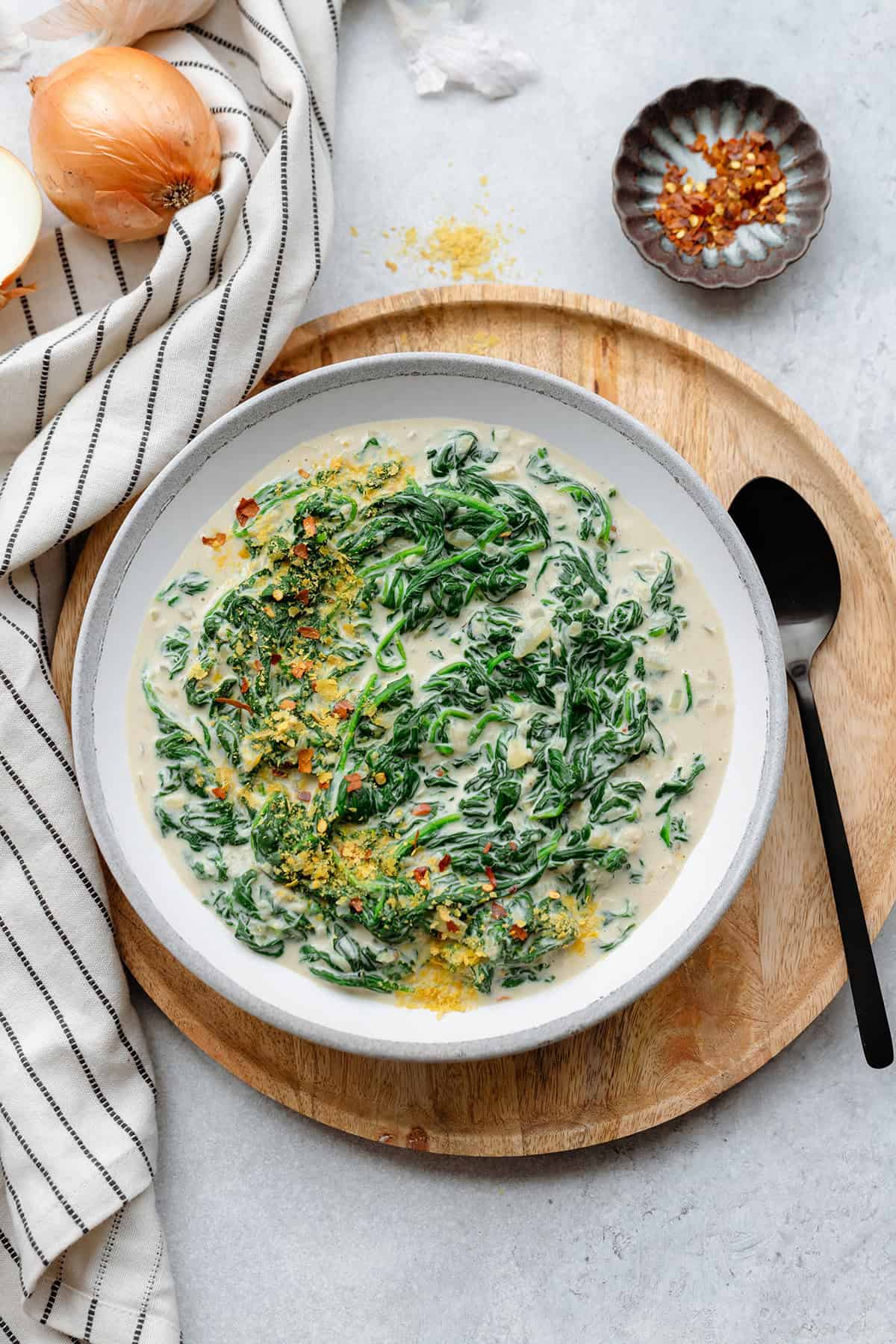 Jump to: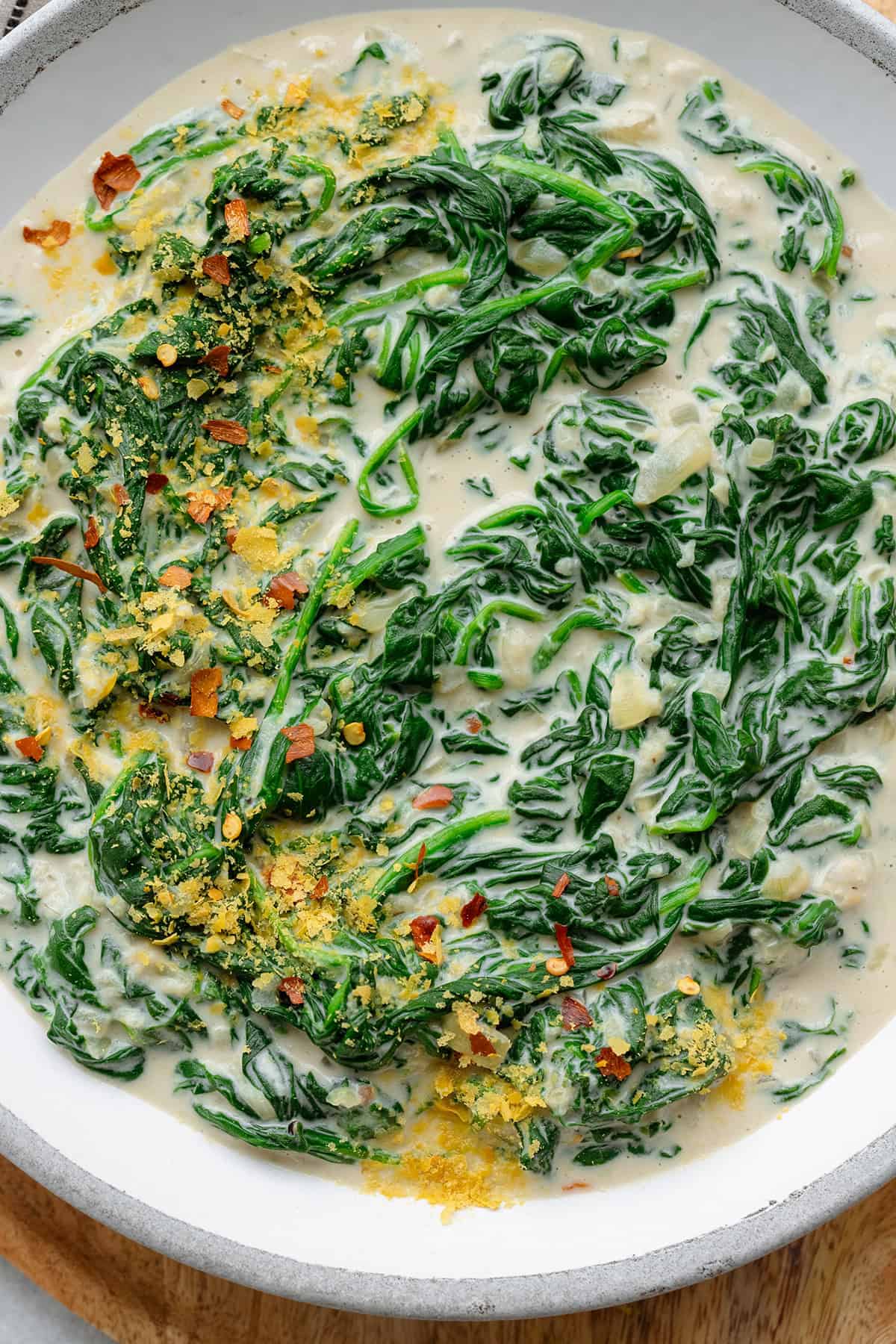 Why This Recipe Works
It's healthier and dairy-free - Creamed spinach is such a popular dish but it can be a little too heavy sometimes so I really wanted to make a dairy-free creamed spinach with no cream or cheese. The result is so good and so easy to make that I can't believe I haven't made this recipe sooner.
It's simple - This recipe doesn't call for any hard-to-find ingredients. Most of what I used are staples in most vegan kitchens so don't expect you to have any problems there. Even if you don't have any of the ingredients, they should be really easy to find.
The secret is cashew milk - It makes for super creamy spinach and has a milk flavor that works well in savory dishes.
Nutritional yeast makes it cheesy - This recipe is completely vegan and it calls for nutritional yeast and a small splash of tamari for the cheesy, salty, and umami flavors. Tamari is optional but I highly recommend the nutritional yeast.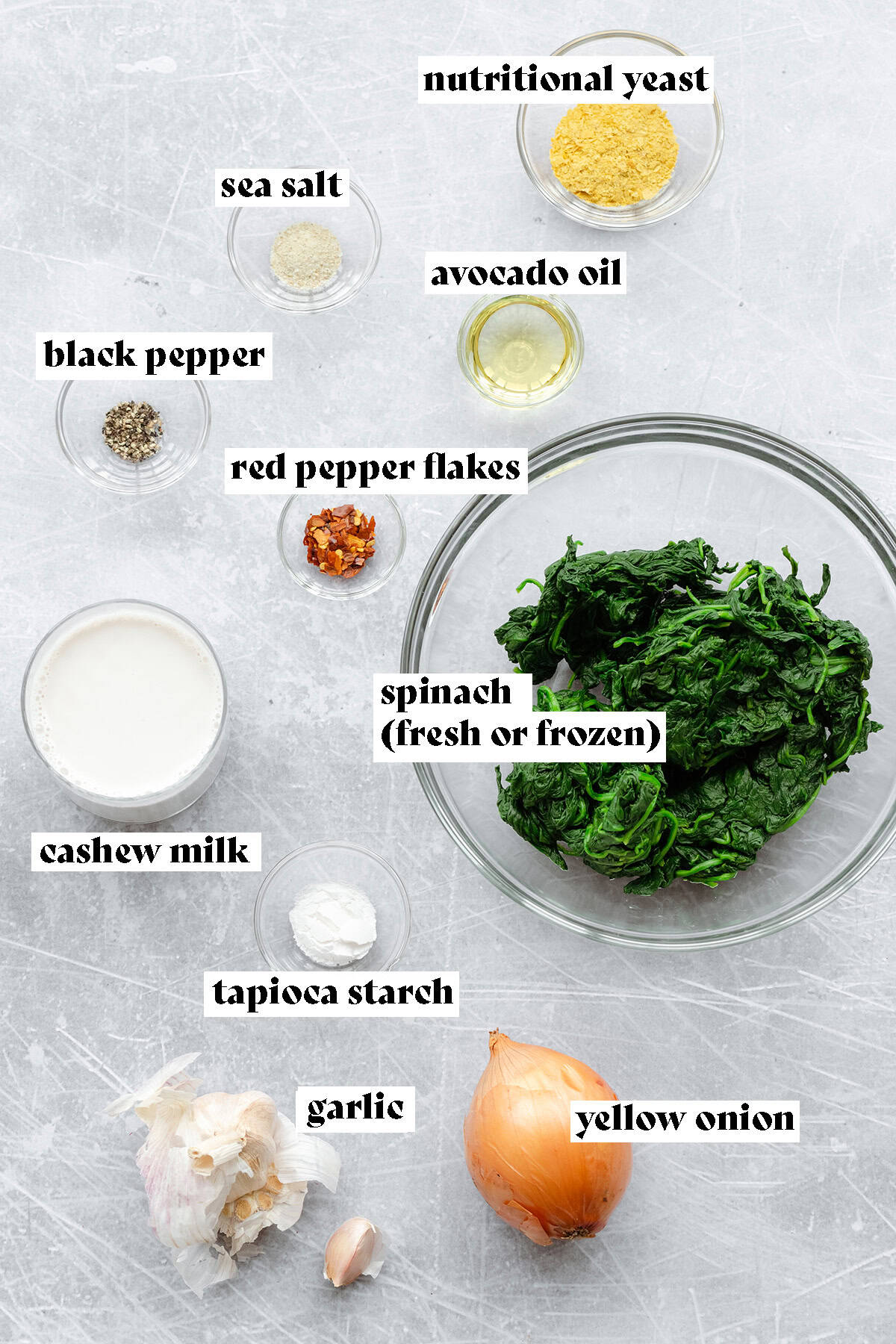 Ingredients
Spinach - I'm using baby spinach because it's easier to find for me and it's less bitter than regular spinach but either work.
Onion and garlic - These two are sauteed with avocado oil and make up for a large portion of the flavor of the dish so I wouldn't skip them. Yellow onion works the best.
Nutritional yeast - There really isn't anything this could be substituted with aside from actual cheese. It adds a specific cheesiness and umami flavor to the dish that can't be replicated. I also add a splash of tamari to add even more umami and saltiness but that can be skipped.
Cashew milk - I like using cashew milk in this recipe because it has a very mild flavor and tends to be creamier than almond milk would be. Almond milk works too, it just might add a slight almond flavor. I don't recommend oat milk because it's too thin for this recipe. Light coconut milk works too but will taste really coconut-y.
Tapioca starch - I mix one teaspoon with water and mix it into the milk in the pan. The milk will thicken slightly on its own, the tapioca starch makes it better but can be omitted. You can also use arrowroot or corn starch.
Step-by-Step Instructions
There are a couple of different ways you can go about making this dish.
You can use either fresh or frozen spinach. If you use fresh, I highly recommend blanching it. That means you'll briefly cook it for less than a minute and immediately transfer it into an ice bath. This helps the spinach to stay vibrant and it gets rid off a lot of the liquid that would water down your creamed spinach.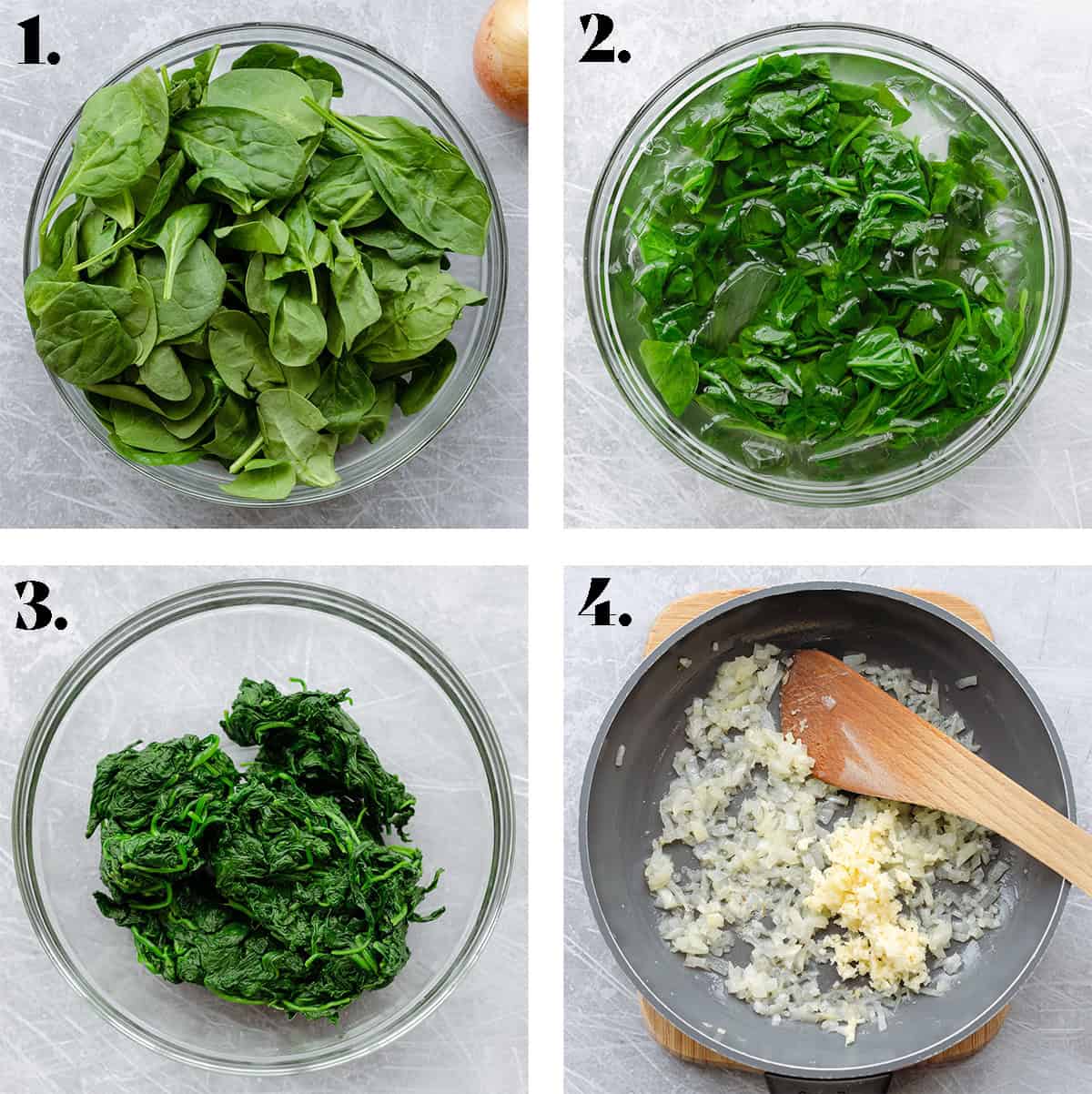 Step One: Wash your baby spinach and set it aside. Prepare a large bow filled with ice and water. Bring a pot of water to boil over medium-high heat. Cook the spinach either all at once or in batches, there's a lot of it but it will cook down a lot.
Step Two: Transfer the blanched spinach into the ice bath to cool down for about half a minute.
Step Three: Squeeze as much liquid as you can out of the spinach. This step is important, if you don't do it, your creamed spinach might be too watery.
Step Four: Sautee chopped onion with avocado oil for a few minutes. Add the minced garlic for the last minute.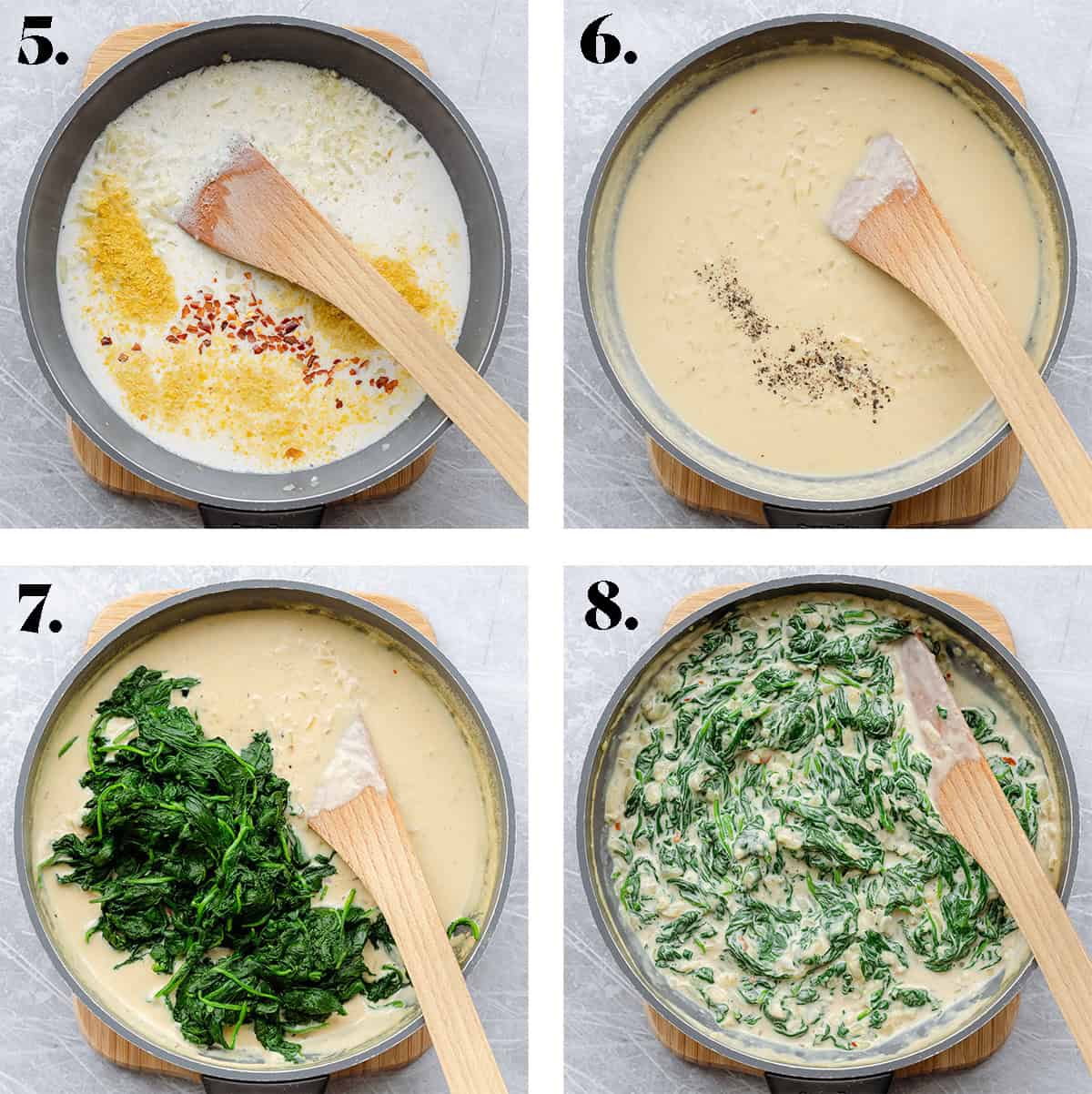 Step Five: Add the cashew milk, nutritional yeast, chili flakes, and salt and pepper. Stir.
Step Six: Mix the tapioca starch with a splash of water and whisk it into the sauce.
Step Seven: Add the spinach. If you're using frozen, make sure it's defrosted and you squeezed out as much liquid as possible.
Step Eight: Mix it all together well and add more chili flakes, nutritional yeast, salt or pepper to taste.
What to Serve It With
Creamed spinach is a very mild side dish so it pairs really well with dishes that use lots of spices. It can work the same way as adding sour cream, cream, or milk to anything really spicy.
Stews, chilies, curries served with rice or toasted bread
Chana Masala served with this spinach and rice is my latest obsession and I highly recommend it.
Crispy tofu with rice and roasted veggies
Non-vegan - Roasted salmon is my absolute favorite but chicken would also work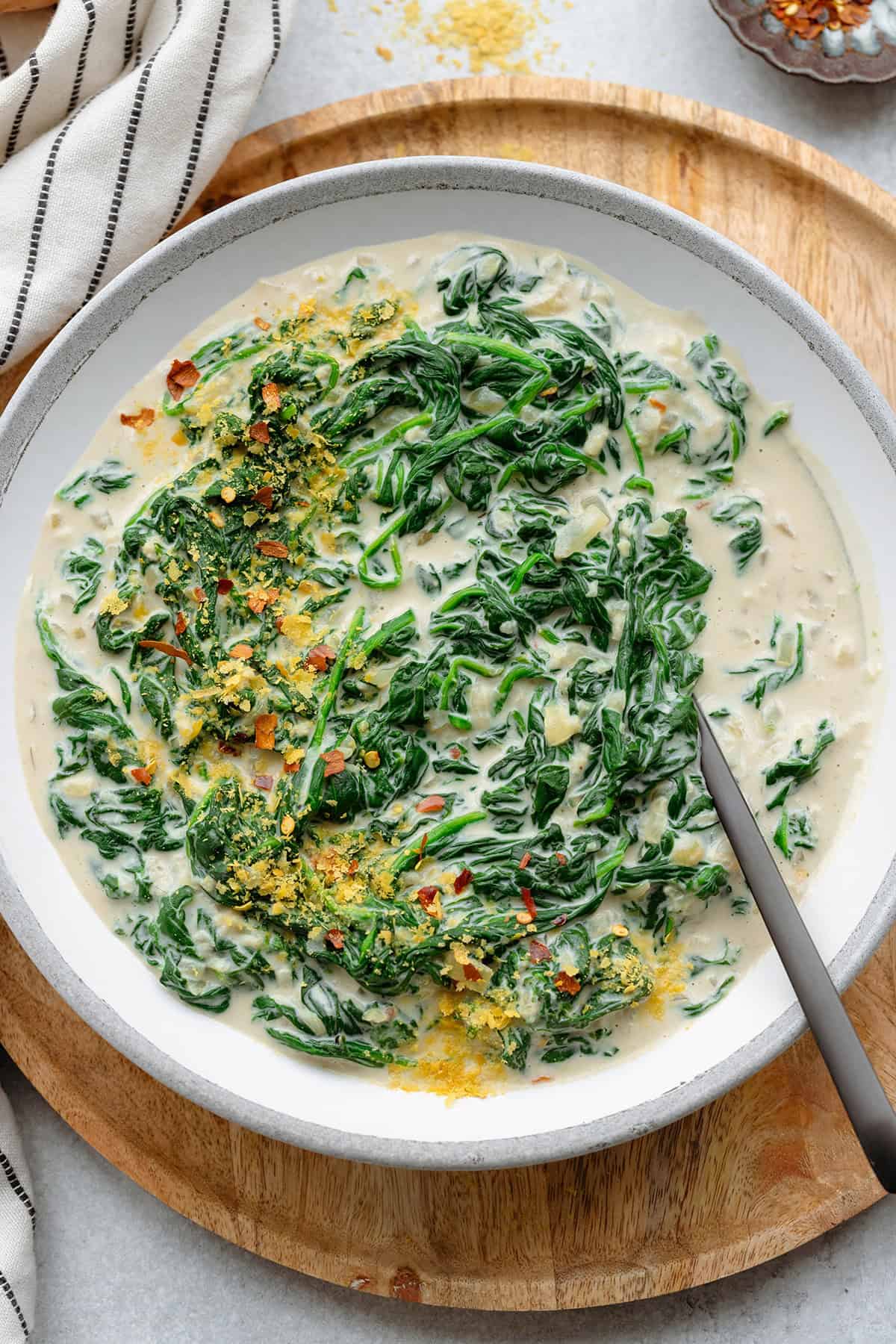 Storing and Reheating
The cooked spinach keeps in an airtight container in the fridge for 2-3 days. Wait for it to cool down completely before storing. I do this to avoid the milk going sour when you close it off while it's still hot.
How to reheat the spinach - Transfer the spinach to a small pot or saucepan and warm it up on the stove over medium heat. Stir it frequently and don't bring the heat up too much, it could burn easily and could splash a lot once it starts boiling too strongly. You can add a splash of milk or water if there's not enough liquid to warm it up.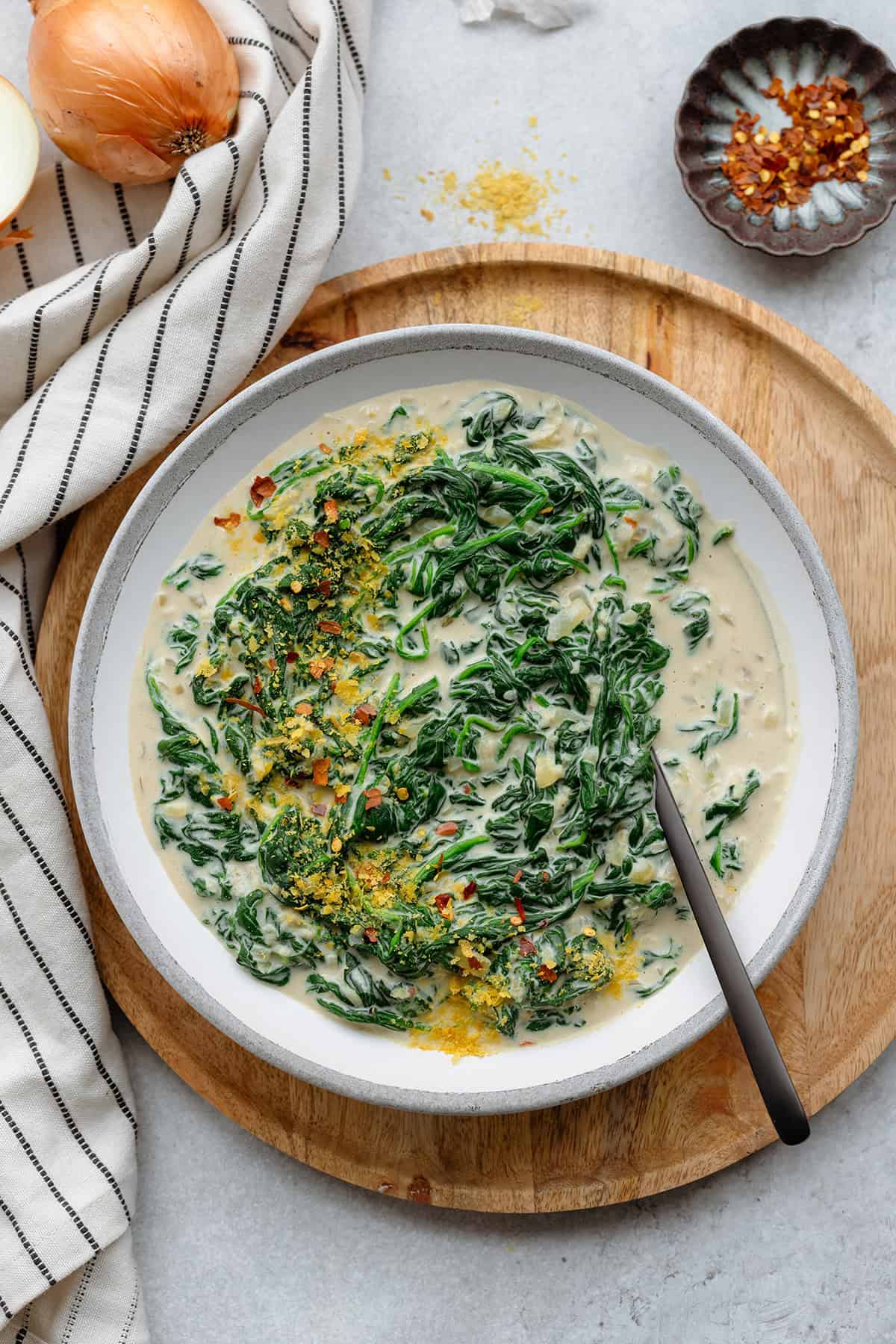 FAQs
How do you make creamed spinach less bitter?
By blanching the spinach. This gets rid of the oxalic acid which causes bitterness.
Do you have to blanch spinach for creamed spinach?
No, but I highly recommend it. You need a very large amount of spinach so it makes it easier if you blanch it before mixing it with the milk. When you don't blanch it, the result will be more watery and you won't get rid of any bitterness.
Does blanching spinach remove oxalic acid?
Yes, boiling spinach or any vegetables can get rid of a large portion of oxalic acid. This will help get rid of that weird gritty feel on your teeth when you chew spinach which is caused by the oxalic acid crystals.
Is eating raw spinach bad for you?
The short answer is no, it's not. Most people don't consume enough spinach so eating 1-2 cups of raw spinach a day is ok for most. Spinach unfortunately contains the highest amount of oxalic acid of all greens. Consuming very large amounts could limit calcium absorption and could lead to the formation of calcium-oxalate, which can cause kidney stones. This is just my opinion and shouldn't be taken as advice, always consult a doctor if you have any questions.
Can I use frozen spinach?
Yes, totally! Just make sure you thaw it completely before using and squeeze out as much liquid as possible.
What goes well with spinach?
Raw spinach is great for salads and so many other dishes. Creamed spinach has a very mild flavor so it goes well with anything spicy. I like to serve it with chana masala and rice. It's also great with salmon, chicken, or to keep it vegan, crispy spicy tofu. It's great with any spicy stews, or curries too.
Print
📖 Recipe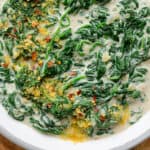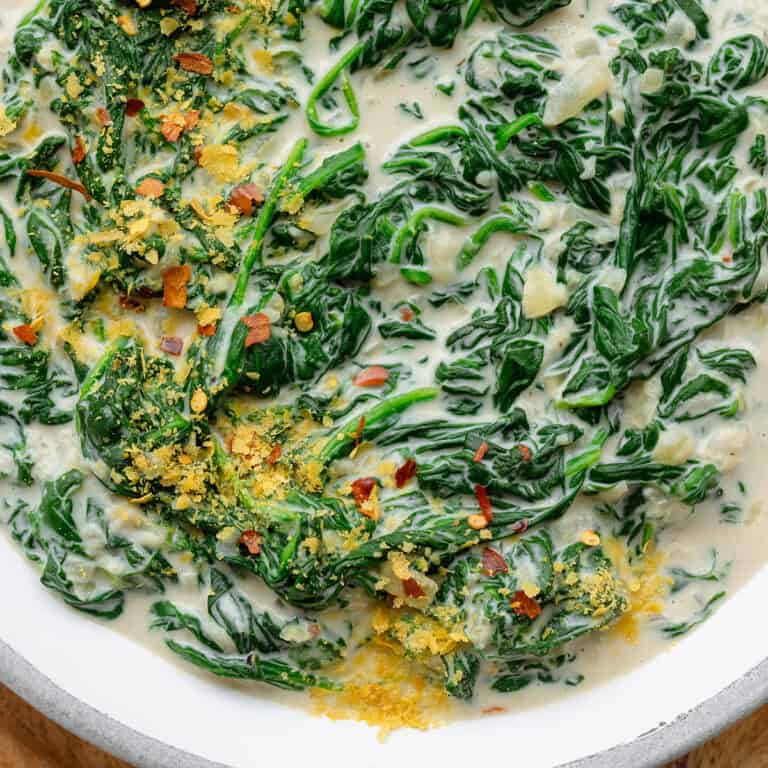 Vegan Creamed Spinach
Author:

Veronika | thehealthfulideas

Prep Time:

10 mins

Cook Time:

15 mins

Total Time:

25 minutes

Yield:

2

-4

1

x

Category:

Sides

Method:

Cooking

Cuisine:

American

Diet:

Vegan
---
Description
A dairy-free version of the classic creamy spinach side dish. No dairy, easy to make, and so delicious!
---
20 oz

raw baby spinach

1

-

2

tablespoon avocado oil (or a combination of oil and vegan butter)

½

medium yellow onion, finely diced  (makes

1 cup

)

½ tsp

sea salt

4

cloves of garlic, minced 

2 cups

cashew milk

1 tsp

tamari (optional)

2 tbsp

nutritional yeast

½ tsp

crushed red pepper flakes (more or less to taste)

1 tsp

tapioca starch
freshly cracked black pepper to taste
---
Instructions
Start by blanching the spinach. There's a lot of it so I do this in two batches. For this you need a large pot with boiling water and a large bowl with ice water.
Add the raw spinach into the boiling water, push it down and stir with a spoon until it wilts down and becomes dark green (this only takes 5-10 seconds). 
Using a slotted spoon, transfer the spinach from the boiling water into the ice water to stop the cooking process. Transfer the cool blanched spinach to another bowl and set aside. Repeat with the remaining raw spinach. Squeeze out as much of the excess water from the spinach as you can and set aside.
Heat up a large pan over medium-high heat. When hot, add the avocado oil, finely diced onion, and sea salt. Cook for about 5 minutes stirring frequently.
Add the minced garlic and cook for 30 more seconds just until fragrant.
Pour in the cashew milk, add tamari if using, nutritional yeast, and red pepper flakes.
Lower heat to medium and simmer for about 5 minutes until it thickens slightly. Stir often.
In a small bowl, mix together the tapioca starch with 1 teaspoon of water.
Take the sauce off the heat and pour in the tapioca mixture while stirring constantly. If the pan is too hot and you let it sit, it might seize up and create lumps. You can use a whisk to prevent this.
Place back on medium heat and simmer for a few minutes until the sauce thickens up slightly. 
Add the spinach, black pepper to taste, and mix well.
Serve hot with more nutritional yeast and red pepper flakes if desired.
---
Notes
Frozen spinach: Use the same amount (20oz) but let the spinach defrost completely and squeeze out excess liquid before adding it to the sauce.
Sauce consistency: If the sauce becomes too thick or reduces too much, simply add more cashew milk. If it's too thin, add ¼-½ teaspoon of tapioca mixed with equal part water. Do this only before you add the spinach. I don't recommend adding any more tapioca after you add the spinach because you won't be able to mix it in properly and it would create lumps.
Storing: Once the spinach cools down completely, store it in an airtight container in the fridge for 2-3 days.
Keywords: vegan, creamed spinach