This Pumpkin and Mushroom Risotto is the perfect creamy comforting dish to make on a crispy winter evening. Topped with sauteed mushroom and pecorino cheese.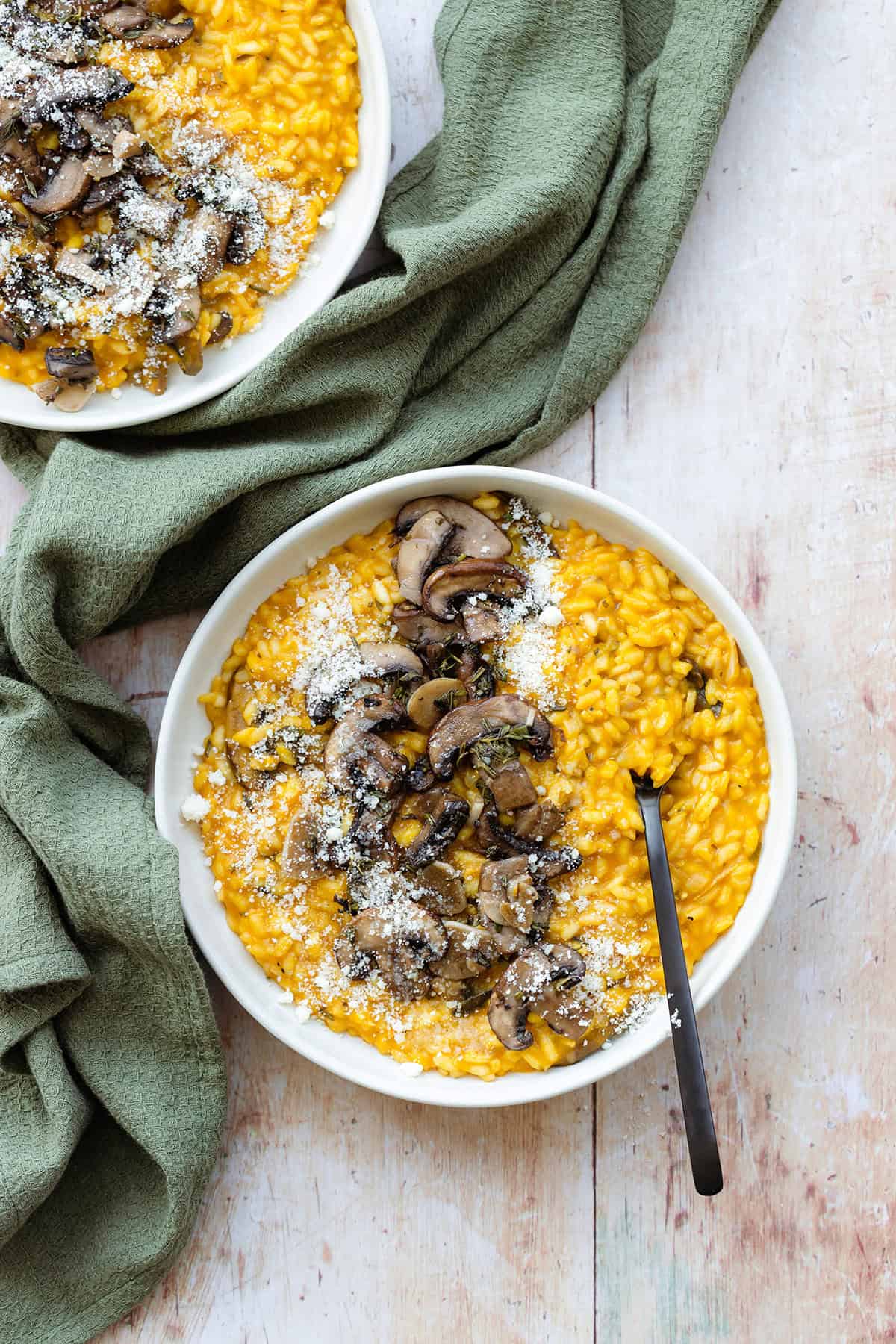 Jump to:
Why This Recipe Works
This risotto has got to be my favorite recipe I've made this fall. It's so creamy, cheesy, and full of flavor despite it being so simple.
The mushrooms are sauteed separately on a pan to add more texture to the dish. You can either mix them all into the risotto or serve them on top. I've tried it both ways and they're both delicious!
It's vegetarian (if you use vegetarian pecorino) but the entire dish can be made vegan too if you use vegan butter and vegan cheese instead of pecorino or parmesan.
Is all pecorino/parmesan vegetarian?
It's not actually! Most parmesan and pecorino cheeses are made with animal rennet which makes them not vegetarian. If it is vegetarian, it will be marked so but it might be hard to find. If you need your cheese to be vegetarian, I'd go with vegan cheese instead.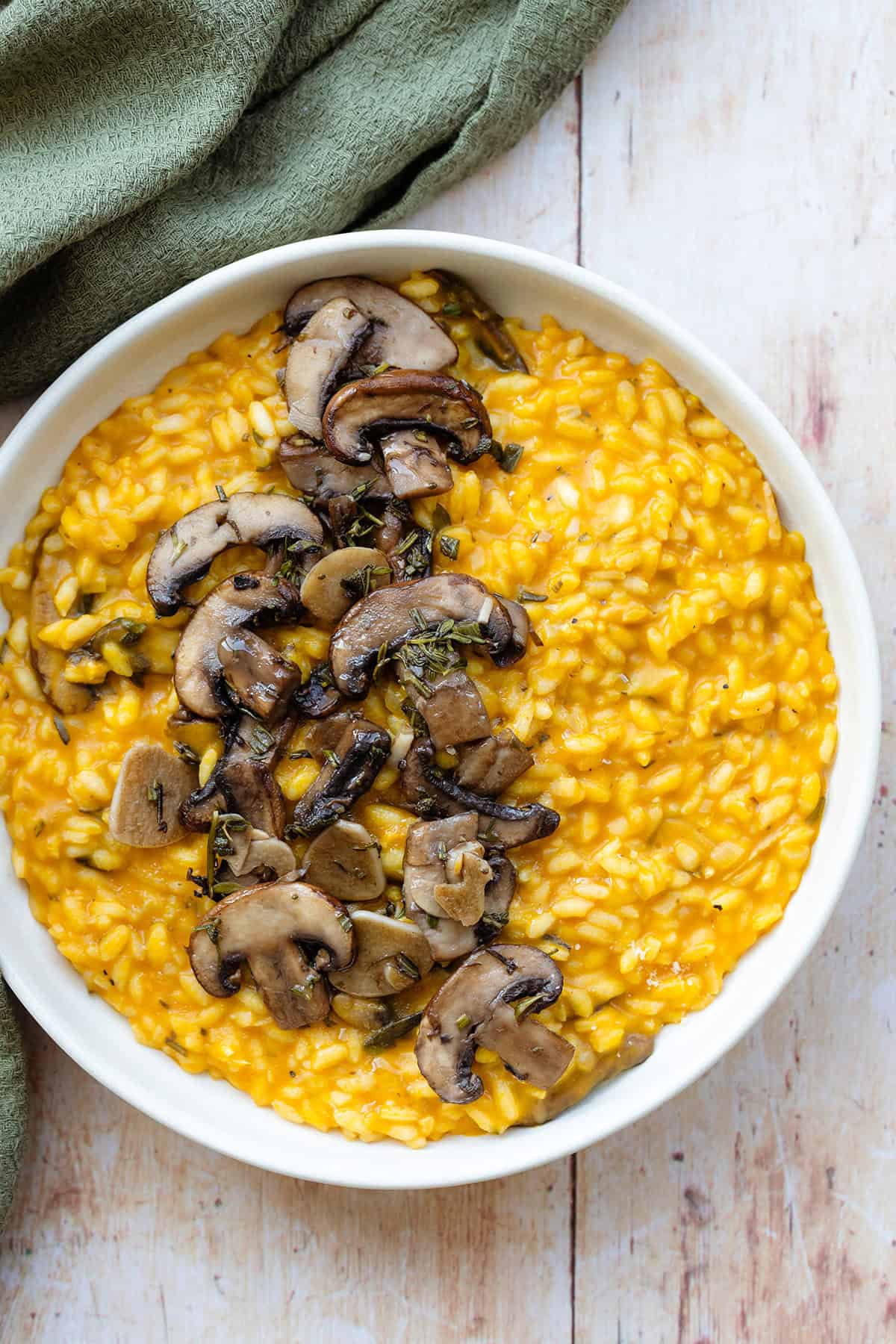 Ingredients
The ingredient list for this risotto is fairly simple. It's all the things you'd use for regular arborio risotto with the addition of pumpkin puree, mushrooms, and lots of fresh herbs.
Oil and butter - I like to use a combination of both. The oil helps to not let the butter burn but the butter adds great flavor. You can use just oil to keep it vegan.
Yellow onion - You can use red onion or shallots too but yellow onion works the best.
Garlic - The recipe calls for minced raw garlic but you can use garlic powder if you don't have any fresh garlic.
Fresh herbs - Thyme, sage, and rosemary. I really like using fresh herbs in this dish but dried herbs work just as well. See recipe card for quanities.
White wine - Dry white wine is perfect for this dish. You don't need anything too expensive. You an skip it if you don't have any wine but I highly recommend adding it. The alcohol evaporates during cooking so it's okay for kids.
Canned pumpkin puree
Arborio rice - this is the perfect rice to get the creamy texture you see in the photos.
Vegetable stock - This adds a ton of flavor. You could add water instead but I don't recommend it as you'll lose all the flavor.
Mushrooms - Any mushroom work in this dish.
Pecorino cheese - Pecorino is made with sheet or goat cheese so I prefer it but you can use parmersan or vegan cheeese if you'd like.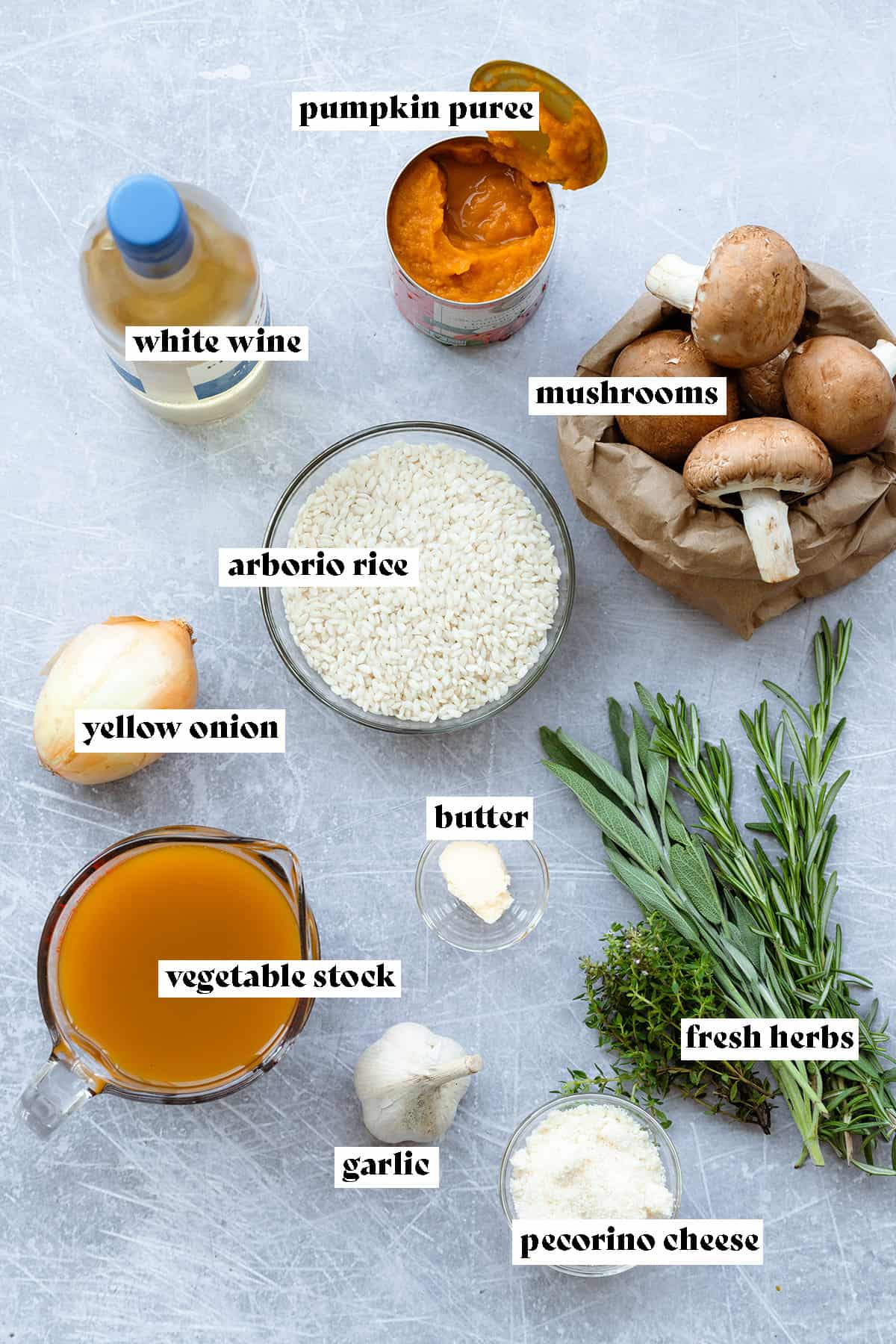 Step-By-Step Instructions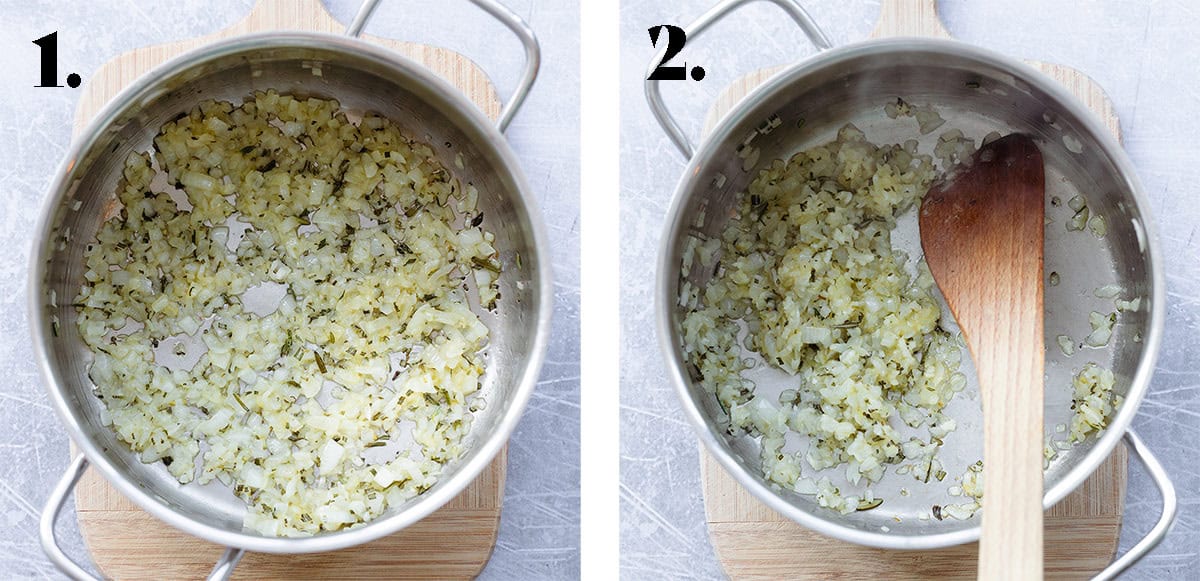 1. First saute the onion with oil, butter, and herbs.
2. After a few minutes add minced garlic and cook for another 30 seconds or until fragrant.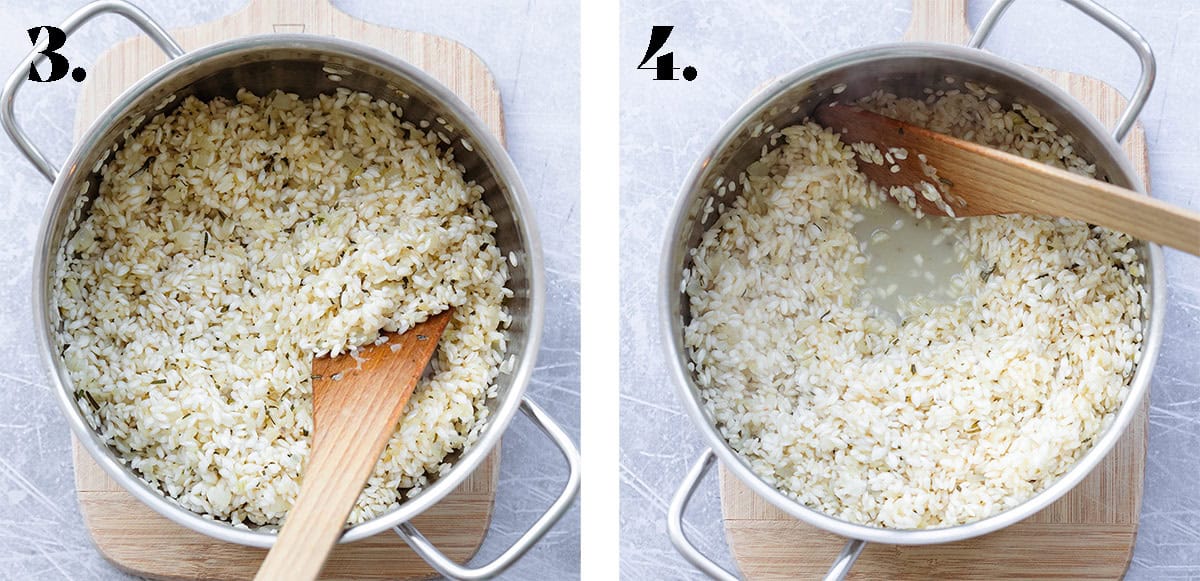 3. Add the arborio rice and toast it with the onion and garlic for a minute or two. You can add a knob of butter to make sure it doesn't stick.
4. Add the white wine and let reduce for 2-3 minutes on medium heat.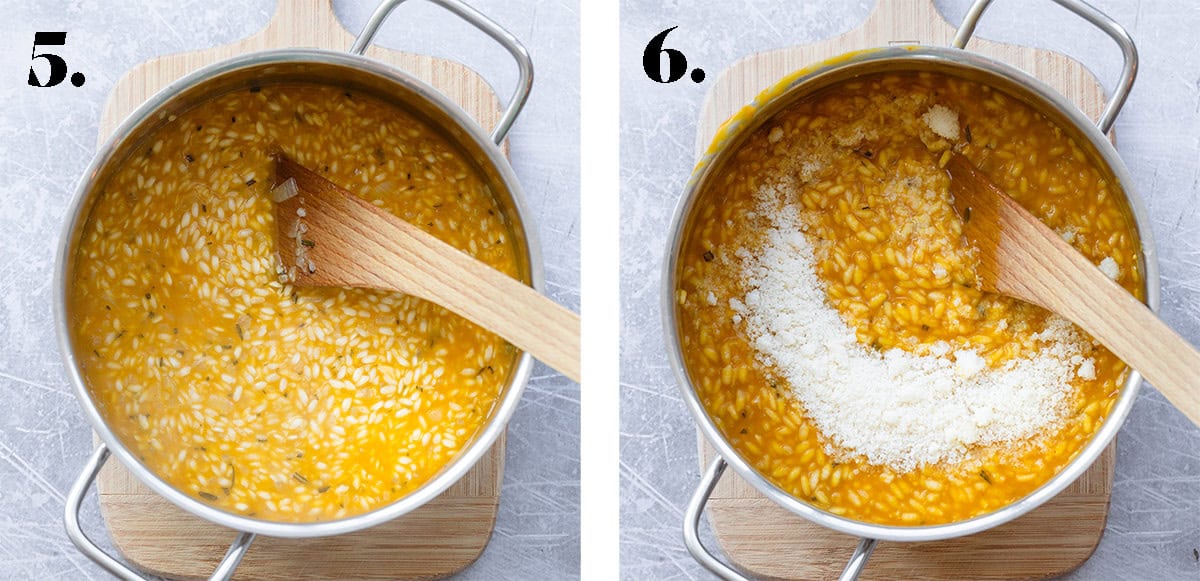 5. To cook the risotto, add about one cup of vegetable stock at a time and constantly stir. The stock will get absorbed and when it looks like it's starting to stick, add more until you've used all of it. Keep the stock warm so that it doesn't cool down the rice and it keeps cooking. It's important you keep stirring the rice because it can quickly stick, just like oatmeal would.
You'll know it's ready when it's creamy and the rice doesn't have too much bite to it. If needed, add more stock. Traditionally, when you plate the risotto and shake the plate, the risotto should spread out. It shouldn't be thick and in one big lump. You can avoid this by adding more stock or water while not overcooking it. The whole thing takes 15-20 minutes.
6. Stir in the pecorino or parmesan.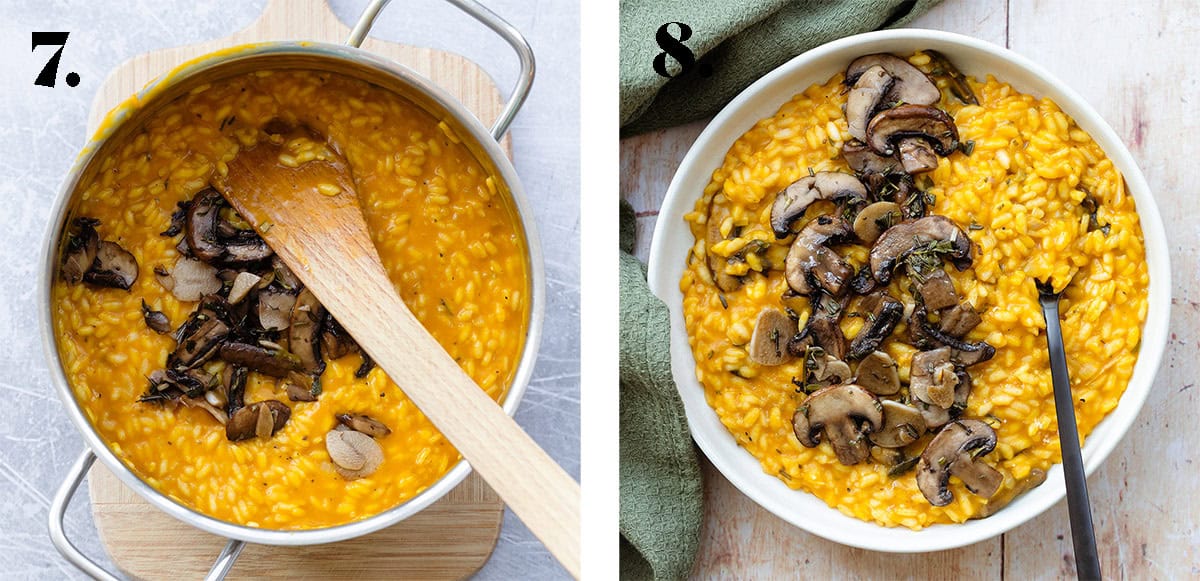 7. Stir in half of the sauteed mushrooms if desired.
8. Top with the remaining mushrooms and serve hot with extra pecorino cheese.
FAQs
Can I use water instead of stock?
Yes, it's just going to lack the extra flavor. It's a lot of liquid so it adds a lot of flavor. You can use any stock you have - vegetable, chicken, beef, or mushroom. I'd use mushroom in combination with another one because it tends to get very strong after cooking for a while.
Can I cook it all in one pan?
Yes, technically you could cook the mushrooms in a large pot with the onion and garlic, and then add the rice, wine, and stock in stages and cook. The mushroom will have a different texture but it will work if you want to save the dishes.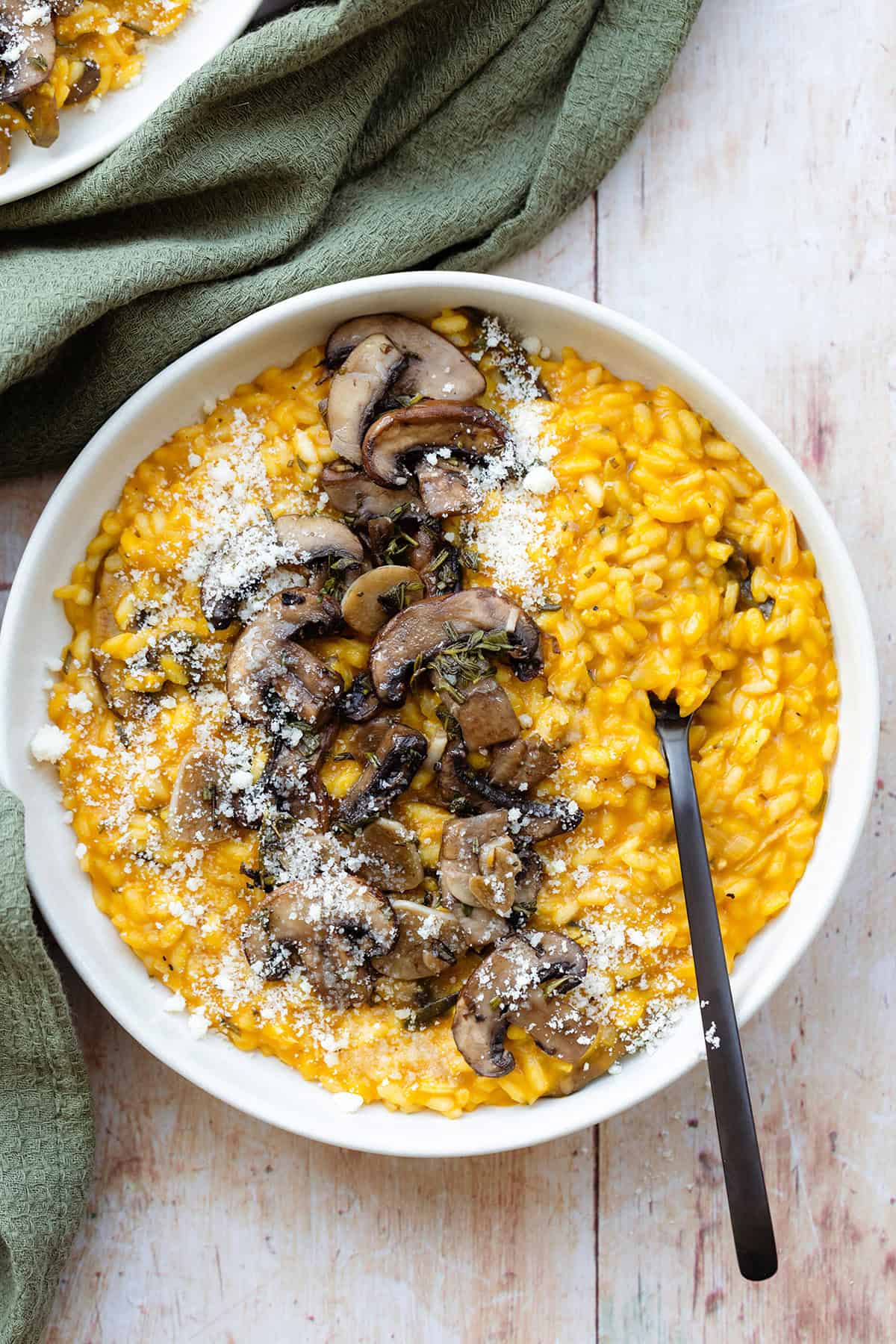 More Pumpkin Recipes
Don't know what to do with leftover pumpkin puree? Here are three recipes that use it! The pasta is vegan, the bread and muffins use eggs. All three are my absolute favorites for fall!
Print
📖 Recipe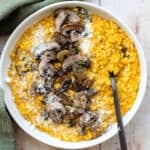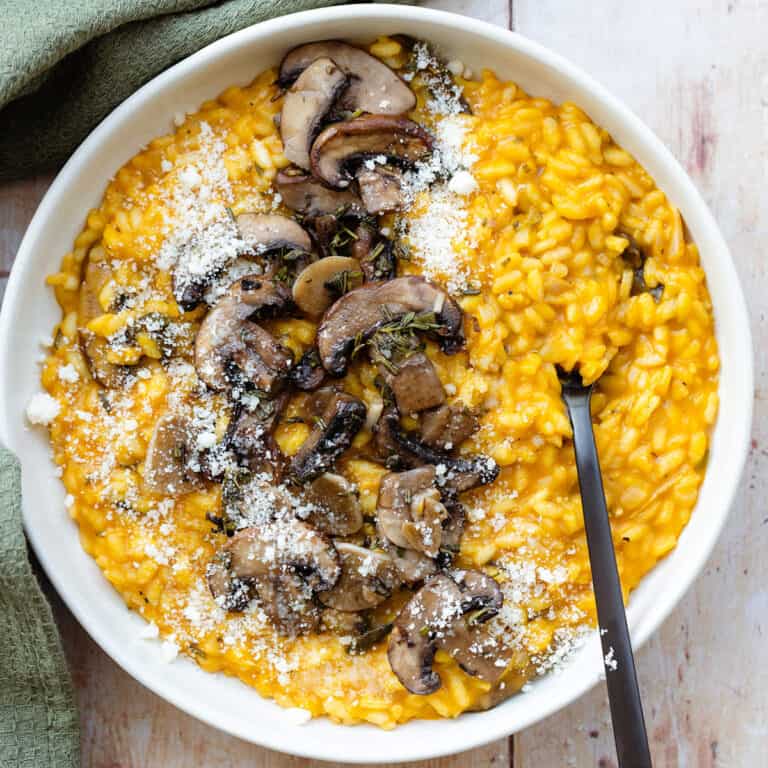 Pumpkin and Mushroom Risotto
Author:

Veronika | thehealthfulideas

Prep Time:

10 mins

Cook Time:

35 mins

Total Time:

45 minutes

Yield:

2

-3

1

x

Category:

Main Dish

Method:

Cooking

Cuisine:

Italian

Diet:

Gluten Free
---
Sauteed Mushrooms:
1 tbsp

avocado oil + 1 teaspoon butter (or more oil)

2

-

3

cloves garlic, thinly sliced

9

medium crimini mushrooms (

250g

), cleaned and sliced*

1 tbsp

finely chopped fresh rosemary leaves (or

1 tsp

dried)

1 tbsp

fresh thyme leaves (or

1 tsp

dried)

1

-

2

tablespoon dry white wine
Pumpkin Risotto:
3 cups

vegetable stock

1 cup

canned pumpkin

1 tbsp

avocado oil

1

medium yellow onion, finely chopped

2

-

3

cloves of garlic, minced

1 tbsp

finely chopped fresh rosemary (or

1 tsp

dried)

1 tbsp

butter (or more oil)

1 ½ cup

arborio rice

½ cup

dry white wine

1 tbsp

balsamic vinegar (optional)

½ cup

grated Pecorino cheese or Parmesan (plus more for serving)

½ tsp

sea salt
Black Pepper to taste
---
Instructions
Sauteed Mushrooms:
Heat a large pan over medium-high heat. Add the oil and butter if using. 
Add the sliced garlic and cook for 1 minutes. Add the mushrooms, rosemary, and thyme, and toss. Cook for 5 minutes.
Add a splash of white wine to deglaze the pan, lower the heat to medium, and cook for 10 more minutes stirring frequently. Take off the heat and set aside until ready to serve.
Pumpkin Risotto:
Combine the vegetable stock and canned pumpkin in a small saucepan and warm up over medium heat. The rest goes fast so make sure you have everything ready.
Heat a large pot over medium-high heat. Add the avocado oil and the yellow onion. Saute for 5 minutes stirring frequently. Add the minced garlic and cook for 30 seconds just until fragrant.
Add the butter, and the arborio rice. Toast it for 1-2 minutes, stirring constantly.
Pour in the wine to deglaze the pot. Wait for it to evaporate 1-3 minutes but don't let it burn. Lower the heat to medium.
Start adding the warm pumpkin stock mixture into the rice. Add 1-2 ladles at a time while stirring constantly. Always wait for the rice to soak up most of the liquid before adding more but don't let it burn. It's really a simple process once you get the hang of it. This takes 15-20 minutes until you use up all the liquid. Taste the rice and add more of it's still too hard.
When almost done, add the balsamic vinegar, Pecorino, sea salt, and pepper. Taste and adjust to your liking.
Stir in half of the sauteed mushroom and serve immediately topped with more mushrooms and Pecorino.
---
Notes
Never soak your mushrooms, they're like a sponge. Just wipe any dirt off with a wet paper towel. Choose organic mushrooms whenever possible because they soak up any pesticides really easily.
Pecorino and Parmesan: If you're vegetarian, read the labels of your cheese and make sure they are vegetarian. Some pecorino and parmesan are made with sheet rennett but there are vegetarian versions on the market.
Making Arborio Risotto: Making risotto is a simple process but it can be daunting at first. It's just a matter of adding more and more liquid until the rice is soft and creamy while constantly stirring. Don't walk away from it, it will burn. You should have everything ready before you start because you won't have time while you're stirring. 
A good risotto shouldn't be too thick, it should spread out when you ladle it on a shallow plate and shake it gently. 
Balsamic vinegar: As strange as it might sound, it balances all the flavors and adds another layer of flavor. You can't really taste it, it just adds that little something.
Storing: Risotto doesn't store very well, it will become very thick as it sits. If you need to, store it in an airtight container in the refrigerator for up to 2 days. To reheat it, add it to a saucepan with a good splash of water to make it creamy again and gently warm up. As it cooks again it might be mushier than before.
Keywords: pumpkin, mushroom, arborio, risotto