This Vegan Cauliflower Soup with Garlic Croutons is super creamy, very comforting, and surprisingly filling. Definitely don't skip the croutons, they're absolutely life-changing! This soup is also freezer-friendly.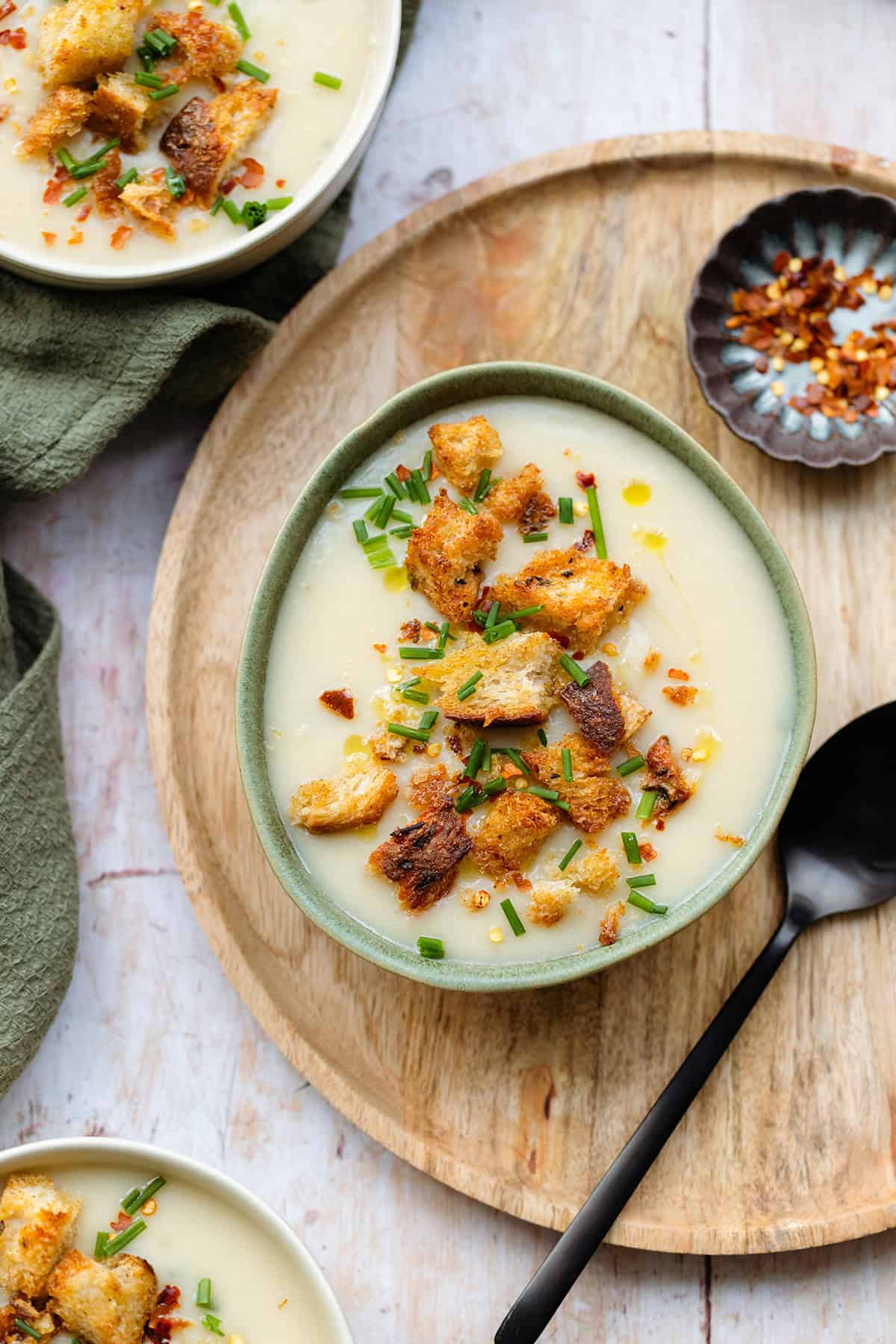 Jump to:
Why This Recipe Works
This soup is extra creamy without any milk or cream! The secret is POTATOES! It's crazy how creamy blended potatoes make things.
It takes an hour to make but 45-50 minutes of it is just the soup simmering so it's not active time spend cooking. This makes the soup super simple and easy to make.
Not to be dramatic, but the croutons are truly lifechanging. They're super garlicky, crunchy, and I highly recommend making them with sourdough bread because it makes them so much better and crunchier. You can find more detail on how to make them in the recipe card.
It's freezer friendly! This soup stores well in the fridge for 3-4 days or the freezer for months. It's perfect for those times you want a good dinner or lunch but have no time to cook.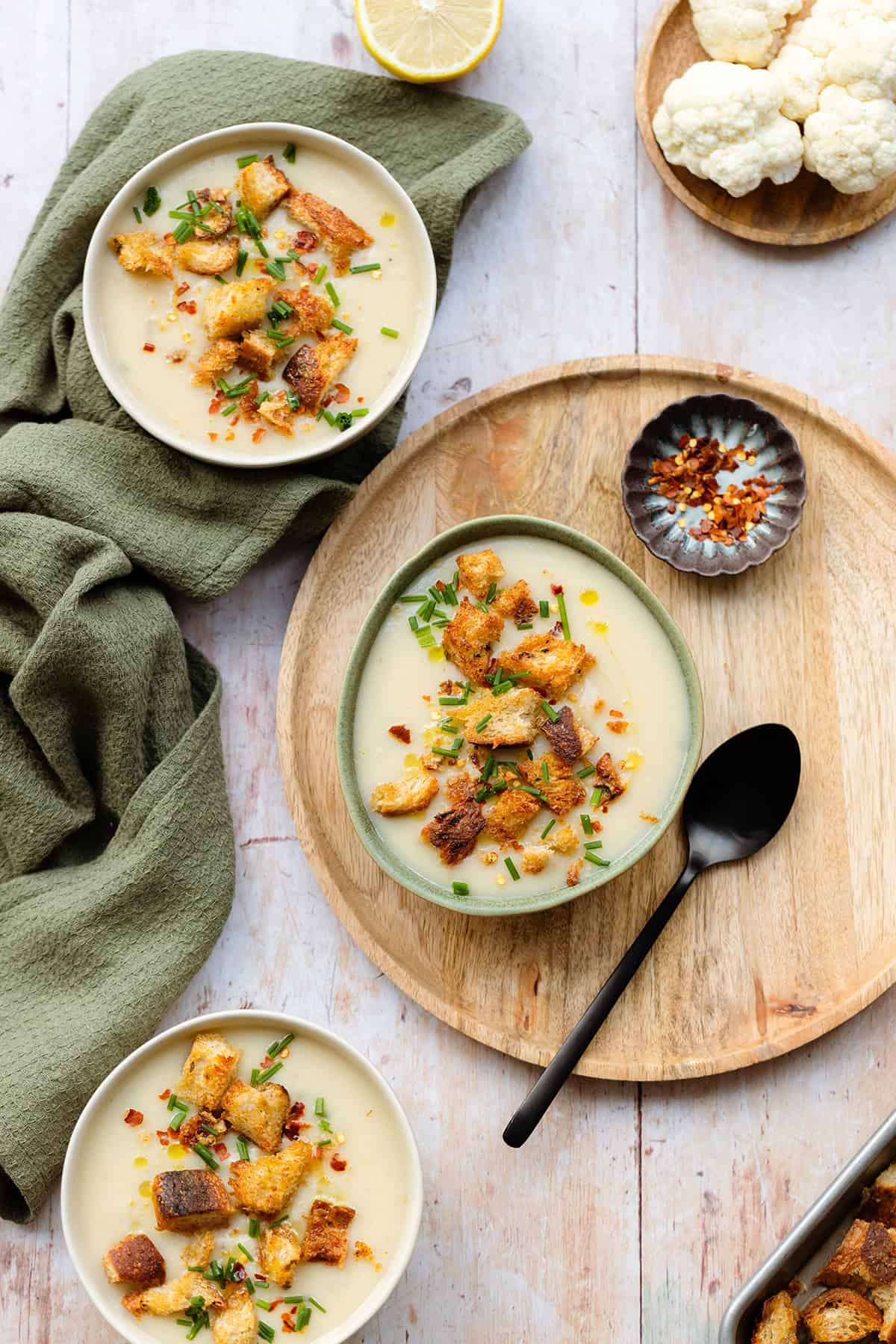 Ingredients
Cauliflower - The star of the show. I cut out the core but leave most of the stems on. I usually go for a bigger cauliflower but it doesn't matter how big it is, you'll just have more soup if it's huge! If you don't have a super large pot, you can use a few florets for something else. Try this Smoky Za'atar Roasted Cauliflower with Yogurt Dip or this Roasted Cauliflower Salad with Lentils.
Yellow potatoes - Yukon potatoes are the best and easiest choice but any yellow potatoes work here. They're in the soup to make it creamy as there is no milk or cream added.
Yellow onion and leek - I'm using a combination of the two to up the flavor but you can totally use only the onion. The recipe only calls for a quarter of the leek to add flavor without it overpowering the soup.
Vegetable broth - This soup is completely vegan so I'm using vegetable stock. You can also use chicken or beef broth if you'd like. I don't recommend mushroom broth because it tends to have a really strong flavor and if used by itself, it could overpower everything else.
Dried bay leaves - These give the soup a ton of flavor. If you have any, don't skip them.
Caraway seeds - These are totally optional and a nice addition. Caraways seeds aren't very common in North America but I like adding them to soups, anything with potatoes, eggs, or other dishes. They're amazing in this soup. Try them in these Vegan Mashed Potatoes with Caraway Seeds!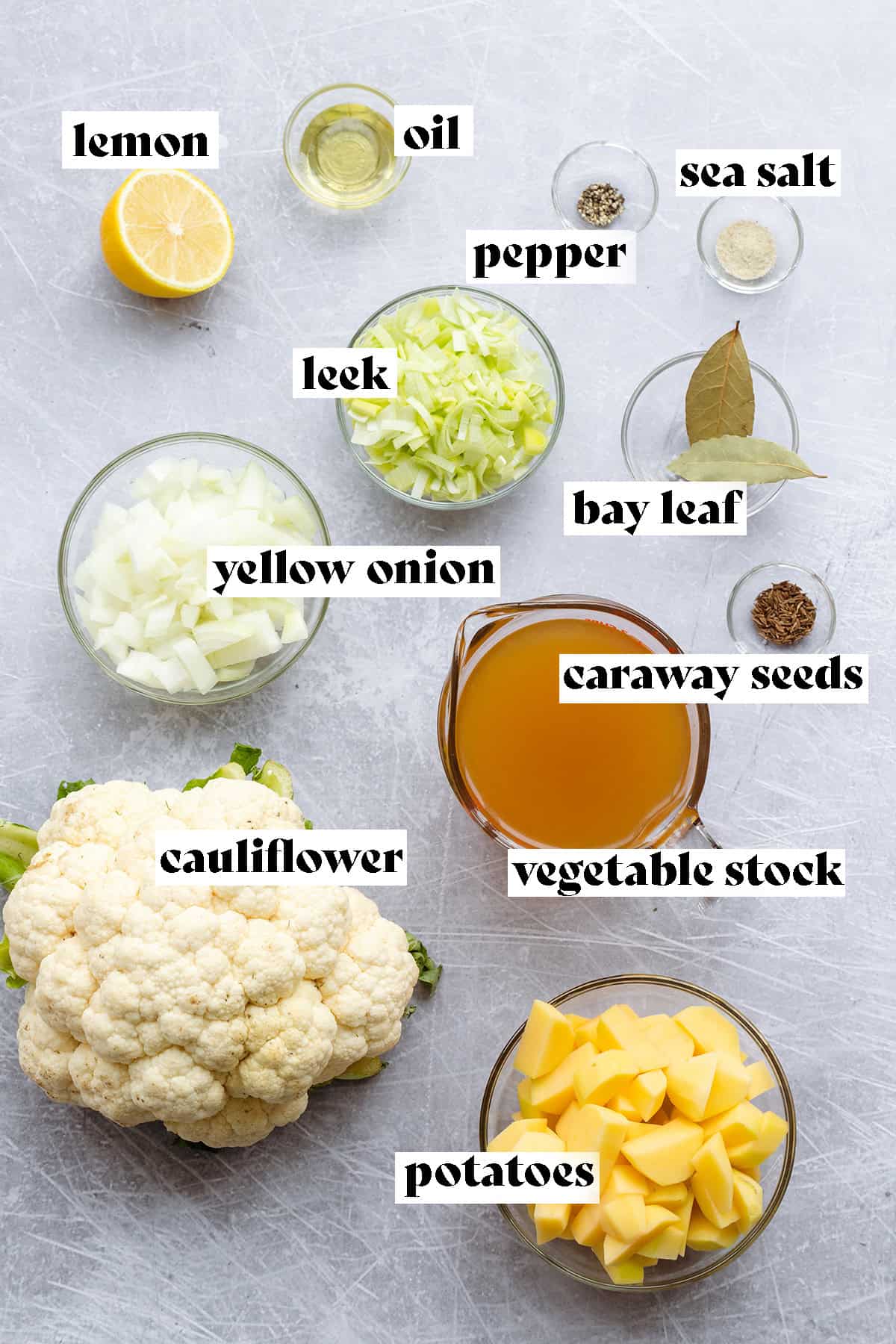 Step-by-Step Instructions
There are a couple of essentials you need for this soup and that's a large pot and an immersion blender. If you don't have that, you can also use a regular blender but I'd wait for the soup to cool down slightly.
Garlicky croutons aka the BEST part: I make these while the soup is cooking. All you gotta do is tear up the bread, add it to a sheet pan, drizzle with oil, season with salt, pepper, garlic powder, and toss. Roast for 10-15 minutes tossing once. They should be crispy and golden. They also smell AMAZING!!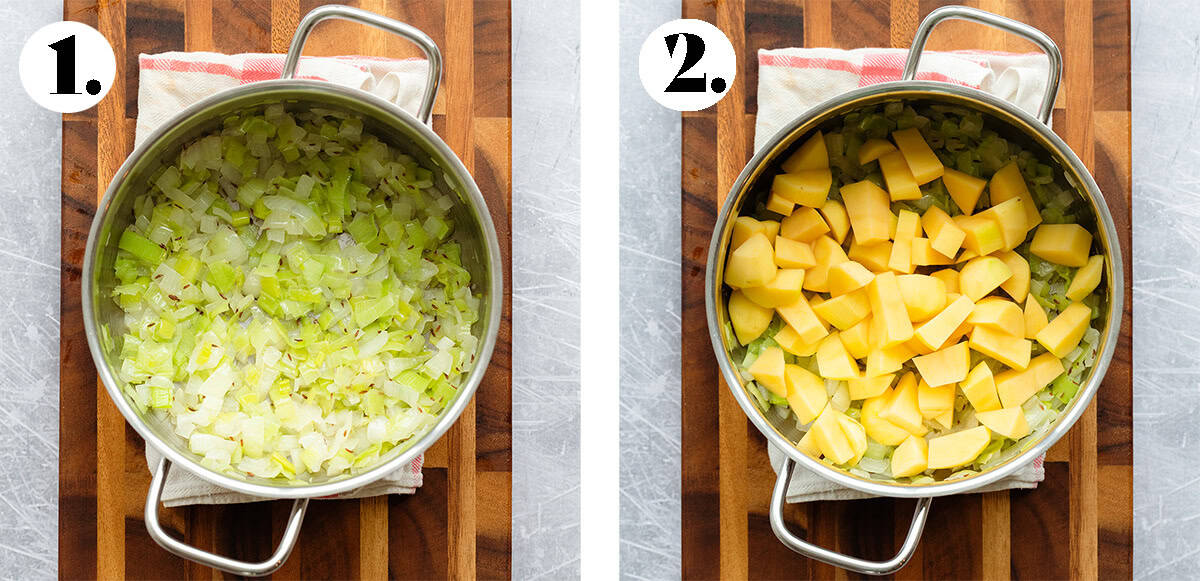 Start by sauteing the onion, leek, caraway seeds with oil and butter for 5-7 minutes. I use vegan butter but if you can't find it, just use oil.
Add the diced potatoes.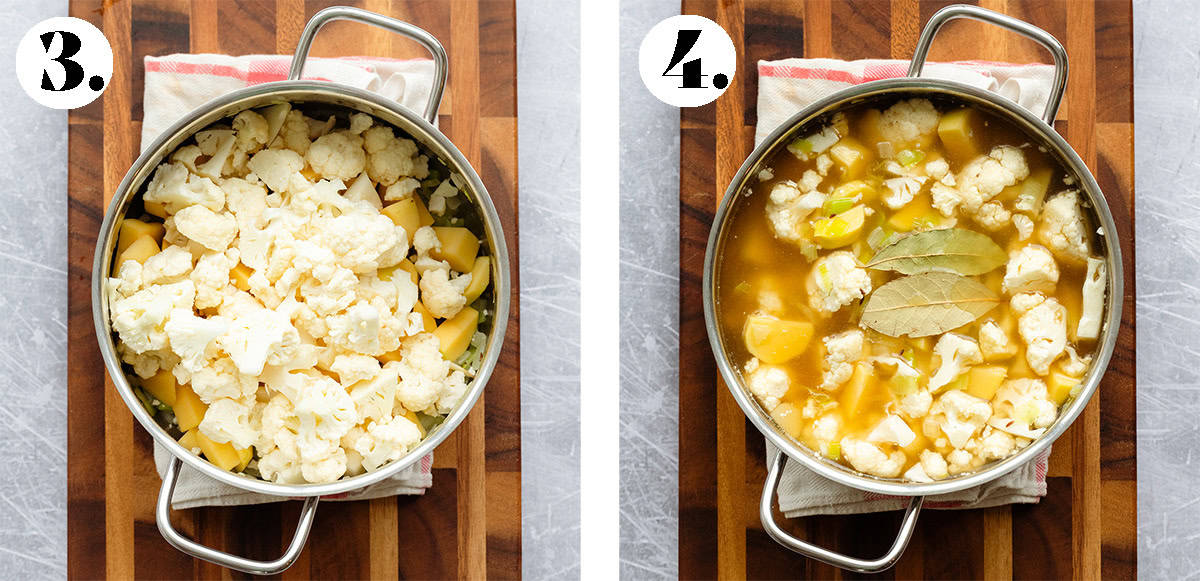 3. Add the cauliflower to the pot, as much as you can add. You can save some for another recipe. The bigger the pot, the easier this soup is to make.
4. Cover everything with vegetable broth and add two bay leaves. Bring everything to a boil, lower the heat to medium-low, partially cover and cook for 45-50 minutes until everything is soft. It's okay if you overcook it slightly, it'sbetter than undercooking because it makes it easier to blend.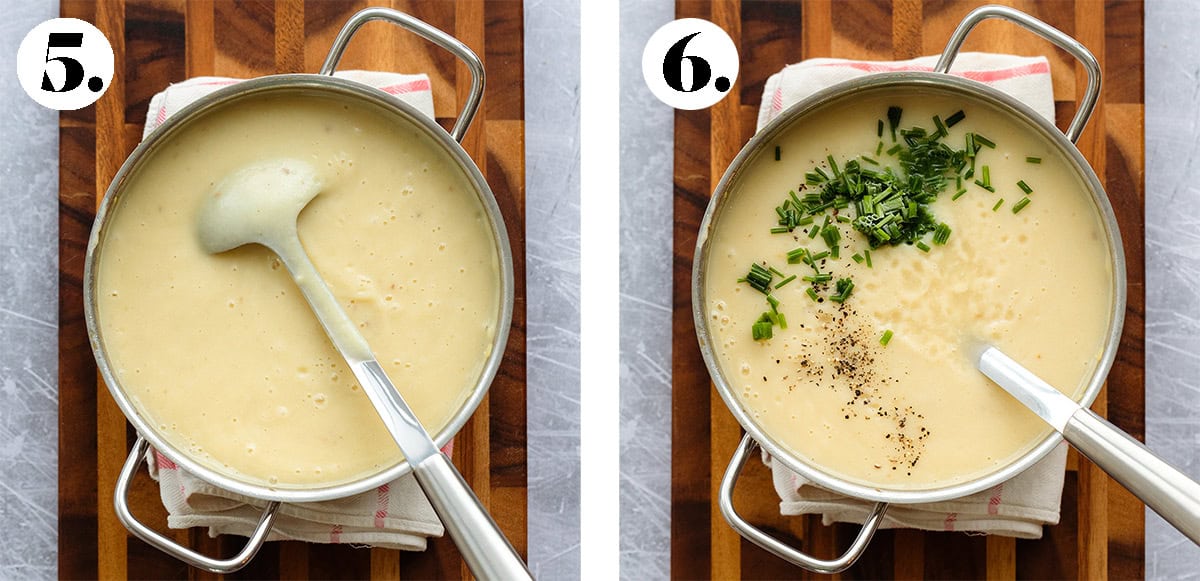 5. When everything is soft, take it off the heat, take the bay leaves out, and blend everything using an immersion blender. You can also use a regular blender but be extremely careful. When you blend hot liquids, the steam could push the lid off and the soup would go everywhere. Don't use an upside-down blender like a Nutribullet for blending soups.
Storing and Reheating
This soup keeps well in both the fridge and the freezer. Wait for the soup to cool down completely before storing or store it with the lid off for 30 minutes in the fridge to cool and then cover with a tight-fitting lid.
Store the soup in the fridge for up to 4 days or the freezer for up to 2-3 months.
Use a large glass mason jar for the fridge and a plastic container for the freezer. I don't like using glass for the freezer because the glass could crack as the soup expands, and also because it's much easier to get it out of plastic than glass.
How to reheat the soup:
Freezer: If reheating from frozen on the stove, add a splash of water so the soup doesn't stick to the bottom of the pot. Let it defrost slightly before reheating when possible.
Fridge: If you're reheating the soup from the fridge, just pour it into a small pot and heat up over low-medium heat. If you turn it up to high heat, be careful and stir the soup often because thick soups have a tendency to stick to the bottom and start splashing around when they start to boil.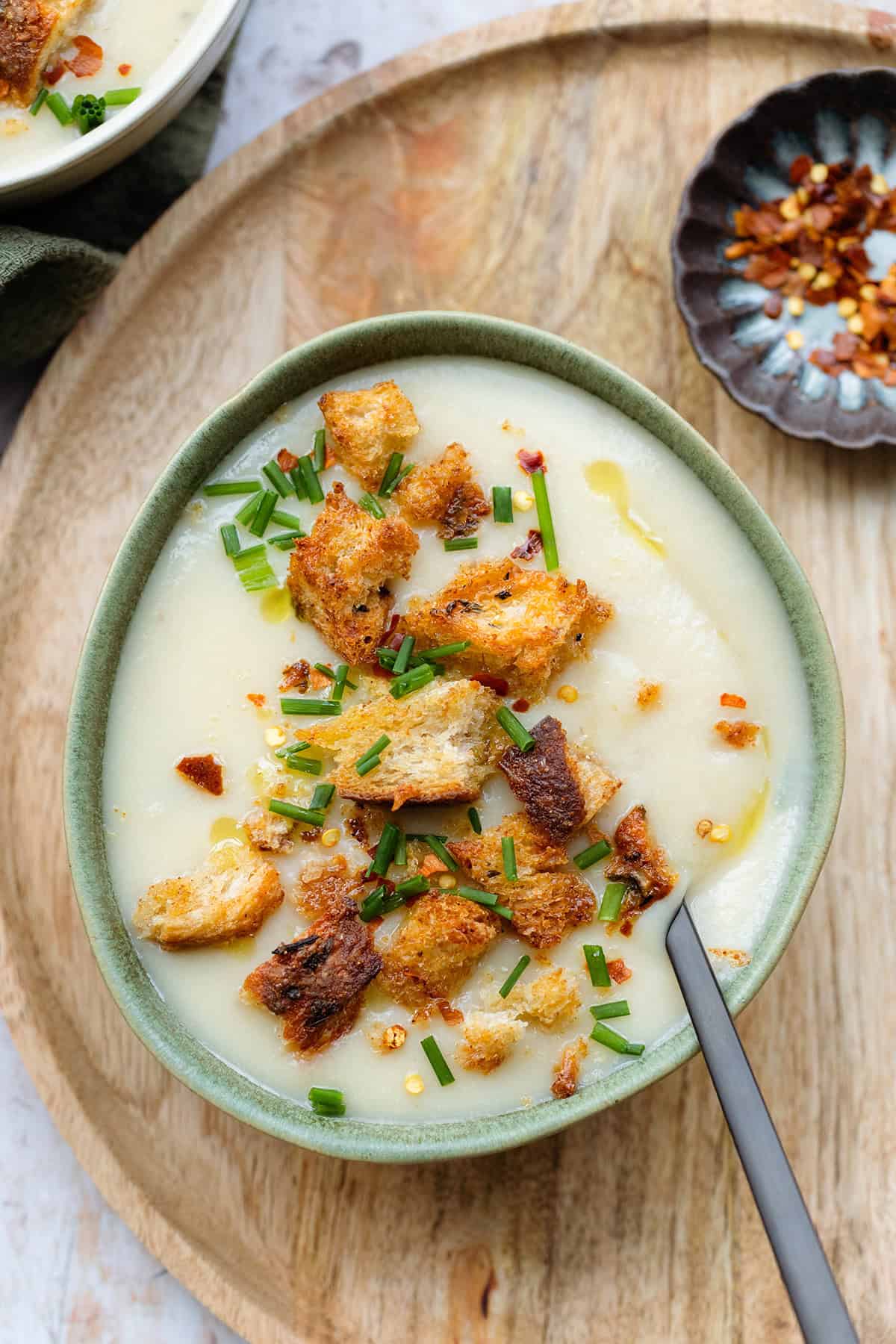 FAQs
I don't have vegan butter, can I just use more oil?
Yes! I'd start with the tablespoon of oil and just add more if needed. The butter is there to just add more flavor.
Can I substitute the caraway seeds with cumin seeds?
Unfortunately, no. Though they look similar, cumin seeds have a completely different flavor, and they would throw off the flavor of the soup.
What can I use to blend the soup?
An immersion blender is your best and easiest option. A blender is great too but be EXTREMELY CAREFUL and keep the small lid in the middle of the lid slightly open so that the steam can escape. Don't turn it up too high or it will create even more steam which could push the lid off and you'd end up with soup all over your kitchen. NEVER EVER use an upside-down blender like the Nutribullet to blend hot liquids, it will explode.
Does this soup freeze well?
Yes! This soup keeps well in the freezer for 2-3 months.
More Soups You Might Enjoy
Print
📖 Recipe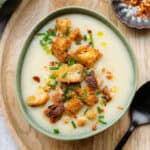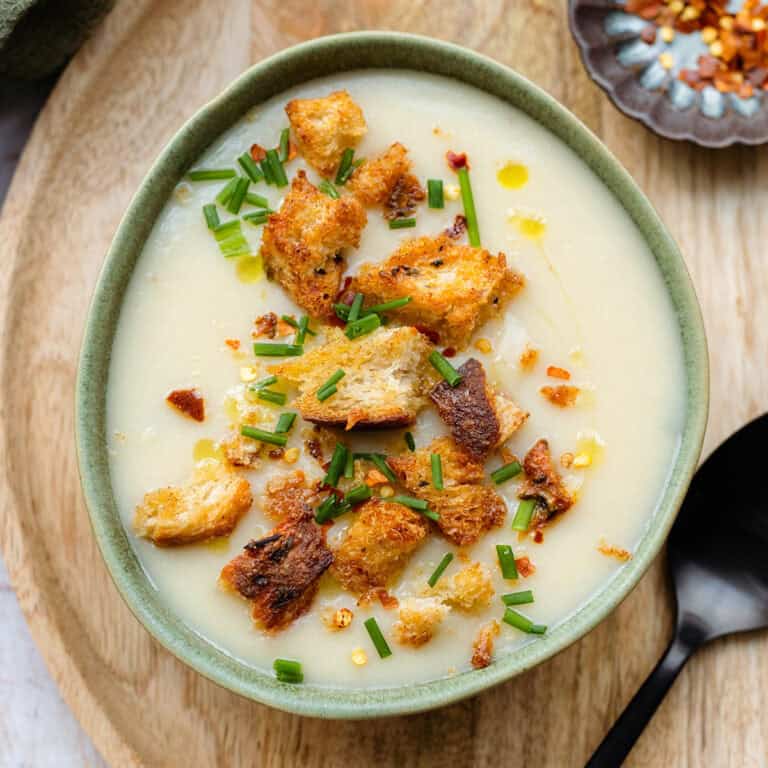 Vegan Cauliflower Soup with Garlic Croutons
Author:

Veronika | thehealthfulideas

Prep Time:

10 mins

Cook Time:

55 mins

Total Time:

1 hour 5 minutes

Yield:

4

1

x

Category:

Soup

Method:

Cooking

Cuisine:

American

Diet:

Vegan
---
Description
This Cauliflower Soup is super creamy, very comforting, and surprisingly filling. Freezer-friendly too!
---
Cauliflower soup:
1 tbsp

avocado oil

1 tbsp

vegan butter (or more oil)

1

medium yellow onion, chopped

¼

leek (4"), outer layer peeled, and chopped

½ tsp

caraway seeds (optional)

½ tsp

sea salt

400g

(

3

medium) yellow potatoes, peeled and diced (the smaller you dice them the quicker they'll cook)

1

head of cauliflower, core removed and chopped into small florets (makes about

5

-

6

cups)

2

bay leaves

5

-

6

cups vegetable broth or a mix of broth and water (or more as needed to cover)
Freshly cracked black pepper to taste
Juice of

½

lemon
Crushed red pepper flakes (for serving, optional)
Garlicky croutons:
4

slices of sourdough bread

1 tbsp

olive or avocado oil (or I like using oil in a spray for this)

½ tsp

sea salt (I used sea salt with herbs mix)
Freshly cracked black pepper to taste

1 tsp

garlic powder
---
Instructions
Preheat your oven to 350F (175C) for the croutons.
Cauliflower soup:
Heat a large pot over medium-high heat and add the oil and butter. 
Add the chopped yellow onion, chopped leek, caraway seeds (if using), and sea salt. Cook for 5-7 minutes stirring frequently.
Add the diced potatoes, cauliflower florets, bay leaves, and cover with broth/water. Cover and bring to a boil. Lower the heat to medium-low and simmer partially covered for 45-50 minutes.
When the potatoes are easily pierced with a fork, take off the heat and take out the bay leaves.
Use an immersion blender to blend the soup until creamy or let it cool down slightly and use a blender. Be extremely careful when blending hot soup as the steam could make the blender literally explode (the lid would fly off, see notes).
Return pureed soup back to the pot and stir in freshly squeezed lemon juice. Adjust salt and pepper to taste.
Serve hot with croutons, a light drizzle of olive oil, and red pepper flakes if desired.
Garlicky croutons:
While the soup is cooking, make the croutons.
Dice or tear apart the slices of bread, add them to a baking sheet and drizzle with olive oil.
Season with salt, pepper, and garlic powder. Toss and bake in the oven for 10-15 minutes. Toss halfway through and keep an eye on them. They should be golden brown and crunchy.
Set aside until ready to serve.
---
Notes
Blender notes: I let the soup cool slightly and blend it on low only. I keep the little lid inside the big one off and just hold it above the blender so that the steam can escape easily but to avoid the soup accidentally splashing out of the blender. Just be extra careful and never use an upside-down blender like a NutriBullet for hot liquids.
Storing: Wait for the soup to cool down completely before storing it in an airtight container like a glass jar in the fridge for 4-5 days.
Freezing: This soup freezes very well. I recommend using a plastic container to make it easier to remove and to avoid it breaking as the soup expands. Always leave a little bit of room because liquid always expands as it freezes.
Keywords: cauliflower soup