Keeping the soup theme going this week with this Butternut Squash Curry Soup with Red Lentils. This soup is creamy, hearty, filling, and just the right amount of spicy. It's made with coconut milk so it's completely vegan too! The perfect cozy soup to kick off fall with! Check out last week's Potato Leek and Lentil Soup with Caraway Seeds.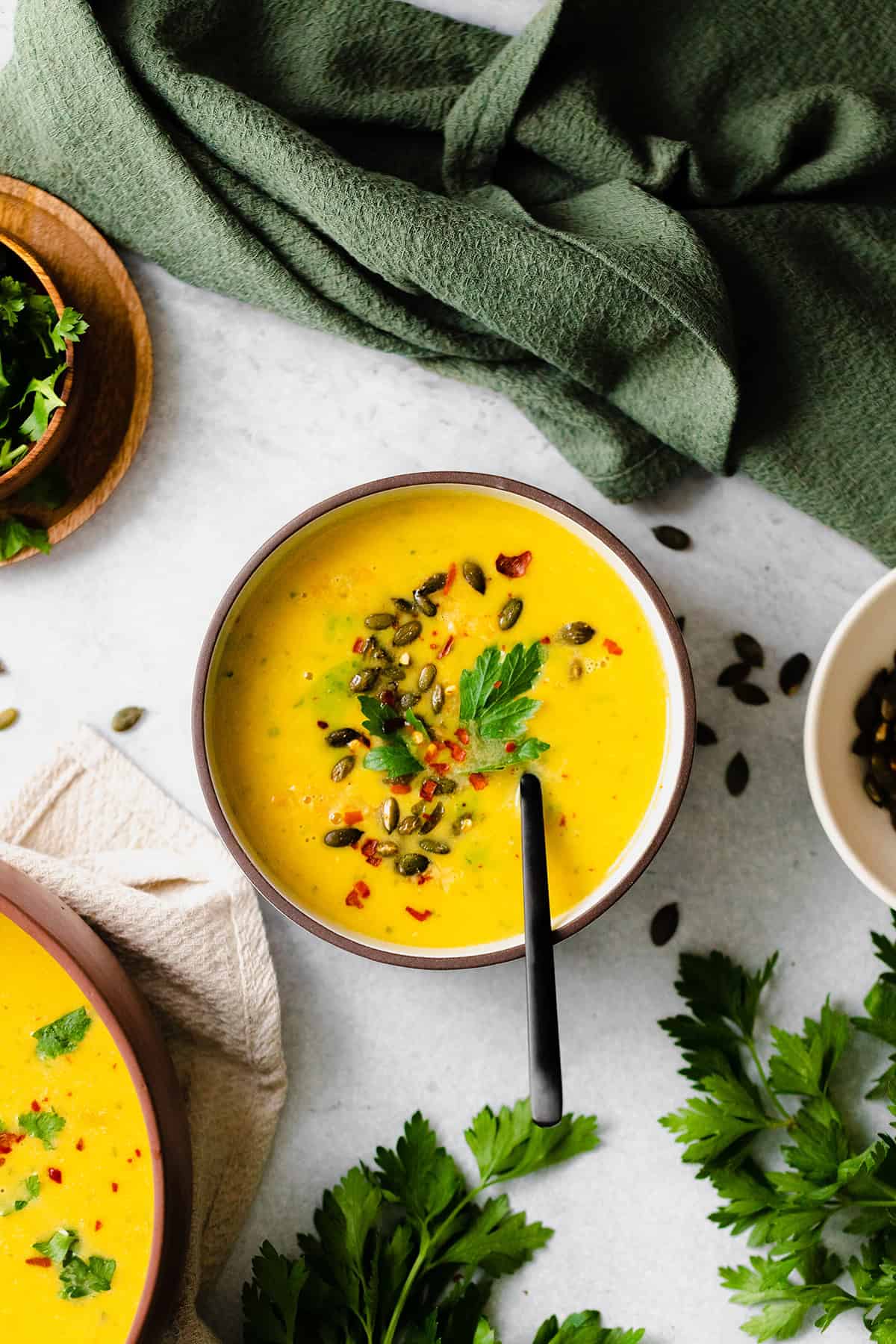 I've actually wanted to post this recipe for years. Yep, YEARS. I fount it in my drafts the other day and realized I completely forgot about it! I made it back in 2017 but didn't like the photos so I never actually shared it. Three years later, I'm finally happy with the photos so it's time to share the recipe with you! I'm such a perfectionist but I figured this soup is just too good not to share it.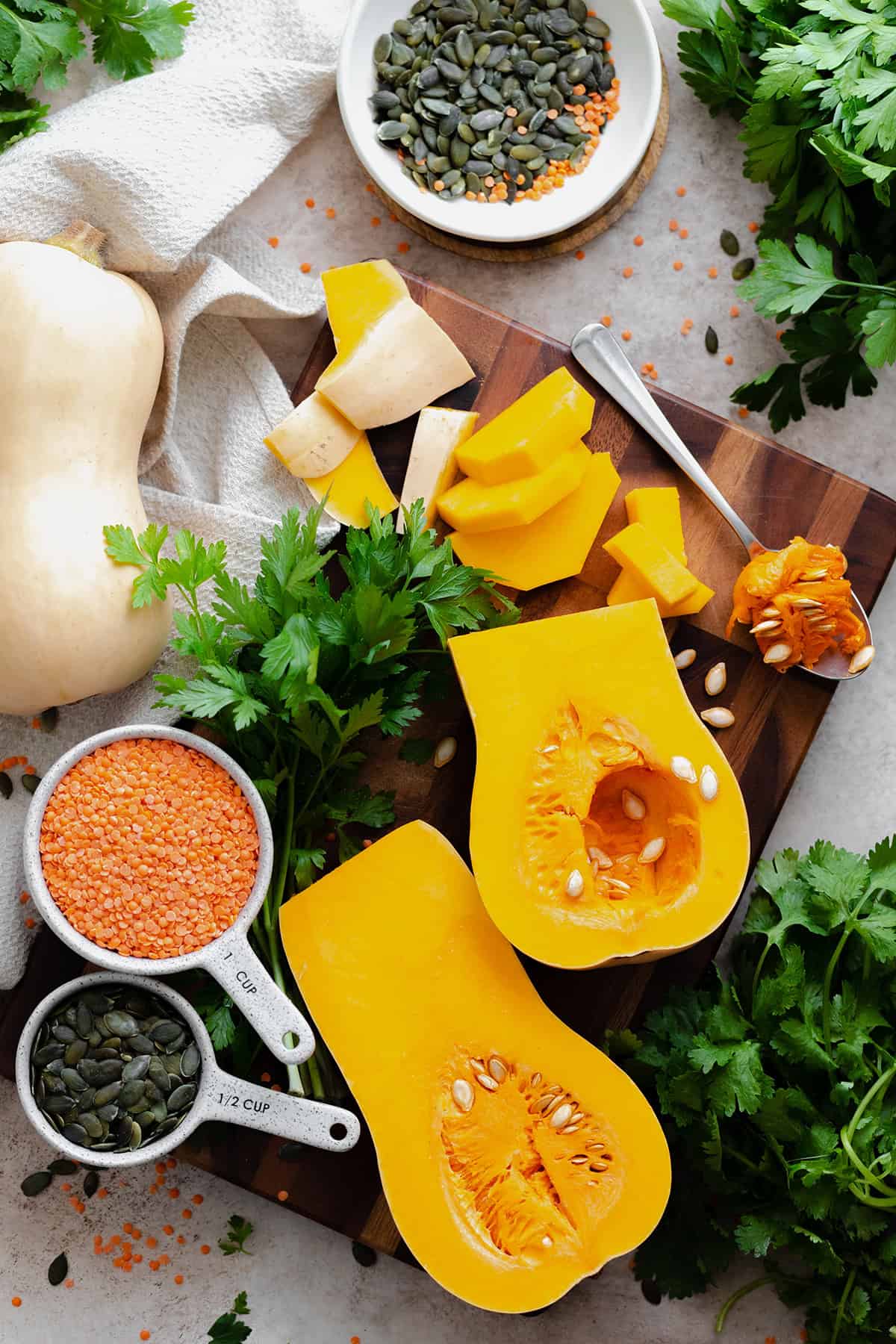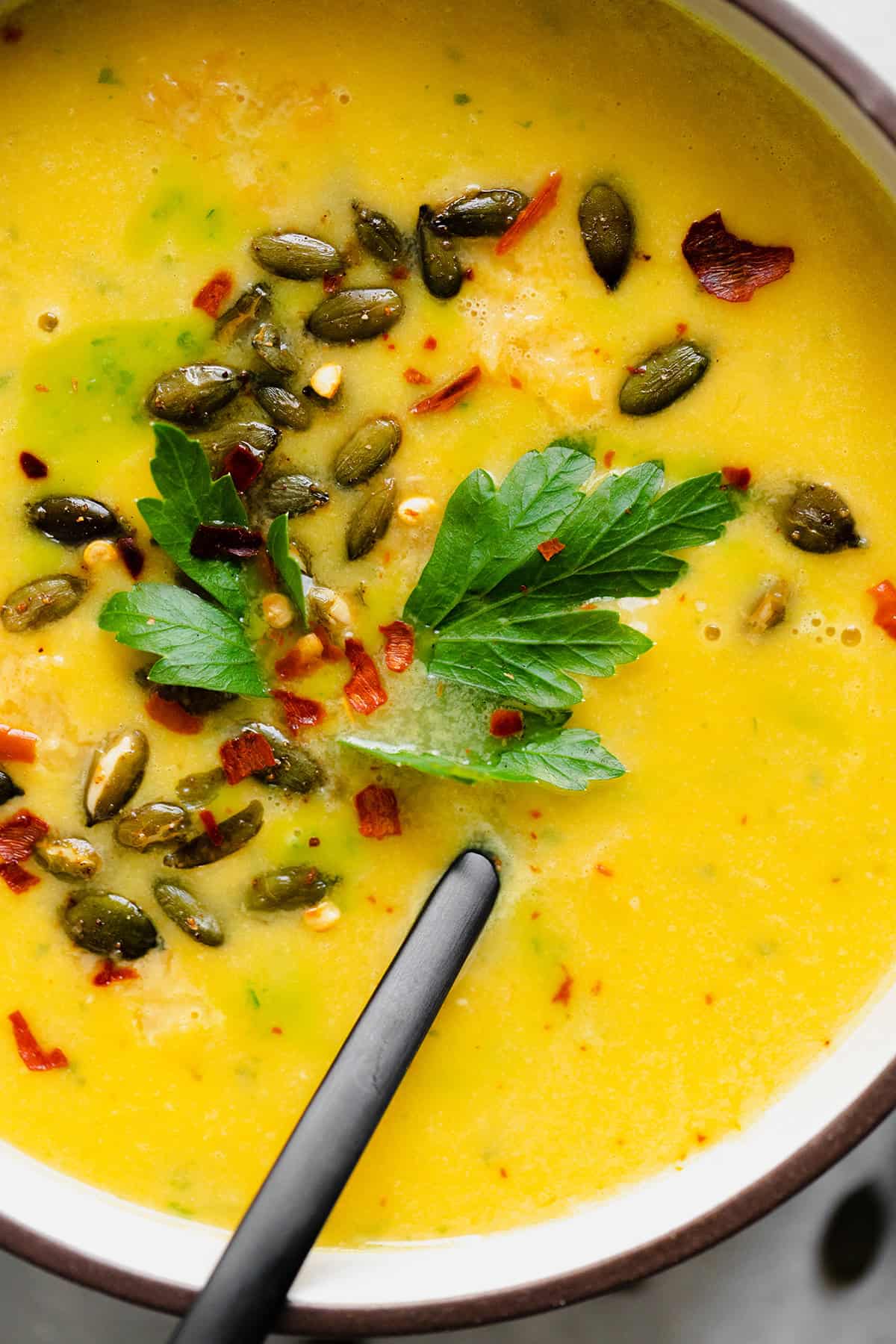 The consistency of this butternut squash curry soup is on the thinner side. That is because I boil the butternut squash and then blend it with the water instead of roasting it and blending it with milk and broth. Check out my Vegan Creamy Roasted Butternut Squash Soup for a thicker, super creamy soup. Because the soup is thinner, I added red lentils. They add texture and A LOT of protein. A single serving of this soup has whopping 24 grams of protein! I love adding legumes to my meals because they always add extra protein and fill you up, not to mention the micronutrients like iron and zinc some contain.
You can either cook the lentils separately, like I did, or cook them with the squash and then blend them with it. This can easily be a one pot soup but I really wanted to keep the red lentils intact so I cooked them in a separate pot. If you want this to be a one pot butternut squash soup, boil the squash for about 8-10 minutes and then add the soaked lentils (drained and rinsed) and cook for another 5-10 minutes.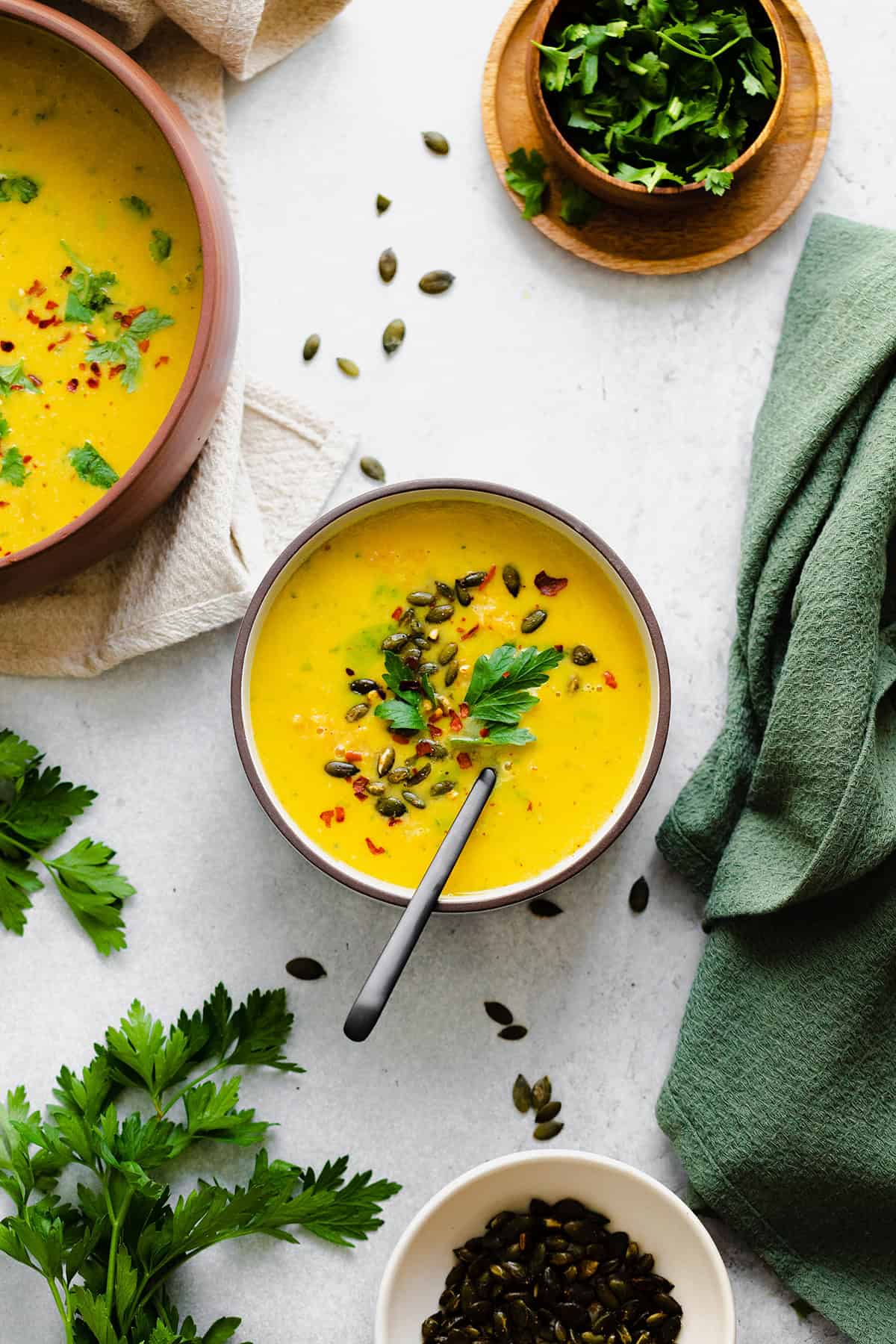 Optional butternut squash curry soup garnish:
I topped this soup with stove toasted pumpkin seeds and some more cilantro and a few chili flakes. You can also roast the pumpkin seeds in the oven if you'd like. I make them in a pan because it only takes a few minutes and you don't have to preheat the oven.
Other fun garnish ideas would be croutons, other herbs, more coconut milk, or coconut kefir (personal favorite, so good!).
Print
📖 Recipe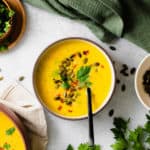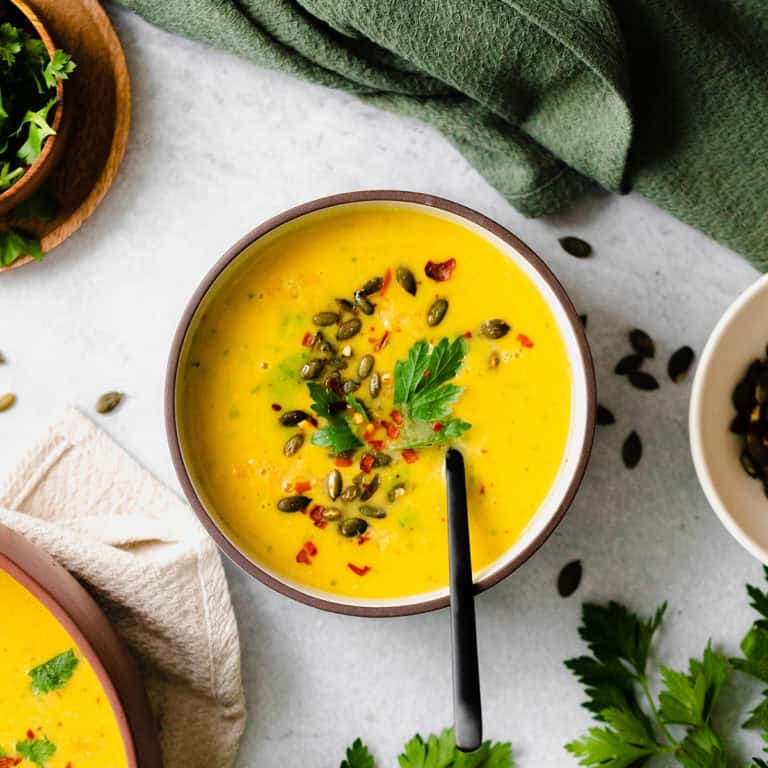 Butternut Squash Curry Soup with Red Lentils
Author:

Veronika | thehealthfulideas

Prep Time:

15 mins

Cook Time:

20 mins

Total Time:

35 minutes

Yield:

4

1

x

Category:

Soup

Method:

Cooking

Cuisine:

Indian

Diet:

Vegan
---
Description
This vegan Butternut Squash Curry Soup with Red Lentils is creamy, spicy, savory, full of fresh herbs, and perfect for fall!
---
½ cup

raw pumpkin seeds

2 tsp

avocado oil
sea salt and pepper to taste

½ tsp

garlic powder

½ tsp

onion powder

1 ½ cup

dry red lentils

1

medium butternut squash (about 1.5-2kg,

4

-

5

cups chopped)

1 tbsp

avocado oil (or your favorite cooking oil)

2

small yellow onions, finely chopped 

2

-

3

cloves of garlic, thinly sliced

1 ½ tsp

curry powder

1 tsp

ground cumin

1

bay leaf (optional)

1

piece of kombu (optional)

½ cup

full-fat canned coconut milk

½ cup

packed chopped cilantro (plus more for garnish)

¼ cup

packed chopped parsley
---
Instructions
Toasted Pumpkin Seeds:
Heat a pan over medium-high heat, add the pumpkin seeds, drizzle with the avocado oil and toss to coat. Sprinkle with sea salt, pepper, garlic powder, and onion powder and toss.
Toast for a few minutes until fragrant and the pumpkin seeds start to pop. Remove from heat and set aside until ready to serve.
Red Lentils:
Start by placing the red lentils into a bowl and cover with water to soak while you cook everything else. When ready to cook, drain and rinse the soaked red lentils, add them to a pot and cover with water (about 2" above the lentils), and add the bay leaf and kombu (if using). Bring to a boil, lower the heat, and simmer for 5-10 minutes or until the water is absorbed and the lentils soft. Drain excess water after it's done if necessary. Take out the bay leaf and kombu and set aside.
Butternut squash soup:
Cut off both ends of the butternut squash and slice it in half lengthwise. Be careful! Make sure you have a sharp knife for this. Scoop out the seeds with a spoon and carefully peel. Chop the squash in small pieces and set aside.
Add the avocado oil to a big pot and heat over high heat. Add the chopped onions and lower the heat to medium. Cook for about 5 minutes until translucent. Add the garlic, curry powder, and ground cumin. Cook for another 1-2 minutes stirring constantly. 
Add the chopped butternut squash to the pot and cover with boiling water (just enough to cover the butternut squash). Simmer partly covered for 15 minutes or until soft.
Add the coconut milk, the chopped cilantro and parsley, and about ½ of the cooked lentils. Blend everything using an immersion blender or ladle the soup into a blender and blend on high. Be careful, I don't recommend a Nutribullet for this. The soup is very hot and the steam needs to be able to escape while blending.
Pour the soup back into the pot, add the rest of the cooked red lentils, and stir.
Serve with more chopped herbs if desired and toasted pumpkin seeds.
---
Notes
Toasted pumpkin seeds: You can also toast them in the oven at 400F for 5-10 minutes instead of on a pan.
Red lentils: I cook the lentils separately because I don't want to blend all of them with everything else. If you don't mind smooth soup, you can add the lentils 5 mins after the squash starts boiling to keep this a one-pot soup.
Soup: This soup isn't as thick because it's blended with the cooking water. If you want a thicker soup, check out my Roasted Butternut Squash Soup recipe.
Keywords: butternut squash, pumpkin, seeds, red lentils