I came to the conclusion, that the best smoothies, and meals in general, really, are made when you don't pay attention to the amount of the ingredients. One lazy morning, I simply threw things together and was pleasantly surprised by the result.
The combination of mango, blueberries, pomegranate and chocolate on top is simply devine.
Make this, you won't regret it, I promise. It still amazes me how something so delicious can actually be good for you. We all have stereotyped healthy food into something unpleasant and tasteless, but that's a great misconception.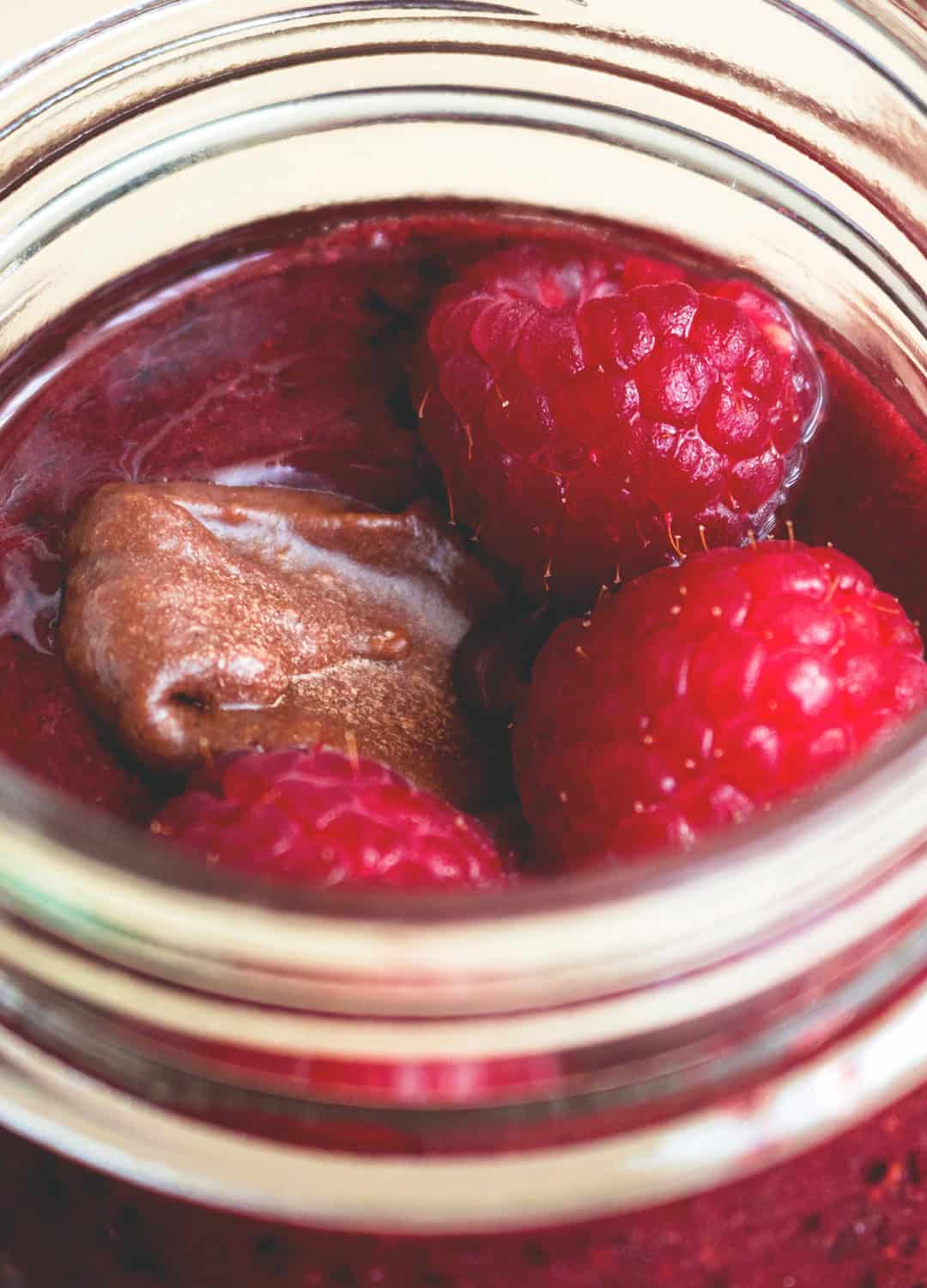 Nowadays, people are used to extreme amounts of salt and sugar in the most refined formes possible so then, when you give them a bowl of apples, they can't even taste their sweetness.
We have to go back to the basics. Cook real food, not something that came in a plastic package. Instead of looking for how many ingrediets are in the food you buy, let the food be the ingrediet. You don't have to overcomplicate it either. Yes, I like to add many superfoods into my smoothies, ones you probably haven't heard of before, but you can always skip those you don't have or can't buy.
I haven't been shoveling spirulina and goji berries into my mouth since day 1. If the whole 'superfood' concept confuses you, don't sweat it. Learn about them one by one, it's about baby steps. Buy one superfood powder at your local heath food store and experiment with it. Read about it online, learn the benefits, taste it and when you're familiar with it, move onto the next one. And if I were to suggest a superfood to start with, it'd be raw cacao powder. Yes chocolate is a superfood. *Gasps*
I might even make a blog post about some of my favorite superfoods in the near future so be on a look out for that.
Anyways, I always get so carried away, back to the berry smoothie. In the recipe, I simply blend it with water but it'd be even better with coconut water, if you have it on hand. You may even add coconut milk for more creaminess and milkshake-like flavor.
I like to top all my smoothies with my raw chocolate sauce because come on, chocolate makes everything better, right?
I love to add baobab into my smoothies. It has tangy, slightly bitter flavor and goes great with tropical fruit. It also thickens up the smoothie. You don't want to add too much of it, or of any other superfood powder for that matter, if you're not used to it. Superfoods are way more nutrient dense than regular fruits & vegetables and it being a smoothie makes it much more absorbable so you shouldn't exactly down the whole thing in one go. Chew your smoothie. When I was starting out with all of this, I added a heaping teaspoon of baobab into my smoothie and drank it all in like 5 minutes which led to me being bloated. As time passes and your body becomes used to the amount of nutrients, you'll be able to increase the amouths. Again, baby steps.
Pomegranate powder is so good it's unreal. Not only does it have a great amount of Vitamin C, but it's so convenient. I know fresh is always better, but I hate seeding pomegranates, I've tried everything, it's just too much work - especially when you're in rush. Also if you were to blend pomegranate seeds, the smoothie would never be so smooth and who has the time to juice pomegranate seeds. Pomegranate powder vs. fresh pomegranate 1/0
Camu Camu powder is my another favorite. It has extraordinarily high Vitamin C content, highest on the planet (about 2% of it's weight!). It's similar to baobab in taste and it just compliments all the other ingredients in this recipe.
I love eating the sweet lychee-like flesh of mangosteen. I honestly can't wait for summer and all the tropical fruits that come with it. Mangosteen powder is actually made not only from the flesh, but also from the rind. The rind has been used for its medicinal properties for centuries as it contains xanthones, powerful plat conpounds. It also contains Vitamin C, which is great for your immune system. It has pink color and slightly bitter flavor. Start with ¼ teaspoon of the powder.
Chia seeds are an amazing source of Omega-3 fatty acids, antioxidants, fiber, and complete protein. I love how they gel up when you add liquid to them. I was never a pudding kind of girl but I have to admit, I really enjoy chia pudding, it's filling, yet light and extra nutritious. I tend to add them into my smoothie every morning because they keep you feeling full for hours.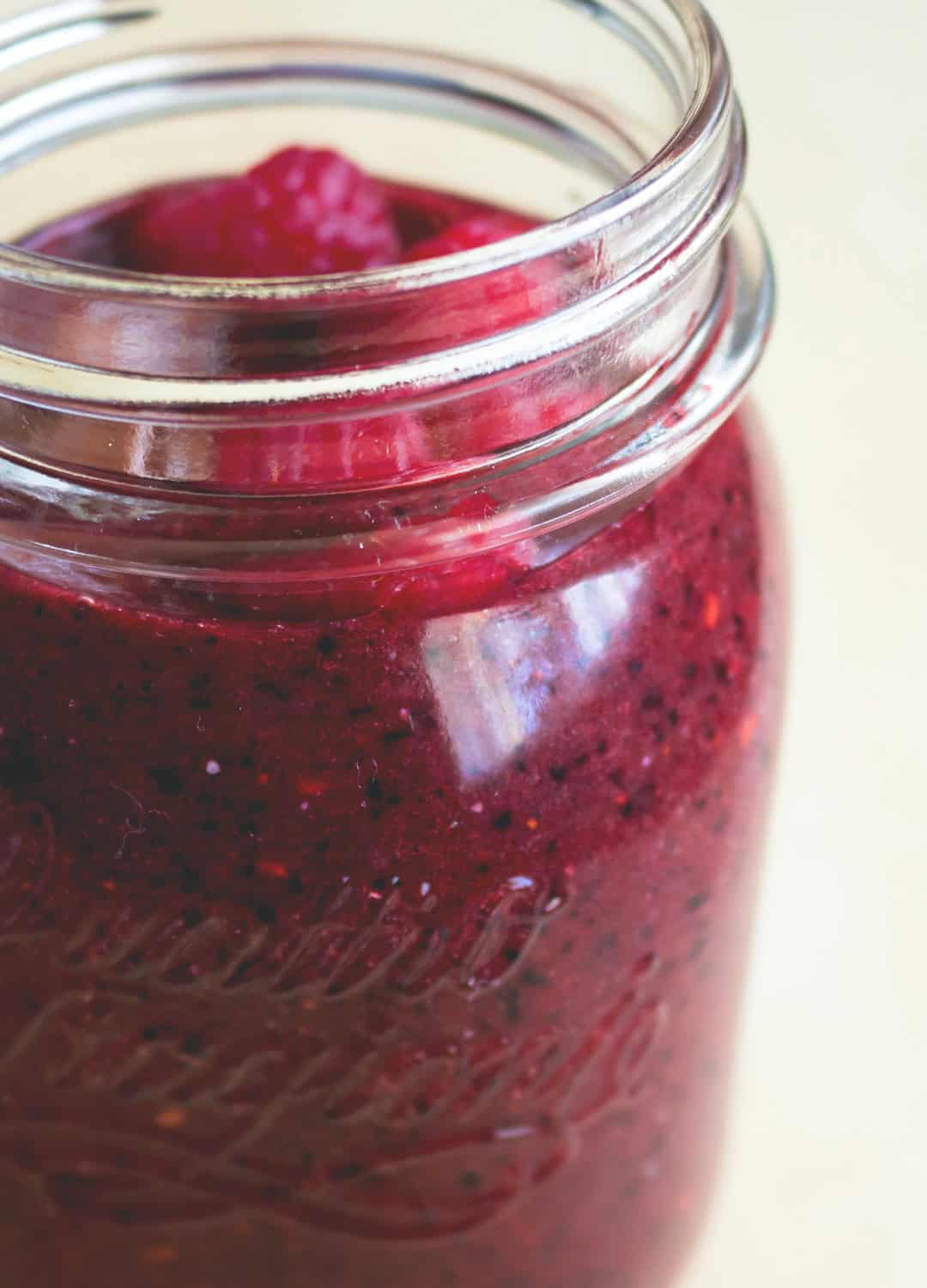 Print
📖 Recipe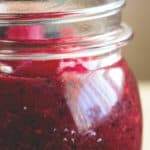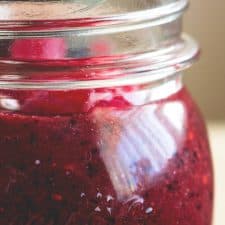 Superfood Berry Mango Smoothie
Author:

The Healthful Ideas

Prep Time:

15 mins

Cook Time:

1 min

Total Time:

16 mins

Yield:

1

1

x

Category:

Breakfast

Cuisine:

Vegan
---
Description
Refreshing tangy summer smoothie filled with superfoods. Get your RDA of Vitamin C first thing in the morning with this smoothie!
---
2

frozen/fresh banana

½ cup

frozen/fresh mango

½ cup

frozen/fresh raspberries

1 tsp

baobab

2 tsp

pomegranate powder

½ tsp

camu camu berry powder (optional)

¼ tsp

mangosteen powder (optional)

1 tbsp

chia seeds

2 cups

water
---
Instructions
Let the fruit thaw for 10-15 mins (if frozen) and cut into smaller pieces.
Add everything into a blender and blend till smooth. I added only 1 cup of water, but it really depends on how thick you want it.
Enjoy with more berries and my raw chocolate sauce on top!
---