HOLY GUACAMOLE. Talk about the perfect appetizer.
I mean, spicy roasted zucchini filled with guacamole and rolled up into bite-sized pieces? Is there anything else you could as for?
I've been trying to come up with a Christmas dinner menu and was contemplating to include these as an appetizer. They didn't go with my other choices, as they were kind of turning my menu Mexican, but they're delicious nonetheless and I'll probably make them for the family the next day for casual lunch.
Everyone loves guacamole, that's a given. And if you don't you should give these a try anyway because I mean, how can you not like guacamole?? And in combination with these tender, yet crispy on the edges, zucchinis—it's perfection.
I can so imagine having these as an appetizer follow by a rice bowl with beans, corn, and roasted veggies as the main course. Oh and then maybe caramelized pineapple for dessert!  Now, that sounds delicious!
But back to the zucchini rolls—MAKE THEM, they're really good!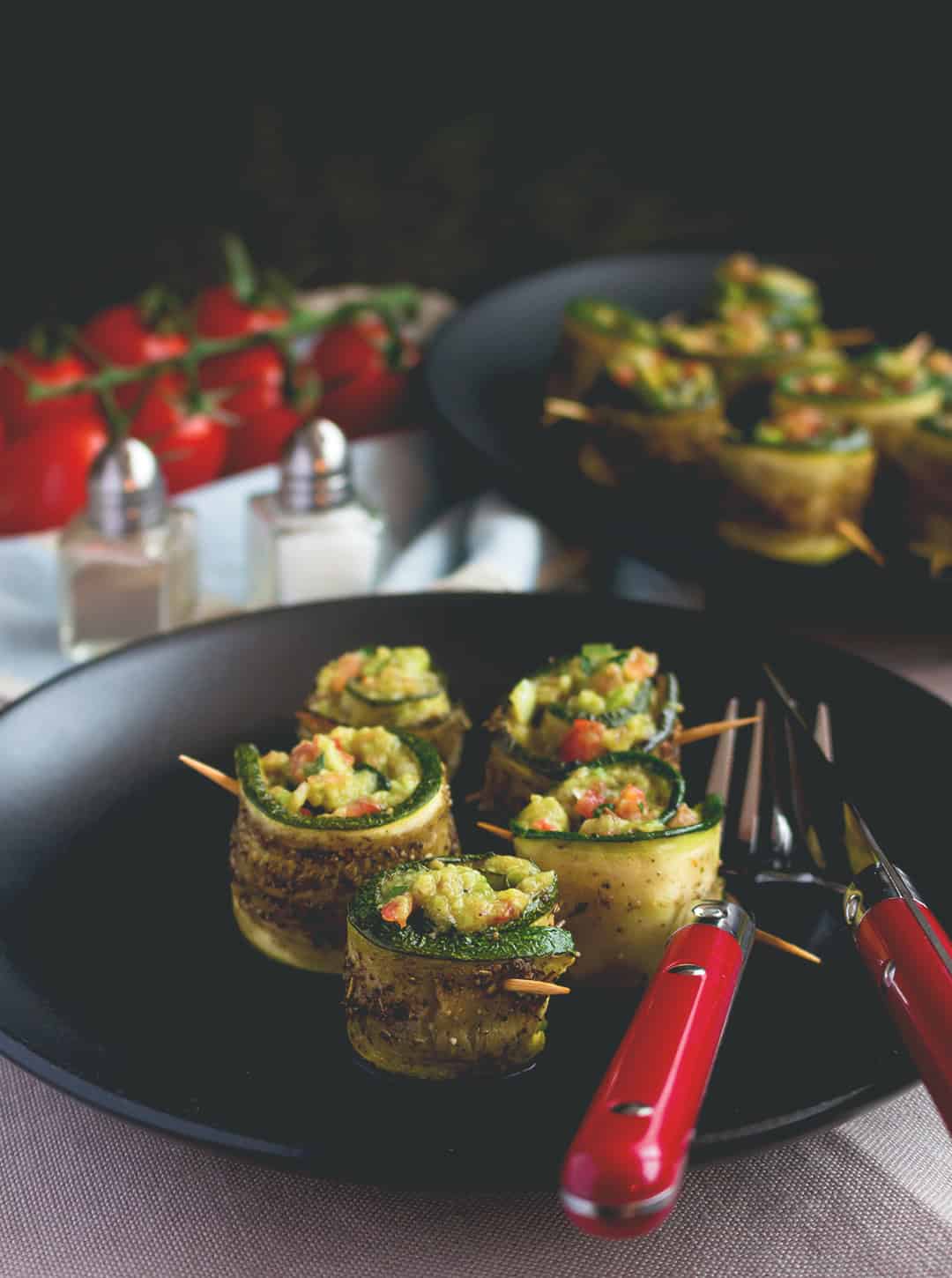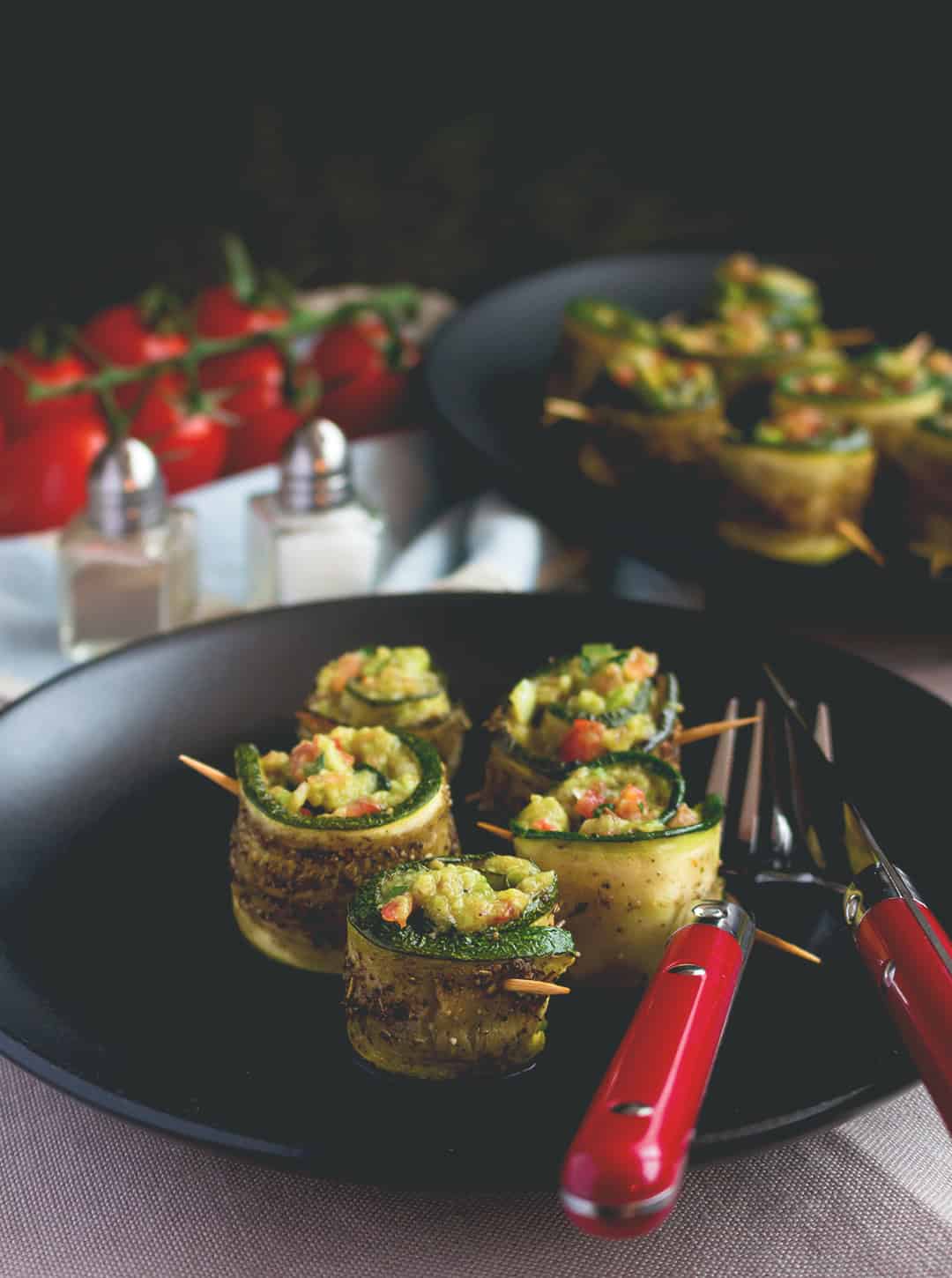 I've had a pestle and mortar in my kitchen drawer for such a long time now. I bought it two, maybe three years ago as a Christmas gift for my mom, but she's never used it since, and neither had I. Well, not before I used it for crushing herbs for these amazing rolls. The mortar is super heavy, made from stone and perfect for crushing and mixing herbs and other spices. I didn't expect it to make any significant difference with the seasoning but it really did. That being said, you don't necessarily need it for this recipe, it's just a fun tool that crushes the herbs into a fine mix. I decided to use it because I wanted to add rosemary which is always too hard to chew. It's long and it never really softens so you have to pick it from in between your teeth, which is nothing but annoying. Crushing the dried rosemary with the pestle took care of that problem completely! Also, I used dried thyme, which tends to be a little spiky too.
I then mixed the seasoning with coconut oil and rubbed both sides of the zucchini slices with the mixture before roasting them. The coconut oil helped to make them crispy on the edges and the seasoning sank into the zucchinis giving them great flavor. If they get too oily, you can always use a paper towel to pat them dry after you take them out of the oven.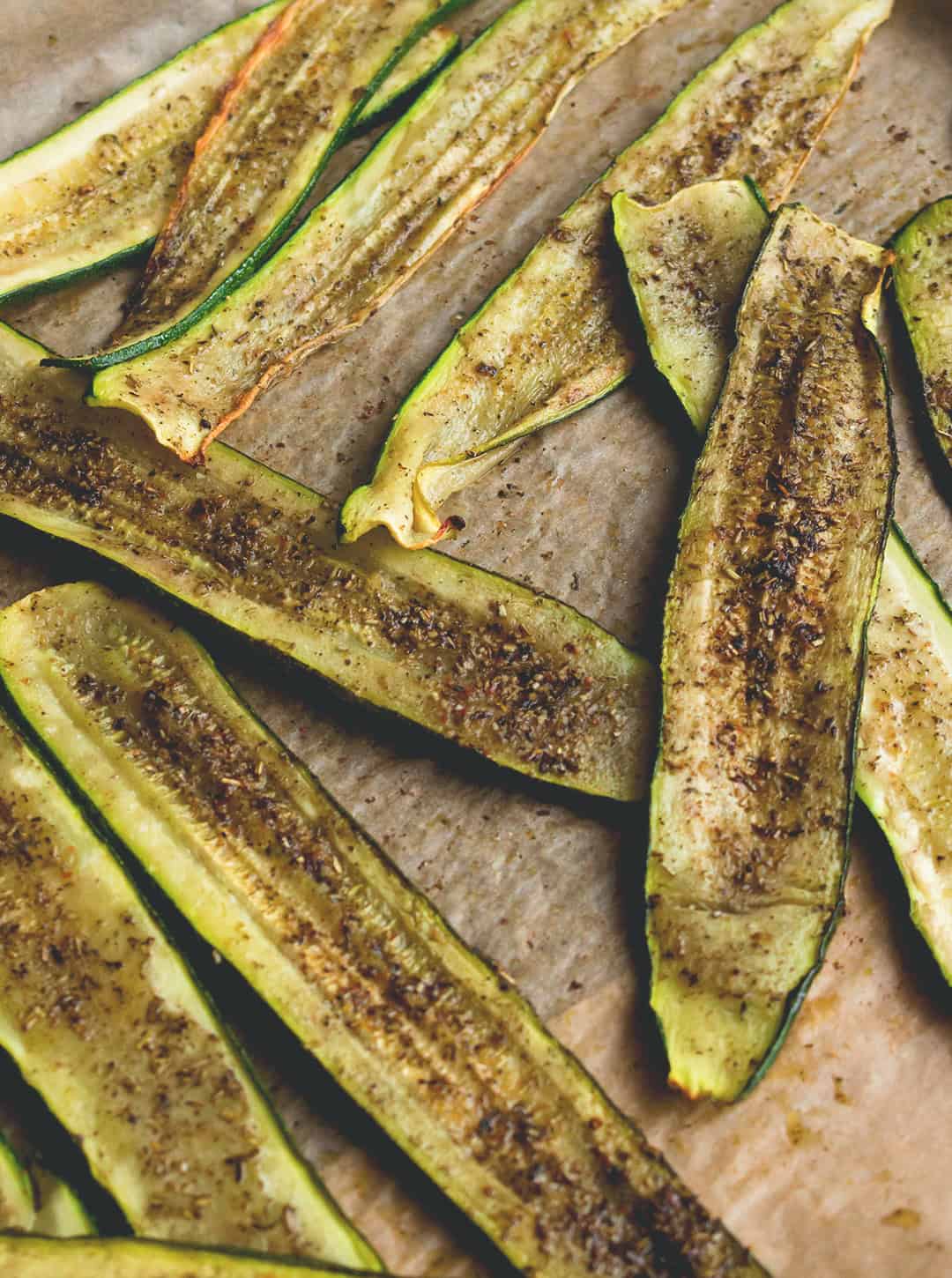 I really love avocado on toast, which is an obvious reason why I made this post—Avocado Toast — 4 ways, but I' always trying to find ways to eat avocado and not include bread. This is definitely one of them. You don't miss the toast one bit. You get too preoccupied with the delicious guacamole and even better zucchinis. What do you mean bread? What? Never heard of it.
Believe me, these rolls really are good.
Serve these to veggie haters and see how they react. Okay, you may not be able to convince every single person who hates vegetables to love this but trying never hurt anyone. In my experience, people who don't eat "this kind of stuff" are usually surprised how much they like it. It's always followed by "wow that's good I wish I had the time and energy to make healthy food like this." But the reality is—it's really not that difficult. It doesn't include any special expensive rare ingredients. It's literally just avocado, tomatoes, zucchini and some spices. It's done in 30 minutes, and that's just because the zucchinis are roasting for 30 minutes. Then, you just spread the guacamole on the zucchini slices, roll them up, secure with a toothpick and you're done! You could even have this as a main course if you wanted to, or even for breakfast with some eggs—it really is up to you, it's a great meal at any time of the day.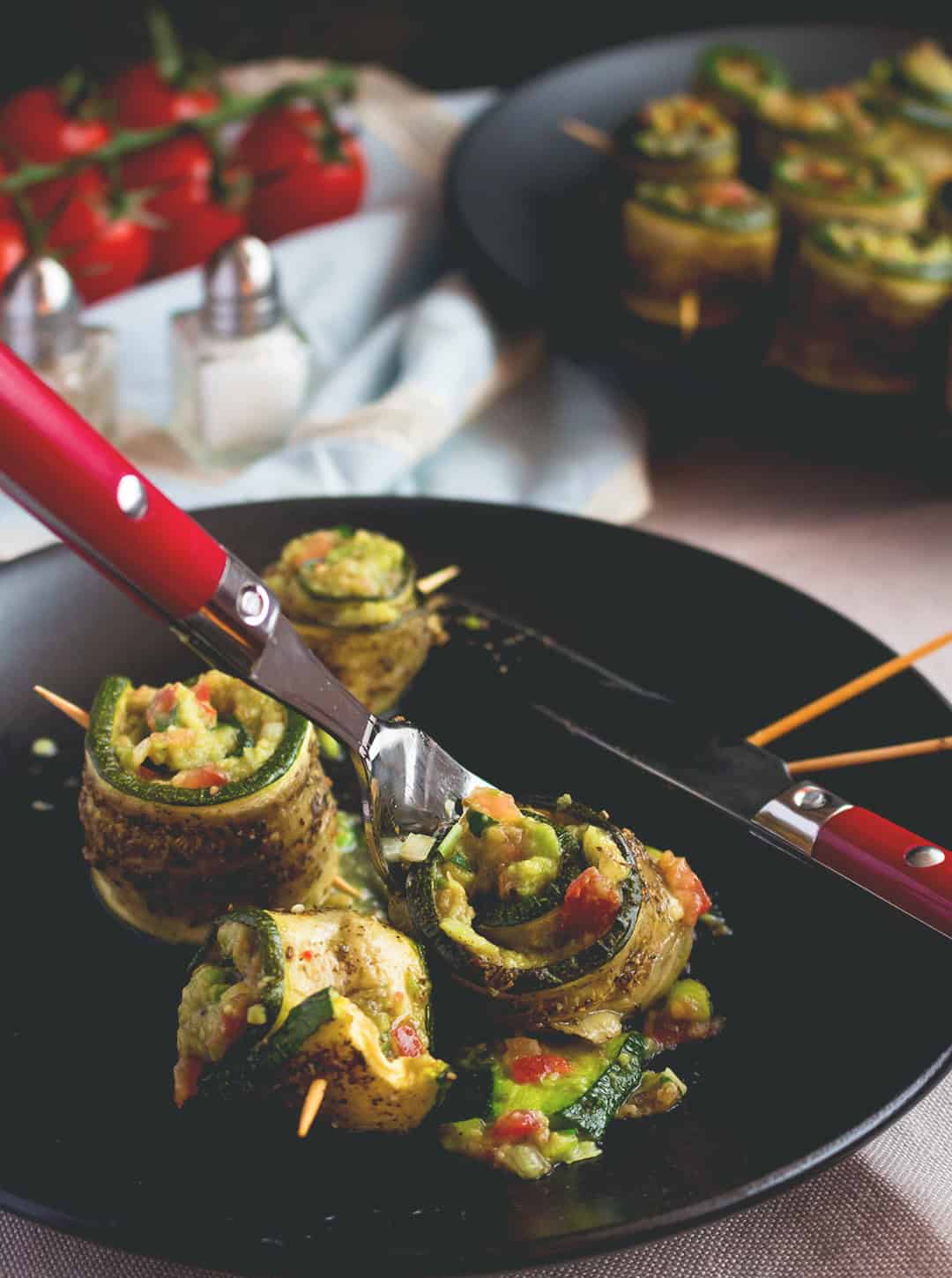 Just look at it.
It screams EAT ME.
I'm really craving some right now.
Oh another idea, if you don't have the time to roast the zucchinis or you want a 100% raw meal, just use cucumber instead of zucchinis! I don't like raw zucchini, that's why I'd choose cucumber instead, but you can use either one of them. Simply make thin slices with a vegetable peeler, spread the guacamole on top and roll up! YUM.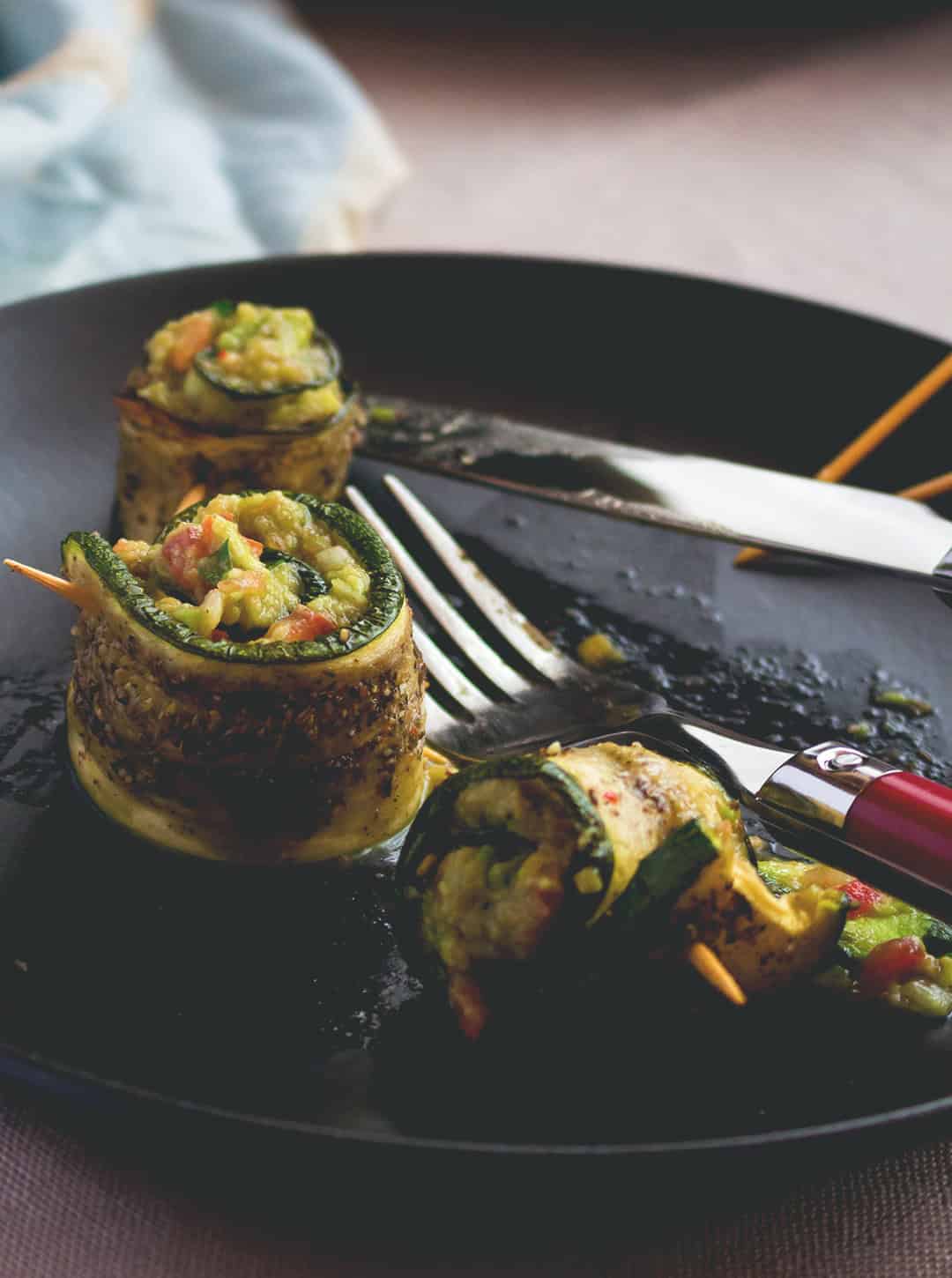 Print Roasted Zucchini Rolls with Guacamole Filling
---
ROLLS
3

zucchinis

1 tsp

dried basil

1 tsp

dried rosemary

½ tsp

dried thyme

½ tsp

garlic powder

¼ tsp

dried coriander

¼ tsp

cayenne pepper (optional)

2 tbsp

coconut oil
FILLING
⅔

avocado

1 cup

finely chopped tomatoes, seeds removed (about

2

medium tomatoes)

1

spring onion, chopped
sea salt, pepper
---
Instructions
ZUCCHINI ROLLS
Preheat the oven to 185C (365F).
Slice the zucchinis into thin long slices and lay them on a baking sheet lined with parchment paper.
Combine all the seasoning in a small bowl (basil, rosemary, thyme, garlic powder, coriander, cayenne, sea salt, pepper) and mix to combine.
You could also crush the herbs with mortar and pestle but that's optional.
Add 2 tablespoon melted coconut butter and mix again with a spoon.
Rub the seasoning mix with a spoon on all the zucchini slices, on both sides, so they're equally covered.
Roast them in the preheated oven for 15 minutes, then flip them and roast for 10-15 minutes more.
The time depends on how thin the slices are, you want them to be tender and crispy on the edges but not burnt.
FILLING
While that's cooking, make the filling.
Mash the avocado on a small plate with a fork. It has to be ripe and soft otherwise, it won't work.
Add the avocado, chopped tomatoes, and the spring onion into a small bowl and mix together with a fork.
Season with salt and pepper and set aside.
Let the zucchini slices cool down for a few minutes.
Then spread about a teaspoon of the filling onto them, roll them up, and secure with a toothpick
Serve and enjoy!
---