These Roasted Zucchini Rolls with Guacamole are best served as a light appetizer or with a side of fish for lunch or dinner. You can also add them to your brunch in place of avocado toast!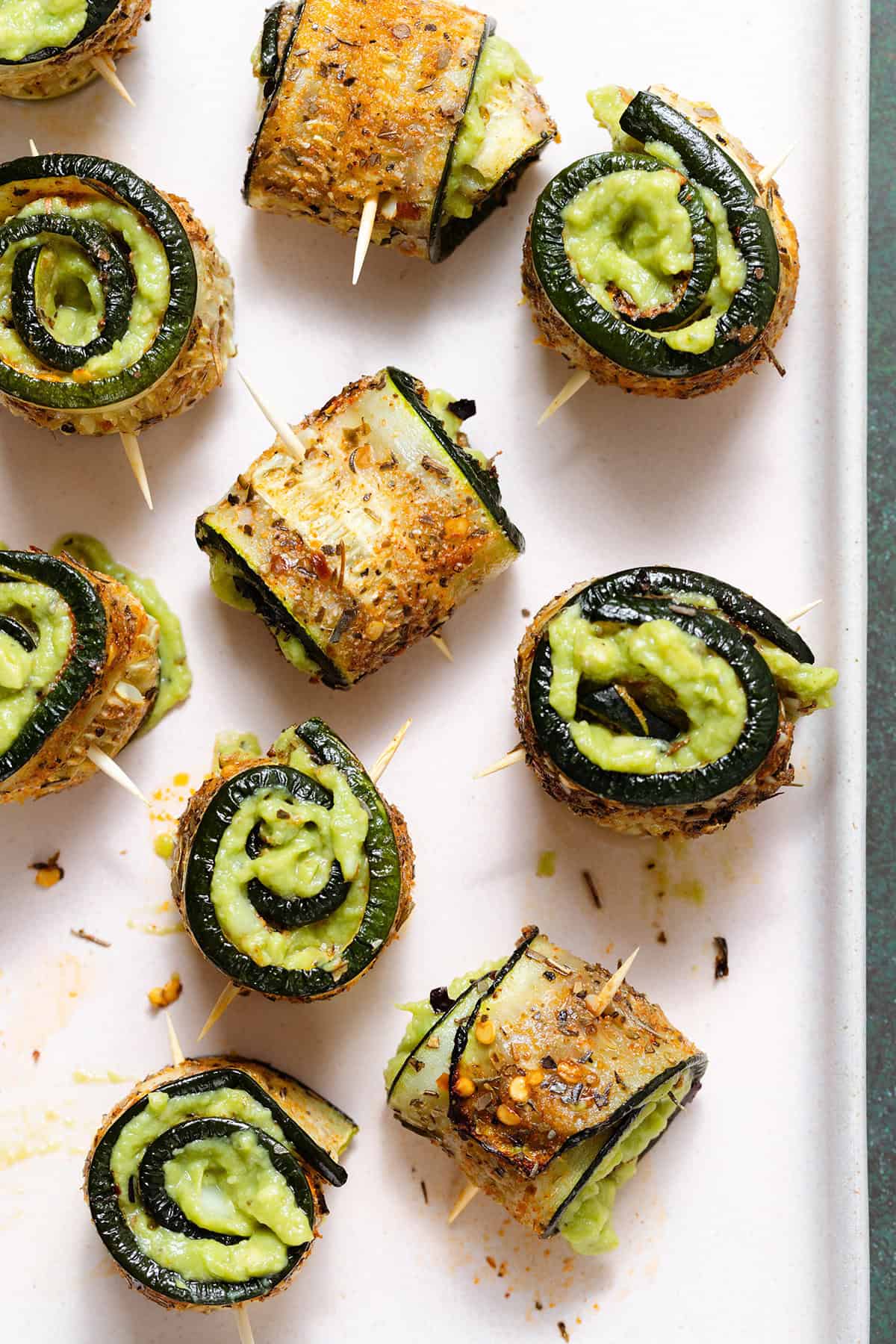 Jump to:
Why This Recipe Works
Simple and easy - All you need is zucchini, guacamole, and a few herbs and spices. It really doesn't get easier than that! You can make your own guacamole, but to make it even easier and save time, I like to use premade guac.
Healthy and vegan - This is the perfect appetizer or a side to serve when you need to have something on the table that ticks all the dietary restrictions and food allergy boxes. These rolls are vegan, gluten-free, dairy-free, and even paleo!
Versatile - If you don't have or don't like zucchini, you can use cucumber! It also allows you to keep this dish completely raw and you won't have to turn your oven on if it's too hot outside. You can also add any thick dip you like in place of the guacamole. Hummus mixed with all the spices rolled up with cucumber slices would be delicious!

Ingredients
Zucchini - Zucchini soaks up all flavors and spices you add, similar to eggplant. It caramelizes slightly and gets super delicious in the oven. It's perfect for this recipe because it softens after cooking and is easy to roll up with any spread or dip you enjoy.
Dried oregano and thyme - I recommend using dried herbs over fresh ones because fresh herbs would burn in the oven and turn bitter. Dried marjoram or your favorite dried herb blend also works.
Garlic and onion granules/powder - These two are my go-to for practically any zucchini or savory dish. I use garlic and onion granules, not the powder.
Smoked paprika - The recipe doesn't call for much but I add a little bit for a hint of smokiness that goes well with the herbs and garlic. Add more or less based on preference.
Crushed red pepper flakes - The zucchini needed some heat added so I opted for chili flakes. You can also use cayenne or chipotle powder.
Guacamole - I chose guac to keep the recipe simple and light. You can make your own or use store-bought when in a pinch.

Variations and Substitutions
Cucumber - Don't have zucchini? You can use cucumber instead! It's a great option for hot summer days when you just don't want to turn the oven on.
Hummus - Whether you're making the rolls with zucchini or cucumbers, hummus can be a great replacement for guacamole. Try this Roasted Garlic Hummus!

Step-by-Step Instructions
First, you'll mix all the spices for the zucchini together. Then you'll roast the zucchini and while that's roasting and cooling, you'll have plenty of time to make guacamole if you're making your own.
Spices:
Add dried thyme, dried oregano, garlic powder, onion powder, crushed red pepper flakes, sea salt, and pepper to a small bowl or a jar. Stir with a spoon or close with a lid and shake to combine.

Zucchini:
Preheat your oven to 400F (200C).
Cut off both ends of the zucchini and thinly slice it. I do about 5mm (or shy ¼ inch) slices. I don't like slicing them too thin because they would burn in the oven. 5mm is the perfect thickness because they will shrink in the oven a little bit.
Lay the zucchini on a baking sheet with parchment paper. Spray the slices with cooking oil (I used avocado oil) and sprinkle with the seasoning mix on both sides.
Roast for 15 minutes. Flip carefully and roast for 5 more minutes. Allow the zucchini to cool while you make the guacamole.

Serving and Storing
The finished zucchini rolls are best served right away. They can be served cold so I recommend roasting the zucchini first, and then when it's cooling down, you'll have time to make the guacamole.
To make the rolls, spread the guacamole on the zucchini slice. Try not to overstuff them, the filling will otherwise slide out. 1-2 tablespoons should be enough. Roll the zucchini up with the filling and secure it with a toothpick. Repeat with the rest of your zucchini slices and enjoy!
Storing: Store any leftovers in an airtight container in the fridge for 1-2 days. This dish doesn't keep very well because guacamole tends to go brown and the zucchini loses its crispy edges and releases water. It's best served and consumed right away.

FAQs
Can I use raw zucchini?
Yes, you can but you have to use a mandolin or a vegetable peeler to get the slices to roll properly without snapping.
Can I use cucumber instead?
Yes, these would be delicious with cucumber! You will have to use a mandolin or a vegetable peeler to slice the cucumber though so that it's thin enough to roll easily.
What can I use instead of guacamole?
You can use any kind of thick dip. Hummus would be great or even soft goat cheese. I don't recommend anything too runny like salsa because it would just slice out of the roll.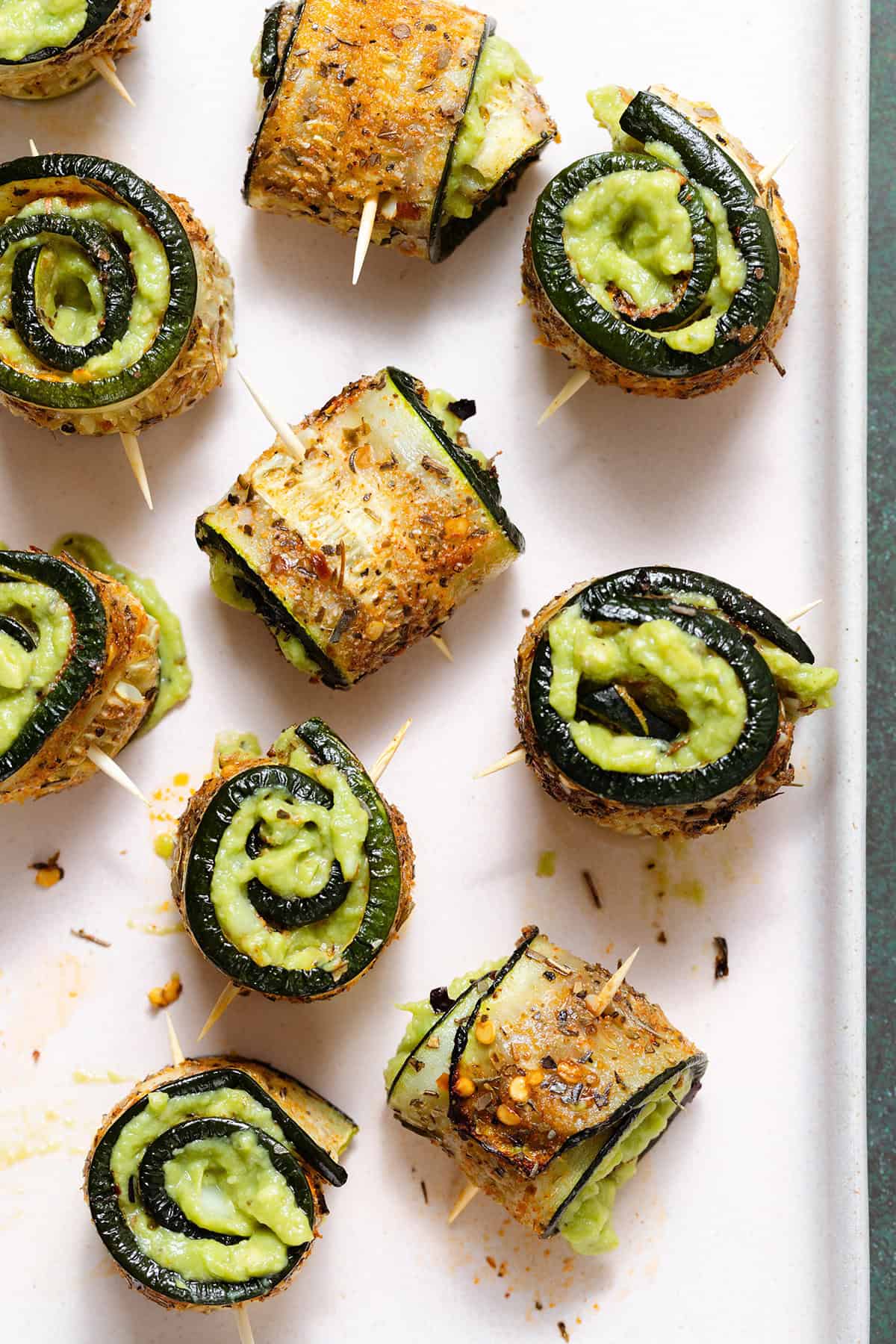 Print
📖 Recipe

Roasted Zucchini Rolls with Guacamole Filling
Author:

Veronika | The Healthful Ideas

Prep Time:

10 mins

Cook Time:

20 mins

Total Time:

30 minutes

Yield:

2

-4

1

x

Category:

appetizer

Method:

roasting

Cuisine:

American

Diet:

Vegan
---
Description
These Zucchini Rolls are made with spicy roasted zucchini slices filled with creamy guacamole. You can serve these as an appetizer or a side.
---
2 tsp

dried oregano

1 tsp

dried thyme

1 tsp

garlic powder

½ tsp

onion powder

½ tsp

smoked paprika

½ tsp

chili flakes (or more to taste)

1 tsp

sea salt

3

zucchinis (the straighter the better)
Cooking oil spray (I used avocado oil)

1 cup

guacamole (see notes for homemade guacamole)
---
Instructions
Preheat your oven to 400F (200C). Prepare a large baking sheet lined with parchment paper.
In a small bowl mix together the oregano, thyme, garlic powder, onion powder, smoked paprika, chili flakes, and sea salt. Set aside.
Cut of both end of the zucchinis. Cut them into thin slices of about ¼ inch. If they're too thin they will burn in the oven but if they're too thick they will be harder to roll. I get 3-4 slices per a zucchini.
Lay the zucchini slices on your prepared baking sheet and spray with cooking oil spray on both sides. Sprinkle evenly with the spice mix on both sides.
Roast the zucchini for 15 minutes, carefully flip and roast for 5 more minutes.
Allow the zucchini to cool for a few minutes before filling with the guacamole.
Spread about a tablespoon of guacamole on each slice of zucchini and roll up. Secure with a toothpick to make sure they stay intact. The zucchini softens with roasting so they're a little tricky to move around after they're filled.
Serve and enjoy!
---
Notes
Storing: These rolls are best eaten right away. Store any leftovers in an airtight container in the fridge for 1-2 days if necessary. They will be safe to eat but guacamole usually turns brown if it sits for too long and the zucchini eventually releases water if it sits longer.
Substitutions: Use cucumber in place of the zucchini if desired but you a mandolin to prevent it from snapping when rolling the cucumber up into rolls. You can also use hummus or another thick dip instead of guacamole.
Homemade guacamole: 2 avocados, juice of 1-2 limes, ¼ cup finely chopped fresh cilantro, ½ jalapeno (seeds removed, finely chopped), ½ white onion, finely chopped, sea salt and pepper to taste, 1 Roma tomato (seeds removed, finely chopped, optional). Mash everything together using a fork or a potato masher. Add more lime juice to taste if desired.
Keywords: roasted, zucchini rolls