PASTA!!
We all love pasta.
Add some delicious creamy sauce on top of it and you have find yourself the ultimate comfort food!
Regular pasta is made from wheat and the sauce from dairy products which isn't very good for you. In this recipe, I use brown rice pasta, as a gluten-free alternative, and roasted red bell peppers as a base for my creamy sauce.
This meal is easy to make, it's a healthy, vegan, and gluten-free alternative to regular pasta, yet even an obstinate mac & cheese lover would savor this!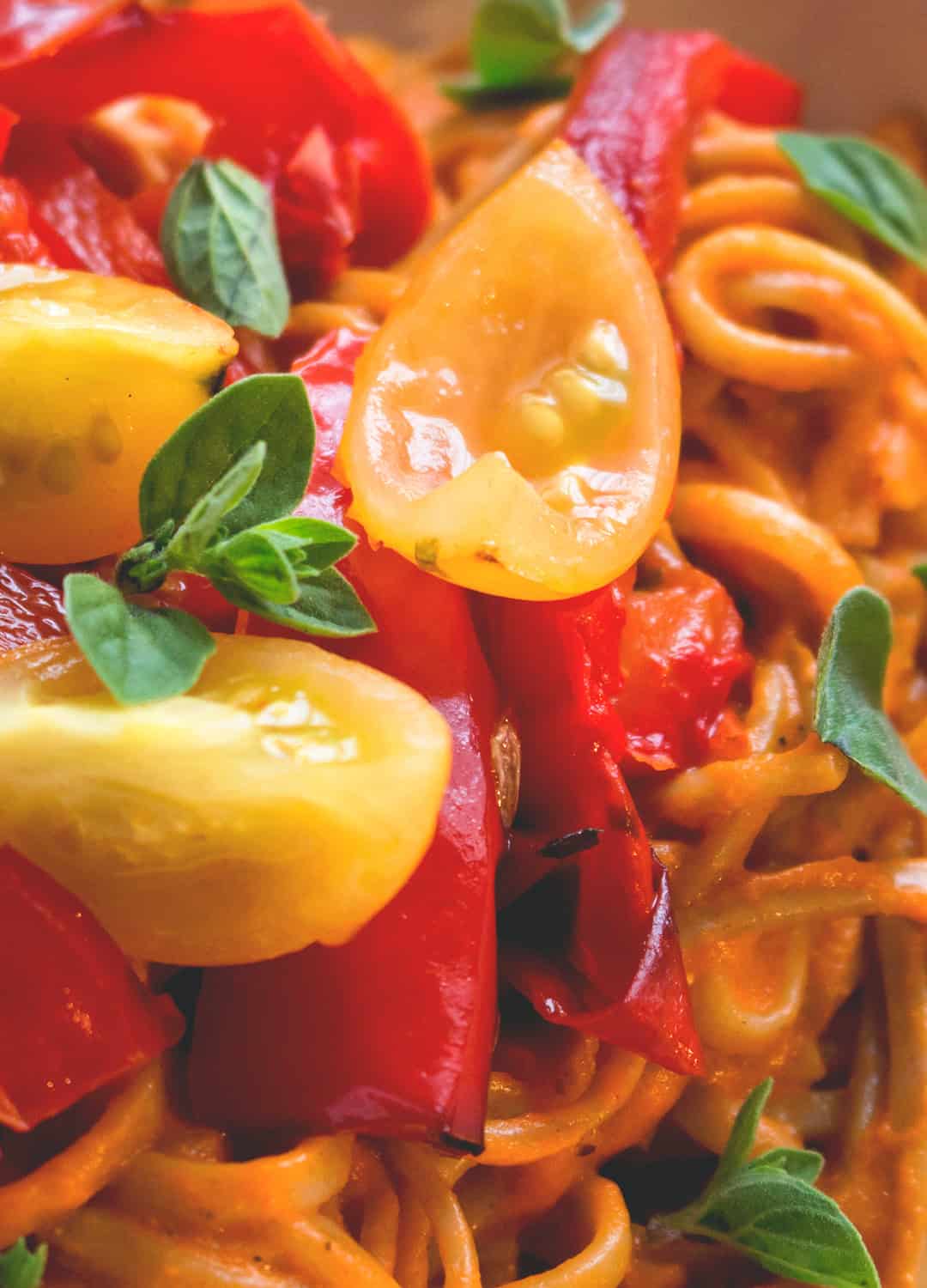 Once upon a time I bought 15 red bell peppers for no apparent reason other than that it was a good deal. Deciding what to actually do with them took some time. I don't like bell peppers in my salad as much as tomatoes or cucumber because they're too crunchy and I get tired of chewing through all that fiber.
Then pasta came to mind.
At first, I wanted to just cook the pasta and saute the bell peppers with other vegetables to put on top. But then, I was like, what if I actually blended the roasted bell peppers to make a sauce for the pasta??? Well, long story short, I ended up having bell pepper pasta sauce for dinner 3 days in a row. Not that I was complaining.
I'm definitely gonna try the same thing with tomatoes to make a healthy version of spaghetti bolognese!
I ended up using some of the grilled bell peppers as topping but I did use most of them for the sauce.
This dish is so filling and comforting, you won't believe it's good for you!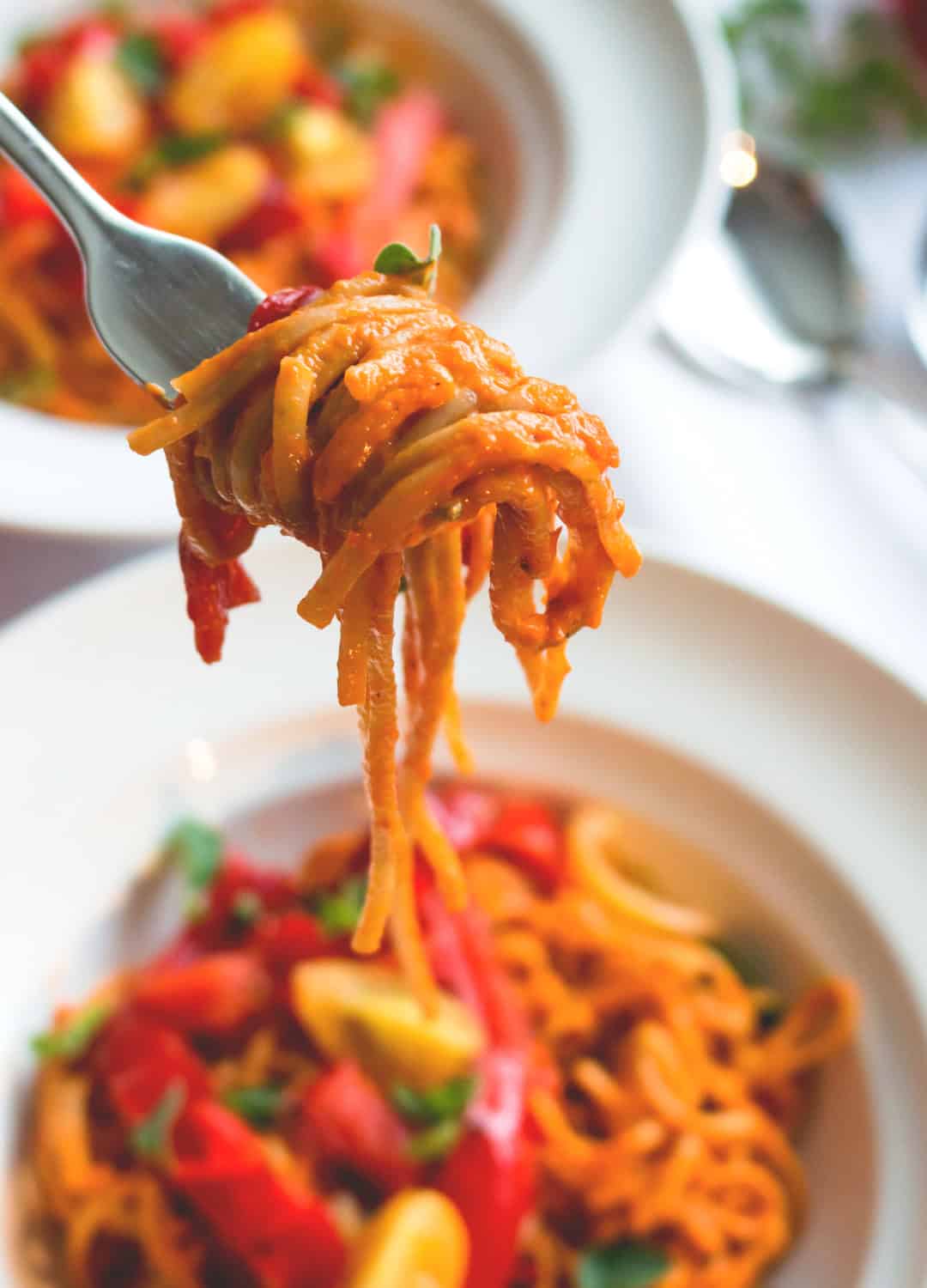 People keep saying a vegan diet isn't as diverse as "normal" diet but I strongly disagree. Everyone thinks that vegans have to restrict themselves and always keep in mind what they can and cannot eat. I'm definitely not a vegan, yet I never eat any dairy products ever, I don't really eat red meat anymore, rarely eat chicken. I do eat an egg here and there, some sheep feta, or good fish (not farm raised), but of all the things I don't eat, I don't miss any of them. I don't miss yoghurts, I ate enough of them to last me a lifetime during my school years. I don't tell myself I don't or can't eat this or that, I simply choose to eat other things, and animal product get naturally pushed out of the way without me paying too much attention to it.
There's only so much you can eat in a day and when you choose fruits and vegetables as your main source of energy, then that's what your meals are going to be full of.
I'm in no way telling you to give up dairy product or meat all at once, but you can try skipping meat one day of the week or at least for one meal.
Enjoy your meatless Mondays with this delicious bowl of creaminess! YUM!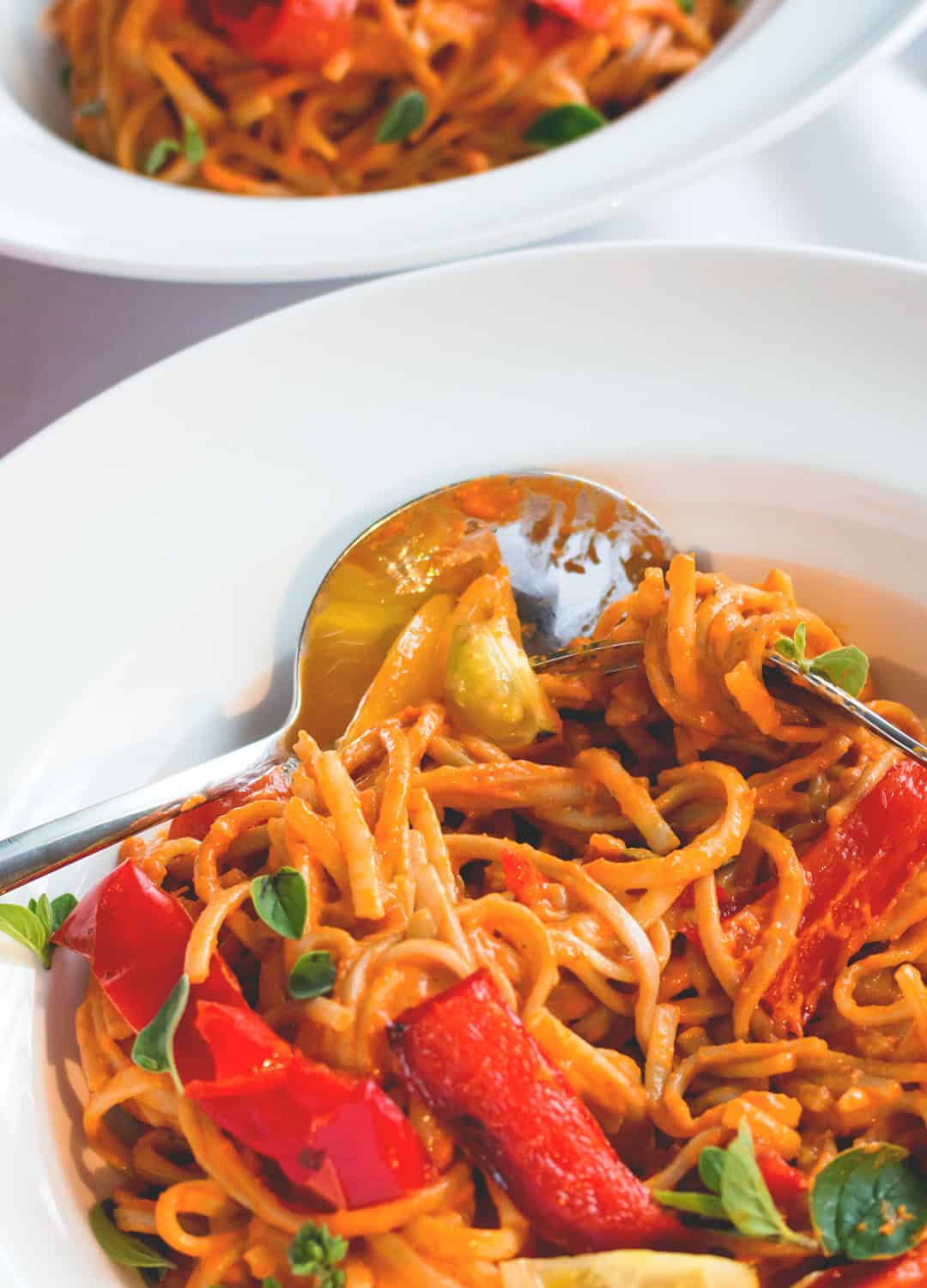 Print
📖 Recipe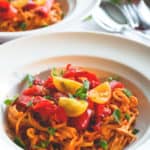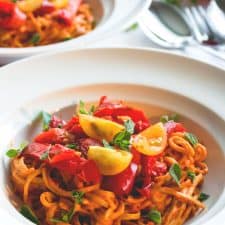 Roasted Red Bell Pepper Pasta
Author:

The Healthful Ideas

Prep Time:

20 mins

Cook Time:

30 mins

Total Time:

50 mins

Yield:

2

1

x

Category:

Main Course

Cuisine:

Italian
---
Description
This roasted red bell pepper pasta is healthy, vegan & GF alternative to regular pasta, yet even an obstinate mac & cheese lover would savor this! YUM! Don't worry about the bell peppers being too black. After you take them out of the oven, you peel the burned skin and you'll be left with only the delicious grilled smoky taste!
---
5

red bell peppers
olive or other oil for roasting

1 tsp

ghee (substitute with olive, avocado or coconut oil if vegan)

1

small yellow onion, diced

3

garlic cloves, sliced

2

bunches of brown rice pasta (or other gluten-free pasta of choice)

1 tbsp

(heaping) fresh oregano leaves + more for decoration (or

1 tsp

dried oregano)

¼ cup

coconut milk

5 tbsp

water

1 tbsp

extra virgin olive oil
squeeze of lemon
red chilli flakes to taste (I added ¼ tsp)

1 tsp

mixed dried herbs italian seasoning (parsley, oregano, onion, basil)
sea salt and pepper to taste

4

cherry tomatoes
---
Instructions
Preheat your oven broiler to medium heat. (If you don't have a broiler, preheat to 205C/450F)
Wash the bell peppers and onion and peel the garlic cloves.
Cut off the stem of the bell peppers and seed them.
Place bell peppers on a baking tray and drizzle with a little bit of olive oil.
Place them into the oven and grill for 10-15 minutes. (Skin side up)
Flip them and grill for another 5-10 minutes. Flip them again and grill for additional 5 minutes.
Keep a close eye on them because they can burn REALLY FAST. The cooking time depends on the strenght of your oven. They're done when they start to have black patches. (See picture above)
While the bell peppers are grilling, heat up the ghee in a small pan over medium heat and add the onion and garlic.
Sautee them for a few minutes until the garlic becomes fragrant and the onion starts to get brown at the edges a little.
Turn off the heat and set aside.
When the bell peppers are done, take them out of the oven and set aside to cool.
Meanwhile, cook the pasta acording to package instructions.
When the bell peppers are somewhat cooled down, peel some of the black patches.
Add 4 of them into a blender along with the sauteed onion and garlic, the fresh oregano leaves, coconut milk, water, olive oil, lemon, red chilli flakes, and the dried herbs.
Mix until smooth, taste and add sea salt and pepper to taste.
Pour the sauce into a big pan over medium high heat. Add the pasta and mix so it's well coated.
Cut up the bell pepper you set aside and the cherry tomatoes for topping.
Plate the pasta and top with the cherry tomatoes, the cut up bell pepper and a few oregano leaves.
Enjoy!
---